A Quetico Solo, August 2008
by UncleMoose
Trip Type: Paddling Canoe
Entry & Exit Point: Moose Lake to Prairie Portage (EP G)
Trip Introduction:
A trip of firsts.
Day 1 - Travel to Moose Lake (Sunday, August 3) [full index]
I was about an hour late getting started for my drive up to Ely, Minnesota. It was a little past noon on this overcast Sunday when I finally backed the car out of the driveway and headed for the freeway, gear neatly stowed in the backseat and canoe safely secured to the roof.
Heidi had left much earlier in the morning with our more road-worthy vehicle. She was headed for the West Coast to photograph a few national parks and to visit with some old friends back in the Portland, Oregon area. For the first time in our thirteen years of marriage, we were both beginning independent solo trips today. The original plan had been for us to paddle Canada's Quetico Provincial Park together, but as the spring planning had progressed, Heidi had become more interested in the west coast, and I had become more intrigued with the idea of doing my very first solo canoe trip.
Part of my motivation for doing a long solo trip was to celebrate a career change. Just two days before I had finished my last day as a longtime corporate employee, and I was now looking forward to starting a business of my own, a long-standing goal of mine. But in the interim I had set aside some time to get away from it all, to clear the cobwebs and decompress if you will. To this latter end, I could think of no better way to achieve this than three weeks alone in the wilds of Quetico, accompanied only by the elements and quiet.
The gray sky finally made good on its promise of rain about halfway up interstate 35, somewhere between the Twin Cities and Duluth. In the town of Cloquet I made a brief stop to fuel up and grab a couple of Subway sandwiches, one for now and one for later this evening. As I approached Ely from the west, the skies began clearing and the sun made an appearance. I passed through Ely and continued east on the Fernberg Trail until I reached the turn for LaTourell's Resort and Outfitters on Moose Lake. It was 4:30 p.m. when I finally reached the end of the road and pulled into the parking lot at LaTourell's. The outfitter would be providing me with bunkhouse lodging for the night and then a tow to the Canadian ranger station in the morning.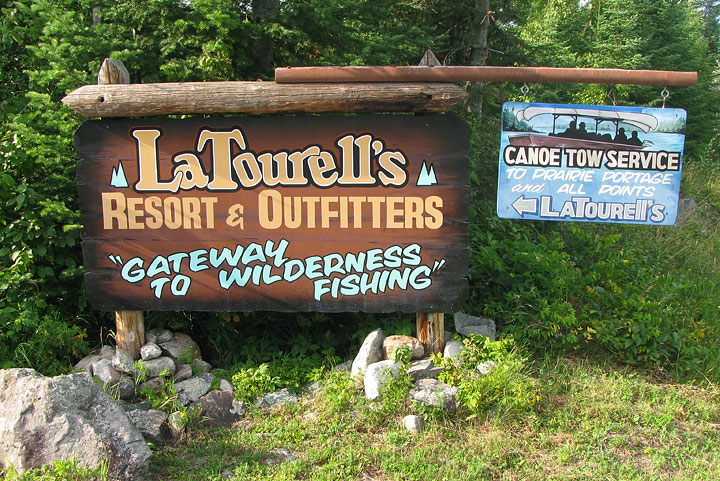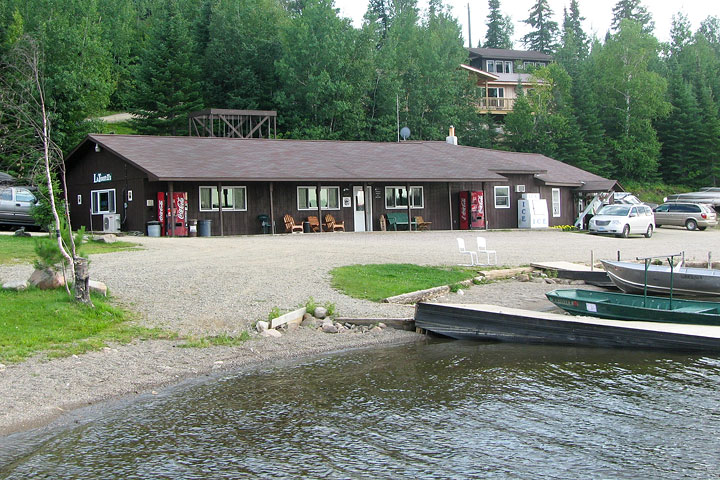 After checking in I dropped my things off at the bunkhouse. It was a fairly typical bunkhouse with two double bunks split between two small rooms, each about the size of a large garden shed. A bunkhouse is a nice option because it's cheaper than a hotel, saves the time and trouble of setting up and tearing down a campsite, and can often place you right at or near your entry point first thing in the morning.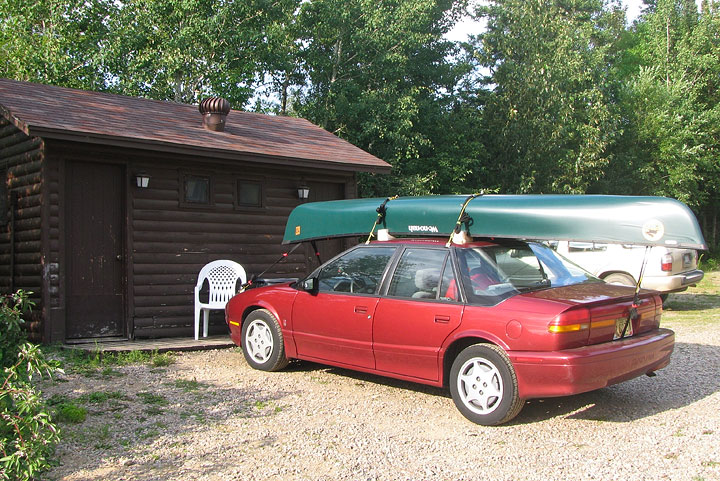 I left the bunkhouse with camera in hand to go have a look around. One of my objectives was to scope out the public parking lot over at the Moose Lake entry point, adjacent to LaTourell's just to the north. I was previously informed by LaTourell's staff that I would need to move my car there in the morning. As I walked around, clouds began to move back in. I wondered if this might mean rain in the morning to begin the trip.
Before long I returned from my walk and polished off the Subway sandwich I had saved from earlier in the afternoon. While sitting out in front of the bunkhouse, I did some last minute route research. It was a warm, comfortable evening with a nice little breeze, and for the first time I felt myself really beginning to relax. As the evening light dissipated my mind began to wander a bit. This was going to be a trip of many firsts: first solo trip, first trip to Quetico, first trip of this length or duration, first trip with this canoe, first time using a bent-shaft paddle, and on and on. Nonetheless, I was very excited to get the trip started and to face these many new challenges.
The route I had chosen for this trip was designed to mix a broad introduction to Quetico with plenty of seclusion and a few specific goals. With nineteen days set aside for travel, I had plenty of time to complete a large loop and find the peace and quiet I so eagerly sought. I chose Quetico's Prairie Portage as my entry station because of its central location and the wealth of route options it provides. The official entry point for my permit was Agnes Lake, but I would really only clip the south end of Agnes on my way in as I headed for Louisa Lake and its famous falls. From there I would make my way northeast to the picturesque Falls Chain via the lesser traveled chain of lakes along McEwen Creek, including McEwen Lake. Then after exploring the Falls Chain the plan was to head northwest through big Kawnipi Lake and spend some time fishing deep within the heart of Quetico. After that I would paddle southwest along the lengthy Kahshahpiwi chain of lakes to Kahshahpiwi Lake itself where I would then have the option of making a side trip into Trant Lake to find the early Native American pictographs located there. Then if time still allowed, I would head west to Robinson Lake where I wanted to find a location written about by famed northwoods author Sigurd F. Olson. I had an old photograph of this spot and had made it a personal challenge to find the place where it was originally taken. Finally, after Robinson Lake, I would work my way back east to Prairie Portage and exit out through Moose Lake, completing the trip right where I had started.
I continued to ponder the trip for a while, but after a few too many little adrenaline rushes, I decided I'd better refocus instead on getting some sleep. I had requested an earlier 7:30 a.m. tow, which meant I needed to have my gear down by the water and ready to go by 7. I set an alarm for 6 a.m. and turned out the bunkhouse lights. It was only around 9 p.m., and sleep did not come quickly.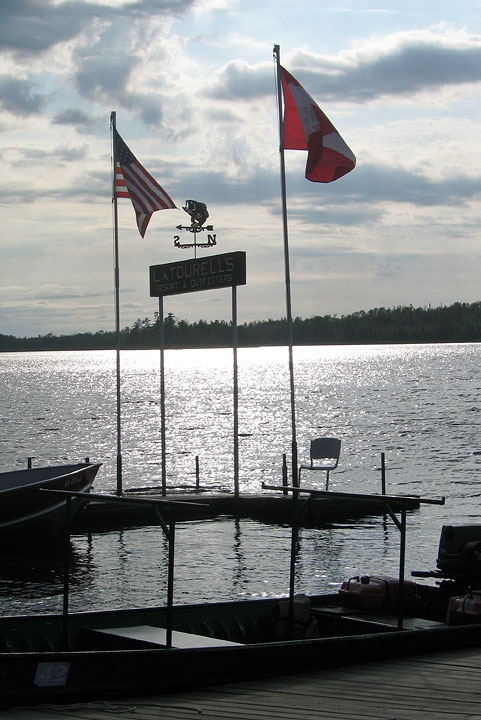 Video (click on an image below to play)
---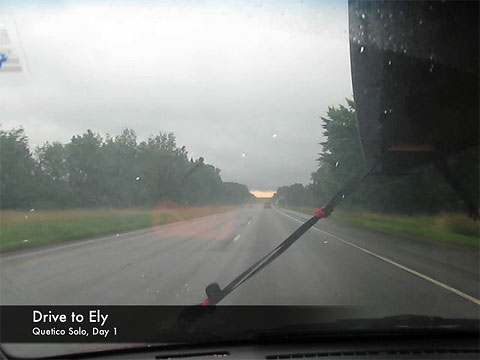 ---
Click here for the fully formatted report