Five days after Ice out - Quetico 2008
by suko
Trip Type: Paddling Canoe
Entry & Exit Point: Quetico
Trip Introduction:
Essentially four strangers who connected on BWCA.com head into Quetico, five days after ice out - walking that fine tightrope between winter and spring....
Thursday, May 15, 2008
Preamble - It all started on BWCA.com trying to get a crew together to go to Wabakimi. "Let's find a group that wants to kick it up a notch… and head farther north" was the general idea. A few suggested a trial run in the Quetico to meet and test gear. A route was planned with river travel and difficult portages in a fairly remote region, and it was to be called the Red Pine Bushwhack. Red Pine Lake was on the western side of the Quetico appeared infrequently traveled.
It was difficult to organize and orchestrate a crew of four with everyone's business and family commitments. The crew they finally came up with was Bryan (beemer01), an avid outdoorsman with a keen sense of the cycles of nature (and a brand new titanium and plastic knee)

, Dave (jdrocks), an adventure junkie of about 60 who refuses to give into the rocking chair, traveling the Americas from the Canadian Arctic to South America. Dave was leaving for a Woodland Caribou solo the same day we get back out from this trip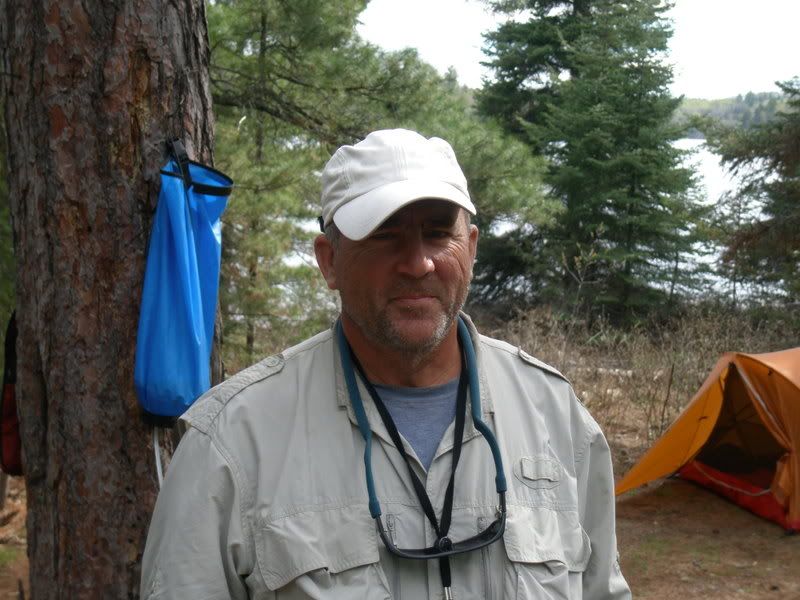 Mark (vikinfan), an officer in the Minnesota National Guard, a medical student at University of Minnesota and an untiring fisherman who will spare absolutely no pain or effort to land the big ones. He'd been to Lake of the Woods already this year and was going to Grass River Provincial Park in Northern Manitoba on another fishing trip after this one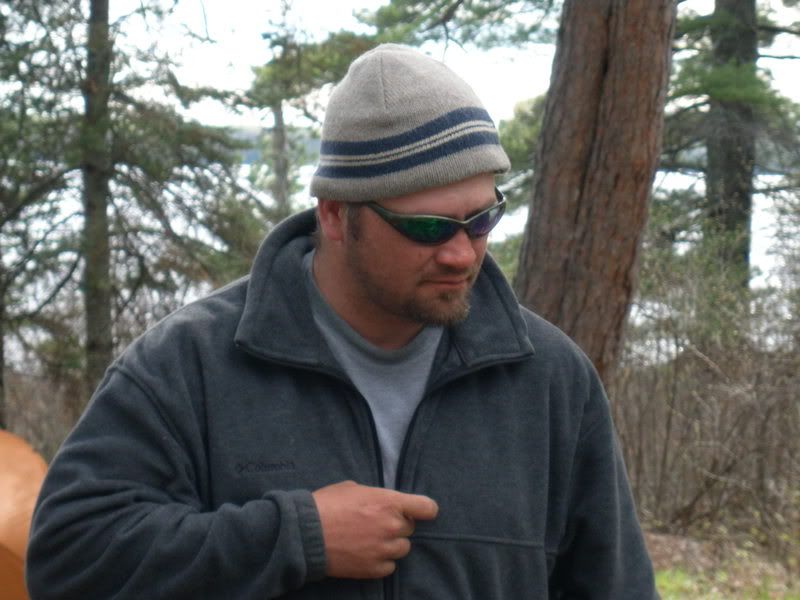 ; and finally Pete (suko), a novice adventurer and Army Master Sergeant counting his days to discharge, learning everything he can about this fantastic form of adventure.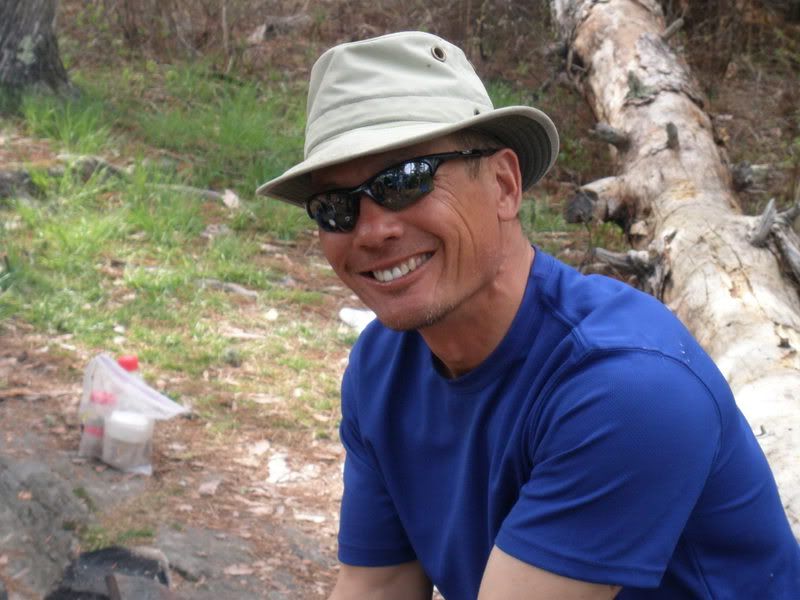 Pete beat the traffic into St. Paul and Mark was waiting and raring to go. They talked about their fishing plans and strategies as they headed up I-35 for Ely to browse at the gear at Piragis and meet up with Dave.
Though Pete and Mark had never previously met Dave, he was rather easy to spot - big diesel pickups with Virginia tags and two LeTigre Souris Rivers strapped on top are fairly rare in Ely in mid May. To finally meet him was surprising because he didn't look 60(ish), and was in great physical shape and full of energy. He looks like he could a State Trooper. Or a Senior Drill Sergeant. Dave followed Mark and Pete up the Echo Trail for Crane Lake. This was an uneventful drive with the speed gradually increasing until Pete rounded a blind curve on the dirt road and nearly slammed into two moose standing in the road. The moose stared at them as if to say "who's gonna win this one, a Toyota Van and a pickup… or us?" The moose family must have decided it would likely be a draw so they ambled off into the trees and watched the adventurers pass.
They got to Voyagaire Lodge at Crane Lake, where they'd be spending the night, and started dumping gear for the final sort and purge, covering half of the front lawn. Holy crap! Pete's food pack alone weighed well over 100 lbs. Apparently, he'd brought enough food to feed his real Army, not just the temporary reserves. We thinned out and split the food and kitchen gear to about 80 lbs per food pack with Mark's twin 30 liter barrels loaded to the brims. (Bryan and Dave's note - this was still way too much food…)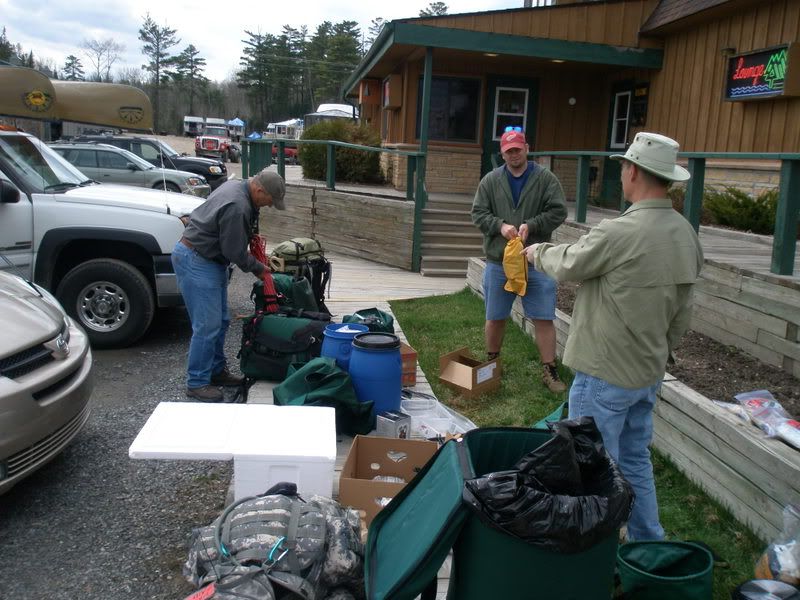 In the middle of this effort, up comes a vintage BMW motorcycle with a CCS Pioneer pack and a double bent carbon and laminated wood paddle strapped on for the ride. Bryan had ridden up from Chicago on his Beemer in true Adventure Rider style-a big travelin' bike with plenty of junk tied on. Pete introduced him as they continued to pack and sort. Most of Bryan's gear took a break this year so he could ride the bike up, a very nice change of pace, thank you.
Bryan is a traditionalist who doesn't follow all the gear fads, but sticks with what works, proven and practical. Some of his gear is over 30 years old. His pack, however, weighed in at just under 40 lbs. and he barely had to thin out anything. He had, however, upgraded his 1969 down Gerry sleeping bag to a nice new 20 degree Campmor down bag. (Gerry? Never mind, that was probably before your time.)
After getting all the gear in reasonable order, food and beer…and then a few more beers. As out waitress was taking Dave's order, Pete said "Dave here is a State Trooper." Without batting an eye, Dave turned to our waitress and said "That's right, do you have any outstanding warrants?" Well, every drop of blood drained from her face and she croaked out "No". Hmmm. It had been a long day for all of us, so off to get some sleep.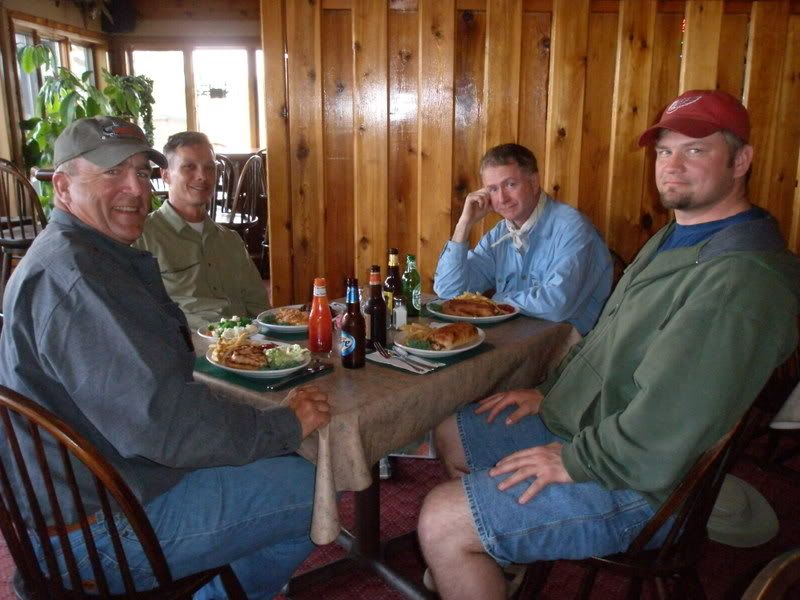 Here is a marked up map of the trip (click to view large version):