Quetico August 2008
by Ho Ho
Trip Type: Paddling Canoe
Exit Point: Mudro Lake (EP 23)
Trip Introduction:
A Quetico adventure including Yum Yum Portage, Cutty Creek, the Death March, and a bunch of little-used portages between McIntyre Lake and Gardner Bay.
(Note: I'm going to try to post my report serially, one day at a time, with each day on a different page so the pictures download from photobucket right. Here's the first day. More to come soon.)
Text by Ho Ho. Pictures by David and Ho Ho.
Prologue -
For this year's "big" Quetico trip, David and I decided to take a stab at a route we had been thinking about in September 2005, but didn't do then because the water was probably too low for creek paddling. We wanted to go in through Kahshahpiwi and wend through the lakes on Cutty Creek to the Death March, then improvise a route from there. We got a September permit months ago, but for work reasons switched our start date to August 15. Fortunately, we were able to get a Kahsh permit for mid-August just a couple weeks ahead of time. We had 9 days for the trip. With plenty of rugged or at least long portages to tackle, this would be a more ambitious journey than we had taken for several years.
We flew to Duluth the day before the trip, changing planes in Minneapolis. The guy who sat down next to us on the hop to Duluth was also on his way to Ely, also to start a 9-day trip the next day, in the BW from Mudro to a Crooked Lake base camp and out again at Mudro. This sparked the idea for David and me to change our exit plans for our own trip. Instead of returning through Prairie Portage, we could paddle out to Mudro. My sister, Helen, was dropping us off and picking us up after the trip, so it would be no problem to start at Moose Lake and end somewhere else. Our seatmate, Chuck, was planning on waiting at the Duluth airport till his buddies who were driving from Ohio got there to pick him up. But they wouldn't arrive for several hours after we landed, so we offered him a ride to Ely. Helen was picking us up, and we all squeezed into her car and made a beeline to Ely and VNO, where Chuck was staying in the bunkhouse and we needed to pay for our Prairie Portage tow the next day, and cancel our tow reservation for the trip out. After buying the rest of our food and running other errands in Ely, we settled in to organize our gear for a morning departure.
While we were getting packed, we heard Helen's dogs barking up a storm down at the dock. Eventually we went to investigate. It turned out an Otter had been playing a few feet from the dock for several minutes, sticking his head out of the water and snorting at the dogs. David and I just missed the show, but Helen got to see it all and was happy because it was her first Otter-sighting in the wild. After that excitement, we finished our packing and hit the sack for an early departure the next morning.
Day 1 (August 15, 2008): The Adventure Begins - Prairie Portage - Basswood Lake (Inlet and Bayley Bays) - Portage - Burke Lake - Portage - Unnamed Pond - Portage - Basswood Lake (North Bay) - Beaver Dam Liftover - Unnamed Beaver Pond - Lined Rapids Plus Beaver Dam Liftover - First Unnamed Lake - Portage - Second Unnamed Lake - Portage - Dell Lake - Portage - Third Unnamed Lake - Boggy Portage - Grey Lake - Campsite - about 12.25 miles altogether: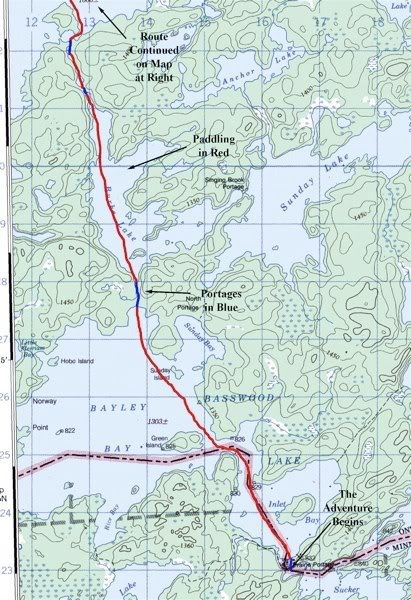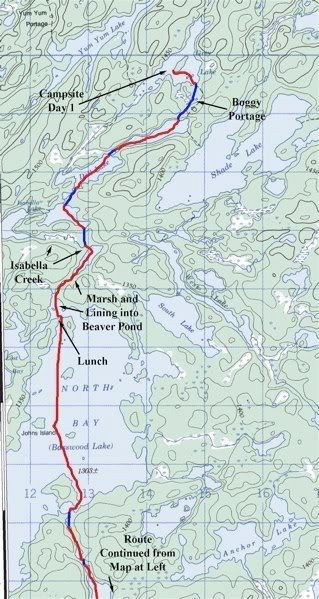 On Friday morning, we finished packing, loaded the gear into the car, tied down the canoe on top of it, ate a hearty breakfast, and headed for Vosburg's on Moose Lake for our scheduled tow at 9 a.m. We got there about 10 minutes late, and no one was around. David went looking for signs of a towboat driver. In the meantime, I helped Helen practice getting a canoe on and off her shoulders (she wanted to do this while we were gone), and the dogs ran around like demons. After a bit David came back with the boat driver, who had been about to leave the premises because we weren't on the schedule. Well, it all worked out. And even if it hadn't, the worst that would have happened was we would have paddled up the Moose Chain under our own power, which is not a bad way to start a trip. But getting a tow was better this time around, because we wanted to make good progress into the middle of Quetico our first couple days.
We said goodbye to Helen and the dogs till our meeting at Mudro in 9 days, and sped up the Moose Chain with the assistance of 25 horses. The permit check-in operation at Prairie Portage has moved from the ranger station to the old customs house where the Friends of the Quetico store is. I had to wait for a group of six to get their fishing licenses and permit. Finally I got our permit, and at 10:30 we were off -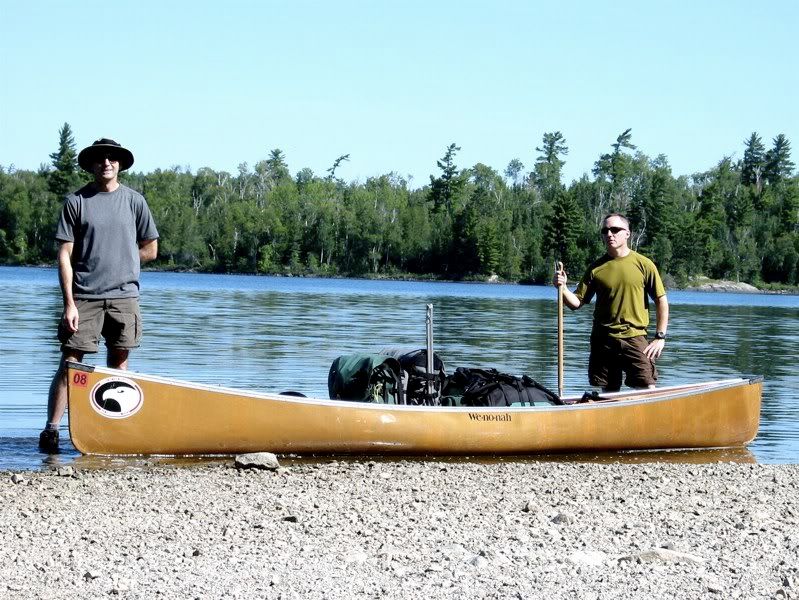 I should say a word about our canoe. Even though it has a prominent Spirit of the Wilderness decal, it's not rented. I bought it used from them last September. I just haven't figured out how to get that decal off yet. It's a Spirit II, which we thought was better for this trip than our beloved Champlain.
The weather was perfect - very calm - for crossing Bayley Bay. We got to the Burke portage at the same time as the six-man group that checked in at Prairie Portage right before us. One of the guys had a blue Seliga. Beautiful. But also not feather-light at 90 pounds. Not the perfect canoe for the portaging trip we were taking. Better suited to the S Chain, where the group of six was heading, and the portages are short and forgiving.
Paddling up Burke Lake, I saw something moving around on the north shore. The binoculars showed a big White-tail along the edge of the water. Aside from Beavers and Red Squirrels, I'm pretty sure that's the only mammalian wildlife we saw on this trip. In August most animals (other than humans) seem to be quiet and inconspicuous, probably because breeding season is past.
We carried the first portage between Burke and North Bay. The little pond between them is always photogenic -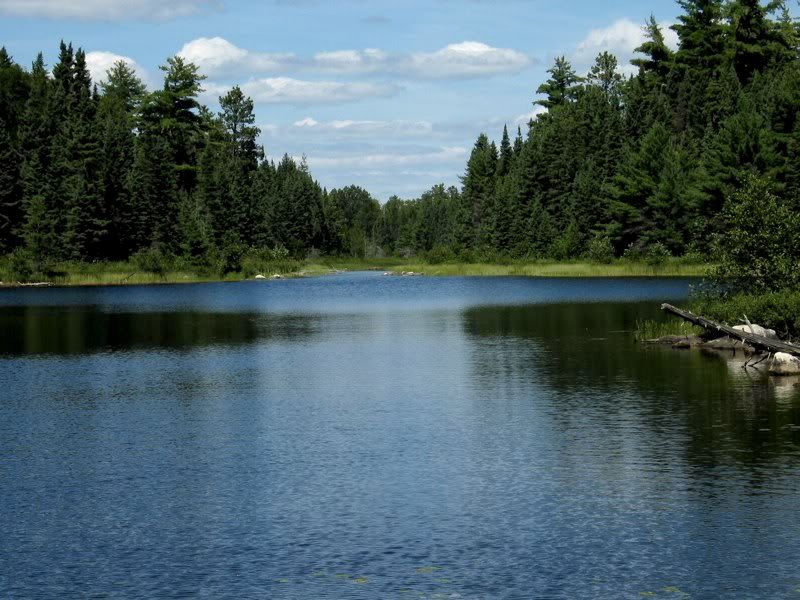 This is the first time in a few years we've been able to paddle the whole way to the next portage into North Bay. The creek between the two portages between Burke and North Bay gets pretty shallow during low water. Fortunately, it has a good sand bottom when you need to hop out. That wasn't necessary this year, even though water levels had dropped a lot since the record highs of spring.
Looking back at the creek from the rocky landing for the second portage -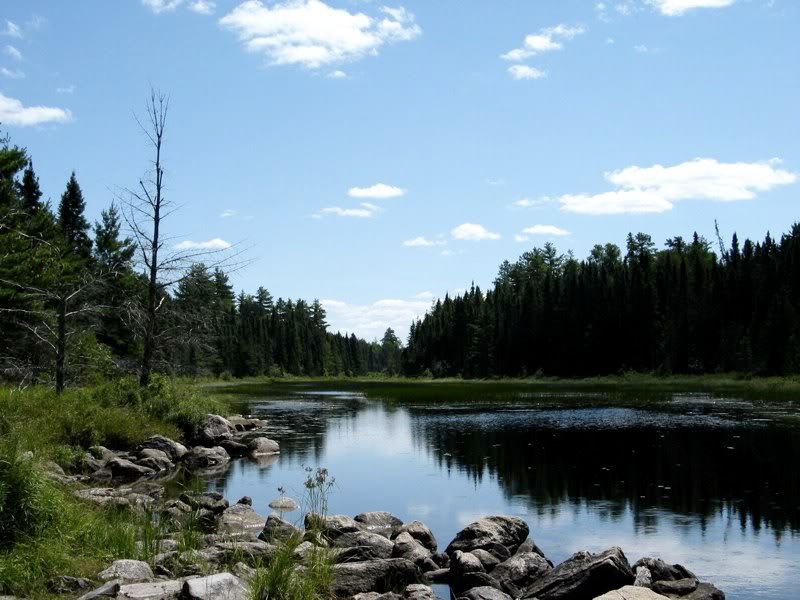 The wind and water stayed placid as we crossed North Bay. We could see a number of groups scattered across the bay, including our friends with the blue Seliga setting up camp on a nice island. It was only lunchtime for us, though. We headed to eat at a campsite at the north end of North Bay, by the entry to Lost Bay. The site was in a sheltered cove (so sheltered there was an algae bloom there). As we sat down for lunch, the hubbub was suddenly behind us. Only a few hours after leaving Prairie Portage, and we were starting to enjoy the solitude of Quetico.
There are several routes from North Bay to Kahshahpiwi, all involving many small lakes, resulting in plenty of portages. In 2005, we had tried to go via the marsh and big Beaver Pond just north of where we were stopped for lunch, but we couldn't find our way through the reeds due to low water. (Or maybe it was just ineptitude.) This year we were going to try again. At first we couldn't find anything that looked like a waterway through the mud and reeds. But after a bit, we found a very obscure route through. This was training for many miles of paddling marshy creeks to come.
Not long after we broke through the wall of reeds, we came to our first beaver dam of the trip. We pulled the canoe over and continued up the creek in somewhat deeper water. As we rounded a bend in the reeds, a canoe with an older couple was coming the other way. They startled us, and I think we startled them. We were already getting used to having no one else around.
There's a portage around some rapids and another beaver dam just before you get to First Unnamed Lake, which is really just a big pond. We decided to line the canoe up the rapids and lift over the dam. Then I paused for a "heroic explorer" photo op -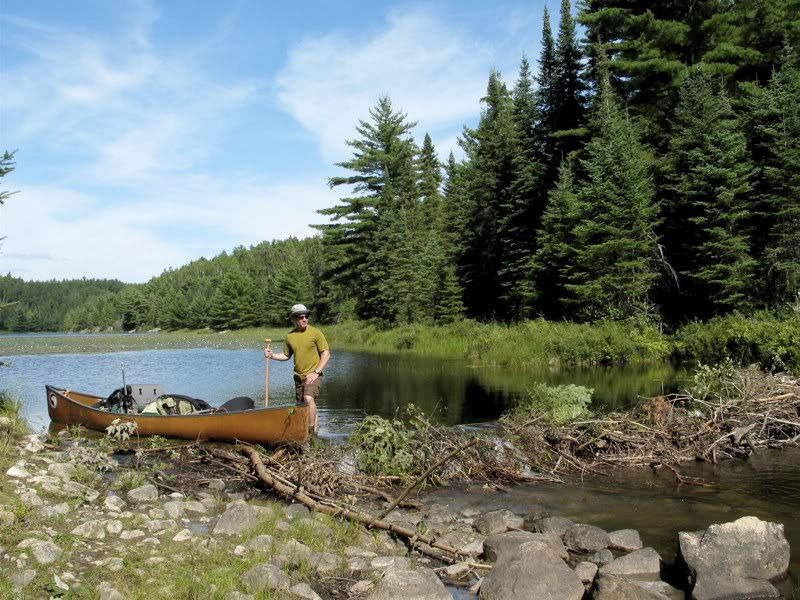 The most direct route to Kahshahpiwi has traditionally been to paddle from this pond up Isabella Creek to Isabella Lake, on to Side Lake, and across a final beaver pond to Kahsh, with plenty of Unnamed Lakes tossed in for good measure along the way. Since that's the most direct route, we had never gone that way. But this year we were looking to put some distance behind us at the start of the trip, so we considered it. Unfortunately, the beaver dam for the last pond on that route blew out last year, and now it's supposed to be a mucky mess. Also, we kind of wanted to cross Yum Yum Portage again, which we had not done since 2003. I solicited advice from board members and got lots of helpful information, most notably from Kekpond. It seemed like the Isabella and Side Lake route was still doable, but wouldn't be as fast as before the beaver dam blowout.
We still weren't sure which way we would go when we crossed North Bay. But now we made an executive decision to go via Yum Yum. We could still see some new territory along the next few lakes on our route (in the past we'd gone via Shade Lake). First we would portage into Second Unnamed Lake. That portage starts near the mouth of Isabella Creek. Looking back from the portage landing on the creek -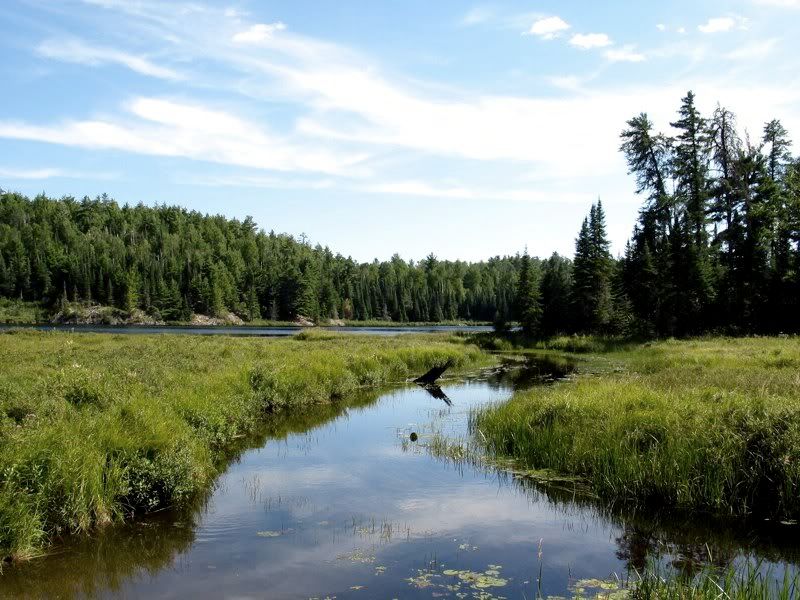 After that carry, we paddled a short distance across Second Unnamed Lake to the portage to Dell. As I was carrying the canoe across this portage, a stealth root reached out and grabbed my boot, sending me and the canoe flying. Fortunately, the only bruises were to my ego.
There were some wetlands beside this portage. In fact, we fed a good number of mosquitoes on the portages between North Bay and our campsite -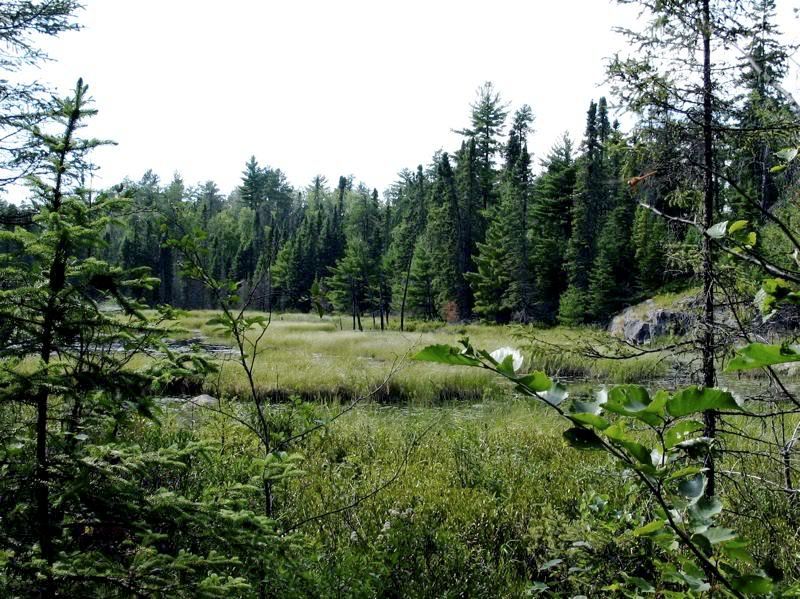 Coming back to Second Unnamed Lake for our second load -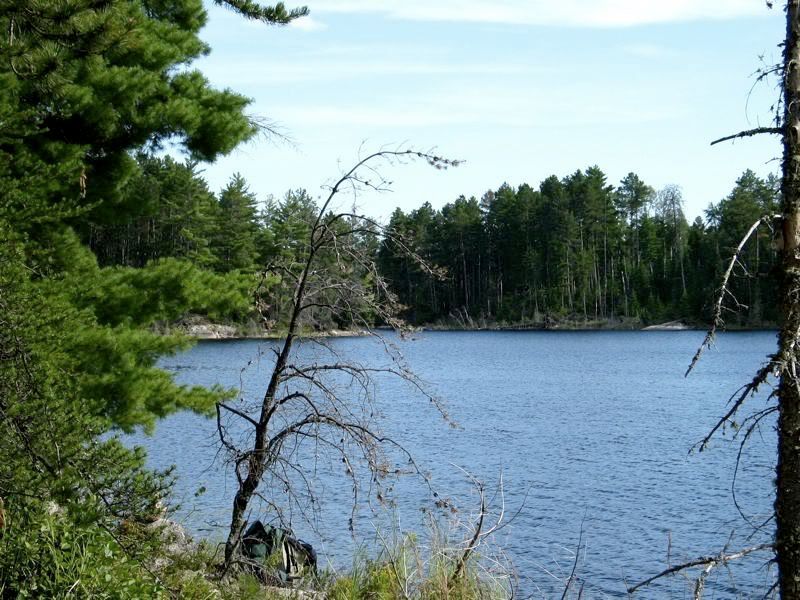 Dell is a pretty little lake with lots of nice big pines. I'm guessing it was too isolated from major waterways to have been logged. From the canoe, it looked like there was a nice campsite, too. On a slower-paced trip we might have stopped there, but today we wanted to press on. Soon we came to the portage to Third Unnamed Lake. Along the portage from Dell to Third Unnamed -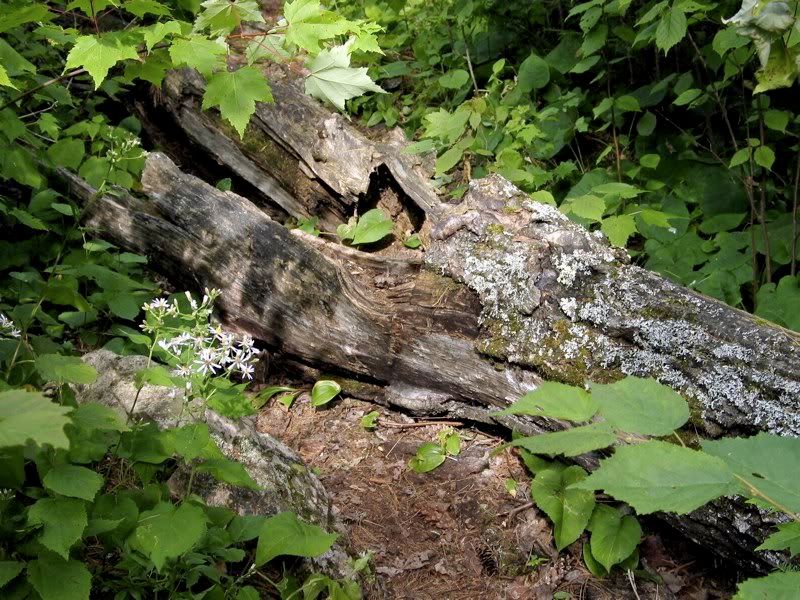 It was about 5:15 by the time we carried both loads across to Third Unnamed. We were now on familiar territory, as Third Unnamed is between Shade and Grey Lakes, a route we had traveled twice before. Yum Yum Lake was our original tentative goal for today, but weren't going to make it there. We still wanted to go at least one lake further, though, to Grey. And that meant crossing -- Boggy Portage.
Yes, Boggy Portage. The one that almost defeated us on the Day of the Deluge in 2003. After we had wrestled Yum Yum Portage to the ground, and sailed across the Yum Yum-to-Grey portage (both of which we would do in reverse tomorrow), Boggy Portage snuck up behind us and knifed us in the back - first with that insidious bog slicing right through the middle of the portage, with its smattering of logs floating mockingly in the bottomless muck just daring you to try to cross them without falling off to certain death; - and then with the treachery of its two landings on Unnamed Lake, so that after you finally make it through the bog and load up on Unnamed, the second landing lures you with its Siren's song back into the bog, fooling you into thinking you are on your way to Shade Lake, but really stuck in a nightmare, - like Groundhog Day, but way, way less funny.
Yes, THAT Boggy Portage.
Except that . . . when it's not too wet, and you know about the stealth second landing, it's not bad. It's still a rugged carry. But not enough to make you wake up in a cold sweat if it happens to enter your dreams. With the blown-out beaver pond on the Isabella-Side route, most folks now probably cross Boggy Portage to get to Kahshahpiwi. Of course, that may be why it was so easy to get a Kahsh permit at the last moment.
Maybe the increased traffic also accounts for the second path beaten through the eponymous bog of Boggy Portage, on slightly drier ground than the older pickup-sticks-as-corduroy route through the bog. In wetter conditions, you'd probably still sink up to your hips (or deeper) on the new path (on the left in the picture below), especially because it mostly lacks even the pickup sticks in the older path -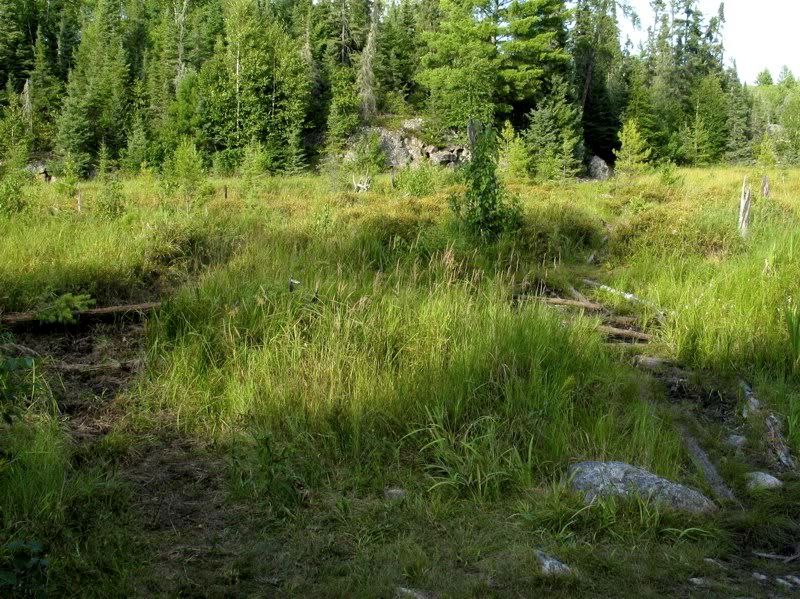 We made it through with our boots still on our feet. Once on Grey Lake, we headed for the big island where there was supposed to be a campsite. Sure enough, there's a decent site for a small party like ours, so we claimed it for the night. We got there at 6:15. Our first order of business was going for a swim to wash off the day's grime. Then we set up camp.
For several years now, David has been in charge of getting ropes set up to hang our food at night, and he worked on that while I set up the tent and otherwise got the camp in order. We got a great idea from the CCBB a few years ago to use a baseball with parachute cord through it to throw over the trees and use as a leader to pull the sturdier bear-hanging rope up. Until this day, that has worked out just great.
Anyway, after the tent was set up, I checked on how David was doing. Disaster! At least that was his view. Somehow, the baseball rope had gotten totally tangled in a big White Pine and was resting 20 feet up in a bed of needles from which it could not be dislodged. David was despondent - I'm not kidding. I was like, "No problem, let's just hang the pack somewhere so it's out of reach of mice and deal with it in the morning." So that's what we did. Sure, any bear that wasn't a midget could get the food. But at least if that happened we could still paddle out in one day.
We had dinner and then, since it was still pretty warm, went for another swim. There were a couple Mergansers resting at our swimming spot when we went down there, but they decamped as we approached. They left some white blotches on the rocks for us, though.
After our swim, I poured David a little extra Maker's Mark, because he still seemed down due to the bear rope "debacle." We sat on our island, with Grey Lake to ourselves, watching Beavers and Loons and Mergansers patrol the waters. It got dark before we were done with our drinks, and the mosquitoes came out in force. We retreated to the tent, where we both fell fast asleep and didn't stir till dawn.
Planning Links
Featured Sponsor