The Celebration Trip
by Spartan2
Trip Type: Paddling Canoe
Entry & Exit Point: Sawbill Lake (EP 38)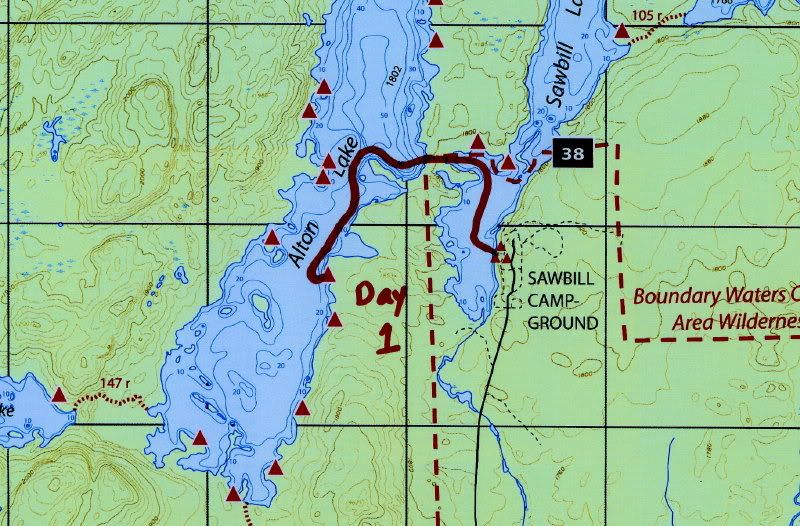 DAY ONE:
We left the cabin at 5:51 AM, just at first light, and headed for Ely to have breakfast at Brittons. This didn't seem to be an original idea for canoeists, and since we had heard about the great breakfast fare here from some of our friends online, we weren't surprised to see the lineup of canoes outside the door shortly after six in the morning.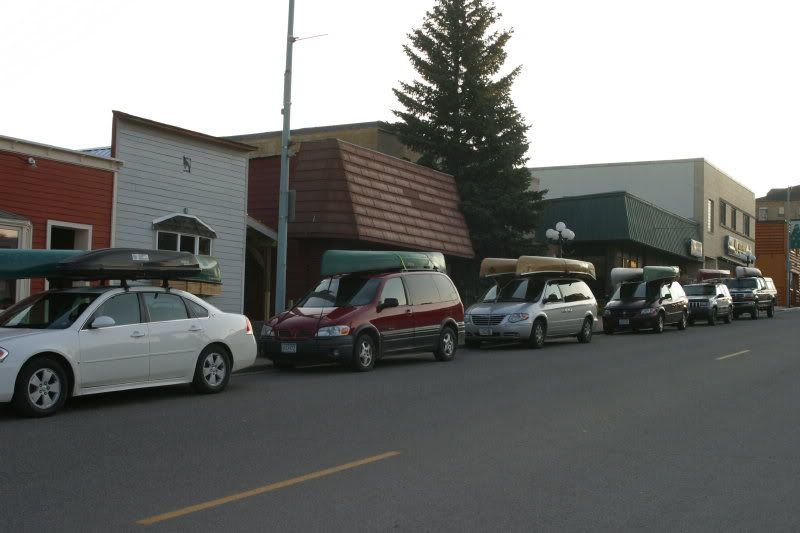 I thoroughly enjoyed a half-order of the famous stuffed hash browns, and was grateful that I hadn't given in to the temptation to go full order! At 7 AM we were on our way to Sawbill Lake to start our canoe trip!
The ride to Sawbill is a long one, on good gravel roads through very remote backcountry forests dotted with lakes along the way. It's a pleasant drive.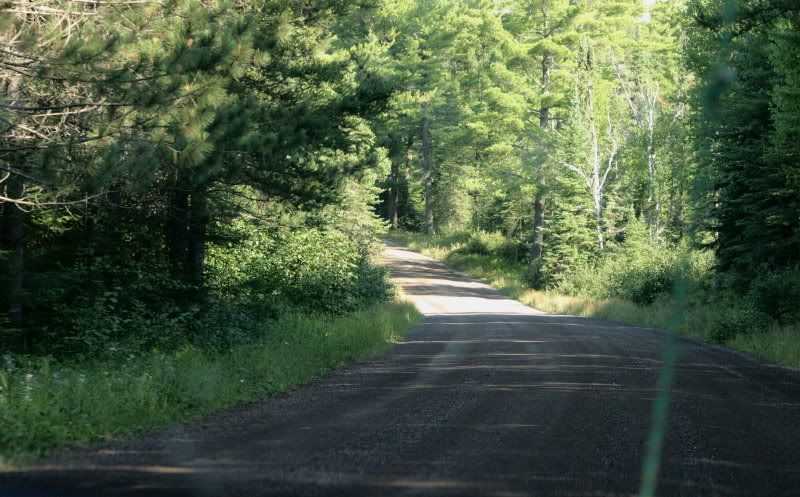 We arrived at 9:15, picked up our permit, watched the obligatory video, and readied our gear for packing into the canoe. It was 58 degrees, with bright sun, and promising to be a beautiful morning. Neil had to make a quick trip back to the car for the foam gunwale pads, and by 10:40 we were paddling off on Sawbill Lake, pursuing a group of common mergansers for a photo.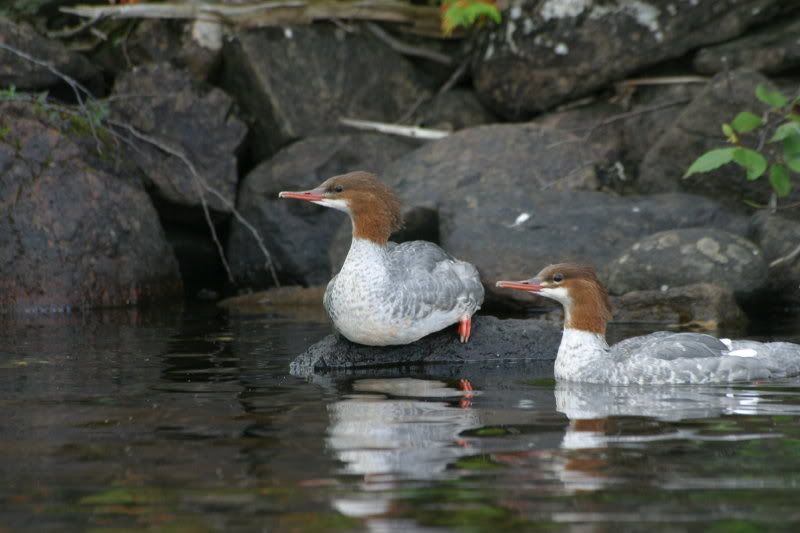 I had already named this trip "Celebration" because last year Neil was doing peritoneal dialysis and we were wondering if there would ever be another canoe trip in the BWCA. No matter how much of an adventure we were able to do this time, just being here in this place was a major cause for joy! Unfortunately, lower back pain was making me wary of long portages, so we had an easy itinerary planned on our short six-day stay; even so, the promise of a great weather forecast and the sight of the blue sky and the even bluer water lifted our spirits as we approached what turned out to be our busiest portage of the trip.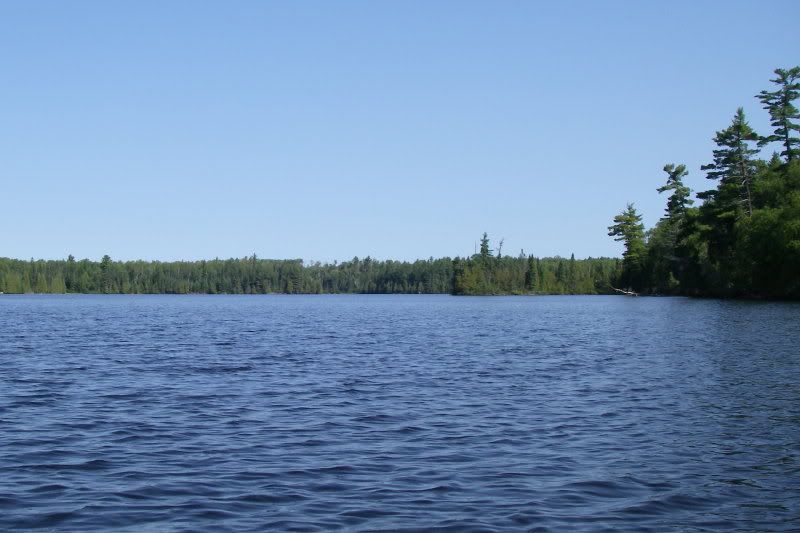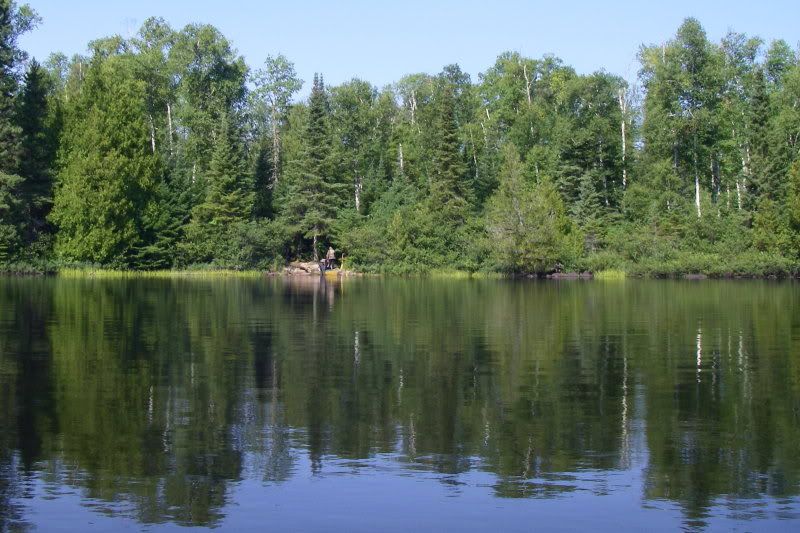 There were two other canoes going our way, and one coming from Alton. We managed to make the portage with no problems, and were soon on our way south on Alton Lake, which has clear water and seems to be a loon habitat. We paddled to the south arm and took a campsite at noon. Neil thought we were stopping for lunch, and I did too, initially, but somehow I got the impression that he wanted to camp early (and he thought I was the one who was ready to stop) so we ended up making camp before either of us really had intended to do so! At any rate, it was a good campsite. It didn't look that great from the shore, but it opened up into a huge site, with a big back "bedroom" nicely sheltered from view of the canoes on the lake, to give a good feeling of privacy on a busy lake. The cover was tall pines and poplars.
At lunchtime we had a temperature of 64 degrees, a lovely breeze, and a clear, sunny sky. I found that this bright sun would be a real bane for good photography for the duration of the trip, and many times would be wishing that I had carried a diffuser for nature shots. Case in point: the huge bald-faced hornet nest on the biffy trail (almost basketball-sized) that was in dappled sun for most of the day. I sat and watched the hornets come and go for a good deal of time. They were pushy little creatures, trying to enter and leave the nest two at a time. It was somewhat daunting to have to walk by this domicile on the way to the pit toilet each time, but we soon got used to it, and we found that as long as we didn't disturb the hornets, they took no interest in us at all. Whew!
It was very quiet all afternoon. Neil read his book in the tent and I wandered around taking photographs and also spent a bit of time leaning against a tree with book in hand.
For our supper we had a campfire and we ate the old traditional "steak and oranges" first night meal, something Neil hasn't been able to enjoy since the kidney disease started up in 1992. We didn't grill the steak on the grate, but cooked it in a pan; even so, it did seem like a "blast from the past" to go back to a tradition from so long ago! To accompany this, I tried my luck baking in the jello mold oven. Our corn bread cooked surprisingly quickly and was a tasty treat.
The sunset wasn't spectacular, but now in retrospect it was probably one of the better ones of the trip. I photographed the tree by the water in the warm light and we enjoyed the lovely evening. Bugs weren't bothersome, loons were calling, and the evening started to cool from sixty degrees at about 8 PM. The water was completely calm.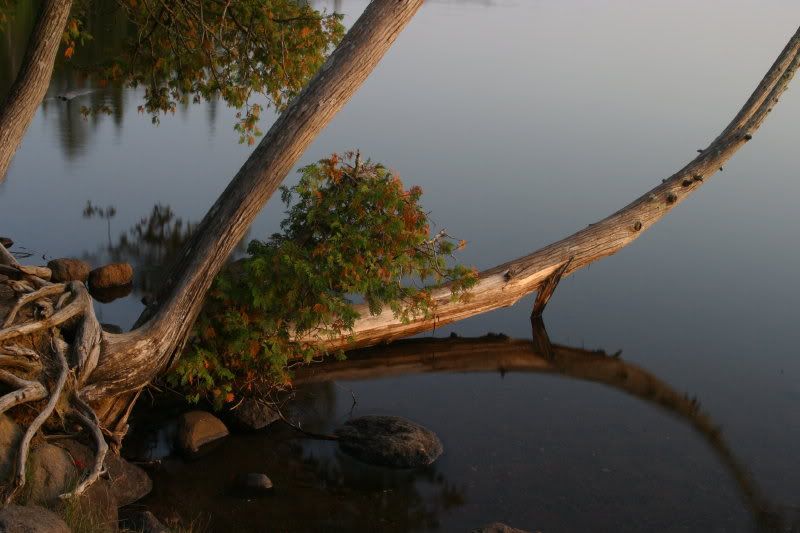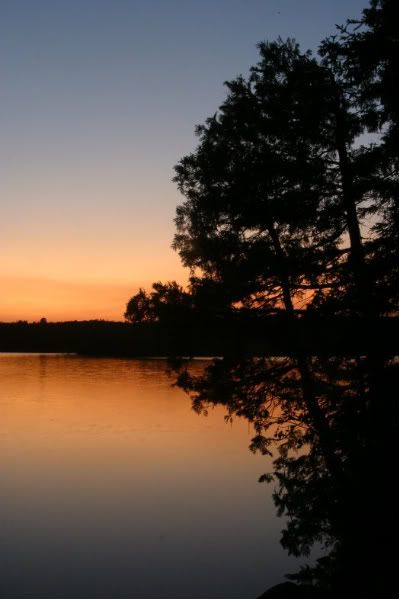 I was awakened at 2 AM by the sound of wind and waves, and went out of the tent. The moon was bright, and it was a beautiful starry night.