Quetico September 2009
by Ho Ho
Trip Type: Paddling Canoe
Entry & Exit Point: Quetico
Trip Introduction:
A 9-day adventure exploring the southeast part of Quetico. (Text by Ho Ho. Pictures by David and HoHo.)
This year's Quetico trip started on Labor Day weekend. On Friday, September 4, David and I flew via Minneapolis to Duluth and drove up to Ely to get ready for the trip. We picked up a few things at Zup's and other local merchants and then headed out to the cabin to pack up for our wilderness departure the next day.
There was a lot of organizing to do, and we didn't get it all done Friday night before dinner and a bottle of wine lured us away from packing duties. No problem. The concept of this year's trip was to stay flexible and take it easy. We didn't have a schedule for our first day, except to make sure we got to Prairie Portage and picked up our permit before the ranger station closed at 4:00. There was no tow boat to meet. We were going to paddle up the Moose Chain to the border. And so after finishing dinner and the wine, we sat out for a while under the just-past-full moon enjoying some Maker's Mark on ice before hitting the sack.
I was up before dawn on Saturday, and we finished our packing with surprising speed and efficiency (for us). Since we were not in any rush, we went to have breakfast at Britton's on our way to Moose Lake. It was the Saturday of Labor Day weekend, and we didn't get to Britton's till about 8:00, so they were pretty busy and it took a while to get fed. Then we were off to start our adventure.
Day 1 (September 5, 2009) -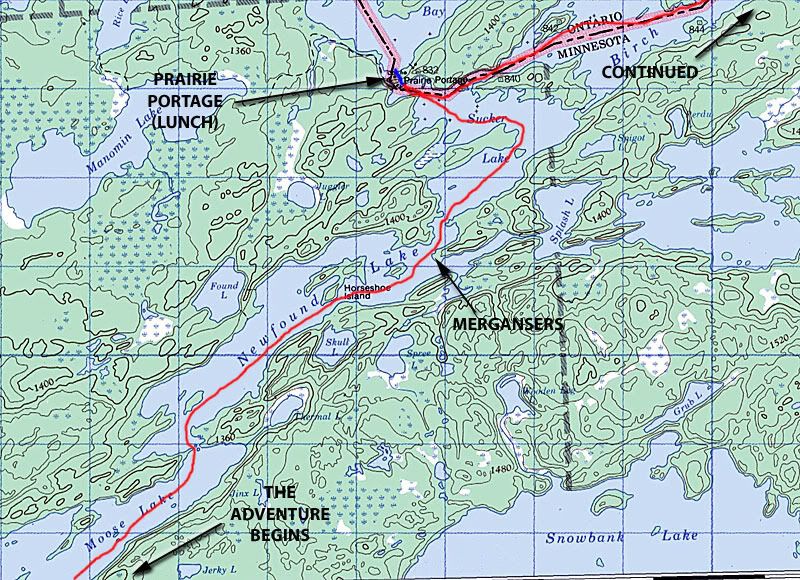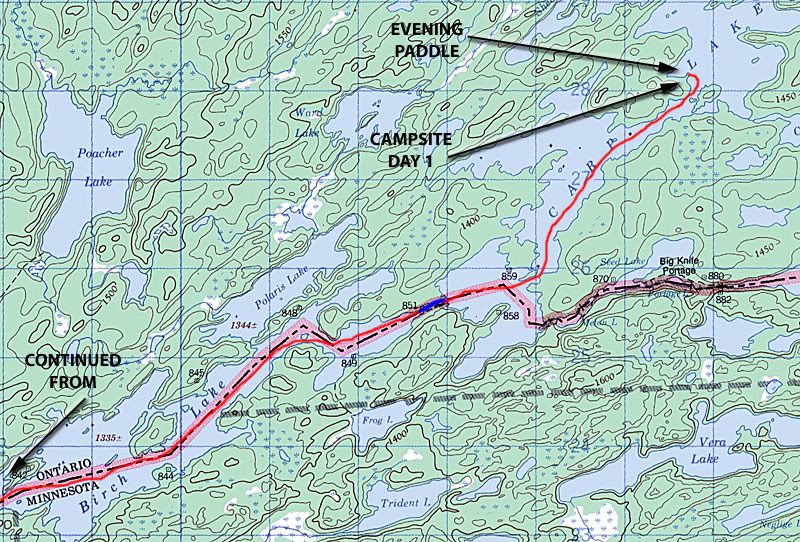 We got to the end of the road at Moose Lake about 10:00. The parking lot was full of big ol' pickup trucks and SUVs. Our car kind of stood out. We had rented the smallest vehicle available in Duluth, since it would just be sitting in a parking lot for most of our trip -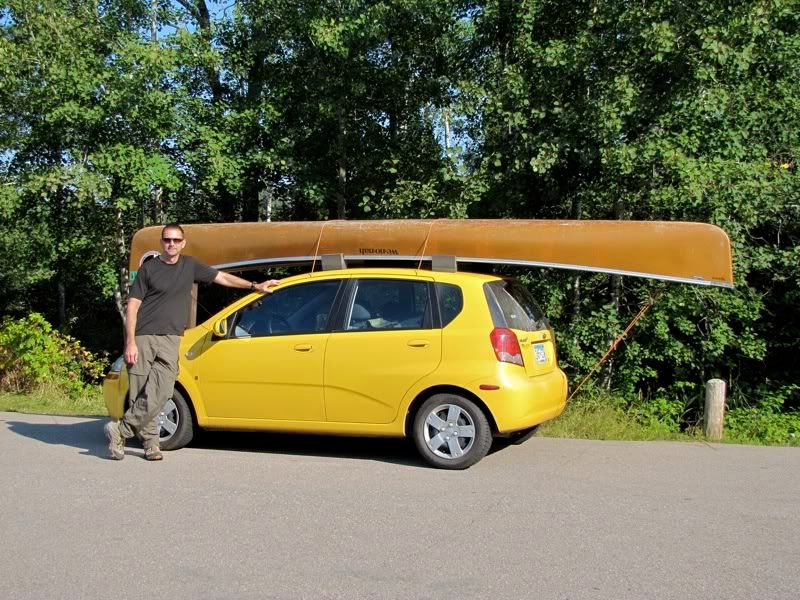 It was surprisingly quiet at the landing. No one was around. We were there after rush hour, but we expected more traffic at the Grand Central of the BW on a holiday Saturday. Around 10:25 we were loaded up and ready to go -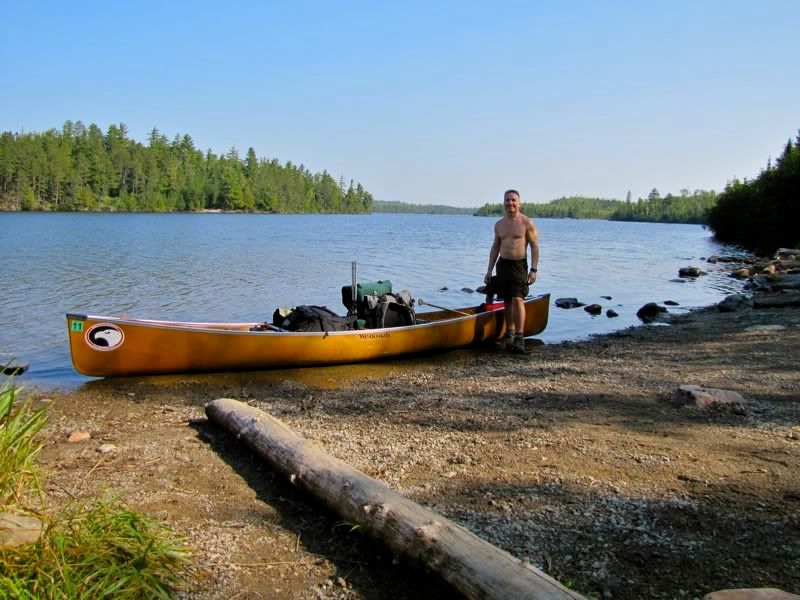 Launching into Moose Lake, we found a light south wind to push us up the chain of lakes -
We made good time up Moose and rounded the S Curve into Newfound Lake. After a pit stop on Horseshoe Island, we continued up toward Sucker Lake. A group of Common Mergansers greeted us at the narrows between Newfound and Sucker. In early September the mergansers are all in their non- breeding plumage, which is like the female's breeding plumage, so it seems like you are only seeing females. But the males are still there, just in disguise -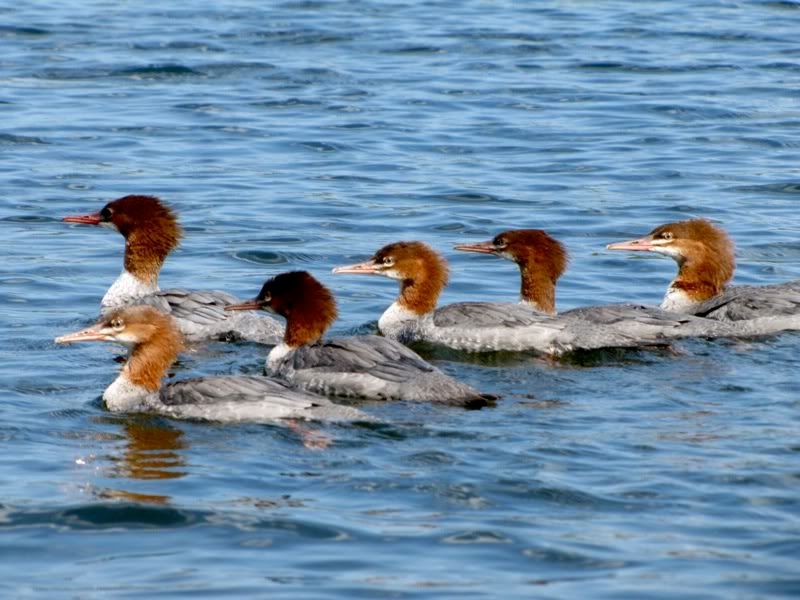 It took us a bit less than two hours to paddle the seven miles to the border and Prairie Portage -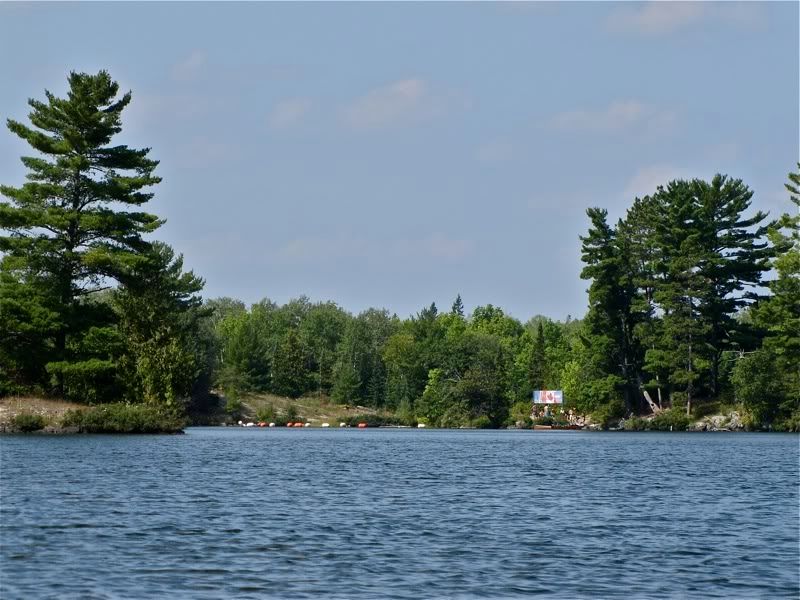 We knew before we got there that our timing was not optimal, because the ranger station is closed from 12:00 to 1:00. We weren't carrying our gear across the portage, so David stayed with the canoe while I walked over to the permit office to see if I could make any progress before 1:00. To my surprise, the office was staffed. But then, to my dismay, I was told by the man behind the counter that he could issue fishing licenses or anything else I wanted - except the needed Quetico camping permit. I had to wait for the real ranger to arrive back from her lunch break at 1:00 for that. Which I found strange, since I was certain the man who was telling me this had issued our Quetico camping permit last year.
But you can't argue with Canadian bureaucrats, so I walked back across and we had lunch while we waited. Then I went back to hover around the office so I would be first in line at 1:00, which was good because a group of neophytes showed up right behind me and I was glad to be in front of them. Permit in hand, I strode back to the canoe, and we launched back onto Sucker Lake around 1:20.
Once back on the water, we backtracked a little to the northern narrows, where both we and the international boundary slipped into Birch Lake and away from the motorized world. We had a Carp Lake permit and were headed for the Man Chain. We had been this way once before, in September 2003. That year, it had poured nonstop the night before the our trip and had continued precipitating the first day while we had breakfast at Britton's and sped up the Moose Chain with a motorized tow. Then heavy fog had moved in when we started paddling, and it was a challenge to find the route through the narrows into Birch Lake before the fog burned off in the late morning.
Today, in contrast, we were helped eastward on Birch by a nice tailwind under blue skies and scattered puffy clouds -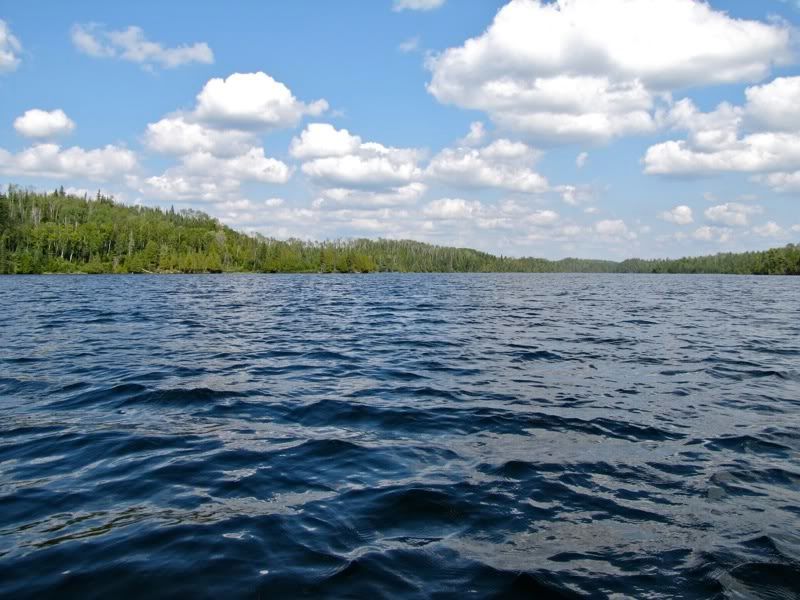 It was good to get away from the motorized traffic of the Moose chain (and the rest of the world). On Birch Lake we saw some nice campsites on both side of the border, but only one was occupied, which surprised us since you can get there without portaging. We followed the international boundary into the southeast bay of Birch approaching the portage to Carp Lake. I didn't have much memory of this portage from 2003 until we got there, at which point it suddenly seemed very familiar. The landing is marked by upturned thin layers of apparently sedimentary rock of a kind that I have not seen much elsewhere in Quetico -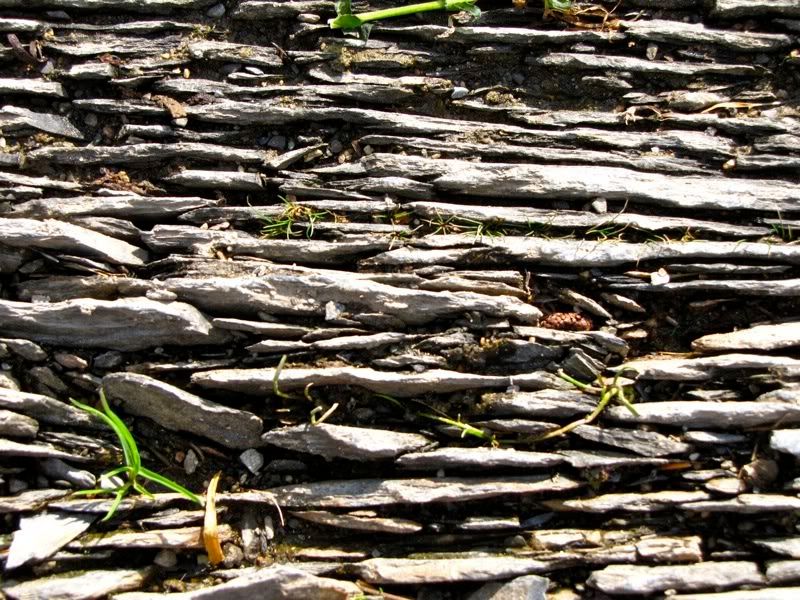 We encountered two groups at the other end of the easy portage after carrying our gear across. After the first load we met a family that was finishing up a BW trip. They had some home-made strippers that I admired. And after our second load we met two couples who had been base camped on Emerald in Quetico all week. It was fun talking to all of them. On our trip back between loads we took a couple side trails we hoped led to views of the creek rushing from Carp to Birch, but the thick foliage prevented good picture taking. Already we were getting into a nice leisurely pace.
Before launching into Carp Lake, I checked out another gaggle of mergansers while David filtered water -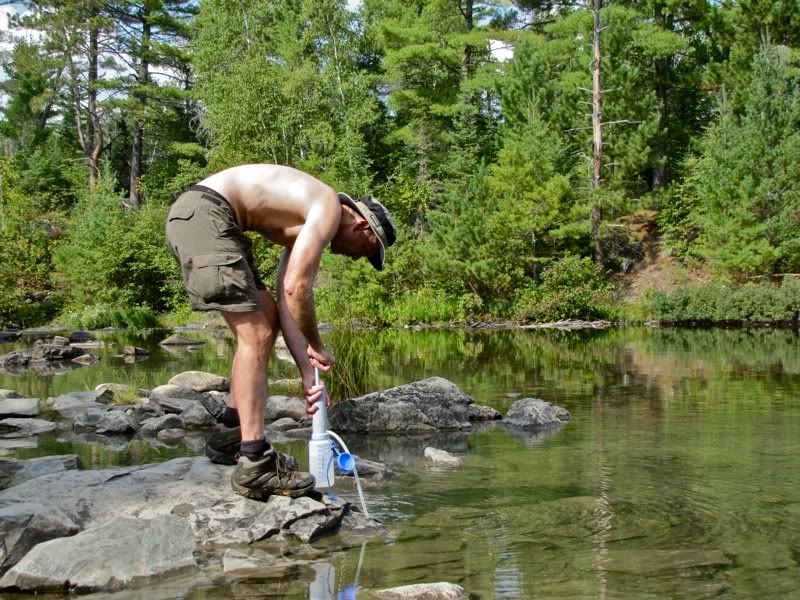 Back on the water, the international boundary cuts through the southwest corner of Carp, but most of the big lake lies wholly within Quetico. So a few minutes after launching from the portage, we squeezed through the narrows into the lake's large Canadian expanse -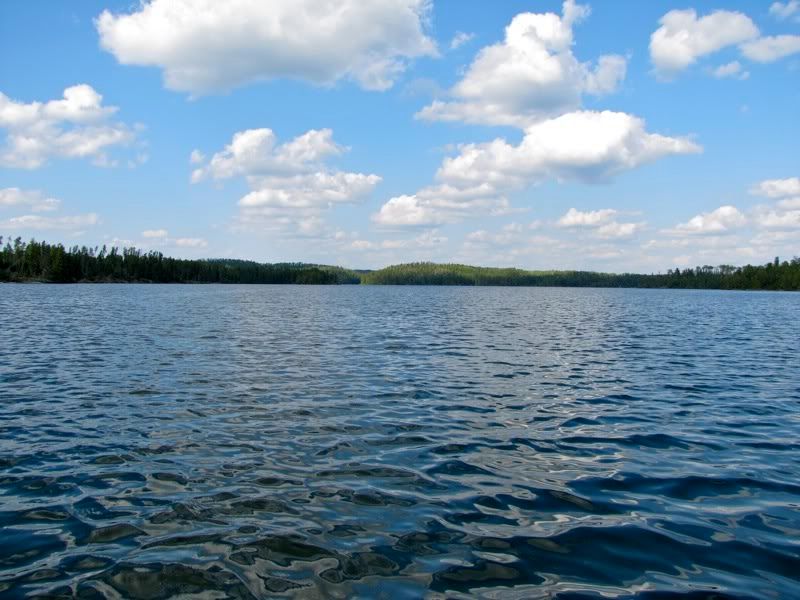 On an island a Bald Eagle welcomed us to Ontario -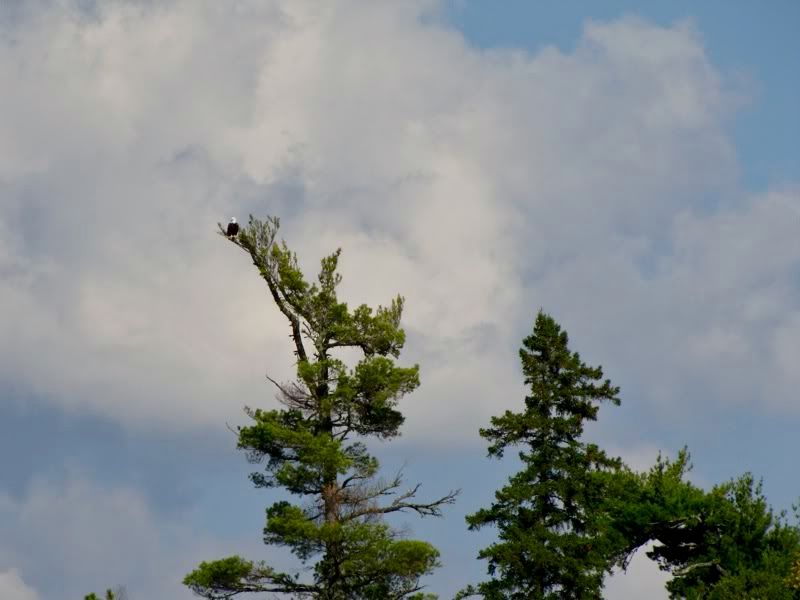 We paddled up the lake, keeping our eyes open for any good-looking campsites along the way. The only other time we had been here, in 2003, we rushed through Carp Lake because I had big ambitions of a 9-day loop that included the Man Chain, Falls Chain, Kawnipi, Kahahshpiwi Chain, and the Yum Yum route back to Prairie Portage. That was a good trip, but this year our concept was to take it a little slower and spend the same amount of time, 9 days, just exploring the southeast corner of Quetico around the Man Chain. It would also be a nice contrast with last year's more ambitious 9-day Cutty Creek adventure.
We passed an occupied campsite in the narrows between the two large basins of the lake. Once through the narrows, we spotted a likely site for ourselves on a small Jackpine-studded point. We checked it out, liked what we saw, and claimed our home for the night at around 4:00. The site was great. It's on a small almost-island connected by a narrow isthmus to the mainland, which provides a place to do dishes and other "sanitation" activities. David said he remembered passing this site and thinking it looked good in 2003, when it was occupied by a group that was drying out after the big rains of the day before. I didn't remember that at first, but as we settled in, the memory image of our site in 2003 slowly welled up from some deep recesses of my brain.
After setting up camp, lounging, eating dinner, doing dishes, and hanging the food pack, we went out in the canoe for a little postprandial paddle. This started a pattern of after-dinner paddles during this trip, an excellent variation on our usual routine.
Here we are looking back at our campsite and the isthmus connecting it to the mainland on the right -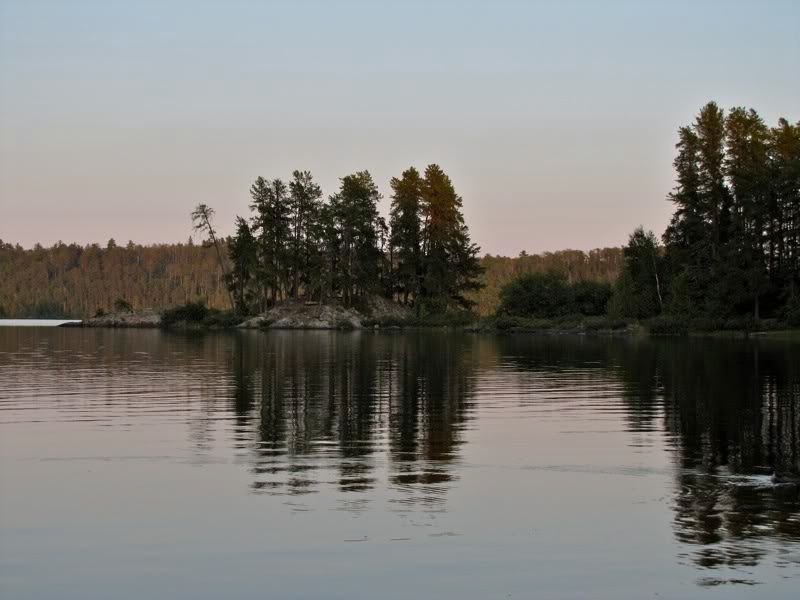 On this evening we just floated in the small bay. A Pied-billed Grebe was floating there too -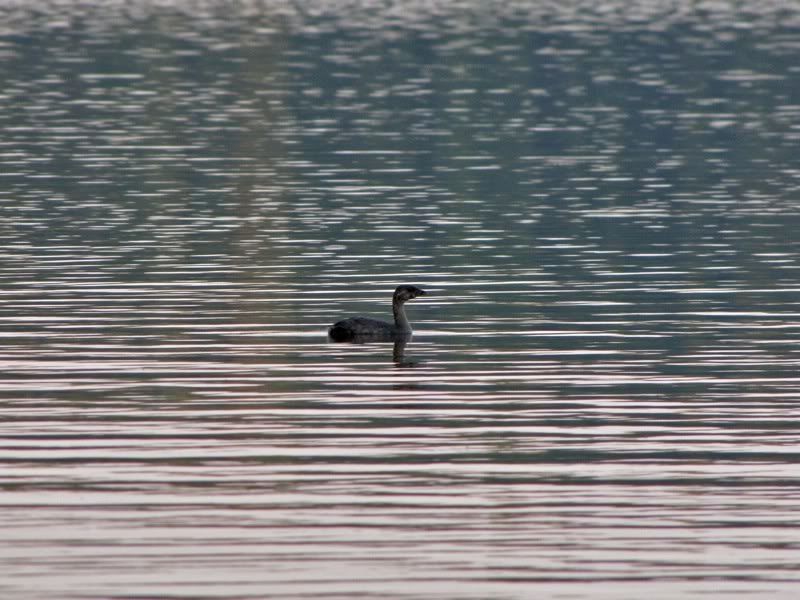 We drifted by the shore for quite a while. The world was perfectly quiet. As evening fell, we floated through warm spots and cold spots in the air above the water. Every once in a while a strange smell wafted up that reminded me of a wet canoe dog (hat tip to wetcanoedog). Eventually we ended our reverie and returned to camp.
We settled in looking out over the lake with some Maker's Mark. Our neighbors from around the corner in the narrows had also gone for an evening paddle. When we saw them paddling back to their camp in the distance they seemed almost ghostly in the dim evening light. The moon was just two days past full, so it rose early above the horizon across from us -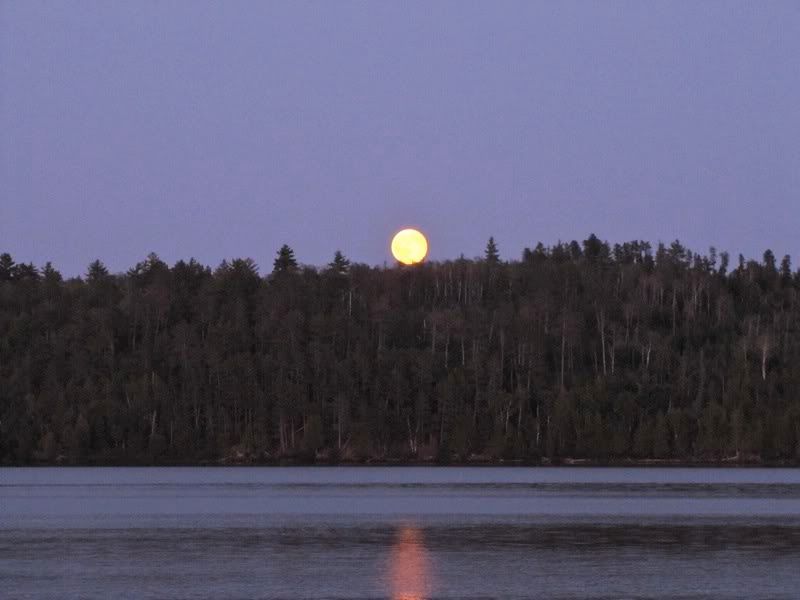 Slowly the mosquitoes thickened, and we retreated to the tent. I slept kind of restlessly until a few drops of rain fell and we got up to put the fly on the tent. After that I went into a deep sleep till dawn.
Planning Links
Featured Sponsor