Mudro to Angleworm, April 2010
by UncleMoose
Trip Type: Paddling Canoe
Entry Point: Mudro Lake (EP 23)
Exit Point: Angleworm Lake (EP 20)
Day 2 - Gun Lake to Angleworm Lake (Thursday, April 8) [full index]
7 miles, 3 portages
I awoke to sun filtering through the pines and for a while resisted leaving my nice warm cocoon. When I finally did emerge from my hammock shelter, cold crisp air got me moving quickly. Despite overnight temperatures down in the low twenties, I did manage to stay comfortable in my hammock, insulated by an Exped mat and 15 degree down sleeping bag with fleece liner.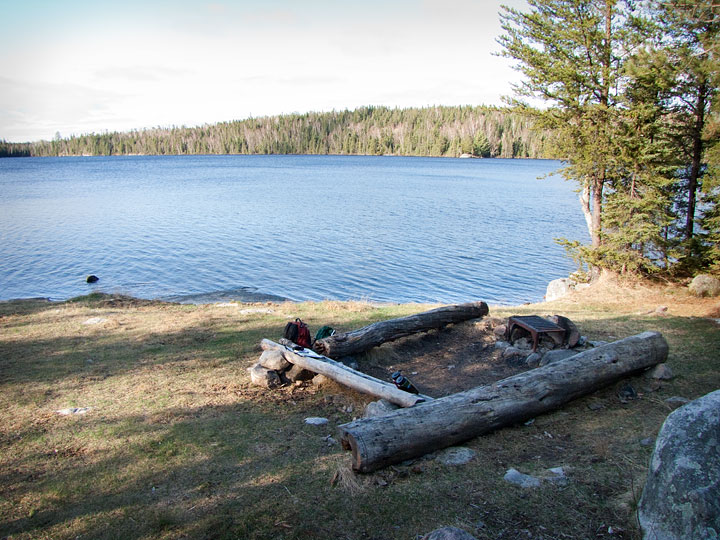 It was my first night spent in my new Hennessy hammock, and I'd already developed a love/hate relationship with it. On the love side, the hammock packs very small and light. It's also extremely comfortable and relatively easy to set up with a little practice. On the hate side, I found it very hard to maneuver into my sleeping bag, and changing cloths needs to be done outside in the cold breeze. In addition, it was harder than I thought it would be to find a good pair of trees to hang the hammock from. Still, I can see this being a valuable shelter option, especially in warmer weather when packing light is important.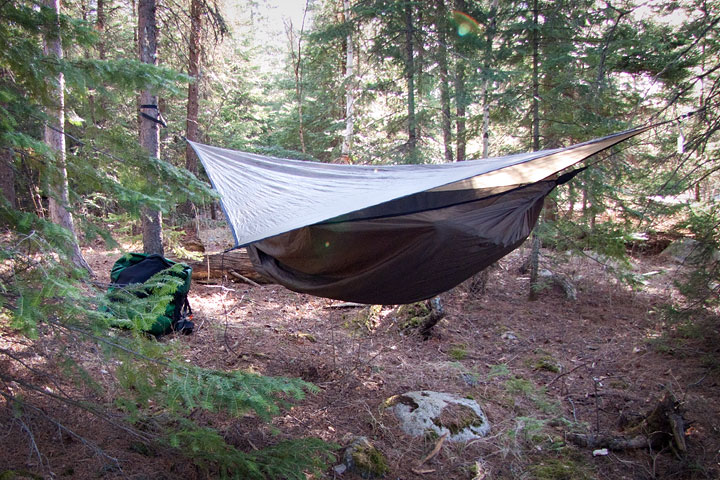 I took a little time to survey the campsite while I prepared and ate breakfast, essentially oatmeal and coffee. The campsite is located on the north shore of the southern basin of Gun Lake. The main seating area rests in a wide open space behind a long granite "front porch" that slopes gradually down to the water. To one side along the shore a trail cuts through some spruce and pines, connecting to a smaller "back porch" with a nice view for watching sunsets. I placed my hammock adjacent to the trail, away from the water.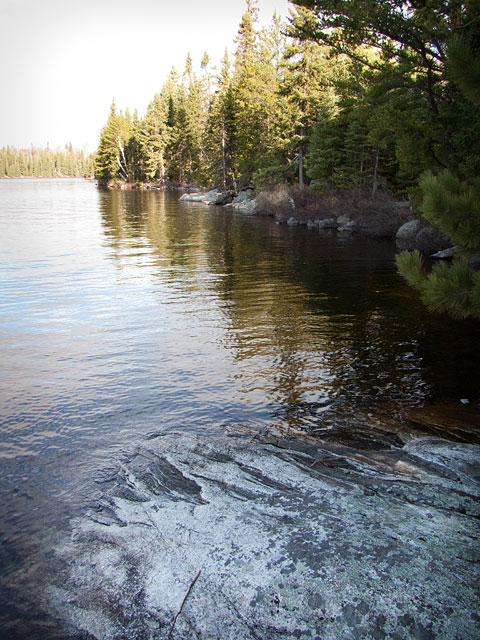 Todays weather and travel was much like yesterday, only more sun. The wind was still steady from the north, but my westerly, then southerly travel direction took advantage of it this time. From Gun Lake I portaged first to Gull Lake, then after a second lengthy portage to Home Lake, a final third portage brought me to Angleworm Lake which is where I had planned to meet up with Heidi on Friday. Though lengthy, the 270 rod portage from Gull Lake to Home Lake was not all that bad except for a few muddy places and some patches of standing water.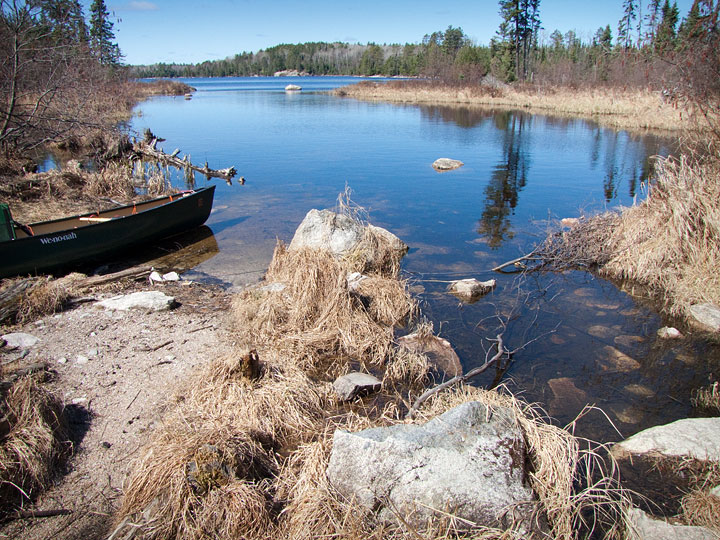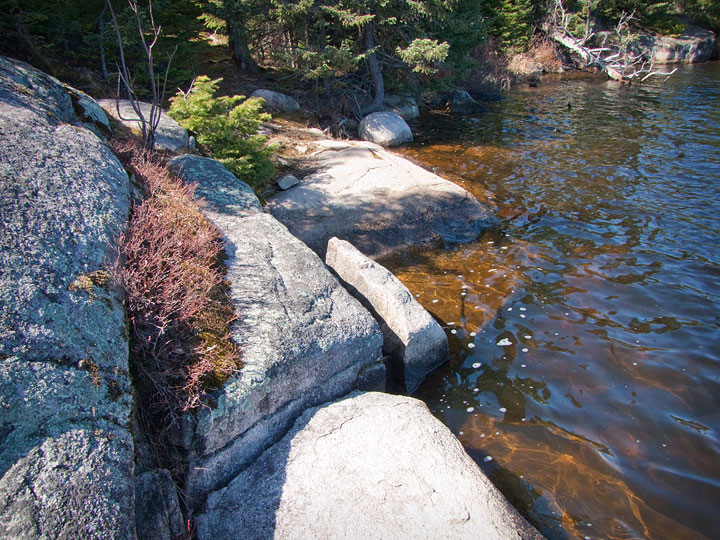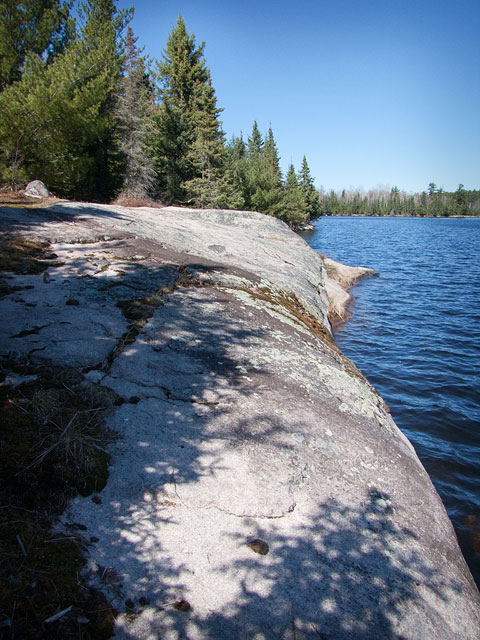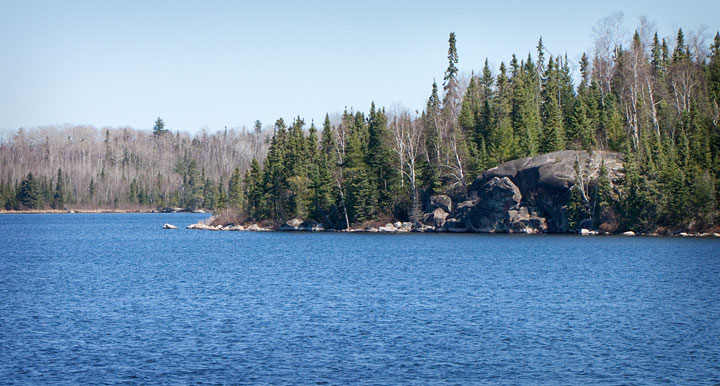 With the wind at my back I made good time paddling to the far southern end of Angleworm Lake and reached a campsite by 4:00 p.m. I made a quick hike up to the Angleworm Trail to scope out two other campsites nearby just to the north, but I decided to stay at the one where I first landed. While up on the trail I passed a woman hiking in with her dog. She was the first person I'd seen since leaving the Mudro Lake entry point.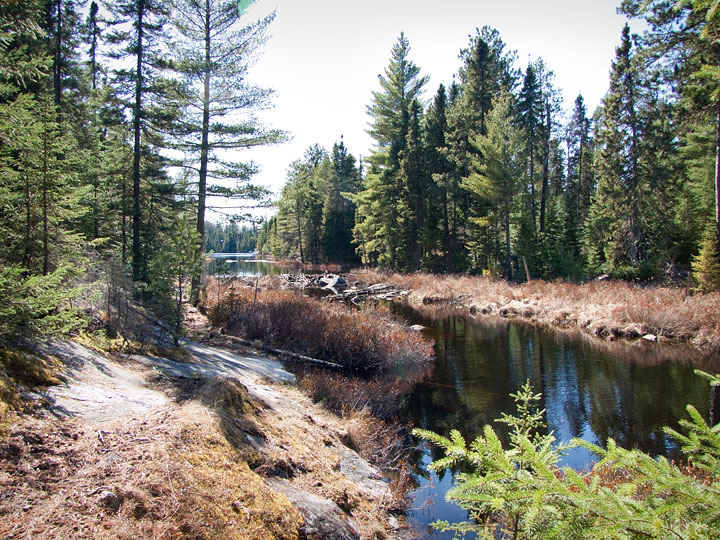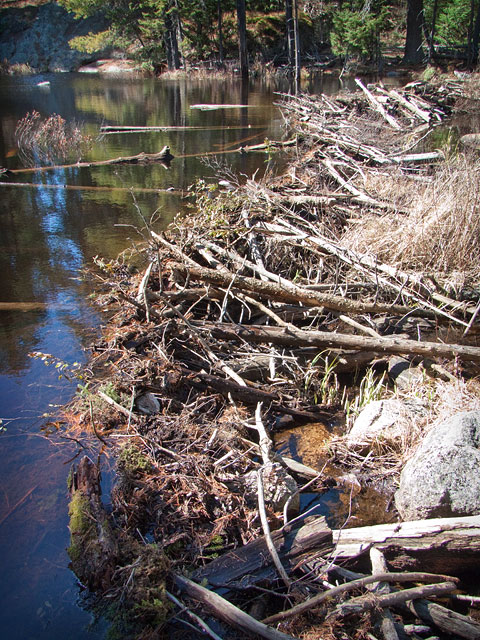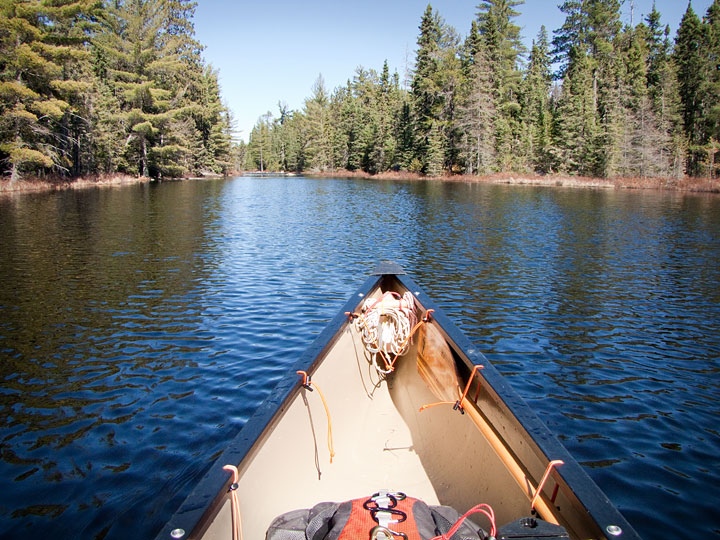 Before turning in for the night, the animals seemed to gather. A number of loons were grouping at this end of the lake, and another beaver swam by just a few yards away. At dusk I faintly heard what sounded at first like a woman screaming and then maybe calling for help. I immediately thought of the woman I had passed hours earlier up on the trail. The sound quickly grew louder until it was clear that it was not coming from a human after all but from some animal instead. The louder the cry, the more it sounded like a small child screaming. Soon the dog that had hiked in with the woman on the trail started barking from one of the campsites further to the north. Whatever was making the sound finally stopped after a few minutes.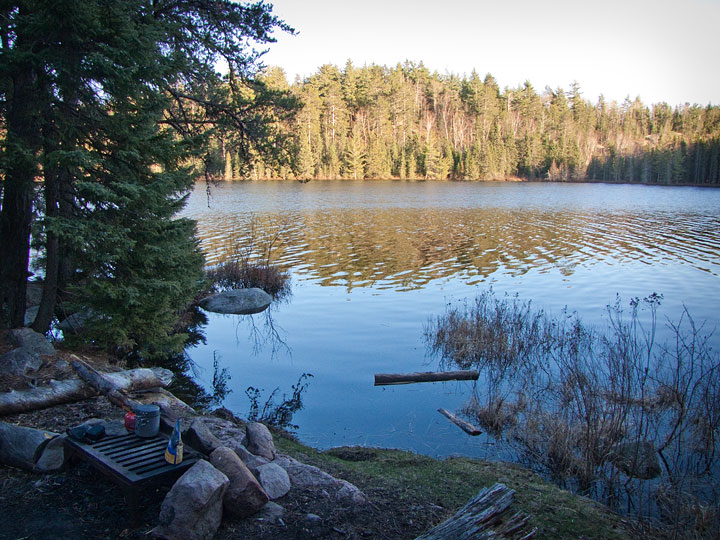 After sleeping comfortably the previous night, I decided to see if I could do without the Exped mat beneath me tonight. That would be yet another item I could potentially jettison in the future to make my pack even lighter. Unfortunately this also proved to be a bad idea as the overnight temperatures ended up dipping into the teens. The night started fine, but I was having difficulty falling asleep for any significant period of time. I gradually got colder and colder. Not to put blame elsewhere, but a nearby owl didn't help matters much either with its periodic hooting throughout the night. Finally by about four or five in the morning, I managed to put together a couple hours of uninterrupted sleep, but I was a popsicle by then.
---
Click here for the fully formatted report