The Unintentional Base-camping Trip
by Spartan2
Trip Type: Paddling Canoe
Entry & Exit Point: Cross Bay Lake (EP 50)
Trip Report: The Unintentional Base-camping Trip
Prologue: We enjoyed our "Celebration Trip" in September of last year, seven months after the milestone of Spartan1's kidney transplant. Having all of the schedule/hassle of peritoneal dialysis, the inconvenience of the kidney diet, the years of severe anemia, etc. behind us, we took an easy trip and then made plans for this June when we would do a "real" canoe trip—ten days in the BWCA when we would be stronger, more confident, and ready to tackle more portages, more adventures, and perhaps see some real wildlife. (Read that MOOSE, please. I haven't seen a moose in quite a few years and I am so ready!)
It didn't quite work out that way. All through the winter of 2009 and the spring of 2010 I battled with back pain that seemed to worsen no matter what course of treatment I tried. Finally in desperation I had an epidural about a week before we left Michigan for Minnesota and we just hoped for the best. I won't bore you with all of the details of my condition. Let's just say I experienced more than just a few minor aches and pains. But, as with all times in the BWCA, a few days there are better than a few days most anywhere that I can think of. . . .Or as our granddaughter says, "Grandma, you have to remember to forget the bad and focus on the good!"
Anna is seven years old. For the past four summers now she has accompanied us to Minnesota for one week of our vacation. We stay at a cabin near Ely and we have all sorts of fun exploring the woods around the cabin, taking day trips in the canoe, and going for a campout at a Forest Service campsite on East Twin Lake. She's getting pretty familiar now with the Ely area: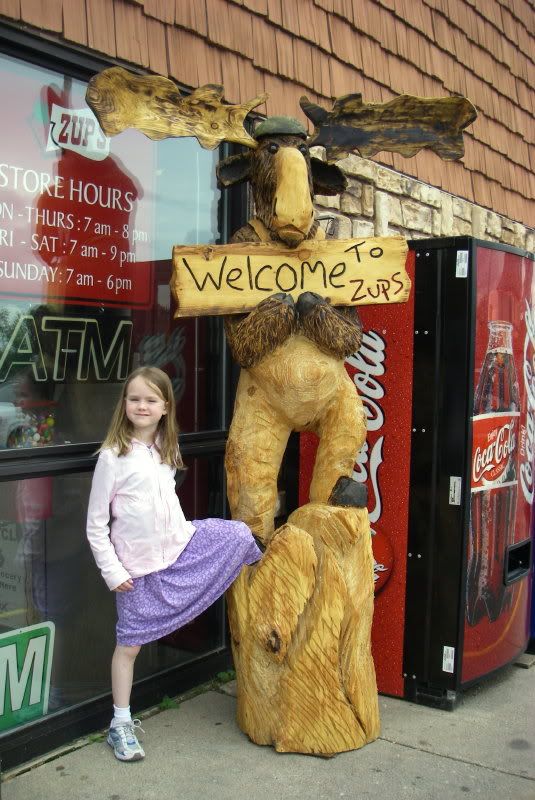 She took this photo herself, of a nesting loon on West Twin Lake:
She goes to play with the kids at Moose Track Adventures one afternoon each time we visit, and she enjoys seeing Gavin and Claire every year. We take her to Clearwater Lake so she can go fishing with our friend Marti Marchino, and this year we even stayed overnight at the Naniboujou Lodge one night so that she got to experience the beauty of Lake Superior, and sleep in a Murphy bed! By the time Mom comes to pick her up she has a lot of tales to tell about her vacation with Grandma and Grandpa.
And then, suddenly, the cabin is quiet. We pack up our gear, do a little housecleaning, and load up the car to head for our canoe trip. This year our entry point was off the Gunflint Trail, so we drove to Grand Marais on Tuesday June 22nd, stopped for a little shopping at the Trading Post, and then took the beautiful drive up The Trail to Clearwater Road, and out to Clearwater Lodge, where we had reserved Charlie's Room for the night. Drinks and dinner at Trail Center, a restful night at the lodge, and a hearty breakfast the next morning are enough to get us thoroughly in the mood for canoe tripping (it is a pattern we have followed many times in the past) and we drove to the Cross River landing with high hopes for the adventures to come.
I stopped that morning to photograph the forget-me-nots in Clearwater's yard, and noticed that daisies were blooming everywhere, and the bunchberry blooms that had been so fresh and white ten days ago when we first arrived in Minnesota were now beginning to brown and fade around their edges. Spring was turning to summer in the canoe country.