Quetico Solo - Part 2 of 2
by PineKnot
Trip Type: Paddling Canoe
Entry & Exit Point: Quetico
Day 5.
I wake after a restless night of sleep. Not sure why. I boil some water and soak a teabag filled with Starbucks coffee. I'm looking forward to whipping up poppyseed muffins in the oven. It's my first try at these and I add a bunch of fresh-picked blueberries to the batter.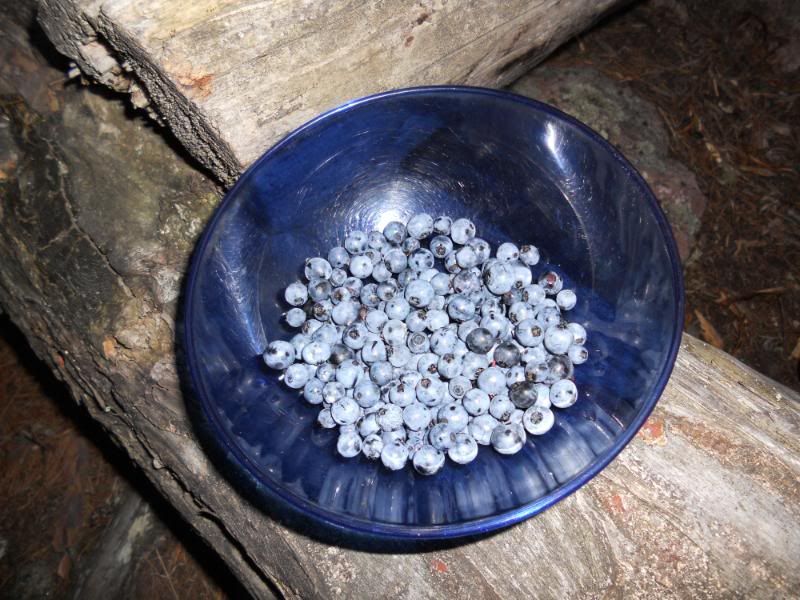 Unfortunately, the muffins flop big time. Nice on the outside, gooey in the middle. I take them up the hill and bury them with a solemn prayer to the canoe gods. I conclude I didn't have enough firewood left after last night's rain so the fire didn't get hot enough. I plop the remaining blueberries into my cranberry/granola cereal and have for a nice breakfast anyway. I'll have another go at the muffins on Robinson or Basswood.
Everything's loaded as I quietly veer around the island point and head south down the western shoreline of Kahshahpiwi. It's about 9:00 am and the weather is fantastic with a slight wind out of the NW. Looks like an 80+ degree sunny day. If I can get to McIntyre by 3:00, I'll go for a nice swim, wash my clothes and do some laker fishing before dark. I throw out the deep diving rap and reel in a couple of medium sized pike, three smallmouth, four walleye, and a trout. Unreal!! The grand slam in a little over an hour on the same lake with the same lure—it just doesn't get any better than that!!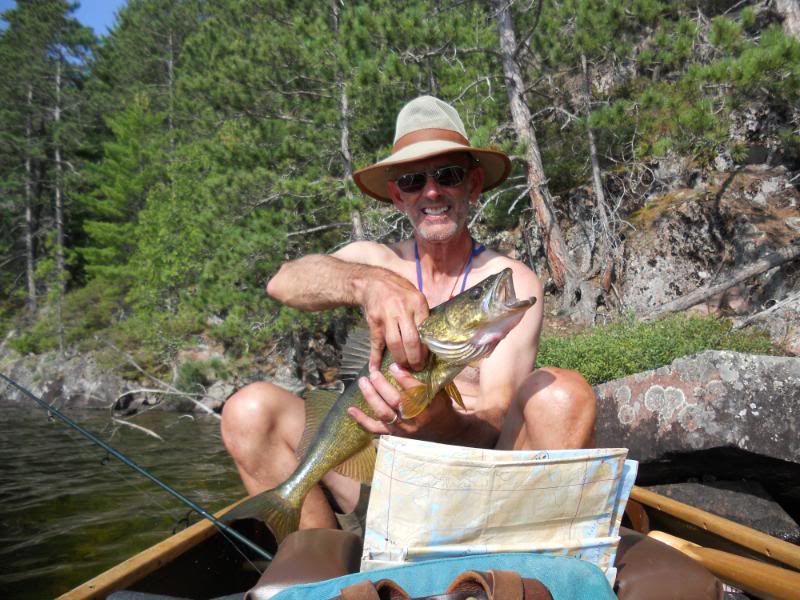 I'm now near the north end of the unnamed lake between Kahshahpiwi and Side. Holy Cow—I'm EXHAUSTED!! I sit here slumped on my big pack, soaked with perspiration, and looking back at the bog area I had just skirted around on the east side. This is one tough haul!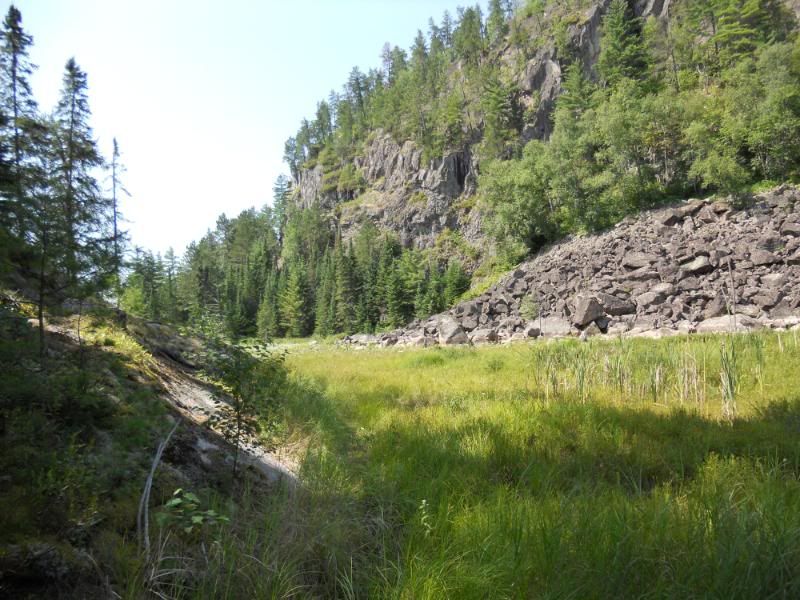 The first half coming from Kahshahpiwi was easy, just a nice stroll through the pine and birch on a smooth trail. I reach the fork, drop the packs and return for the canoe. After reloading with the heavy packs, I head left down the path towards the blown out beaver damn and ensuing bog/swamp. I had read of hardier souls who instead headed to the west side and boulder hopped to get through the portage—horror stories. After 50 yards or so, the trees clear and there it is. Oh my God! A large, grassy, wet, boot sucking bog! I'm not sure what I'm in for. I notice a newer "trail" to the left, which still meant a couple hundred yards or more of ankle to knee deep muck. As I gingerly step along, I see bootprints of differing sizes in the dark muck. Step, thwuck, step, thwuck! As I struggle along, I hadn't realized how carrying 70 lbs or so of gear would make you sink just a couple extra inches making the trek even more painful. As I get halfway through, I say quietly to myself, "I HATE boot sucking mud"!! When I reach "dry" land again and drop the packs, I look back over the bog. Picturesque, isn't it. Not thinking exactly that at the moment.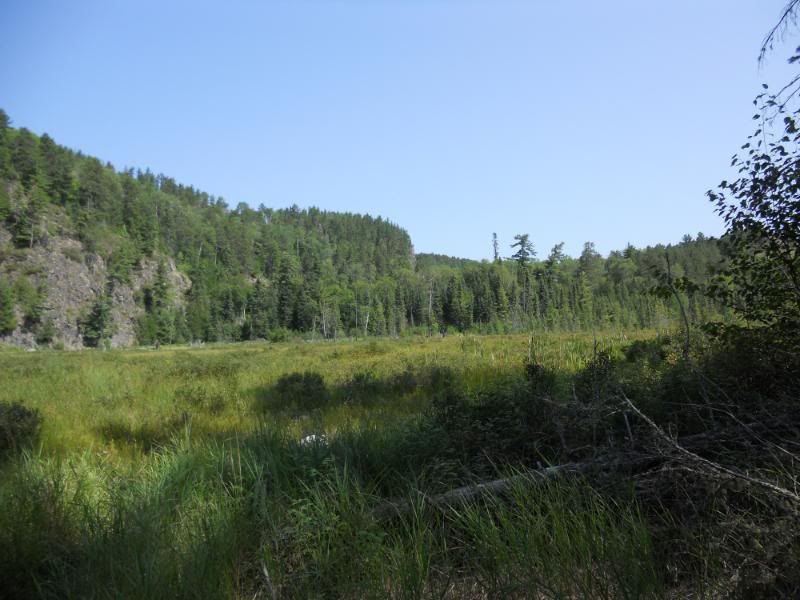 I look west and wonder if it's really that much harder crossing the boulder field.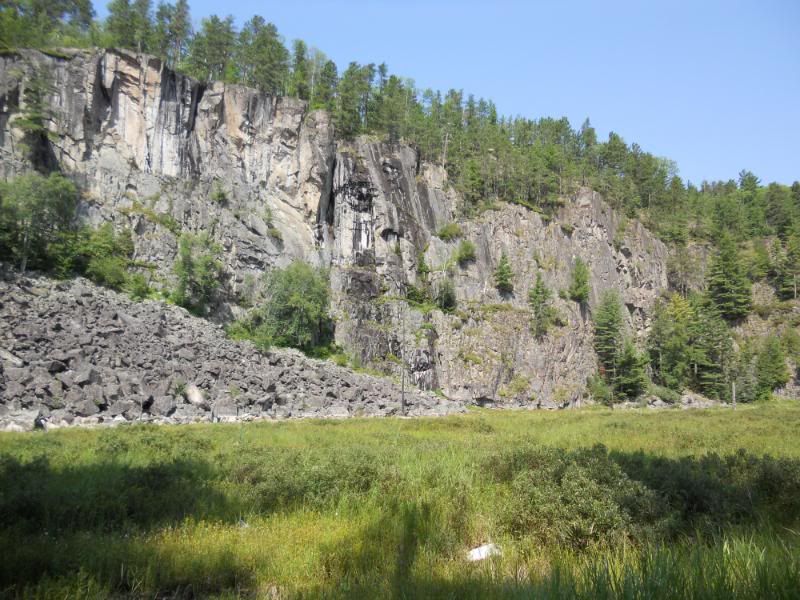 The worst part was knowing I had to slog through this stuff two more times. As I struggle on the return, it's even harder than the first time. I'm getting borderline exhausted, and there are enough twists and turns on the boggy trail that it just makes it damn hard to get through with the canoe. Step, thwuck, step, thwuck!! Finally, 90 minutes after leaving Kahshahpiwi, I'm back on the water heading south through a really scenic unnamed lake. I untie my boots and struggle to pull off my wet and muddy socks so I can rinse them in the water. I look back for one last glance of the ordeal. Hmmm, it is a lot prettier now than 45 minutes ago.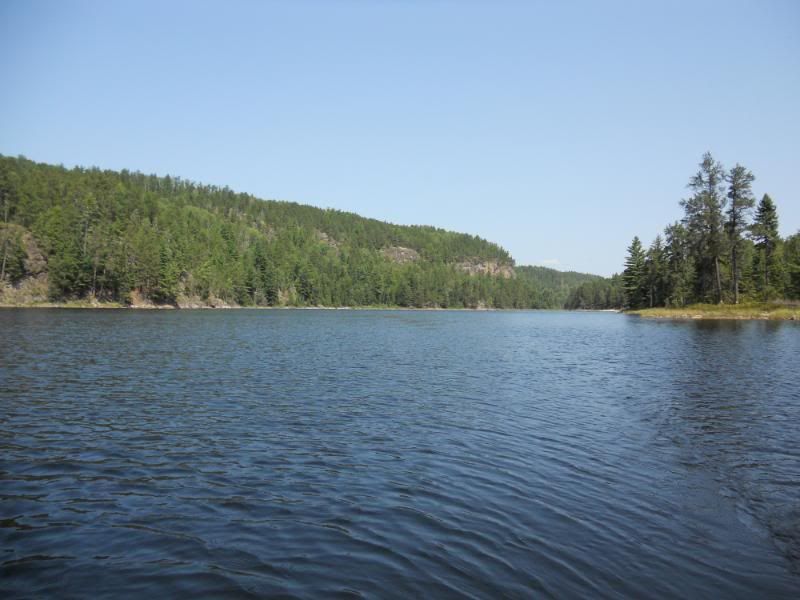 The portage from the unnamed to Side is pretty cool with a couple mild turns through a shaded forest canopy. But the mosquitoes are voracious! I start left and then cross to the right over a creek bed, hopping and stumbling over untold numbers of rocks and ankle twisting roots. On the second crossing, I slip and drop the canoe. BANG!! as the canoe ricochets off a boulder. If anyone within a mile or so heard my loud cussing, I apologize. Where's the frickin' bandaids??!!
I finally make it to McIntyre about 4:00 pm. Not bad. I decide to take the campsite just west of the portage leading from Sarah to McIntyre. Wouldn't want to base camp here, but for one night, it'll work. And the view of McIntyre to the north is superb.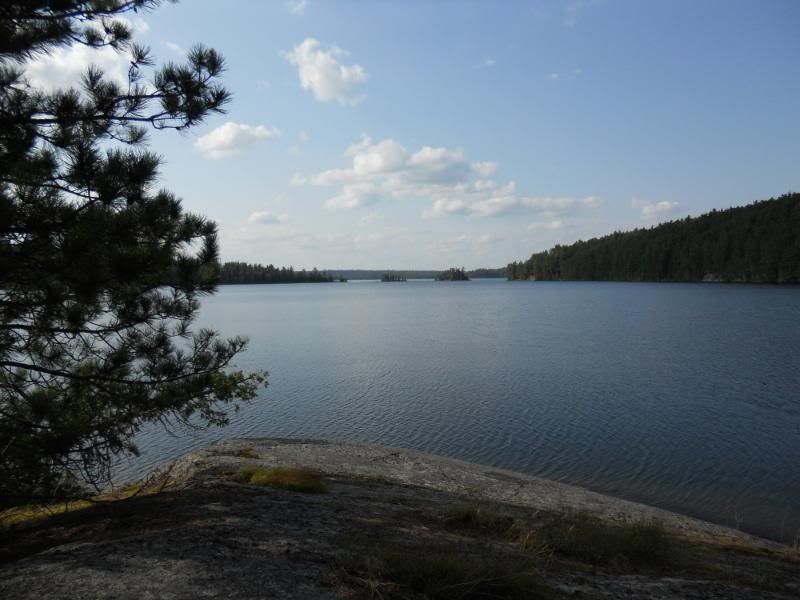 What is that smell?? God, I stink to high heaven!! Time for a quick swim. I dive in. HOLY CRAP, BATMAN!! COLD!! A minute later I'm drying off it's time for laundry. I brought along a 2-gallon ziplock for just this occasion. Worked great as a washer. Rinse off the clothes, put them in the ziplock with some clean water and a little dawn, shake and stir. Take the clothes out and rinse again. Voila!! Clean, nice smelling clothes hung in the sun to dry.
After a quick peanut butter and jelly sandwich, I put up the tent sans the rain fly (hey, it's mostly clear sky and no rain's coming, right??). It's about 7:00 pm--time to hunt lakers. My son and I had visited this area last month and nailed several just to the north and west of this campsite. I catch a couple small lakers with a deep firetiger rapala in the next 30 minutes. Then I paddle north through the narrows and northwest just past the inlet that leads to the southern route to Ted. I tie on a 30-foot deep diver as the wind begins to pick up out of the E/SE and pushed me towards the shoreline. Then it hits—a bog fish way deep. He starts stripping line. After several major runs and 15 minutes later, I struggle to lift a 32-inch trophy laker into the canoe. WOOOOHOOOO!
I revive the beast and he swims slowly away as I look up and notice a darkening sky, darkening really fast. No way! Rain?! And no fly on the tent!! Paddling like madman on a mission from God, I make it to camp as big drops begin to bombard the area. I yank the canoe up the shore, flip it over and tie the bow rope to a tree. I bound up the hill and throw the fly over the tent. The drops are coming down faster. I stretch out the fly ropes and push the stakes down--thankfully there's enough duff that the stakes easily pierce the ground and hold tight. I race back down the hill, slipping once, lower the small tarp and stuff the gear under it. Crap!! The clean clothes!! I vault back up the hill, hurdling over a small shrub and yank the still damp clothes off the line and dive into the tent, the clean clothes flying everywhere. The mosquitoes have eaten me alive. And it rains really hard for most of the night. It takes me two hours before I finally fall asleep. At least my SD Gamma 3 keeps me dry—a great tent!
Day 6.
I wake up and the first thing I notice is the absolute quiet outside. Drops of rain fall off the pines and I hear their intermittent patter on the rainfly. It's another calm, foggy morning.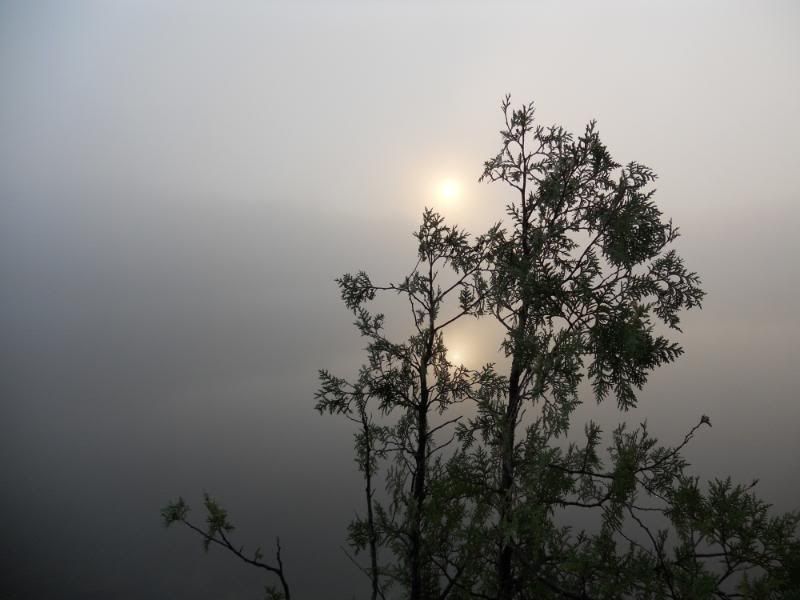 As I finish loading the canoe, the fog has almost cleared. I notice a really cool spider web on a small cedar near the shoreline.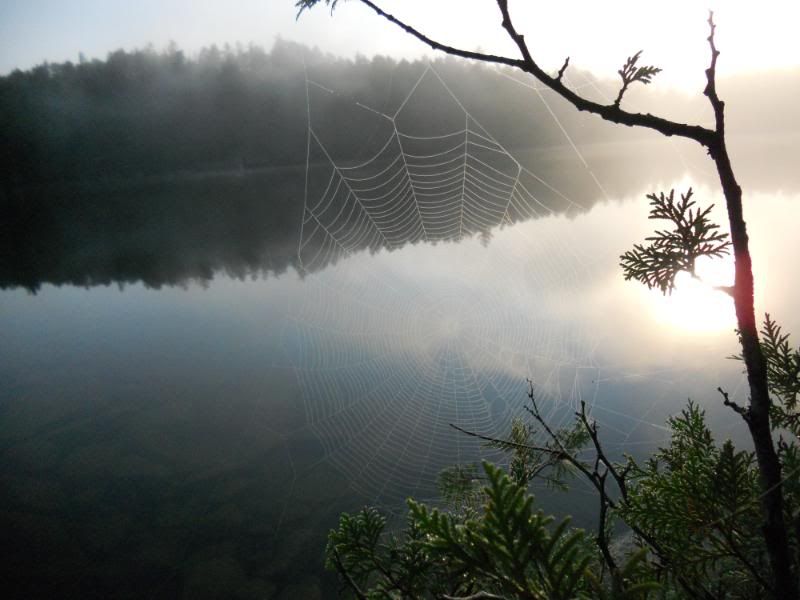 Today takes me to Robinson Lake, a first for me. I'm hoping to spend 3 nights on a great 5-star campsite relaxing and fishing in and around Robinson. It's gonna be a hot day. I troll down the eastern shoreline of Dart without success. I enter Cecil and head SE to the far shoreline. It's 11:00 am and the sun is high and bright. I start throwing my ¼ oz chartreuse spinnerbait along the shoreline and I hit a good bass on my 5th cast--smallmouth. 20 yards later, another bass—largemouth. Over the next hour, I catch 13 more bass, evenly split between smallmouth and largemouth--a couple of 16 inch smallies and a 16 and 17 inch largemouth. Even with the bright sun, they were in there, hiding near the shoreline in the shadows of the rocks, lily pads, fallen logs and overhanging limbs. And I had been told Quetico was all fished out.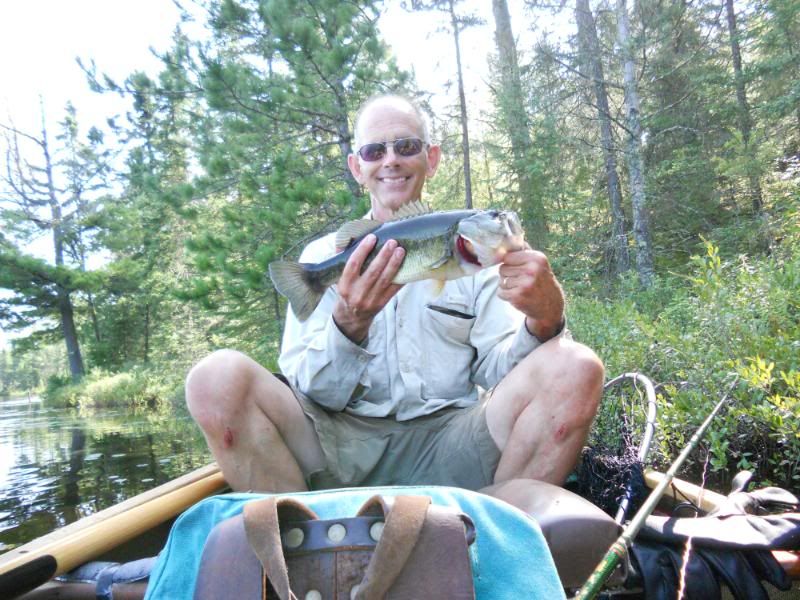 As I enter Robinson from an unnamed lake, which I thought seemed big enough to have a name, I look west wondering what I'll do if the campsite was already occupied. It's open! Thank you canoe gods, thank you!! About 30 minutes after I arrive, two canoes moving east slow down as they pass by about 50 yards off shore. They continue on to the portage leading to McIntyre. I walk around this fine campsite and gaze at red, white, jack, and northern pine, popple, birch—really cool. The duff on the multiple tent pads is some of the softest I've walked on in Quetico. I decide against one level pad up the slope behind the firepit because of a medium sized white pine leaning quite precariously—could be a widmaker if it snapped during a big wind.
I don't know what the fishing will hold over the next couple days, but right now, it's absolutely dead calm and I'm sweltering after splitting four logs laying near the firepit. I'm just sitting here on my camp chair sweating like a pig. The mosquitoes are out, especially back in the pines. I've been bit at least a dozen times on the legs, but I don't want to put on any more deet as I've done that a couple times already today. I think to myself, Benedryl is nice, especially for tonight. I stay closer to the shoreline so I don't get bit anymore.
I relax some with a Gatorade and a C&C Casano Cuban, which is probably the best mild, cheap cigar I purchased at Jungle Jim's in Cincinnati prior to my trip. I look north and see the distant island that supposedly houses two 5-star campsites. Tomorrow morning I'll fish the shoreline east of that island—I've heard it holds good smallmouth. After a couple hours there, I'll stop by and check the island sites. As I finish my cigar, I'm tired. I lounge around and almost feel like I'm cheating by taking it so easy. But I am on vacation, right?
This campsite is going to be great. It's shielded from the wind in all directions except the south. There's a protected beach area and cove on the SW side.
I set up my tent about 60 feet from the firepit and adjacent to a huge white pine—I measure its circumference at waist height at 140 inches. The firepit is really nice, not overly big, but perfect for my grate and reflector oven.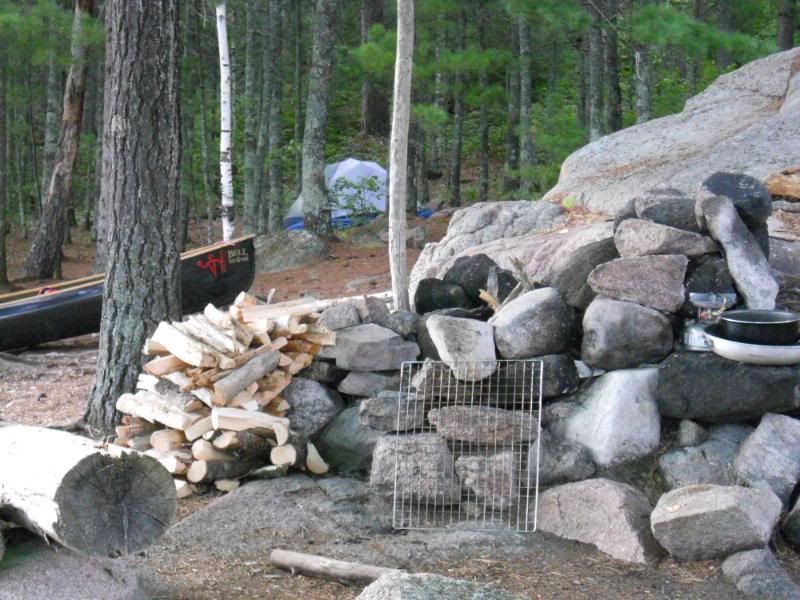 There's a large 8 x 8 slab of flat rock between the lakeshore and the firepit with sitting logs on two sides. Behind the firepit rises a huge exposed piece of rock maybe 10 foot wide, 15 foot long and rising about 6 feet above the ground on the side facing my tent. I'm able to use pines to hang my 12 x 12 CCS tarp over the "sitting area" and my 8 x 8 tarp over the firepit. I'm ready for the next couple of days, rain or shine!
As the sun begins to set and the temp begins to cool, I relax with a nice fire. I boil about 3 cups of hot and sour soup, adding in a couple fresh eggs and dried mixed veggies softened earlier in some of the hot water—man, that really hit the spot!! I already have all my fishing gear set for an early start and the canoe and gear is secure for the night. I head down and clean up next to the sandy beach as the sky darkens. The water feels warmer in the cooler air. Normally, I don't swim much on trips, but tomorrow, I think I just might. My sons would be so proud. I sleep well.
Day 7.
I wake about 5:00 just before first light. Dressing quickly, I fire up the stove and have a cup of coffee. As it begins to lighten, I pour another cup and quietly slip the canoe into the calm water. I place the coffee cup between my feet and paddle around the point to my left and head NE to the far shoreline. Trolling a deep diving blue chrome rapala, I hook into a nice eater walleye—lunch!! As I pull even with the island and the 5-star campsite on my left, I switch to a spinnerbait and cast it off the rocks on the eastern shoreline. Bam, first cast and I land a 17 inch largemouth. Largemouth?? Just like the one caught on Cecil yesterday. Over the next hour, I hook into a number of smallmouth, but none larger than 14 inches.
I tie off the canoe next to one of the steep bluffs and hop right and left on the large rocks and boulders lining the shoreline. There is a lot of nice red pine with several small ones that had blown over and were perfectly seasoned for spitting. After collecting half a dozen logs and twice that number of pineknots (it is my surname after all), I load it all into the canoe and push off towards the island. The flat ledgerock landing on the 5-star site is really sweet, but the campsite itself isn't that appealing to me. Although it has several tent pads for large groups, it is overused, almost abused. There are shin-high stumps of trees that had been sawed off all around the campsite. I return to the canoe and procede counterclockwise around the island. I catch a nice eater pike after going around the shallow reeds on the NE side. The other campsite is also large, but on sloping ground--not five stars in my book, maybe four at most. Both sites have really nice landings though.
I paddle south across the large shallow bay, noting a nice beach area off to my right. It was mid-morning, dead calm and almost hazy in the sunlight. It was at least 80 degrees and felt like a sauna. Sweat was beading down my face. I stop a couple hundred yards short of my campsite and fillet the fish on a large rock next to shore, leaving the remains for the gulls or eagles. When I return to camp, I put the fillets into two ziplocks, placed the fillets and a rock into a net bag, toss it into some deeper water off shore and tie the cord to a small cedar. That'll keep them till lunch.
I spend the next couple of hours splitting wood and resting and reading in the shade of the trees. I figure I've got several hours worth of nice split red pine. I notice the wind has come up and is getting stronger out of the east--I'm thinking rain? For lunch, I decide to fry the fish in some olive oil. I put a lemon/pepper blend on the pike and a Cajun blend on the walleye. Both were tasty along with a cup of toasted pine nut couscous. I think I like the walleye w/ Cajun better than the pike, and also decide I like baked fish better than fried. I'm really full now. I strip down to my boxers, cool off in the water off the beach and head for a nap in the tent.
I wake up about 4:00 in a pool of sweat. The wind had almost completely died and it was almost totally overcast. I stink to high heaven. Phew! I bathe in the water again. As I'm drying off, the wind starts blowing from the W/SW. Really strange. The clouds shift with the wind which slowly gets stronger. It's now 7:00 pm. As I light the fire to bake another pizza, the wind shifts again and is now starting to blow from the east. I have no clue what the weather is doing. But the fire is wonderful. I take several pictures as I prepare and bake the pizza.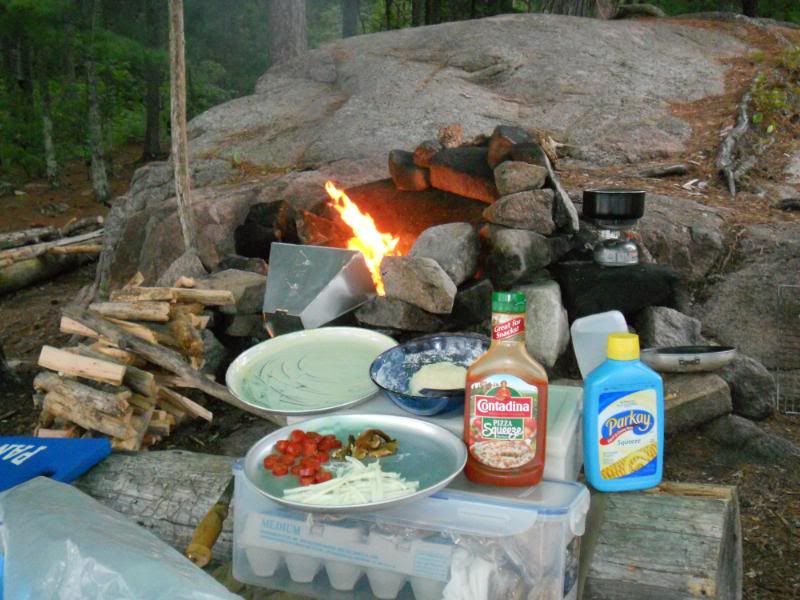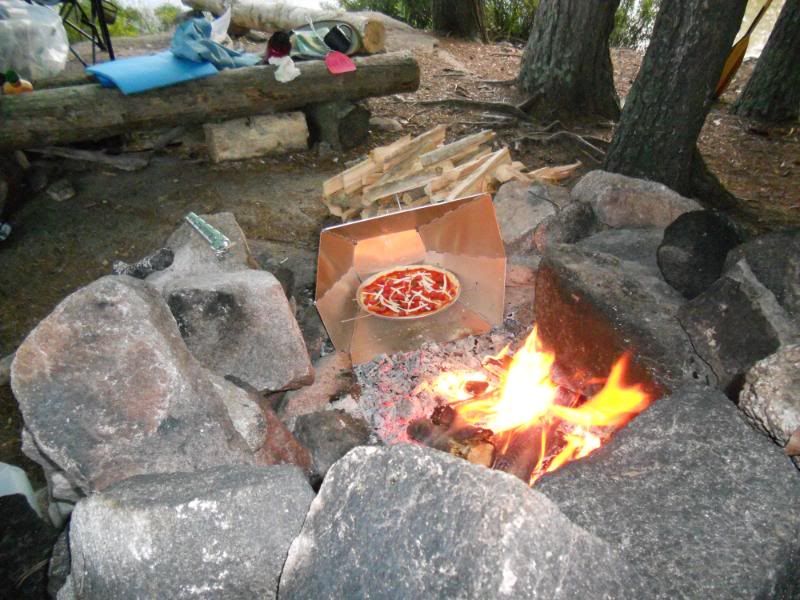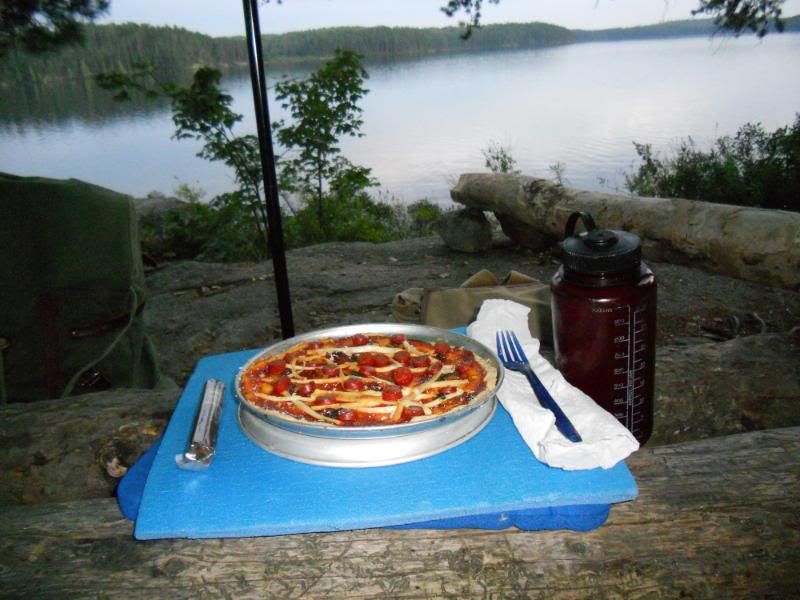 When I finish pigging out on pizza, it's almost dark. The wind by the firepit is just enough to keep the skeeters away as I settle in with a drink. I hit the sack about 11:00 under a cloudy and starless sky.
Day 8.
I wake up a little after 5:00 am to a steady rain. In fact, it's been raining for almost 2 hours. But I'm nice and dry and cozy warm in my sleeping bag. I doze in and out with the pitter patter of rain and finally drag my lazy butt out of the tent and make a run for the tarp.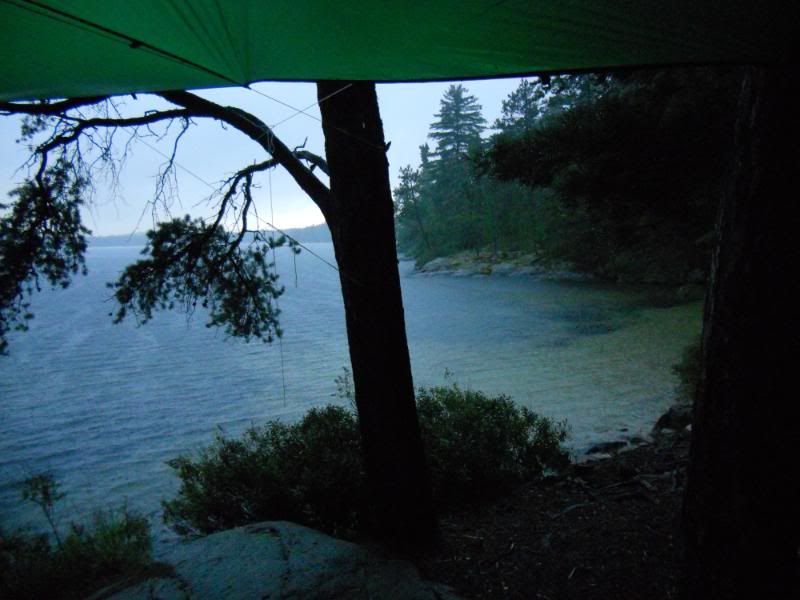 As I boil some water for my morning coffee, I stare across the expanse of Robinson. The wind is out of the west now but the horizon is looking lighter, signaling an end to the rain. I cook up a breakfast of eggs and bacon and ready the canoe for another few hours of fishing. The rain slows to a drizzle as I head east along the northern shoreline. I catch a few decent pike and several smallies in the reeds guarding the portage to Craig. This portage is something else—a muddy, slippery mess--100 + rods of it. And thousands of aggressive, blood-sucking mosquitoes!! This is the one time I'm glad to be wet footing with my new OTB Abyss boots. Prior to this summer, I was a dry-footer. I chuckle as I picture my previous self hopping along the edges of this mud bath trying to keep my dry boots dry and slipping on the myriad of different sized rocks and corduroy, finally getting to the end and seeing my "dry" boots all wet and muddy up to my shins. Back to reality and I'm charging through the portage, slipping and sliding in the mud. I sink over my ankles in a couple spots, finally arriving at the sandy put-in on Craig a little after 11:00. I'm dirty, sweaty, and bitten as it starts to drizzle again. But I'm relieved it's over. I lay the canoe gently in the water, push off and rinse off my boots and socks. A quick swig of water and it's time to catch some fish!
I decide to paddle the shoreline clockwise with my trusty spinnerbait. I love the spinnerbait in these situations. I can cast it right onto the rocks on shore, into lilypads, weeds or timber and not worry about snags. I can retrieve it on or below the surface and cover lots of water quickly. The drizzle is off and on and I land several smallies. I get a real hard strike just under the surface. A huge bass pushing 20 inches leaps twice and throws the spinnerbait. Argghh!! Just before the portage to Bart, another huge smallie grabs the spinner, leaps clear of the surface and then dives deep. A couple minutes later I net a 20 inch smallmouth. Finally!! A trophy smallie!! As I continue past the Bart, the drizzle finally stops and it gets lighter, still overcast. The shoreline has lots of good looking rocky structure and downed timber. And the action gets almost unreal. As I round a point, I get another big hit and a thick bass explodes above the water. Instead of going deep like most big smallies, this one thrashes along the surface, leaps again, hits the water and then comes straight at my canoe. I'm like what the heck!!?? As I reel line in as fast as I can, the bass jumps up and rams headfirst into the side of my bow. The clunk echos on the small lake. The bass dives. As I tire him out, I dig my pole tip in the water to keep him from jumping again. Next thing I know, he launches himself above the gunwales, bounces off the yoke pads and lands between my feet flopping all over the place. NO WAY!! He measures in at 18 inches. I laugh so hard I almost tip the canoe over.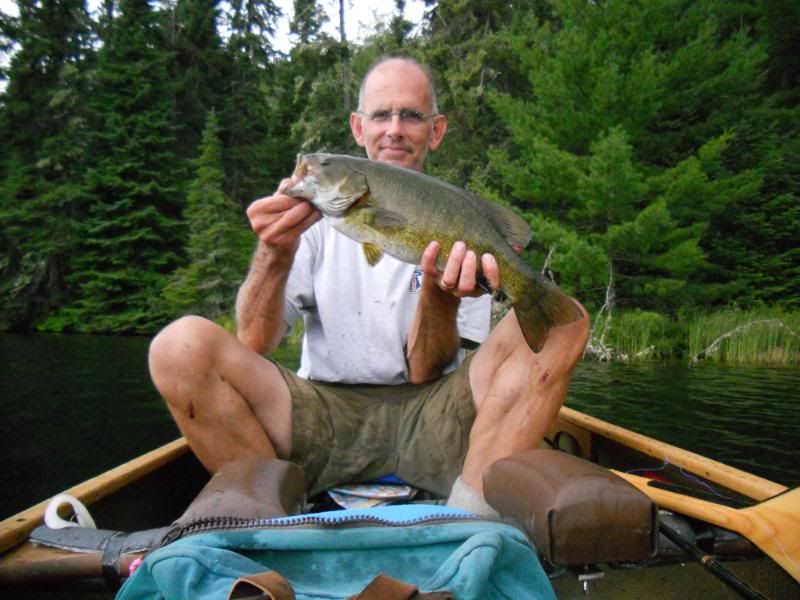 An hour goes by and I catch a dozen more bass. When all is said and done during my 2+ hours on Craig, I catch over 25 smallies including a 20 incher, a 19.5, two 18, two 17, and several 15 and 16 inchers. All of this around lunchtime. I figure there's got to be bass in this lake that go 22+ inches. Maybe next time I'll get them.
I return to Robinson muddy and happy. The sun has broken through the overcast and the wind is moderate out of the W/SW pushing me along. I troll the southern depths and hook an eater pike for dinner. I spend the remainder of the day cleaning up and swimming near the beach, splitting some more wood, and lounging around with a book. Just prior to dinner, I'm visited by a ranger couple who had just finished clearing the portages between Robinson and Nub. I thought that was a chainsaw I heard in the distance. This is the first time ever seeing rangers in the Quetico. They ask for my permit and eyeball my campsite. After 5 minutes or so of small talk, they push off for the campsite on a rocky knob to the west. They were very pleasant.
After a nice foil-baked fish dinner, I relax with a drink and cigar. My mind and body feel great after a couple days mostly resting and I'm actually looking forward to the challenge of tomorrow. Looks like an 8-portage day, including the two long ones from Kett to Basswood. I hope to make it to the unnamed lake, which some know as Dahlberg, between Ranger Bay and Basswood.
It's dark now. Robinson is dead calm and the stars come out and seem to get closer and closer. There are no mosquitoes! Where are they?? I had planned to hit the sack early, but with no bugs, I stay up with the fire till almost 11:00.
Day 9.
Daylight breaks warm, clear and calm. What great weather I've had this trip! A couple night and afternoon rains, one morning of rain and drizzle, and mostly light winds. Since leaving Kahshahpiwi on Day 5, I've seen two groups on Kahs, pass a nice couple portaging north from Side, a couple at a campsite on Sarah, two canoes heading south from McIntyre, and five canoes during my 3 days on Robinson. Not as busy as I thought it might be. This campsite on Robinson has become one of my favorites in the Quetico.
Today's going to be very warm. Fortunately, as I pass through the unnamed to Nub, a light wind picks up out of the west and high clouds start rolling in. Cumulus clouds are way off in the distance. As I near the portage from Nub to another unnamed, I re