1985 Fall Lake--Beartrap River--Crooked Lake--Basswood Lake
by Spartan2
Trip Type: Paddling Canoe
Entry & Exit Point: Fall Lake (EP 24)
Trip Introduction:
This is a canoe trip that we took when we were 40 years old. It was an enjoyable trip, although we would have preferred to have better weather.
Background:
1985 was a year of landmark birthdays for everyone in our family. That summer Spartan1 and I both turned 40. It had been a very tumultuous spring and summer for me as I had done my student teaching in public school music K-12 during the fall and winter and then had had no luck in finding a teaching job. Money was tight. Spartan1 had a good job with the power company, but my extra college to complete teacher certification and student teaching had put a strain on the budget. We had an old Ford Galaxie 500 sedan that we had purchased used from Spartan1's parents when they bought a new car. I was hoping that I could get a job and get a better second car because mine was a "beater" and not dependable.
Our daughter turned sixteen that September and she was about to get her driver's license. She had her first boyfriend. She was very talented, an honor student, participated in many school activities, and was an all-round great kid, but she was beginning to spread her wings and become an independent young person. Life with her was changing.
Our son turned into a teenager that April and was about to start eighth grade. Those of you who have an eighth grader don't need any explanation about who he was becoming. It didn't help that he was a "little" guy, and needed activities that he could participate in with a very small body that was going to mature late in adolescence. Fortunately, he was getting into cross-country running. . . . .and band, and jazz band, and choir, and debate, and forensics, and drama, and academic games, and. . . .
But life was also good for us on the hobby farm between Jackson and Parma, Michigan. We raised a big garden and a small flock of sheep. We had church and school activities and good neighbors and friends. And we were especially thankful for our friends in Minneapolis who had always kept our children while we tried to take time away in the canoe country. They had started this when our two were only very small (our son was fifteen months old the first time we left them there for a four-day trip out of Lake One). They have a daughter the same age as ours, and a son the same age as ours, as well as two younger children. Our kids, being raised in a rural environment, were always thrilled to spend a week or so in the big city with their friends, and it gave us the time to be "Spartan1 and Spartan2 in the wilderness", time to recharge our own relationship and to explore the BWCA, occasionally even Quetico.
So, on Spartan1's 40th birthday we left Michigan and traveled to Minnesota. We dropped our children off at Prospect Park in Minneapolis, feeling confident that they would be well cared-for, would have their own vacation adventures, and would not really miss us all that much! Our two are the ones on the left in the back row. They don't look all that sad to see us go, do they?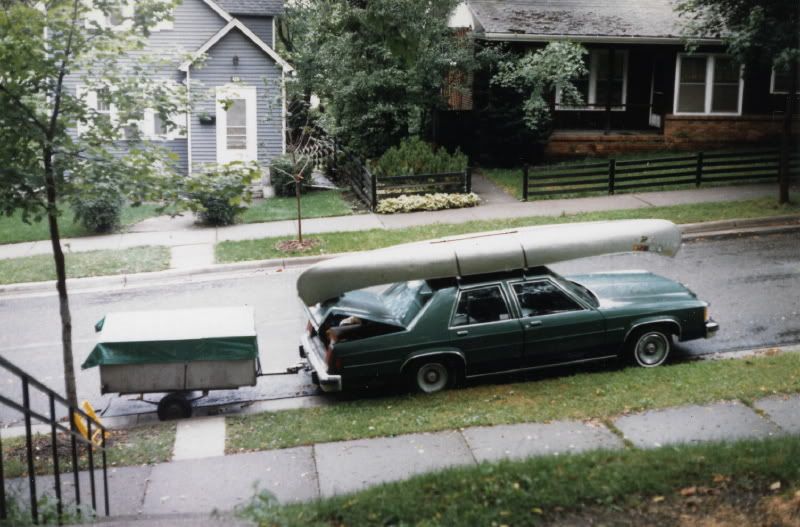 And we headed off for Ely, where we would meet up with more friends, a couple who had a cabin on Camp Lake, a little private lake west of Ely off highway 169. Ray was a fellow counselor with Spartan1 at Camp Easton in the '60's and was a participant in his very first canoe trip. He was a college professor and he and his wife were fortunate to have a summer cabin in the Ely area for many years. This little cabin on Camp Lake was their first.
I wish I had a photo of their guest cabin, as it was charming.
In fact, I wish many of the photos in this trip report were different. As I read the narrative I am struck with how differently I would have photographed this trip NOW! But I didn't have a good camera, and it was 1985. I haven't doctored these photos (much—just enough in a few cases to make them visible) and I realize that the quality is pretty poor. I ran out of film!! I don't ever remember running out of film on another trip, so I assume that I learned my lesson. The weather was crappy for quite a few days, but even so. . . .now with a 7D and the skill level I have attained, I could do a pretty neat shot of Curtain Falls on a rainy day!
Ah, well.
And I guess the only other thing to add is that when we returned to Michigan after this trip I got a call in early September (after school had started) to come for a job interview at a small rural school a few miles from our home. I ended up with a very enjoyable career teaching music K-12 at Springport Schools. And we got a better car. :-)