1985 Fall Lake--Beartrap River--Crooked Lake--Basswood Lake
by Spartan2
Trip Type: Paddling Canoe
Entry & Exit Point: Fall Lake (EP 24)
Trip Introduction:
This is a canoe trip that we took when we were 40 years old. It was an enjoyable trip, although we would have preferred to have better weather.
Day Five
10.7 miles 5 portages (372 rods)
It rained hard all night and is a really ugly wet morning. We are on the water at 7:53, with the weather looking very threatening indeed. We have discovered at breakfast that the chipmunk has eaten into several containers in the orange pack and even chewed a hole in the waterproof bag around the food box. Hot cereal for breakfast was quick and good, when in a hurry to start a long day.
Portaged 200 rods to the Beartrap River. Muddy but not otherwise a bad portage. The mosquitoes are awful! The Beartrap River looks marshy, brushy, and quite unpleasant as I stand on the portage and wait to begin. (The photo doesn't do this feeling justice).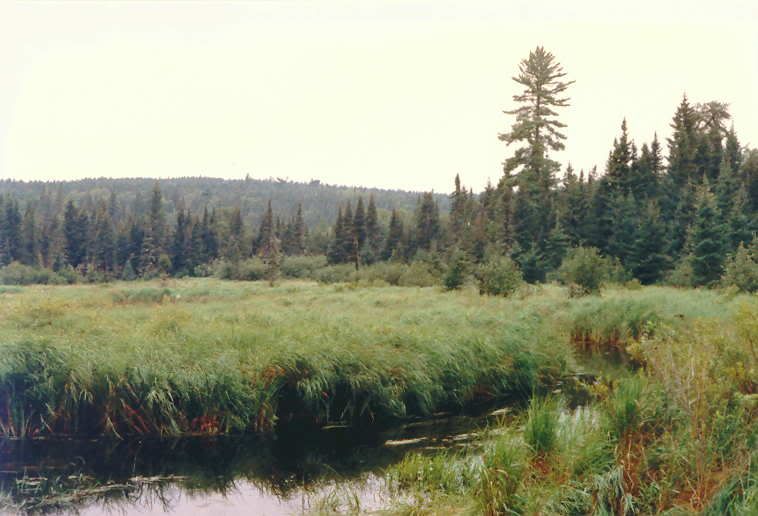 We wind around, go over some beaver dams, and keep in a narrow track. This would be really pretty if the sun were shining! Portage 60 rods, and it is raining as we get under way again. Another short portage into Sunday Lake. The sky is really black now and it is raining. Sunday Lake is very remote and pretty, with only one campsite.

[Pretty, don't you agree? But that is really what I said.]
After Sunday Lake the river is all lilies and weeds and there is almost no trail to follow for a long time. It is hard to paddle through as we keep losing the path. It is pretty in its own way, but not my preference for canoeing. There are more portages and beaver dams (lift-overs) and finally the river widens and there are big rocks again. The area looks like it was once a lake or a large river and the area has filled in with the brush. There are typical banks and rocky outcroppings and forest far away from the banks which we are paddling through. I would really be interested in a geological history of this particular section of river.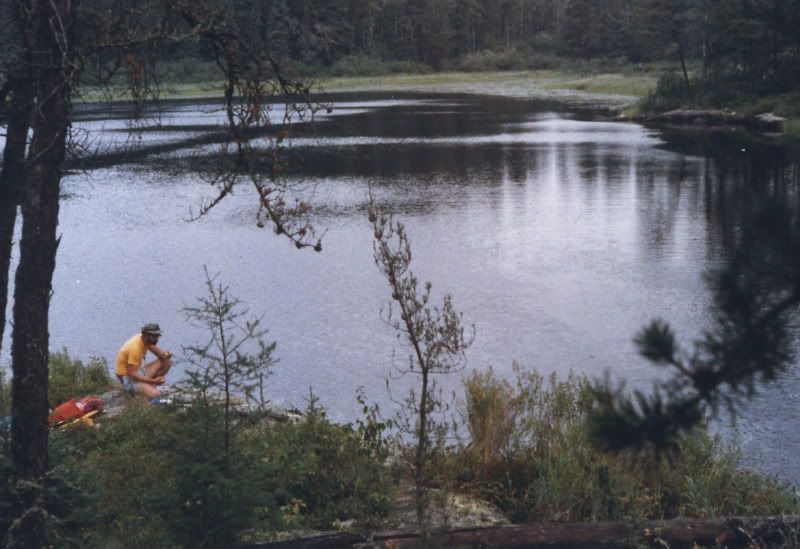 We eat our lunch at a 10-rod portage with a nice waterfall. These falls far exceed Pipestone in my opinion, and should have a name! The sun peeks out briefly. I take too many pictures as always, and we get back on the river once again.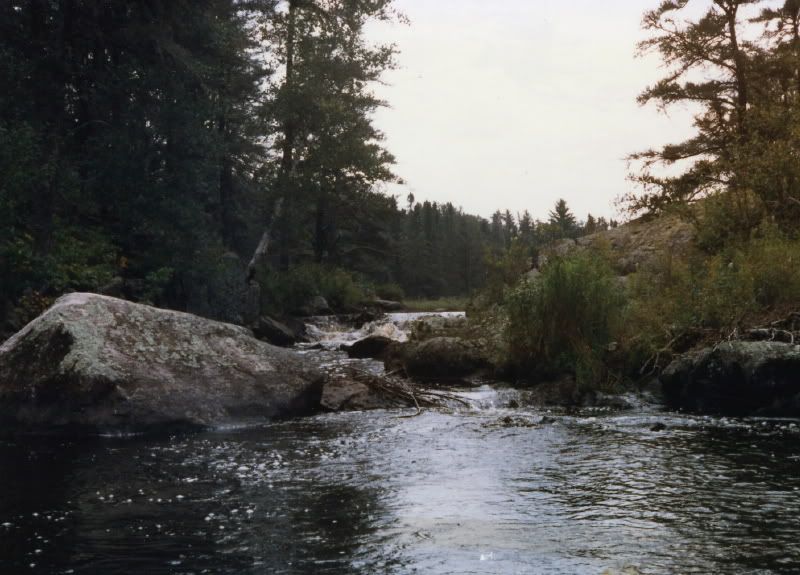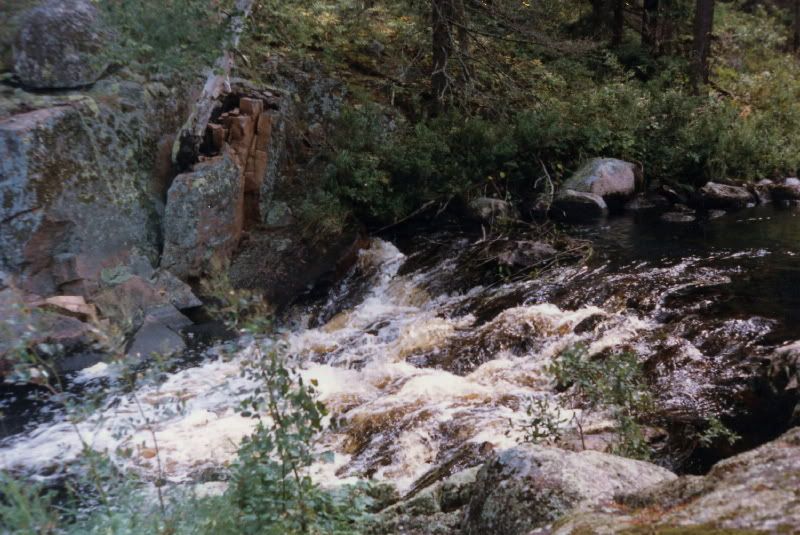 After a 110-rod portage to Iron Lake we meet a party of people, the first seen today. They have a wood canoe, are not very talkative or friendly. They are heading for Sunday Lake and we don't envy them this late in the day! The end of this portage is really odd—just a slanting rock. It would be very hard to see coming the other way, unless you noticed one of the few remaining portage markers. Guess that is why no one has used this marker for firewood. [2011 note: I wish I had photographed that portage sign from close up! Can you see it--there on the tree?]
At the beginning of this portage the falls looked like a manmade dam. It reminded me of the Jackson Cascades. [a local hometown water "attraction", which is made of concrete]
I am starting to tire at Peterson Bay on Iron Lake. The wind is picking up, too. It is partly cloudy and sometimes bright sun. We stop at the campsite at the west end of the island and are ready to camp when I look up and see a pack hanging in the tree. Darn! We paddle to the east end of the island and make camp. It is terribly windy—too windy for a fire in the unprotected location where the grate has been placed. So we eat lunch-type food for our supper. There is a rain squall and Neil spills trail mix in the tent, which we clean up very, very carefully.
I'm cold tonight, having trouble getting warm. There is a really awful wind and stormy sky tonight.
Planning Links
Featured Sponsor