Pictorial Trip Report - My First Solo
by Ho Ho
Trip Type: Paddling Canoe
Entry & Exit Point: Mudro Lake (EP 23)
Trip Introduction:
My first solo canoe trip.
Prologue -
In early June, David had to make a trip back to Washington, D.C. for business. Since I was going to be "camping" by myself out on the Echo Trail while he was gone, I thought it would be a good time to take my first solo canoe trip, instead of hanging out alone at the cabin.
I had done a few solo backpacking trips back in my college days, but the last one was in 1983. And I had never done a solo canoe trip before. At the beginning of May, I got a Wenonah Prism. I had been honing my solo paddling skills and refining methods for solo portaging since then. As my trip approached, I felt comfortable with my solo ability as a matter of technique.
But I still wondered how I would do as a matter of psychology. For the past 27 years, David had been my partner on every camping trip I had gone on, sometimes with other people, most often just the two of us. Now I wasn't sure how I would like tripping without him. I knew I would enjoy some time alone in the great outdoors during the daytime. But I thought I might get irrationally creeped out camping alone at night.
Because I decided to take this trip late in the game, I didn't get online to find a permit until about a week ahead of time. Much to my amazement, a Mudro permit was still available for the date I wanted to start the trip - one of a handful of Mudro permits not already claimed for June, July or August. I snatched it up before someone else did and began looking at route possibilities.
We had traveled between Mudro and Lower Basswood Falls via Horse Lake and the Horse River a couple of times, so I focused on going in the direction of Fourtown Lake and beyond to explore some new territory. This area gave me a range of possibilities that I could choose from as I went. I was not necessarily looking for total solitude. Maybe I would decide to stop on Fourtown, a popular lake with quite a few campsites. More likely I would go to the lakes around Gun or beyond, where I thought I would still see other people, but not as many. The most ambitious scenario would be pushing on to Friday Bay via the Wagosh-Papoose route, or stopping on one of the little lakes with only one campsite in that direction. I was also intrigued by the Moosecamp River and read some trip reports about that area, including one by TomT where he traveled solo upriver and had to pull up and over a whole mess of beaver dams. I figured that would be easier going downstream, so I kept the river in mind as a possibility for the return trip to Fourtown, instead of outbound.
And with that background, the fateful day arrived.
Day 1 (Thursday, June 9, 2011) -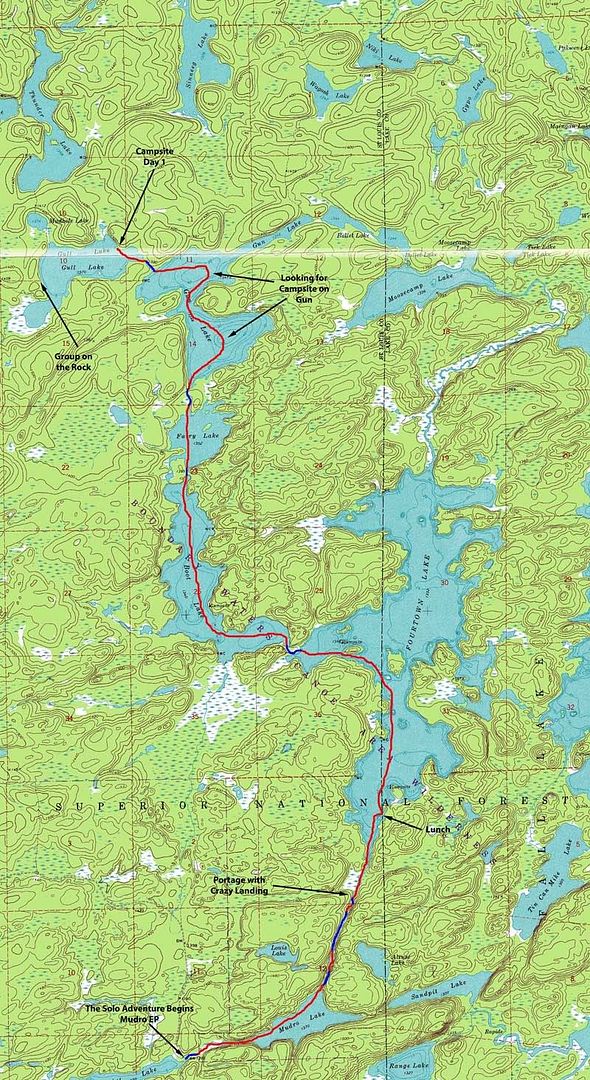 I got up around 6:00 a.m. at the cabin, cooked a hearty breakfast, loaded up the Jeep, and hit the road right around 8:00. About 20 or 25 minutes later, I arrived at the Mudro parking lot -
There were plenty of vehicles there, but I was the only person around at the moment. After unloading the gear, lashing various items into the canoe, etc., I started down the portage to Picket Creek about 8:40. A few minutes later I had the canoe loaded up and ready to go -
It was a peaceful paddle down Picket Creek. The bog-stained waters of the creek harbor some sharp rocks hidden just below the surface, and there are also a few tight turns, which are not the Prism's strong suit. But I came through unscathed, and headed northeast on little Mudro Lake. As I approached the portages to Fourtown, a tandem canoe was coming in the other direction, the first people I had seen today. Around the same time, a Muskrat swam by, and a Common Yellowthroat sang from the marshy lake edge.
Soon I was at the first of three portages on the way to Fourtown. Looking back from the landing toward Mudro -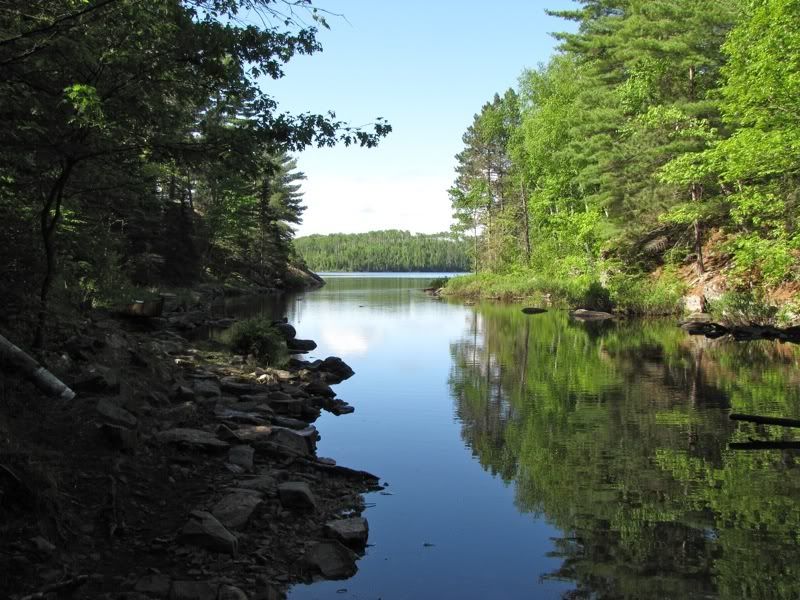 There were a couple of groups coming and going here. I waited just offshore until there was some room, then asked the group that was loading up if I would be in their way if I started unloading. They said go ahead, and I did. This was a rocky landing, and was my first real test of unloading a canoe solo. David and I unload canoes while they are still floating in shallow water, without any part of the canoe up on land. When there are two of us, one person can steady the boat and ensure it doesn't float away, while the other pulls the heavy packs out. Going solo, I had to do both jobs simultaneously, which usually requires finding a place where enough of the canoe is lightly resting on something underwater (or maybe a sandy landing) so it stays put while I pull the packs out. As the trip went on, I found this was easier than I thought it would be.
I double portaged, carrying the heavier pack and some loose items across on the first trip, and then the other pack and the canoe on the second trip. On return trip between loads, I took pictures along the portage. This is similar to what David and I do on two-man trips, but required some small refinements like figuring out what to do with the PFD and the camera going it alone. I got the kinks worked out after a few portages.
The first portage to Fourtown is 34 rods, with a rough rocky tread paralleling a lovely rough rocky streambed. As I walked back between loads, a pair of Dark-eyed Juncos silently darted across the path. The landing at the far end of the portage was also rocky and required careful footing. This group of two couples had started a little before me, and we would see each other much of the morning -
After loading up, it was a short paddle along a pleasant wide spot in the creek to the next portage. This picture looks back from the landing for the second portage across the pond to the first portage -
The second portage weighs in at 125 rods. I had heard from several sources that it is the toughest in the area, with plenty of up and down, and sloping granite sections that are slippery when wet, which fortunately was not a problem today. I enjoyed it quite a lot, and thought it was comparable to many rugged Quetico portages (but not the most rugged ones). Unlike what's typical in Quetico, an effort had been made here to actually construct a portage path and prevent erosion, such as these stones shoring up the edge of the trail and providing good footing up this slope near the beginning -
The path goes along some wonderful rock faces -
As I progressed along the portage, I recognized the songs of Veeries, Hermit Thrushes, Robins, Winter Wrens, Cape May Warblers, Chestnut-sided Warblers, Black-and-White Warblers, Ovenbirds, Northern Parulas, White-throated Sparrows, Chipping Sparrows, Song Sparrows, Red-breasted Nuthatches, and Red-eyed Vireos. There was something about this steep and verdant creek valley that appealed to the songbirds as much as it appealed to me -
Toward the north end of the portage the path went over several stretches of exposed, sloping granite. I was glad it wasn't raining -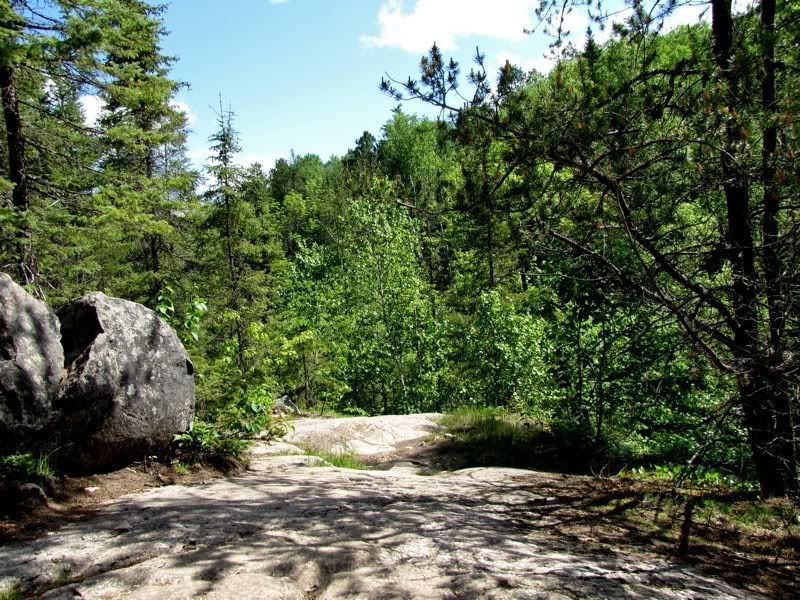 Getting close to the end -
The final slope down to the northern landing -
One of the women from the group just ahead of me was at the end of the portage when carried my first load across. I remarked to her that the portage was really nice, but I think she thought I was being ironic. Far from it. This excellent portage was starting my solo trip off right.
It had been about 45 degrees when I began paddling down Picket Creek this morning, but by now it was getting warm, probably in the high 50s, pleasant tshirt weather. After carrying the rest of my gear across the long portage, I loaded up the canoe for the very short paddle to the third and final portage into Fourtown. This picture is at the landing of the third portage, looking back at the granite slope at the end of the longer portage I had just completed -
The third portage is only 15 rods. Low jagged cliffs loom across the creek from the trail -
At the far end, the portage overlooks the marshy creek continuing toward Fourtown Lake -
But first I had to get down there with my canoe and gear. Although not completely evident from this picture, it is a 20 or 25 foot drop directly down the rock face to the landing below -
At this point the various groups who had been portaging in both directions this whole time had vanished. So I had to figure out what to do, and then do it, on my own. I didn't think I could carry the canoe down the rocky drop-off. So after getting my packs down there, I lowered the canoe vertically. This would not be hard with two people, one at the top lowering the canoe, and one below to receive it. By myself, however, I had to lower the canoe from above, then hold it in place as I scooted myself down the slope, so I could guide the canoe into the water from below. I'm not sure it was the most elegant maneuver. But it worked. Soon I was loaded up and paddling down the final stretch of creek to Fourtown.
It was only around 11:30 when I finished the series of portages, but I was hungry and ready for lunch, and I thought I would stop at an empty campsite near the south end of Fourtown to eat. But even before I reached the first campsite, I came to a wide flat rock shelf that was perfect for a lunch break. I stopped there -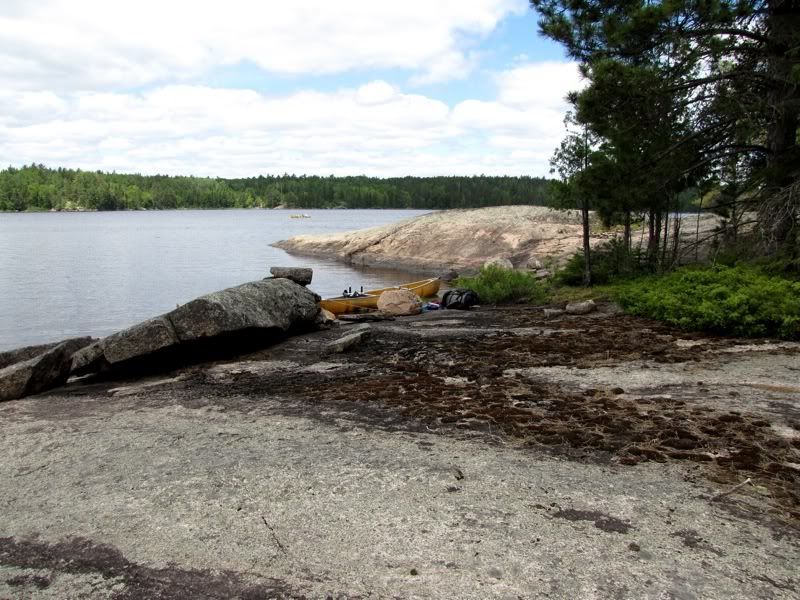 While I was eating, a trio of Common Mergansers swam around the point and got out on the rock to preen -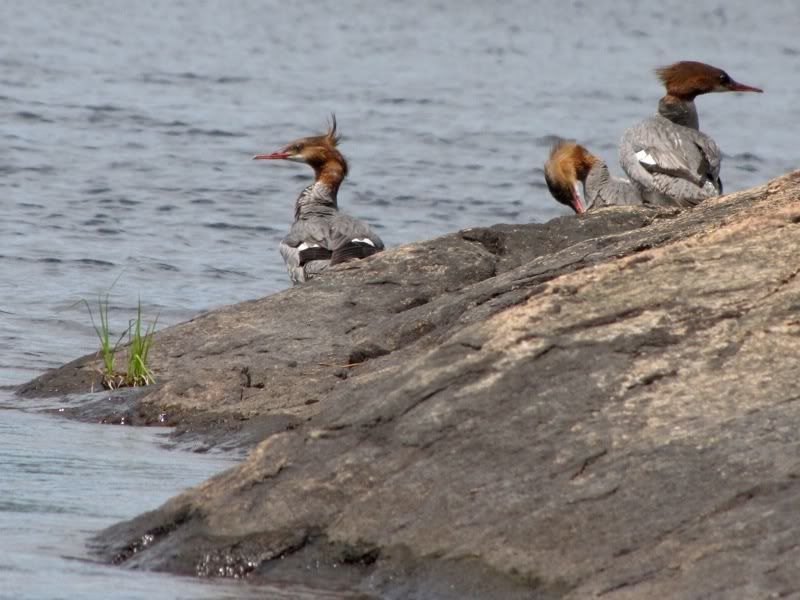 Exploring back from the lake, I found this Starflower -
A picturesque rock islet sat just offshore -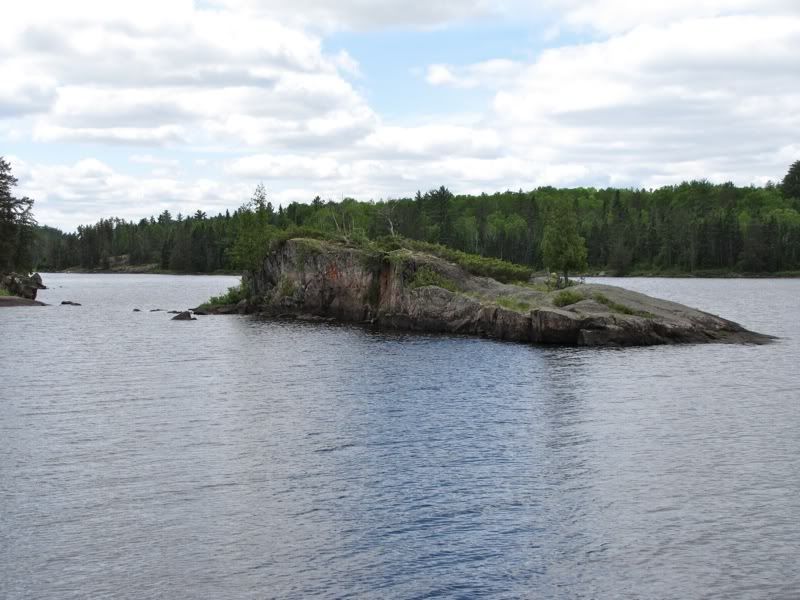 The view south, the direction I had come -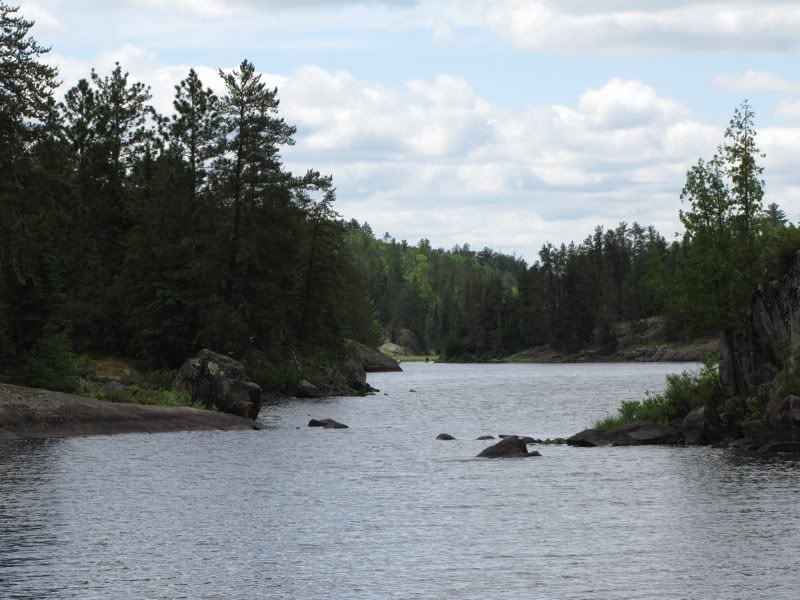 And north, the direction I was going -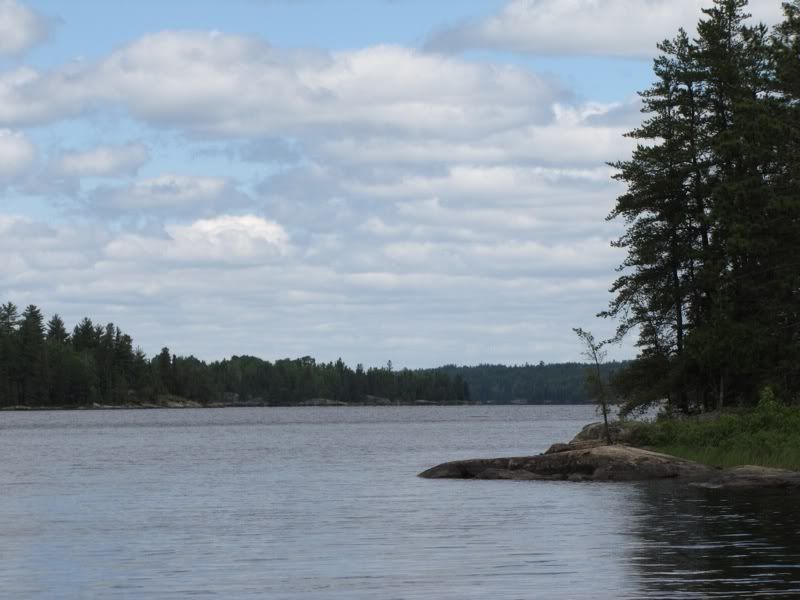 I lingered at my lunch spot for almost an hour, then got back underway. I was really liking Fourtown Lake. But it was also a great travel day, so I decided to push a few portages deeper into the wilderness. Fourtown was not too busy given its beauty and proximity to the entry point. But there were still a number of groups traveling to and fro. In fact, minutes after I pulled away from my lunch site, I crossed paths again with the two couples who had been portaging just ahead of me on the way in. While I was having lunch, they were checking out all the sites in the area to set up a base camp, and were returning to the southernmost site because several of the better ones were already occupied.
As I paddled up the lake, the wind had picked up some. I was not yet comfortable stopping to take pictures from the canoe with a breeze blowing. In a two-man canoe, one guy can take pictures while the other keeps the canoe more or less where you want it. But in a solo, when you set down your paddle to get the camera out, you're at the mercy of the wind and waves. As my comfort with solo traveling grew during the trip, so did my willingness to pull out the camera while on the water underway.
It took me about a half hour to paddle from lunch to the Boot Lake portage. Looking back from the portage at Fourtown -
In contrast to the rocky portages I traversed into Fourtown, the rest of the portages I would cross today followed smooth and level paths. This 43-rodder led to a marshy bay on Boot Lake -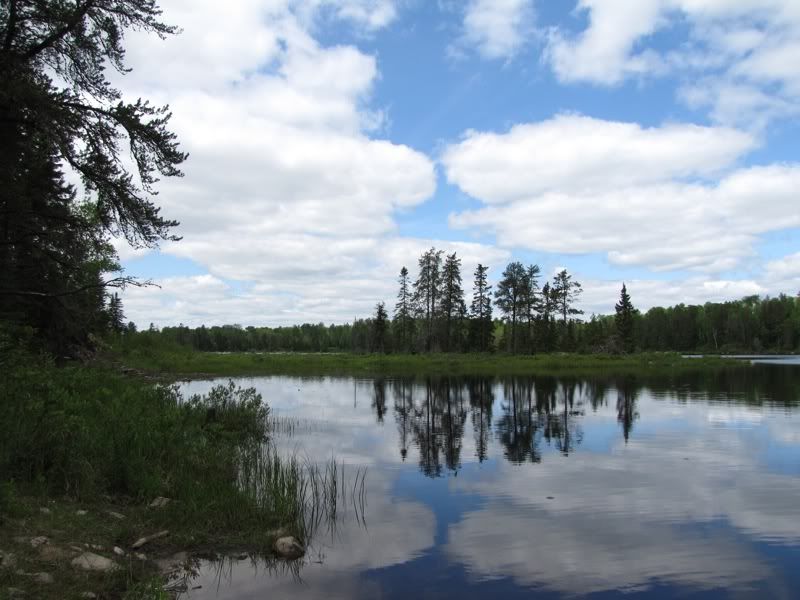 I ran into three younger guys on the portage, traveling in the opposite direction as me. When I went back to the Fourtown end to get the rest of my gear, these guys were doing a photo shoot of the dramatic boulders there, which I also wanted to photograph -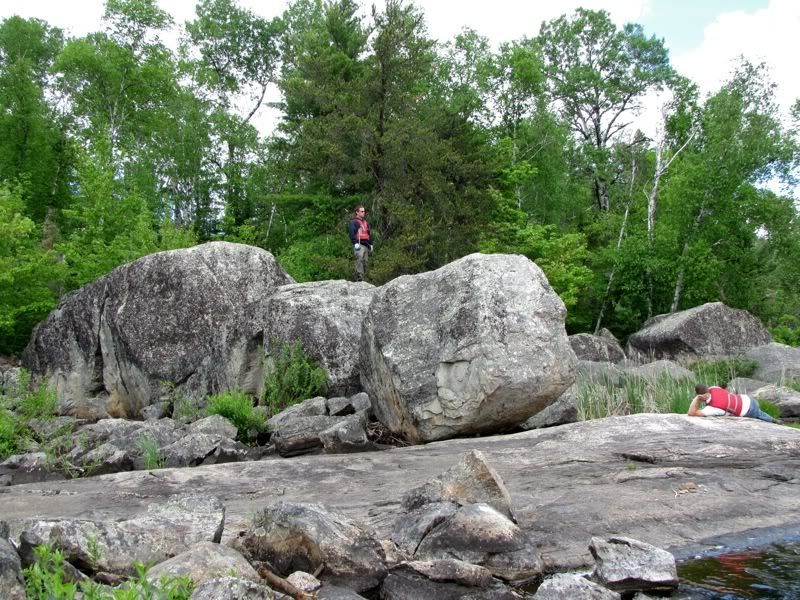 Paddling up Boot Lake, I paused to take a few pictures of an island -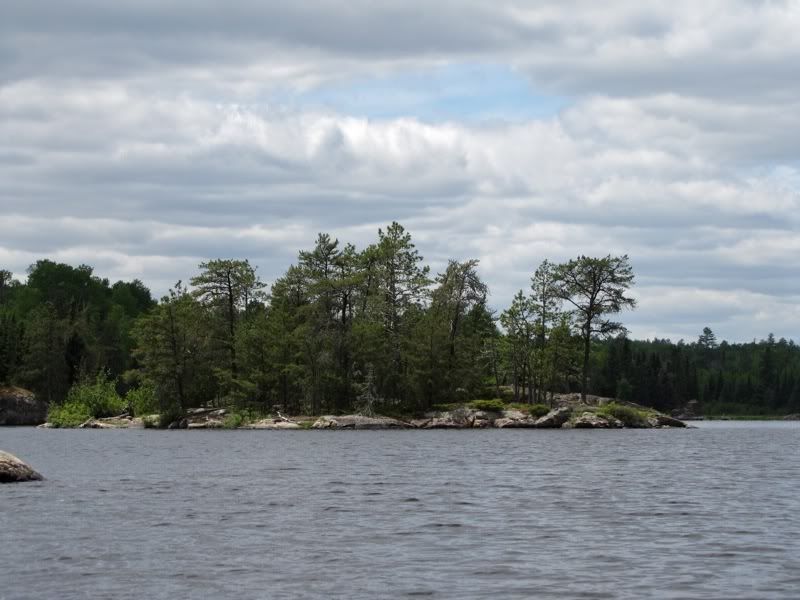 And the shoreline -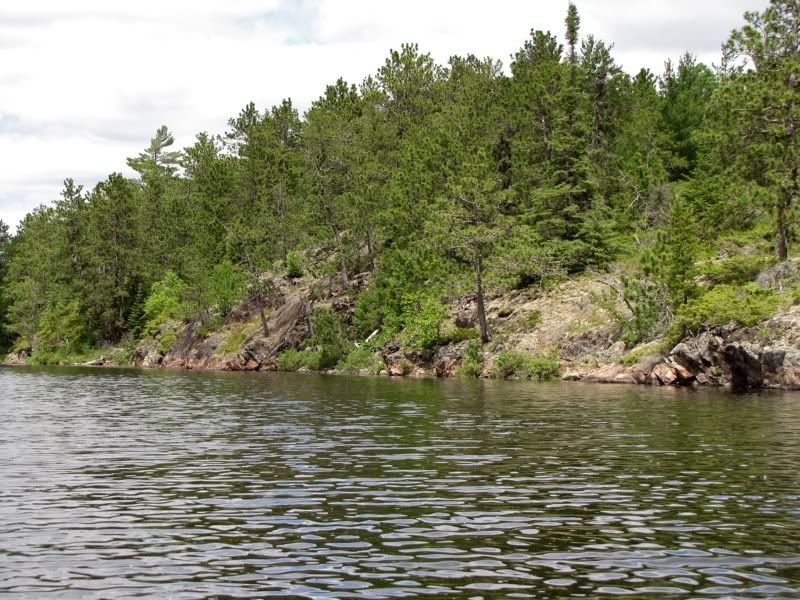 Although there were a couple of canoes beneath some cliffs on the west side of Boot, none of the five campsites on the lake was occupied. But I wasn't ready to stop and kept going toward the portage to Fairy Lake. This marshy shoreline is next to the Boot end of the portage -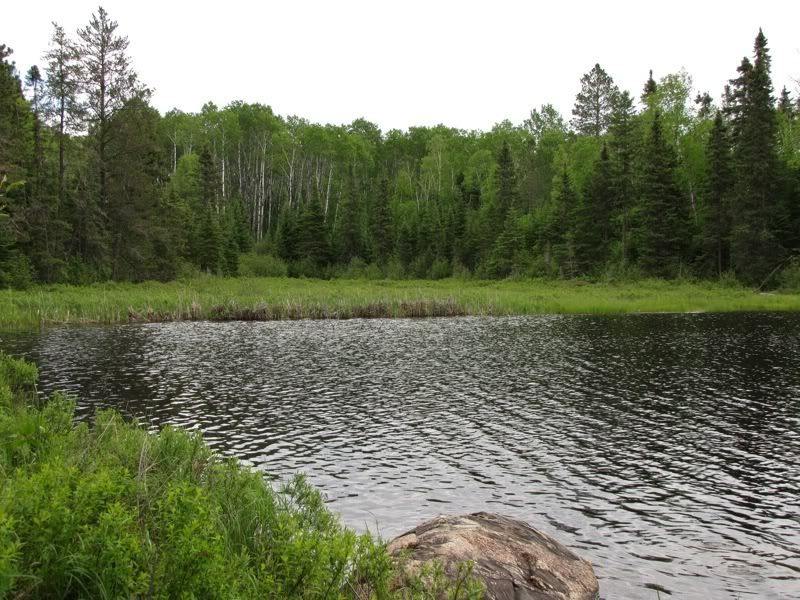 Nineteen short rods later, I was looking out over Fairy Lake -
No one else was in sight as I crossed Fairy, and its two campsites looked empty as well. But I thought I'd go one lake further, to Gun Lake. There were a number of wildflowers in bloom along the 53-rod portage from Fairy to Gun.
Bunchberry -
Bluebead Lily -
False Lily of the Valley -
When I got to Gun after my first trip across, I could see the campsite across from the portage was occupied, and there were several canoes out on the water. But I didn't realize how busy the lake was. After I finished portaging, I got back on the water to look for a campsite.
Unfortunately, Gun Lake was pure pandemonium. There were people out in canoes everywhere, and each campsite I approached was heavily occupied. Several of the groups were wearing distinctive orange tshirts, and I figured they were mostly from the same organization. No more than 9 of them were gathered in any one place, so I guess they were abiding by the letter of the law. But when one organization sends multiple large groups to camp on a single lake that has five campsites, they do impair the wilderness experience for others (as well as themselves).
As someone who has mostly tripped in Quetico, this is the main negative I fear in the BWCA - traveling all day and having to worry about finding every campsite filled. After passing through two empty lakes, I had been feeling pretty good about this area of the BW. But now I was tired and ready to camp. So despite all the traffic on Gun, as I paddled toward the last possible site on the lake to see if it, too, was occupied, I would have camped there if it had been open. But alas, it was already taken too. There was no room at the inn on Gun Lake.
Where should I go next? I could backtrack to Fairy, with its two empty sites (or sites that were empty a little while ago); I could take the 33-rod portage to Gull; or I could take two portages over to Moosecamp. I didn't want to backtrack, and the route to Moosecamp was longer, so it was a pretty easy decision to go to Gull. Still, for the first time today, I felt the fact that I was soloing, and wished David were there to talk the options through. No such luck. I was on my own. So off to Gull I went.
It was a short paddle to the portage, and I got there a bit before 4:00. One of the reasons I was frustrated by not finding a campsite on Gun was that my energy reserves were low by now and I needed a snack. So even though the portage was only 33 rods, before I crossed it I pulled out some trail mix to fuel up. That helped a lot. And my mood brightened when I noticed this group of Pink (Stemless) Ladyslippers near the landing -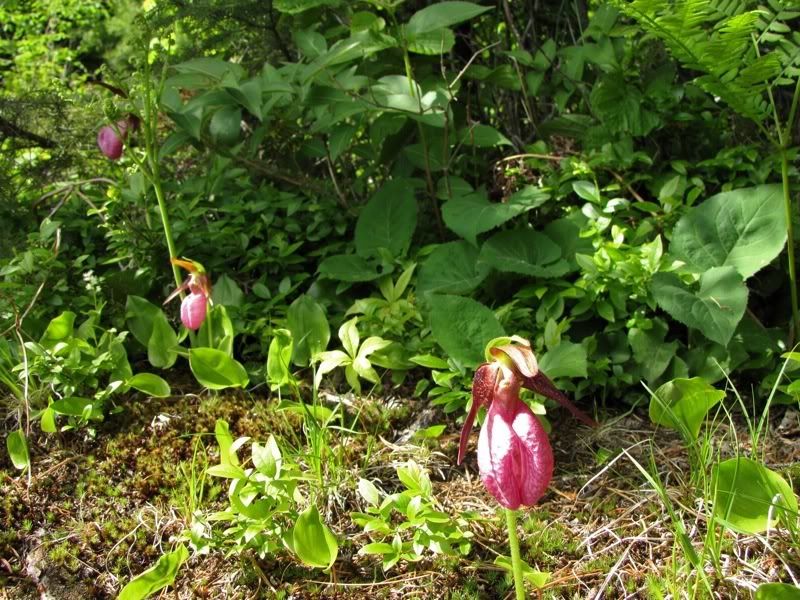 Refortified, I carried my gear across the easy portage. As I went, I started to compose a narrative in my head about this moment, which is something I often find myself doing, especially if I'm alone. In my mental narrative, Gun Lake being full was a blessing in disguise, because it forced me to move on to Gull, where I found a beautiful campsite. Then I laughed at myself and said out loud, "don't write the narrative so soon, that's probably wishful thinking." With that in mind, I arrived at Gull Lake -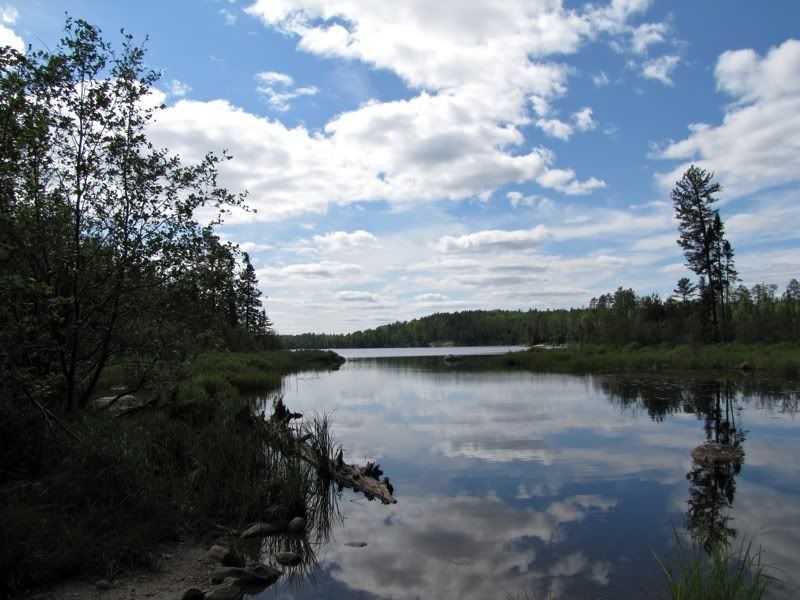 From the portage, I could not see anyone out on the lake. And if I was looking at the right spot, it appeared that the first campsite was empty - although there could have been tents hidden away from shore. I loaded up the canoe and went to find out.
A few minutes later I was at the site. It was empty. And fantastic. A thousand times better than any of the campsites looked on Gun. This site had a great tent pad, beautiful pines that provided shade but were open to the breeze, a huge flat rock shelf right at water level to unload gear and loaf around, and a nice long granite point sticking into the lake for another loafing spot. My wishful thinking back on the portage had come true.
I claimed my home for the night, or maybe two nights. It was only 4:15, and with the long days of early June, I still had many hours of daylight left. So I decided to start with a dip in the lake to wash away the day's grime. This was my first swim of the year in canoe country. A few days earlier I had gone running on a warm sunny day and went down to our dock thinking I'd cool off with a swim. But that day the water was still too cold for this 50-year-old guy. A few more days of warm weather had remedied that, at least in the rocky shallows of Gull Lake. The swim felt great and perked me right up.
After getting out of the water, I basked on my flat rock for a while, letting the sun and light breeze dry me off. I'd encountered a few bugs on the portages earlier today, nothing too bad. Now there were none at all. A Ruffed Grouse drummed off and on nearby in the woods. All was good.
After a while I got dressed and set up camp. My tent site -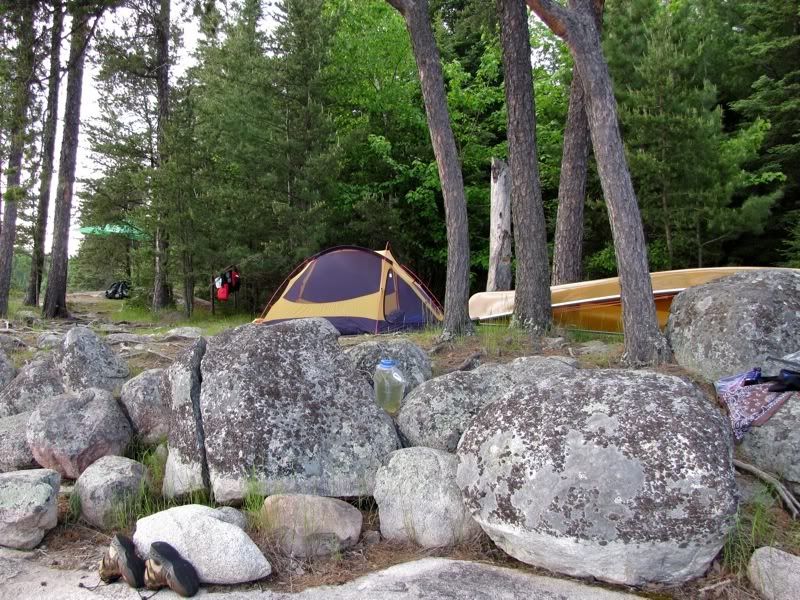 After a bit, I decided I would probably stay at this site two nights. While I was paddling and portaging I did not feel like I was working any harder than on a two-man trip. But now I felt pretty bushed. Plus, the forecast this morning predicted possible rain tomorrow. The more ambitious plan of going up to Friday Bay via Wagosh and Papoose would have to wait for another trip. With a two-night stay in mind, and possible rain in the forecast, I set up the tarp, even though the weather was great right now -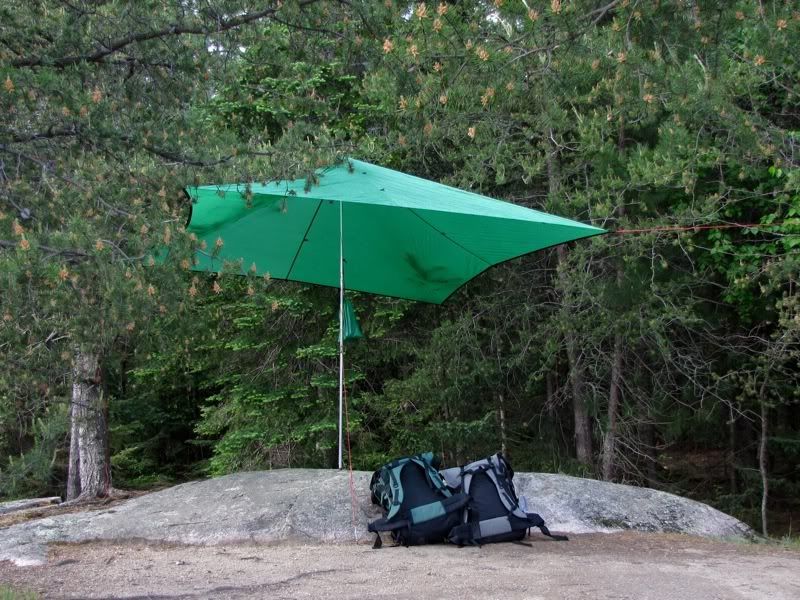 Here's the view back toward the campsite from the granite point - my tent and tarp are back in the trees, just hidden from view -
Around 6:00 a few blackflies came out. I tucked in my pant legs and put on a long sleeve shirt. Self-portrait -
For dinner I had homemade beef stew that I had prepared and frozen before the trip. As I was getting ready to cook it, I screwed the valve of my Dragonfly stove into the fuel canister and connected it to the stove. Then got distracted for a minute and went to do something else. When I came back, I found fuel leaked all over the rock beneath the stove. For a second I feared my valve was defective, despite having test run the stove just before the trip. Then I realized I just hadn't screwed the valve into the canister right. It's a good thing I'd been distracted away for a minute, or I might have lit the stove without noticing the leak, which could have been a recipe for disaster. As it was, I just had to move the stove, refasten the valve, and let the spilled fuel evaporate (one of the positives of white gas is that it evaporates easily). This was a good reminder to always doublecheck the stove connections before lighting.
As I was cooking my stew, I suddenly noticed people getting out of canoes on a rock outcropping at the far end of the lake. I didn't think there was a campsite in that area and wasn't sure what the group was doing or where they had come from. It was a large group, nine people with four canoes. About an hour later, they got back in the canoes and paddled north out of sight, toward the portage to Mudhole and Thunder. There were two campsites near the portage, hidden from my site. I guess the group was camped up there. I wondered what they were doing when they paddled over to the rock. Maybe they were trying to escape from the blackflies, which were getting thicker and thicker where there was no breeze.
I was taking my own measures against the blackflies. I don't like to use bug juice unless I absolutely have to. Instead of chemicals, I put on the "portage burka" - a bandana hanging from a baseball cap to cover the nape of the neck and sides of the face. It works wonders. But the flies were still going for my neck on the front side. So I tied another bandana around my neck cowboy-style. I dubbed the resulting getup "beyond the burka" -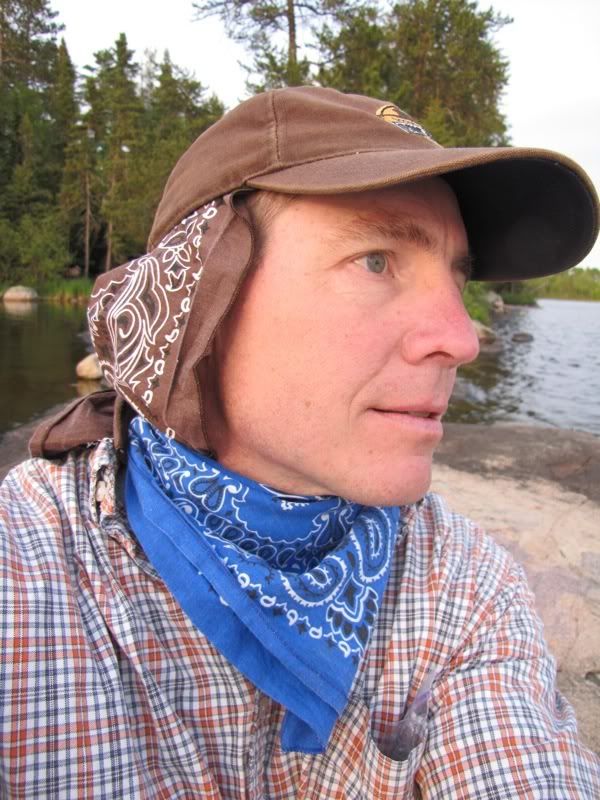 After dinner and dishes, I stashed my food in the woods. I had decided to forgo hanging the foodpack on this trip. David usually sets up the bear rope, and it takes a long time. It was great not having to spend time on that task when I set up camp. Instead I opted to try "hiding" the food, away from camp and off of human and game trails. There was a balsam thicket a little ways back, and I found a good spot in the middle of it where I could dangle the foodpack from a stub on the side of the tree so it was off the ground.
Chores done, I settled down out on the point with a generous serving of Maker's Mark. The blackflies scattered as a cool south breeze picked up -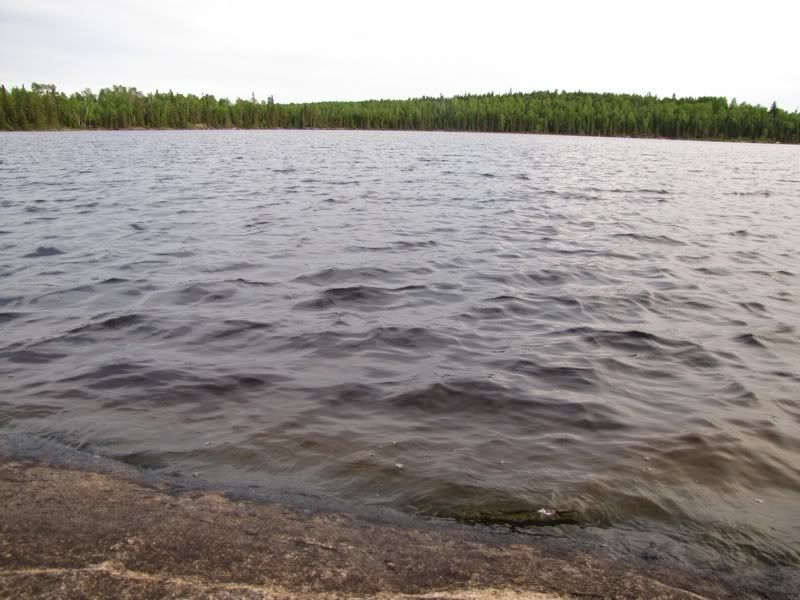 It still felt like I had Gull Lake to myself, even if the big group was camped on the lake just out of sight. A couple times I could hear voices or a canoe banging from over on Gun. But it didn't disturb the peace at my site.
The local Loon pair yodeled, and a couple of Beavers swam around slapping their tails at me from all directions. I was enjoying my time alone. But I also missed sharing the time with David. When I trip with him, I never have any desire to contact the "outside world." But now I wanted at least to let him know I was doing fine. I had thought about taking a Spot along on this trip but decided against it. On future solo trips I think I will bring one.
None of this stopped me from feeling content and enjoying the beautiful evening as night fell -
Sometime after 9:00 I retired to the tent. I read for a while (John McPhee's "The Crofter and the Laird"), then shut off the headlamp about 10:00.
Now I was alone in my tent at night in the wilderness. I felt at ease - except for some anxiety about my food stashed in the woods. One thing about hanging the foodpack, it provides peace of mind (at least when the ropes are set up right, which cannot always be achieved). Now every little scuffle and squawk in the woods caught my attention and kept me awake.
Then there was a loud explosion of wingbeats from a bird right by the tent. That got my heart racing. I wondered what it was. Maybe an owl - but they have wings specially adapted for silent flight. As I thought about that, there was another thunk in the woods. And so on.
I often enjoy lying awake in the tent listening to the sounds of the night. But now I wanted to get some sleep. Every time I came close to dozing off, another sound would wake me up. After a while I started to feel a little hungry. And my camping pillow - a new purchase for this trip that I thought I had earned by turning 50 - smelled faintly of coffee from being packed next to the breakfast bag during the day, which only sharpened my appetite.
This went on for a couple of hours. Sometime around midnight, I got up to take a leak. I got back in the tent, and finally fell into a deep sleep, alone on Gull Lake.