Pictorial Trip Report - My First Solo
by Ho Ho
Trip Type: Paddling Canoe
Entry & Exit Point: Mudro Lake (EP 23)
Day 3 (Saturday, June 11, 2011) -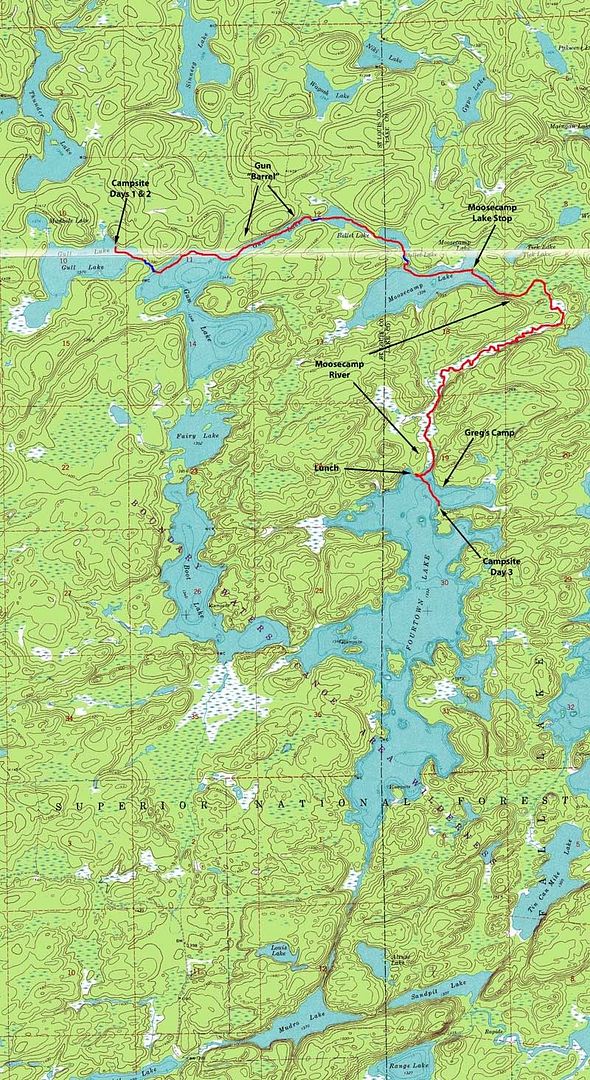 After sleeping solidly for several hours, I woke a few times in the early morning. Mostly I fell back to sleep right away, until about 4:00 a.m., when I lay awake for a while as the predawn sky brightened. It was chilly out, and I needed all the clothes I'd pulled on last night. I kind of had to take a leak, but it was too cozy in the tent to get up. Eventually I fell back to sleep one final time.
I woke up at 5:30 from a dream in which I was on this solo trip, but somehow David was also there checking his computer at the Gull Lake campsite and telling me that the updated weather forecast was now predicting rain on Sunday, which bummed me out. I had to laugh when I woke up and remembered this dream. I was also happy to realize that there was no reason to believe the good weather forecast had changed.
I got out of the tent. It was a beautiful crisp early morning with mist rising from the lake -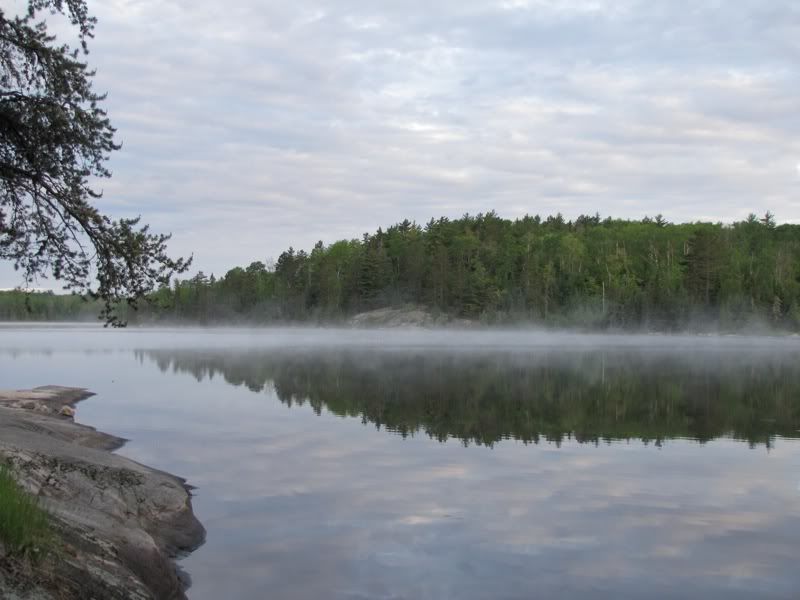 The local Loon pair -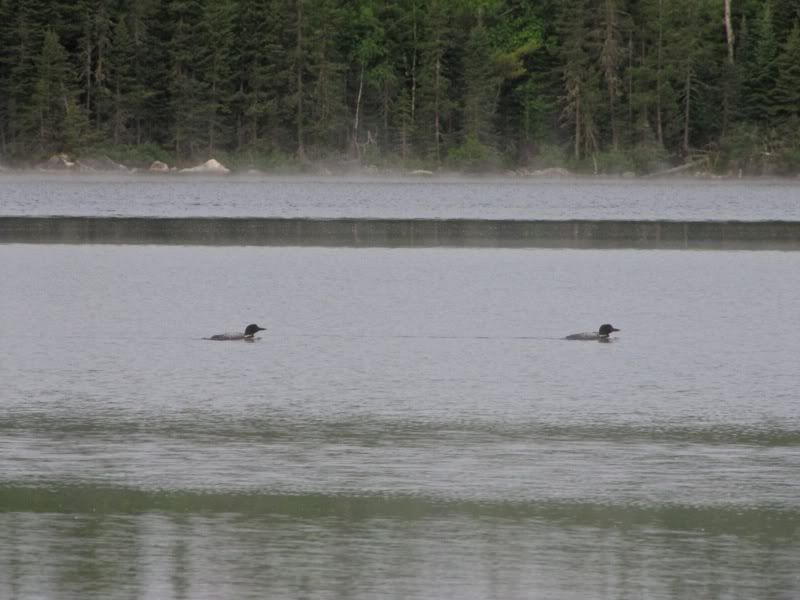 I got the food pack from its hiding place in the woods. Just like yesterday, it was unmolested. While enjoying my first mug of java, I finally got around to arranging and photographing the Whitetail skull and jawbones that were lying around the campsite -
Once I was fully caffeinated, it was time for breakfast. Self-portrait with oatmeal -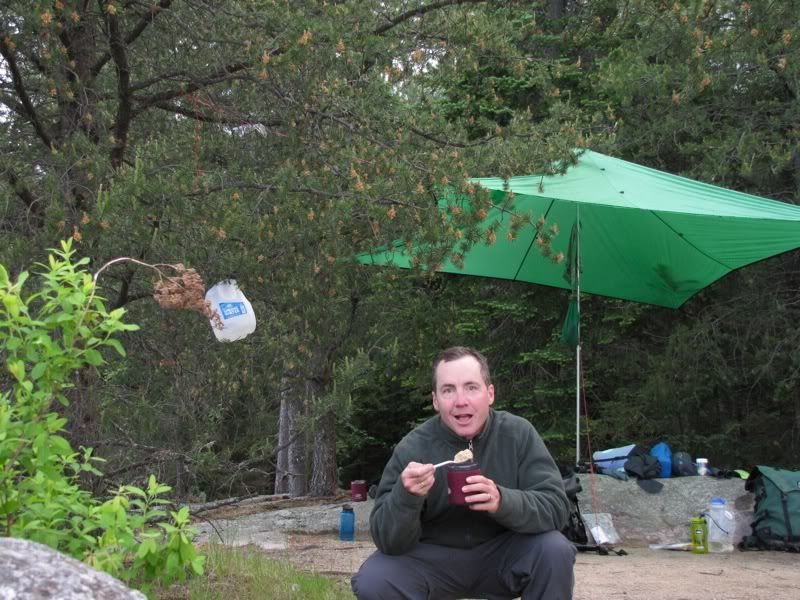 I felt like I was being pretty efficient at breaking camp between coffee and breakfast, even though I was not really rushing. For a while I thought I might get on the water by 8:00. Then 8:30 seemed more realistic. I finally pushed off from shore a few minutes after 9:00. There's a lot to do packing up by yourself, especially on top of a couple big mugs of coffee and a hot breakfast. But 9:00 is still pretty good compared to when David and I get on the water most trips.
When I was almost ready to go, the four-man group that had been camped on Beartrap (including the three guys I saw on Thunder yesterday) paddled past my camp on the way to Gun Lake. Not long afterwards, I followed course.
As I paddled to the portage back to Gun, I was still mentally debating my plan for the day. I was pretty sure I wanted to camp on Fourtown tonight. But I couldn't decide whether I should go back the way I had come, via Fairy and Boot, or explore new ground by traveling via Bullet, Moosecamp Lake, and the Moosecamp River. The Moosecamp route would definitely provide more adventure. But it also made me vaguely apprehensive. I like going over beaver dams, but I had never done it solo; my Prism would be ill-suited to the twisty route I expected to find; and I didn't know how often other people went that way if I ran into trouble. I also wondered if I should try to get to Fourtown on the early side to claim a campsite, particularly because it was Saturday, a popular entry and exit date. Although when I thought about it, I realized that the eight daily permits for Mudro are taken each and every day of the summer. So logically the day of the week should not matter too much. Still, I couldn't shake the anticipation of weekend crowding on a popular lake near an entry point.
I kept changing my mind. In the middle of the day yesterday, when I was not in a very adventurous mood, I thought I should take the Fairy-Boot route. But when I got back to camp and was enjoying the sunny afternoon, Moosecamp seemed more appealing. Now, as I paddled away from the campsite, I decided to take the easy route back the way I had come and spend more time loafing and exploring on Fourtown today. I would save the Moosecamp route for a trip with David.
On the portage back to Gun Lake, I saw some of the first roses of the summer -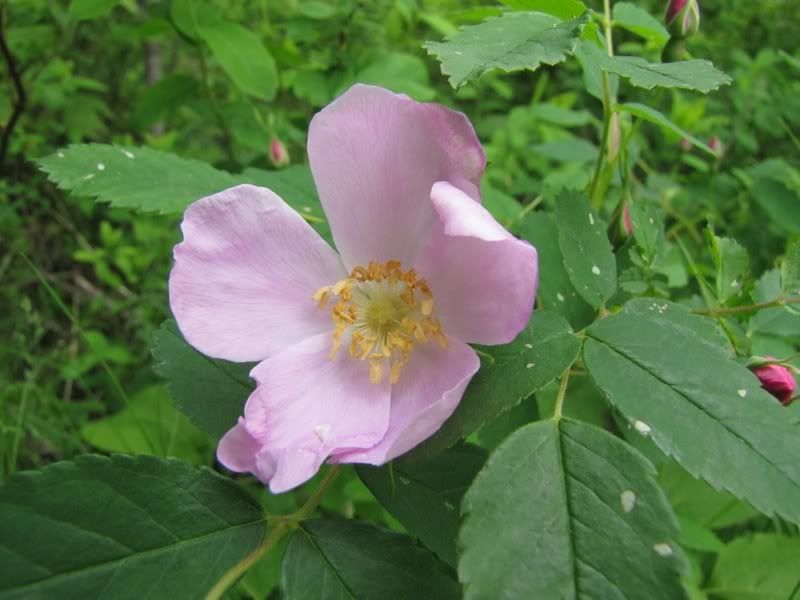 Once on Gun, I decided to explore the lake a little, since my enjoyment of it had been impaired by the hubbub and overcrowding on the way in. I was in no hurry now, given my decision to take the Fairy-Boot route back to Fourtown. So I thought I would paddle along the north shore of Gun down the length of its "barrel," then turn around and head for Fairy.
The contrast with my first day on Gun was stark. No one was out on the lake, and the three campsites I could see were vacant. It was very relaxing following the northern shoreline and proceeding down the narrow barrel - which kept going, and going, and going.
As I went further and further, it started to seem absurd to turn around and go back toward Fairy, instead of continuing forward to Bullet and Moosecamp. And so I began changing my mind one last time. By the time I reached the end of the barrel, I had decided on the river route. Maybe subconsciously that was what I intended all along when I headed down the barrel of Gun. Or perhaps my adventurous side secretly ambushed my timid side with the idea of this little tour.
Before portaging on to Bullet, I turned around for a last look back at the Gun barrel -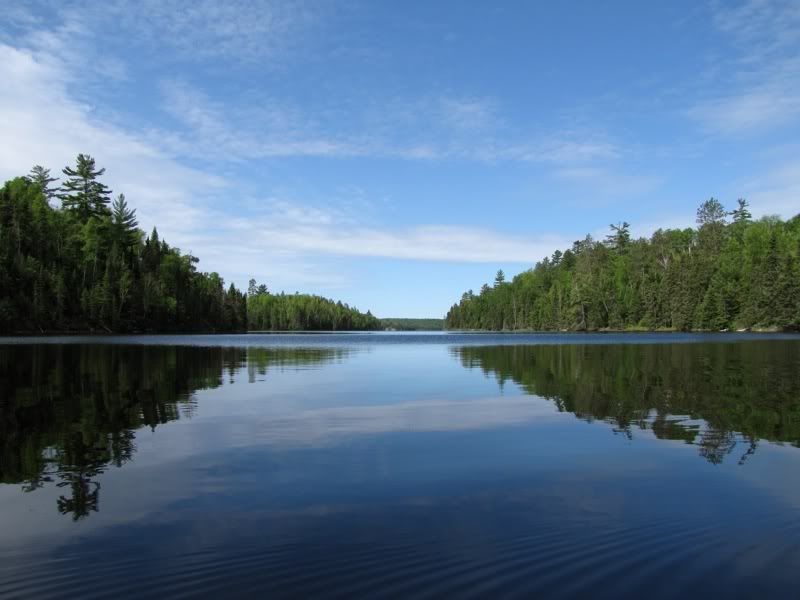 The 20-rod portage from Gun to Bullet parallels the creek between the two lakes -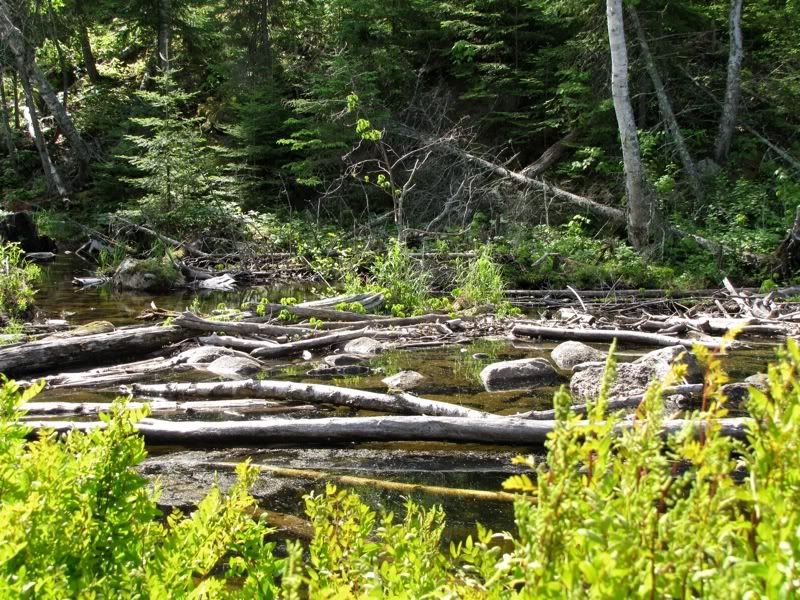 I could hear the whistled call of a Broadwinged Hawk as I carried my gear across the short portage. Then, paddling down Bullet, I found a small colony of Redwinged Blackbirds and flushed a few ducks (Goldeneyes?) in the marshy narrows near the middle of the lake. Looking back through the narrows -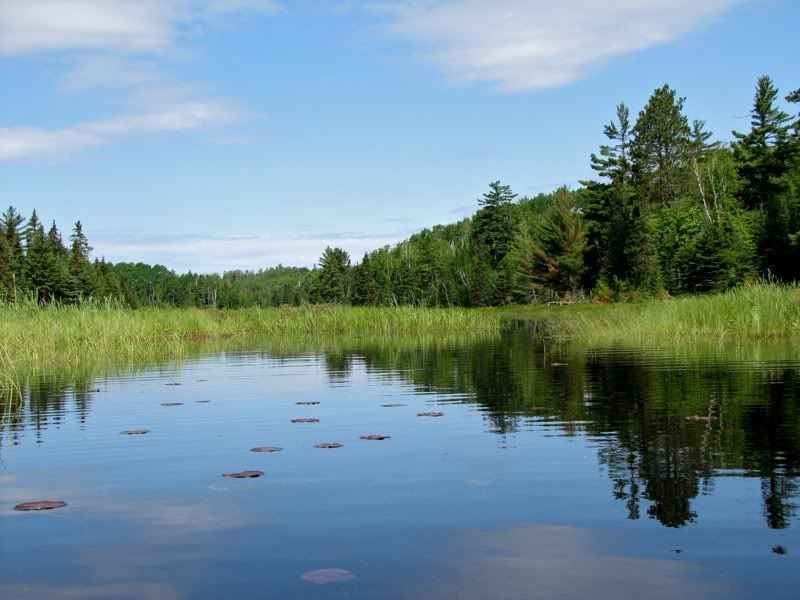 The 25-rod portage from Bullet to Moosecamp was very nice. In the middle there's an open rock ledge that looks out over the eastern tip of Bullet -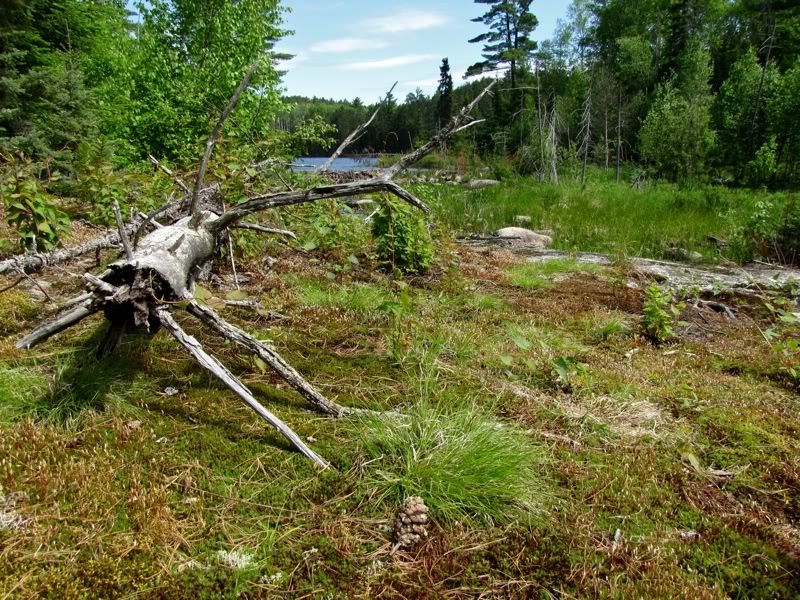 The only downside of this portage was the landing on the Moosecamp end, which was shallow and mucky. I wondered if that was foreshadowing things to come. But I thought Moosecamp Lake itself was beautiful. And I seemed to have it to myself.
I aimed for the easternmost campsite on the lake to stop and replenish my purified water. I wanted two full liters for my trip down the river. The spot where I pulled over was actually just shy of the campsite, on a perfect pine-covered ridge overlooking a good-sized bay. The Moosecamp water sped through my prefilter, confirming my suspicion that the slowdown back on Gull was the amount of minute stuff in the water there. I also ate an energy bar and got out a small bag of trail mix to keep handy in my pocket, in case the trip down the river took a while and there was no good place to pull over for lunch.
The day was warming up, and I was starting to feel hot in my tshirt and PFD. If I were with David I would dispense with the PFD. But not solo. I had a sleeveless tshirt along, but it was buried in one of the packs. So I decided to wear the PFD sans shirt. After applying plenty of sunscreen, I was good to go.
I shoved off about 11:40, pausing to take a picture from my stopping place toward the beginning of the Moosecamp River. As I snapped this shot, I semi-humorously composed a caption for it - "That way lies madness" -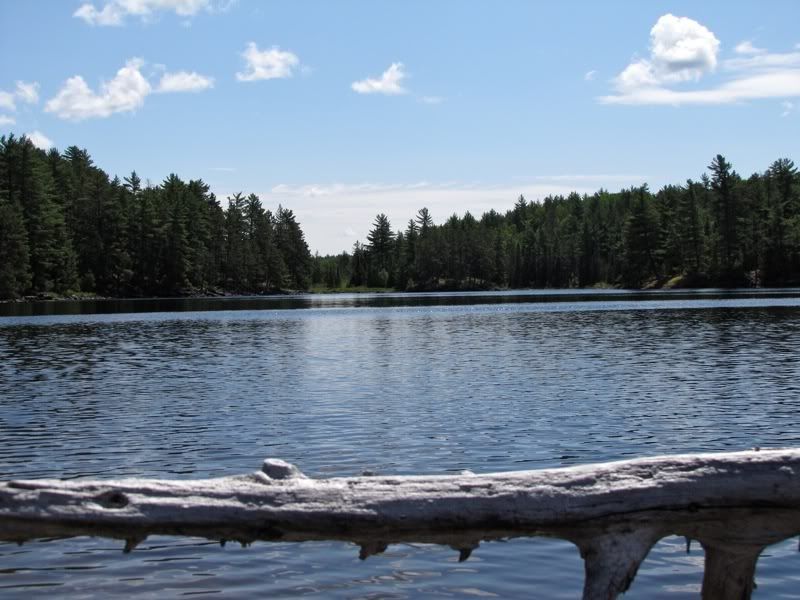 Minutes later I crossed the imaginary line between lake and river. The initial stretch of river was scenic, but not too promising as a paddling route. There was no clear channel among the emergent vegetation, as there is on most marshy but navigable waterways in canoe country. And the water was uniformly VERY shallow, just an inch or two above undifferentiated muck that probably went down several feet, if not all the way to the center of the Earth. If the canoe got stuck in the muck, it might be hard to get unstuck with nothing solid to stand on below -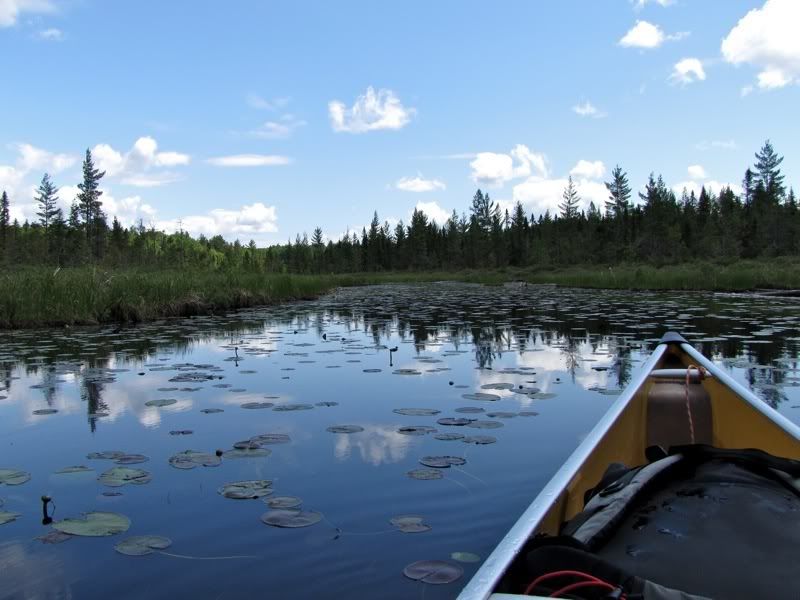 These suboptimal paddling conditions continued for a couple hundred yards before the waterway narrowed and deepened somewhat and I breathed a sigh of relief. As long as the river was floatable, I was glad I had decided to go this way. The narrower, slightly deeper channel -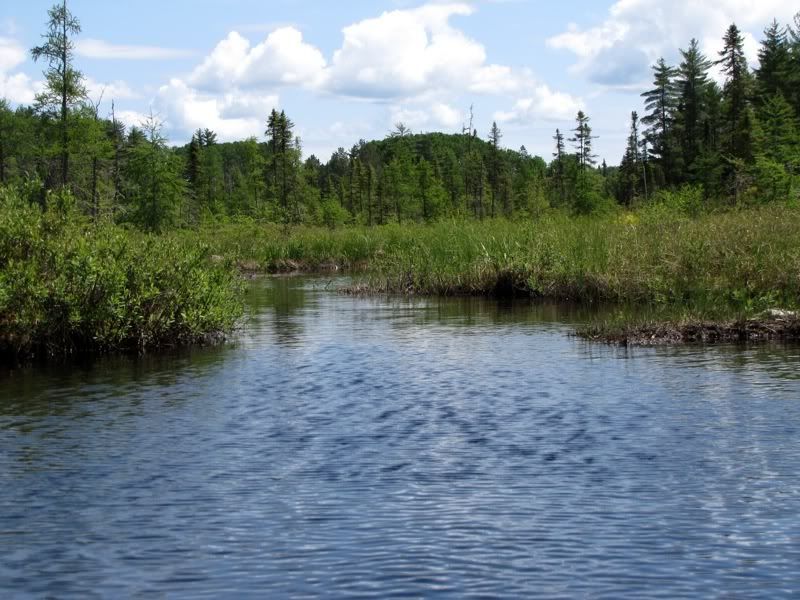 I love this kind of environment. Cottongrass was blooming in the boggy areas -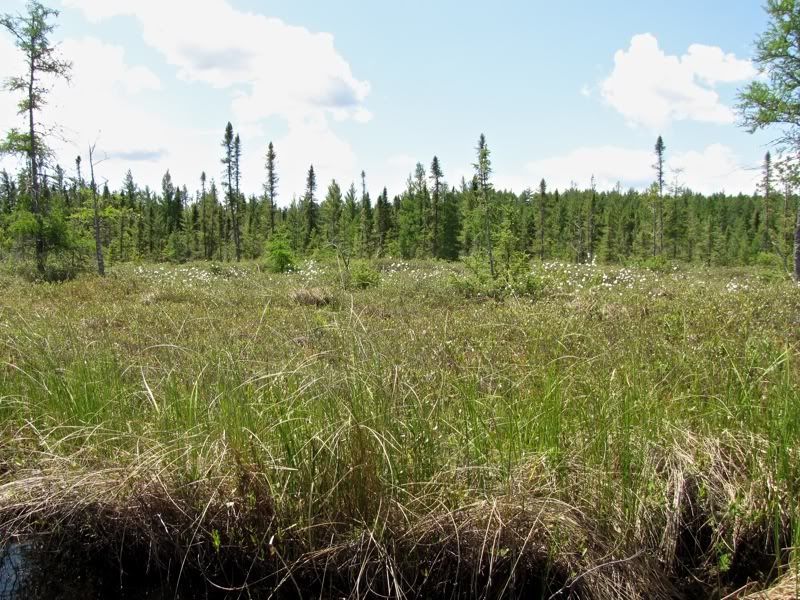 Yellow bullhead water lilies were blooming in the river -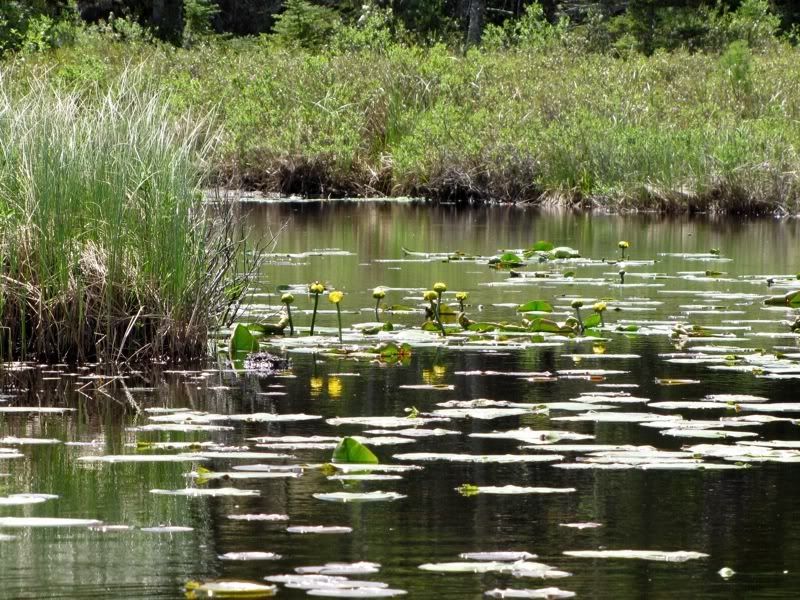 Close-up -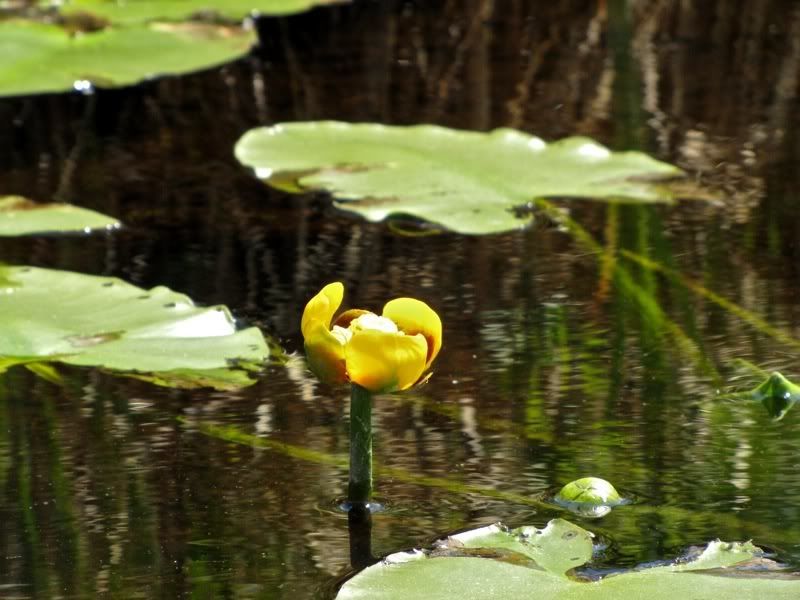 About a half hour after leaving my stopover on the lake, I arrived at the first obstruction in the river. At first I thought it was a big beaver dam and log jam. But as I pulled the canoe up along the side, I realized it was a manmade structure, an old logging flume or something similar -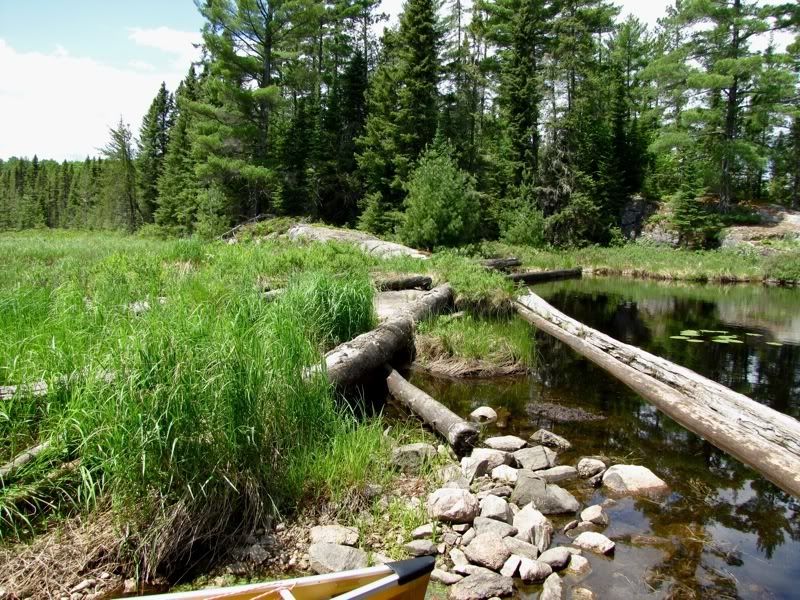 Detail on one of the logs -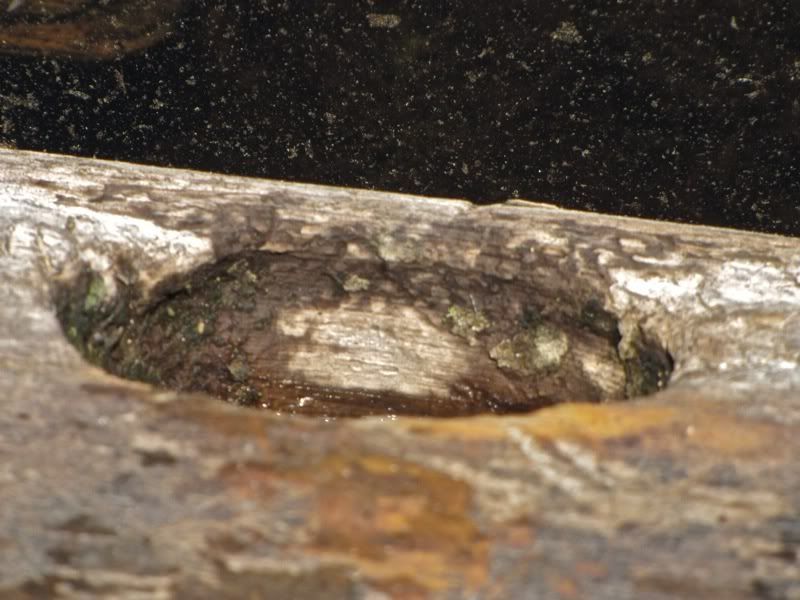 The view downstream from up on the structure -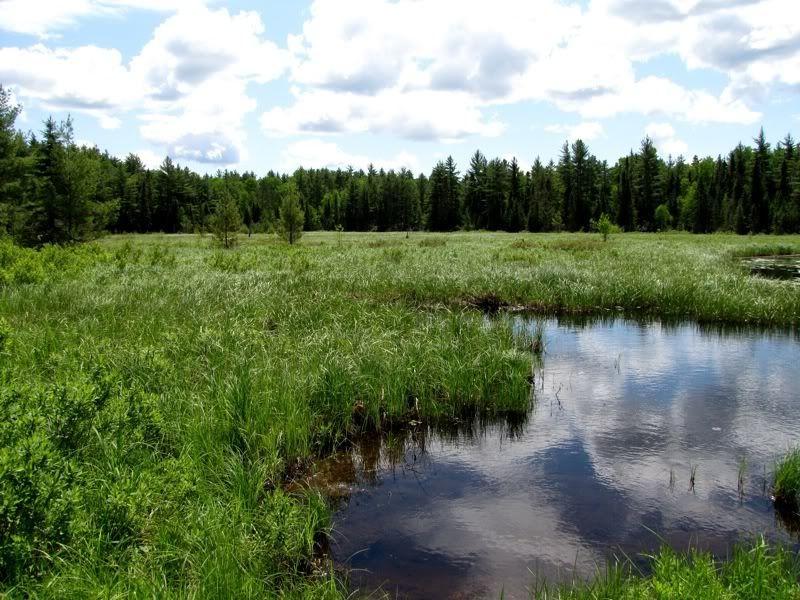 And the view of the structure from just downstream -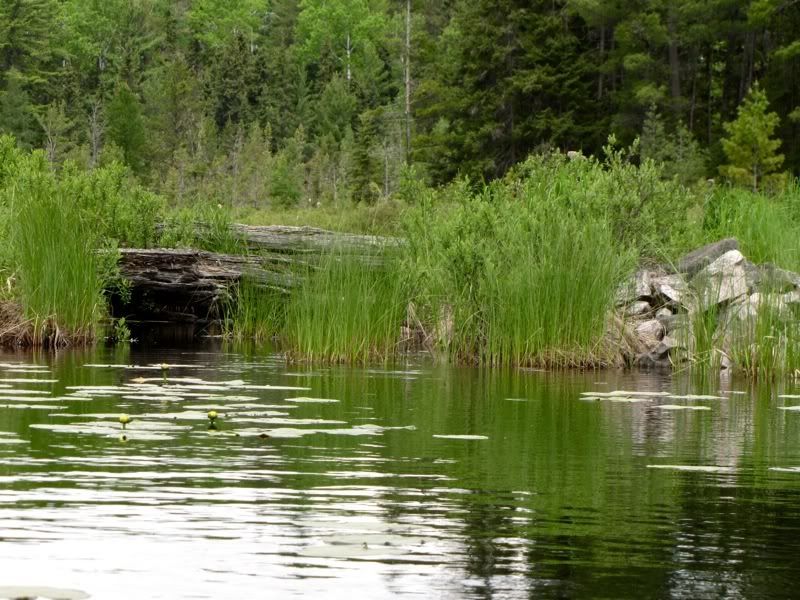 There were some boot prints in the muck where I lifted my gear around the flume. So I was reassured that others had gone this way recently and the route had not become impassable due to a bursting beaver dam or something like that.
Continuing downriver, there were some wonderful piney rock outcroppings looming over the marsh and bog -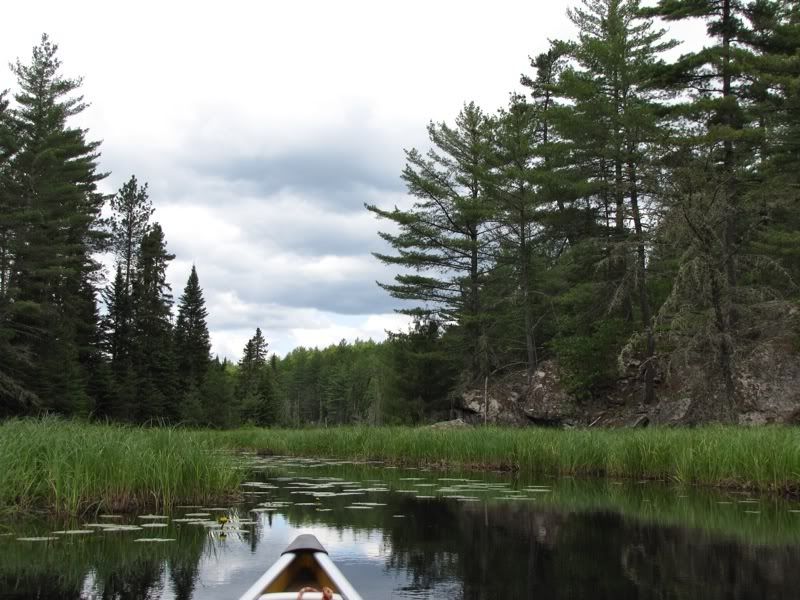 The song of Common Yellowthroats was a constant accompaniment along the river, joined by Winter Wrens in the boggier sections. I was able to keep pretty good track of my progress based on the direction the river was going, and I was making good time. But the clouds started thickening and the wind got gusty when I was halfway down. The possibility of a thunderstorm out there with few places of refuge made me a little nervous -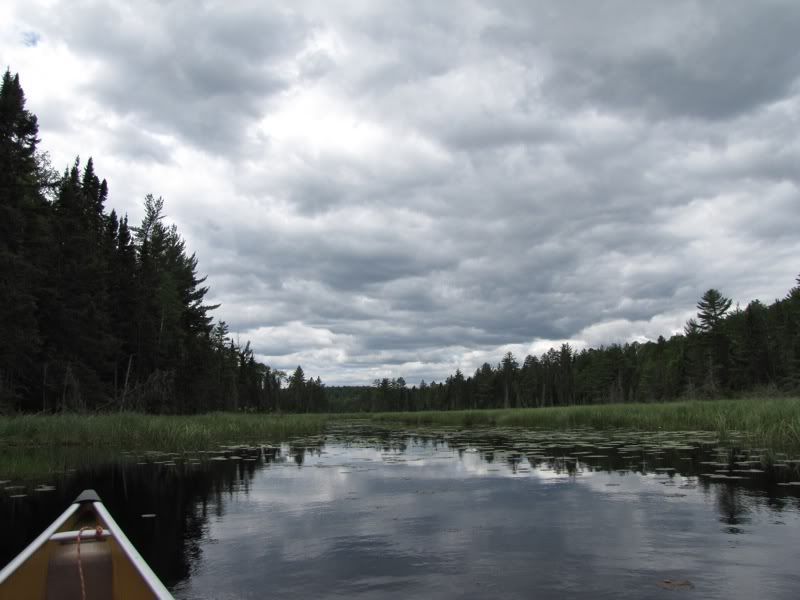 There was nothing to do but keep on keeping on. More cliffs bordering the marsh -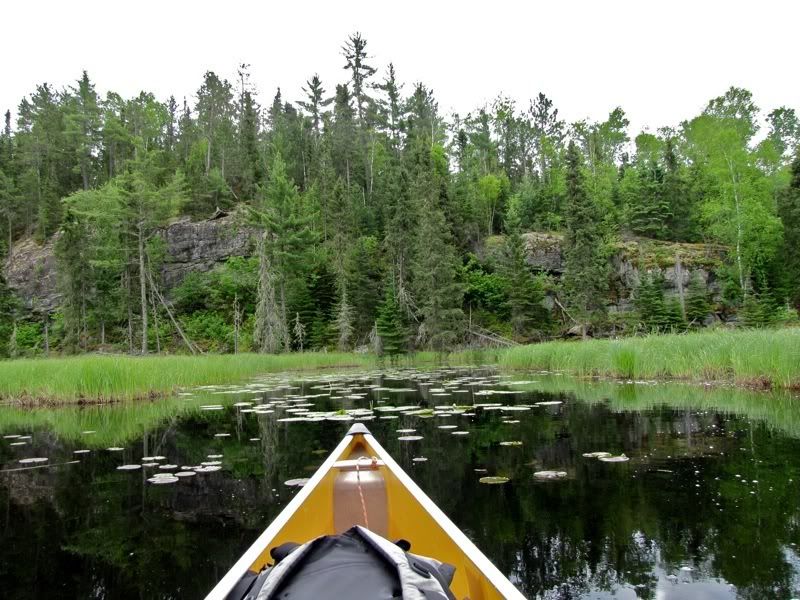 After about an hour on the river, I still had not encountered any beaver dams, just the old logging flume upstream. Where were all the dams TomT mentioned in his trip report? Was he just imagining things (and including falsified pictures and videos of dams in his report)? I was beginning to wonder.
Then I got to the first dam, a biggie. TomT had described it as being four feet high. That seemed about right. But the large size made it pretty easy to get up on the dam and slide the canoe over (at an angle), because there was plenty of room to maneuver and keep the canoe parallel to the dam when getting in and out. It would have been a lot harder going upstream. This is the view back up after I pulled over the dam -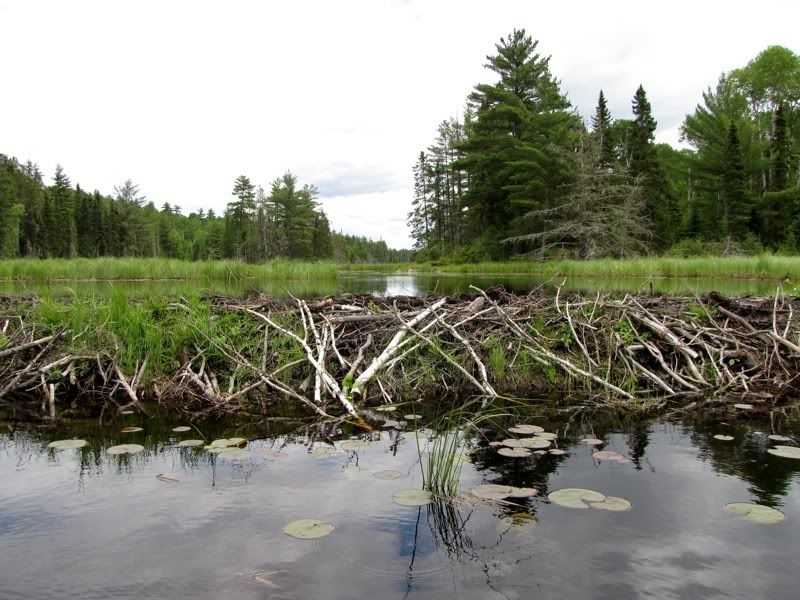 There were six more dams after that, I think, all much smaller than the first. One was low enough and had enough water flowing over that I was able to just paddle across full speed ahead. The others required getting out and sliding the canoe over. And they were more difficult than the big one, because there was much less room for getting the canoe parallel to the dam for exiting and reentering. But I got 'er done.
Some of the sharp turns in the river were also challenging to negotiate with the Prism. On some I needed a few backpaddle strokes to make the turn, which inevitably brought me to a dead stop. In other cases, I was able to turn while maintaining forward momentum - far preferable.
I was having a great time. But once again, I wished I had a Spot just to let David know where I was and that I was doing fine.
Eventually, I was feeling the need for a "rest stop." Fortunately, around then I came to a serendipitous granite reef that extended out to the water and made a convenient spot to park the canoe and get out for a minute -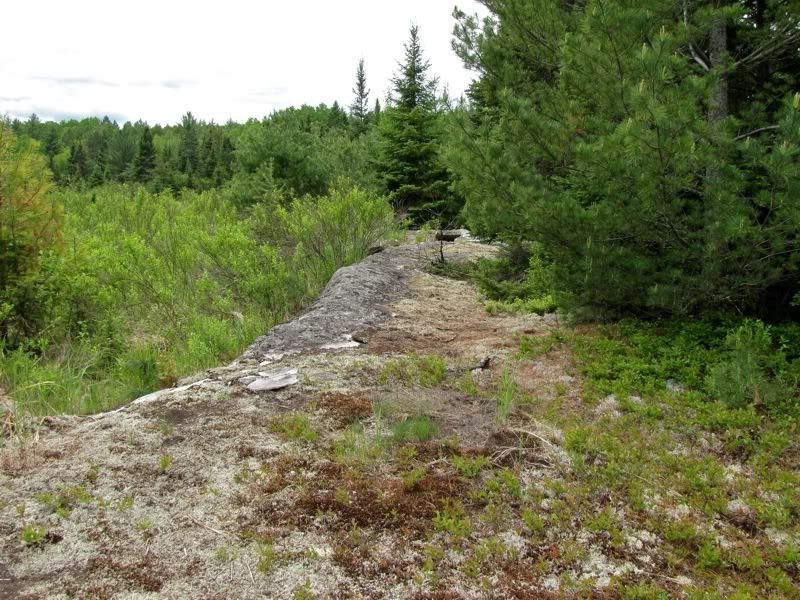 The view of my watery byway from the rock reef -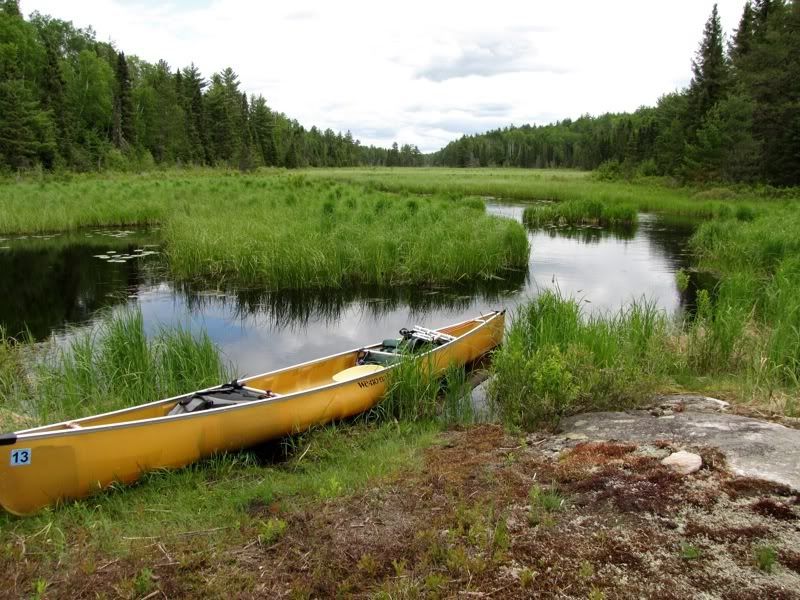 Back underway, I continued to enjoy the ever-changing scenery along this route -
I passed another old structure remaining from logging days -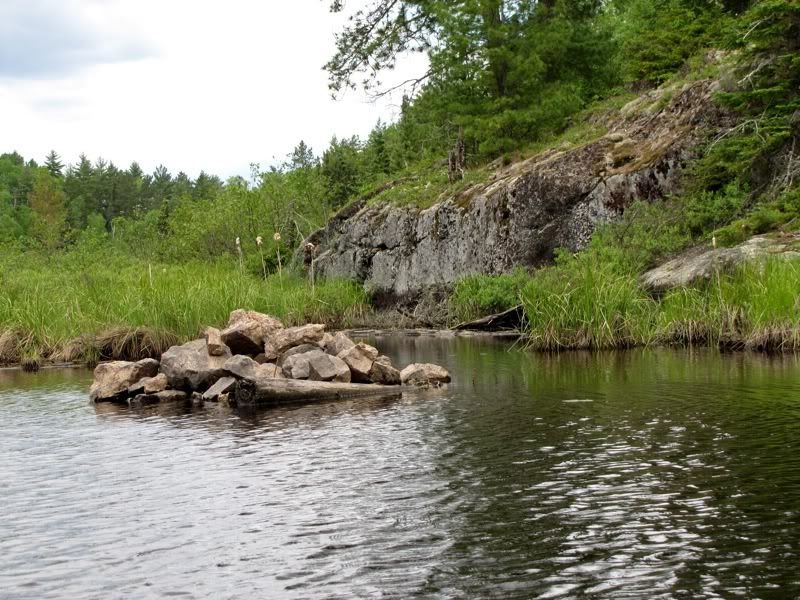 The opening to Fourtown Lake just ahead -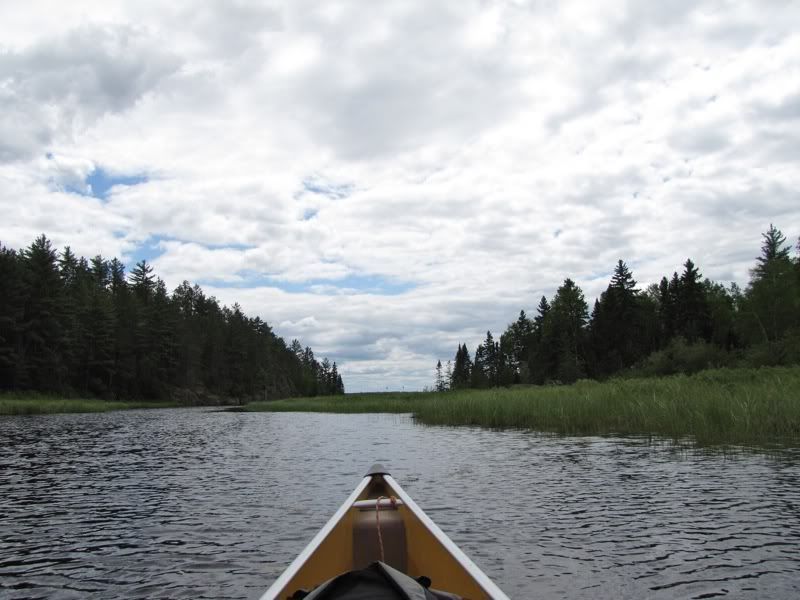 I got to the lake about 1:30, under two hours after leaving my stopping point on Moosecamp Lake, faster than anticipated. I expected to see people as soon as I got to Fourtown. But even though my view extended well down the lake, there was no one in sight.
I wanted to camp at the north end of the lake, near where the river came in. And there were two campsites in view, both apparently unoccupied, plus another just around the corner. But I decided to stop at a great rock slope to have lunch before scouting the campsites and picking one. I was hungry, and selecting a campsite would be a lot more pleasurable after eating. I spread out and made myself at home at the lunch spot -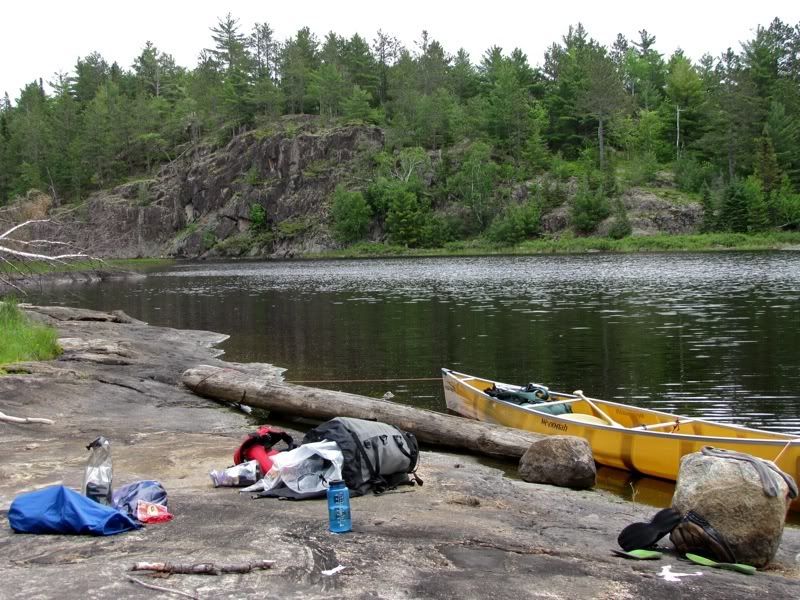 Looking up the rock slope -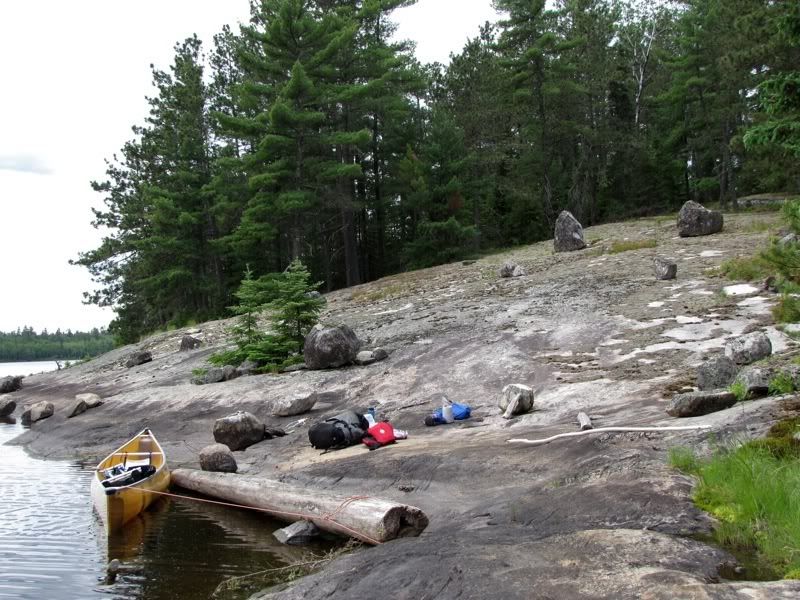 Enjoying the cloud rays -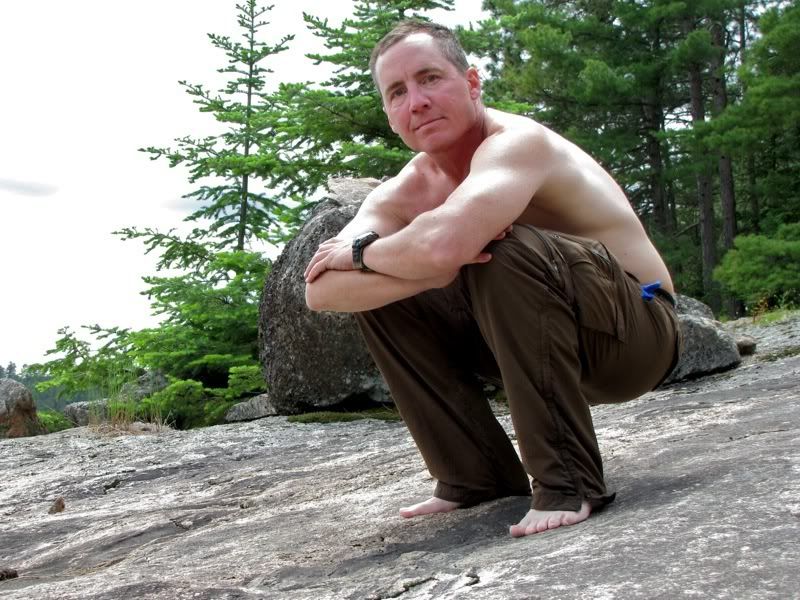 While goofing off, I was startled by a sudden ker-plunk next to the canoe. The perpetrator -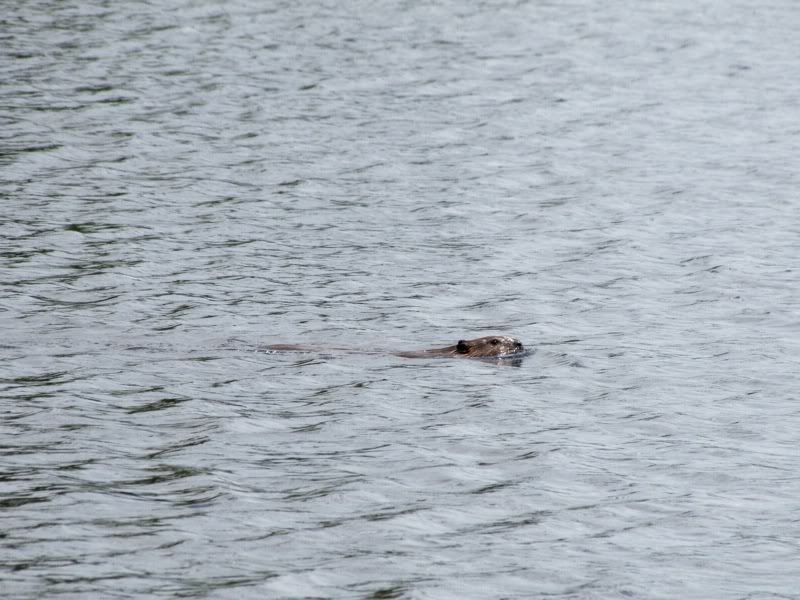 Now it was time to claim a campsite. From my lunch spot, I liked the look of the site on the south side of the entry to the east-stretching bay, with a view back toward where I was standing and the mouth of the river. So I paddled over there and planned to take the site without looking at the others if it appealed to me. The paddle was only a couple minutes, but as I crossed the bay I managed to get hung up on a really big very flat rock lurking just below the surface. Then I thought I heard thunder in the distance, and the wind picked up. Even though it was still early, it was a good time to camp.
And the campsite was really great. It was on an open piney point, fringed by plenty of flat rocks for basking by the water. The only slight negative was that the best tent pad looked like it sloped a little more than desirable. But when I started to set up the tent, it was hard to tell exactly which way the slope went. I hate getting in a tent at night and finding that downhill is sideways. David and I had often joked that a level would be useful for tent orientation. Then I thought about something I read in the solo canoeing forum - you can use water that has gathered in the bottom of your canoe as a makeshift level to check the trim. Why couldn't I do something similar now? But what could I use? I looked around at my gear. Uh, what about that half-empty water bottle? It worked great. Why didn't I ever think of that before?
By the time camp was set up, the clouds were dispersing and the wind was settling down. Time for a swim. It felt great. Then I basked for a while on the flat rock shelf. This is the view from there back at my lunch spot and the mouth of the Moosecamp River -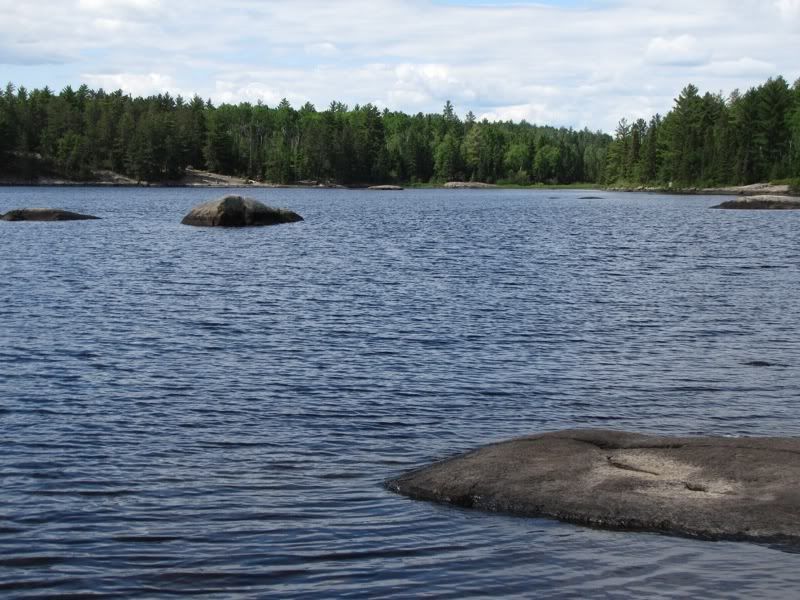 I continued to laze around on the rocks after getting dressed -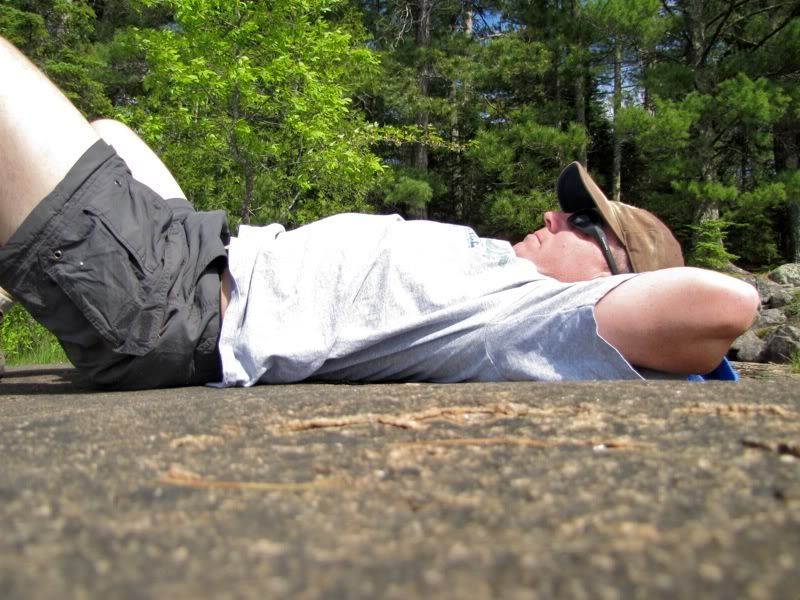 A few stable flies (ankle biters) emerged during the afternoon, a product of the warmer weather. I hate those #&%@*!'s. Very persistent and almost impossible to kill. But otherwise the bugs here were pretty much nonexistent.
I had not seen another person since leaving my camp on Gull this morning. I really thought there would be more activity on Fourtown, and kept expecting someone to paddle up the lake from the south to claim one of the open campsites near me. Around 4:30, though, I was surprised to see someone come from the other direction - down the Moosecamp River. It was another solo paddler (using the proverbial "evil doubleblade") -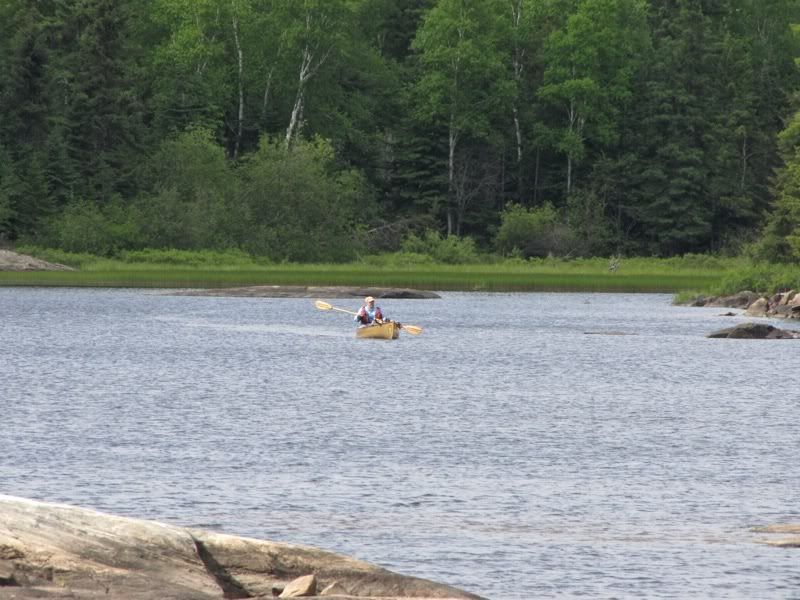 He laid claim to the campsite directly across from me, on the north side of the entry to our bay.
Not much later, I started to hear gunshots from the north. Quite a few of them. There would be five or six in fairly rapid succession, then a brief lull, then another series. This continued off and on for some time. WTF? I'm no expert on gunfire, but it seemed to me that the only place the shots could be coming from was somewhere up the Moosecamp River. It wasn't any hunting season that I knew of, so it seemed like someone was just engaged in "target practice" up there. The river seemed so remote and untraveled when I passed through earlier today. Now it was starting to seem like a hive of activity.
Before making dinner, I decided to hop in the canoe and go visit my neighbor across the bay. Our campsites were only separated by maybe 200 yards of water, and it just seemed strange for two solos to be camped so close together with no one else around and not at least say hi.
When I pulled up to his campsite, my fellow soloist seemed happy to converse for a few minutes. His name was Greg, and as it turned out, this was also his first solo, and like me, he was planning to be out three nights. He had put in at Mudro yesterday and camped on Fairy last night, and now was planning to spend two nights on Fourtown. Paddling a few hours behind me today, he saw people on Gun and Moosecamp Lakes, which seemed empty when I passed through. We shared some thoughts about soloing, our canoes and paddles, and the feeling of remoteness on the Moosecamp River. Just then, there were more gunshots upriver, and I asked what he thought that was all about. He was as mystified as me. He said "I'm all for firearms and all, but." To which I added "Bongo drums are fine too, but that doesn't mean it's considerate to play them in the wilderness just for kicks."
After a few minutes chatting from canoe to shore, I paddled back to my camp to make dinner - some Knorr noodles with foil-pouch tuna. As I was cooking and eating, I realized that for several days now, songs from REM's "Green" album kept playing in my head - especially "You Are the Everything," "World Leader Pretend," "The Wrong Child," and "Hairshirt." Apparently this album was the soundtrack for my solo journey. Unfortunately, even good music gets old after a while - particularly when you don't really know all the words.
After dinner and dishes, I needed to stash my remaining vittles. The area around the campsite had so many trails and satellite tent pads that I couldn't find a good place to stash the foodpack "back in the woods," at least not without going much further away than I wanted. So I stashed it in a little circle of pines and cedars within view at the end of my point, hung a bit off the ground from a peg on a pine.
It was still a little early for the bourbon course, so I wandered around taking a few pictures. My bedroom and garage -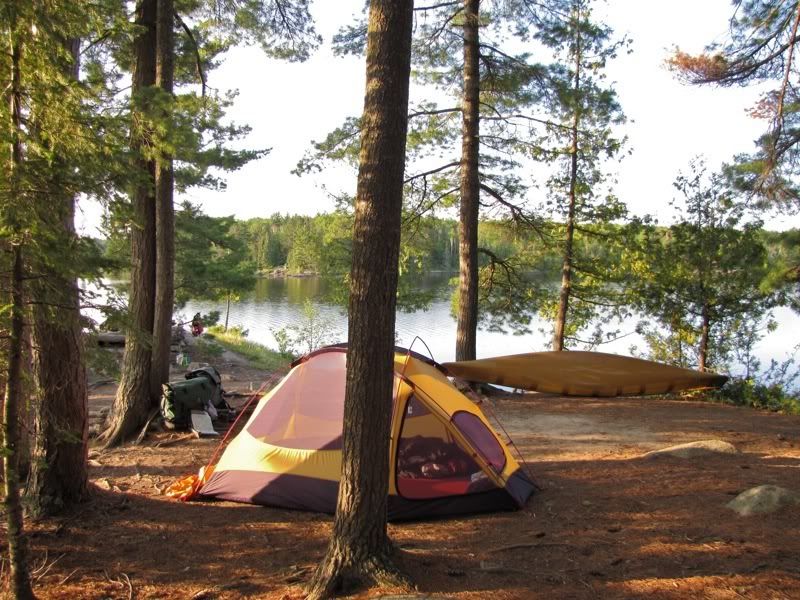 Water, rock, trees, evening light -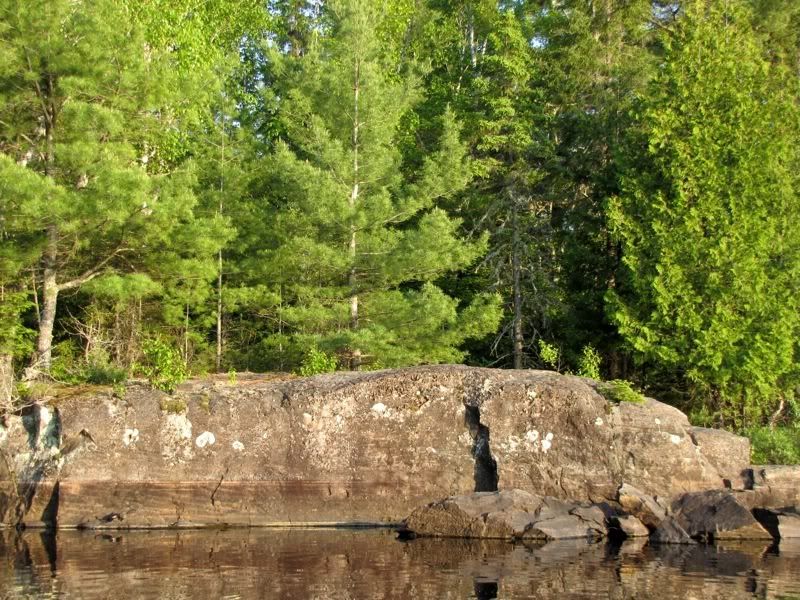 I found a little patch of Pink (Stemless) Ladyslippers -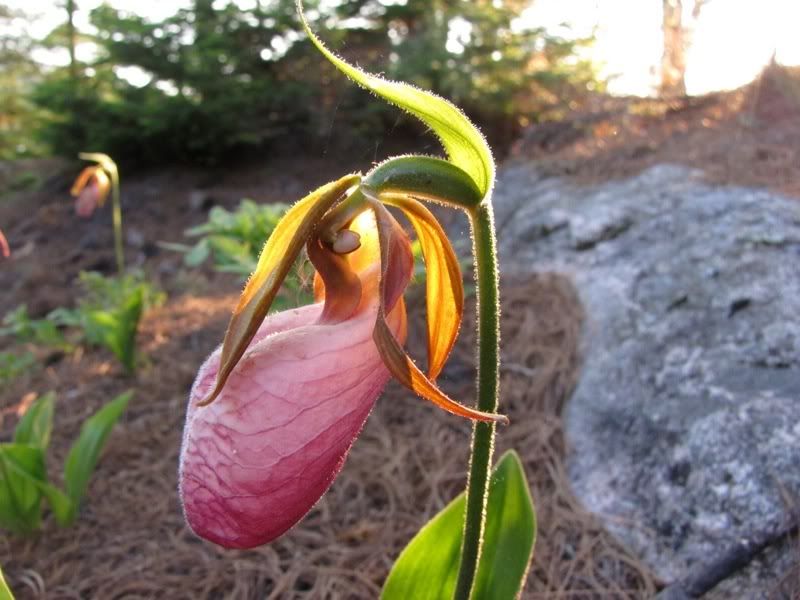 I can't resist a slightly different angle -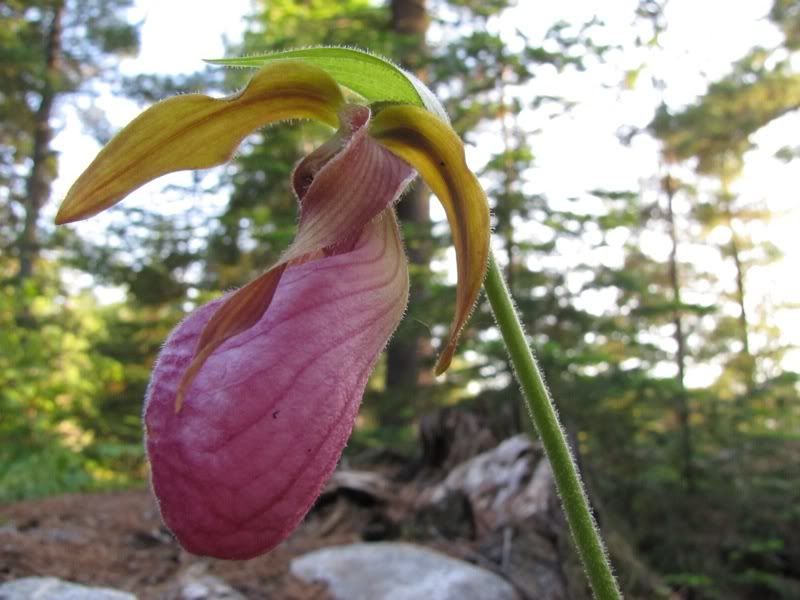 As I was wandering back out to the point, I was surprised to see (and hear) a group hanging out on a rock at the mouth of the Moosecamp River -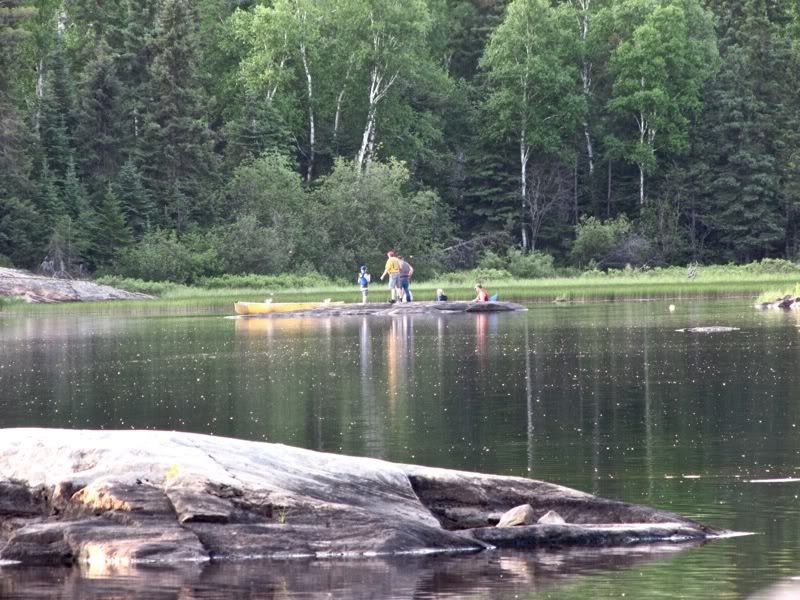 It looked like four adults and two kids, apparently having come down the river on a daytrip. Well, that shattered my sense of the river as a remote, little-traveled byway. Although on reflection, if you were already camped on Fourtown, a loop up through Boot, Fairy, Gun and Bullet to Moosecamp and back down the Moosecamp River would make a nice day trip. Presumably this was the group that was engaged in "target practice" earlier. After hanging out at that rock for a while, they got in their canoes and paddled south on Fourtown. I could hear snippets of conversation across the water, including "We've got a long way to go still."
After that it was time for Maker's Mark in the dimming light of evening.
Evening Sky I -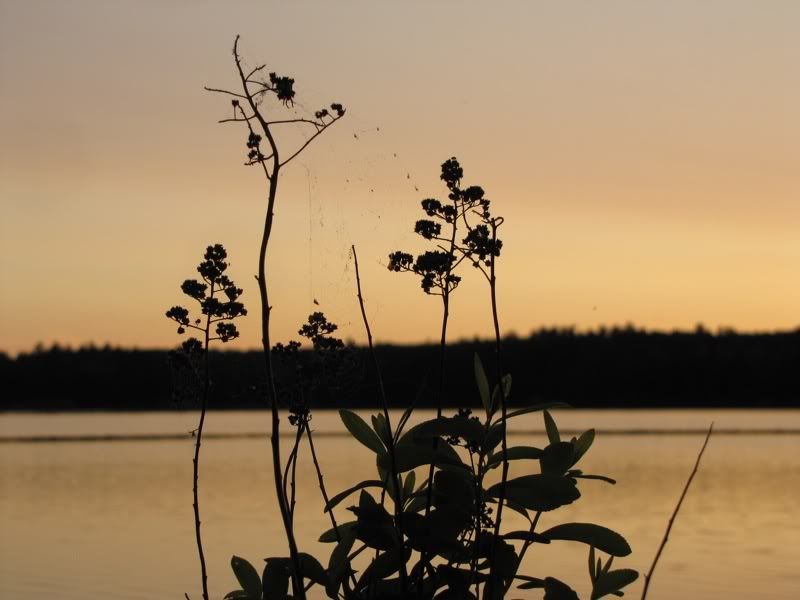 Evening Sky II -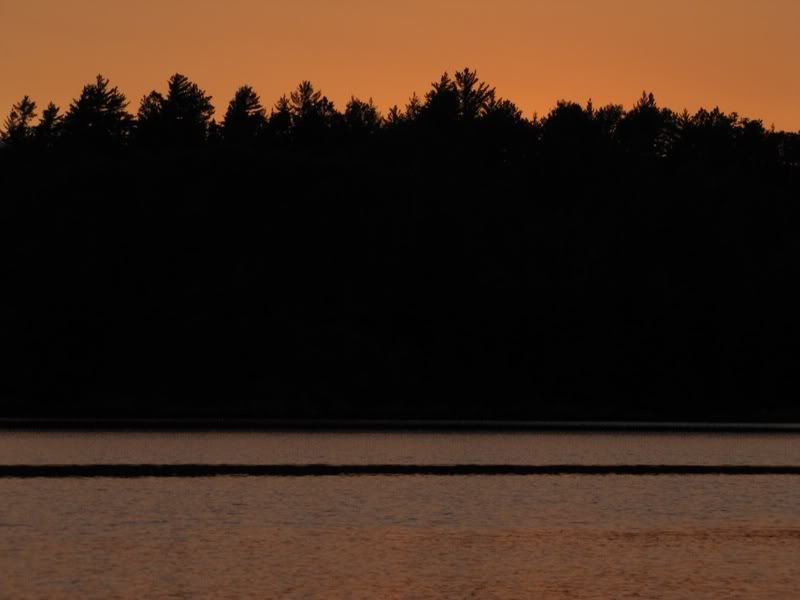 Evening Water -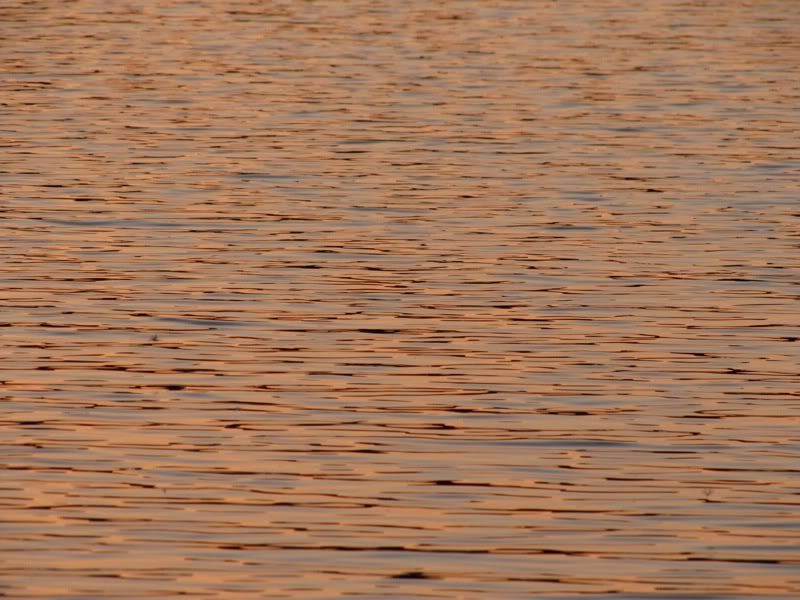 As night fell, Greg made a small fire at his campsite across the bay. We two solo guys had this section of Fourtown to ourselves again. I got in the tent about 9:30 and read for a while. There were the usual scampering sounds around the campsite. Then I heard some hooting nearby. But it didn't sound to me like a Barred Owl, Great Horned Owl, or any other owl I could think of. I jotted in my notebook "FAKE OWL!" Which, of course, is a sure sign of imminent attack by a bear, a chainsaw wielding maniac, or Lord Voldemort.
With that thought, I turned off my headlamp and went fast to sleep.