Echo Lake Whiteshell Provincial Park
by hobbydog
Trip Type: Paddling Canoe
Entry & Exit Point: Other
Trip Introduction:
My dad and several other guys started fishing Echo Lake, Whiteshell Provincial Park sometime in the early 50s. They leased an old fur trappers cabin from 1950 until 1970. They would go in via the Winnipeg River and portage in or fly in if the river levels were bad. I got to make this trip as an 11 year old in 1969. It left a very strong impression on me. I have made two fly in trips since then, the latest in June of this year with my 11 year old son. This place was special for my dad and this is my connection to the area. I have always wanted to take the canoe route in. I also wanted to do a solo trip before I get too old. Things lined up right for a Sept. trip and this was to be the year. Whiteshell Provincial Park is a lot different than the BWCA as most of it is motorized and the rules are pretty lax. No permits needed, no limitations on containers, etc. However a good wilderness experience can be had as well as some excellent fishing. Google map of area at following link http://tiny.cc/sbbh4
Day one. I spent the previous evening at the Whiteshell Park campground. I was up an on my way at first light. I am traveling in my basic dented up 17' alumacraft. I started out from the north side of Big Whiteshell near the Mantario Hiking trail entry point.
The winds were suppose to be out of the south at 5-10 mph and they were there to great me early. I had wind in my face to start but I was feeling strong and pumped up. I had been paddling 10 hours or more a week all summer so I was in good shape. I had a conventional paddle but for this trip adopted a basic Kayak paddle and used the canoe paddle for fishing. I could get almost 1 mph faster average with the kayak paddle and paddling solo into the wind from a tandem, this is the only way to go. On the eastward leg of Big Whiteshell I got a standing ovation from the locals.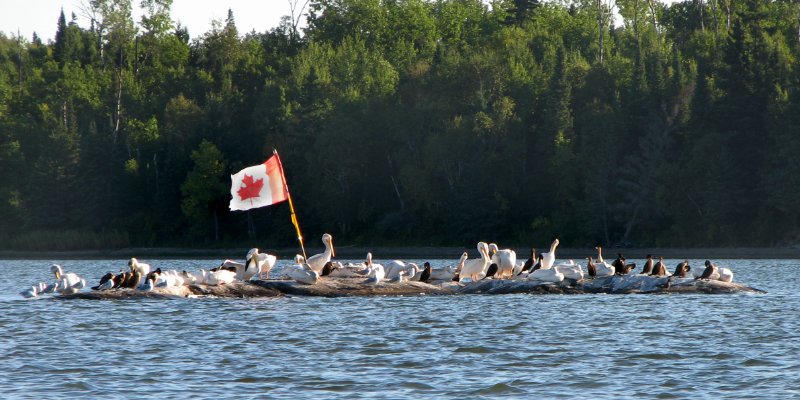 All the portages are very well marked. The first portage into Crowduck is steep and rough at both ends but the top is not bad. It intersects the Mantario Hiking Trail at the middle of the portage. In most of CA it is legal to leave boats on a lake as long as they are registered. The far end is littered with all types of boats. Not the prettiest site but it is what it is.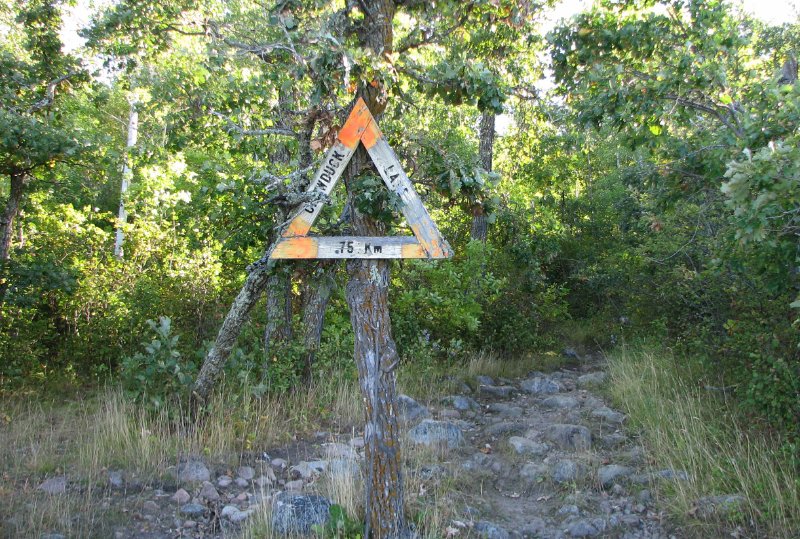 A relic from days gone by at the end of the portage…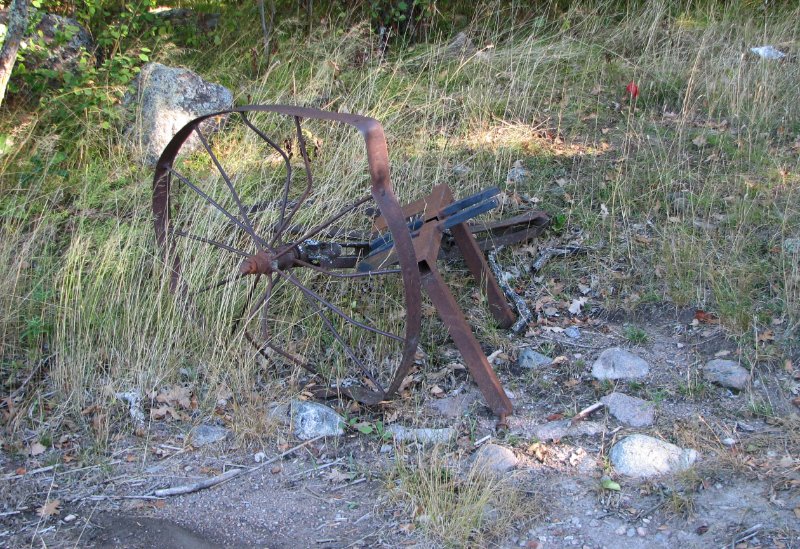 Crowduck is a Big Lake. 8 miles tall and 4-5 miles wide in places. It is a catch and release only walleye lake and is suppose to be a fantastic walleye fishery. (search utube "Crowduck Walleye"). There is a resort on Crowduck that is accessible by boat from Whiteshell. I saw one boat from the resort on the lake while paddling. I had the wind mostly at my back and there were some pretty good rollers going by the time I reached the north end of the lake. I was a bit concerned about the return trip. It would not take much of a south or west wind to push me off the lake. There are two portage options, one into Saddle and one into Sidesaddle. I chose the Sidesaddle route on reports it was a bit flatter portage. It is just a bit over 1 mile long and was a pretty decent portage. A few soft spots and other than its length, not bad at all. My pack on this trip and it was a bit on the heavy side. I need to figure out how to pack more efficiently for solo trips. There is a camp site on a small island just off the end of the portage. I made it here by 3:30. Pretty gassed and in need of some lunch and hydration.
After some red beans and rice I got camp set up and was ready for some fishing. I knew nothing about this lake but if it was like Echo Lake the rock shorelines and island points would be a good place to start. It took all of 5 minutes to catch supper.
I found another spot that I caught several nice walleyes in quick order. I am really starting to like this small little lake. In a couple hours of trolling a CD9 Perch Rapala I caught about 8 walleyes including a couple of 20+ inch ones.
Walleye in foil and oil for supper on a very nice Sept night. What a way to end a good day.
Day two starts out with an early rise. Plans for the day change a bit. Since fishing is good and I want to explore this lake a bit more I decide to day trip into Echo. A beautiful morning, no wind and a great day to paddle.
The portage into saddle was uneventful. An easy 500 meter portage. Saddle is a good walleye lake as well but there was a good algae bloom going on and I just wanted to make my way through this one. Not a real pretty sight.
At the portage into Echo there is an old warming shack used by snowmobilers in the winter. Some interesting "petroglyphs " inside worth checking out. ? The portage into Echo is very short. The long arm into Echo is filled with wild rice but not so thick to impede paddling.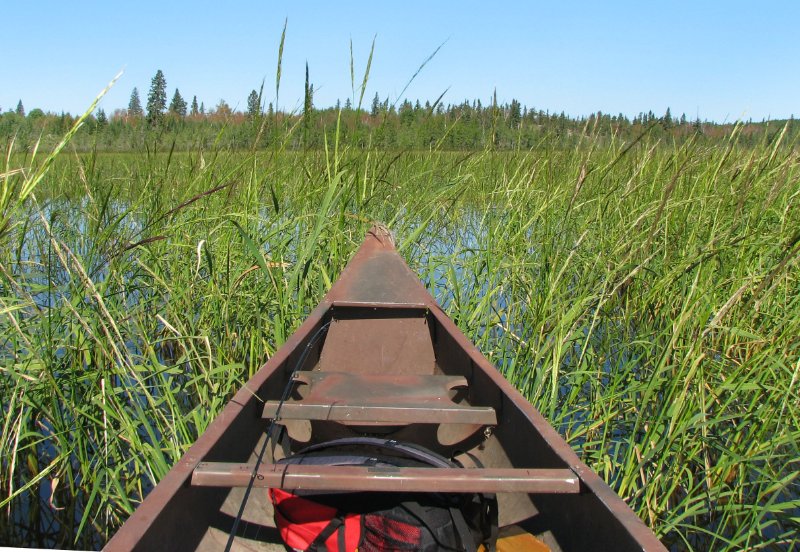 The old log cabin used to sit on this rock where the spruce is now growing. I stop to reflect a bit as I pass. I never asked my dad how or why they found this place. It was a different era back then. As I reflect am thinking I so wish my dad were still alive today. I would love to share this trip with him. So many questions I never asked.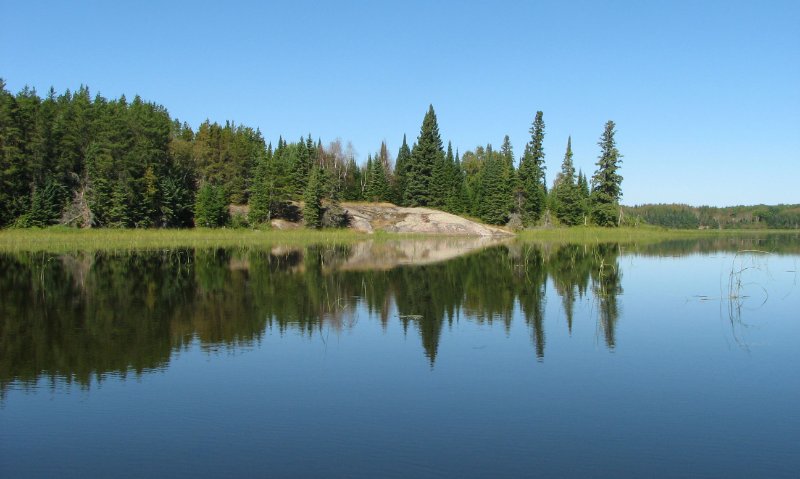 more old photos at this link
http://hobbydog.net/album/echo/index.html
I soon arrive at Echo Island. There is a boat cache here that you can fly in and rent the boat. You pay for the plane ride and the boat rental. The island is empty. I have a double serving of kung pao chicken and take a break in a chair left at the campsite. This is a small island and the view from the top is great. What a beautiful day.
My trip is almost complete. I have one more place to see. I paddle to a place I remember fishing one evening with my dad many years ago. It was just the two of us and fishing was really hot in this one spot. I go there to fish but it is where I really go to reflect. It is where I feel closest to my dad. The memories from 40 some years ago are vivid. At some point I know it is time to go. I troll back across the lake but fishing is slow today. I catch a small walleye and now put my rod away and make my way back to camp on Sidesaddle..
When I arrive on Sidesaddle it is getting late in the day. I decide to fish instead of going straight into camp. In short order I have a fish on...over the 18" slot so back she goes. Another one on, this one is even bigger. This time it is a 30 plus inch northern. This is where barbless hooks are really nice. I can easily release him without flopping him in the canoe. Another 20" walleye. This is fun but I want an eater. Another big one. This one stays down and I am sure I got a big walleye going. After some time I get him close for a look and another nice northern, maybe 35"…..but still no supper. Finally an eater. I take some time to ease in on a beaver towing a large branch along the lake edge. He lets me get close for a picture. As the sun goes down the dry air cools quickly and I enjoy the fire and some fresh walleye. The sun sets on a perfect day.
Day 3. I am a bit worried about the trip out. If I get a south wind I am going to be sitting awhile. I decide to go out and fish for awhile and weigh my options. Fishing is slow. The wind seems to be light and variable for now. Should I press my luck and stay another day or make the portage back to Crowduck and start my trip back. It is also warming up fast today. I decide to have a good meal, pack up and start my trip back.
The portage is uneventful but the day is really heating up. Crowduck is peaceful..at least to start. I take my time and fish some shoreline but no luck. As I approach the south end the breeze is starting to pick up a bit. I take a break on one of the islands, contemplate setting up camp and then decide to paddle on out. I had accomplished what I wanted to do. I will be back, probably not solo next time and certainly for a longer time.
This trip isn't for everyone. There is a lot more to explore and more options in WPP. There is a route in Mantario to the south and that is non motorized. If you paddle out of Crowduck to the Northeast you can go into the Winnipeg River system and can circle back into Little echo and Echo Lake to make it a circuit. Tugby Lake off of Echo Lake is said to have some trophy rainbow trout fishing. Other than one boat on Crowduck I did not see anyone else in the 3 days past Big Whiteshell. I am sure June would be busier. Anyhow. It was a very enjoyable trip and I can cross a couple bucket list items off although another longer solo trip will be in the planning stage.