Solo 2011
by MagicPaddler
Trip Type: Paddling Canoe
Trip Introduction:
My tripping style is to pack a little lighter than many and now I use a smaller canoe than most.
/24/11 I entered on my own permit with Jimbo and his crew Bob, Rich and Rick at Stanton Bay. Jimbo picked me up at the French Lake parking lot where I left my car and we went to Doug Chapman to load equipment. Then Doug dropped us off at Stanton bay parking lot. When we got everything loaded in the canoes I could not find my GPS and I could remember having it in the parking lot where I had set it on one of my packs. Turns out it had slipped off the pack and into the space between the pack and the webbing that rest on your back while carrying the pack. I would not find it until we were unloading at Pine portage. Our plans were to travel together as long as we were going the same direction. After much discussion it was decided to spend a day on Russell.
We spent 6/25/11 exploring Russell. I saw over 30 canoes on Russell that day.
On 6/26 we packed up and headed for Camel. On the second portage going up the creek we took the false portage up into the woods. Oh well it part of the adventure.
On 6/27 we had planned on doing some exploring west of Camel but it rained so hard we decided to stay in camp. Around 4 PM the rain stopped and I did some fishing but stayed near camp.
On 6/28 we all headed out of camp to the East but Jimbo's crew turned and went back to the North I continued East. I spent that night on Metacryst. Just before dark a float plane circled over Heronshaw ( the lake just east of me for several passes.
6/29 The next morning the plane came back and circled over Metacryst after I had portaged into Heronshaw. Then it flew over my head and left. I moved on to Kawnipi and stayed in a camp site high on the North shore near the narrows. This is a nice camp sight and I have never spent any time in this area even though I have passed through here several times so I decided to spend a layover day here.
I spent 6/30 exploring and fishing around the big island North West of Kasie Island.
7/1 Concern of high winds on Kawnipi had me on the water at 6:30 with a light fog and no wind. The fog, low clouds and no wind stayed with me till I was on the portage into McKenzie. I stopped at one of the first island campsites planning on staying so I pulled all my gear out of my canoe and ate lunch. It was a nice campsite but sees little use. While eating lunch I could smell something rotten. On investigating fish carcasses and animal poop was discovered so I reloaded and moved to the next camp sight.
That evening I noticed my feet were taking a beating and I had a couple of hot spots near blister stage. I put water proof bandages on and covered them with duct tape.
7/2 The next morning it was off to the portage to Belaire and a little detour off that portage to reminisce about a previous trip that had used a little of this portage. There were about 30 trees too high to step over and too low to get under with a canoe on your shoulders that I made passable to get to Belaire. After checking out both sights I selected the one on a point near the North West corner of the lake. The bandages had come part way off of my feet. I put on new bandages and more duct tape.
7/3 To day I plan on doing some exploring the area East of Belaire and down to the Wawiag River. At 7:21 I was leaving Belaire at the Eastern most tip with only a small backpack with minimal supplies. I found it easy going to a place where I thought it would be easy to cross the small creek that runs through that area. I had placed an X on my map and GPS at this location. Reviewing my GPS track shows I had crossed the creek near the X at 7:41. It was merely a step across with dry feet. I have never even walked the portage form Belaire to the Wawiag but I have been told you could get wet feet crossing this little creek. It was at this time I noticed I no longer had a compass. A little unnerving but the sky was clear and the GPS worked most of the time. I moved on up to the park boundary and down to the Wawiag. I was at the Wawiag at 8:25.
After admiring the river for a few minutes and taking a couple of pictures I headed off to the East. I soon found a path ascending a draw . The path ended with a log lying across it. Stepping over the log into a cleared area an old road could be seen going off to the east. The road leads though a variety of terrain both wet and dry up and down but easy walking. The road so far would have been passable with a good ATV but probably not a 4 wheel drive truck. I soon came to what appeared to be a hunting camp.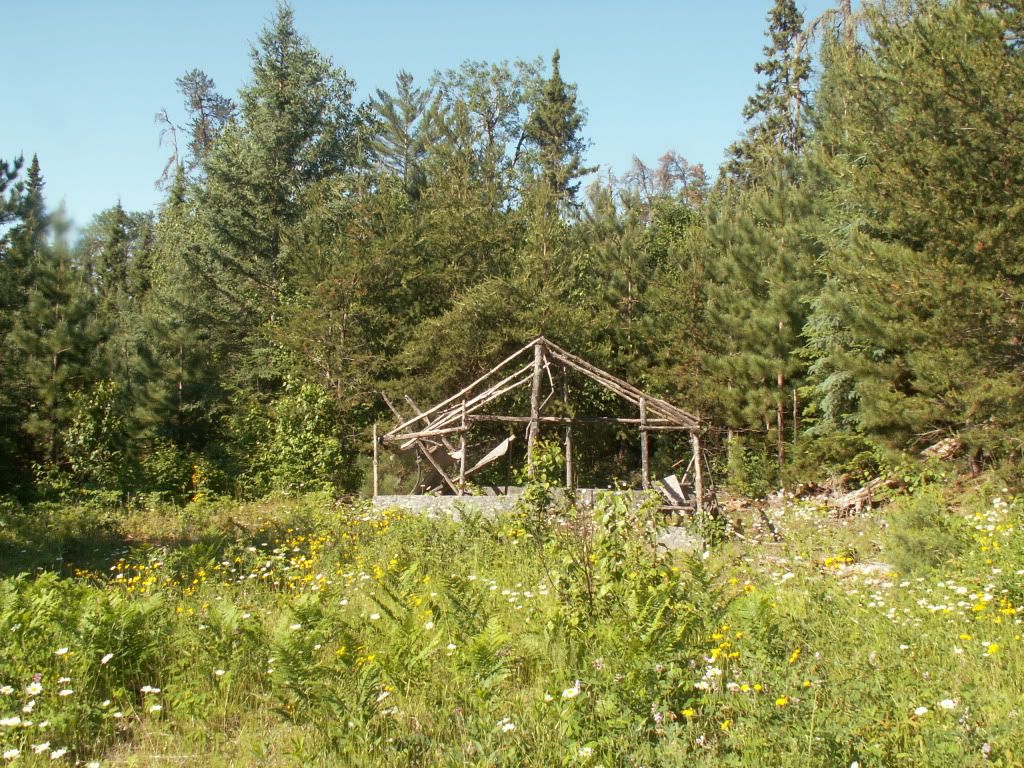 There is another road that heads south but I did not check out where it went. The river is not far in that direction. I headed on to the East and at the top of the first hill I spotted what I was looking for. TRACKS! They were faint and just showed up as bent over grass but a vehicle about the width of a pickup had been here this year. I have found a possible rout to the Wawiag. I followed the road a little farther and decided I should head back so after a couple of pictures I started the return trip.
After returning to the river and filtering water and having lunch I tried a less successful path back to Belaire but I got there. At 1:30 I was back in camp getting ready to move tomorrow.
7/4/11 The portage out was much easier with the trees already cleared. A heavy but short lived rain caught me on McKenzie But by 2:00 all was setup on the island on Lindsay Lake. After repacking all the items I would not need that night in my small backpack I took off across the portage to Cache Lake. That would leave me with a single pack and canoe which I could single portage. Tomorrow would be an easy day. It took me one hour each way with my first pack and then I returned to camp and ate a cold supper. A couple of storms went through but they missed my little island camp. With my clothes having gotten wet they were hung on the ridge line under my tarp over my hammock and I got in before the skeets attacked. A few hours later I was awaken by thunder and a rising wind. The wind speed picked up to where it was a roar and my tarp was trying to lift off. My tarp was still over me and the edges were tied down so they were below my hammock but I was getting wet with water that was coming under the edge of the tarp. I could not see what was happening but thinking about it later I think I understand what was happening. The tops of the whitecaps were being blown off and blown along within a few feet of the surface of the water. I have seen this in high wind before in the daylight.
When it got to my island with its gentle sloped shore it came up the shore and under my tarp. As I held the tarp edge 18 inches below my face I could see water streaming off my face and arm as if they had a garden hose squirting on them. The tarp started to rise with me holding down on it. One of my tie down lines had rubbed into where it was tied to a rock. It was go with it or let go. I let go. The tarp billowed above me and shook while not really whipping. This allowed much more wind under the tarp and I could feel it moving the hammock. I felt the hammock tip away from the oncoming wind and then it whipped hard enough to make me feel as if I could lose contact with what I was laying on. I thought the hammock was leaving. I got out and got down on the ground. Now I could hear the hammock whipping in the wind. I saw my shirt blow off the ridge line, slide down the underside of the tarp, and start to float-slide-move up hill and back into the woods.
I crawled under the hammock and out from under the tarp to grab my shirt before it escaped. I remember thinking at least the skeets are not bighting. I put my shoes on my shirt to hold it and tried to retie the tarp hold down. I was able to get the one retied and added one more. Lightning struck a 12+ inch diameter tree about 100 yards away and turned a section of the trunk into wood chips. I remember thinking this can't go much longer. I am in my under shorts and a tee shirt soaking wet in gale winds and it is cold. I am shaking too much to tie a knot to add another tie down. The wind is easing a little so I get back in the hammock and cover up. The tarp has shifted so rain is landing in my face.
I grab the shirt and fling it over the hammock to cover the part above my face. Even though it is wet the shirt guides the rain water off of the hammock. Even though my sleeping bag is somewhat wet I warm up and eventually fall back to sleep.
7/5/11 The next time I wake up it is morning. I get up and put on my wet shirt. My pants and socks are gone. The rest of my clothes are on the other side of a 2.5 mile portage. I get that feeling of boy did I mess up this time. I went back in the woods and found my pants and socks which made me feel much better. While packing up if found the KAQ under quilt has a water proof lining. The under quilt fits to the underside of the hammock and looks like a diaper. It had about ½ gallon of water setting in the quilt which i poured off. I could tell the insulation was dry because it was still light weight. I ate a quick breakfast packed up and headed for the portage. I had a good feeling because I knew the portage was not that hard and I should be able to finish it in a single trip now that much of my gear was already on the other side.
Shortly down the trail I came to some trees that had fallen during the storm. With my little pocket saw I was able to make then so I could get over then with either the pack or the canoe. While carrying the canoe over a pile of down trees I slipped and fell but landed on my feet. The force on the canoe broke the portage yoke beyond repair. From then on I carried the canoe on one shoulder or the other letting the lower gunnel rest against my hip. It is a very light canoe but it still leaves bruises. I had expected it to take me about 1 and ½ hours to finish the portage but it took 6 and ½ hours. My other back pack was no worse for wear after spending the night tied to a tree.
I made my way up the west side of the Cache Lake in heavy and gusty wind. I took a campsite on a point just north of where the river heads off to the west. I set up camp and hung things out to dry. I cooked and ate one of my home dried meals and went out on the point to just watch the lake. I stayed out on the point till the skeets started to come out. Then it was good to get into a dry bag with dry clothes setting on the shelf. I heard several trees fall in the woods behind my camp before I fell asleep.
7/6/11 Planning the portage to Trousers Lake I knew there would be water in the creek about the middle of the portage. I could filter water there so I only took 1 quart of water for the first half. Because of the broken portage yoke I was tripling to get everything across. A short distance after getting on the portage I started coming to more down trees. The piles of trees got bigger and I could do almost nothing with my little pocket saw. I found the easiest way was to turn the canoe right side up and slide it over the piles of trees. Frequently the bottom of my canoe would be more than 8 feet above the ground with me standing on down trees or using sticks to push it along. Then I would go back and get my packs and find a way to get them through.
I stopped to count trees that I could see that were in one of the piles and there were more than 30. I found that trees that were dead and had lost their bark were extremely slick and caused me to fall one time rather hard. I paid close attention not to step on them anymore.
When I got to the creek it was flowing well and I was out of drinking water and needed a drink. The creek water looked like coffee. After filtering it looked like tea. That means the filter is not working very well. I needed water so I drank it. Filtered more to fill my bottle and used the canoe to get my gear across the creek. There were only about 10 more trees down on the second half of the portage. It had taken me 10 + hours to complete the portage. It would have taken less if my portage yoke was not broken. It was after 7 PM when I got into camp. I set up, ate and went to bed.
7/7/11 There was a cow moose watching over Baptism Lake from the west shore near the creek leading out. I had some trouble locating one of the portages do to a tree that had fallen on the landing hiding it but the rest of the trip out was uneventful and a good current in Baptism Creek hurried me along.
There were two items that i found essential on this trip.
1 A Gerber sportsman wood saw. http://www.gerbergear.com/index.php/product/id/191
2 Deer skin gloves which I wore holes in on this trip. I wore these gloves any time I was handling the saw or trees and they really protected my hands.
I had no ill effects from drinking the poorly filtered water. I did have several blisters on my feet that the skin came off of.
Planning Links
Featured Sponsor