Quetico Solo 2011 NcNiece, Burt, and Ted Pt. 1
by TomT
Trip Type: Paddling Canoe
Exit Point: Moose Lake (EP 25)
Trip Introduction:
My 5th overall solo wilderness canoe trip since 1984 and 3rd one to Quetico Park in Ontario, Canada. *Please note: I mistakenly printed that I used Voyager Maps. It should read "MCKENZIE" maps. I did not use Voyager Maps for this trip.
Wednesday, August 31, 2011
Prologue
I made the commitment to do another solo canoe trip in January 2011. I immediately started thinking of a route. I knew I wanted to return to Quetico having gone to the Boundary Waters Canoe Area in northern Minnesota the last four times. For this trip I wanted something more. I had just turned 51 and thought I was still young enough to really test myself. I wanted to get off the beaten path and go to the Quetico interior.
I settled on a 9 night loop going north from Prairie Portage (Ranger Station) through McNiece Lake to see the large pine trees there and continue through the less traveled Joyce and Marj, then laying over on Burt for an extra day.
Burt Lake in the middle of the "Q" has held a special. Interest for me since sometime in the early 1980's. I first found out about this wonderful canoe camping wilderness when I read about a small mouth bass fishing expedition to this lake in Fishing Facts magazine. The article talked about huge football shaped, trophy smallmouth bass and incredible action. This was the start of my fascination with the Boundary Waters and now Burt Lake was finally included in my plans.
From Burt I wanted to swing west into Suzanette and then down into remote and beautiful Earl and Ted Lakes. After laying over on Ted I planned a one mile "bushwhack" along the creek connecting Ted to big Robinson Lake. A bushwhack is where you carry your gear from one lake to another using a path of your own means. In other words, there is no trail or "portage", you have to make your own.
From Robinson my loop continues south through Kett into massive Basswood Lake. I would then follow down and out through Wind Lake back to William And Hall, my canoe trip outfitter on Moose Lake.
I want to give a special thanks to Ho Ho of BWCA.com who inspired me with the layout of his own trip reports. Bill has also been a big technical help with the maps I made. I still have much to learn but these will do for now. Also a thank you to message board member Banksiana for giving me the confidence to attempt the one mile bushwhack and also Quetico Passage for campsite and portage help. There are many others from BWCA.com who have helped me over the last year and I feel fortunate to belong to such a great community of like minded people.
The Beginning
My trip is finally here. Six months ago I made reservations with William and Hall, a canoe outfitter on the edge of the Boundary Waters in northern Minnesota a couple of miles south of the Canadian border. I was to spend the night in their bunkhouse after my 11 hour drive north from Illinois.
The night before I leave I feel like I'm ready as I'll ever be. The constant checking of gear lists has my mind working overtime. I've spent the last six months getting ready. Going light gear wise and being in top physical shape has been my priority. I'll be using a kayak paddle for the first time so I've spent a total of 9 hours practicing on local forest preserve waters. I've filled my small pack with 25 lbs. and used it during walks with the dog. Twice I filled my large pack with 65 lbs. and simulated portaging by doing 20 minute laps in my backyard. I can only image what the neighbors were thinking.
Now, all my equipment is staged in the garage and the canoe is on the car in the drive. I planned to get up at 5:00 AM but adrenaline wakes me at 2:45. I lay in bed then conclude I can't sleep so I might as well just go. I go through the checklist one more time as I load the back of the car. My wife is up and seems sad as we say our goodbyes in the driveway. I know she'll be worried and that's one of the reasons I decided to rent a SPOT locater for this trip. This is a small device that will transmit my exact GPS location every time I press a button. I could also use it to send out a rescue signal if I get in trouble.
It's 4:25 as I hit the road in a light drizzle. It's completely dark with no traffic. I consider leaving for a vacation to be some of the happiest times of my life. Seriously, the anticipation of this trip and it finally being here is just such a thrill.
I hop on the Illinois tollway and am cautious because of the canoe on top. After awhile I relax and gain confidence that my canoe is on tight and won't suddenly fly off the top of the car. I pour some coffee from the thermos and settle in. I pull out an old cassette that I made back in the early eighties. This tape has been on many a road trip with me. It's a compilation of old Kinks songs from the 60's. This tape is a great way to start a trip.
Here's a video of my drive set to the first song on the tape. It went a little like this.
After the gas station I drive down to Piragis - an REI type store and outfitter that caters to canoeists. I walk across the street and call my wife Mia as I stand in front of the Sheridan St. webcam. I let her know all is well.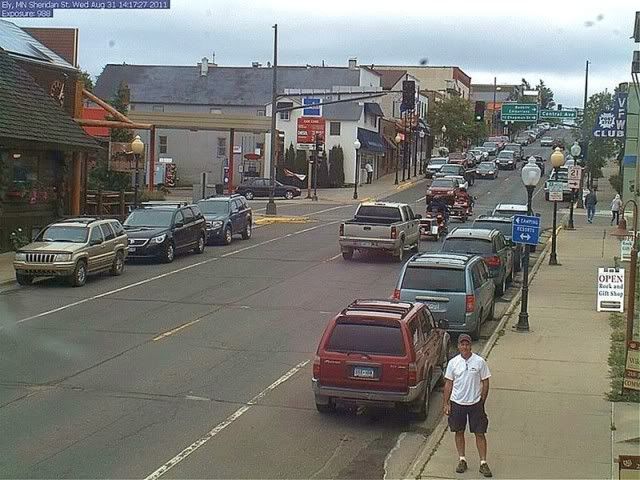 I then take my kayak paddle to Piragis and try to exchange it for a longer one. I've had mine for over a year but it is still in mint condition. I am directed to show it to Steve, the owner and he says fine. I get a full refund and upgrade to a longer one. Wow. That kind of thing just doesn't happen back home.
I then head over to the Ely Steakhouse and have a fine fried walleye dinner and beer. Afterwards I stop in at Voyageur North Outfitters to see John about that SPOT locator rental. I know John as "The Great Outdoors" on BWCA.com message board.
Then it's down highway 169 for about 20 minutes to where I'll be spending the night at William and Hall outfitters on Moose Lake. By this time it's dusk. It's always a little unsettling when it gets this quiet up here. No background traffic noise at all, just quiet and the hum of an outboard on the lake. I don't see anyone in the office but see my name posted on the wall with a room number. I take my packs up to the 2nd floor room # 3. I sort through the packs making last minute adjustments, take a shower and then settle in my room with WELY on my boom box. I love this eclectic little radio station. It seems like I'm the only one in the bunkhouse tonight. That's fine with me. I set the alarm for 6:00 AM.
Planning Links
Featured Sponsor