Trip Type: Paddling Canoe
Entry & Exit Point: Quetico
Day 3 (Thursday, September 8, 2011) -
I got up about 7:00 at our Fauquier Lake campsite. When coffee was ready, David hauled out of the tent too -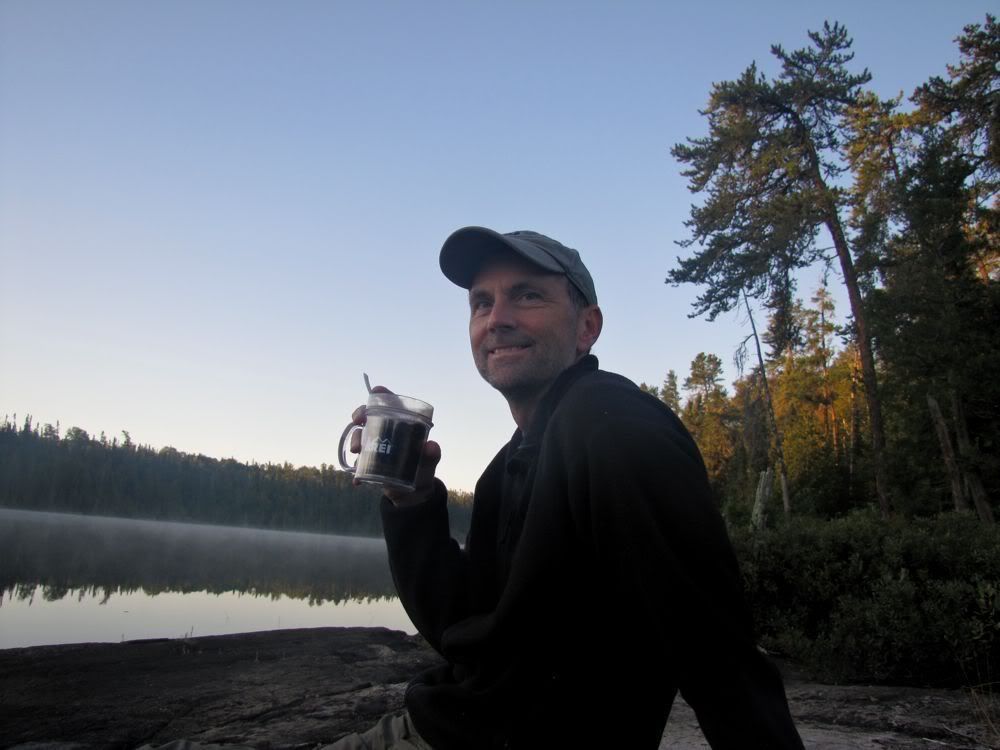 Our inukshuk kept us company down on the rock point -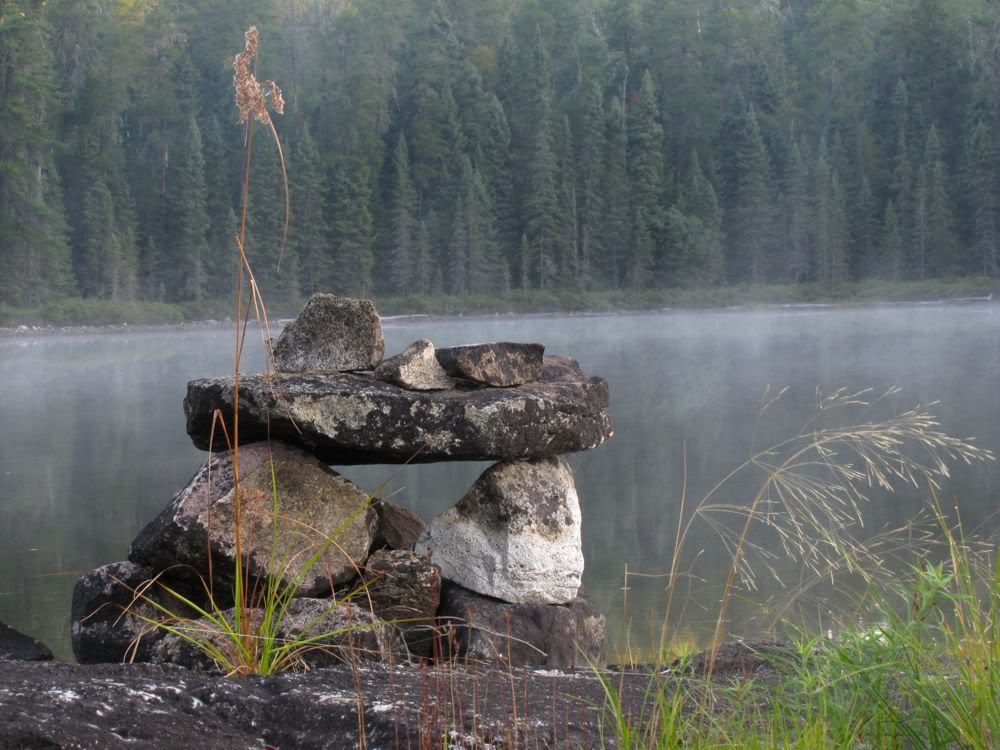 It was a beautiful morning - until the sun topped the trees across from us around 7:30. The shade we enjoyed here yesterday afternoon was completely absent this morning. It was the beginning of a warm and unrelentingly sunny day -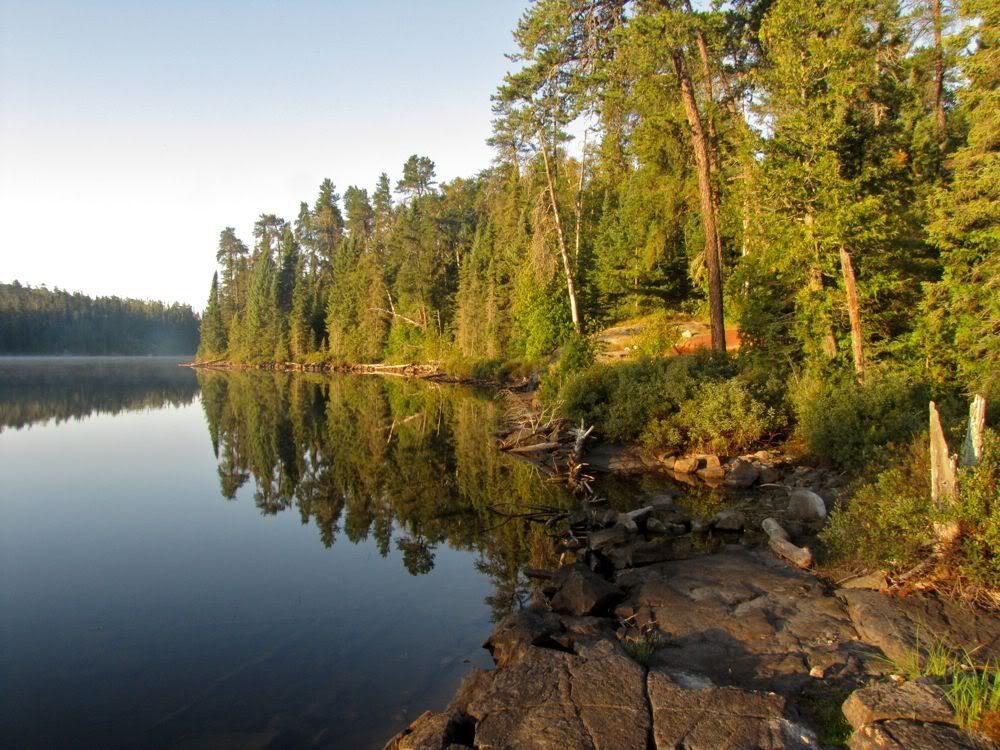 We got on the water about 9:45. Looking back at our Fauquier site -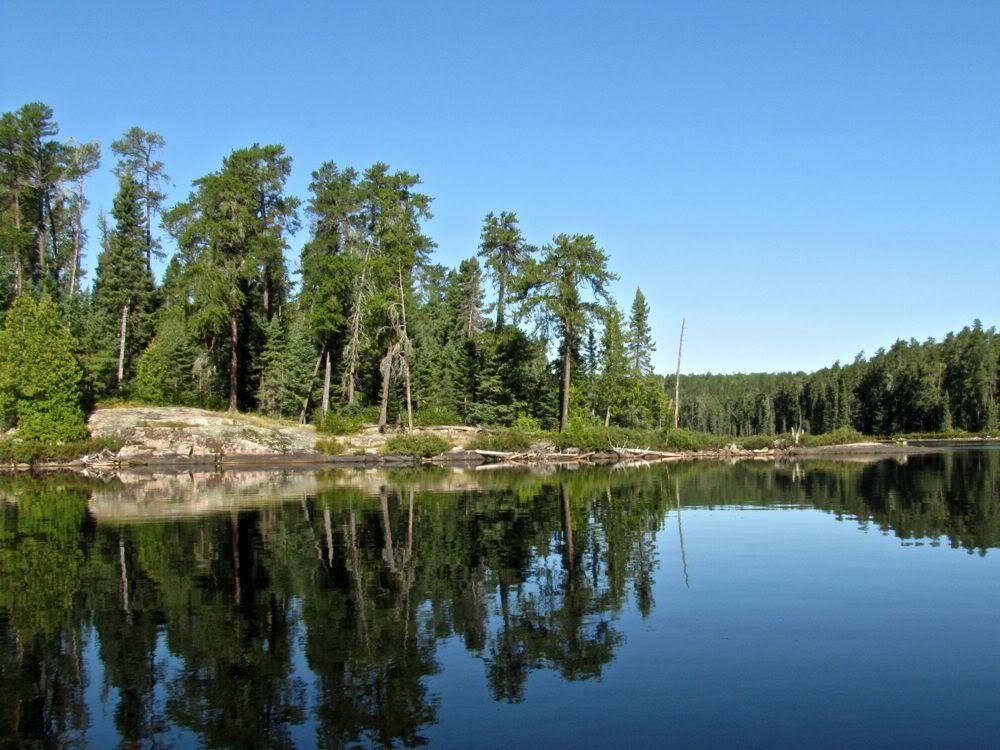 It wasn't far to our first portage, which started at a rocky landing at the end of a small bay across from our campsite -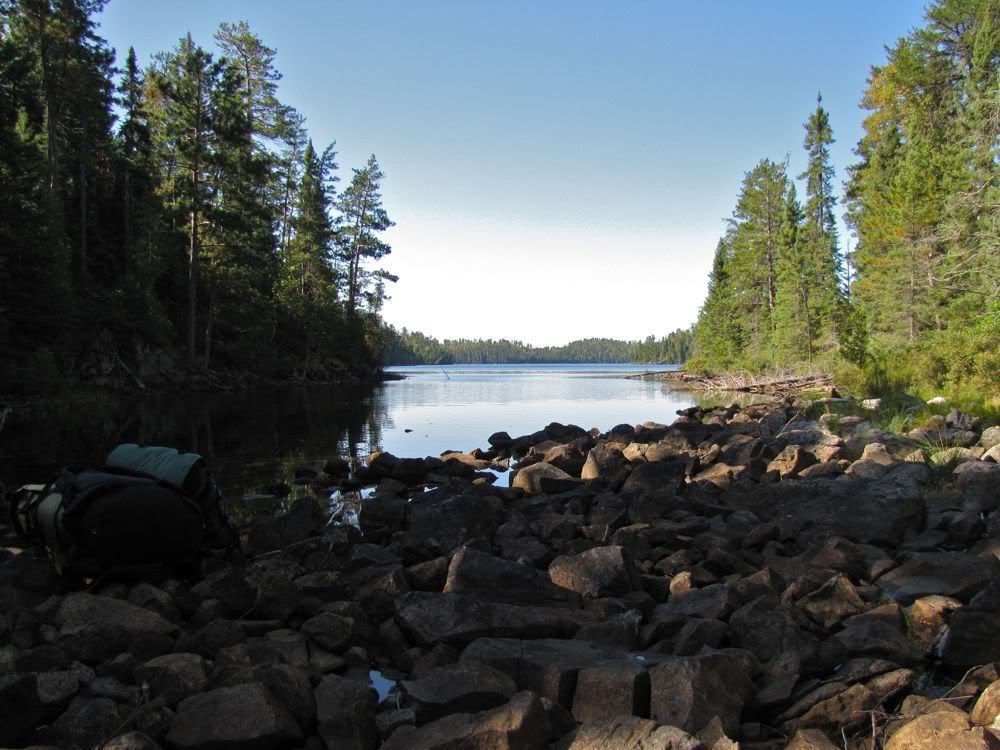 This portage is only 70 rods but is kind of a doozy, going up and down over outcrops of jagged yet slippery rock with McEwen Creek rushing by inches from where our feet were supposed to go. To me it's the iconic rugged portage of the McEwen Chain, etched in my memory from our trip 10 years ago (though I had forgotten the exact lakes it was between). This time around we took some picture of the rough portage path, but none of them succeeded in capturing its essence. So here's a few pictures of the scenery instead. McEwen Creek tumbling down -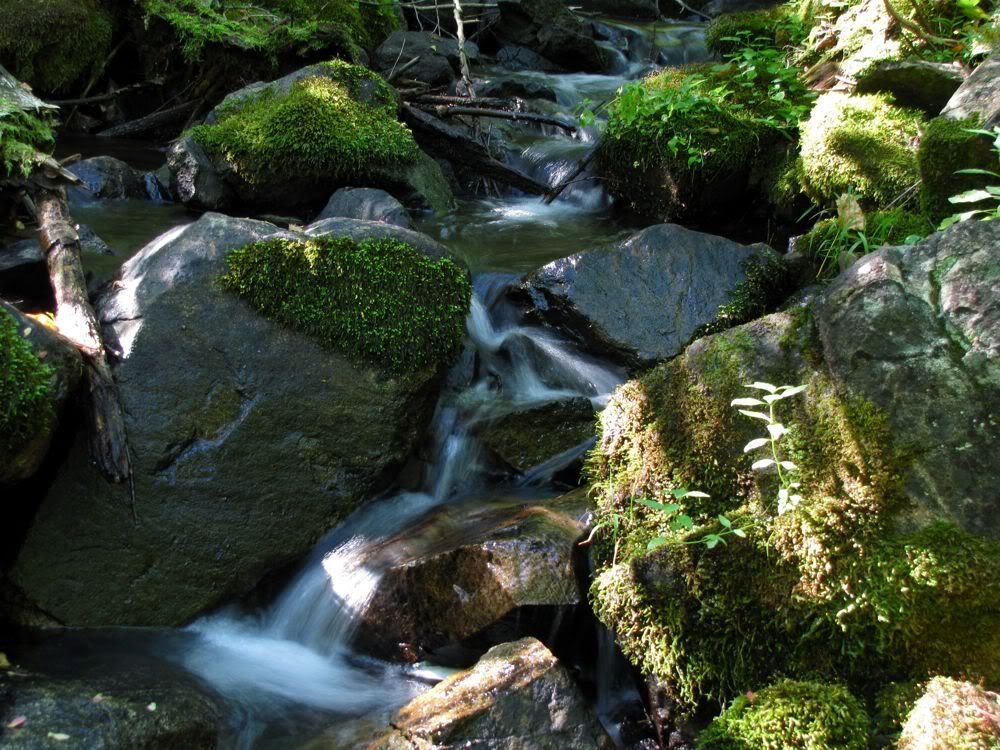 Lichen stained rock -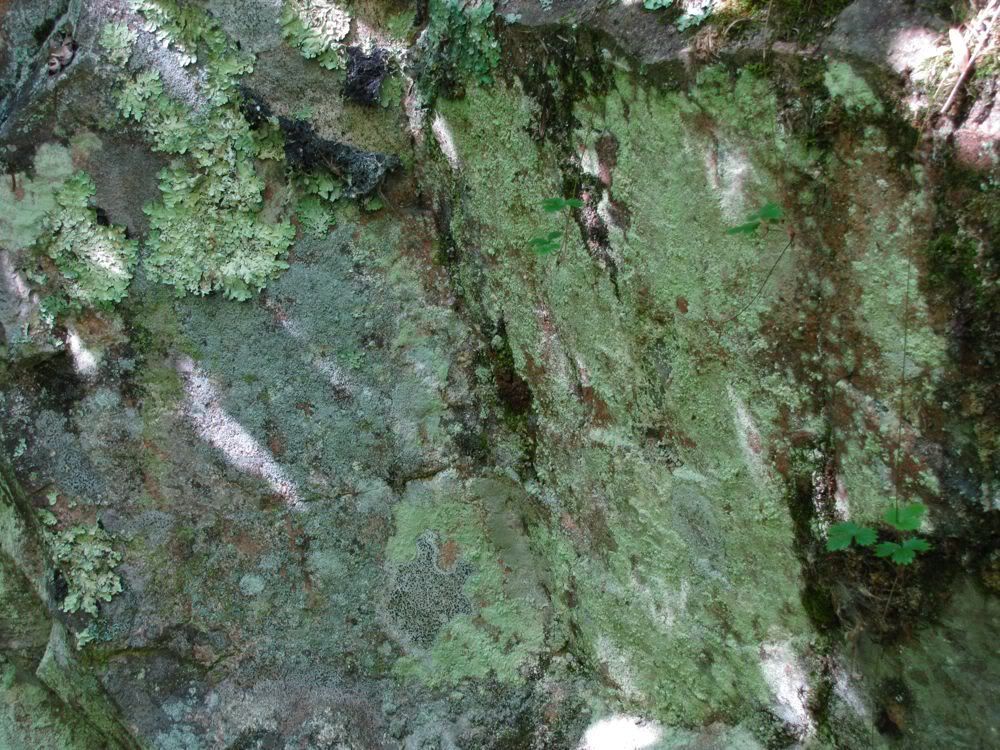 Mossy birch with fungus -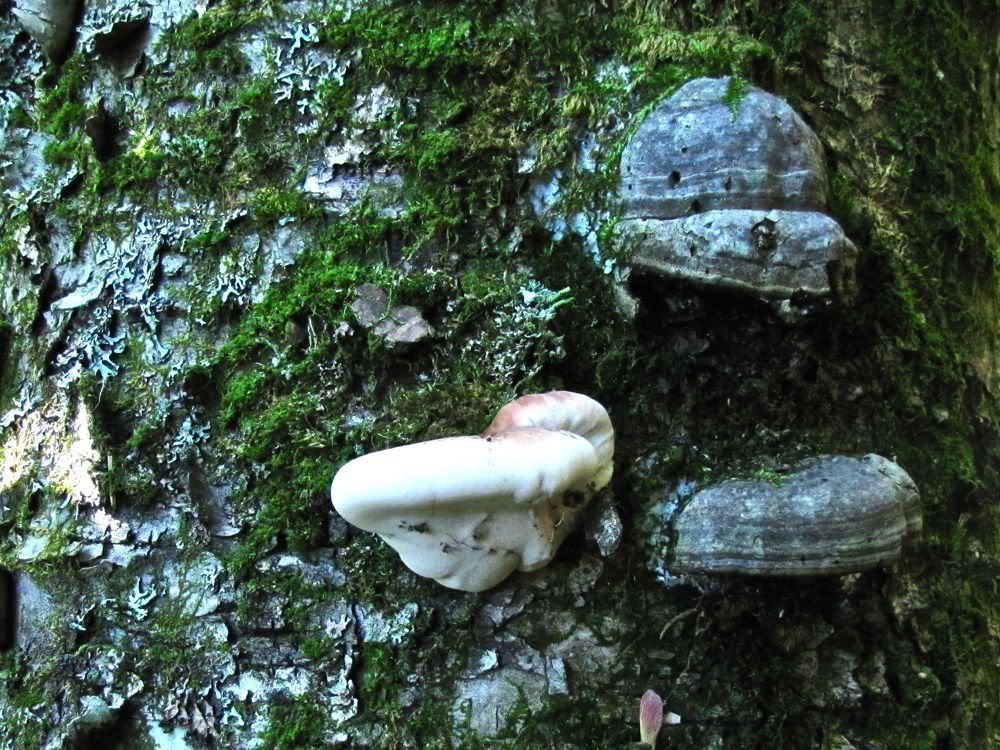 Dumas Lake awaited us at the other end -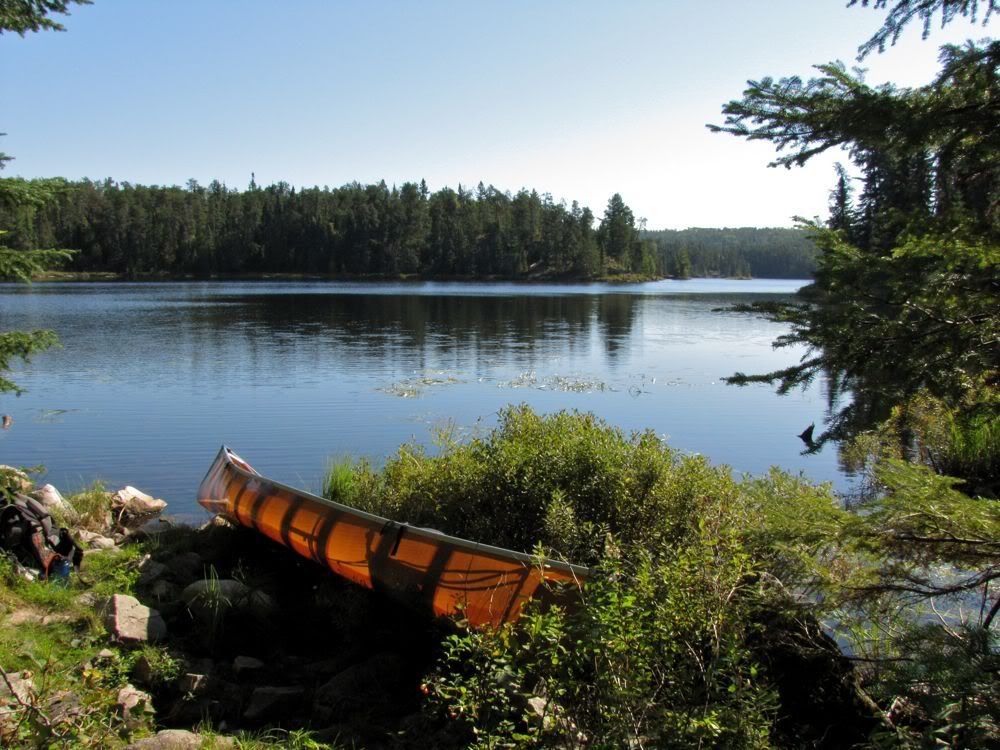 As soon as we launched into Dumas we paddled under these cliffs -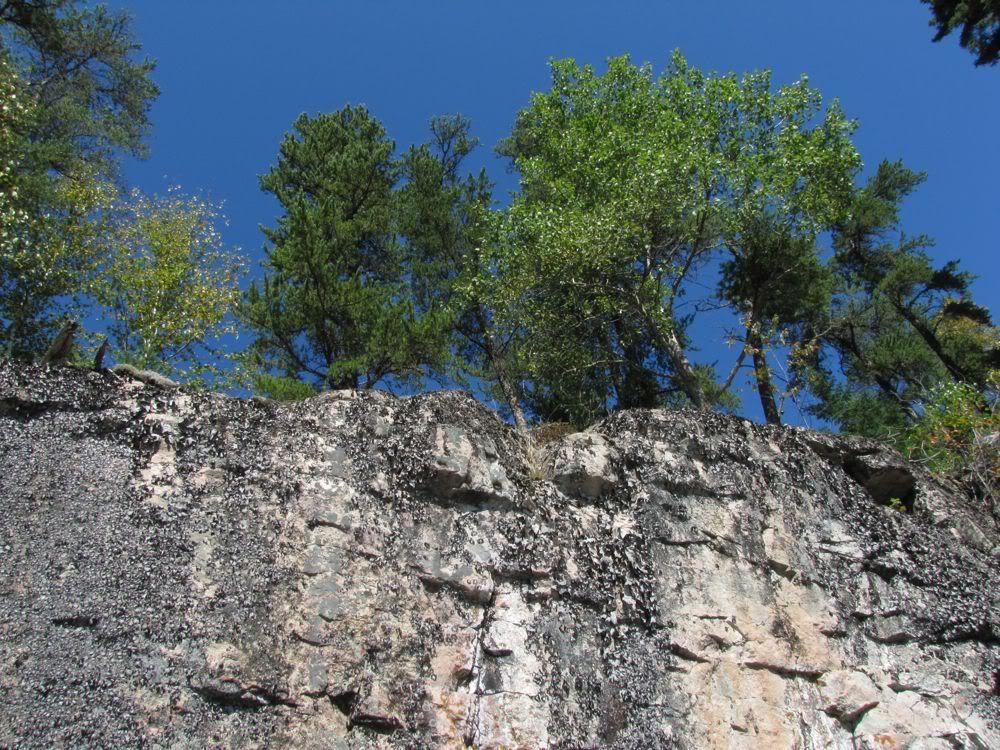 Close-up -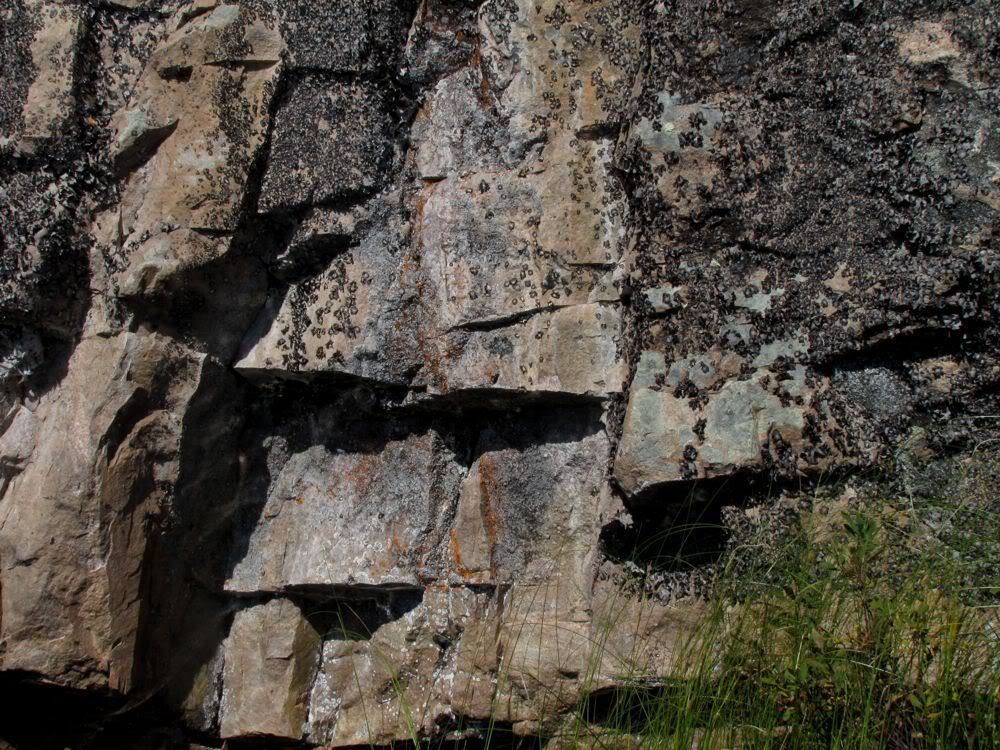 We stopped briefly at the island in the middle of Dumas to check out the reputed campsite there. It looked usable, but not much more than that. We continued to the next portage, which is on a stretch of the creek connecting Dumas with Rod Lake -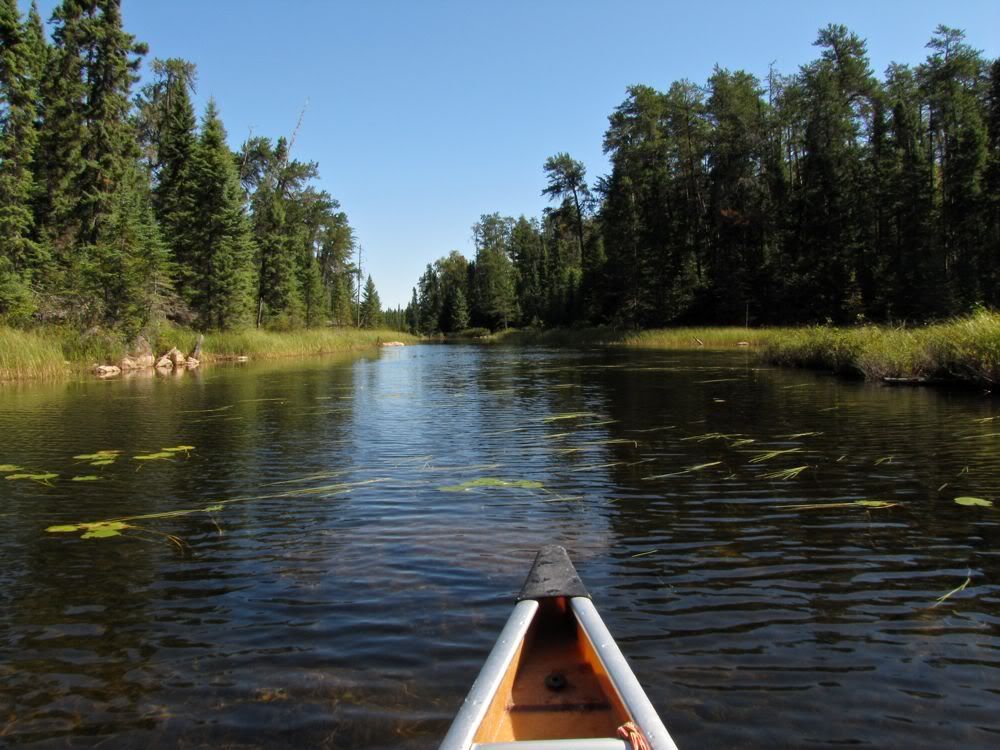 We portaged 10 rods around a rocky spot in the creek, then continued paddling toward Rod Lake over lush underwater grasses -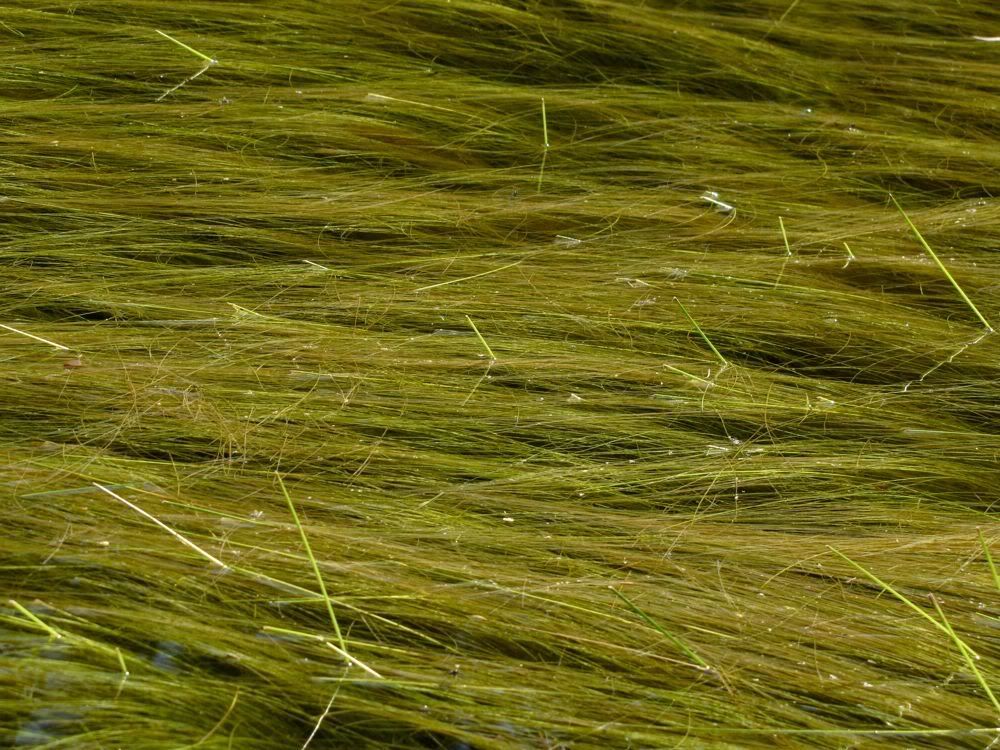 Where the creek empties into Rod there's a small campsite on a rocky point. I thought it seemed like the best camping option between Louisa and Glacier outside of Fauquier, though it would have been way too exposed to the sun today -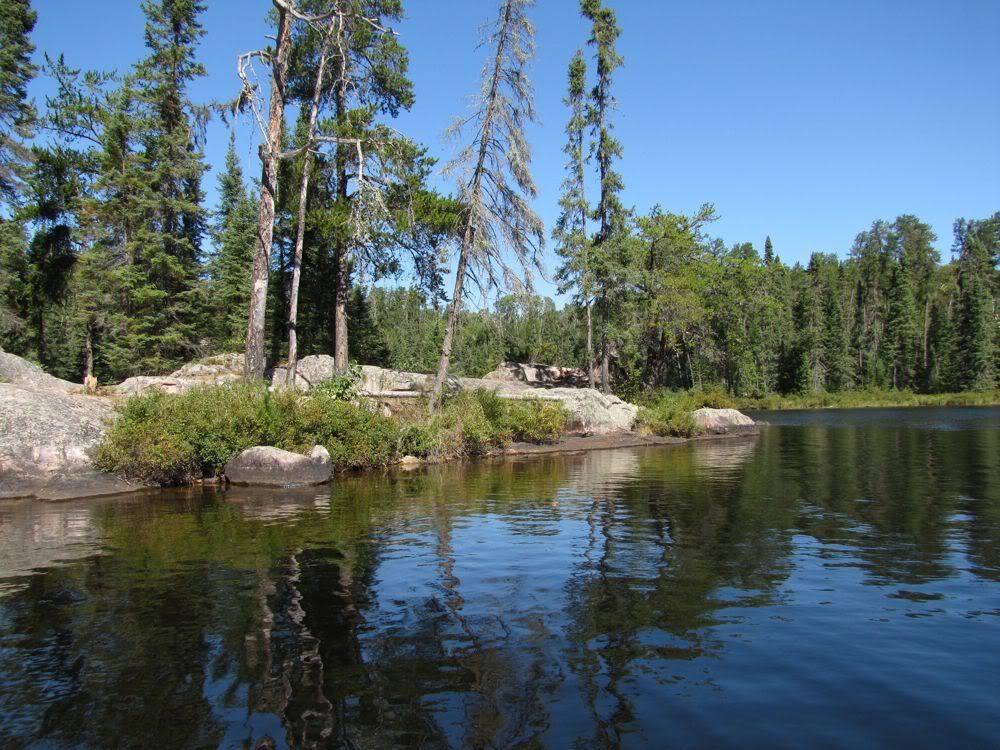 Continuing across Rod -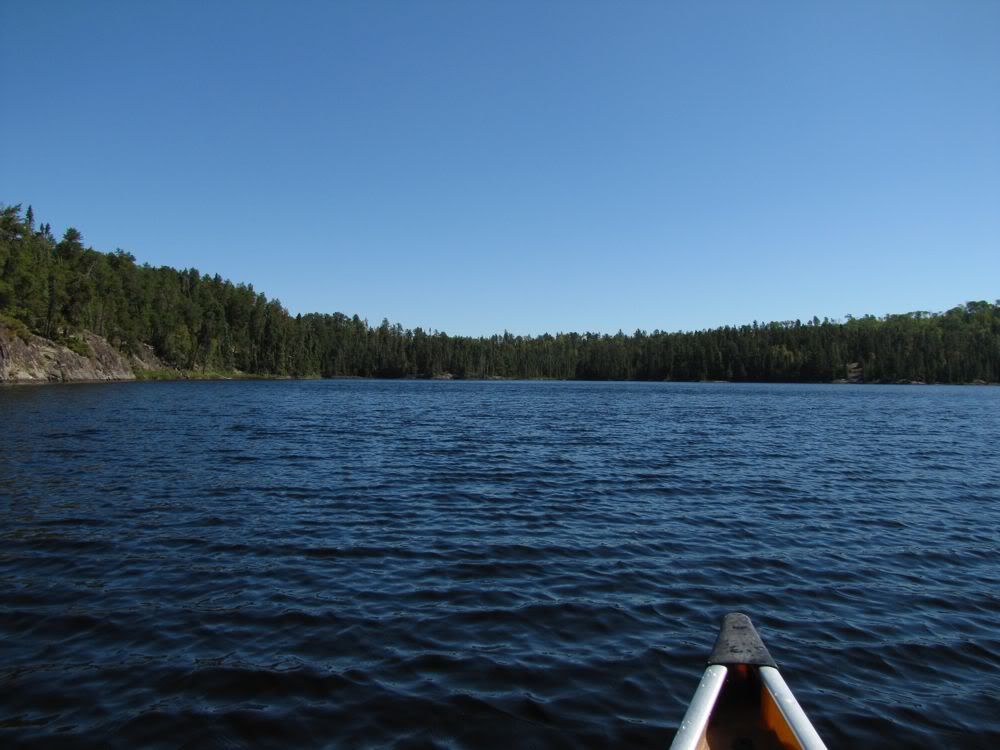 The 20-rod portage to Edge Lake starts from a stretch of creek extending north out of Rod -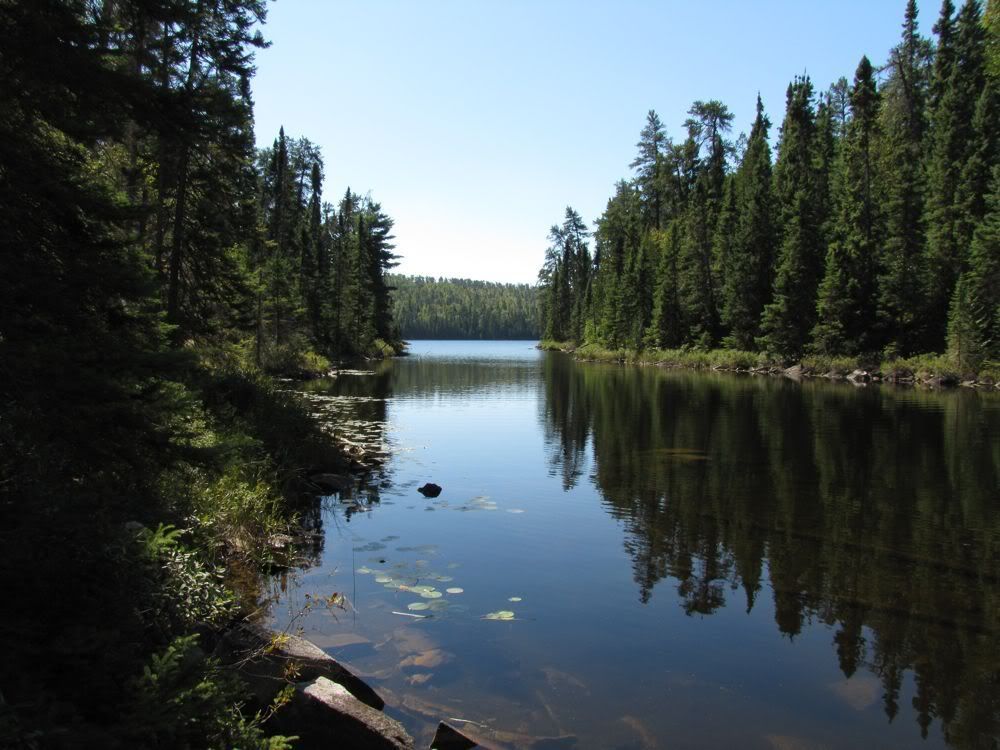 This portage goes up and around a cleft in the rocks where the creek passes through -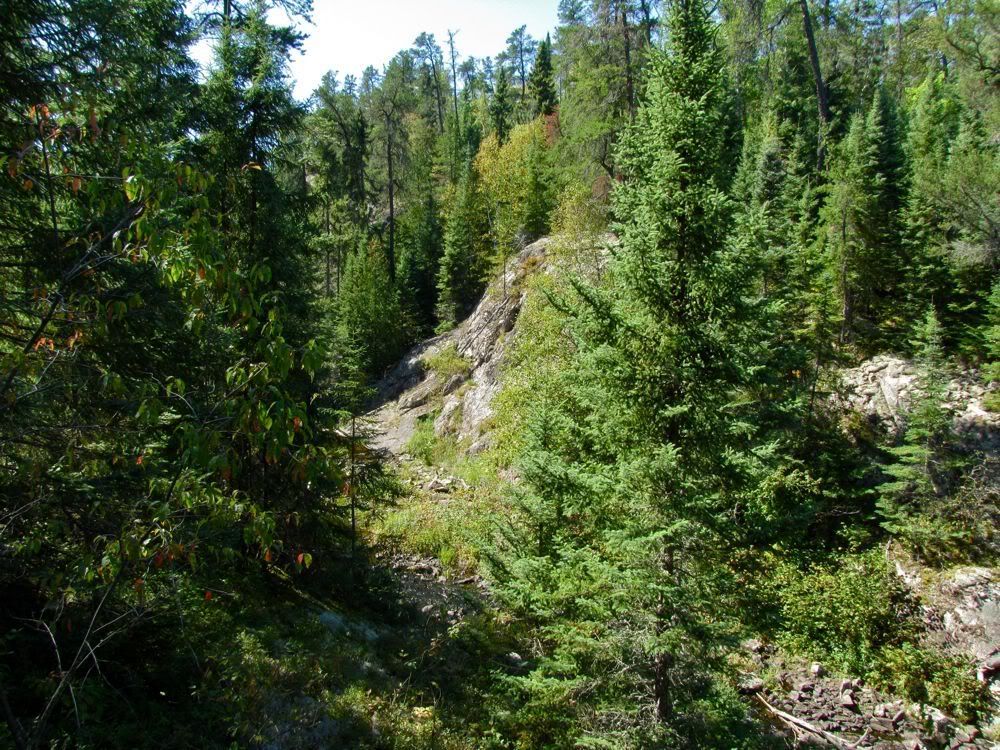 We completed the portage into Edge Lake about 1:00 and paddled up to a minimalist site at the pinch point between the north and south ends of the lake for lunch. There wasn't much shade there, but we hid in the shadow of a couple scraggly trees by the shore. Looking back south down Edge from our lunch spot -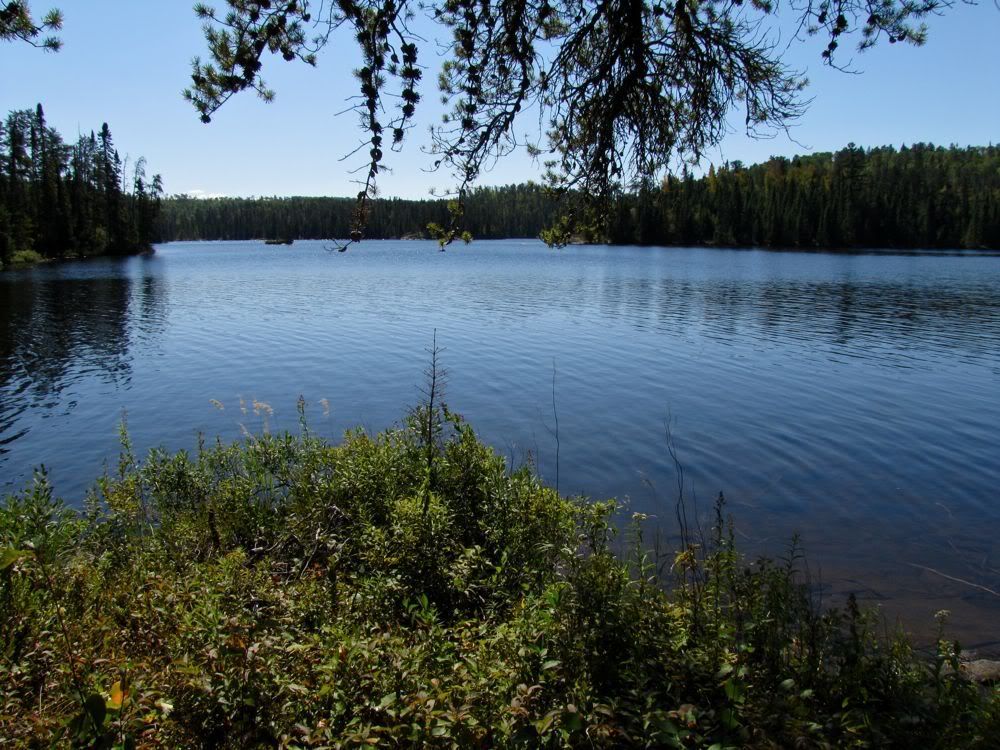 After lunch we continued to the north end of Edge and another 10-rodder into Unnamed Lake. Although generally not too long, most of the portages on today's route had difficult landings and some tricky sections along primitive trails. This easy portage was a nice exception to the rule. Looking back at Edge Lake from the portage landing -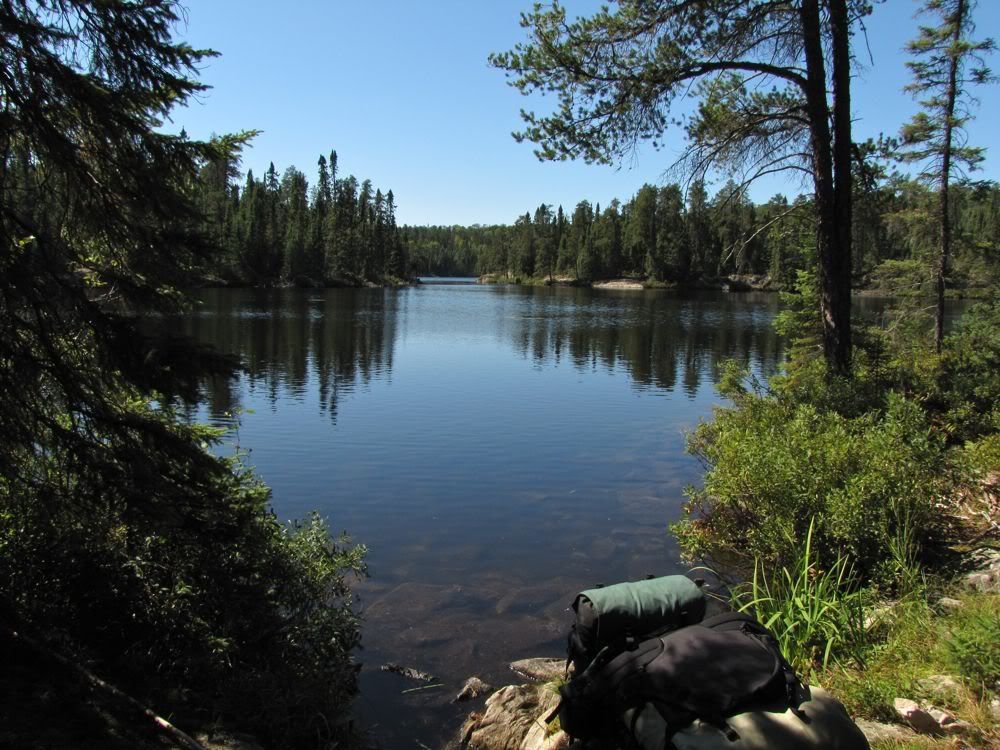 The creek flowing from Edge to Unnamed -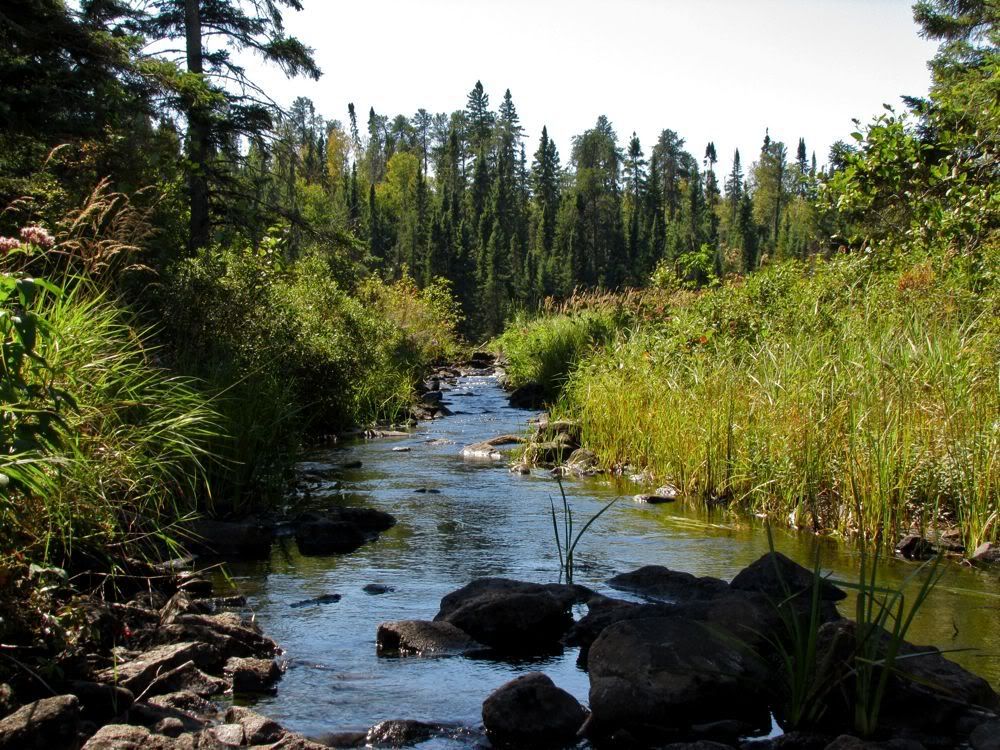 And looking ahead across little Unnamed Lake -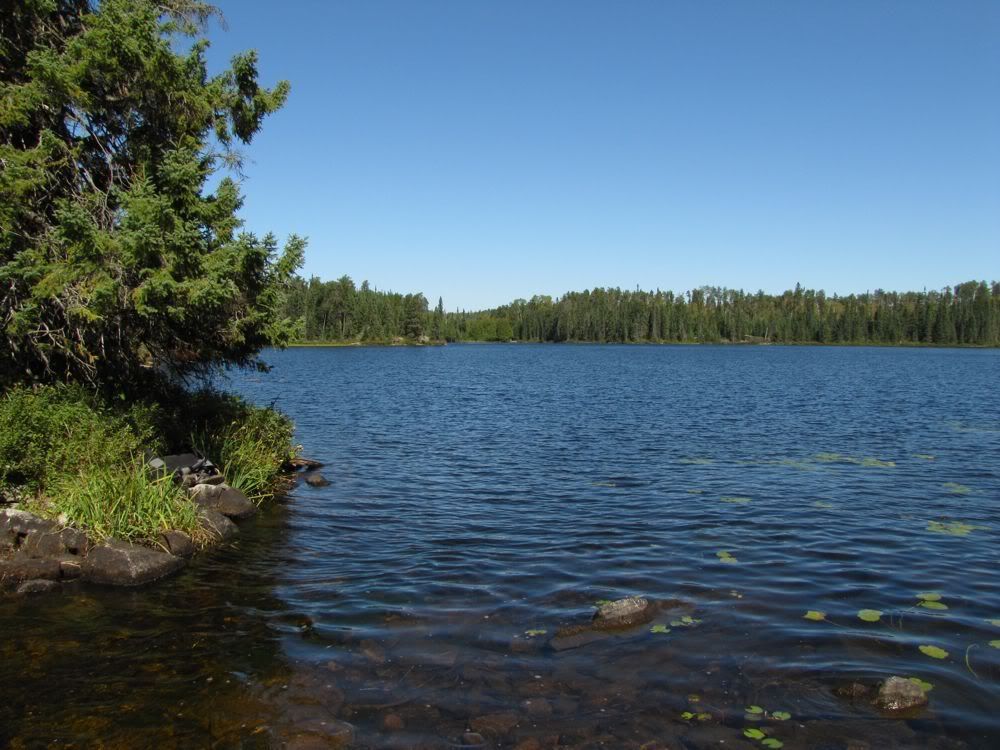 I think we were now less than a mile from our destination for the day, Glacier Lake, but still had three portages to go. The first one went from Unnamed into Turn Lake. At the Turn end of the portage, the shade from the cedars contrasted starkly with the blinding sunlight out on the lake -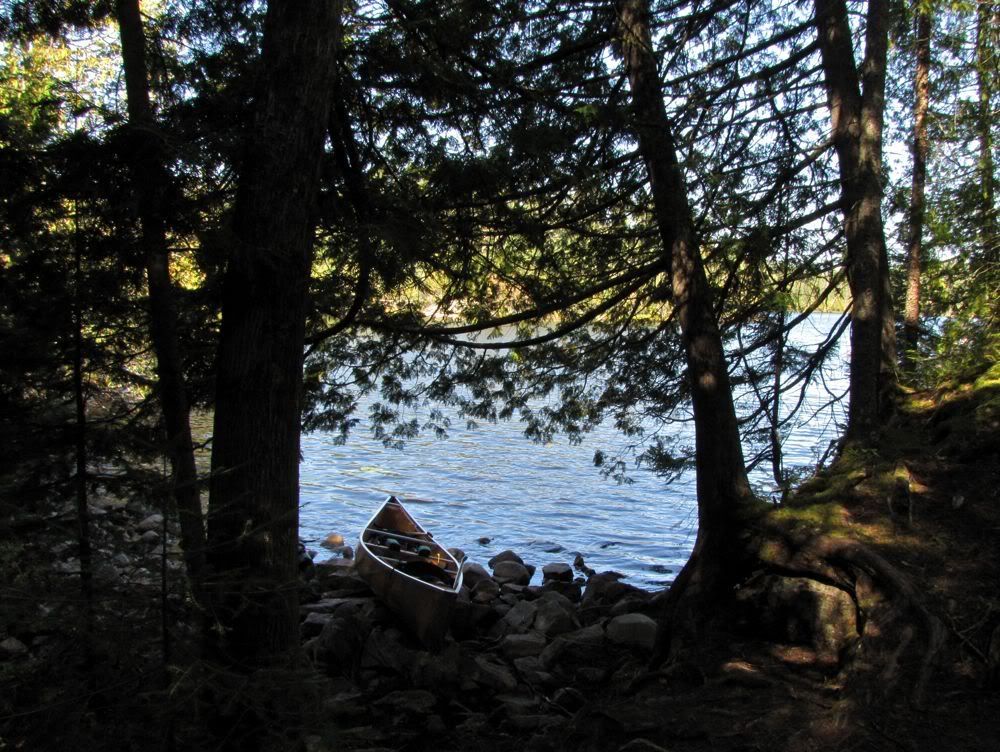 After paddling along the south shore of Turn, we came to the penultimate portage of the day, which leads to a marshy stretch of creek flowing out of Glacier. This is the view of the marshy creek from the end of the portage -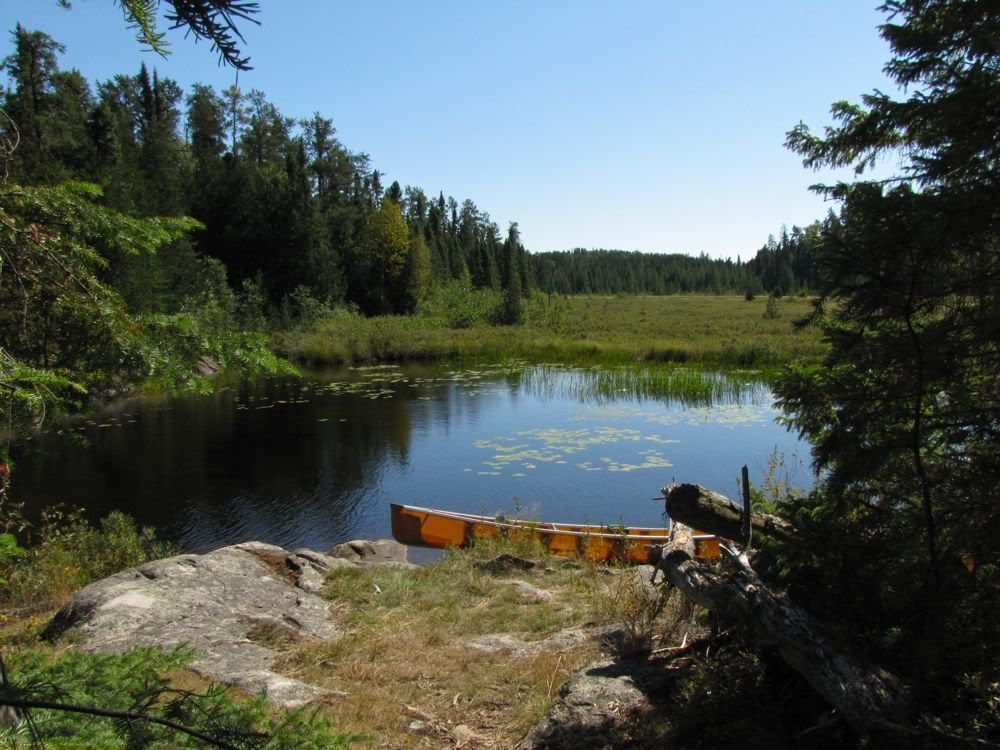 The low water of our dry late summer was really evident in this stretch of paddling. The canoe barely cleared the muck bottom of the marsh/creek in most places, and we got mired several times. Finding our way through -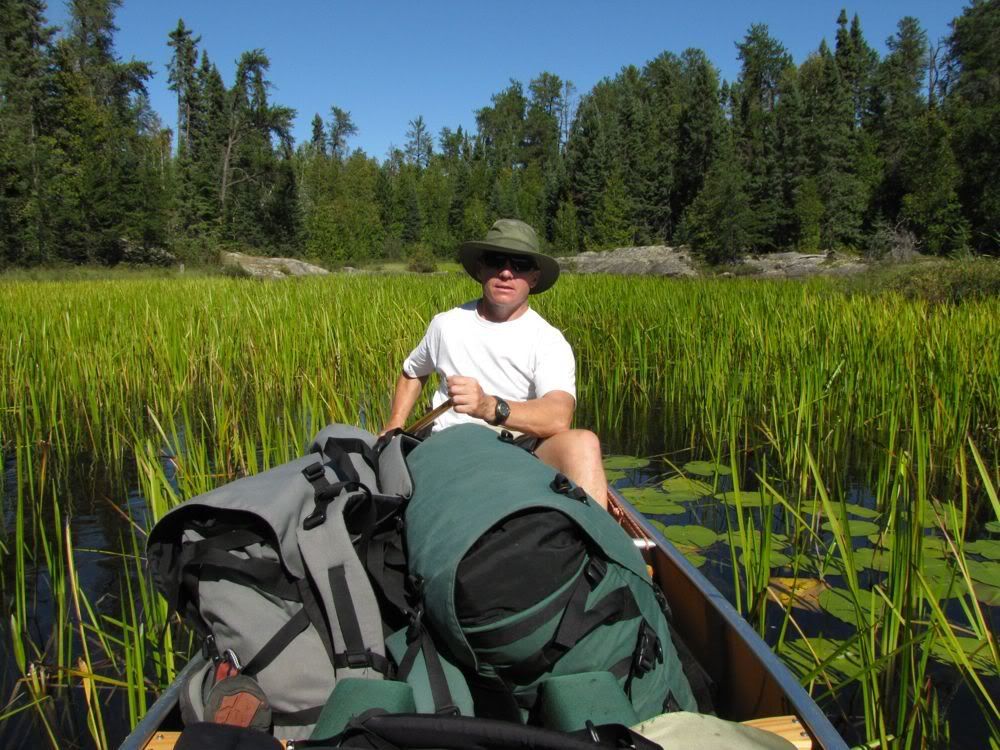 By now the unrelenting sun was getting to us. So we both got a little crabby when we made it to our last portage and had trouble finding a good spot to unload with the muck and low water. But after a few recriminations back and forth, we managed to get the gear unloaded on the rocks, and good cheer was restored. Looking back whence we came -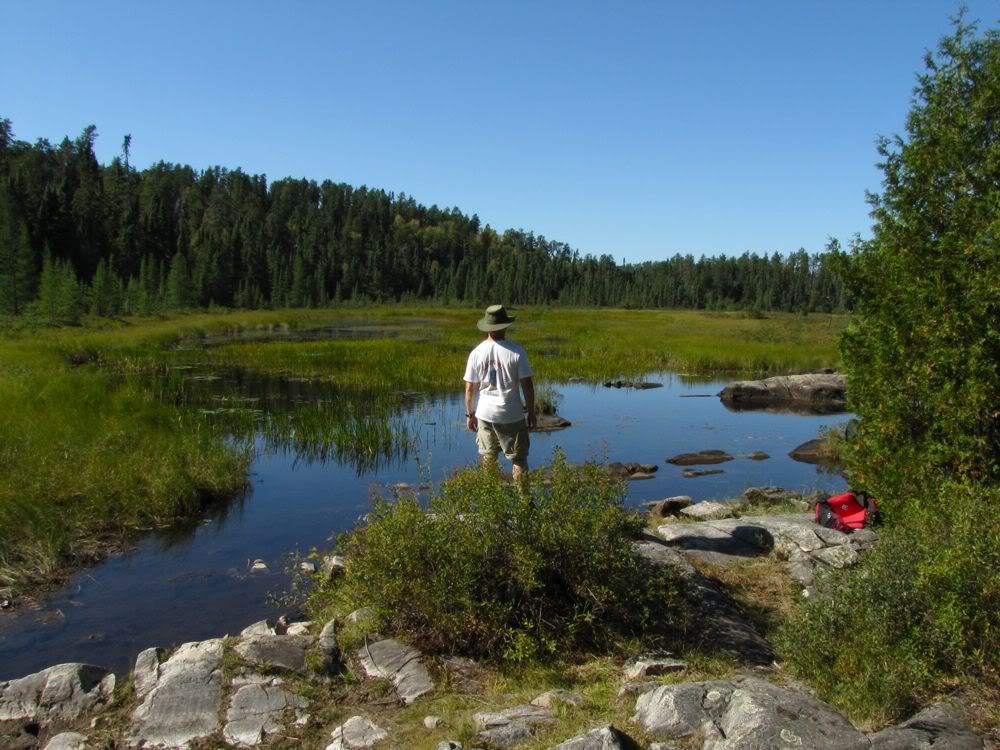 Although the McEwen Creek portages are minimalist in design, we found few true obstructions along the way. This downed tree was an exception. I think I slid the canoe over it and then ducked myself under to continue to the end -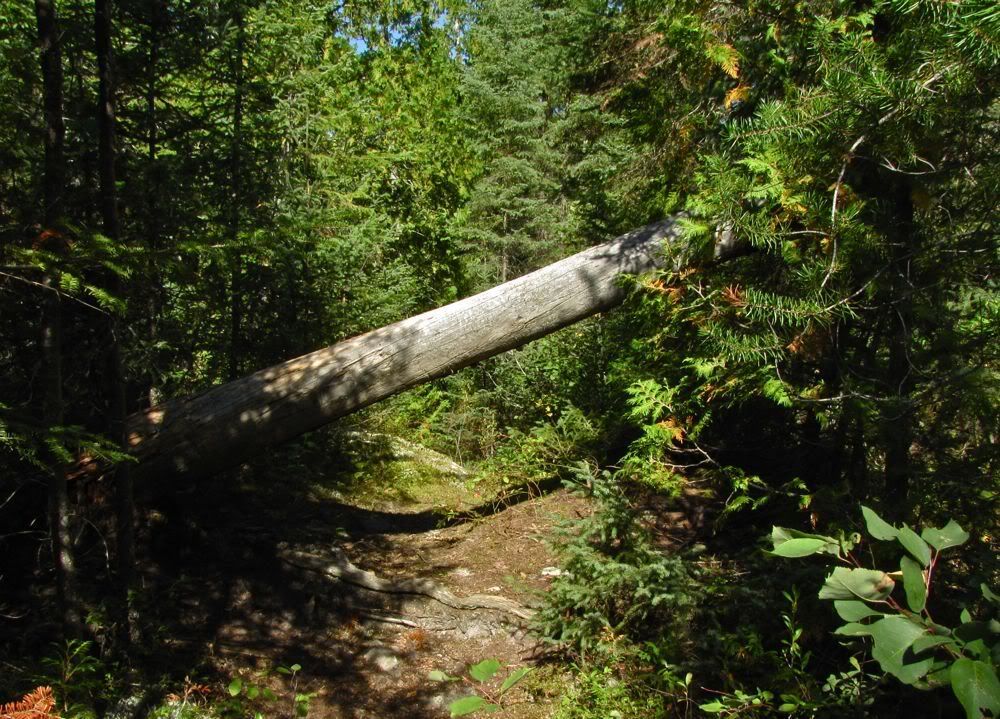 Arriving at Glacier Lake (with heroic explorer pose) -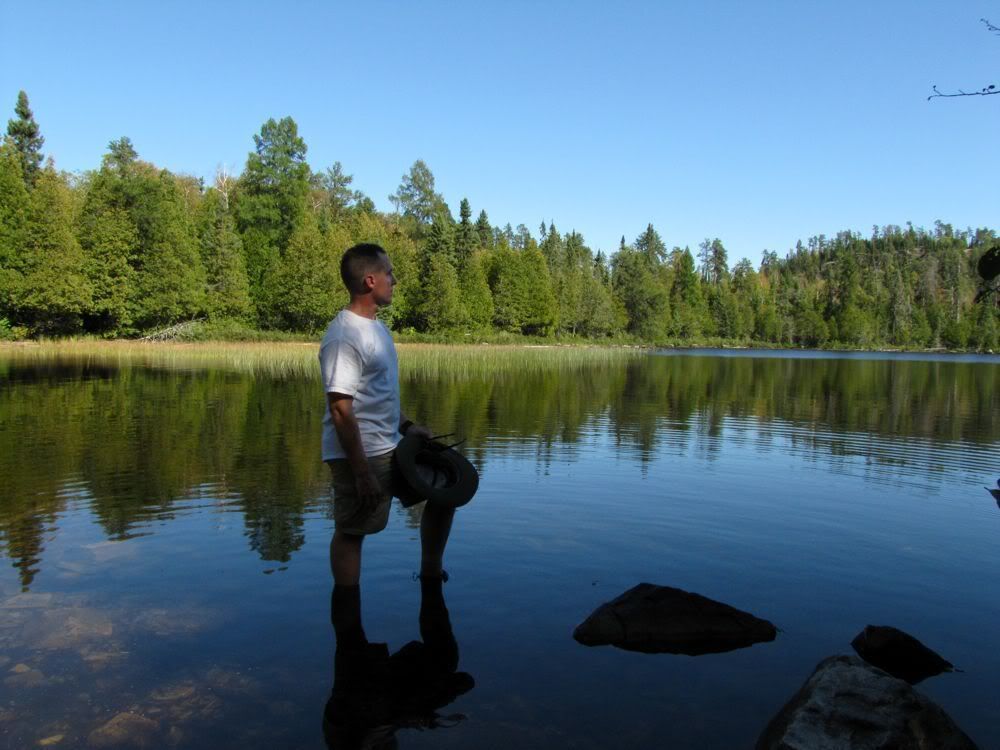 Across from the Glacier end of the portage lies this prominent scree slope. With all the exposed rock in Quetico, it's kind of surprising you don't see scree like this more often -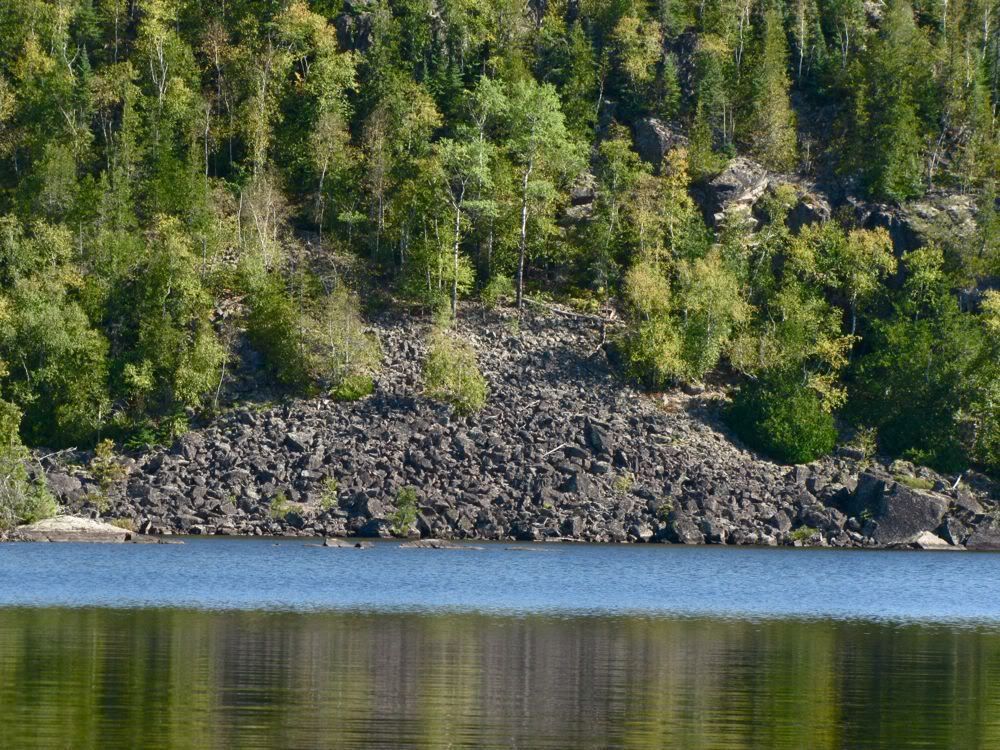 By the time we finished portaging into Glacier about 3:30, we were both pretty spent. When we went the other way in 2001, we traveled from Glacier to Louisa in a single day. I remembered that long day being pretty exhausting. But I felt exhausted today, too, going only part of the way. That surprised me, because I feel like we are better canoe trippers now than we were back in 2001. Back then we were dry footing, which made loading and unloading a lot harder, especially at the difficult portage landings along this route. Maybe our improved technique was counterbalanced by the pitiless sun today, compared to an overcast sky in 2001. Or was it just that we'd gotten 10 years older?
Another difference between 2001 and 2011 is that we did not stop to take a single picture between Glacier and Louisa back then. Whereas on the same stretch this trip, we took hundreds. That didn't tire us out, but it did slow us down. Which was fine, since the journey is the destination.
Anyway, now was time to find a campsite. We spent a little time looking around at the options (both real and fictional) before settling on the same site we stayed at in 2001. It's a distinctive site, sitting above the lake on a long rock bench with pines towering above. The rock bench makes for a challenging takeout -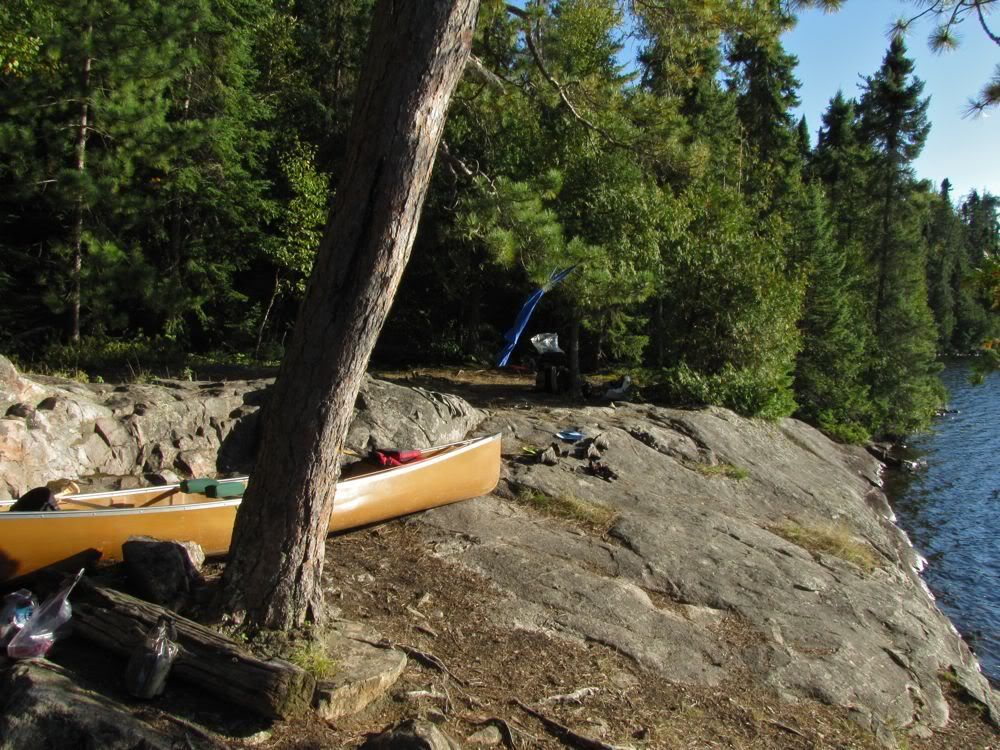 But the towering pines provided much-needed shade from the afternoon sun -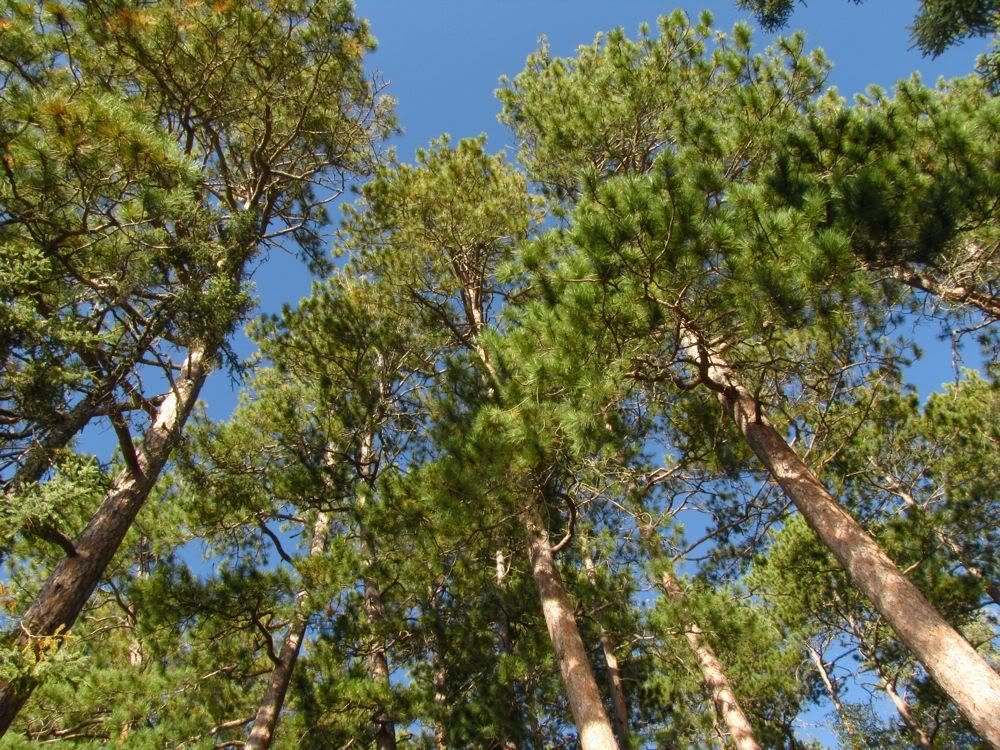 We whiled away the rest of the day with camp chores, reading, swimming at least twice, loafing in shady spots, and dinner. As the sun set, a white-throated sparrow sang its mournful song, which we heard several warm evenings on this trip, a rarity in September. Then it was time to enjoy nightfall over a little Maker's Mark sipped on our rock bench overlooking the lake -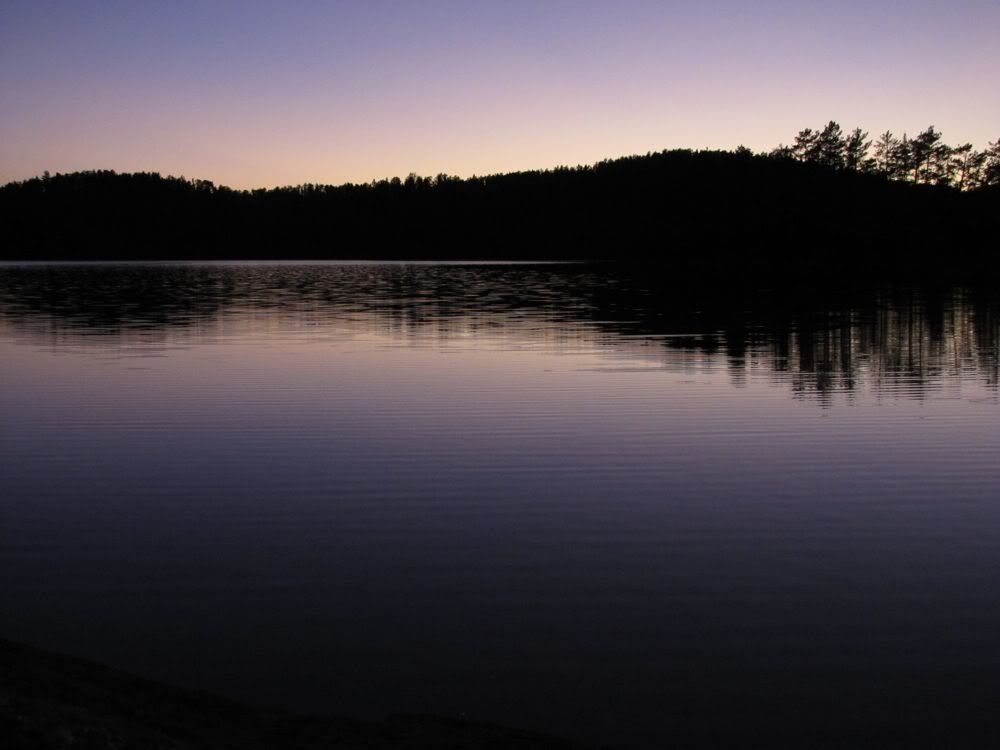 We were in the tent before 9:00 and read for a while before falling to sleep.
Around 1:30 we were awakened by the sound of breaking branches. We immediately thought a bear might be trying to get into our food, either the bear vaults sitting on the ground or the pack with the rest of the food hanging from a low peg on the side of a tree. We got out of the tent to check, but our food had not been disturbed. Whatever it was, we could hear it slowly moving off in the woods. Just as slowly, we settled back into sleep for the rest of the night.