2012 BWCA trip (Brant Lake entry)
by Lightfoot
Trip Type: Paddling Canoe
Entry & Exit Point: Brant Lake (EP 52)
Monday, September 24, 2012
Day 3: Rest day – Gillis Lake (low=44 high=64)
This was a planned travel day to Little Sag, so we got up and started to prepare as if we were moving. The wind was blowing about 20 – 25 mph and during breakfast we noticed whitecaps building on the lake. At this point we began to discuss our options. We would be traveling through small lakes until Little Sag. Once on Little Sag, if the wind hadn't subsided, we would be forced to take the first site right outside the bay, after paddling about ½ a mile right into the wind. That is, if it was available. If not, it would be about a mile directly into the wind, or ½ mile cross wind to the next sites.
We tuned into the weather radio for an update on the forecast. It called for 20+ mph winds throughout the day, diminishing after midnight. Then 5 – 10 mph winds basically the rest of the week. This convinced us to change plans. We decided to stay put today, then travel to Little Sag tomorrow. Then only spend one night on Little Sag and travel to Tuscarora on day 5 as originally planned.
After cleanup from breakfast, we re-established camp and went into rest-day mode. We read for a bit and then checked out some of the trails heading out from camp. John checked out the trail heading north and made it back to the little lake/pond that is indicated on the map. Chris (and the rest of us later) climbed up to the top of the rock, along the NE corner of our site, for a great view of the lake. We had cheese & bacon quesadillas for lunch. The pre-cooked bacon works very well for these trips. During lunch the front passed through and brought us the sunny skies we were waiting for. The wind changed from the SW to the NW but continued at the 20+ mph. With the warm sunshine, we all cleaned up and then spent the afternoon reading.
Red beans & rice with chunks of salami for supper met with everyone's approval. Finished clean-up by 6:30 so plenty of time before sunset. With the clear sky, there wasn't much color as the sun set. Looking to the east with the low angled sunlight, was still a very nice view.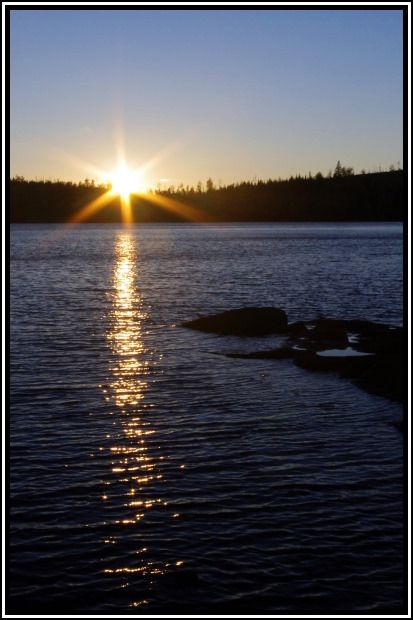 Sun sets on a clear evening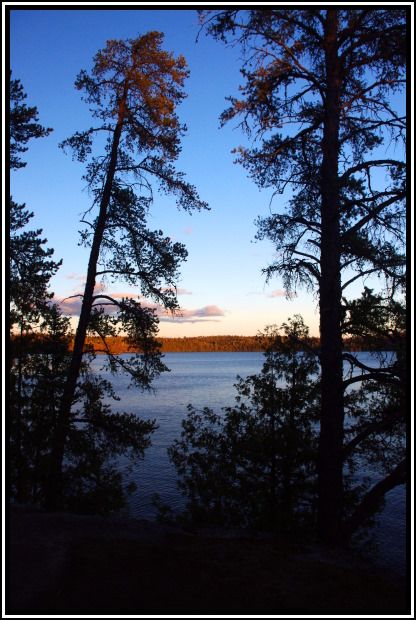 View to the east
We did another check of the weather radios and no mention of rain from now through Sunday, so looks good for the rest of the trip. Hit the tents shortly after 8:00 to get plenty of rest for our travel day tomorrow. Up once about 3:30, a very starry night with the stars reflected in the lake.