Pictorial Trip Report - Spartans and Helots
by Ho Ho
Trip Type: Paddling Canoe
Entry & Exit Point: Sawbill Lake (EP 38)
Prologue -
The roots of this trip go back a number of years, and the Internet is deeply implicated. For the last decade, I have been an avid participant in various online forums focused on canoe tripping in the Boundary Waters and Quetico. And that has led to quite a few real-life friendships for David and me with others who share our love of canoeing and the canoe country. Among those friends are Lynda (Spartan2) and Neil (Spartan1).
Canoe trips in the Boundary Waters have been a special part of Lynda and Neil's life together since they were a newlyweds some many years ago. That history speaks to David and me. And so we knew it had to be hard for them when they were forced to put their canoe trips on hold for several seasons when Neil was on dialysis. After a kidney transplant, the Spartans were able to go back to the wilderness. But then Lynda found that paddling and portaging had become harder for her, creating a new impediment to longer trips with more difficult portages.
Now they wanted to return to Cherokee Lake, and specifically to a campsite with twin points that they had stayed at in 1992 and 2002 - a pattern they hoped to continue in 2012. But Lynda worried they could not get their on their own. Neil was willing to do all the portaging for both of them, but Lynda thought that would wear him down. (Having done most of the portaging on a trip when David was recovering from a sprained ankle, I can attest that it does take a toll.) So she asked David and me if we would come along and help them on the portages. We were only too happy to say yes. I joked that we were signing up to be "Helots" to the "Spartans." (For those of you who have forgotten your high school history of ancient Greece, the Helots were "a class of serfs in ancient Sparta, intermediate between citizens and slaves.")
David and I had never been to this part of the Boundary Waters before, and it seemed like we might want to explore on our own after getting to Cherokee Lake with the Spartans, then return a few days later to make our way back to the entry point with them. So we all decided we should get two permits to give us maximal flexibility. David and I like to adjust our trip concept as we go, so we were happy to see what happened and play it by ear. Everyone also agreed that the Spartans and we would plan our food and other gear separately, since each duo had its own preferences and habits after many wilderness canoe trips.
Not long before the trip to Cherokee, David and I took our puppy Piwi on her first trip to Quetico. That worked great, so we wanted to bring her on this trip too. Lynda and Neil said that would be fine - though I'm not sure they knew what they were in for.
Lynda is a wonderful and avid photographer. So David and I knew that she would beautifully document our trip. At the same time, we were paring back a bit on our own canoe trip photography last summer. As a result, our photos from the trip are a little sparse, especially for the first couple days. (I should probably label the first days of the report "semi-pictorial.") Fortunately, Lynda has posted her own report of the trip with lots of good pictures. I suggest reading her report with this one, day by day. Spartan2's report can be found at this link.
And with that preface, we are off . . .
Day 1 - Wednesday, September 5, 2012 -
We planned to meet Lynda and Neil at Sawbill around 9:30 in the morning of our entry date. That would allow us enough time to drive from Ely while still getting on the water at a reasonable time. The drive is surprisingly long, especially with last summer's Highway 1 detour, so we got up and left the house before dawn.
A few hours later, David, Piwi and I pulled up at Sawbill Campground and Outfitters. Piwi had to stay on a leash here, which was really hard for her after getting up early and driving several hours without a walk. It didn't help that the outfitter's terriers were running around unleashed and were not as welcoming to Piwi as they might have been.
We tied Piwi up outside the outfitter headquarters and went in to get our permit. While we were inside, Lynda and Neil appeared, and we reacquainted ourselves with each other while we watched the video about wilderness ethics. I think we were all a little apprehensive as well as excited, because we were about to embark on a wilderness trip with people we knew, but not that well. The grey skies (with hints of blue), periodic spitting rain, and gusting wind added to the sense of heightened adventure.
Permits in hand, we headed down to the Sawbill dock to load up our canoes. We tied up Piwi nearby as we loaded up - something she is not used to. And so she chewed through her brand new leash in a matter of moments. That's the first (and last) time she'd ever done that. I had to count our blessings, though, in that this is probably the only Boundary Waters trip we have started with a store right there. So I walked back to the outfitters and bought a new (somewhat pricey) leash, just in case we needed it on the trip.
Finally, around 11:00, we launched on Sawbill Lake -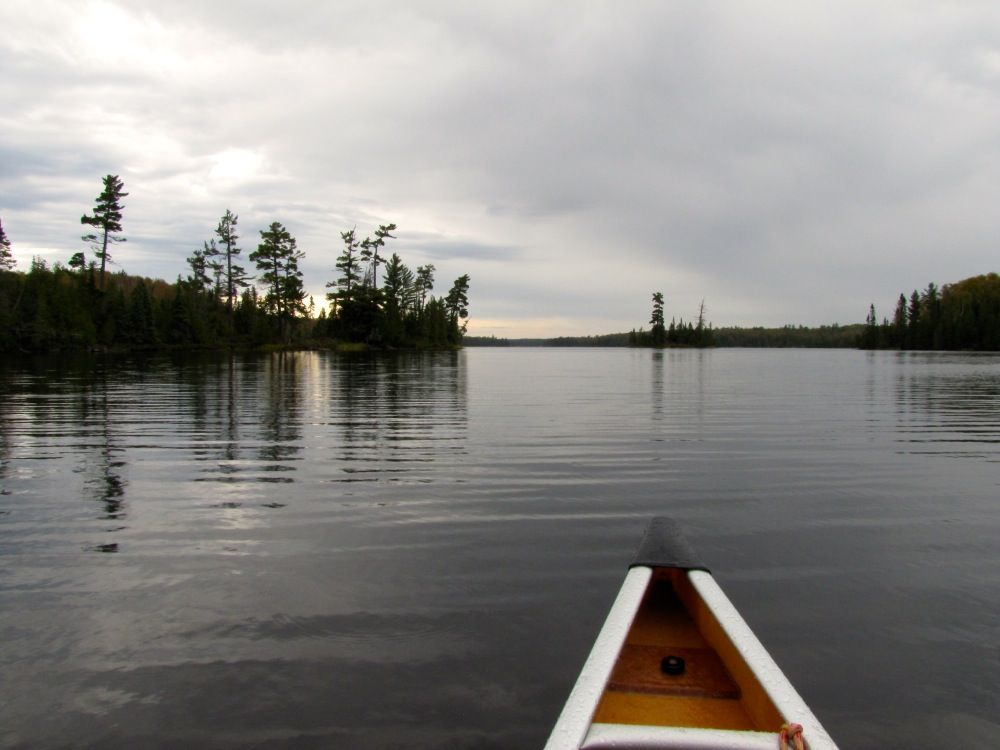 As I mentioned, David and I did not take a ton of pictures the first couple days of the trip. So I am including the next one despite my moronic grin because it's a nice picture of Piwi and (more importantly) it's our only picture from the first day with Lynda and Neil, even at a distance -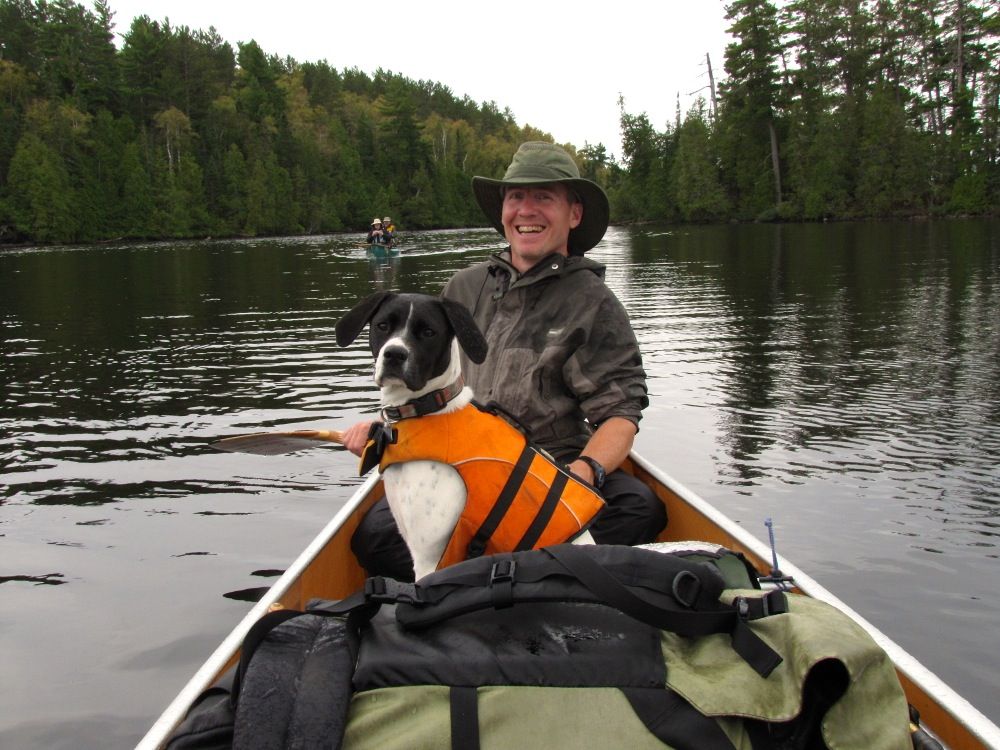 Our plan for the day was to camp on the north end of Sawbill Lake, an easy day with no portages, to prepare us for the longer trek into Cherokee tomorrow. Lynda and Neil had been through here a number of times, so David and I were happy to follow their campsite recommendations. We aimed for a site tucked behind an island that was both open and well-suited for our group. (Lynda's report includes some good pictures at this site. David and I failed to take any photos there.)
We set up camp, had lunch, and visited with each other as the skies cleared - at least for the moment. Then, after lunch, David and I took Piwi out to hike some portages. So far today, the poor pup had only sat in the car, been on a leash, and sat in the canoe. Piwi is a rescue mutt of unknown parentage, but one thing we do know is that she descends from "energetic" breeds. Without some walking, no one was going to be happy. Plus, David and I could use some leg stretching too.
So we set off to explore some of the portages we would cross on our way to Cherokee tomorrow. (Our afternoon paddle is marked in blue on the map above.) First we paddled to the northeast tip of Sawbill Lake and a 90-rod portage along Ada Creek. Since our goal was leg stretching, we just hiked this portage round-trip once. Then I carried the canoe back across to continue further up Ada Creek.
This picture looks back towards the portage from the creek -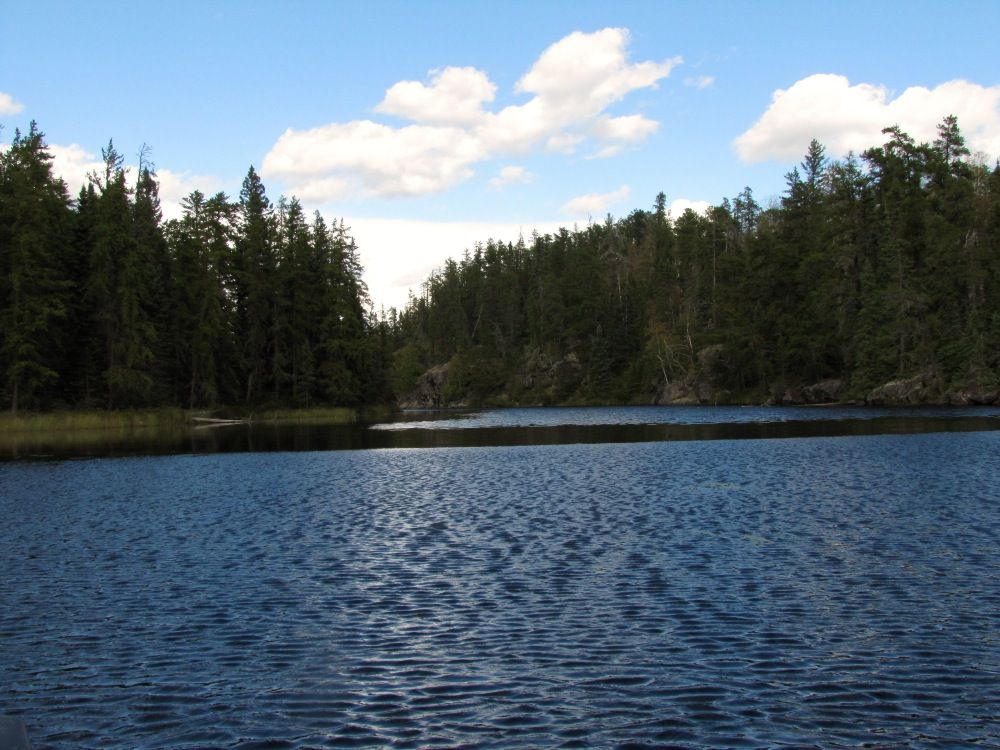 And here are some of the scenic cliffy spots along the creek -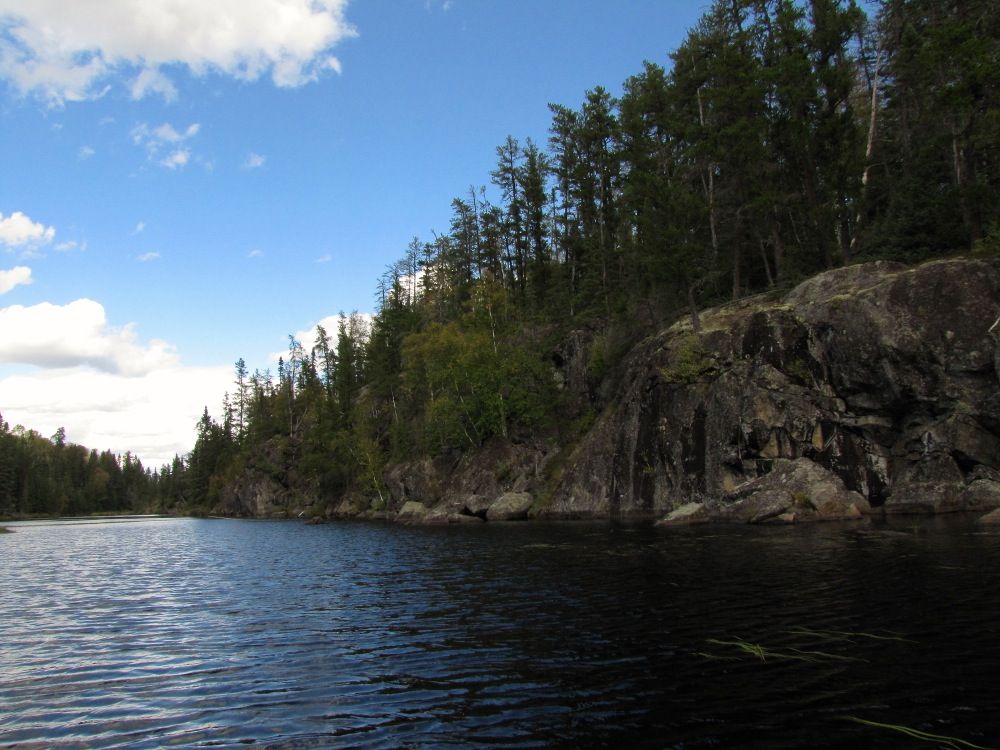 Further upstream we approached the next portage, which goes into Ada Lake. Our friends Heather and Marshall (Wilderness Mama and Papa) had mentioned that one of the portages in this area could be bypassed by paddling up the creek and pulling over a big beaver dam, and we thought this was the portage they were talking about. But since our current objective was walking, we aimed to find the portage. It required paddling up a marshy stretch of creek -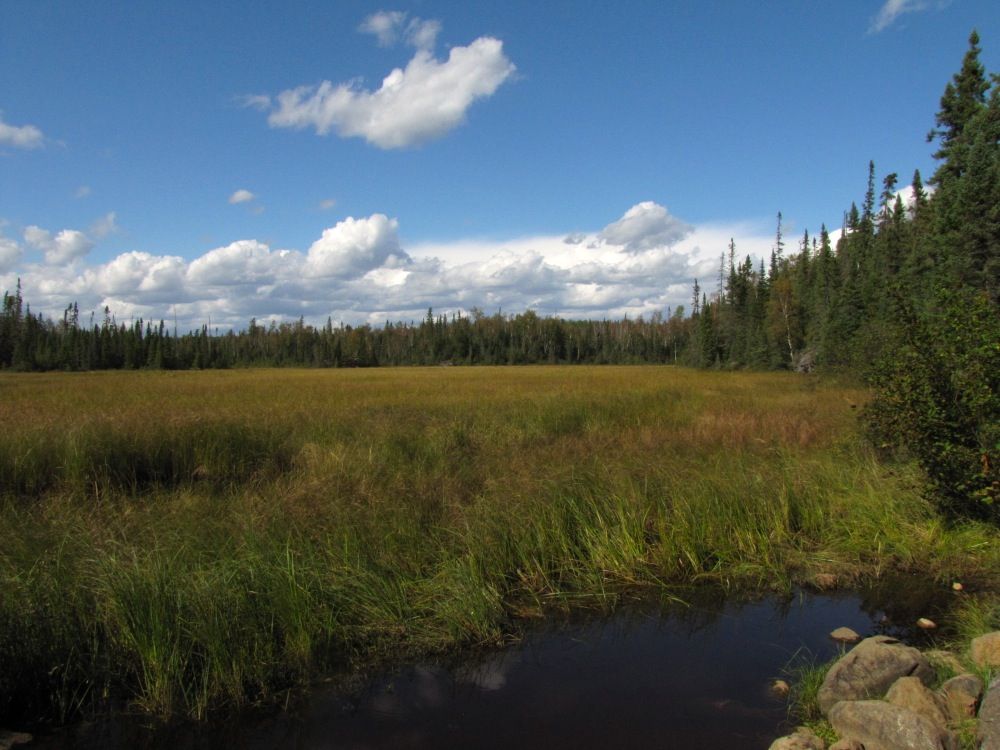 Then we hiked this 90-rod portage as well. It goes up then down again, and is mildly rugged. At the end we looked out over little Ada Lake, which we would paddle across tomorrow -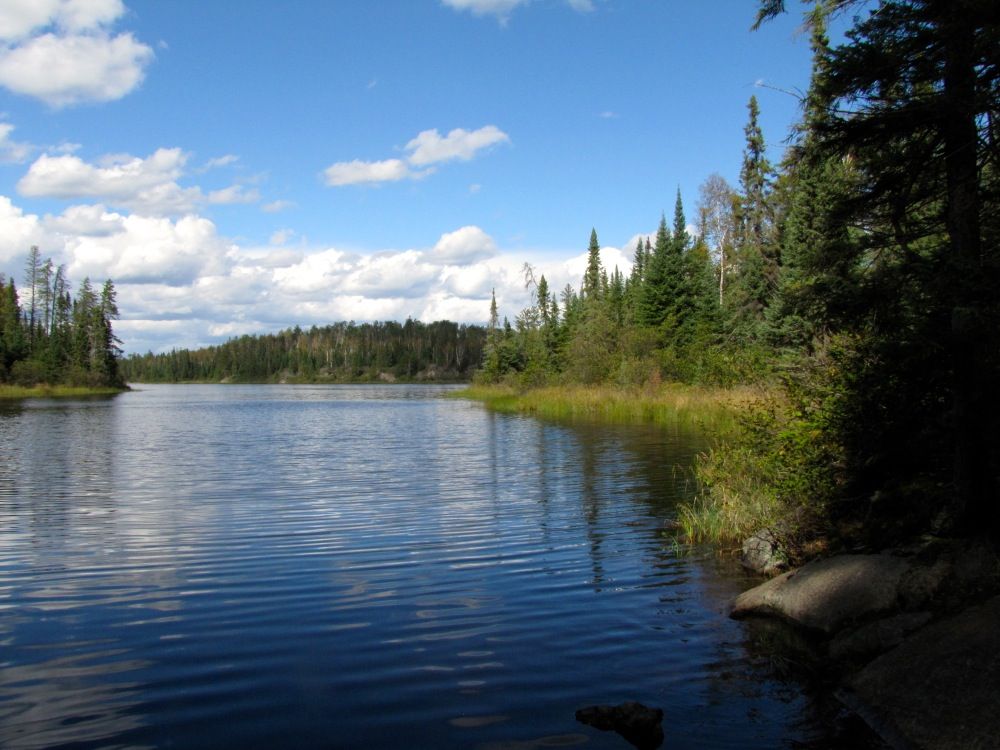 Piwi did her best imitation of an herbivore at the Ada Lake end of the portage -
We hiked back across the portage to the canoe, and noticed that the clouds seemed to be gathering again -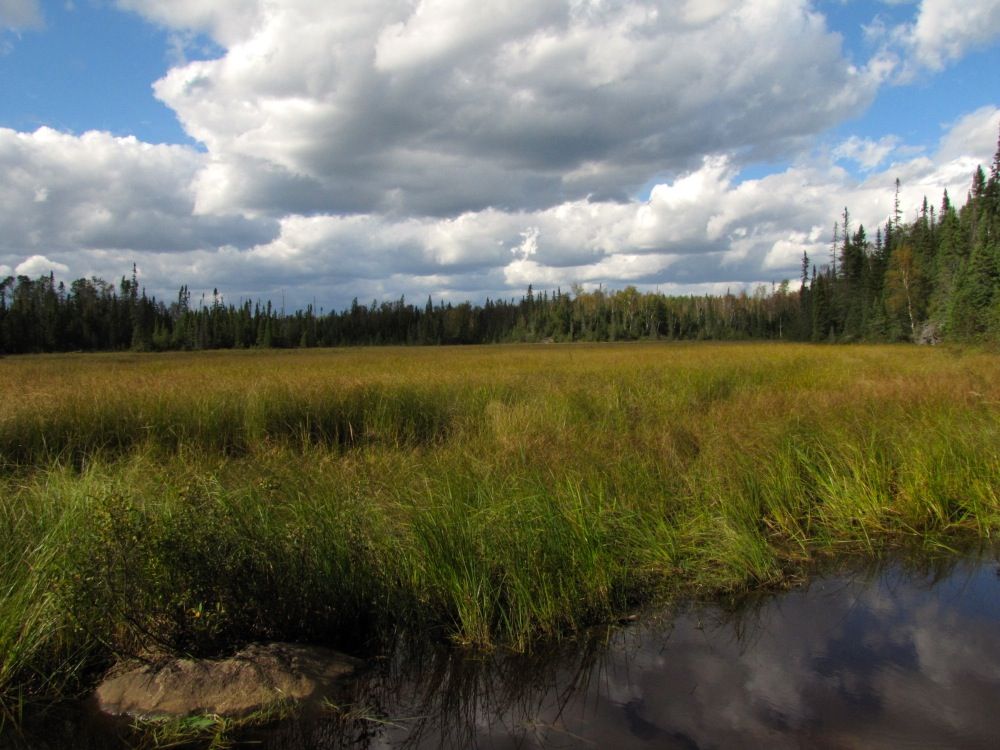 Piwi was absorbed in her own world of water, sticks, and rocks -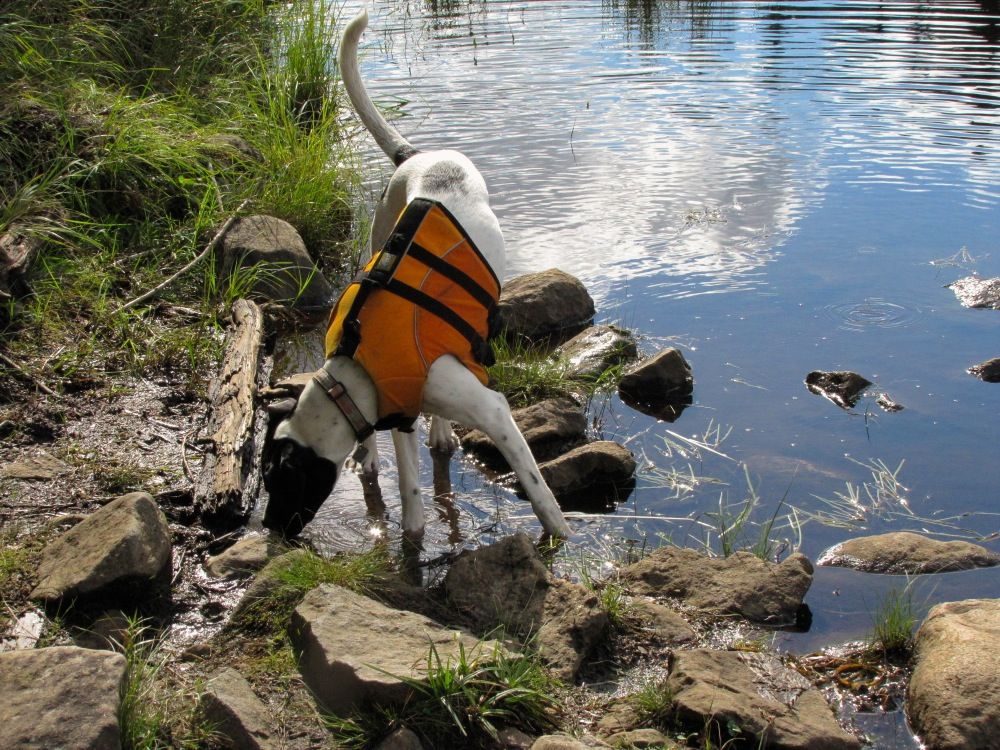 Continuing back toward camp, we paddled back down Ada Creek and then crossed the portage back to Sawbill Lake. The sky was getting a little greyer, but the light was beautiful -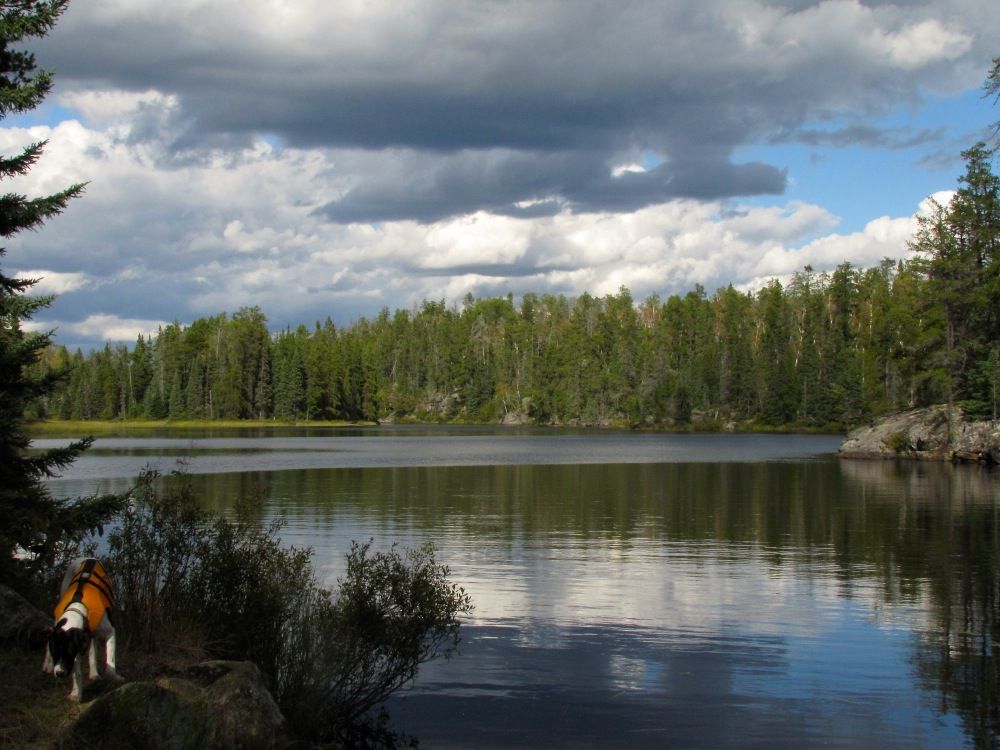 We stopped on the way back to the campsite to gather some firewood. Then a little squall blew in, which was surprisingly powerful given that we were on the lee side of the long point at the north end of the lake protecting us from the west wind. The stormlet abated as we rounded the end of the point and returned to our campsite and the Spartans.
The rest of the day and evening was passed with dinner and enjoying the company of our trip mates. I was surprised that all the other campsites on this busy entry point lake seemed to be unoccupied. Then we turned in early, tired from our pre-dawn start on the day, and wanting to be well-rested for tomorrow's expedition to Cherokee.
Distance traveled Day 1 - 3.5 miles from the entry point to the campsite, plus 5.1 miles (including all trips across portages) on the post-lunch daytrip with Piwi.