My First trip into the Q
by FishinCricket
Trip Type: Paddling Canoe
Entry & Exit Point: Quetico
Trip Introduction:
The guy said "You're going into the Q, so you've done this before?" We just nodded and agreed, though not a one of us had ever been into the BWCA or the Q.
It all started when my friend, the Professor in Minneapolis, laid the guilt trip on my about never coming up north to visit. I had promised that I would at some point, but hadn't devised a plan yet. The idea was to work it into a vacation of which my lovely better half would approve, which wouldn't be easy considering her version of "vacation" includes room service, bright skies, warm sand and blue water. I started out discussing the possibility of the rental of a cabin in the north woods to share with our college educated friends up north. I reasoned that the beauty and splendor of the north woods was too amazing to not check off of the bucket list. This seemed acceptable so I planted the seed that we could save quite a bit by "roughing it" in the BWCA instead…. After a few months of doing my best to get her interested in camping, we purchased some of the necessary items and made a few attempts at "glamping" in the Yukon at public campsites, then graduated to camping in the tent and even an overnight trip on the Eleven point River, her favorite Ozarks stream… She is such a good and amicable spouse that she didn't complain, which I took for consent. So the plan was made and I started researching the possibilities.
Our northern cohorts located a Groupon deal for a "partial outfitting package" from Voyageur Outfitters on Seagull Lake at the very end of the Gunflint Trail, so we scooped that up as our starting point. I found a very helpful website, www.bwca.com which helped tremendously with deciding what I thought might be the best route and options as well as some great fishing tips and personal suggestions from the many members. I had a few requirements that had to be satisfied… We wanted seclusion, no motors, big fish, pictographs, and to take a circular route so that we didn't "see the same thing twice". So, after extensive research and questioning the folks in the know I came up with a route.
The Initial Plan From Voyageur Outfitters we were going to shuttle through Seagull Lake and into Saganagas, crossing over the Canadian Border and out to Hook Island, just outside of Cache Bay, Quetico, Ontario. From there we would paddle through Cache Bay, see the Pictographs, travel north through Silver Falls then turn west toward Lilypad lake, Into Jasper Lake then south into OtterTrack, east into Mud bay and Swamp Lake then back into Saganagas. I had it all plotted out so perfectly in my mind, but when we got to the outfitter that idea fell apart in favor of a Base Camp in Saganagons and a day trip up into as much of the Falls chain as we could reasonably manage, then back down to Cache bay for the final night to ensure we'd arrive back at hook Island on time. So we settled into the rickshaw style bunkhouse and prepared ourselves for a world without roofs over our head or toilets at our, uhm, disposal.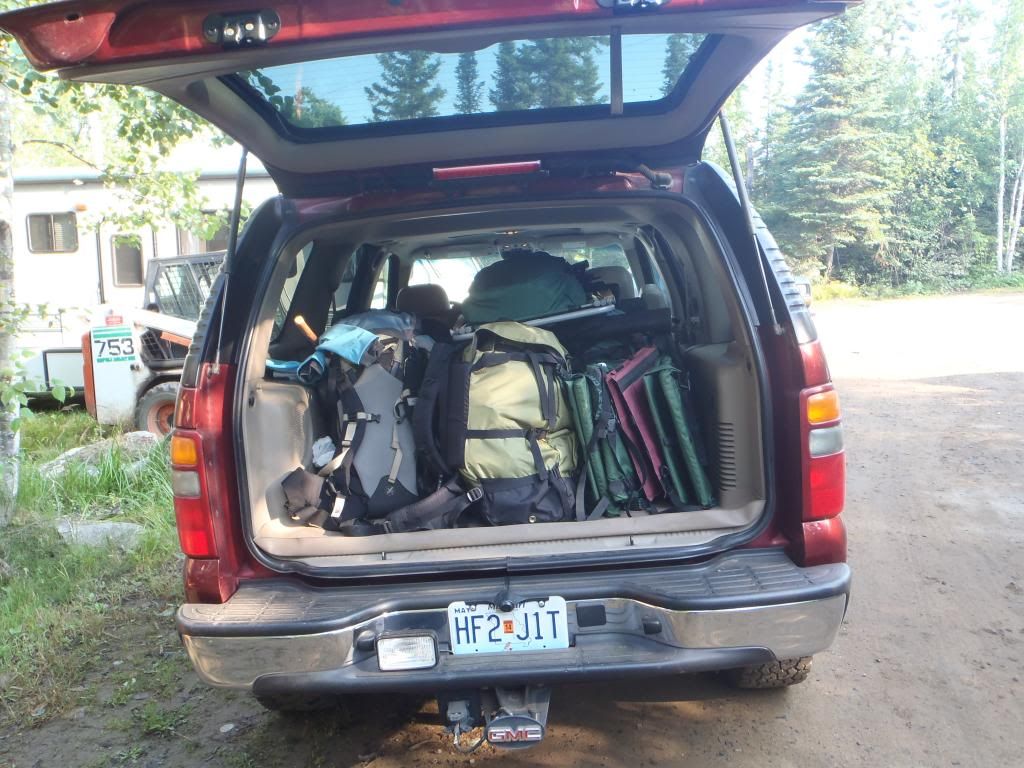 Day one I initially wasn't too fond of changing course from the path I had chosen, but these concerns quickly fell away as we began our initial paddle from Hook to the Ranger Station in Cache Bay. Even the slightest wind in your face on big water causes tumultuous waves and we were still getting used to the canoes being so loaded with gear. A paddle that should have taken an hour took almost two and had us all discouraged. Janice, the kind lady at the ranger station, confirmed that we should certainly consider changing our plans to take advantage of the Falls Chains pass we had reserved (and paid so much for), so we set off on a new course and completely bypassed the Pictographs on the first day in favor of seeing them on our last day.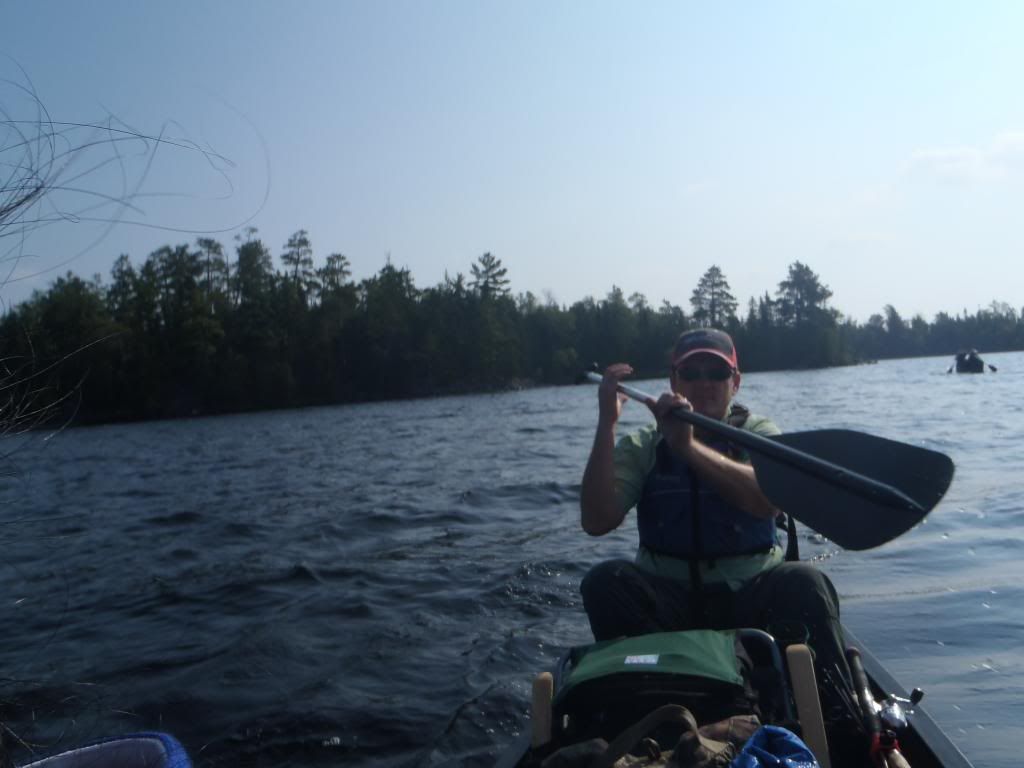 That first day was challenging, to say the least. We had a 6 mile trek, Complete with three portages, to get where we wanted to be, which we decided to be a set of four islands in Sagonagons, just above where the actual Falls Chain begins, eventually flowing out into Kwanipi. This meant that we had to paddle to Silver Falls, portage over to Saganagons and most of the way through to get to the islands. Luckily we had the wind at our back once we got into Saganagons, but the hike there about killed us! Everyone had at least one bump, bruise or blister from the double portage and we were all second guessing our decision to come here in the first place! Then we saw the falls and drank the cool water and all was righted in our minds again…. we were off to find our island campsite! After hunting around for the pass for a while we finally make it to the obvious portage over a hill, saving us a few more miles of paddling.. I'm the first one through the portage and the only thing I can see in the water is the school of smallmouth bass waiting to greet me! There were around 15 at the launch, not sure what they were waiting around for….. Editors note: Everyone sees things the way they want to, but I recall this idea being a fishing trip and day one saw the fishing poles strapped securely to the packs, ALL day. They stayed there longer than you might imagine, if you know me at all. Our Campsite was the last of the four islands before the pass into the falls chain, we made it there with plenty of time to set up camp. We had the whole camp set and had dinner going when the sun started to set and we found out our islands dirty little secret: It was some type of International Attack Base target for the Minnesota State bird, the Mosquito. We were so inundated by these little blood sucking monsters that we retired to the tents and called it an early night. The island was beautiful, the bugs were BAD. I did get up at midnight to look at the stars, which is when I discovered that a massive full moon isn't really conducive to "stargazing" and that mosquitos apparently sleep in shifts.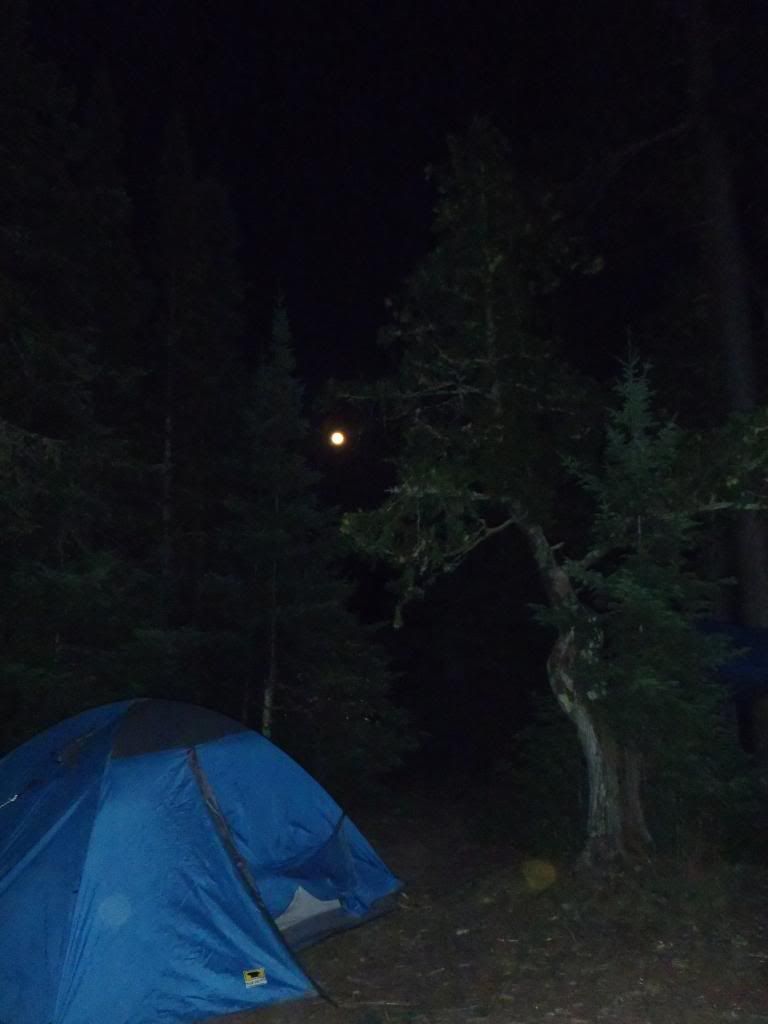 more day 1 photos: http://s781.photobucket.com/user/FishinCricket/slideshow/2013-%20Roughing%20it%20in%20Quetico/Day%201-the%20trip%20in
Day Two I was awake to welcome the day WAY too early and apparently I was intent on dragging everyone else along with me because shortly after the Professor and I got coffee going and a fire stoked the ladies were up as well, drying off those things that got inadvertently dampened in the storm that blew through at 4 am. I didn't really notice the storm or the bugs the night before or even how stone-firm was the ground upon which I slept. I was pre-occupied with dreams of big smallmouth bass surrounding me, massive monsters lurking under and behind even boulder and log jam we had passed in the last day and a half. I HAD to get some fishing in and get one of these smallies on my hook. So I rigged up a top water plug and dropped it off the northwest shore of the island. Two plops later and I had a slurp. Not a blow up, mind you, but a slurp and a strong tug… I was ecstatic!! This was a monster smallie on my first cast and hes…. Oh, wait, hes giving up? That's not a smallie, that's a Northern! Awesome anyway, I'll take a 2 foot fish any day, even if he is being a bit wimpy…. I called the Professor down and we celebrated my catch, but didn't bother with a picture. Turns out we were wise to save the film as this lake was lousy with Northerns.
So, now that I've hooted and hollered and gotten the ladies up properly, we have a nice camp breakfast, (the Professor enjoys his meals, he must be really active to stay so fit) snap a few photos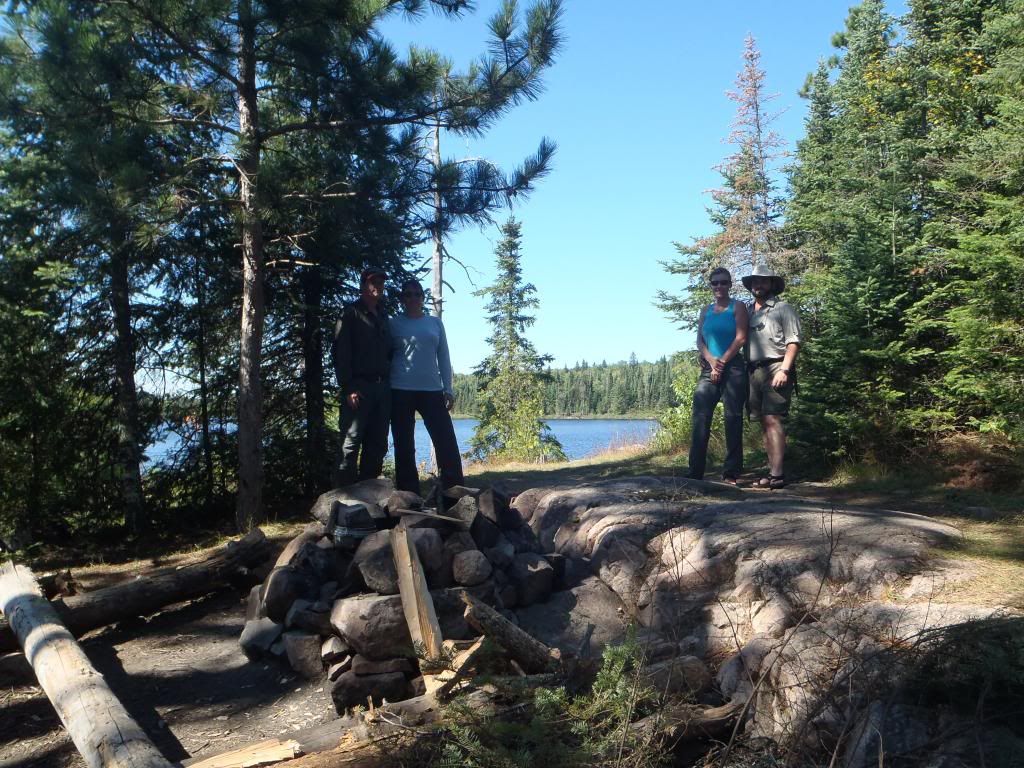 and set a course for the Falls Chain.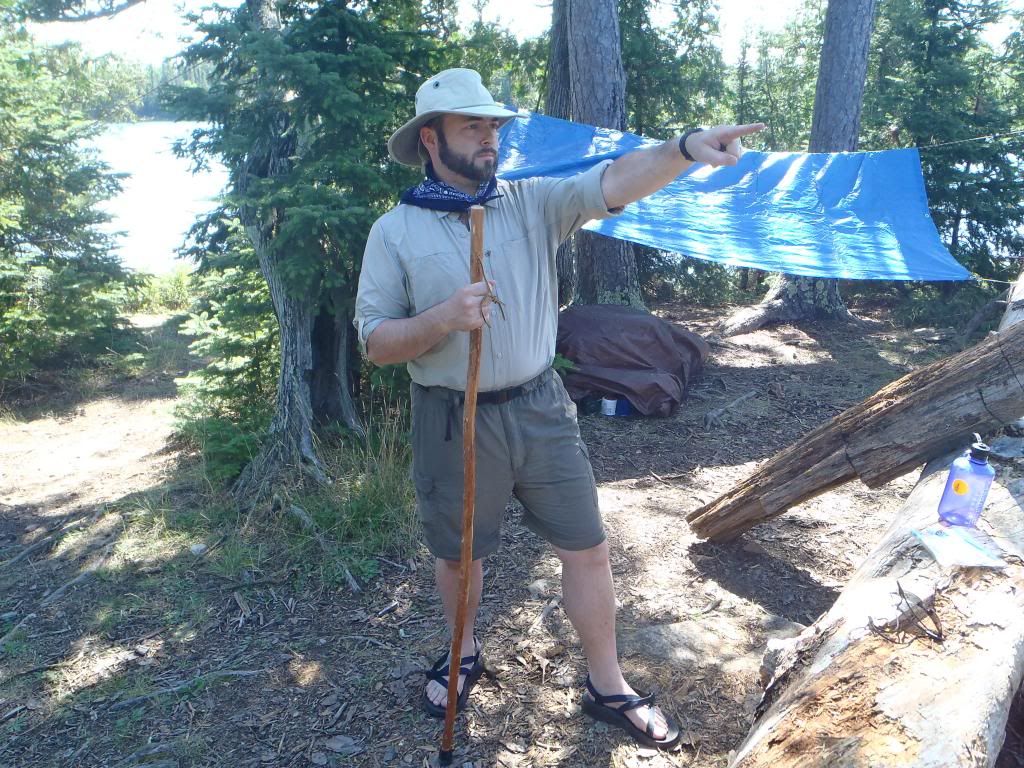 The sky was a shade of blue I had never before witnessed, the water was cold and clear, the day was perfect… If a bit steamy, it reached 90 degrees. The Professor started off the day strong with a fat Rock Bass and the Northerns had a steady enough pattern that I could pick one up on every spot I selected….. though I wasn't getting any smallmouth action! Then we came into the area of the first falls and portage and the water turned into a boulder field filled river and we picked up a few smallies on our teeny craws. I know how to fish the river areas, but these big bodies of water still confuse me. The first portage took us past a very beautiful spot and I promised that we'd make it back here in time to take an afternoon dip.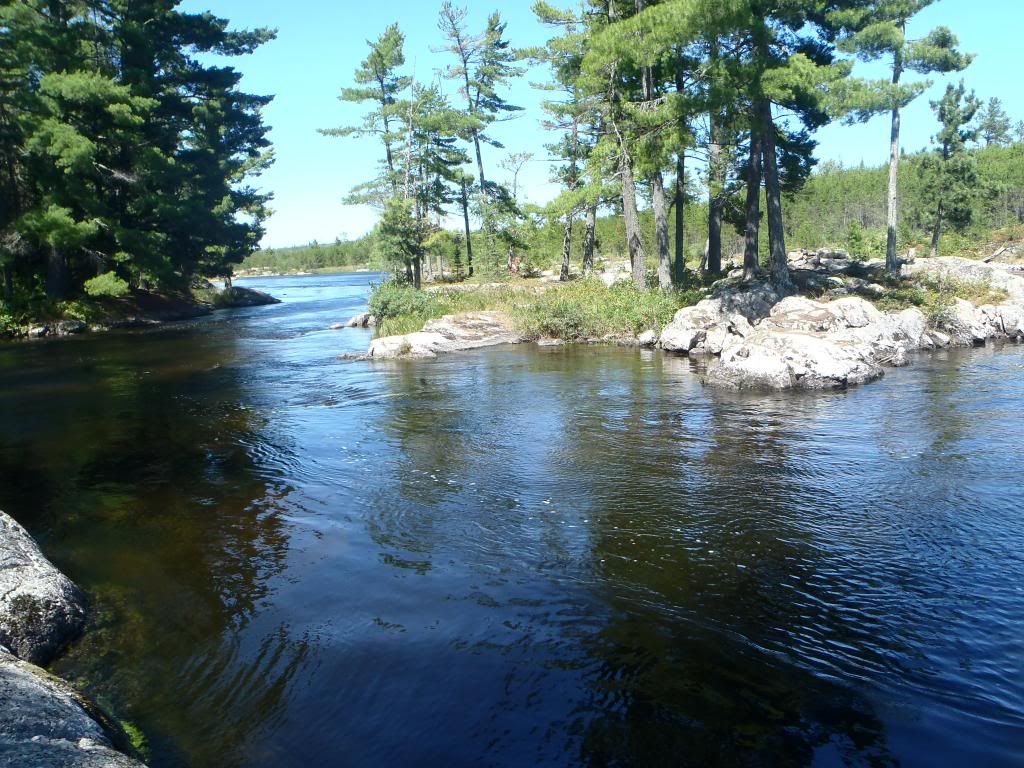 We ventured on and made it to a second portage and then a third, but it was still difficult work even without our packs and we quickly settled on making it about halfway down the falls. We ended up at the end of a portage with a beautiful set of falls and there we stayed for an hour or more.


We fished and relaxed on the windswept point at the end of the portage as it seemed to be the only place the monstrous mosquitos would allow us any reprieve. On our way back through the falls portages we did make that stop off and I took a dip as I had promised I would…. No one else stayed in very long. Everyone had the chance to fish this area and the small bass were biting very well, so we had a good time catching smallies left and right.As we headed back to camp we honed our Northern Pike skills and even got in some trolling, which produced the one smallmouth I kept on this trip, a fat little football shaped pig of about 16 inches and 2-3 pounds. I am not used to equating the types of figures together! On my rivers down in Missouri a 16 inch is a VERY nice fish and they are usually really slender so a fish of this size wouldn't even be capping two pounds yet! Anyway, this lil fattie, my new pride and joy for the day, was soon bested as the Professor and I made our way to an adjacent bank from our island to clean him and "maybe add another to the stringer for the night".
We paddled west of the camp to the little rock pile across the glass clear bay and as we approached we noticed the fish were slurping bugs out past the lily beds, so we approached carefully and tossed out our floating craws and top water poppers and it was game on!! A fish every cast for a bit and we learned really quickly that it was folly to have not purchased any steel leaders. The "slurps" we were seeing looked to be from small fish, but this was NOT the case! Several 2-3 ft northerns and a few decent smallmouth and something (maybe also northerns) that took off like a freight train and ripped the line to shreds on their first or second head shake, head shakes which felt like you were trying to hold onto a raging bull with your light rod. I lost about 4 baits in rapid succession and the professor lost one as well, his favored beetle spin. So he tied on one of the teeny craws and made a cast or two and there was a blow up! As I adjusted the stern he turned and cranked and jockeyed for position with that light rod and this fish jumped and wallowed and the sun set deeper and deeper I realized that the professor had quietly sealed up the giant for tonight that I could not… So I grabbed the net and we captured this massive monster that put to shame my piddly 3 lb "hog" from earlier. Anyway, I am extremely proud that one of us caught it and at the same time extremely agitated with myself for leaving the camera a half a mile away cause a hog like that deserves to be photo'd and released. Anyway, Janice had assured us that the bass have the "sweetest meat", and she was right.. A very filling dinner indeed! The mosquitos feasted on me again on this night, but I quit caring… I was in the Q and it was awesome!!!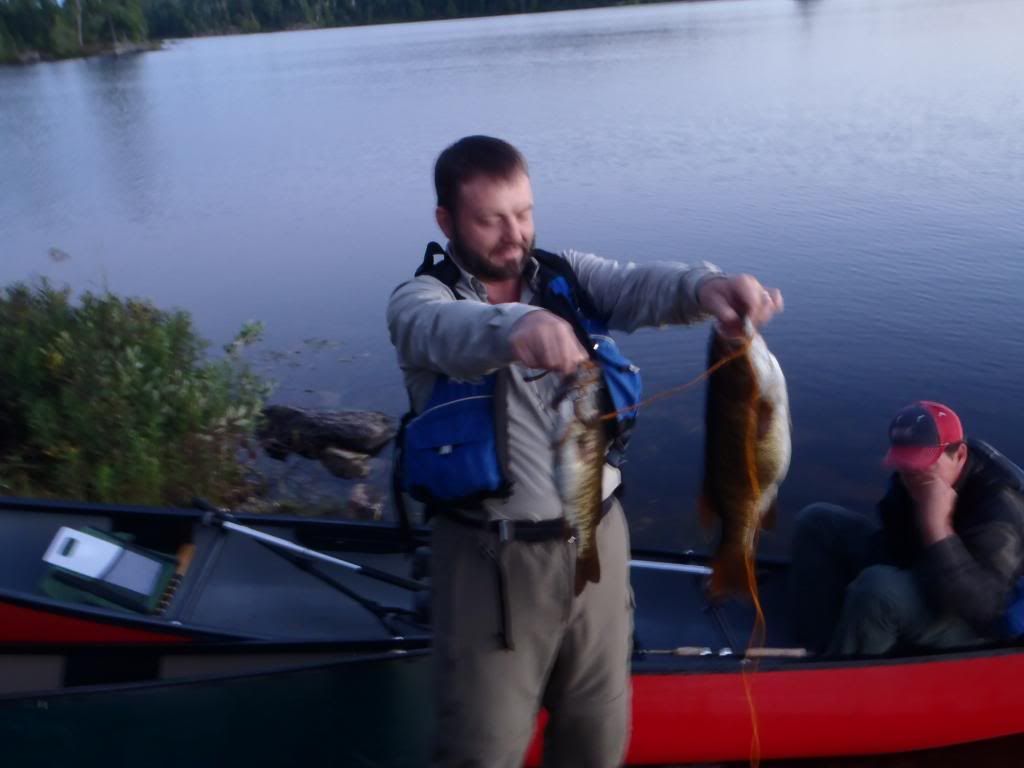 More Day 2 photos: http://s781.photobucket.com/user/FishinCricket/slideshow/2013-%20Roughing%20it%20in%20Quetico/Day%202-%20Falls%20Chain
Day Three No one wanted to admit it while we were there, but everyone was sore and tired on day three and ready to pack up that morning, but even so it was kinda sad to be leaving the "base camp". The intent was to make it to Cache Bay by midday or shortly after lunch, set camp and go see the pictographs but I just couldn't seem to put down my fishing pole, having figured out a pattern for the smaller northerns off of every point along the way, of which there were many. We made it on time but dawdled quite a bit and ended up viewing the pictographs in the setting sun. We also caught fish in this bay but everyone was ready to get back to the camp and eat before the sun went down and the bugs came back out. On our way back to the camp I picked one point to fish that was right next to camp with the wind in our favor. This point is where I landed my banner fish, a monster Northern Pike that never really did run out of steam, just got mad and stopped fighting and then attacked my net! I had to land him by hand of course, but thought I might get his head hung in the net and assist me in dragging him in the boat! We snapped a photo or two and then released him, he sulked in the shallows for a bit, eyeballing me sourly, then dashed off with one deft swish of his tail. Awesome, this fish was a huge highlight to an already excellent day. After dinner we still had a little light left so the Professor and I took the boat out the the Cache Bay side of our camp and fished the rock piles we had paddled over on the way in.. Success! We then crossed over and headed out to a little secluded cove we had noticed in the pictograph bay, this is where I was finally able to get out the fly rod and make a few casts. The poppers were missing as much as they were hitting and I ended up with ten or more top water strikes but only 3 hook sets and only one got all the way to the boat, but fly fishing is such a blast when they are on… As we pulled back into camp we noticed something that we had discussed as a possibility earlier but didn't want to get our hopes up about. The mosquitos were nowhere to be found. It was getting quite a bit colder at this point than it had the previous two evenings but we had also made it a point to set out camp in a draw between two large land masses, there was a constant breeze. Whether it was the chill in the air or the constant wind we just counted our blessings and sat up by the fire for our last night out. The professor and I made it a plan to be up before sunrise and out in the Cache Bay side fishing for smallies.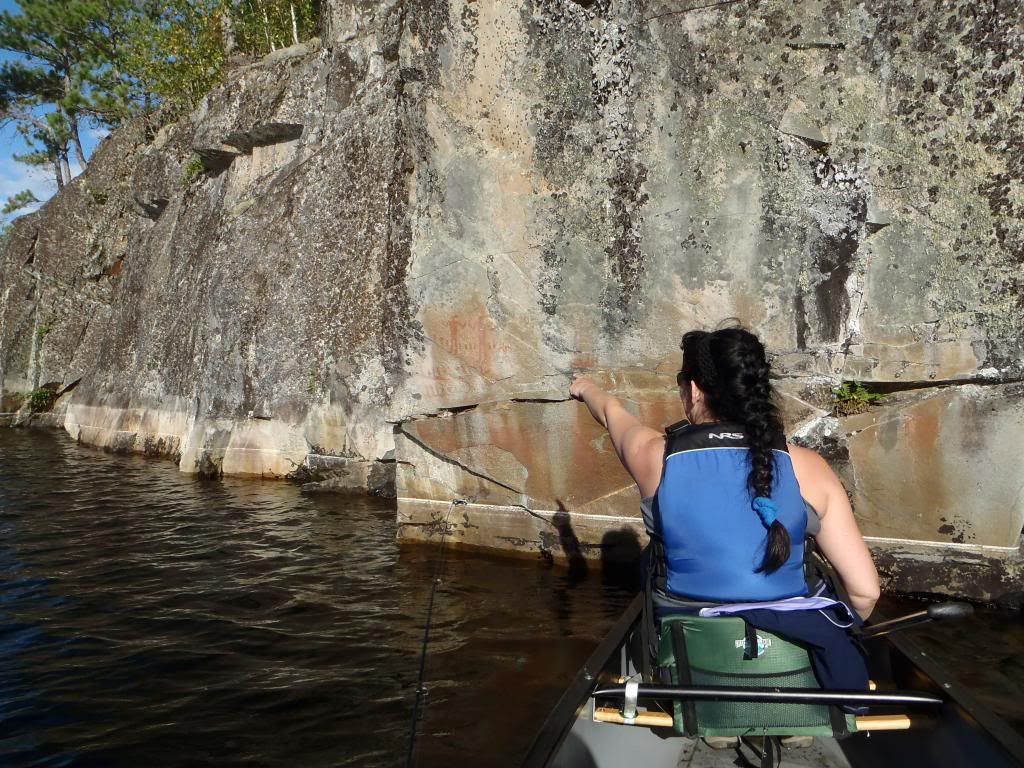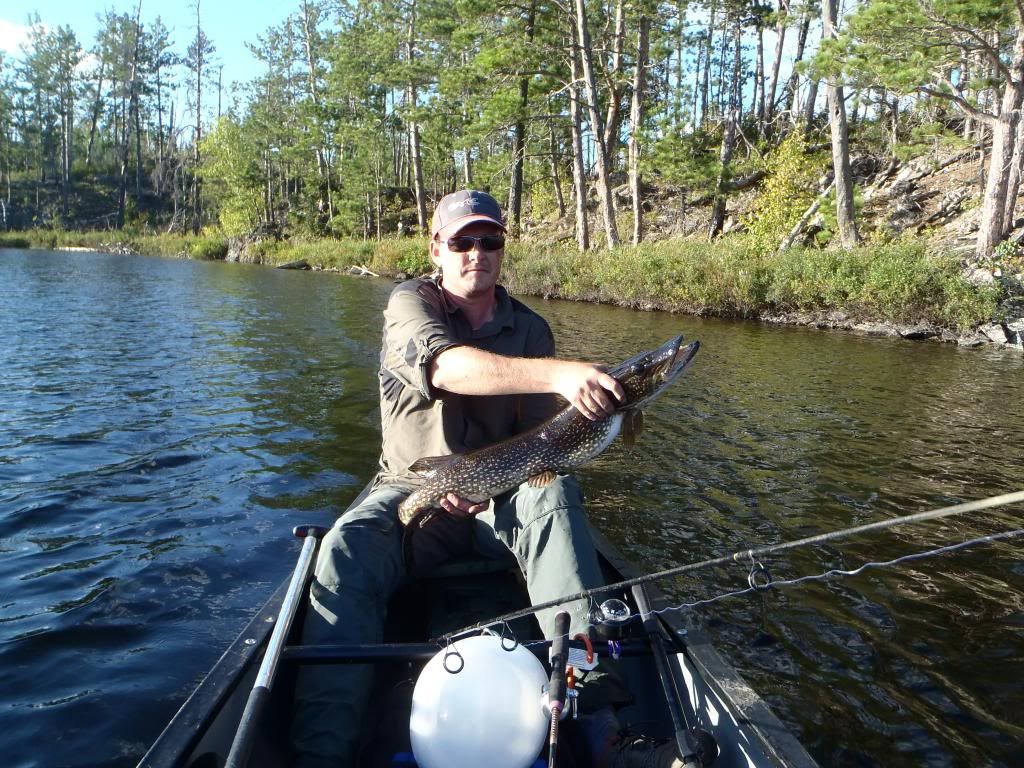 More Day 3 Photos: http://s781.photobucket.com/user/FishinCricket/slideshow/2013-%20Roughing%20it%20in%20Quetico/Day%203-%20Cache%20Bay%20and%20the%20Pictographs
Day Four
4:50 am is not my favorite time of day, even if I am going fishing. No one believes me when I say that, but it's true. The saving grace for this day was the Professors camp coffee. We had attempted to instant coffee we had brought the day before but it definitely lacked the punch and the flavor of the boiled up sludge that we'd be making on the camp stove. I decided right then that I need to invest in a quality camp cooking setup complete with percolator, though I was getting very good at pouring a cup without any grounds in it. We left camp as quietly as possible and decided to head out to the rick piles on the Cache bay side. We weren't having much luck when all of the sudden we see coming towards us chasing a pack of water bugs on the surface, it's a pretty fat little smallie and he's giving those water bugs hell! Luckily I had left the fly rod rigged with a Sneaky Pete and he fell for it immediately! Smallies on a fly rod are such a blast!! Being less than a mile from an outhouse proved too tempting of a societal treat for us and we packed camp early and headed out for the rangers station which was halfway between us and our 10am hook island appointment. Janice saw us off kindly after we ruined her facilities and with the wind at our backs we were pulling into Hook Island at exactly 10 am, right on time. On the way home I accidentally absconded with the Fisher map of the BWCA, maybe I should start planning my next trip now?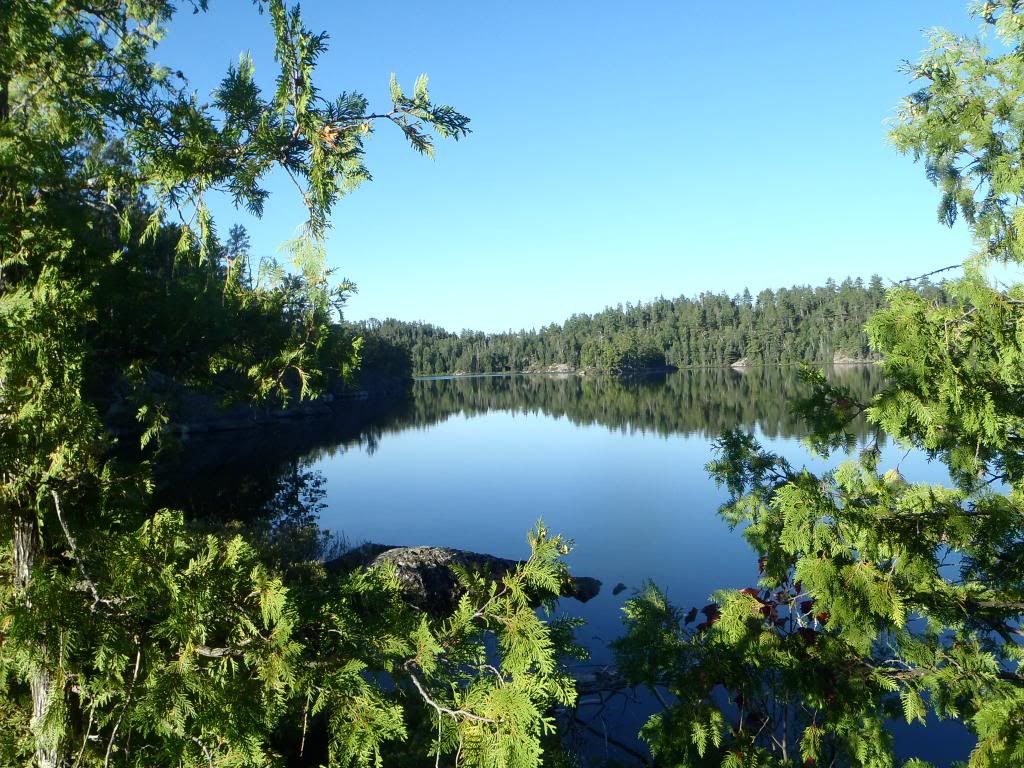 More Day 4 Photos: http://s781.photobucket.com/user/FishinCricket/slideshow/2013-%20Roughing%20it%20in%20Quetico/Day%204-%20Packing%20Camp%20and%20the%20trip%20stateside
Planning Links
Featured Sponsor