A Quick Little Fall Adventure, Part 2. A Man's Best Friend and His Wife.
by Kiporby
Trip Type: Paddling Canoe
Entry Point: Missing Link Lake (EP 51)
Exit Point: Seagull Lake (EP 54)
Trip Introduction:
The wife and I decided that a Fall trip to the BWCA was just what we needed for a quick weekend getaway from our busy lives at home. I had been on a canoe trip in the Fall only once before and loved the weather and the colors and couldn't wait to experience that again and share it with Lisa. Plus, we wanted the opportunity to take a canoe trip with just us. Joining us with be our pooch, Molly. She had been on a Fall trip with me back in 2010 and also a family canoe trip in the summer of 2012. New for her this year would be a life vest we purchased from Ruff Wear. Not only did this bring us peace of mind for Molly's safety, it also had a calming effect on her when she wore it. A trip report note: The maps were made using TOPO North America from Delorme. The GPS tracks were saved during the trip using Delorme's PN-60w and then imported to the map program at home.
Friday, September 27, 2013
Round, Missing Link, Tuscarora. 3.2 miles.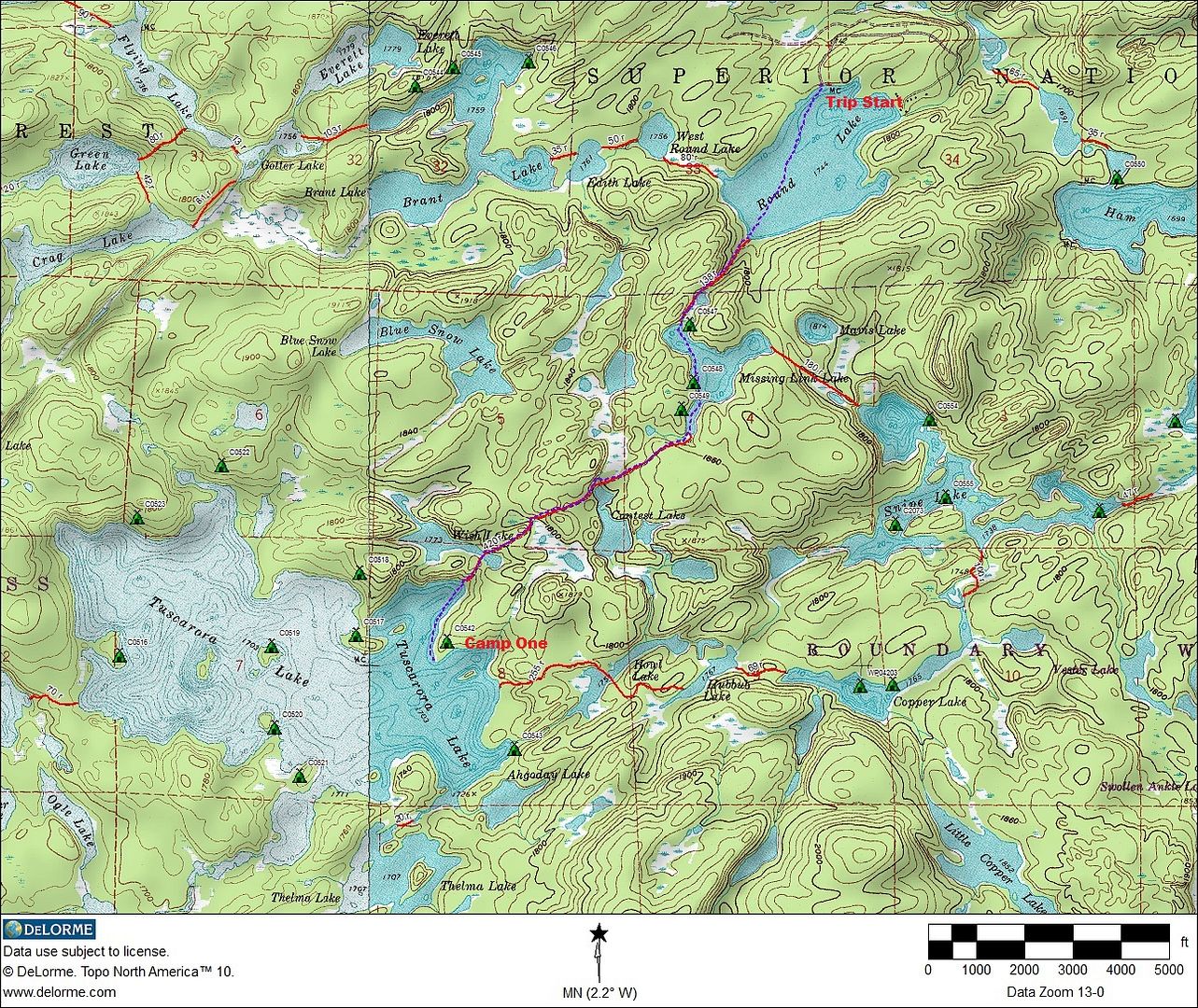 We arrived at Seagull Outfitters around 2pm after a 9 hour drive from our home near Milwaukee, WI. The colors were just starting the change along most of the drive, but once we reached the top of the hill above Grand Maris the colors were at peak. Beautiful!
After a quick gear move from our vehicle to the shuttle, we were on our way back down the Gunflint Trail to the Round Lake launch. There was a pretty good wind blowing on Round Lake, but that was of little concern since most of our trek today would involve portaging instead of paddling. We left the dock around 4pm and realized we needed to make haste if we were to get to Tuscarora Lake before the sunset at 6pm.
The 138 rod portage from Round Lake to Missing Link Lake is a steady climb up hill. This portage always seems to be a bit muddy in the spots where it isn't rocky. During the short paddle across Missing Link we did ponder the notion of camping here tonight, but decided that we'd rather put the 420 rod "Tusky" portage behind us today, than deal with it tomorrow even if it meant setting up camp in the dark. Plus, the campsites on Tuscarora Lake are generally nicer than the ones on Missing Link.
My wife had only done a few portages before in her life, so it would be interesting to see how she would handle the "Tusky". My previous experience on this portage was not a fond memory as it was on this portage a few years back that my portage yoke snapped about mid portage. Well, we both made it across without any issues and neither of us needed to stop for a break. I surprised myself by carrying the canoe the entire length without stopping. I asked Lisa what she thought as we paddled away on Tuscarora Lake and she commented, "That was a nice walk in the woods." I just smiled to myself at the realization that we'd be taking many more trips in the years to come with that attitude! Even our dog Molly seemed to enjoy the long walk. She took turns running back and forth between Lisa and I to make sure we didn't get "lost". Our dog is 1/2 border collie, so herding her masters comes natural to her.
Well, we reached Tuscarora Lake around 6pm as the sun was setting. We picked a really nice camp on the left point that I had stayed on before in 2010 with my daughter. It was very windy as a storm seemed to be blowing in. However, the result of the clouds rolling in was a wonderful view. We made dinner in the dark and hit the sack early. We were pretty wiped out after a long drive and that long portage.
Planning Links
Featured Sponsor