A Paddling Partner for Life, Part 6. The Quetico!
by Kiporby
Trip Type: Paddling Canoe
Entry & Exit Point: Quetico
Trip Introduction:
For my daughter's tenth canoe trip to the Boundary Waters, I wanted to plan something special, so a trip to the Quetico was decided upon. I picked a familiar area to explore (Cache Bay and Saganagons) and made arrangements with our trusted friends at Seagull Outfitters to handle our tow and bunk.
Monday, August 19, 2013
Saganaga (Cache Bay). 11.3 miles (6.8 mile tow, 4.5 mile paddle)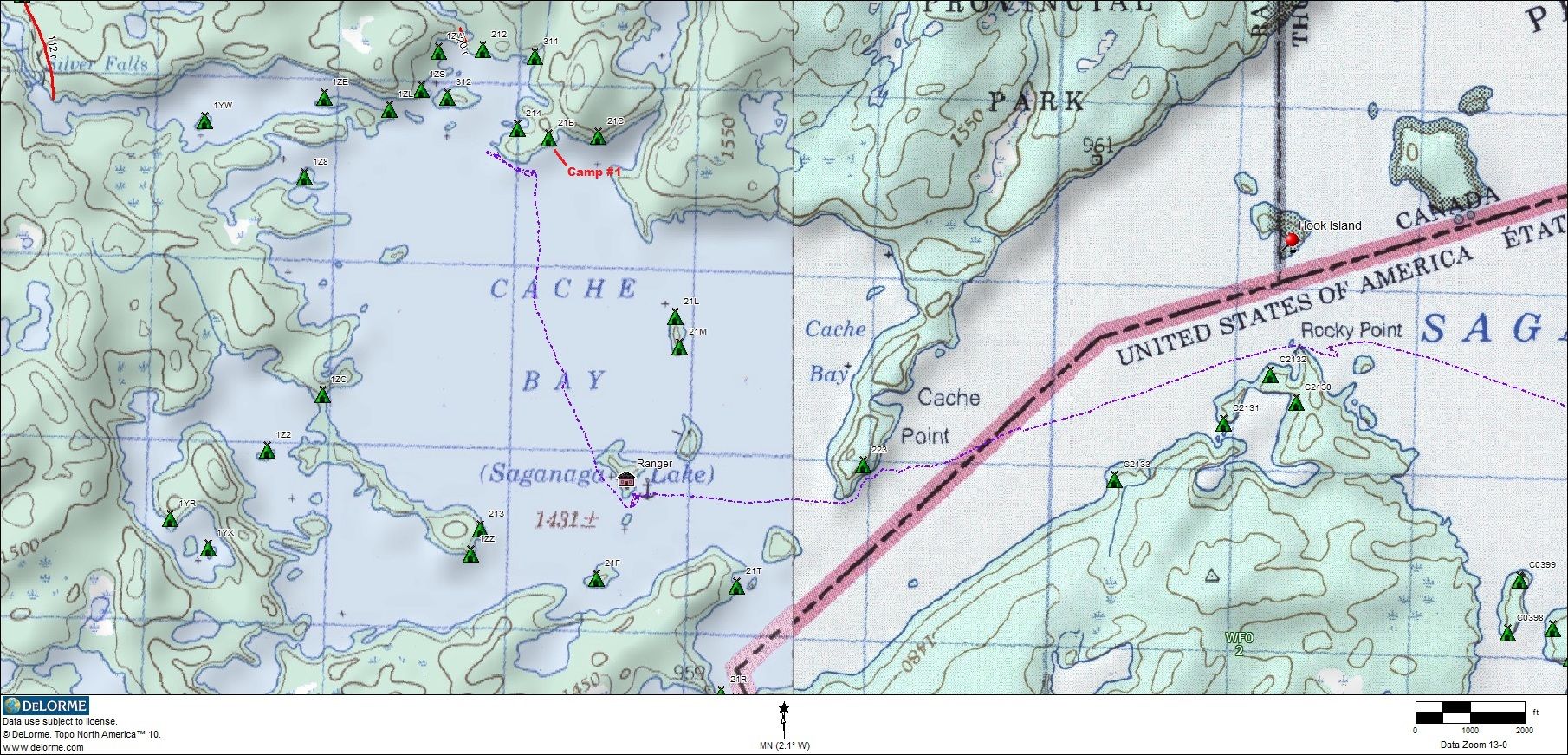 On past trips after the long drive up to the Gunflint Trail, we have dinner at Trail Center and stay the night in Seagull's bunkhouse. But given that we had a short window to complete this trip, we decided to "dump in" as soon as we arrived. After a short greeting with Debbie and her crew we transferred our gear and canoe to the outfitter's trailer and embarked on the short drive up the trail to the Saganaga Lake landing where the tow boat awaited.
Usually the tow boat drops you off on the beach on Hook Island, but because Saganaga was dead calm the tow driver asked me if we wanted to try getting dropped of in the water. Feeling adventurous, we decided to try it, so we were dropped into middle of the water off of Rocky Point near American point. This would save us about a mile of paddling since Rocky Point is a bit closer to the ranger station than Hook Island is.
We made quick work getting the canoe loaded in the water and soon we were off paddling towards the ranger station to check in with Janice. Usually Janice is the talkative one from my previous experiences with her, but she hadn't met Lauren before. Well, after many questions about wolves, bears, and the ranger cabin from the kid I think Janice was at a loss of words for a change. LOL!
We then paddled north from the ranger cabin to find a campsite on the far shore of Cache Bay. We settled on an elevated campsite on a point with grand views of Cache Bay. The only drawback of the site was that is it rather sloped, but it did have a nice fire pit.
After a fine dinner of brats over the fire we spent the rest of the evening lazily paddling and fishing while enjoying a glorious sunset.
Planning Links
Featured Sponsor