Trip Type: Paddling Canoe
Entry & Exit Point: Quetico
Prologue: After a great trip to Woodland Caribou last year, Quetico was back on the agenda for 2014. The group had a new addition this year: Brian's 72 year old father, Bill, who had been on some BWCA trips before. I've known Bill nearly all my life, and know that he loves to fish. In 2008, we had tripped into Poohbah and Wink Lakes, but spent most of the week pinned down by very crummy weather (big storms, cold temps, and rain, all with a dose of heavy wind). As such, we felt like we never got to give Poohbah a thorough exploration, and we wanted to go back there some day. We decided that 2014 was the year. This was our first trip without having any canoe rentals, as Brian and Brett have their own, and Steve and I had purchased a used Spirit II from Fenske Lake cabins on the Echo Trail. We picked the boat up on the way, and hastily strapped the boat to the trailer, while swatting at a very thick horde of mosquitos that had taken a liking to us. Fully loaded, we travelled the gravel road of the Echo Trail to its end, and stopped for dinner at Sportsman's. After loading up on pizza, we pushed on to the Pine Ridge Motel, our home for the night.
Day 1: Up early to check in with Mark Anderson, and we had been given the first tow out in the morning (7:00am). We loaded up our shuttle boat without incident, and the six of us were sharing a ride with an engaged couple from Indiana.
[URL=http://s75.photobucket.com/user/MadBirdman/media/Quetico%202014/IMG_0893_zpsc22d5b95.jpg.html]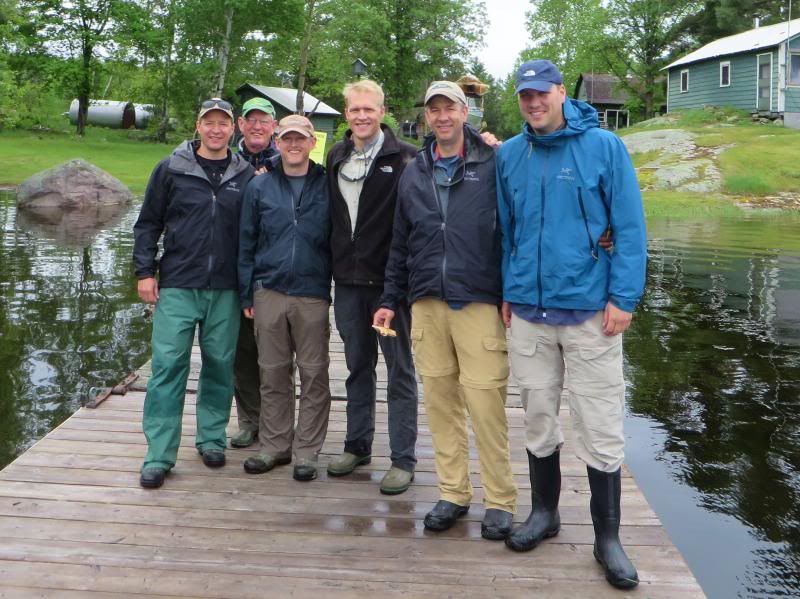 [/URL]
We made it through customs, the two mechanical portages, and the Quetico Ranger station fairly quickly, and were dropped off at the floating dock near Bell Island. Two groups were being picked up as we were embarking, and it was great to see Arne Olson, an old friend of mine from home in one of the groups. They told us about good fishing and very high water, and with some very rainy conditions (it had rained 4" during a 2-day stretch when they were in the park). When they heard our route, they wished us "good luck paddling up the Maligne". This bit of foreshadowing was not lost on me, but we loaded up and had our paddles in the water by 10:15am. Twin Falls was really humming that morning, as we expected. As we loaded up after the portage around it, I knew were coming up to test #1 of our new boat, new canoe partners, and new group member. The pinch point above Twin Falls has been dicey for us before, and this was the highest water that I had seen in our two previous trips up the Maligne. With a good line and some fast paddling, we made it up the swift and I could finally enjoy what an ideal day we had to paddle: calm, a bit overcast, and cool. The Maligne was bloated up over its banks in most places. We hit Tanner Rapids just before Noon, and we were way ahead of the schedule we were on in 2008. Lunch was a welcome break just before we entered Poohbah Creek, and as we munched on summer sausage, cheese, and tortillas, the sun started to break through a bit.
[URL=http://s75.photobucket.com/user/MadBirdman/media/Quetico%202014/quetico2014014_zps5bc72b50.jpg.html]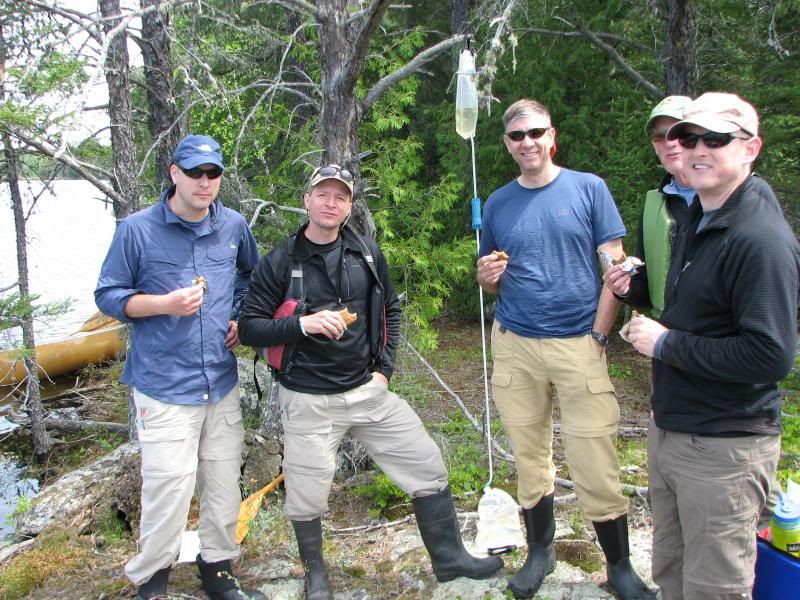 [/URL]
Poohbah Creek was pretty full as well, and the third portage was flooded, making a short put-in and paddle necessary to get to the final half of it necessary. We lined our canoes up a short rapids after that, which was trickier than I had remembered, but were glad to know that portaging was behind us for a few days. We were in Poohbah lake itself just before 4pm, but my shoulders were a bit out of shape and we were starting to feel the burn of a day paddling upcurrent. A couple of us rigged up our fishing rods to troll across Poohbah towards a camp that we had researched in the south central part of the lake near the first of the Memory Lane portages. Brian and Greg reached the site first, and went on shore to check it out, while we fished the area. On Brett's very first cast of the trip, his rod doubled over and his drag started peeling out. After a 10 minute fight, he ran into this guy, who stretched the tape to just a hair over 47".
[URL=http://s75.photobucket.com/user/MadBirdman/media/Quetico%202014/IMG_0898_zpsb9833c65.jpg.html]


[/URL]
What a great start to a trip! Could this be the start of an epic fishing trip, or would it just go downhill from here? Since we were together, I could take those pictures from my boat, and we were able to release the fish quickly. We checked out the site, and found that it would likely be fairly buggy, since it was low to the water and did not have much western exposure to the prevailing winds. The northern half of the island had evidently been struck by lightning a couple of years ago, and was still in various stages of regrowth. We saw an island just to the south of it that had mature pines and the advantage of being fairly elevated, which we considered a big plus after the mosquitos we encountered on the portages. The canoe landing is terrible, especially for three boats, but once ashore, we saw it had nice views in three directions. We set up camp, and were hoping that the fishing would be enough to keep us here for at least three nights. We heard sounds of a group of people talking, and were surprised when three large six-man canoes paddled around the corner. One of the boats camped at the site we had just checked out, while the other two moved north out of view. After a snack, we headed out to fish, and we picked up a few walleyes, and this nice laker, caught with a crankbait just off a dropoff near camp.
[URL=http://s75.photobucket.com/user/MadBirdman/media/Quetico%202014/IMG_0900_zps7d26eded.jpg.html]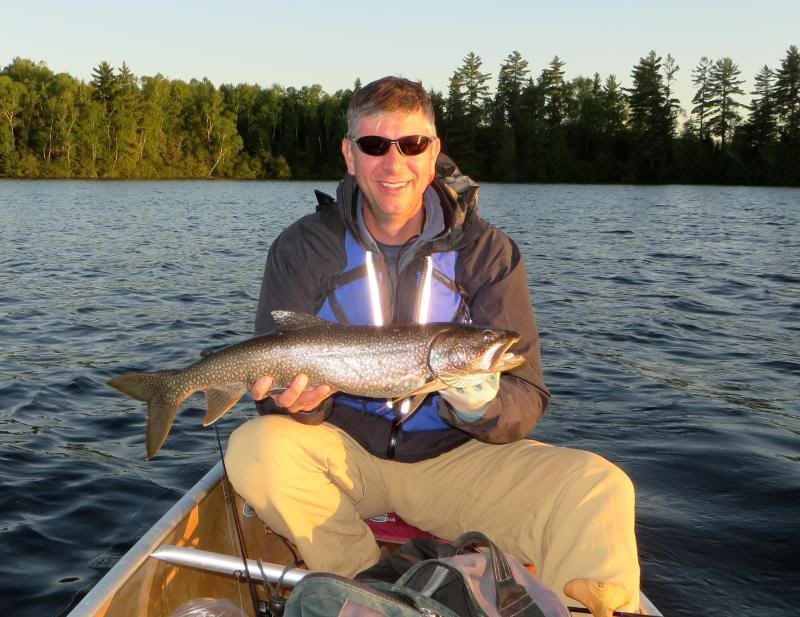 [/URL]
After heading in, we enjoyed our night 1 Boboli pizzas, with pepperoni, mozzarella, sundried tomatoes and Italian sausage. A great first day in God's country was capped off by a sighting of the northern lights, which glowed and glimmered until the brightness of the moon (and our fatigue) led us to the tents.