S Chain (Quetico) trip - September 7-13
by VoyageurNorth
Trip Type: Paddling Canoe
Entry & Exit Point: Quetico
Trip Introduction:
The "S" Chain North of the Moose Lake Chain in the Quetico is an area nicknamed, "The S Chain". It is a series of lakes in between Agnes Lake and Kahshahpiwi Lake and all begin with the letter "s". All that is except for Noon Lake, which doesn't seem to fit in with the rest; South, Shade, Summer, Sultry, Silence. Short, fairly easy portages connect all these small lakes. Lynn and I started our fall trip a little earlier than usual this September. Our manager, Kevin Marolt, was scheduled to become a new daddy on September 18th, so we had to be back in time. We planned to leave September 7th and come back on the 13th. We set up our tow for Thursday morning at 8:00 a.m.
Wednesday, September 07, 2005
Day One - That morning I took our Nalgene bottles out of the freezer and brought them with us. The night before I had filled them up with water. We drove out to Vosburgh's on Moose Lake and met Paul Riegert who does the tows for them. After loading up the towboat we took the 20 minute ride to Prairie Portage, located on the southern end of Ontario's Quetico Provincial Park. Lynn took the food barrel down first and then went over to the Ranger Station to pick up our camping permit.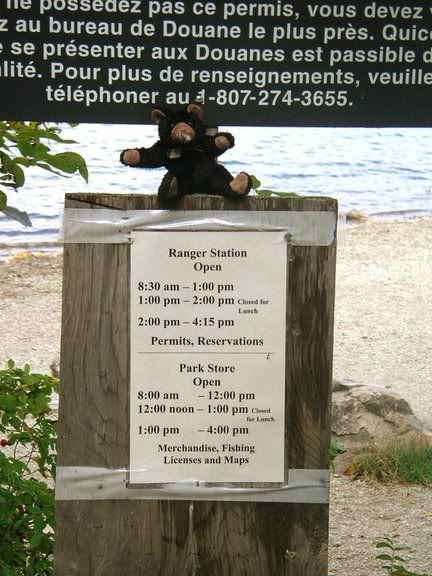 Meanwhile I took the rest of the equipment over the portage. When I was done, Lynn was still waiting in line, so I took her place. I paid the overnight camping fees ($15.00 per person per night) and also paid for two 7-day conservation fishing licenses ($25.00 each). Lynn talked to the ranger about going over the rules & special booklet they have on our way out on the 13th. (this orientation would let us do the same thing at VNO for our Quetico bound customers so they can get through the Ranger Station quicker). A time was set up and then we were on our way.
We paddled through Inlet Bay, to Basswood Lake and then to the Burke Lake portage. The portage starts off on a big sandy beach and ends up on a nice sandy beach with a flat, sandy 84 rod portage in between the two lakes. One of the easiest portages we have ever done!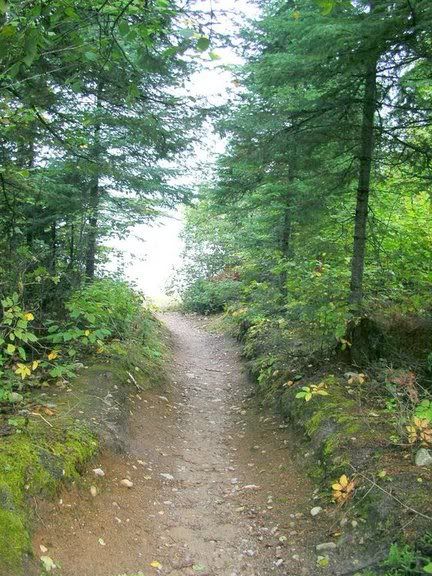 Burke Lake is very pretty with clear water that gives you a view 20 feet down. We paddled north to a 16 rod portage which led to a creek which we took for about a half mile until the water got too low to continue. We had to get out and walk for about 100 feet. The creek had a nice firm, sandy bottom. The next portage is about 45 rods and leads to North Bay.
We paddled northeast towards a grassy creek. We had to look hard for the entry into the creek, it was sort of camouflaged by the reeds in the lake, but when we finally got right in front of the opening we spotted it. I mentioned to Lynn that we had other customers who had difficulty finding it too. We had to push and walk to canoe for a short while until we hit the beaver dam. After the dam it was easy going to the 14 rod portage to South Lake, then the 12 rod trail into West Lake and the short 4 rod portage into Shade Lake.
We found a nice campsite on a big point on Shade Lake.
This is a very pretty lake with lake trout, smallmouth bass, walleye and some Indian pictographs on the north side of the lake. It also has a number of campsites on it. Kahshahpiwi Lake is just southeast from here. After a nice dinner we cleaned up and took it easy. I discovered that there was still a little ice left in my Nalgene bottle and Lynn's bottle which had been left in the food barrel, was still half ice.