Wyoming Paddlers' Adventure
by wyopaddler
Trip Type: Paddling Canoe
Day 1, Tuesday August 6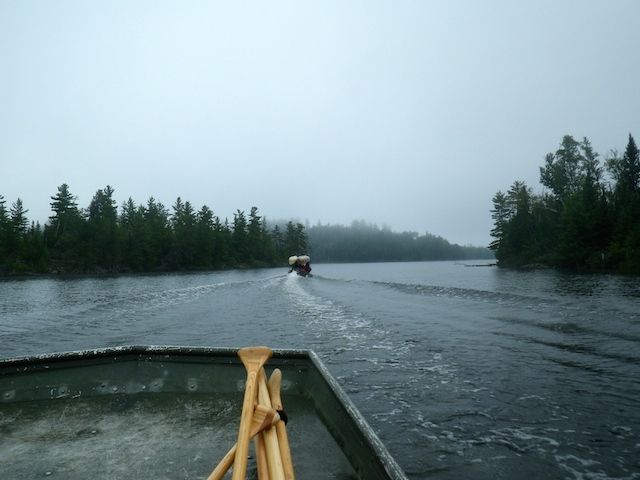 The alarm rang at 5am and less than an hour later we were consuming a breakfast of eggs and insanely large pancakes at Brittons. By 7 o'clock we loaded the boats for our misty tow across Moose Lake to Prairie Portage where we were welcomed into Canada with no waiting.
We quickly built and loaded the boats, portaged, and pushed off mid-morning into clearing skies onto Sucker Lake with Sammy paddling the single, Zach and Ryan teaming up together, leaving the old married couples rounding out our regatta. The portage into Carp Lake was VERY crowded with groups ahead of us and others returning to the Birch Lake side. Boats and bags passed each other on the trail with brief nods of "hi" and "how ya doin." We loaded up on the other side and pushed off and paddled away from the hoards, a loon mama and babies greeting us as we paddled to a lunch break on a small rocky peninsula.


Mark caught the first bass of the trip (small) with Ryan grinning just behind with a "super sized" version of his dad's catch.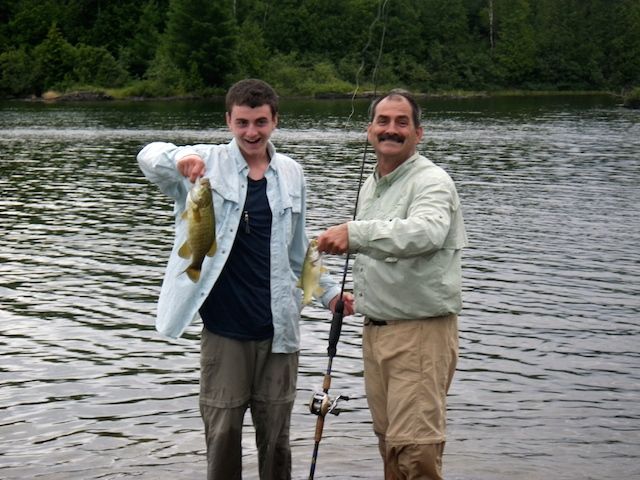 It rained off and on throughout the afternoon, many pike and bass were caught and released as we paddled to a wet, cramped camp on a small peninsula not far from the entrance to Crawford Lake. We quickly set up camp and as part of the teamed napped, Mark and Tony went out fishing in the narrows in front of camp catching many fish (pike and bass).


Later we made a quick but successful dinner of curried rice while the rain dripped around us. The evening's entertainment was provided by an eagle nesting across the narrows with its baby as well as a couple of neighborhood turtles in the shallows. After an insect free day, the mosquitoes arrived in full force at dusk (8:21pm to be exact) and nearly sucked us dry of blood. We rapidly retreated to the tents and were trapped there until morning by their incessant hum.