Steve and Steve's Boundary Waters Odyssey
by boonie
Trip Type: Paddling Canoe
Entry Point: Kawishiwi Lake (EP 37)
Exit Point: Sawbill Lake (EP 38)
The Trip: Saturday morning dawned dark, cool, and breezy. We drove from Steve's to Kawishiwi Lake through intermittent showers. Thor had hammered down the dark roof of the world until we had to duck our heads as we hurriedly prepared to embark on our journey. We launched at 9:30 and headed up the west side of Kawishiwi Lake for protection from the winds. Unbeknownst to us the Maymaygwayshi were up their devilish tricks and we found ourselves befuddled in the Kawishiwi Triangle. We escaped their evil maze just in the nick of time and avoided an eternity in limbo as we continued into the Kawishiwi River. [URL=http://s1229.photobucket.com/user/steveboone/media/BWCA%202014/P1010428_zps386192e2.jpg.html]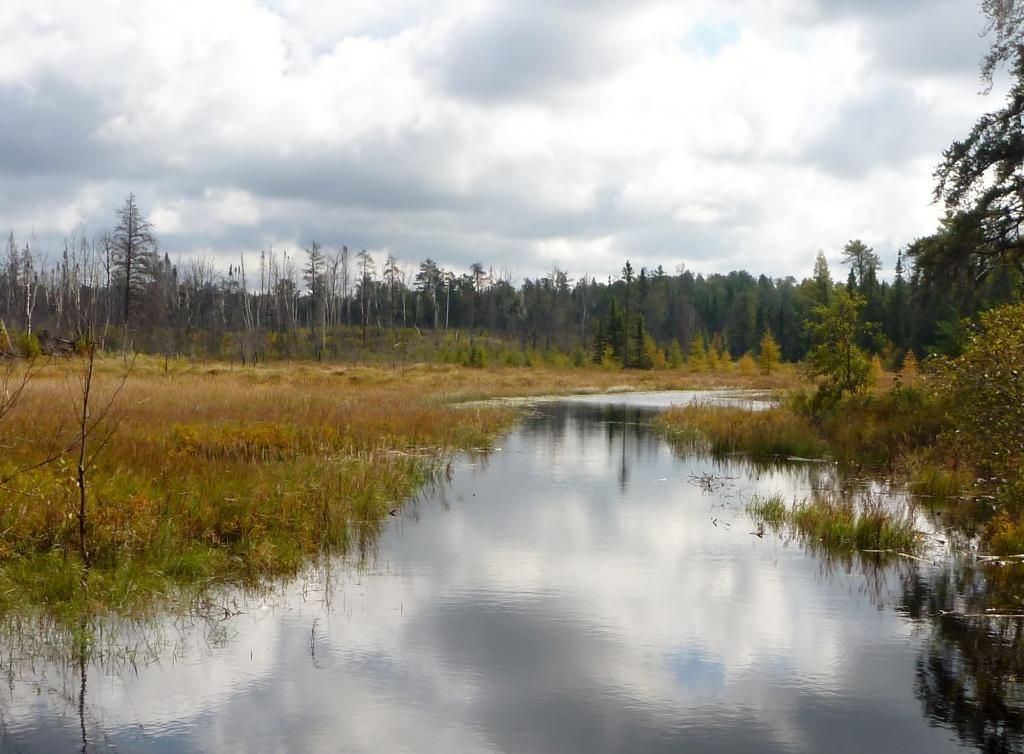 [/URL] We paddled and portaged through the edge of the Pagami Creek Wildfire where the black skeletons of burned trees amidst the lush regeneration of the flowers and grasses watched us with their dead eyes. [URL=http://s1229.photobucket.com/user/steveboone/media/BWCA%202014/P1010437_zps7c6614a6.jpg.html]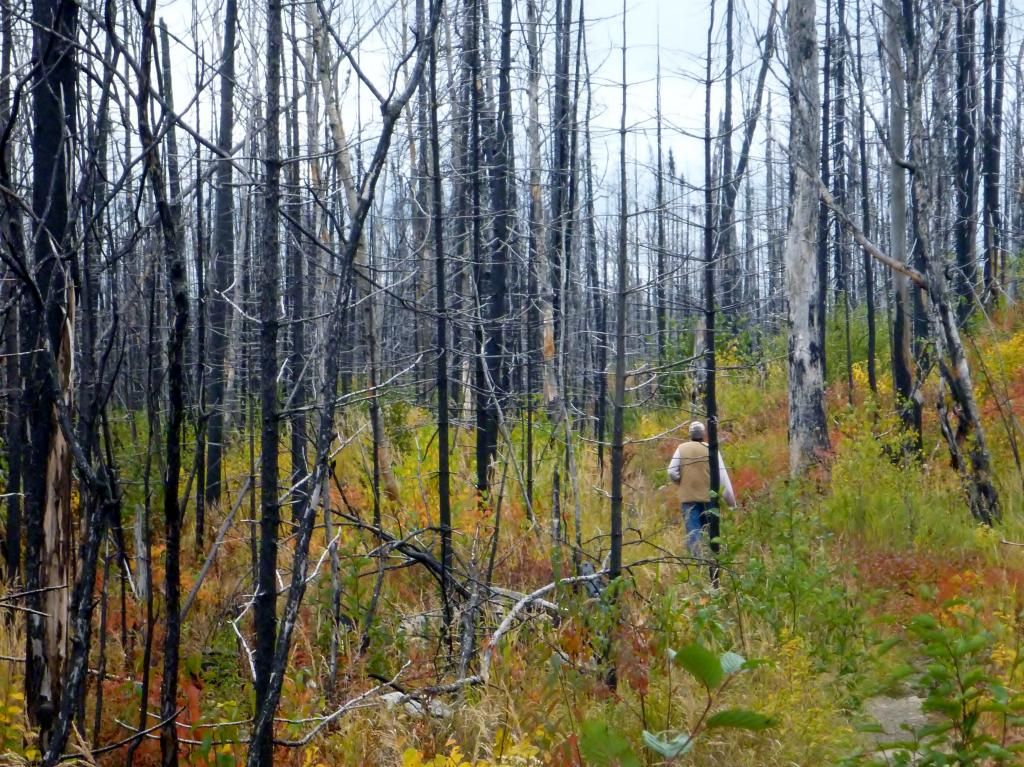 [/URL] We made our way through Square, Kawasachong, and Townline Lakes without any further difficulty and reached Lake Polly in mid-afternoon. Polly was a beehive of activity as we made our way towards the north end of the lake. We were tired from the day's travels when we reached the northwest campsite (#1072) and found it unoccupied. We immediately unloaded the canoe, carried the packs up, checked out the latrine, and found a suitable tent pad. Only then did we wander over to the fire grate and find a sign saying the campsite was closed. It was another trick of the Maymaygwayshi who continued to bedevil us today. We wearily reloaded the canoe and paddled to the nearby island campsite. It was empty and finding no sign of evil spirits, we immediately claimed it as ours for the night. We quickly made camp, fixed our dinners, and ate our meager rations of food with relish after the day's exertions, and quickly hung the small amount of food which did not fit in the bear canister. It was nearly dark when we completed the task. It was decision time: Do we take the Phoebe River and the Lady Chain route or continue north to Little Saganaga? The northern route was longer, with more travel and some long, difficult portages. We had also been warned that a couple of them were flooded in places, but the forecast was for improving weather continuing through the following weekend. If the forecast held we'd have time for the long loop. Little Saganaga's sirens were calling our names and we were soon in the tent with our dreams of the pleasures of Little Saganaga. The fateful decision to continue north was made. . .
We headed north from Lake Polly under an overcast sky Sunday morning. A pair of single-portaging trippers caught us around mid-morning and we allowed them to pass. They were nowhere to be seen when we reached Koma Lake. We were alone. We had entered another realm. . . The clouds disappeared and it became sunny and warmer. We traveled smoothly through Malberg Lake and onto the Kawishiwi River. A benevolent spirit seemed to be watching over us. The portages to Kivaniva Lake and Anit Lake were less used and more overgrown, but not difficult. We had been warned that the Anit to Pan portage was partially flooded. We had not gone far when it disappeared into flooded brush and trees near a beaver dam. We peered around the corner to the left through a tunnel of pine trees and spied the portage rising from the dark waters about 50 yards away. [URL=http://s1229.photobucket.com/user/steveboone/media/BWCA%202014/P1010446_zps5a6ad315.jpg.html]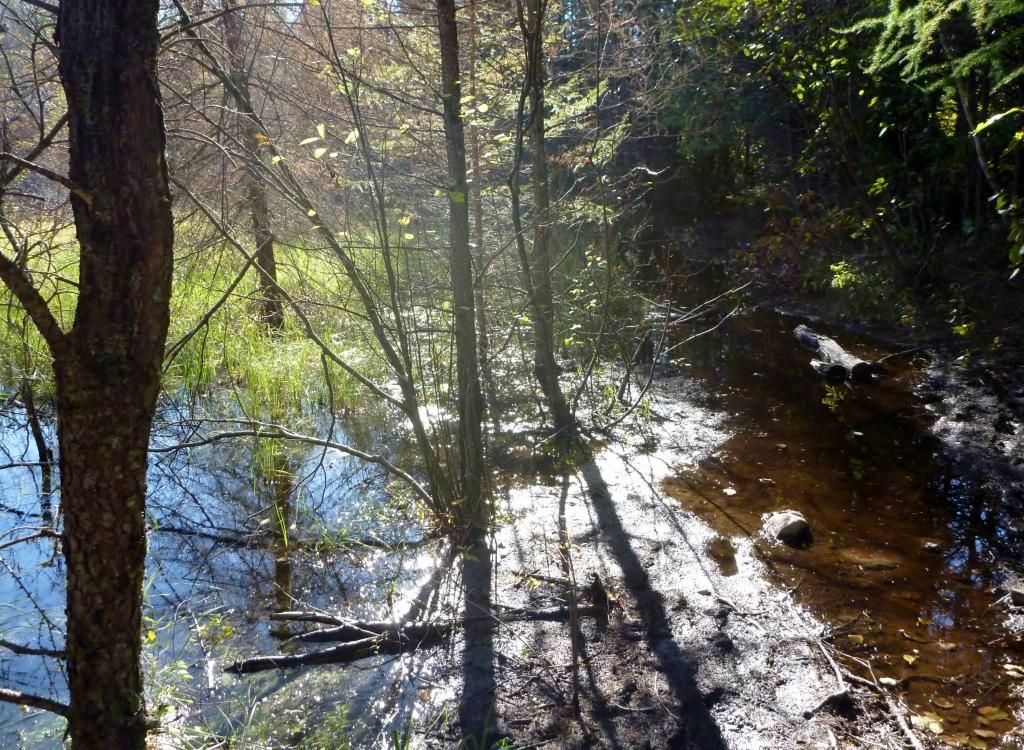 [/URL] We reloaded the canoe and we paddled, and we poled, and we pulled our way through the passage to the other side. We scouted the way forward while carrying our packs on the first trip. We returned for the canoe and carried it to the end by bushwhacking, wading, and slogging through the mud. [URL=http://s1229.photobucket.com/user/steveboone/media/BWCA%202014/P1010445_zps6fa44e06.jpg.html]


[/URL] We took the northeast camp on Pan Lake, which was a nice site. Here, although we did not know it at the time, we came face to face with the benevolent spirit watching over us. The Wizard appeared in the guise of a snowshoe hare hopping placidly about the campsite. We had no sooner become accustomed to his presence than he mysteriously disappeared, never to be seen again, although his protective spirit traveled with us for the remainder of our journey. . . Monday morning was cool and sunny when we left. We located the portage landing to Panhandle Lake north of where the map indicated. Two trails diverged from here and Steve scouted the one running east along the shore. He returned shortly and reported that it became less used the farther he went. We took the path more traveled and that made all the difference. It was quite warm by this time and I had begun to overheat, so I shed some clothing. It was windy off and on today, but not problematic. We reached Little Saganaga by early afternoon and took the camp (#812) on the narrow western peninsula which extends from Vierge Lake. It was a nice, elevated site with a picturesque view. [URL=http://s1229.photobucket.com/user/steveboone/media/BWCA%202014/P1010461_zpsf9b6dcdf.jpg.html]


[/URL]
The unaccustomed exertions of our travel, abetted by inadequate hydration, were accumulating in our bodies. We were fatigued and needed the layover day we had planned for Little Sag. We both realized we were dehydrated. We filtered water and began drinking in earnest while we set up camp. We festooned the trees and bushes with our wet socks and dirty clothes. We filtered more water and drank it. We slept soundly.
We rested on the fourth day. It was a beautiful Indian summer day on Little Saganaga and we were serenaded by loons as we relaxed. We explored the area around camp, dried clothes, drank water, and took pictures. We listened to the weather radio and the report was still good. We studied the maps and the route plan. We were halfway through the trip and planned to spend the final night on Kelso Lake with an easy paddle out on Saturday morning. Twenty one miles of travel lay between here and Kelso Lake - half of those on portages. Two of the portages would be long and hard and there were few campsites between Little Saganaga and Kelso Lake. [URL=http://s1229.photobucket.com/user/steveboone/media/BWCA%202014/P1010460_zps98f2723f.jpg.html]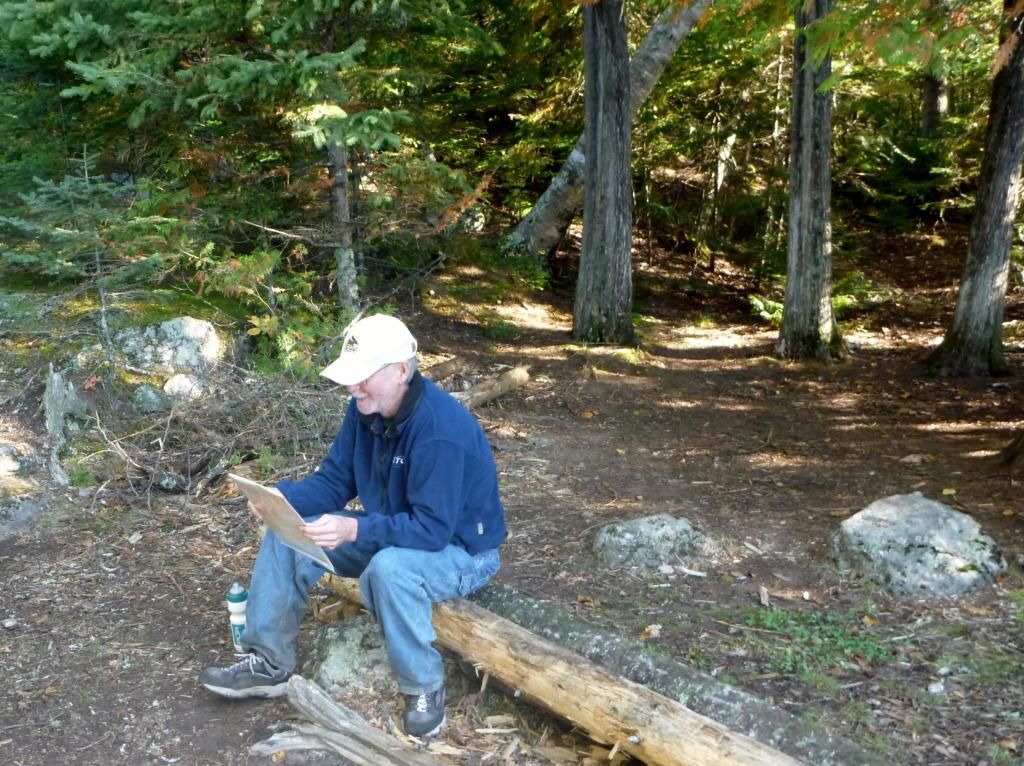 [/URL] The 300-rod portage from Fente to Hub gains 120 feet in the first quarter of that distance and gradually descends 40 feet over the remaining distance. The 460-rod Zenith to Lujenida portage gains 100 feet fairly quickly and has a couple of other short steep ups and downs in the first half. A portion of this portage near the end was reported as flooded. Tomorrow would be the longest travel day, but most of that would be paddling after our day of rest. We would finish with the Fente-Hub portage and camp on Hub. The following day we would continue on to Zenith and camp there before tackling the Zenith-Lujenida portage first thing the following morning. We would continue into the Kelso River from Lujenida Lake and take one of the campsites in the north end of that lake. The exit at Sawbill Lake on Saturday would involve one short portage and a few miles of paddling. It was a good plan, but the best plans of mice and men go oft astray… We retired to the tent early since we planned an early start tomorrow. The die was cast. . .
Wednesday morning there was a rainbow in the western sky. [URL=http://s1229.photobucket.com/user/steveboone/media/BWCA%202014/P1010487_zps9b64dc72.jpg.html]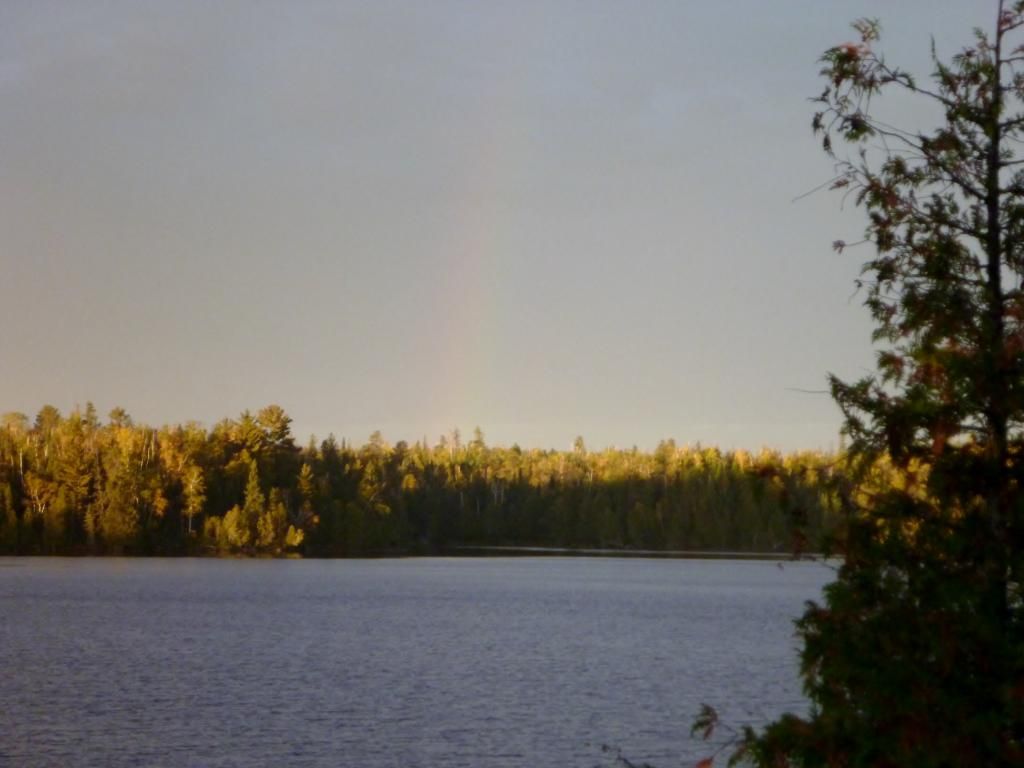 [/URL] It seemed like a herald of fair weather, but the sky was dark with clouds ushered in on the wind when we headed southeast across Little Saganaga and ducked between some islands for shelter. [URL=http://s1229.photobucket.com/user/steveboone/media/BWCA%202014/P1010491_zpscaa1e73b.jpg.html]


[/URL] Steve guided us across the lake to the portage to Mora. The clouds had blown on through as quickly as they blew in and the sun was out. The Wizard was undoubtedly somewhere nearby. The portage to Mora was a beautiful one – a smaller version of the lovely middle portage between Mudro and Fourtown. The Wizard made sunbeams dance with the water in the narrow gorge. [URL=http://s1229.photobucket.com/user/steveboone/media/BWCA%202014/P1010499_zpsc9a40073.jpg.html]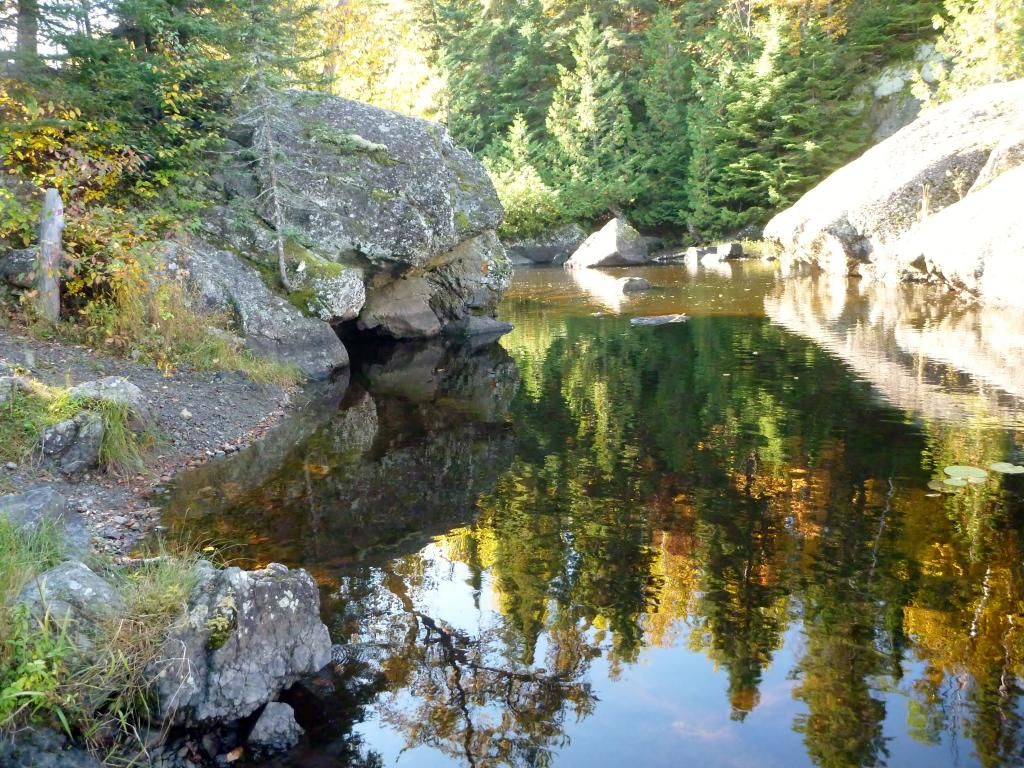 [/URL] We briefly debated going through Time Lake to Whipped Lake, but were afraid we might end up in Eternity, so we paddled on around Mora and took the 100-rod portage. We were soon paddling down Whipped Lake and as we approached the lone campsite there, a bear was swimming across the lake from that direction. The small, black bear turned around, swam back to the campsite, and disappeared before I could shoot him with my camera. We continued paddling across Whipped and portaged into Fente. We were nearing the bay where the portage to Hub begins when I looked up and was surprised to see paddlers approaching from the other direction. The first we had seen since mid-morning Sunday between Polly and Koma! What were they doing here? He had talked his girlfriend into her first Boundary Waters trip and they had come across the Frost River in September! Yes, it was "doable", but there were a lot of beaver dams! He double portaged, she single portaged. She waited patiently for his return. He appeared tired, but moved along briskly while we plodded across the portage. He was considerably younger though and lacked the wisdom of his elders. He did not wait for us to impart the wisdom of our maturity, but hurried blithely on so as to smell the roses before we did. Ah well, impetuous youth. . . Hub Lake is 80 feet higher than Fente Lake and the portage quickly climbs 120 feet in the first quarter before gradually descending to Hub. Steve had the canoe for the first trip and I followed him with the "big green" pack. We huffed and we puffed. And we huffed and puffed some more. We climbed slowly but steadily up the hill and we had nearly topped out on the plateau there when dark spirits caused branches along the overgrown portage to knocked Steve's glasses off. He couldn't see them and was afraid to move for fear of stepping on them. I took the canoe from him and he found his glasses, but . . . He was engaged in a fierce struggle with dark forces; his face was red and he was breathing heavily. I told him to rest while I carried "big green" and the canoe as far as I could. I didn't get very far with "big green" and the canoe before I decided to put the canoe down and come back for it later. After I got the canoe across, I went back for my second pack. It wasn't as heavy and I made fairly quick work of carrying it across. In the meantime Steve had defeated the dark force and gone back for his pack and carried it up the hill and across to Hub, but the Maymaygwayshi weren't done creating mayhem. They had stolen a compass and mp3 player from Steve's pocket and scattered them on the trail. The Wizard once again intervened, directing my gaze down at just the right moment to discover them on my final return trip. We paddled across Hub into a stiff breeze headed for the campsite on the southwest shore. It was a so-so site, but was the best on the lake. There was an old moose shed nearby which added a certain ambience to the site. We watched beavers and loons swimming between the campsite and a small island. [URL=http://s1229.photobucket.com/user/steveboone/media/BWCA%202014/P1010517_zpsaf07d62f.jpg.html]


[/URL] At sunset we were treated to another rainbow. Tonight was the new moon and the evening was drifting quietly into darkness, when. . . A guttural sound, half bellow and half howl came from the woods behind us. A chill went down our spines. We could not identify it. We did not hear it again, but we slept fitfully, waking several times to the barely audible sound of imaginary footsteps. . .
We woke up late Thursday morning, but today would be a short, fairly easy travel day that would allow us to recover from yesterday's travel before tackling the long Zenith to Lujenida portage. The portages from Hub through Mesaba, Hug, and Duck Lakes to Zenith weren't long or difficult, although the very short 3-rod portage between Hug and Duck was awkward. It was a warm, cloudy day. We were surprised by the beauty of these lakes with their granite outcrops and cliffs enhanced by the near peak fall foliage. [URL=http://s1229.photobucket.com/user/steveboone/media/BWCA%202014/P1010556_zpscaa0bb09.jpg.html]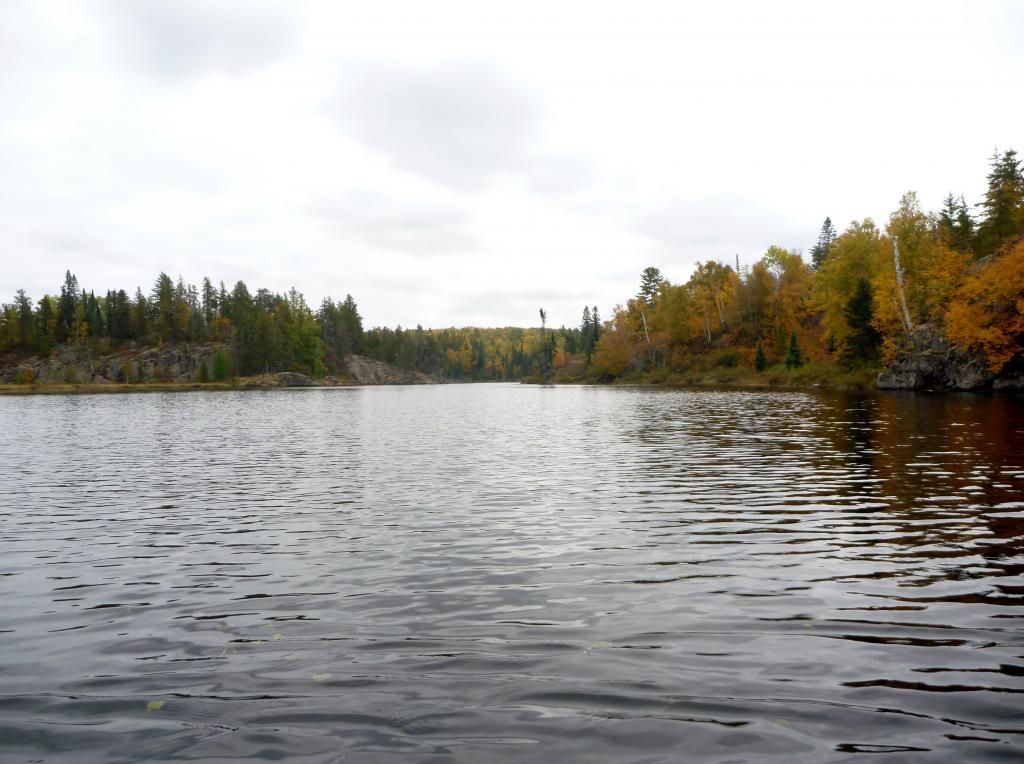 [/URL] The Mesaba to Hug portage was very picturesque with several large white pines. [URL=http://s1229.photobucket.com/user/steveboone/media/BWCA%202014/P1010543_zpsf524f8bb.jpg.html]


[/URL] We meandered and we lingered, but arrived at the Zenith campsite in the early afternoon. It was adequate for the two of us with one medium-sized tent. [URL=http://s1229.photobucket.com/user/steveboone/media/BWCA%202014/P1010573_zps25ff01a7.jpg.html]


[/URL] Steve built a small fire – our first of the trip - this evening just before dusk. We watched the flames burn down to embers glowing like eyes in the dark before extinguishing them and retiring to the tent. [URL=http://s1229.photobucket.com/user/steveboone/media/BWCA%202014/P1010583_zpse6505359.jpg.html]


[/URL] I awoke at 4:00 AM for another pre-dawn scramble to the latrine by headlamp. Whose eyes are those glowing in the dark woods? I had learned to sleep with my TP as well as my headlamp. There's a lot of fiber in those meals . . . or maybe the guys are right.
Friday was sunny and warm when we started the long Zenith-Lujenida portage. Yeah, it was long. One and one-half miles long. It started with a long, moderately steep climb, followed by a couple of shorter, steeper ascents and descents, a flooded section of floating boardwalk near the end, and a put-in at the end consisting of small, rounded rocks surrounded by thigh-deep muck. We forged our way over the hills to the flooded section after a couple of rest stops and bushwhacked around the flooded portion. The ghosts of the voyageurs were lost in the sunlight, but when we stopped to catch our breath, we could hear the muffled echo of their moccasined feet as they portaged their 180-pound loads of beaver pelts over these portages. We carefully loaded and launched the canoe to avoid being swallowed by The Muck – a primeval precursor to The Blob. [URL=http://s1229.photobucket.com/user/steveboone/media/BWCA%202014/P1010589_zps2f252ce4.jpg.html]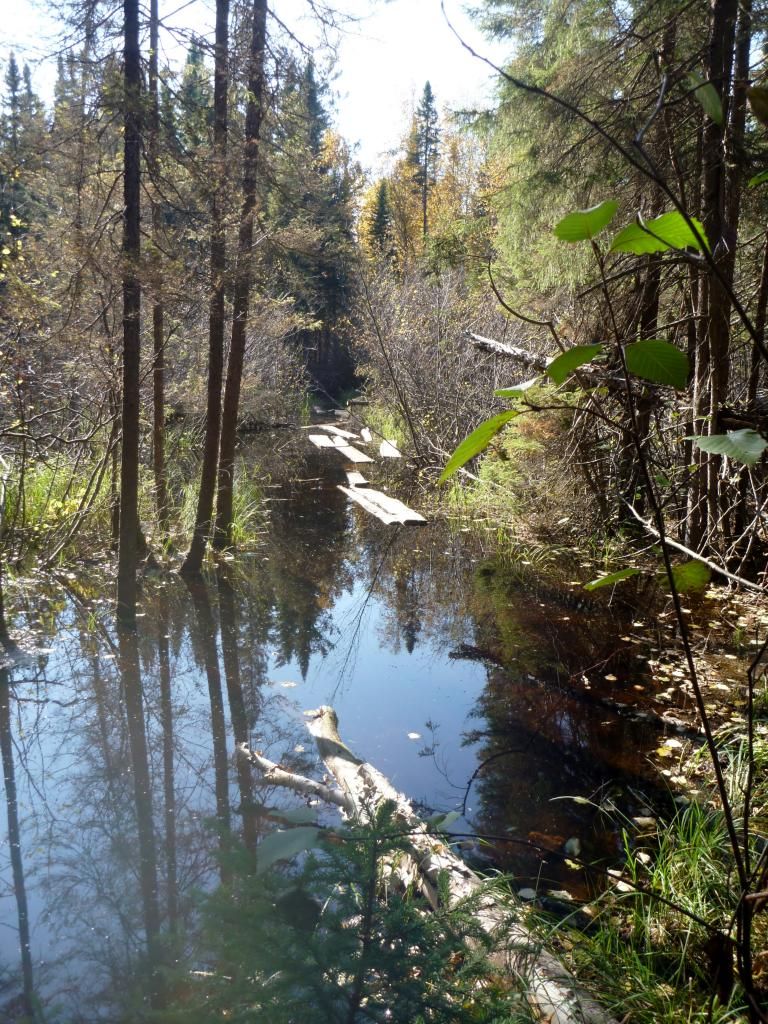 [/URL] We continued down the Kelso River after escaping that grisly fate with the aid of our mysterious benefactor. The Kelso River was a delightful paddle and we stopped at the Kelso Dolmen – a rock formation of archaeological significance created by glacial action, constructed by Vikings, or a large group of drunken loggers dancing merrily with a hundred pounds of crowbars. [URL=http://s1229.photobucket.com/user/steveboone/media/BWCA%202014/P1010603_zps985dec23.jpg.html]


[/URL]
[URL=http://s1229.photobucket.com/user/steveboone/media/BWCA%202014/P1010604_zps2766511c.jpg.html]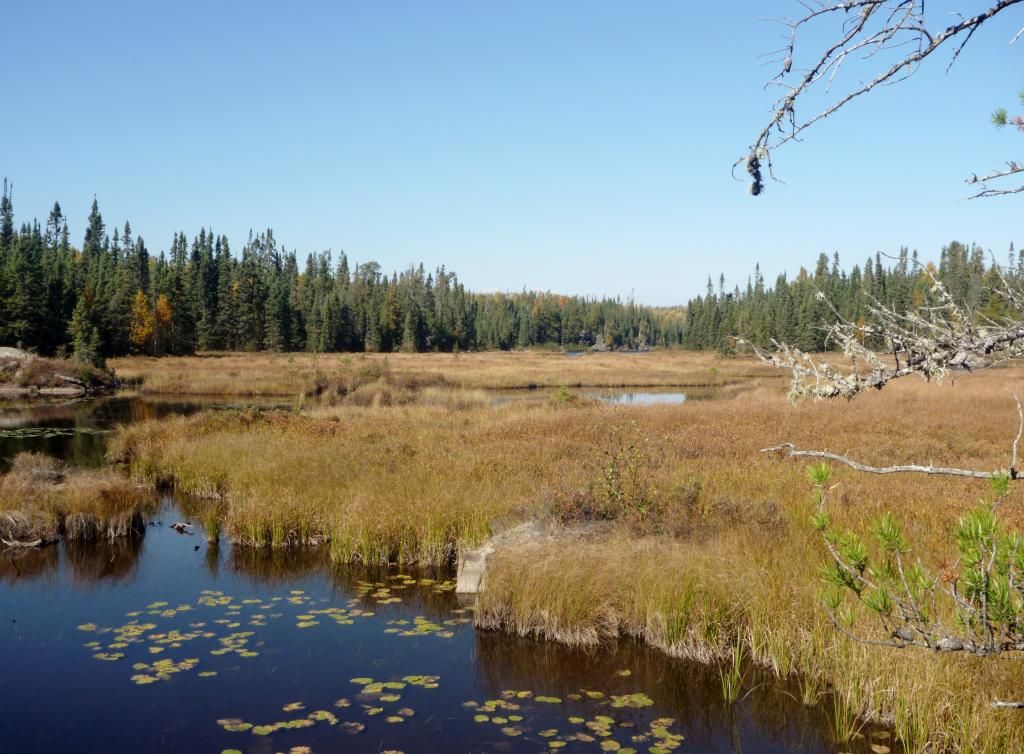 [/URL] We encountered two paddlers shortly after leaving the Kelso Dolmen. They were the first people we had seen since the young couple on Fente Wednesday morning. We were emerging from the other realm. . . We paddled on to Kelso Lake where we planned to spend our last night, but we found all of the campsites occupied when we arrived at 2:00 PM. We continued on down the Kelso River and took the short portage to the western bay of Sawbill Lake. The two campsites there were also occupied. It was a nice Indian summer day – the warmest and sunniest of our trip and the forecast for the weekend was nice. A large number of people had apparently decided to take advantage of it. We were slipping back into the world we had left behind after Lake Polly. We decided to head south on Sawbill Lake and take the first open site we saw. If they were all occupied, we'd just exit and spend the night at Kawishiwi Lake where we had left Steve's car. The next campsite was on the eastern shore near the portage to Smoke Lake. It was open! We took it. Tomorrow our journey would end. . .
Saturday we made the short easy paddle down Sawbill on a warm sunny morning. The throngs of people there went about their ordinary activities. They were unaware of our epic journey and there was no fanfare – no speeches, no band, no parade of nubile maidens with sunlight and flowers in their hair and love in their eyes. We had reentered the twilight zone of normality. Our odyssey was over. . . We returned the canoe, bought some drinks, put the gear in my car and drove back to Kawishiwi Lake where we had left Steve's car. We made the exchange of gear, said our good-bye's, and Steve headed for home. I wiped down in the outhouse and changed into my clothes from a week ago and headed for Grand Marais by way of Sawbill to return the rest of their things. It was too early for check-in at Nelson's and besides, I had some serious cravings to satisfy, so I stopped at Java Moose for the biggest dish of ice cream they had and a double espresso. I cleaned up at Nelson's and had dinner at My Sister's Place.
Planning Links
Featured Sponsor