Quetico Solo w dog McIntyre Woodside and Sunday Lakes
by TomT
Trip Type: Paddling Canoe
Entry & Exit Point: Moose Lake to Prairie Portage (EP G)
Trip Introduction:
I go on my 7th solo and my longest canoe camping trip. I bring my border collie for the 2nd time and plan to meet up with a fellow solo canoeist midway during the trip for some fishing.
Sunday, September 04, 2016 Saturday Sept. 3
I made the 10 and a half hour drive through the night and got in to Ely Minnesota at 12:40 pm. The rented 2017 Toyota Camry made for a very comfortable ride. Luna, my five year old Border Collie is my partner. She went in 2013 so I know what to expect from her this time.
So, it's lunch at Dairy Queen, shop for a bit at local outfitters on Main St., then a session of frisbee in the park to get Luna some exercise. We then head 20 minutes to Moose Lake near the Canadian border where I'll spend the night in a bunkhouse at LaTourells Outfitter. It's a very quiet and warm, 65 degree evening and I kill time talking with people returning from their trips down by the dock. I watched an adult Loon showing it's young one how to fish about 30 yards out on the lake. It's sunny and calm and my anticipation is brewing.
Day 1 Sunday Sept 4 Both my watch and phone alarms went off together at 5:30 AM. Last night I got up to go across the parking lot to the bathroom and saw the most brilliantly black sky with the milky way in incredible detail. No, I sure ain't in Chicago anymore!
I changed into my "tripping" clothes and had a breakfast in the bunkhouse of pound cake, a banana, can of sardines and a sports drink. At 7:30 I grabbed a coffee from the office and hopped in the tow boat with all my gear which will save me a 2 hour paddle to Canada. It's partly sunny and 60 degrees with a slight breeze.
The 20 minute ride winding between islands on three connected lakes is beautiful. Once I'm on the towboat I really can start to relax. It's going to happen now. No more anxiety about broken down cars, a last minute call to derail my trip, etc. No, now it's on.
I unload my gear and make the short well worn 40 *rod portage to Canada. I'm first in line at the Canadian Ranger Station and get my permit settled with a young ranger named Jason. Good thing I got here early as there's two large groups waiting behind me now. *A rod is about 16 feet long and is used to measure the distance of the trails or "portages" between the lakes.
Prairie Portage, the southern entry to Quetico Park in Ontario Canada.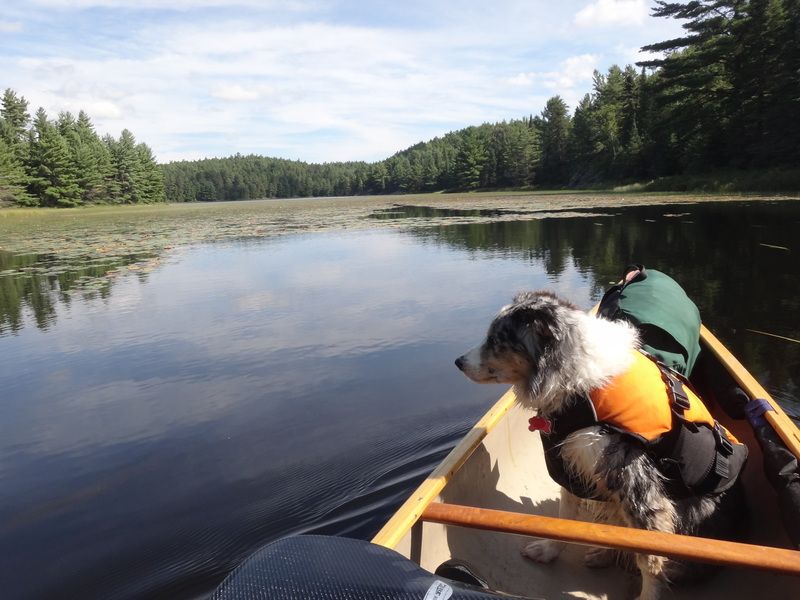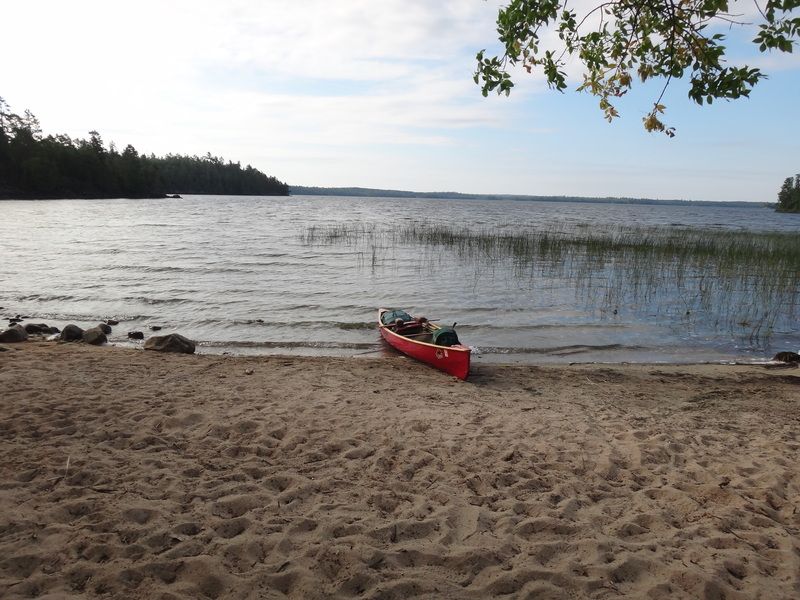 I had a nice south breeze pushing me north through Inlet Bay then across big Bayley Bay of Basswood Lake. Having little wind today made this very easy. Many times people get windbound here and aren't able to cross. I am a happy camper right now. I pull into the sand beach of the Burke Lake portage.
A nice tailwind carries me up Burke and I make my way through the short but rocky portages to big North Bay of Basswood. This is a very well travelled route so far. Luna is loving the portages.
The wind was picking up now but still at my back. I surfed some nice rollers all the way up the bay. This actually can be very scary until I settle in and get used to what my little 16 foot solo canoe can handle. I've been using a 1994 Blackhawk "Starship" on these trips since 2001. I love the design of this boat but just wish it was made with modern materials and about 15 lbs. lighter. It comes in at 47 lbs. when empty and is fiberglass.
At the north end of North Bay we portage to the small and winding Isabella Creek. Here we have to climb over and pull the boat across several beaver dams. Some are a few feet high and Luna doesn't have fun here. It has a wild feeling along here and the river is mostly about 10-15 feet wide but very "twisty".
We portage into the long and narrow Isabella Lake where we turn west and into a pretty good head wind. I pass some campers and give a wave to a couple of guys fishing from shore. I stayed at their site back in 1988 on another solo trip.
So, at the end of the lake I try to find a portage that would take me through some no name lakes to where I want to go but can't seem to find the portage location. Not uncommon in Quetico. I decide not to go through a tiny, narrow, mud fest of a water trail and backtrack to an established portage to a different no name lake. I'm pretty wiped out now and set up camp on the one site here. It's decent and we're glad to be home. We are on the no name lake just east of Side Lake for night one.
There's rain in the forecast so I pitch the tarp over the fire pit area. Somewhere today I lost my watch. I vaguely remember fighting a tree branch that was caught on my canoe by the portage yoke. I think a branch caught under my watch while portaging and it's laying on a trail somewhere. There's no cell service and my only other electronics are a digital camera and a weather radio.
The rest of the trip I keep mental notes of what time I "think" it is and try to remember if it's Tuesday or Wednesday.… Living by a clock is so taken for granted that this is disorienting to me at first but I learn to read the sun. I guess the time then check with the weather radio guy. Sometimes I'm off by 2 hours.
Planning Links
Featured Sponsor