Moose River North June 2006
by satchmoa
Trip Type: Paddling Canoe
Entry & Exit Point: Moose/Portage River (north) (EP 16)
Day 3 and some more from day2
After setting up camp with proceded to cook our usually first nite dinner of steaks on the grill and mashed potatoes which was excellent as normal and to top it off we had cheese cake for desert.
I was really disappointed when we got to the campsite we found hot coals in the fire pit and when it was time to grill the steaks there looked to be plastic or something melted on the grill which we had to clean up first.
I had it in my mind to make it to Iron Lake but I was tired and the latter it got in the day I was afraid to push on further and not find a campsite. So after the great dinner it was just nice to sit back and listen to the waves lapping up on the shoreline and watch the sunset.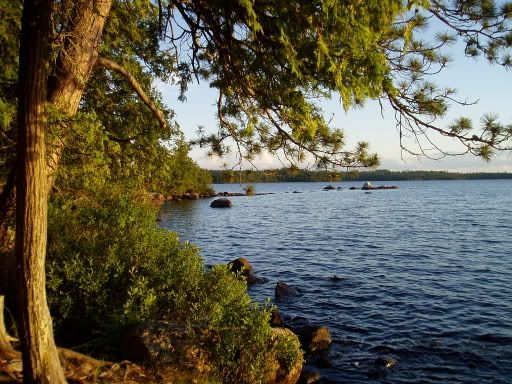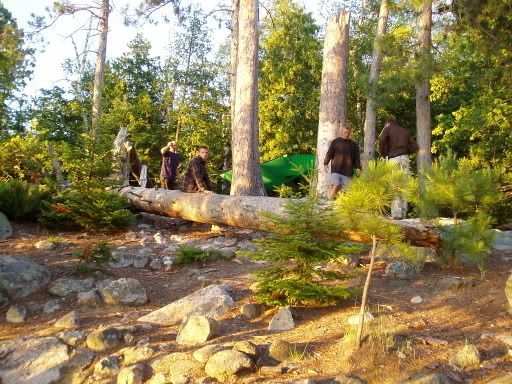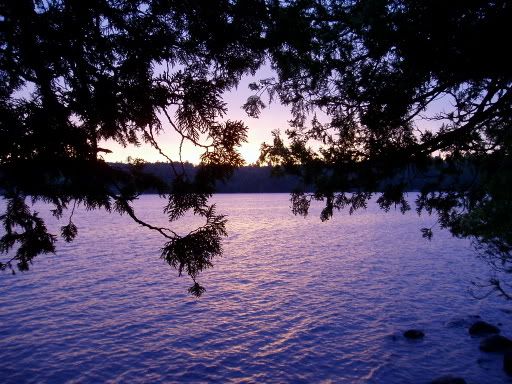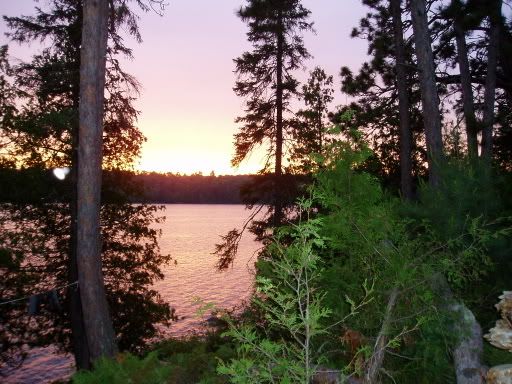 Now for day 3
We woke up to some wind and waves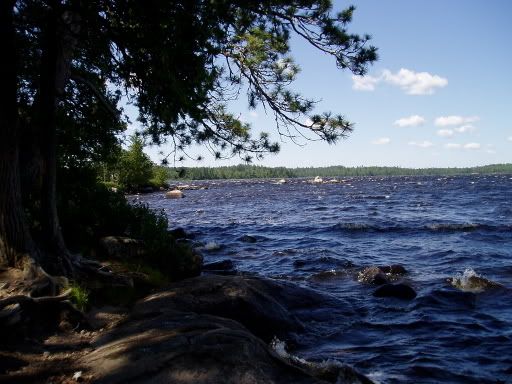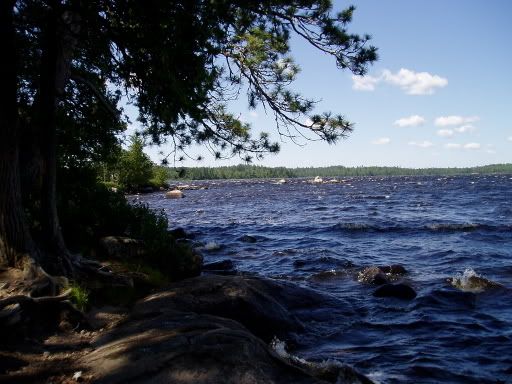 which I have to tell you was music to my ears. I was still tired from the paddle in and I think I just needed a day to sit back and relax and get in tune with my surroundings. I was the first one up so I fired up the stove and put a pot of coffee on and sat back in my chair and just took everything in.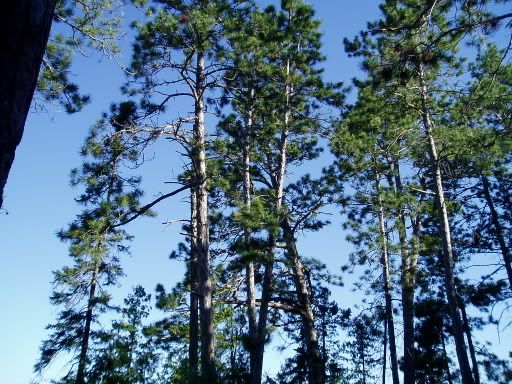 I really enjoyed seeing the sunlite poke thru the trees and and listening to the birds waking up and singing to me. After a bit 1 by 1 everyone else stirred and made there way outside to the coffee pot.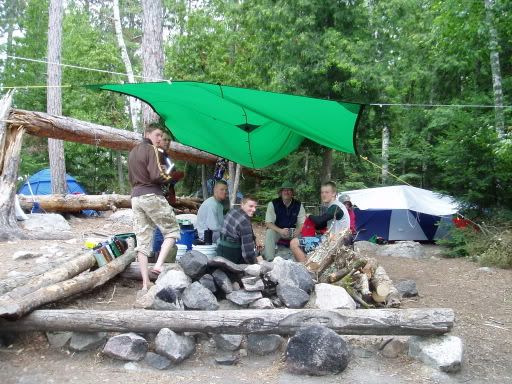 Well after another fine meal a breakfast of eggs bacon and cache lake fry bread I think everyone was ready to crawl back into there sleeping bags.
We all sat around for awhile trying to decide what to do for the day the wind had really picked up so we decided to hold tight and maybe base camp here and take day trips after the lakes layed down some. Well that didn't happen that day we stayed put finding areas close by out of the wind to try for some fish for dinner. Needless to say Lake Agnus didn't treat us to well fish wise, we caught some small northerns and some small bass but I was looking for walleye for dinner and it just didn't happen.
So! It was time to dig into the food packs to find something for dinner and we had a vote and spaghetti was the choice for the evening. I had bought a dehydrater this past winter and dehydrated some sauce and ground beef which I have to tell you came out great. We also fried up some cache lake plain fry bread it was also very good and again we had some cheese cake for desert. I am not sure if we came on this trip to fish paddle or eat but I do know that when you are wind bound someones head was in the food barrel at all times. I was even getting worried wondering if we had brought enough food along.
Well after dinner we sat around the fire just enjoying the company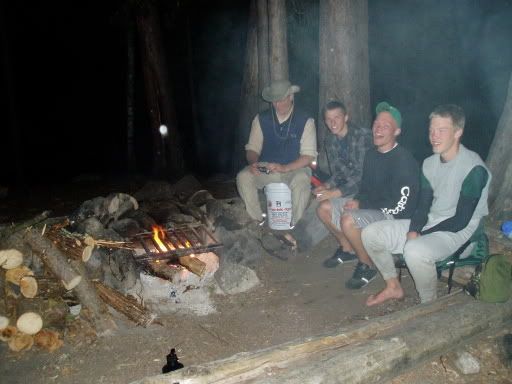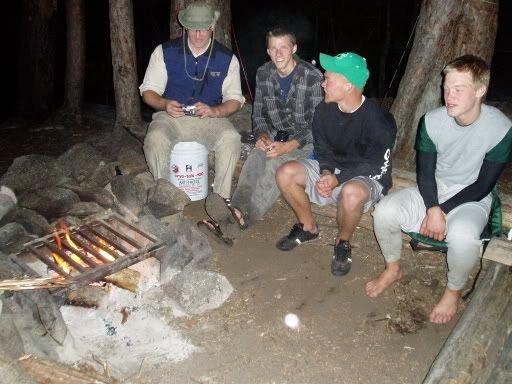 and some more sunsets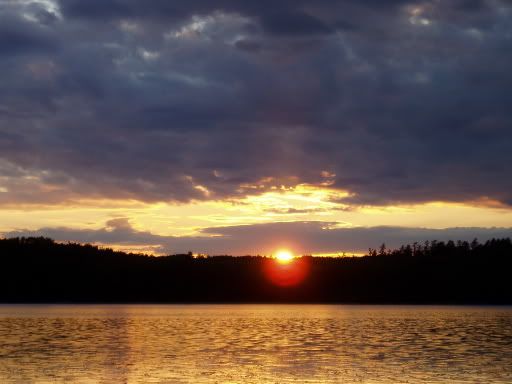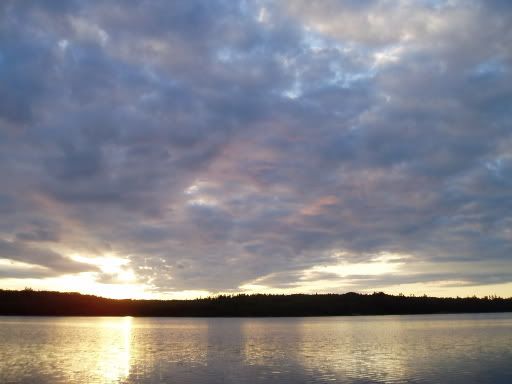 and shared a lot of laughs with each other before turning in for the nite. I think I did mention that acouple of these fine lads were newbies well if you look close in the picture of us sitting around the fire 1 of the boys didn't bring long pants and was wearing his sweat shirt on his legs. Which made for a good laugh. Well another fine ending of a great day.