Detours & Low Water - Sept 2006 in the Quetico
by VoyageurNorth
Trip Type: Paddling Canoe
Trip Introduction:
John & Lynn's Fall Quetico Trip - Detours and Low Water
Sunday, September 10, 2006
Lynn & I usually go out on our trip around September 10th since that is about the time things slow down a little at the shop. It happened that we had two customers that needed to be dropped off on the north side of Quetico, at Nym Lake. We chose to take advantage of the van ride and paddle the north side as well, starting at Stanton Bay which is about 20 miles from Nym.
The route was planned to take us from Pickerel Lake and out through Sturgeon, to Lac La Croix where a tow boat would pick us up and take us over to Crane Lake. The only thing I worried about was the Deux River. In low water conditions it can be impassable, so I called a Canadian outfitter I knew to get some info. He said that there were 3 beaver dams to pullover but you could still get through.
September 10th at 6 am we met the Shelton's (father & son), packed up the van and took off. We had John Duke (aka "Duke") drive us up. We stopped in International Falls to gas up and get some breakfast. After crossing the border, we stopped in Canada to pick up some bait & our Ontario fishing licenses. (Note: as of 2007, no live bait at all will be allowed in Quetico).
After we dropped of the Sheltons at Nym, we drove over to Stanton Bay. There is a quarter mile portage to Stanton Bay that has a large, nice boardwalk on it.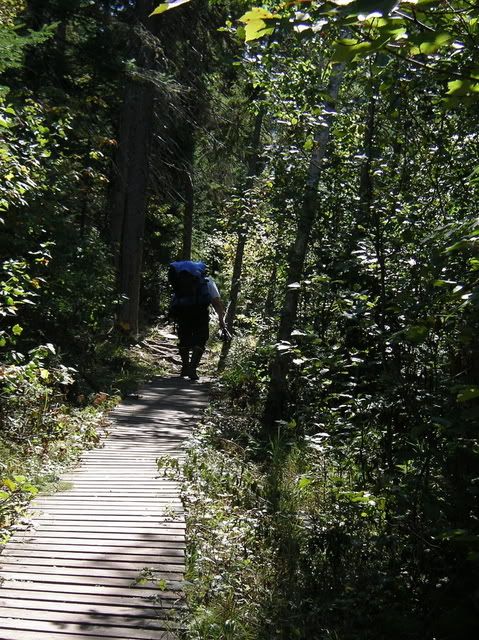 Duke gave us a hand with the gear. Then we set off, heading south out of Stanton Bay. We entered Pickeral Lake, which is a large lake with lots of sandy beaches. At one time there was a large dam on Pickeral but between the years of 1978 - 1983, the dam was dismantled. This reduced the water levels 4 – 5 feet, down to their original levels and created the sandy shoreline.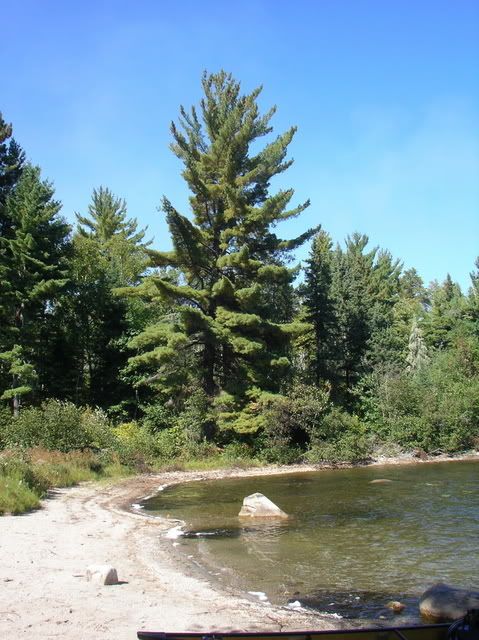 We headed toward Emerald Island and Pine Portage Bay. As we got closer we spotted dark smoke curling upwards just ahead of us. A bit closer & we saw an area of Pine Portage Bay peninsula in flames, the fire snaking up the trees, burning the needles and making the sounds of a rather large bowl of Rice Krispies (snap, crackle, pop). We stopped and took several pictures of the blaze. As we left we saw a plane circling overhead.
We headed over to the 94 rod Deux Rivieres Portage into Dore' Lake. On the south end of Dore' there are some Indian pictographs and right before the next portage we spotted a sunken barge just below the water. This barge was used by people moving west over the Dawson Portage in the 1870's. The next 144 rod portage follows a shallow stream which leads to Twin Lake.
After doing the portage into Twin we ran into 4 solo canoers who were coming from the Deux River area, which was where we were headed. They told us that they had just spent 2 hours trying to "do the Deux" and had given up! They had chest waders on and had mud almost all the way up. They had talked to a Quetico Ranger a week before who had given them the same info we had received, that the river was passable. Obviously conditions in the fall can change pretty fast. The same thing has happened to us when giving information on routes, luckily though, not too often.
I decided to change my route to exit at Beaverhouse Lake. This would still give us two days for ourselves and not increase the portaging too much. We found a nice campsite on an island on the south part of Twin Lake. It was set high up and had a great view. That night we listened to the small German shortwave radio I had brought and got up to date on football game scores. As we sat around camp we were also serenaded by the mournful howl of a nearby wolf pack not once but twice. When we woke up the next morning we were treated to another two serenades as well! This area is filled with wildlife. A Park naturalist has said that this one of the best parts of the Quetico to find moose, wolves, bald eagles and osprey.