Kevin's first overnight BWCAW trip to Jordan Lake
by Bogwalker
Trip Type: Paddling Canoe
Entry & Exit Point: Snowbank Lake (EP 27)
Sunday, August 20, 2006
Final day-We depart.
We get up early, have oatmeal for breakfast and pack up to depart. We hit the water before 8:00 and start backtracking for Snowbank. Our first order of business is to go see Cattyman Falls, which we passed up on the way in to make sure we could get a campsite.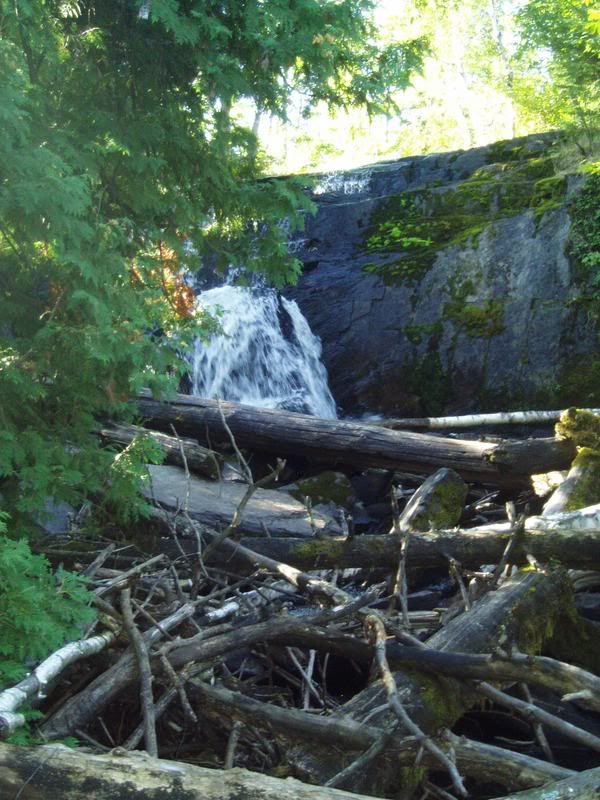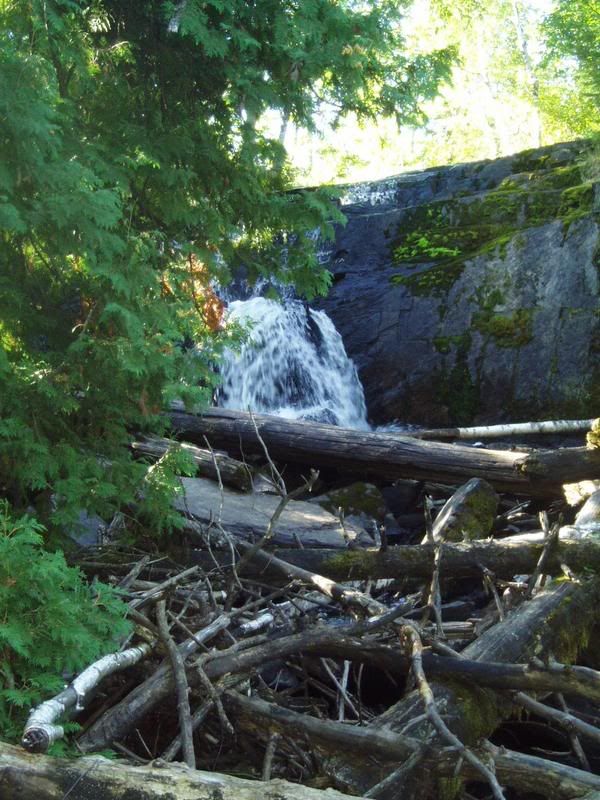 The low water levels means the falls are not as impressive as they can be, but still a nice site. I like the intimate falls better than the great big ones anyway.
After we see the falls we head across the remaining lakes. When we arrive at Ahsub it is totally empty and Disappointment is less than half full. Sunday is a day of departure for many and we can tell as we cross. The large group is still there however taking up two campsites and being fairly noisy as we pass. I am tempted to ask what gives them the right, but decide with my son along to just let things be.
On the way out we decide to head to Parent instead of straight to Snowbank. The wind is picking up from the south so maybe its better as well as we will hit Snowbank further south and closer to the safety of the lee of the island.
The portage into Parent is easy going. Parent has 2 decent looking sites that are both empty. I wonder how often people pass on Parent and go right to Disappointment? Maybe if we had backtracked we could have stayed on Parent. I'm glad we decided to do what we did and Kevin agrees.
The portage from Parent to Snowbank is clogged with more than 9 people. There is a group of 4 just starting their trip-even though it is starting to get a bit late. They intend to stop on Ahsub. There is also a group of 6 girls picnicking and swimming at the portage. It makes for a crowded spot, but Kevin enjoys watching the girls in their swimsuits. We wait off shore while the group of 4 finishes and then we land to cross to Snowbank.
The wind has picked up quite a bit and Snowbank is starting to roll a bit. I discuss the plan with Kevin and off we go. No significant problems are encountered other then the one motorboat who puts up a wake. That plus the waves from the wind make for an interesting few minutes of paddling.
We finish the crossing, land the canoe and reload everything on the truck. Kevin and I have stashed a couple of pops and candy bars in a cooler with ice from the day before and they are still ice cold. It's a nice treat for finishing the trip.
Kevin and I discuss the trip all the way to Wisconsin to pick up Betsy. Once we get there he gets the chance to relive it all again.
On the way home I ask if he had a good time and if he wants to go again. I think you all know the answer to that question.
Thanks Kevin!! I loved reliving my first trip and the excitement through you. You and I will have more trips and you will have tons of trips in the future with friends. A new steward of the area has been born.