The Celebration Trip
by Spartan2
Trip Type: Paddling Canoe
Entry & Exit Point: Sawbill Lake (EP 38)
Trip Introduction:
This will be a "wimpy trip report". Two people, old folks, a Bell Northwind that has seen better days, three heavy packs, a big bag of camera gear, a tripod, two folding camp stools tied to one of the packs. A trip that might never have happened. A year ago Spartan1 was in "end stage renal failure". We are blessed. Why was this trip called "wimpy?" Because I am feeling a bit embarrassed at how very little we did compared to what we used to do. We have been canoe-tripping for 38 years now, and I suppose it would be very unreasonable to expect that, at age 64, one could make a trip to compare with those early days. Still. . .this was, by anyone's standards, not a real "wilderness adventure". We take too much stuff, we eat too much, and we travel too little. We certainly underestimated how much we would be able to do this year, and I think we were overly conservative. Having said that, however, I am glad that we did it this way. It has been a difficult year, and we deserved a resting time. We are now planning (we'll see how good we are at sticking to these resolutions!) to get in better shape and do a more challenging trip in June. It will still be double portaging and it won't be like the "old days", but hopefully it will be more than four lakes and with portages of more difficulty than a short walk in the park. ;-) We, perhaps, have more to be thankful for than almost anyone who did a canoe trip this year. How many people go to the canoe country with a new kidney? Special thanks should go to Leslie, Neil's donor, for giving him this second chance at a normal life. And thanks to all of our friends at bwca.com who have prayed and cared.
PROLOGUE:
The entire week prior to our trip we had a wonderful time staying at a cabin near Ely with our six-year-old granddaughter, thanks to the generosity of some amazing friends. We enjoyed many beautiful days during that week, and memorable experiences: time at the International Wolf Center, an overnight campout at a Forest Service campsite on East Twin Lake, a very chilly swim (just Spartan2 and Anna) in East Twin Lake,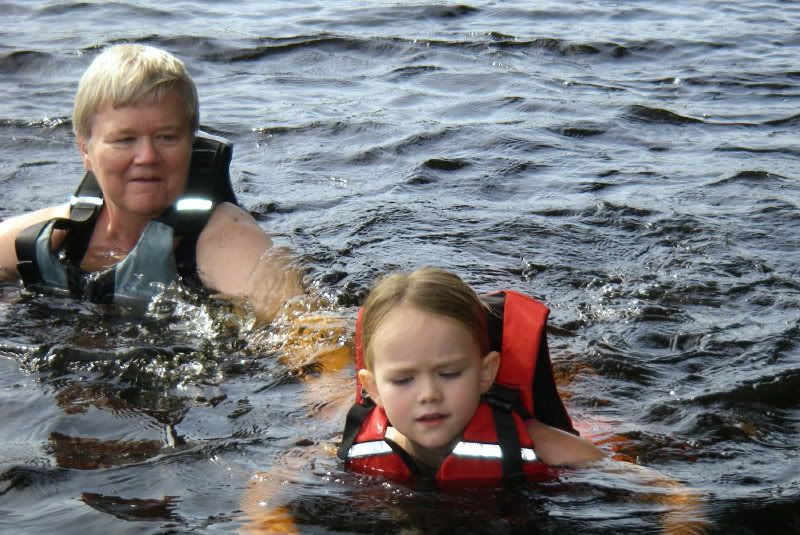 an afternoon at the Dorothy Molter Museum, the open-air concert of Pat Surface and the Boundary Water Boys (Anna now has quite a crush on Pat), a visit to Moose Track Adventures to play with the children there, and a lot of great relaxing time, too.
Then our daughter picked up her daughter, the cabin was suddenly very quiet, and we packed up our gear for the canoe trip. This was to be six days in the BWCA, a treat for us after last summer when Spartan1 was hooked up to a machine every night for nine hours for his peritoneal dialysis. It has been a tumultuous year, with a kidney transplant in January, participation in a six-month research study for a new anti-rejection medication, and quite a few bumps along the road. We felt very thankful to be loading our car with camping gear once again and we went to bed early, anticipating the next day. I slept surprisingly well.
Planning Links
Featured Sponsor