The Wabakimi Project - The Ultimate Portage Clearing Trip!
by OneMatch
Trip Type: Paddling Canoe
Trip Introduction:
Prologue This trip, for me, started in March of 2009. I had been discussing with some fellow paddlers about going to Wabakimi for the ultimate remote paddling experience. When I saw the Wabakimi Project had scheduled a presentation, I decided to go check it out. I listened to Phil Cotton's description of the history and objectives of the project. In 2002, Phil took a fly-in/fly-out trip into the northwest section of the park only to find that information, maps and portage trails were scattered at best. Most of the maps were dated back to the 1940s & '50s and they were sectioned with portage trail information that was grossly inaccurate. If he found a trail, the blow down and overgrowth made them completely impassable. It was on that trip that the "Project" became an idea. The next year after posting his thoughts on the Canadian Canoe Routes forum he already had 76 volunteers to help him begin his quest to make Wabakimi more paddler friendly. He has been doing this every year since beginning every Memorial Day and ending after every Labor Day. For the most part a crew changes hands every week (3 in, 3 out Phil stays in). He takes a two week hiatus last week of June, but logging in about 16 weeks in the park every paddling season. More information on the project can be found on their website at http://www.wabakimi.org/ . I was sold on participating when I not only witnessed Phil's passion for preserving the paddling culture of the area, but when he was adamant about the project finding and clearing ONLY existing portage trails and campsites and correcting their positions using GPS waypoints, measurements and eventually making them available to paddlers in map form. By the end of this season, Phil expects to have 70% of the park completed. The idea of exploring areas and finding old portage trails and campsites left by the trappers and natives of the area excited me, so I signed up for the summer of 2010 (2009 was already filled). I decided to go on the week of Aug 7-14 because it fell in place with my birthday (8/12) and the opportunity to see the Perseid meteor showers in a sky with no light pollution added to the appeal. Looking back now, I was not disappointed. The trip was one of a lifetime for me. I am now known as volunteer #117. I plan to section this report into a description of the methods of how the Project set out to obtain its objectives, a description of our little work week as well as the remote scenery of the area. There are lots of pictures. Thanks for coming along here we go.
A Well Oiled Machine
First, some bits of information about Wabakimi Provincial Park. It is over 4 million acres in size. That is twice the size of the BWCAW and Quetico combined. The park employs only 2 portage maintenance crews (2 men on each crew) to clear these trails. Considering the fact that we're not sure where most of those trails are, that is a daunting task for 4 men to accomplish. Wabakimi has no management plan in place (there is one scheduled to be publicized by September 2012). As a result, there are no can, bottle, motor or any other restrictions in place. There are many "fishing outpost" cabins spread throughout the park that outfitters have built for fisherman getaways and such, but no one person knows where they all are. In fact, our fly out pilot wasn't aware of the one on the lake we took out on.
When Phil first started the project 7 years ago he had the blessings of the existing park superintendent. The new superintendent and Phil have not seen eye to eye, however, and this relationship has been the subject of some controversy. But I digress.
Phil Cotton has an amazing and efficient system for meeting his goals. He begins every season with his first crew (a crew of four - he and 3 others) taking the train (with gear and canoes in a special boxcar) out of Armstrong to Savant Lake and working his way to the first area that needs investigation. Every Wednesday of every week, Phil gets on his satellite phone (Iridium - very reliable, I found) and calls into his daughter and next door neighbor in Thunder Bay for a list of needed supplies to cover the next week. On Friday he first calls the float plane staff (Mattice Lake Outfitters) to find out their schedule for the next day and to also inform them of his location. He then calls Thunder Bay at 5:30pm to check to see if the new crew has arrived, tell them their flight departure time and any last minute details that may need to be covered. The new crew gets an orientation in Thunder Bay and loads up. Saturday they drive to the float plane dock (3 hrs from Thunder Bay), load their gear and supplies in the plane and take off to Phil's location. When they land, they get off, the old crew gets in and a new week with a new crew is under way. It all seems to go very smoothly.
With that info in mind, me and a delightful couple from Strathroy, Ontario - Tetcy ( a Dutch name) and Ray - met for our orientation in Thunder Bay, had a get acquainted dinner there and took off for Wabakimi the next morning.
Here we are loading our float plane (a De Haviland Beaver) at the outfitters:
Tetcy and Ray had the back two seats, I sat next to the pilot: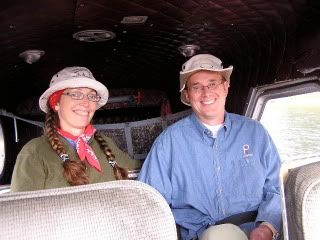 We take off promptly and see Wabakimi first from the air:
about 20 minutes later we land (very smoothly!) on Elf Lake – in the center of the park - and Phil and crew were paddling up to us before you know it:
Phil gives us another orientation – how the Sat phone works (I got to call my wife - got a voicemail!), camp layout and such.
Here are some pics from our first site on Elf Lake: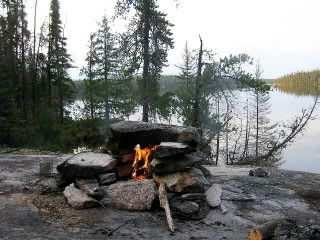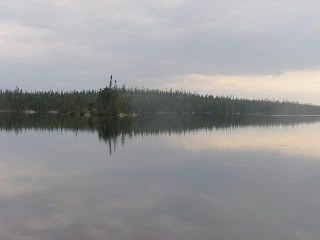 Our tents were Eureka! 4 person tents so there was lots of space. Tetcy and Ray, of course had a tent and I shared with Phil:
After a short lunch, Phil wasted no time putting us to work. A nearby trail had some blow down that needed clearing, so off we went:
The trail before cleaing: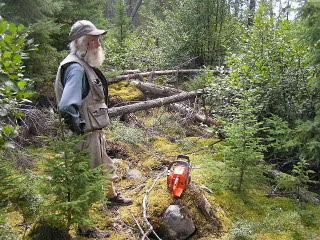 and after clearing: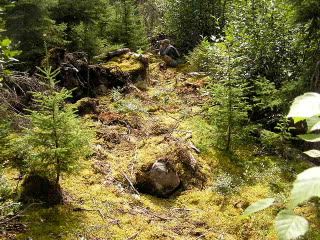 We then headed back to camp for dinner, libations and set the plan for the next day. It seems there was a 650 meter trail that the previous crew had found and flagged and it was very much over blown with trees and shrubs and virtually impassable. Our job was to clear it and measure it.