Quetico Solo Part 1 of 2 (better pics)
by PineKnot
Trip Type: Paddling Canoe
Entry & Exit Point: Quetico
Introduction.
The plan was concocted, massaged and then finalized. Until it was reconcocted, remassaged, and refinalized for the final time. Funny how several months of winter can play with one's mind when it comes to Quetico canoe trips.
And so it was. After completing an 8-day Quetico trip in early July with my eldest son, Matt, we drove back east to drop him back at his college in Indiana. I continued on to home in Ohio. After a couple days resting, my wife and I then drove my second son, Ben, to Long Island for the start of his freshman year. Then, it was back home for two days before the long return drive to Ely for a 3-week solo into the heart of Quetico—a loop from Prairie Portage through Kashahpiwi to Camel Lake and then return via Delahey and Robinson.
But the canoe gods had other plans for me. As I drove over the Bay Bridge between Superior and Duluth at about 2:00 pm, I felt a distinct pain in my upper left chest and the only thing I could think was "Oh no!" You see, back in mid-May, I had that same pain at the high school where I teach. It was 1:00 pm, and by 2:30, I was in an ambulance speeding to the local hospital with what we thought was a heart attack. It turned out to be a golf ball sized mass in the upper left lobe of my lung, apparently an acute atypical pneumonia, that put me in the hospital for several days. Fortunately, after six weeks, I was back to normal (or so I thought) and had a great canoe trip with Matt first week of July. Now, it's July 14, and as I glanced over my right shoulder at Lake Superior, I couldn't believe I was sensing the same pain I had in May. Sure as heck, two hours later, I was in an acute care center in Hermantown with a mass in the exact same spot of my lung. NOOOOOOOO!!! After a shot in the rear and a layover day on massive antibiotics, I drove back to St Paul, dropped the canoe and car with my sister in Eagan, and flew back to Ohio for more treatment.
Call me stupid, but all I could think in Ohio was whether I'd be able to return to Quetico for a solo in August. Please, please, please I prayed to the canoe gods! Thankfully, the new meds did their thing and surgery was not in the near term. The pulmonologist and surgeon gave me the clearance to head back for a "modified" canoe trip. Of course, I didn't tell them exactly how rigorous it would be or that I would be solo. It must have also been good karma that my wife had surprised me with a SPOT device for my birthday earlier in the year. Even though she had serious reservations about me going solo now, I convinced her that at least if I were near death in Quetico (and I can think of a lot worse ways to go), the SPOT would maybe save me. Fortunately, she bought it…the SPOT and my story.
So, after changing my Quetico permit and tow dates, I hop on a plane, and arrive in Eagan the afternoon of Aug 3. I reorganize and load my gear into the Corolla and carefully tie down my "solo" Northwind. The wait is almost over.
Day 1.
After a few hours of restless sleep in Eagan, I brew a thermos of coffee, hop in the car at 3:00 am and headed north for Ely. A couple of pit stops later, I roll into La Tourell's at 8:00 am for a tow to Prairie Portage and start my "modified" 11-day solo that would take me to Kashahapiwi via McNeice, Kahshahpiwi, Joyce, McIntyre, and Robinson. I decided prior to flying back from Ohio that I wouldn't try to push things too hard. My goals were simple: Do the loop, stay at a couple campsites for 2-3 days, and try to catch some trophy smallmouth, trout, and pike. When I arrive at La Tourell's, the wind was moderate out of the NW with mostly clear skies. I decide at the last minute to see if I could rent a kayak paddle just to try it out. Yes I could, and so I did. My reasoning was that a kayak paddle might make it easier to solo long distances, especially into a little wind. Earlier this summer, I had modified Bell Northwind by taking out the bow seat and adding a new seat closer to the center of the canoe just for solo tripping. We'd find out shortly just how this configuration would work.
As we speed across Moose Lake to PP, I'm going through my gear in my mind wondering if I had forgotten anything. I think I have everything, but I can't recall whether or not I had locked my car at the Moose Lake parking lot. I tip the tow driver a little extra and ask if he would check that my little Corolla with Ohio plates was indeed locked.
After checking in with the PP rangers, I load up and start across Inlet Bay. It's 9:30 am. I figure just under 3 hours to get to North Bay double portaging. As I paddle along, I think, "God, this feels so great"! I was so looking forward to sitting around the campfires after hard days of portaging and relaxing with a cigar and vodka/Gatorade mix. I couldn't wait to try out for the first time the reflector oven I had purchased at Canoecopia back in March—hoped to make some pizzas, poppy seed muffins and cornbread. I was curious whether my new Exped 7 pad would be better than the Prolite3 Thermarest pads I had using for the past few years. And I was wondering if the fishing was going to be slow given the dog days of August.
For the crossing of Inlet and Bailey Bays, I decide to use my regular Expedition Plus straight shaft paddle and then switch to the yak paddle on Burke. There was about a 10 mph wind that made for a little challenge crossing Bayley Bay. I hit the beach and load up my 58 pound pack and 20 pound "front" pack and with a paddle in hand head north on the portage to Burke. What a great 1st portage-- wide, smooth, and level. Returning to Bayley Bay, I strap on my remaining 20 pound pack, hoist the canoe up and head back to Burke. It feels great to be in canoe country again!
Once on Burke, I switch over to the kayak paddle. The speed was definitely better and it was easier to keep the canoe tracking straight. The wind made the paddle across Burke a little more tiring than I had wanted and I was relieved when I finally neared the end where the water calmed considerably.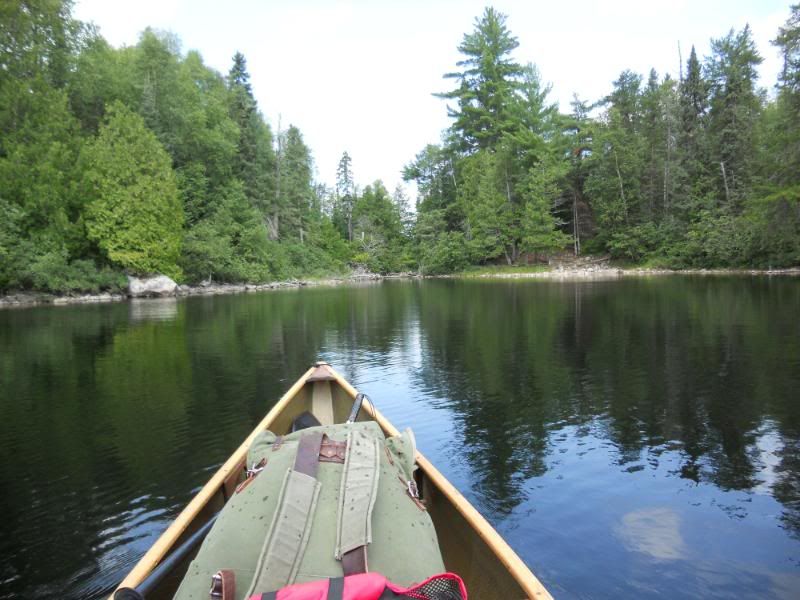 I arrive at North Bay at 12:15 and notice the wind has switched to a more westerly direction. The paddle across North Bay to the creek leading to the S-chain is uneventful, although I had to adjust a few times for some large rollers hitting broadside from the west. I continue to use the yak paddle, and would come to use it almost exclusively this trip except when fishing shorelines.
I slowly enter the creek and it was like going back in time. This is the third time on this creek, and it hadn't changed at all—lovely thick lily-pads all around, the small beaver damn requiring a liftover about a third of the way, and winding around towards the portage to South Lake.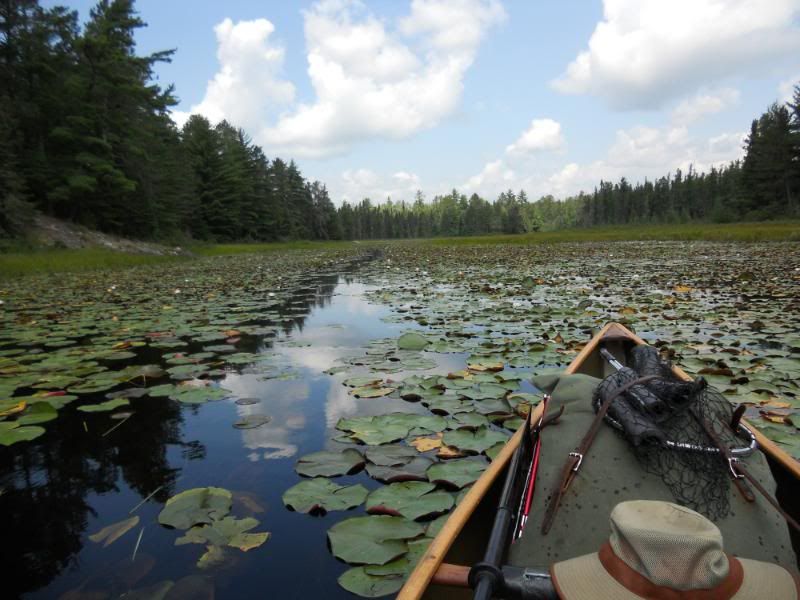 Once on South, I exit the creek and turn left around the nice little campsite to my left. It's about 1:30 and I had hoped to stop for a quick lunch. Crap! There's a couple of guys already there. I continue paddling to the West Lake portage for lunch. But it just wasn't to be. As I approach the short portage, it was like entering a mall. A group of 7 or 8 teens and adults came noisily over the knob to dump their four canoes and gear near the portage. Peace and quiet are nowhere to be found! After taking the canoe over the portage, I see two more canoes and at least 6 more people! I carefully lay my canoe in the water, tie it off and race back to get my other gear. While loading the canoe, all 14 of these folks were talking, laughing, and arguing about who gets what to eat--they were all together!! The noise!! Argghhhh!! I couldn't get in the water fast enough and AWAY FROM THE NOISE!! When I get to the middle of West Lake, I stop and spent a quiet 10 minutes chomping on some trail mix and peanut m&m's. I arrive at the mid-lake campsite on Shade about 3:00 pm and figure to rest for 30 minutes or so and then try to make it to Grey Lake before dinner. After lounging around, I glance to the west and dark clouds are coming my way. Whoa! Within 30 minutes, the wind picks up and whitecaps form. I hurry to erect my small tarp and just as I peg it to the ground the rain starts. Geez!! How close was that?? Horizontal rain pours and gusty winds howl for the next 30 minutes or so.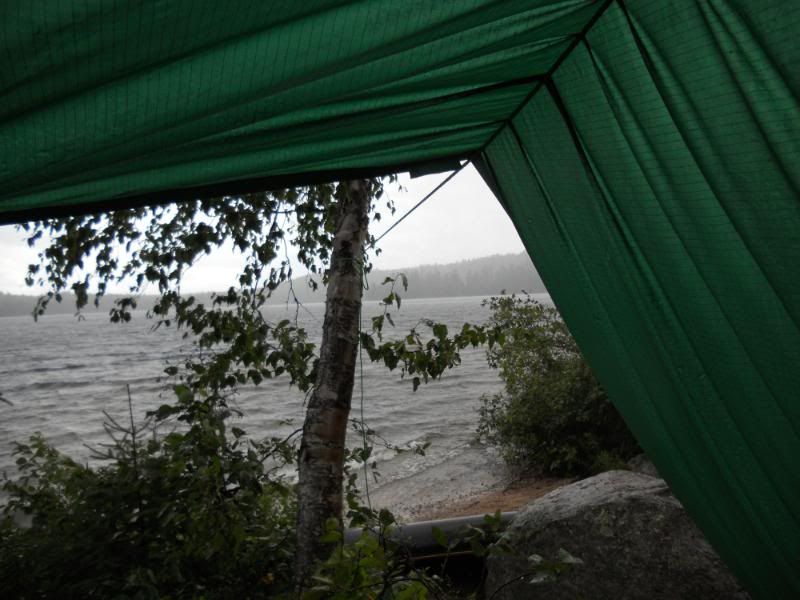 As quickly as it started, the winds calm, the clouds scatter and the sun starts to peek out again. I decide to stay here for the night. After putting up the tent, I relax with a cigar and down a 12-inch hoagie. The lake has become dead calm, so I fix up a couple rods and cruise around the shoreline for a hour or so…but no bites. Hmmm, that's not a great start for a fishing trip. When I return to camp just before sunset, I finally notice how tired I was—getting up at 3:00 am, driving almost 5 hours, and then paddling and portaging to get here had taken its toll. I was too dang tired to even start a fire. So, after a mixer and a glorious sunset, I clean up and hit the sack. All in all, a good first day, even though I got skunked fishing on Shade.
Day 2.
Daylight breaks nice and sunny with very light W/NW winds. I hit the water around 8:00 and head west to the portage leading to Grey. While unloading, a couple came up to the take-out. After pleasant greetings, I told them it'd be a minute while I get my packs and canoe out of their way. They replied they were in no hurry. As we talk, they tell me of their trials and tribulations yesterday trying to get to Grey. Somehow, they had taken a wrong fork on the "Boggy Portage" into Grey and ended up burying themselves in thigh-deep muck. That and the ensuing thunderstorm caused them to backtrack to Shade. Since this was going to be my third crossing of Boggy Portage, I offer to show them the way around the bog. But, they had had enough of the bog and so decided to head west from the unnamed over to Dell to Isabella and then onto other areas of Quetico. I wished them well and headed across the portage. I reach the boggy area and notice the trail had been extended even further to the NW edge of the bog which makes it even easier to cross than my previous trips. Only the last 20 yards around the northerly end of the bog require a balancing act on the corduroy before hitting dry ground.
I enter Shan Walshe just after noon and stop on the beautiful little island campsite just north of the portage from Yum Yum. I spend the next 30 minutes resting and eat a couple of peanut butter and jelly sandwiches on whole wheat bread—that hits the spot!! The last portage of the day is to McNeice. The large old cedar grove at the take-out on Shan Walshe is simply awesome.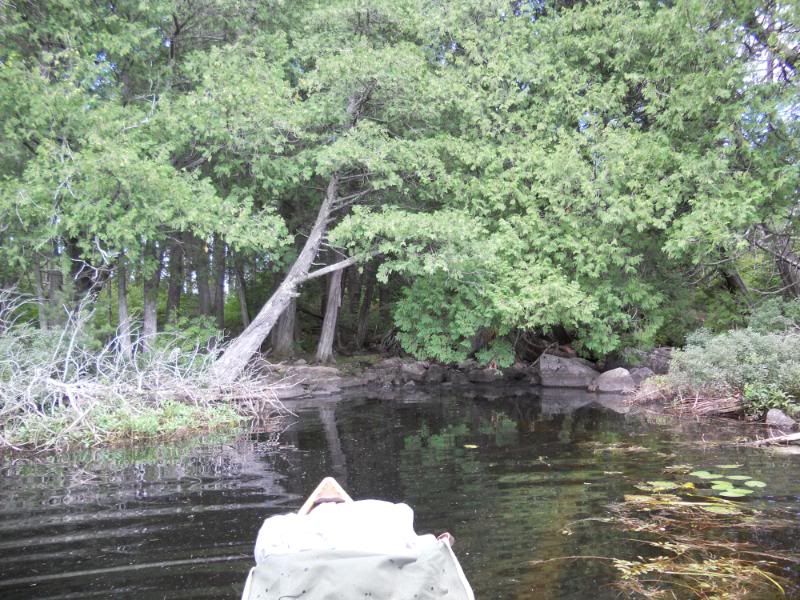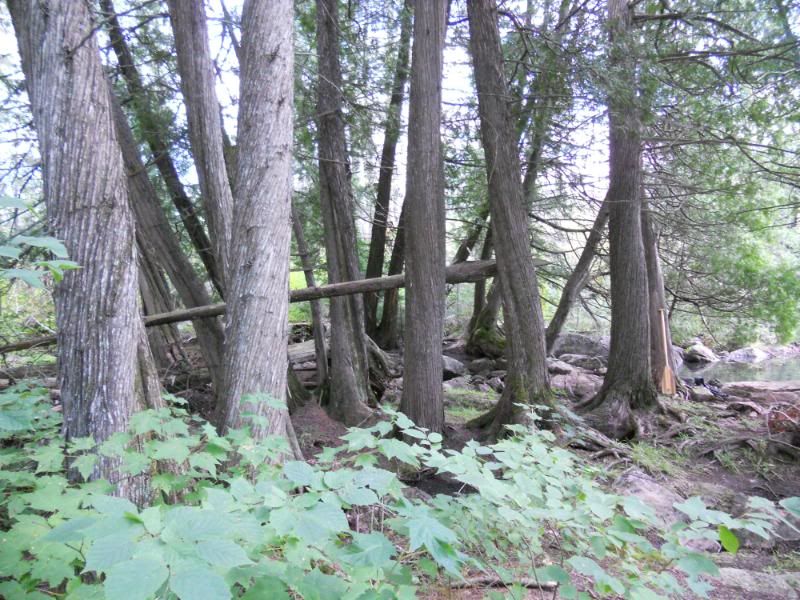 Although the portage is short (which is fine by me as I am beginning to get tired), there is a blowdown of a fairly large pine about 10 yards from the end of the portage. You've got to be kidding me!?! It is about belt high and there is no way to bushwhack the canoe around it. From the horizontal pine to the lake is boot sucking mud. The only way I can get over it is to lay the canoe on the blowdown. I slide the bow down into the muck and then lift the gear up and over. Then I tiptoe on roots and soft muddy grass to load the gear. I can't believe I get all the gear back in the canoe without falling in the muck! About 15 minutes later I shove off towards the mid-lake campsite on the north shore. The wind has increased just enough from the west to make the paddle a little bit of a challenge--it was only Day 2, but I am almost giddy that I had the kayak paddle. Even paddling into the wind and waves is almost pleasant.
I'm not sure there were other campsites on the lake, and I breathe a sigh of relief to find the campsite unoccupied. Taking on the tough portage from McNeice to Khashahpiwi near the end of a travel day would have probably killed me. The elevated campsite is really nice, except for the earlier fires that had left lots of exposed rock and very little duff. The views W and S were super, especially for anyone who likes to observe the aftermath of a major fire in an area that used to have some of the oldest pine in Quetico. For me, it was almost disappointing—fire damage is interesting, but I'd prefer to bask in the views of lush, green, old pine forests.
After setting up the tent, it was on to gathering firewood and since there wasn't much near the campsite, I hike several hundred yards in a semicircular pattern to find enough for the evening fire. In retrospect, even though I was pretty tired from traveling, it probably would have been easier to just get in the canoe and go find deadwood around the shoreline of McNeice. But hindsight is always 20-20 isn't it?
I wanted enough firewood so I could try out the oven and bake a pizza. I portaged in thin-crust batter (just add water), Contadina pizza sauce in the plastic squirt bottle, roma tomatoes, pepperoni sticks, dried mushrooms, and mozzarella sticks. After rearranging some of the stones and getting a good coal bed, I bake the crust by itself on a 10-inch aluminum plate and then load on the ingredients. About 15 minutes later, I take my first bite. OH. MY. GOD!!! This is sooooo good. I'm sure it didn't hurt to have had a vodka/Gatorade drink just before eating this pizza. But I swear I am in heaven tonight! After I wash off and clean the dishes, I relax by the remaining fire with a cigar and another drink, gazing dreamily at the sunset and the onset of the brilliant night sky. I sleep like a rock.
Day 3.
I decide to layover here for the chance to test the waters of McNeice for smallmouth and head over to Shan Walshe for some trophy laker and pike action. I awake at first light to a dead calm lake and no clouds. What a great view!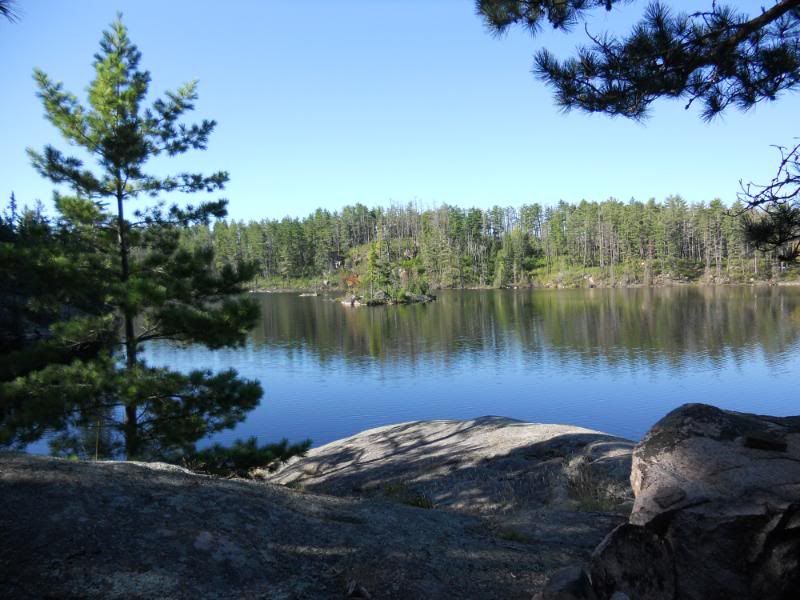 I hit the water with a cup of coffee and power bar, and begin to launch a spinnerbait along the south shore moving west. I catch about 15 smallies, most between 10 and 12 inches, a couple around 14. McNeice reminds me a little of Reid Lake from last year's solo. Neither is as clear as other lakes which I prefer. McNeice is darker whereas Reid is a more rusty color. I had heard there may be trout in McNeice so after gathering some nice downed pines for splitting, I tie on a deep diving firetiger rapala and troll back to camp. No trout.
After splitting all the pine and taking a short nap, I load up the canoe and head over to Shan for a couple hours. It's about 3:30 as I bring the canoe to the end of the portage into Shan. I look up and see a couple canoes and four ladies nearing the portage. They had just come over from Yum Yum and were planning to camp on McNeice. After exchanging greetings, they ask if I'm staying on McNeice and I tell them yes. I knew they were disappointed, and I felt bad they may have to retrace their route to camp for the night. We talk a little more and I mention a couple sites on Yum Yum and also the little island site on Shan with the moose skull. It was nice to find out from the BWCA.com site that one of the ladies was Sterngirl and that she and her party stayed on the island site and found it to be one of their favorite sites on their trip.
As I paddle south from the portage, I turn west into the SW cove of Shan and cast out my 19' deep diving rapala. I know there were some large pike and trophy lakers in here, and sure enough, within 10 minutes, I land a healthy 35 inch pike. But I was really in this cove for a big laker. About 15 minutes later, I get another strike. Gotta be a laker—aq big one. But this is weird. Instead of going deep and stripping a bunch of line, this big guy comes up really quick. I reel furiously to keep my 10-lb mono tight. As he nears the surface, he lets out a bunch of bubbles and he begins frantically twisting and thrashing round and round getting tangled in the line. This guy was at least 30 inches. After what seems like forever, he somehow manages to get untangled and then, BOOM, he shoots straight down, stripping about 20 yards of line out. Over the next ten minutes or so, I work him back to the canoe. He starts rolling again. Once on the surface, I notice a strange color on his large head and front part of his thick back—sort of an evergreen shade color—I've never seen such a color on a laker before and wonder if it was an optical illusion with the sunny sky and tall pines on the nearby shoreline. I really want to boat this behemoth. As he finishes his fight, the line is all about him and I grab the net to scoop him in. Next thing I know, I have part of him in the net but he's trashing about and soon tangled up the net. Then he gets out of the net and I see the lure now in the net, without the fish!! I make a last gasp swoop to net him, miss, and next thing I see is one last trash in the water and he rockets back down to the depths. NOOOOOOOO! NOOOOOOO!! Long pause. Some deep breaths. I think I actually cry for a second or two. Where's the damn vodka??
After regaining my composure, I rationalize that I'll hit another lunker if I just stay patient. But after another 20 minutes trolling around the hole without any strikes, and still pissed off at my stupidity, I head east past the island campsite and over to the far shoreline. There are loads of large pike up and down this shoreline which has numerous deadfall from the fires and deep water 20 to 30 feet from the shoreline. As I troll the deep diver along the drop, I hook into several pike, all measuring mid-30s, along with a few good smallmouth, one going 18 inches. The sight I remember the most was seeing three pike circling around a pike that I had hooked. As I got him under the boat, I see him about 10-15 feet down under the canoe. 3 other pike are passing just over and under the hooked pike. They are all about the same size and look like fat greenish torpedos in the water. So cool!!
After about 90 minutes of catching and releasing an untold number of pike and smallies, I put the fishing gear away and head back to the campsite on McNeice. Time for a nice fire and another pizza! I gorge on the pizza and then spend the rest of the evening with a great fire. As darkness approached, I get ready to do battle with the skeeters, but am amazed that none show up for the fight. Truly amazing!! None!! As the stars engulf the sky, I am in awe of everything around me. It is 11:00 as I hit the sack. This evening turned out to be one of the best I've ever enjoyed in Quetico.
Day 4.
Well, I'm all packed and ready for the hardest portage yet on this solo. It's 8:00 as I step into the canoe and dip my paddle into the calm water. I had awoken to a really cold tent. When I stepped outside, I found out why. Steam was coming out of my mouth and total fog surrounded the campsite and lake.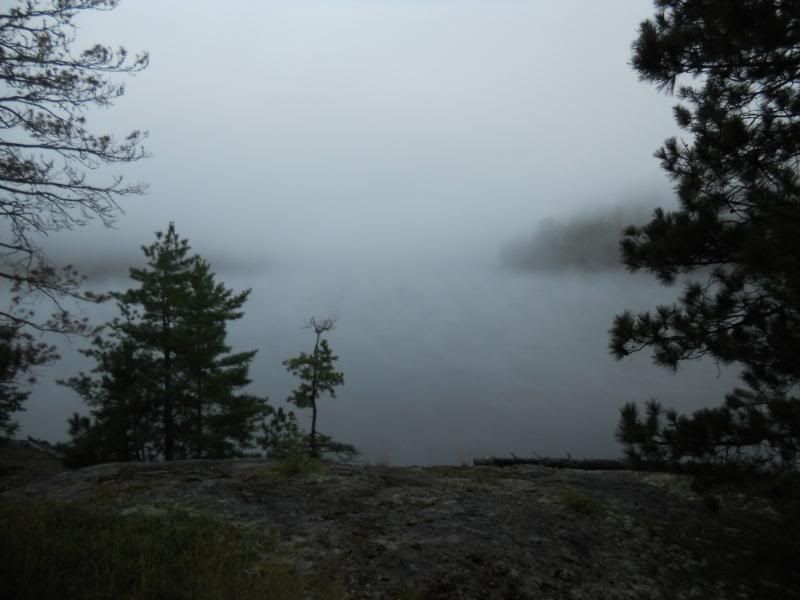 It was quite cold as I put my pants and rainpants over my merino wool long johns and then my shirt and fleece over my long sleeved merino wool t-shirt I wear while sleeping. The fog was so thick at first, I could barely see the little island a hundred yards or so to the southeast. But, as the morning sun warmed the air, I cooked up a quick breakfast of fresh eggs, bacon and coffee. The morning fog finally dissipated to reveal a gloriously brilliant blue sky and absolute calm on the water. Man, this is what being in Quetico is all about!!
As I near the portage on the NW shore of McNeice, I feel all the tensions of city life leaving my being. The picture here is one of my favorites on this solo journey.

As I rest on a rock taking in the northerly expanse of Kahshahpiwi, my legs and back are aching just a little. That portage I deem the "Little Monster". It was long and had a couple of good ups and downs. One area had a very steep, long descent followed by a steep vertical rock slab where I literally had to walk and crawl up 25 feet with the canoe perched precariously on the back of my head and upper back.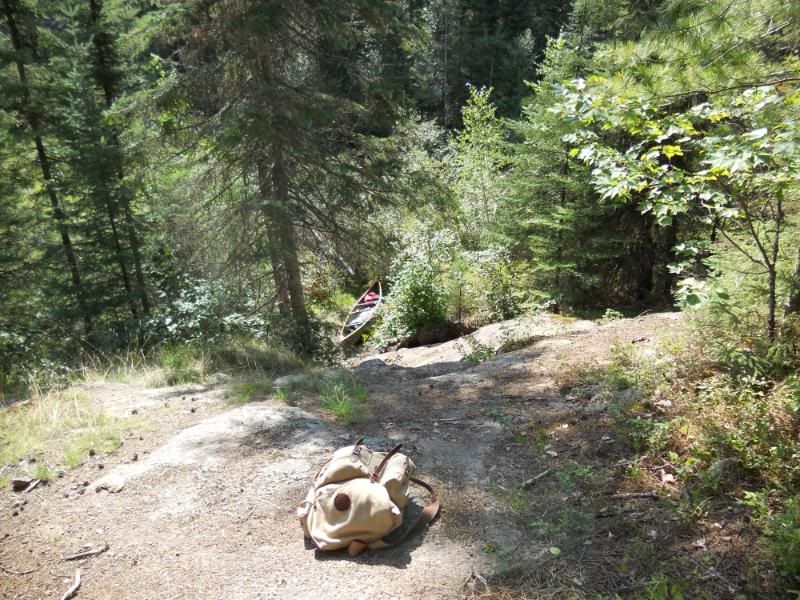 But I made it without any busted gear or body parts. I found the portage on the whole was quite scenic with some large pines, exposed rock outcrops, wolf scat, and berries all over the place.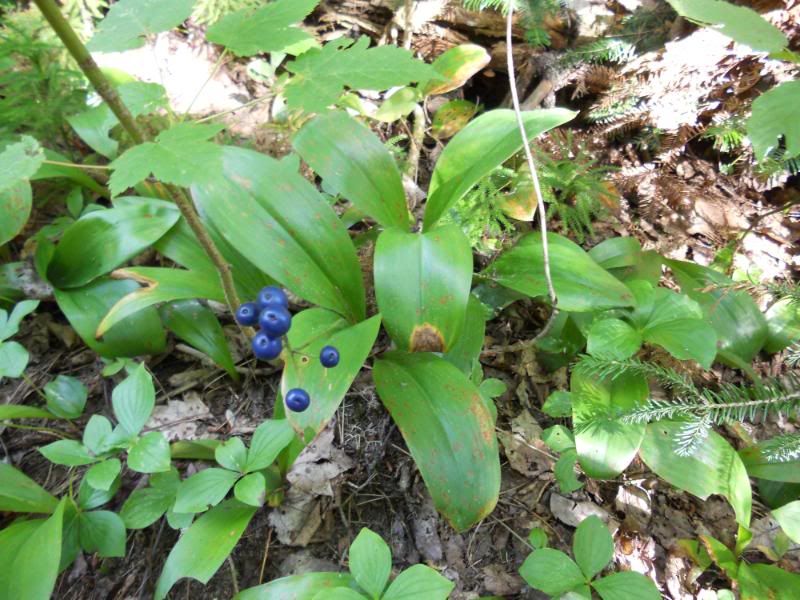 When I finally recover and get on Kahshahpiwi, I decide to troll north checking out the campsites. I'm in no real hurry and don't really have any particular site in mind, just a nice one I can use for a night or two. I scope out a decent site on SW side of the mid-lake island, but decide to cruise up the western shoreline another mile or so. It's a great day for paddling with just a hint of southerly wind urging me along. As I near the area of the portage to Joyce, I hook into a couple of nice walleye and smallmouth. Then I hit a snag. I back paddle to the snag which is now under the canoe. I give a couple of vertical jerks with my St Croix rod and next thing I know SNAP!!. What the??? Noooo!! My rod snapped! First time that's ever happened to me. In fact, this is the second St Croix rod that has snapped in our family. My son, a pretty good bass fisherman, snapped his last summer back in Ohio while horsing in a big largemouth. Both rods have snapped in the exact same spot, on the upper part of the two piece rod a few inches above where they join. Well, at least they're still under warranty, and more importantly, thank God I brought an extra rod! I continue paddling and north.
Well, that kinda sucks! As I paddle up the western shoreline finding every possible campsite burned over, I turn due east to a 4-star island site near the eastern shoreline. About halfway across the mile width, I see someone climbing up the hill to the campsite. Crap! Oh well. It's a decent day, the fishing is good, and I head south back to the mid-lake island campsite. Probably won't get there till near 3:00 now and I had hoped to set up camp a little earlier so I could spend the rest of the afternoon/evening relaxing and fish around dusk.
Next thing I know I hook and land a nice eater-sized trout. Surprise!! Dinner!! I go ahead and fillet the trout and continue south. As I approach the mid-lake island, I notice a nice looking campsite on the flat part on the NE side of the island. Not great, but nice enough--a few feet above the water, little cove to the north, another small cove to the south, small hill rising to the NE and larger hill rising to the main part of the island to the W/SW.
After unloading the canoe, I head up the hill into the woods to find some deadwood for splitting and the evening fire. Lo and behold. I'm scrounging around for some deadfall and I notice some color…blueberries!! A boatload of them! So I spend the next 10 minutes gorging on blueberries. After a 50 decibel belch, I grab my deadfall and drag it down the slope to camp. I saw and split the wood, enough for a nice baked trout dinner and poppy seed muffins in the morning. After stacking the wood by the firepit, I realize cumulostratus clouds have rolled in. They get thicker by the minute grayer and lower. It even smells like it's gonna rain. I better get the fire going fast. I prep the trout in foil with butter and Cajun seasoning as the fire builds up. I am really hungry and I hope it cooks before the rain comes. Dang it!! It's starting to drizzle. I quickly put up the tarp and move all the gear and firewood under it. I plop a few more logs on the fire to keep it going. At least it's a light drizzle. After another 10 minutes or so, I place the foil-wrapped trout on the grate. I'm getting hungrier by the minute!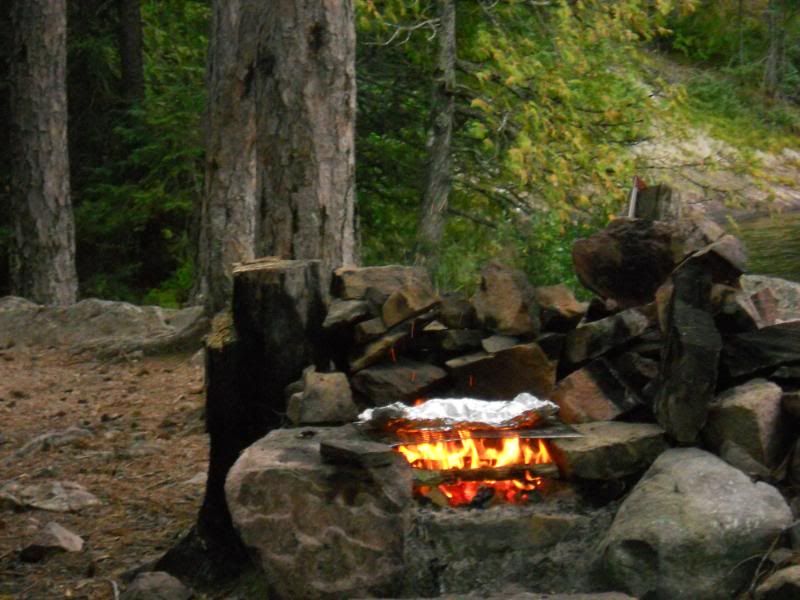 Everything turns out okay. The drizzle comes and goes but remains light. It's almost dead calm on the water. As I wait for the trout to cook, I think about staying here another day. The fishing just north up from here was really good. Or I could just get up and head over to Joyce. Or go south down to Side and over to McIntyre. Some many options!?! The trout is ready. The rain/drizzle stops. And the trout is really, really good!! Holy moly!!
It's almost 6:00 when I finish dinner. That really hit the spot! It starts raining now, but I'm nice and dry sitting under the tarp. I put a little too much Cajun spice and pepper on the trout and my mouth is burning. But, that's ok. I'll just drink a little more. The rain puts the fire out--not sure how long this rain will last.
This is so strange. The rain completely stopped. It's now absolutely calm and the clouds have passed. The sky is getting lighter with high stratus. I put up the tent and then walk up the small hill NE of my campsite as the sun struggles to come out behind me. I sit on a rock staring over a small cliff. I look left to the north and Kahshahpiwi just goes and goes, its surface an endless piece of smooth glass.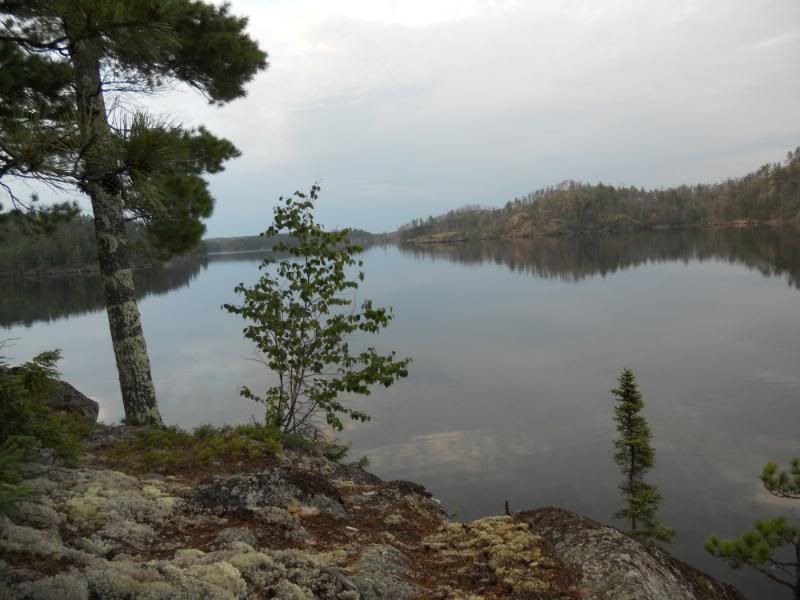 The whole east shoreline is burned and all I see are these gigantic couple hundred feet high cliffs with burned out pine and new pine and birch growing on the slopes. A lot of the rock is exposed to the elements. The southwest side of Kahs hasn't been burned at all and the difference is stark.
On top of this little cliff, I'm surrounded by young white pine, red pine, northern pine, and some jack pine. When the rain stopped, I came up here mainly to get away from the mosquitoes by the shore and relax with a cigar. Blueberries are everywhere. And hardly any mosquitoes! I spend an hour or so soaking in the scenery almost mesmerized as the sun begins to set. It's almost surreal how quiet it is. The silence is amazing. Every now and then I catch the buzz of a bee or the echo of a loon. But the sounds of wildlife are very few and far between. It's absolutely calm and I don't see anything happening on the surface. Then I hear the chirp and flittering of a pine sparrow jumping from branch to branch about 10 feet away. A lone sparrow, the only one I've seen, and he's probably wondering who I am and why I'm up here in his territory.
I notice how tired my body feels, and I'm still not sure I'm fully recovered from my bout with pneumonia a couple weeks ago. So I decide against going through the challenging portages to Joyce. I'll head south tomorrow through Side and over to McIntyre via Sarah. Do some trout fishing there and then head down to Robinson and maybe relax there for 3 nights before heading back to Prairie Portage.
I return to camp and find the mosquitoes have all gone. So strange. They were all over the place when it was raining, and now it's almost dark and they're nowhere to be seen or felt. But who's complaining? I make sure everything is secured for the night and drop off to sleep as soon as my head hits the pillow.
Part 2 Coming Soon.