Pt. 2 Quetico Solo 2011 McNiece, Burt, and Ted
by TomT
Trip Type: Paddling Canoe
Exit Point: Moose Lake Chain Only (EP F)
Wednesday September 7th, 2011
I was very comfortable last night. Not as cold as the previous nights. I hear the alarm at 6:00 but since this is a layover day I lay in bed and drift back to sleep. When I wake it's 8:15. Guess I was short on sleep. I take my time making oatmeal w/strawberries and 2 coffees. I eat on the front porch and have a great view up the lake at a string of islands.
"So, it's a perfect day. Sunny, no clouds, very little wind, and it's a play day! I set out about 10:15 with a lunch and my fishing gear."
I head north to the message jar site and yes! It's vacant. The group camped there must have left this morning. I pull up and see that it's indeed a very nice site. I take one of the trails that go to the back of the site and after a ways I come upon this rock cairn.
I remove a couple of rocks and inside is a plastic jar. Inside are notes left by passersby over the years. There's also a pencil and sharpener and someone left a bag of tobacco.
I don't have paper on me so don't leave a message. I go through the zip lock bags and find the one marked "Ted Lake message cache 9/27/ 1998". There's the originator's name and instructions to leave a note and then return the jar inside the cairn and rebuild it.
I don't want to spend a lot of time reading notes but I open up a few bags and out pops one that I have heard about in another trip report. It's written by a young girl.
I'm very impressed by this. Wonder what she's up to these days. The way she came to Ted is the one mile bushwhack from Robinson that I plan on doing tomorrow. Reading her note gives me more confidence to do that portage.
Back on the lake now and I cross the lake to troll a crank bait between the islands on my way to Milt Lake for the day. Not long after throwing out the lure I get a big hit. It's heavy and doesn't surface so I rule out a smallmouth. I've heard there are lake trout in Ted and this is what I think I'm into. This is a powerful fish and it stays down deep making long runs. "I finally work it up to the boat about 7 feet down and I see a long dark colored fish with spots. A northern? No, probably a dark laker like the one I caught on McIntyre years ago.
It fights hard. This fish is a brute. I work it close again and YES, it's a large northern pike. I didn't know they were in here. I thought only trout and smallmouth bass. I'm a little disappointed but really impressed with the strength of this fish."
I pull it into the boat with my plastic grippers and it's a beautiful fish. It's a 29 inch fat northern. Solid is a better word.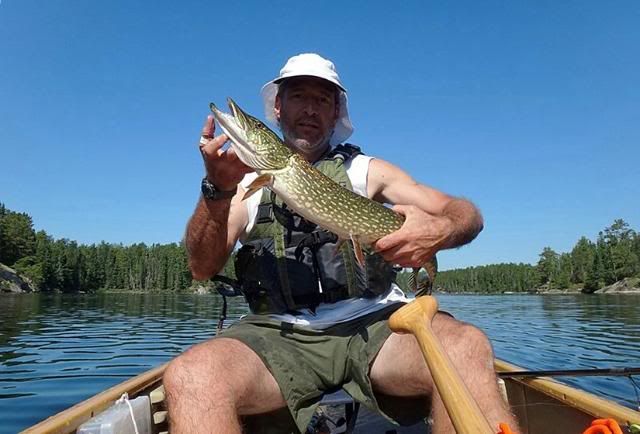 "I grab it under the jaw for a pic but it's hard keeping it still. I lift it over the side and it shakes itself loose and flops in the lake. It swims away and seems ok. I hope that one grows another 15 inches. What a fighter."
I troll to the end of the bay and don't catch anything more so I take the portage into Milt Lake. I hear there is largemouth bass in here. I troll north to the narrows with no success. I turn around and immediately catch two very small smallmouth bass. I let them go and continue trolling a crank bait down the western shore when I have a hit.
It's fairly heavy but not a big fighter. It never comes out of the water (jumps) until near the boat. It's a smallie but doesn't fight like one. It's 18 inches long but underweight. It's also strange looking. Could this fish be a bass hybrid? A combination largemouth and smallmouth? I decide to keep it because the action is so slow and I want a fish dinner tonight.
A while later the action really heated up along the south western shore and I caught a bunch of healthy looking bass. Compare the 1st one here which I kept to eat and the other normal looking smallmouth below it.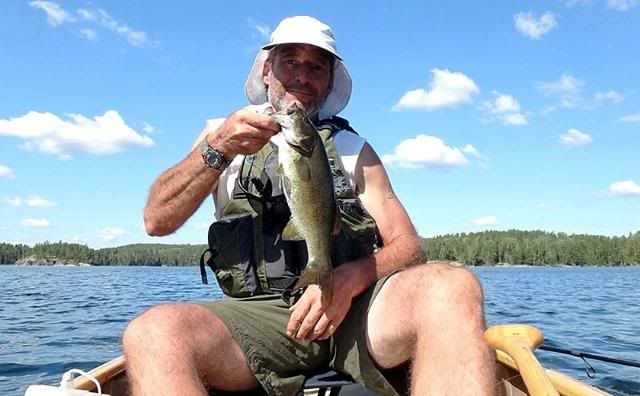 I stop on a point where there is a campsite and have lunch. After lunch I catch maybe 4 or 5 more nice smallies. The largest goes 16 inches and they fight like normal - coming out of the water to shake their heads and taking long runs down deep.
Where are all the largemouths? It's possible that smallies have taken over the spawning areas and forced the largemouth out. A lot of walleye fisherman despise smallmouths for this very reason. They take over the lake and they are not even native to this area.
It's 3:00 now so I portage back to Ted and catch a nice 18 inch smallie between the islands. It fights hard but is not in the class of the brute I caught on Burt. That fish was thicker and stronger but these are still a lot of fun to catch.
I then troll over to the pictograph cliff across from my site.
It's amazing that these painting have lasted for probably hundreds of years. I think of the people who used to live in this area. Talk about roughing it! I wonder what they were like.
Back at camp I cook the fish and it's very bland. "The meat is not firm. I think this fish was sick. The meat looked ok and had no spots. Hope I did the right thing by eating it."
I pack away the fishing gear in anticipation of tomorrows bushwhack. I check the blisters on my thumbs and both are healing nicely. The sun is starting to set and it's warm out - probably 70 degrees. Tomorrow promises to be even warmer and I plan to get an early start.
I read for awhile on the porch then pull out the camera and shoot in the good light. I try to be creative, awakening the artistic side from when I studied art and photography 30 years ago. It's a lot of fun and keeps me occupied.
The fireplace is real nice here.
My cozy little camp. The fireplace is on the right and faces the lake.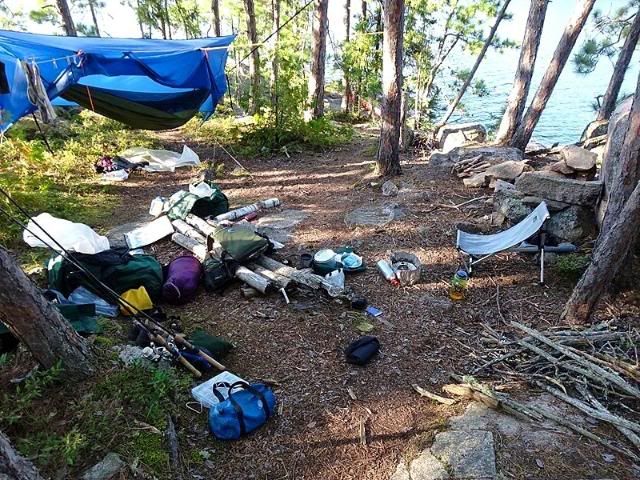 My boat is pulled up ready for overnight. I learned from others on BWCA.com to always make sure your boat is secure overnight.
The front porch is real nice here.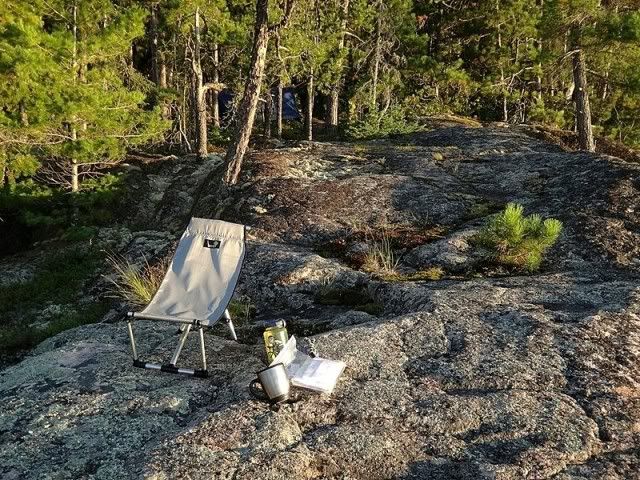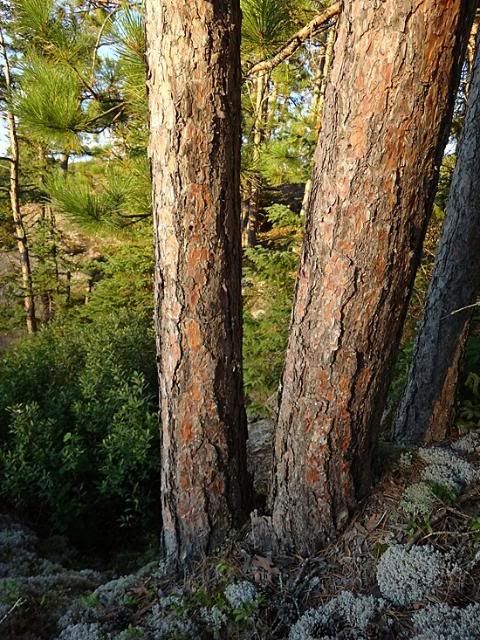 This next one I played around with at home on the computer.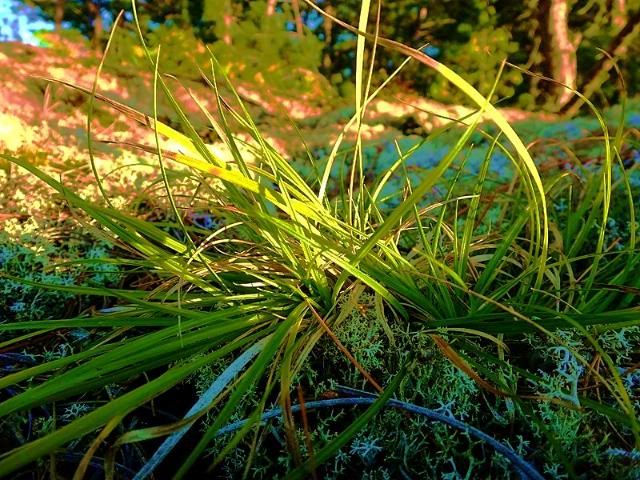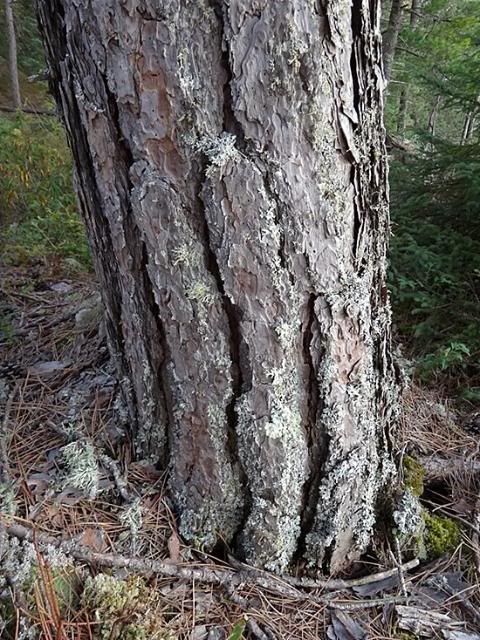 Then I walked around by shore to see what I could find.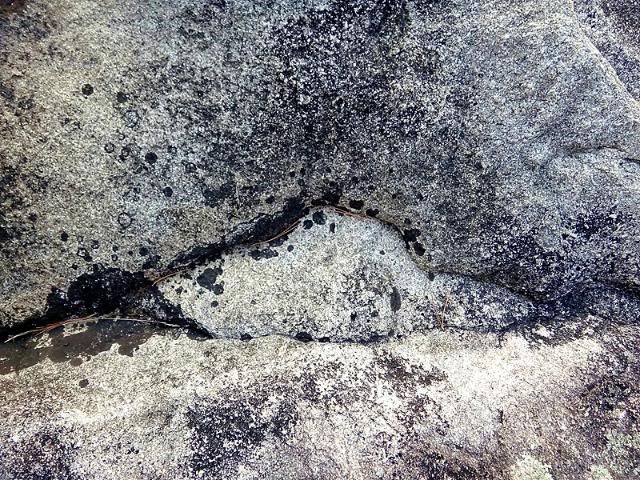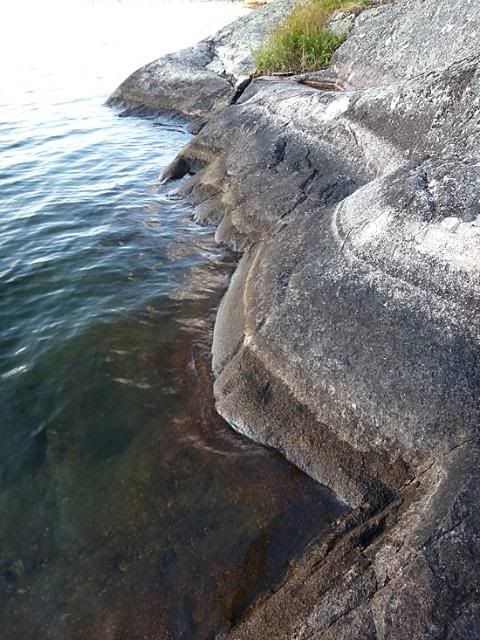 The pictograph cliff seen from the front porch gets really lit up in the evening.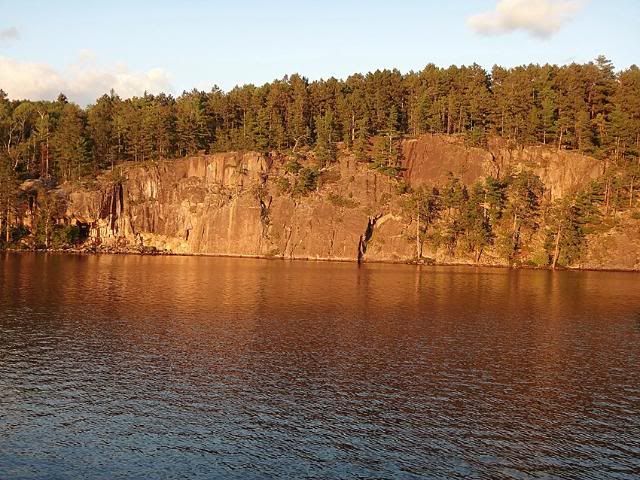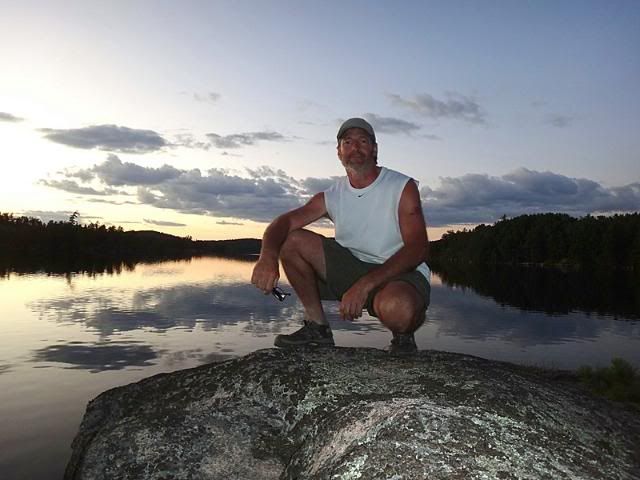 Ted lake is just gorgeous.
I hear a few loons calling to each other. Loons are so great to see and especially to hear. Take a minute and check out this video.
Here's another one with a different call and one you usually hear in the evening or morning time.
You'll see them on most lakes up here. They are a big part of the experience up here in Quetico.
After taking these pics I make sure camp is all cleaned up and I head to bed for a good night sleep. I'm pretty excited about tomorrow.
Planning Links
Featured Sponsor