Wisconsin River
by candyj
Trip Type: Paddling Canoe
Trip Introduction:
For many years, a friend of mine has had the desire to paddle the Wisconsin River or maybe it started out as the Mississippi River, but the Wisconsin River seemed closer to home and a good starting point for a "big" river trip. Finally I gave in to the idea and began planning for the trip. We had to split it into two because work just does not allow us to be gone for 3 continuous weeks. So here begins the details of an epic adventure; a plan to see the Wisconsin River. Every mile of it.
Friday, May 20, 2011
We arrived at Lac Vieux Desert campground around 6 pm and set up camp. The campground is near the Michigan-Wisconsin border. The evening was very sunny and the temp was in the 60s. For the rest of the evening we checked out the surrounding area by walking to the very beginning of the Wisconsin River.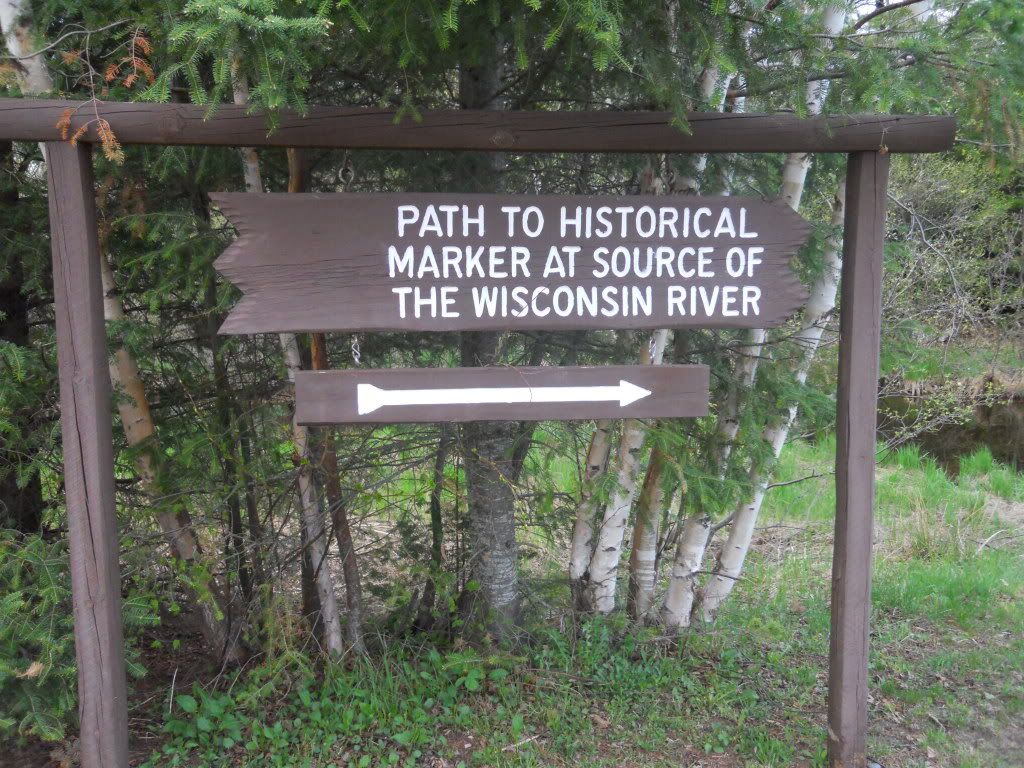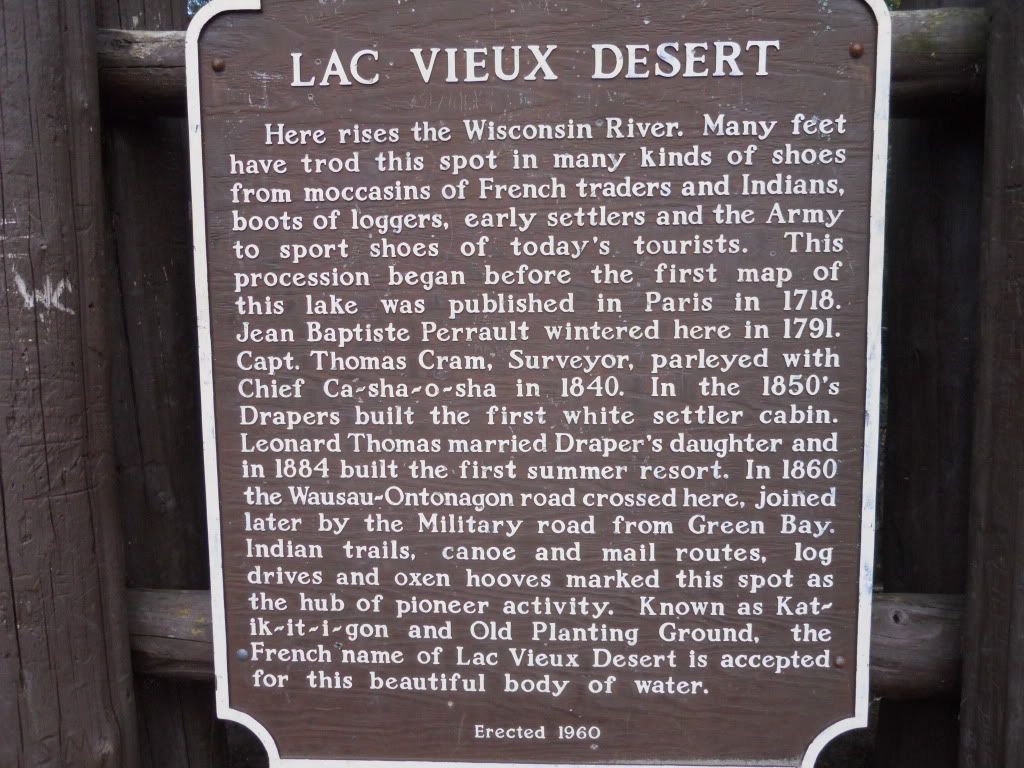 At the start there is a small dam holding back Lac Vieux Desert that might be about 6-8 feet wide.
<

The depth marker showed about 4.5 inches of water. The Wisconsin Valley Improvement Cooperative states that 0.6 feet of water at the dam gage is sufficient to float a canoe from the headwaters of the Wisconsin.
Back at the campground, we ended up next to a walleye fishing party that partied until 4 am. This would be our most unpleasant night.
Saturday, May 21, 2011
We awoke around 7 am and after packing up the tent and sleeping gear, we dressed and had bananas for breakfast. It was very sunny but cool. Within an hour we left our campsite. Yes, the bananas were allowed to make the trip. A significant aspect of every outdoor adventure is meticulous menu planning. The challenge to eat well and carry little weight in the grub sack, means meals are preplanned, precooked, and dehydrated. So, sneaking the bag of real food, i.e. bananas, along for the first day was Mary's doing, of course.
We had no problem with the depth of the water. The river starts in a very marshy yet open area with a lot of grasses. Soon we were paddling through parts of the river where the alder brush grows so thick that it can cover the entire river.
The river is very curvy, with many beaver dams and oxbows.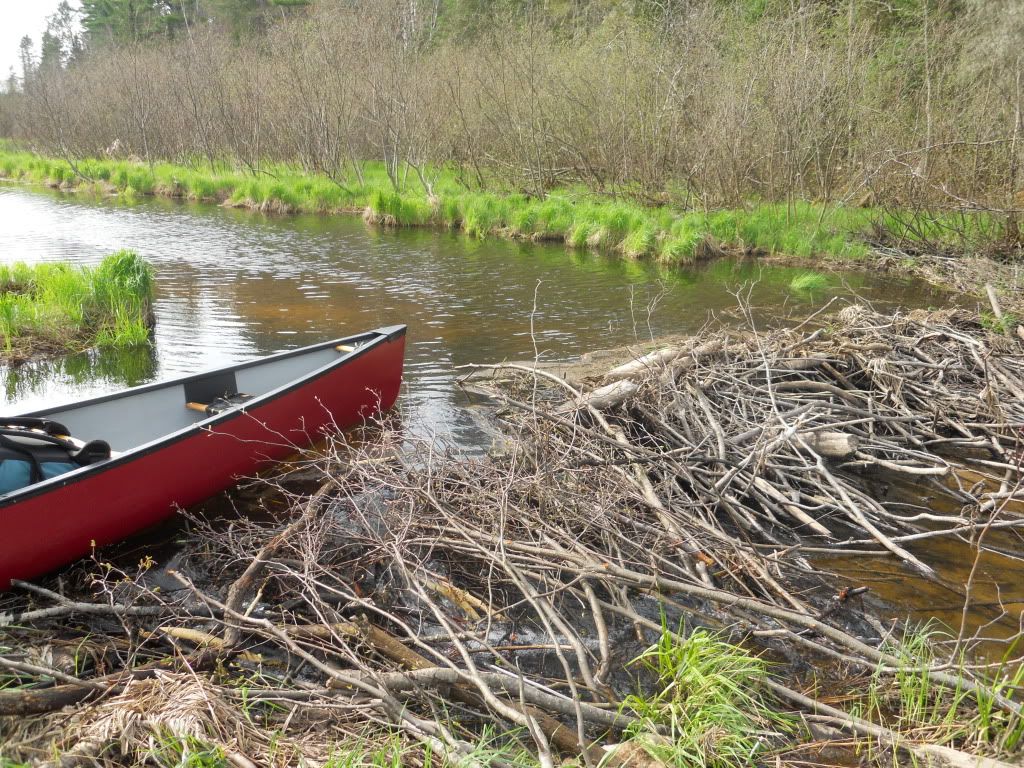 At mile 005, we were at highway 45 and we were able to pick up our first water jug (we had stashed 3 1-gallon milk jugs with fresh water, each under or near a bridge). We were concerned about drinking water from the Wisconsin.
With each widening of the stream, the slower and deeper water meant that another beaver colony had been hard at work. The dams, amazingly sturdy, were not as difficult to portage as I had imagined they might be. Most were merely a matter of pulling up to the narrowest part, getting out and pushing the canoe over the sticks and branches, and then onward!
The sky got cloudier as afternoon approached. We stopped along the river for lunch where we had an apple and granola bar. We had crossed 13 beaver dams by the time rain started coming down gently, but steady, around 2 pm. Then it began to downpour. We continued on, since we could not afford the time to stop for every raindrop on this trip! At mile 13 we found a campsite off Rummels Road that had a shelter, picnic table and real outhouse. Mary's raincoat was not as waterproof as she thought, so by the time we stopped, she was pretty cold and wet. We did not bring a lot of extra clothing, but luckily what extra we had was dry.
We were able to set up the tent under the shelter after we moved the picnic table over. The table was very dirty with food stains and bird poop. So one of the first things we did was wash it. Since it was still raining hard, we did not have much else to do but eat. We had some rehydrated meal and hot chocolate. We soon went to bed since we were pretty tired.
Sunday, May 22, 2011
We had thunder and lightening all morning. We didn't get up until 9 am, when the rain stopped and the sun came out.
We cleaned up and had scrambled eggs, hash browns, and bacon for breakfast. We were on the water by 11 am. The river had come up at least 6 inches if not more. It was still very curvy, and quite narrow. We crossed a few more beaver dams (up to 17 dams to this point). We came to the highway K bridge outside of Conover and picked up our second water jug. By time we stopped for lunch at mile 25, the river was about as wide as the Big Rib River at Rib Falls.
Lunch was at the River Road landing. We had some beef jerky and M&Ms when daunting black clouds were coming in from the southwest. Mary wanted to stay and take shelter but I did not think they were that close. So we set off down the river. In about 20 minutes the rain started. We found cover by pulling the canoe through a thick cluster of alders next to a coyote den. There we sat in the canoe under a tarp when the rain started to really come down. I mean it poured. We sat there for about an hour, sponging up the water that came in the canoe. Once the threatening clouds passed, we set off down the river. We started looking for a place to camp at 7 pm. We found a place at about mile 33.
Our site was probably on private land. It had looked like it was used for a campsite before with remnants of a campfire ring with rocks. We set up our site and had burritos and hot chocolate for supper. There was still a light rain coming down. We were in our sleeping bags by 9 pm and we could hear owls hooting and later, the coyotes began howling.
Monday, May 23, 2011
We got on the river by 7:30. It looked like it was going to rain. We skipped breakfast because we knew we could probably make it to the highway G bridge just north of Eagle River. Rain soon came while we were still a mile from the bridge. We picked up our third water jug under the highway G bridge. Breakfast was raisin bran under the little shelter while a steady rain came down. The rain soon slowed and finally stopped as we got closer to Eagle River. The river does not come very close to downtown Eagle River so we could hardly tell that we were going through town. At this point, we had yet to see another boat on the water.
At mile 041, Otter Rapids dam was our first dam.
As we would learn, each dam comes with a "Take Out" sign just before the dam and a "Put In" sign below the dam. Knowing which side the take out will occur was a must so we wouldn't be crossing the width of the river at the last minute. Being so close to the dam is never a good feeling. Our first portage was only about 150'. After the dam, the river goes along highway 70, close enough to see the traffic. There were also more big rocks. With the water levels pretty high, we did not have any problems navigating this portion. At mile 047, we stopped at DNR campsite #41 to have lunch. We had Waldorf Chicken salad. This is a nice campsite, a lot of room and very flat. It would have been a very nice place to camp if it would have been later in the day.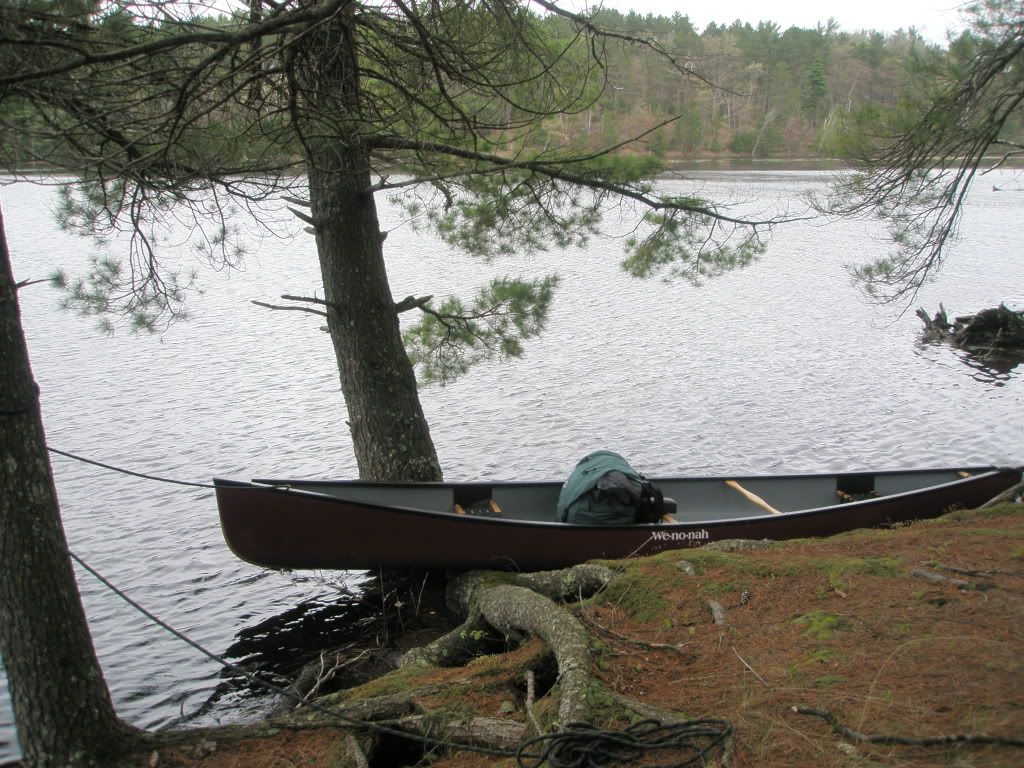 The river becomes much wider after this point because of the start of the Rainbow Reservoir. Crossing the reservoir was a real challenge due to the wind. The reservoir was the biggest water we had ever traveled in a canoe. After an hour and a half we finally approached the dam at mile 058.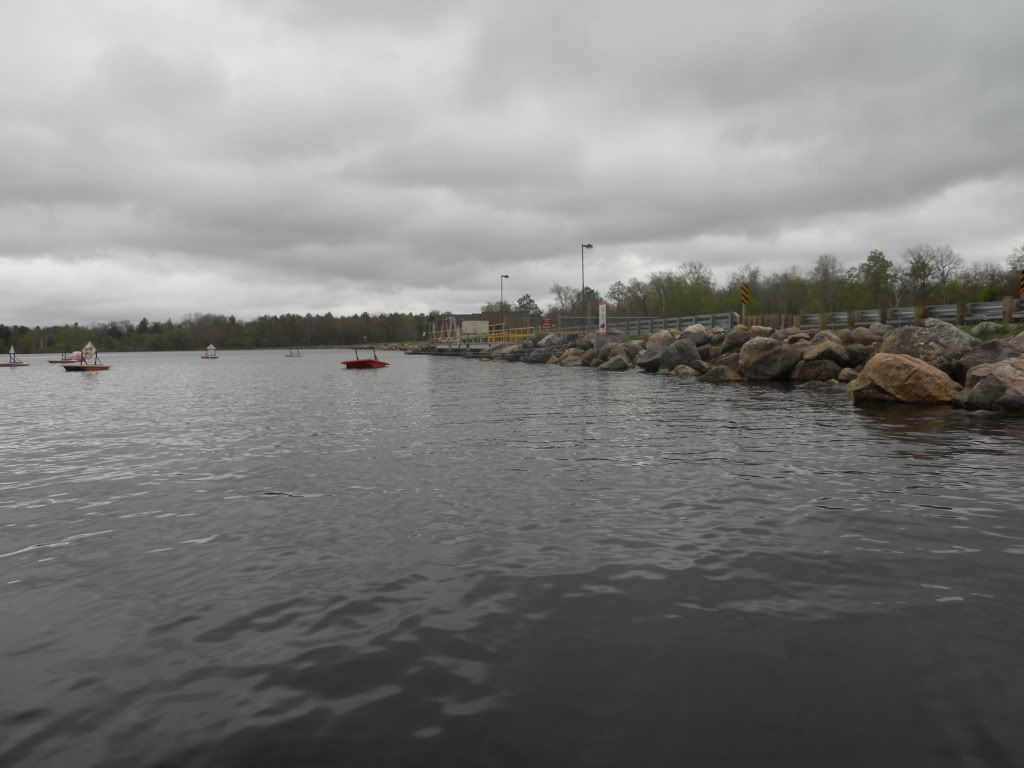 The next 2 miles were very scenic with increased flow, rocks and simple rapids because the water levels were higher than normal. We saw a lot of eagles on the river. At mile 060 we found the DNR campsite #43. The site was right at Rainbow Rapids. We just about missed it but at the last second we spotted the campsite sign. The site was up the bank and it had many little flying moth-like bugs that landed on us but did not bite. Mary hauled out her bug shield and that seemed to work very well. I wish I had remembered mine. We set up camp and had some ham and rice meal. An eagle sat in a tree just above our site and watched us the entire time. This site had a toilet located in the woods without a trail leading to it. It was very odd.
This night the coyotes howled as the temperature must have dropped to 35 degrees.
Tuesday, May 24, 2011
Today started out very cold so we had to have the neoprene gloves on during the morning, but it was very sunny. We got started around 8:30. The river had very good flow, very scenic, and curvy. We started to see some homes as we were approaching the flowage coming into Rhinelander. At one home a guy came to the river's edge and said the river had come up three feet. I think he was exaggerating a little. No one's dock was under water.
Being in a canoe you can sneak up on anyone. One guy was swearing at his dog to shut up, not knowing the dog was probably barking at us.
We made it to the Rhinelander Dam in T-shirts and shorts. It was very warm by now. We pulled our gear up on the mowed grass at the beginning of the portage. While looking at the map for the portage trail around the paper mill, a driver of a minivan lost control, drove up on the sidewalk, and then back onto the street. I think the driver was looking at us and not paying attention to the curve in the street. The portage was not as bad as I imagined. The gate around the mill was open and the road was easy to walk. The portage was about one-half mile. We always doubled portaged, so we ended up walking 1.5 miles for this one.
We paddled at little further into Rhinelander and came upon a very nice lady out in her yard. Her name was Linneae. We stopped at her dock to ask the whereabouts of Mel's Trading Post. Mary's rain jacket absorbed more water than it repelled so we thought we could pick up a new one. Linneae filled our water jugs with fresh water and also took us in her van to Mel's. I think she felt sorry for us and didn't want us to have to walk even though it was only 5 blocks and we were in training for a 26.2 mile walk in less than two weeks.
Mary found a raincoat at Mel's. We got back on the water and found a place to take out so that we could have supper at Culver's. While at Culver's, Mary suggested staying the night at America's Best Inn motel just on the edge of Rhinelander. That sounded pretty good after thinking about how wonderful a shower would feel. The room also came with breakfast in the morning. So we stored the canoe in the wooded lot next to the motel. The attendant at the motel borrowed us her padlock and she also found us a chain, one of those ceiling lamps electric cord chains, to lock up the canoe with. While locking up the canoe, I happened to step in dog s---. Of course I did not know this until I was back in the motel room and Mary came in and asked what had died in the room. Anyways, we slept well at mile 081.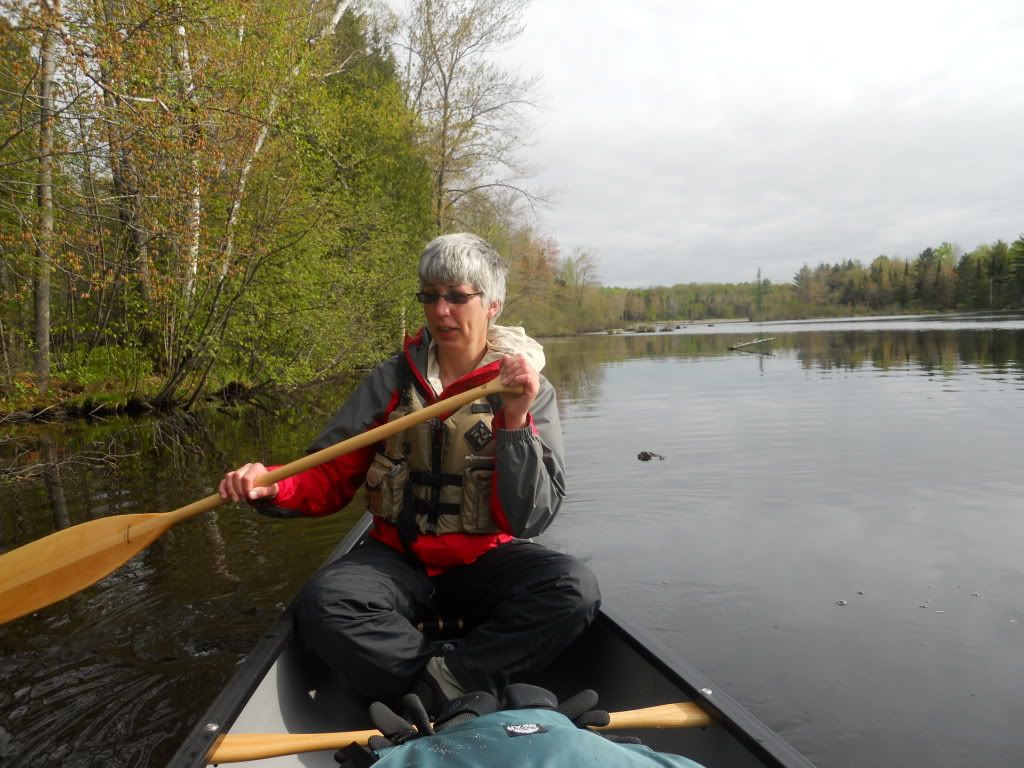 Wednesday, May 25, 2011
With a good night's sleep and hot breakfast we got started at 8:15. Our first stop was the Artesian well that Linneae informed us of, about 3 miles down river by the large growth of forget-me-nots, on river right. We refilled our water jugs with the wonderful tasting water.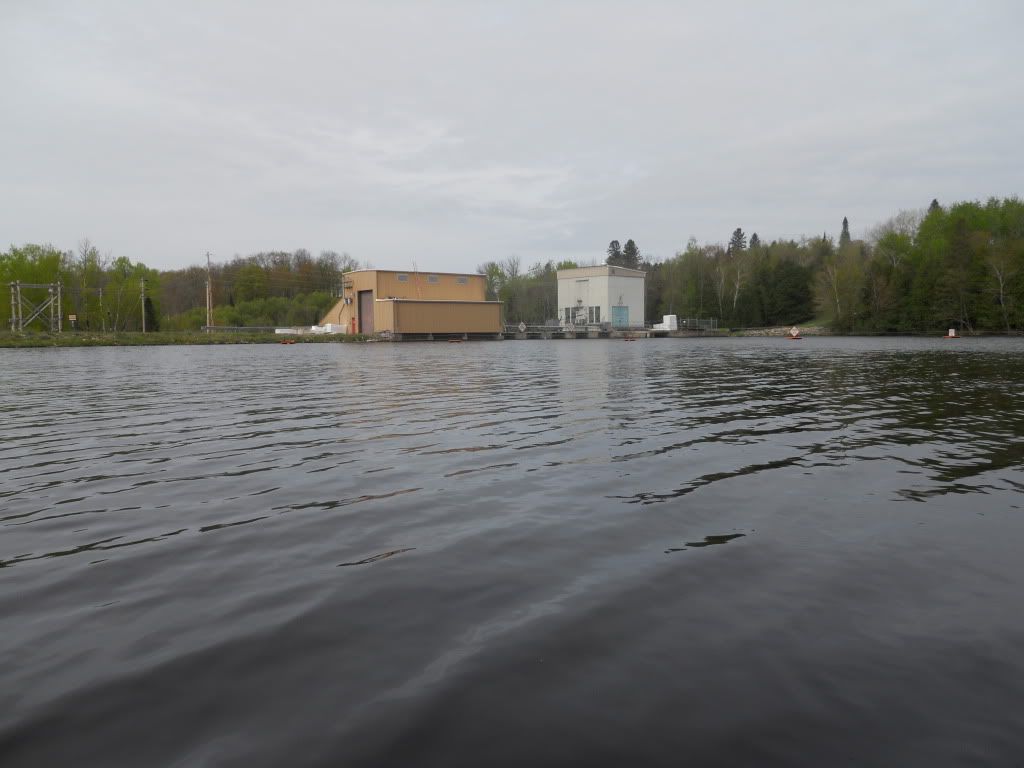 At mile 087 was Hat Rapids Dam. Kulp's of Stratford was roofing the hydroplant. Hat Rapids and the larger Whirlpool Rapids follow. The water levels were still up and we went through the rapids with no disaster. Whirlpool Rapids put enough water in the canoe to keep Mary busy with sponging the excess out. The rapids are located next to an island. By going to the left of the island, the rapids are a straight shot, but the drop in the river is greater than going to the right of the island. By going to the right, the river makes a sharp curve around the island. I lead us to the left of the island because I could see my way through it. On the right, the river curves to the left and I could not see beyond the turn. I could not see the steep drop that makes the channel on the left so when we went through the rapids which up close became 3 feet high and the water easily came into the canoe as we went through. We both were wet up to our chests, but with the rain gear on we were dry inside.
Soon we arrived in the Lake Alice flowage. We found a very nice little bay to pull into and have lunch. One of our favorite meals, tuna salad, tasted so good.
The clouds started to show and the wind was coming from the southeast. Kings Dam came upon us at mile 104. This was our first portage that had a more challenging trail. Challenging in that it had a very steep hill to climb. There was a mosquito-breeding pool at the bottom of the hill. Soon we made our way into Tomahawk.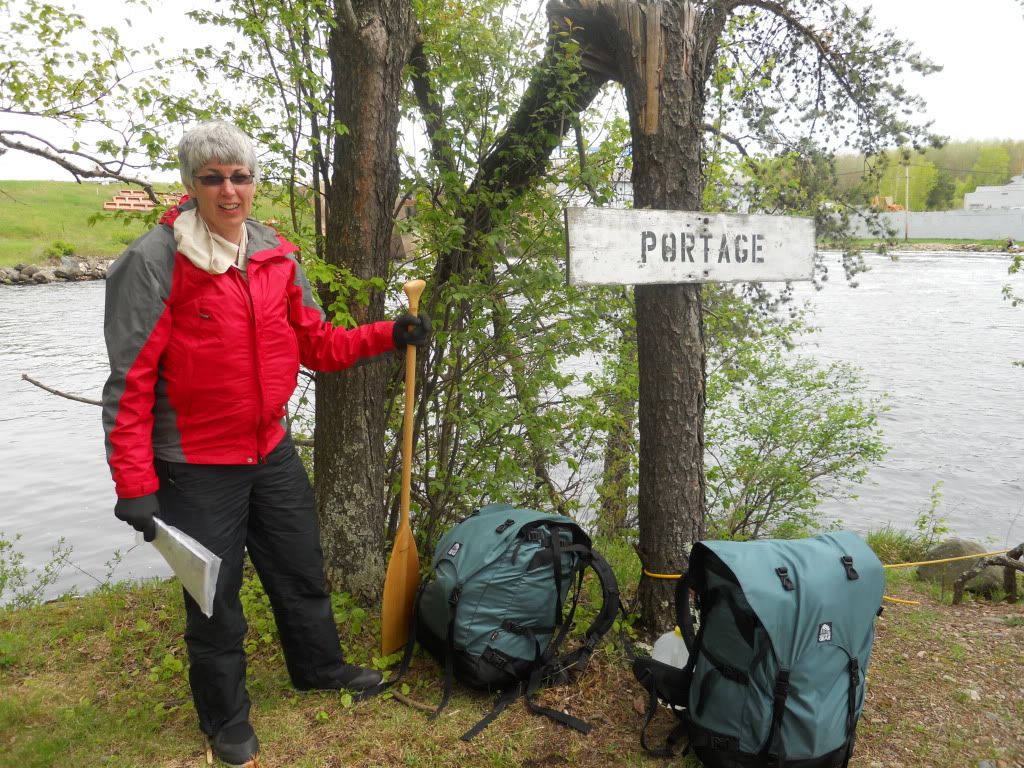 Supper was at Dairy Queen. It is located right on the river and easy to get to. Over an ice cream cone we made the decision to go on a couple more hours to make up some distance we had lost on days 1 and 2. It was kind of hard to keep going, since it was already past 5 o'clock, the wind was coming from the south, we had already paddled 30 miles, and it threatened rain anytime. But we moved on and made it through Tomahawk dam that makes Lake Mohawksin. After the dam we knew we had to find a site along the river. At about 7:30, we stopped at about mile 113.
We set up camp and were ready to sleep by 8:30. A deer snorted at us shortly after we lay down. The snorting lasted for about 15-20 minutes, therefore, this became known as Snorting Deer site to us.
Thursday, May 26, 2011
The day was very sunny, upper 60s, very similar to most of our days. There was a cool north wind, however. We got going about 0830 after having oatmeal in a bag for breakfast.
The first dam was Grandmother then on to Grandfather Dam. At Grandfather Dam, the portage trail is quite long.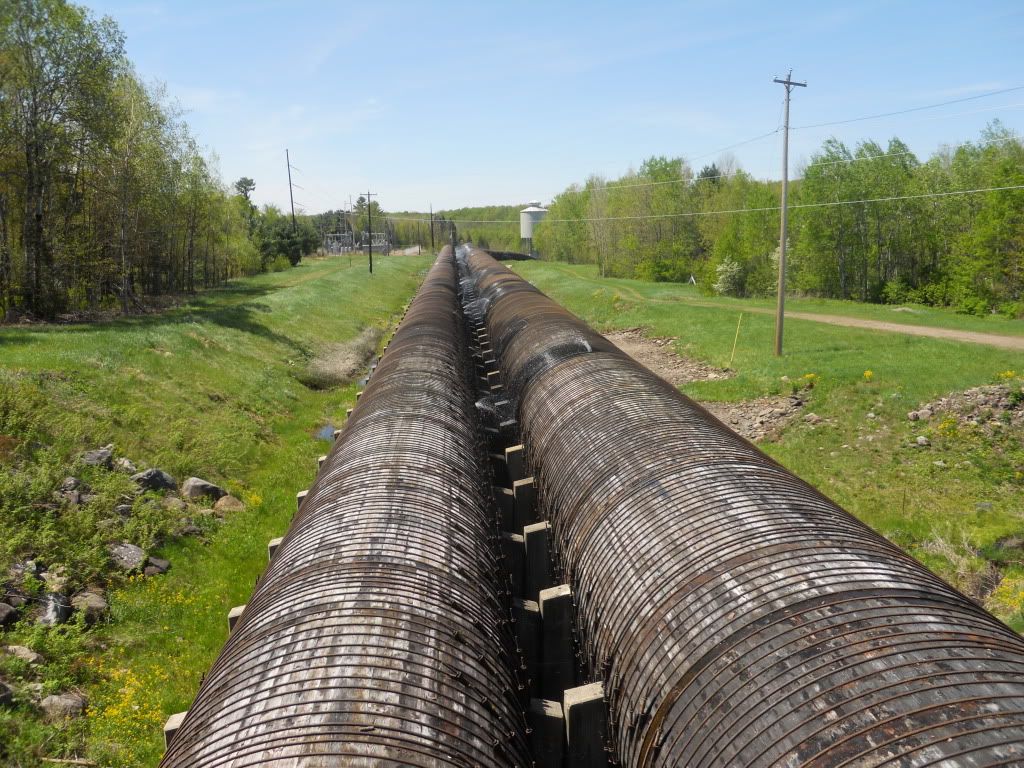 We had to check out the wooden pipes, or penstocks, that carry most of the water; very impressive. Then we discovered part of the Ice Age Trail that was new to us.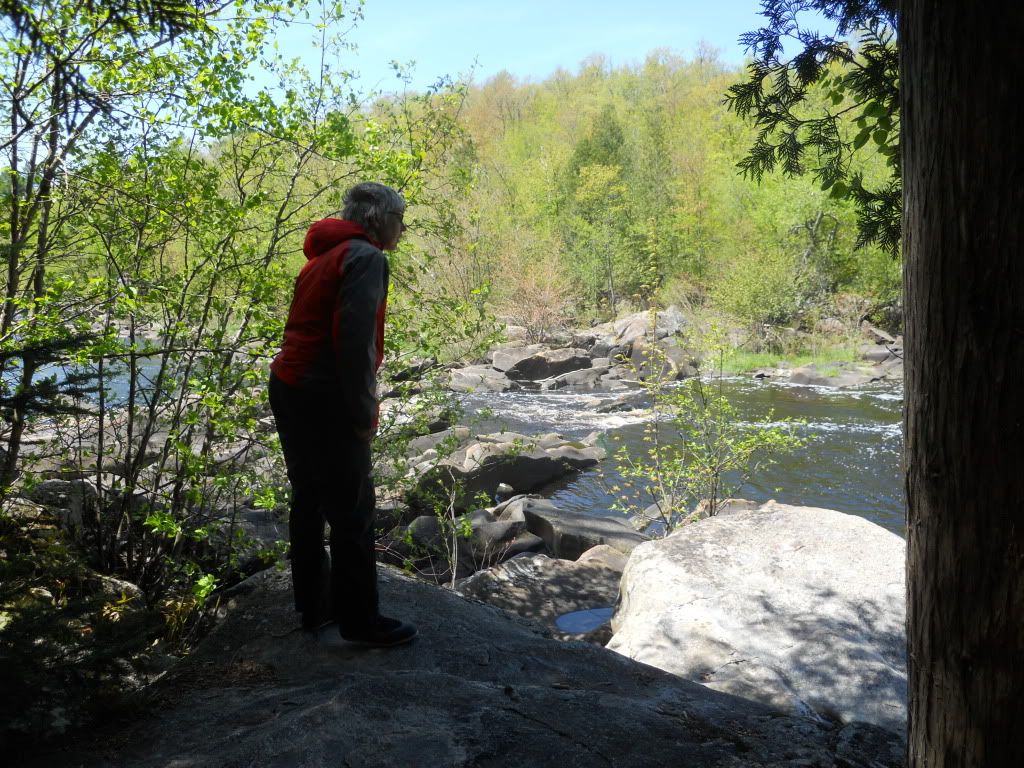 We lunched at New Wood County Park and had some rehydrated rice and vegetables with salmon, GORP, and M & Ms. We continued on through Lake Alexander and saw owl fledglings. They were very cute.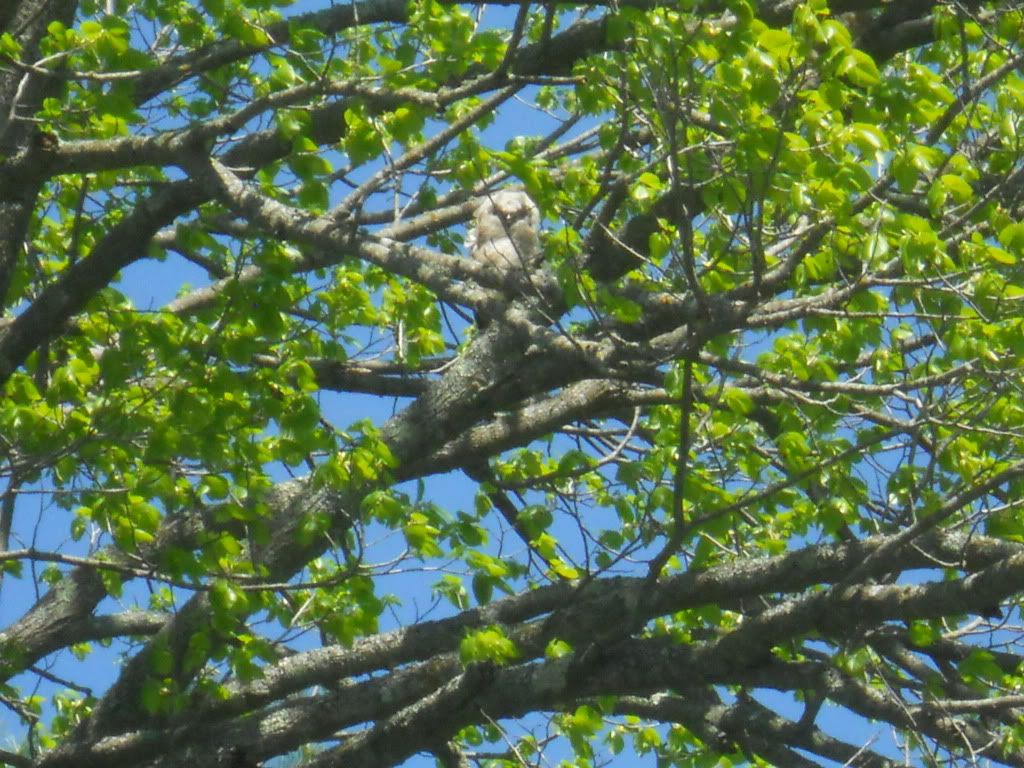 We arrived at Council Grounds and Alexander Dam at about 4:30. Since it was too early to stop for the day, we decided to continue on to Merrill.
We arrive into Merrill about 6 pm, and made it around the Merrill Dam. This was the first time we felt "unsafe", just with the shady characters hanging around the dam and railroad tracks. Since we hadn't had supper, Mary took the walk to Hardee's while I stayed with the canoe and gear. She was able to purchase lip balm with sunscreen for our sun burnt lips that we were suffering with since Rhinelander.
For supper we had 1/3 pounders with fries (yes, we know we were not eating healthy). At 7:30, we left Merrill. We knew we had to find a site. At mile 143, we chose an island covered in ferns. This site became known as Fern Island to us. It was amazing on the island, all ferns, no grass, and no mosquitos. We were in the tent and ready to sleep by 9 pm.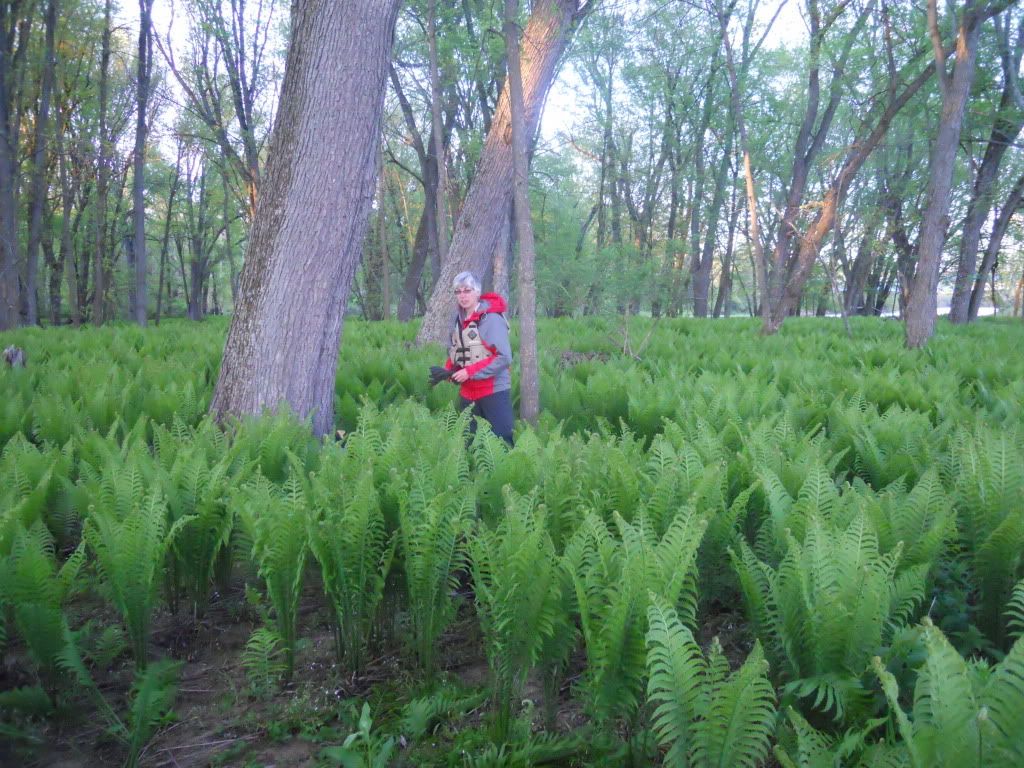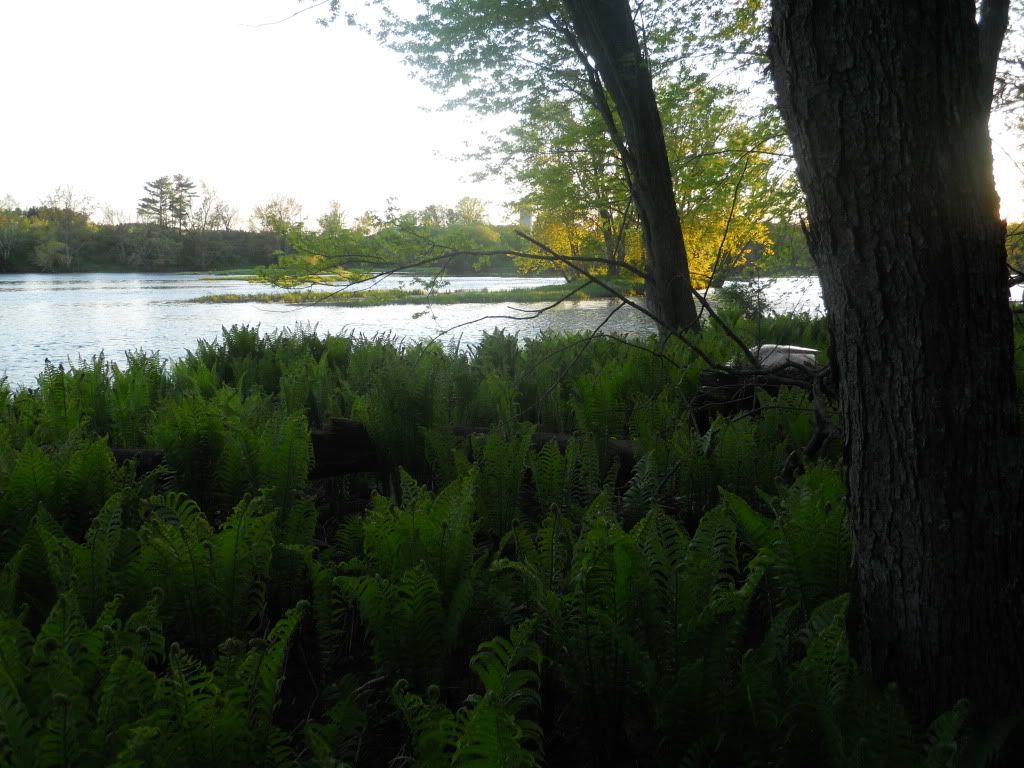 Friday, May 27, 2011
We woke up around 6:30 to another sunny morning. There was no dew on the tarp and tent. We packed all the gear up except for breakfast in which we had oatmeal in a bag.
Since we were traveling through familiar country, we had the feeling of being home, yet it still seemed home was far away, two days away in fact.
As we paddled through Brokaw, the portion just north of the dam was part of the river I had never been on. Going through what was left of the dam in Brokaw was no problem with the water level as high as it was.
Lunch was at Gilbert Park in Wausau where we had some ham, rice meal. Culver's was a mile away and on the river. So we stopped and shared a small hamburger, fries, toffee sundae ice cream, and root beer. We then made it to the Wausau Dam, about ½ mile away. Here, again, we felt unsure with the young skateboarders and our stuff. School was still in session at this time so what were these kids doing? With being back on the water, we had the Rothschild Dam ahead of us.
It was neat to see an area that we were familiar with but yet from our river perspective, the area was new.
The wind was coming from the south and it made our paddle across Lake Wausau difficult, and with the increased boating traffic with the upcoming Memorial Day weekend. I felt like we were not making the progress we needed to make it home with one more day remaining. Also, the sky was filling with clouds and threatening rain as the day went on.
We portaged the Rothschild Dam at about 6 pm. We knew we had to find a site again this night. We passed under the I-39 bridge by the Weston power plant at mile 169. At mile 170, we decided to set up camp. It looked like it was going to rain any minute. We had set up the tent and just crawled inside when it started to rain at 8 pm. It rained on and off through the night.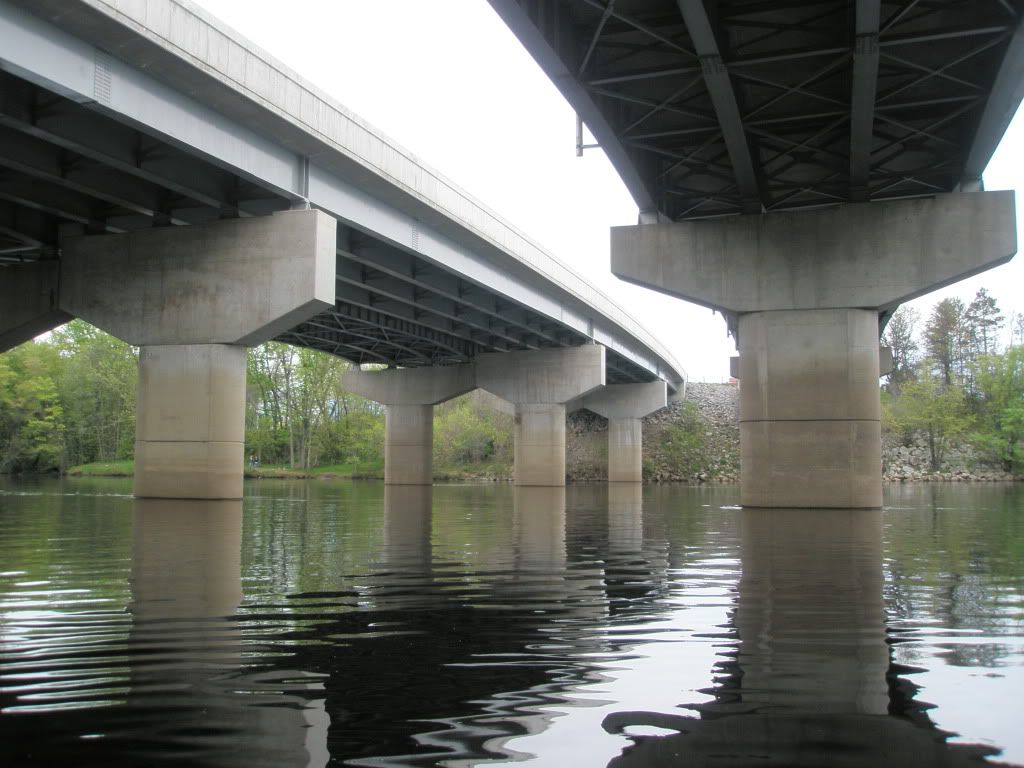 Saturday, May 28, 2011
We woke up to a deer snorting just outside the tent. I could see her on the trail that we set the tent near. At 9 am, we got up and packed the gear. To get going quickly we had a granola bar for breakfast.
This was another windy day, but the sun did come out. It seemed like we had to fight the wind most of the day. When we had to cross the Mosinee flowage, we had to give it our all. The granola bar soon was burned off. At the Mosinee Dam, we followed the shuttle instructions and called Mosinee Papers where a gentleman came and picked us up in this very old truck (1940's). He dropped us off below the dam and Mary walked up the park road to a Little League softball game and got brats and fries for lunch. She also got drumsticks for desert.
We made our way to the Eau Pleine reservoir dike. At one point we had to ask three guys in a boat which way we had to go to get to Eau Pleine. The response was always "you can't get there from here." Well, we knew we could and we did at 2 pm. The portage at the dike was one of those "create your own" portages. After we got on Eau Pleine, we made it to our landing by 4:30.
8 DAYS AND 190 MILES!
We would continue our Wisconsin River travels in 3 months….August 2011.