Trip Type: Paddling Canoe
Entry & Exit Point: Quetico
Day 2 (Wednesday, September 7, 2011) -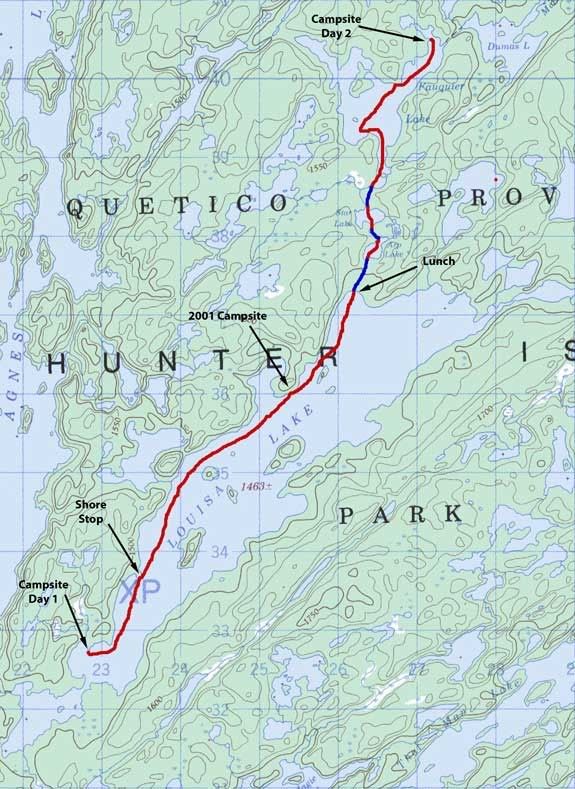 I woke up a few times overnight and was dimly aware of a smoky smell permeating our Louisa Lake camp. I knew we had doused our campfire well, so I wasn't worried about it. But I still thought the smell might be coming from the damp ashes in our nearby fire pit.
I dozed off again and slept in, until 7:15. When I got up, there was still a faint smoky odor. It dawned on me then that it was coming from one of the forest fires in the vicinity. At first I figured it must be the nearby (but small) Sunday Lake fire that ranger Jason had mentioned yesterday. In retrospect, though, it seems more likely it was coming further way, from Pagami Creek.
I made the first pot of coffee. It was so nice just pulling the supplies out of a bear vault instead of getting a heavy food pack down from a tree first thing in the morning.
As we sipped our morning joe, we noticed an unusual visitor -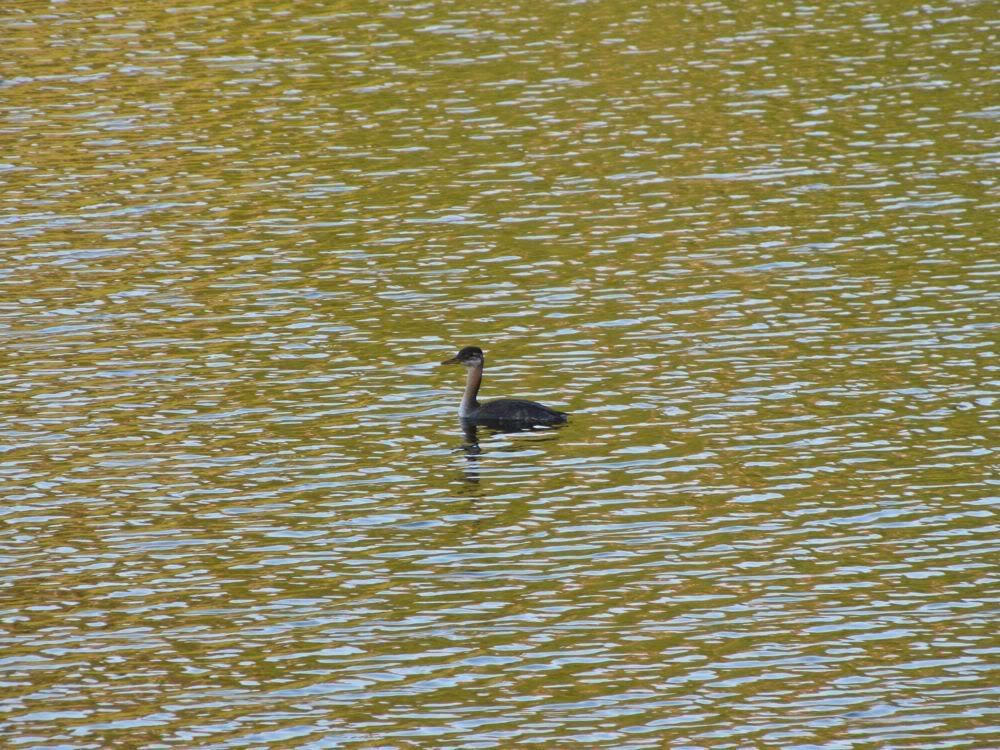 A red-necked grebe. These birds only pass through canoe country during migration. We've seen a handful on trips both in the spring and the fall. But this was the first time we had seen one in the fall still wearing its breeding plumage. It stuck around for a while and was a great introduction to the day.
Our campsite had a nice south-facing point for enjoying our coffee -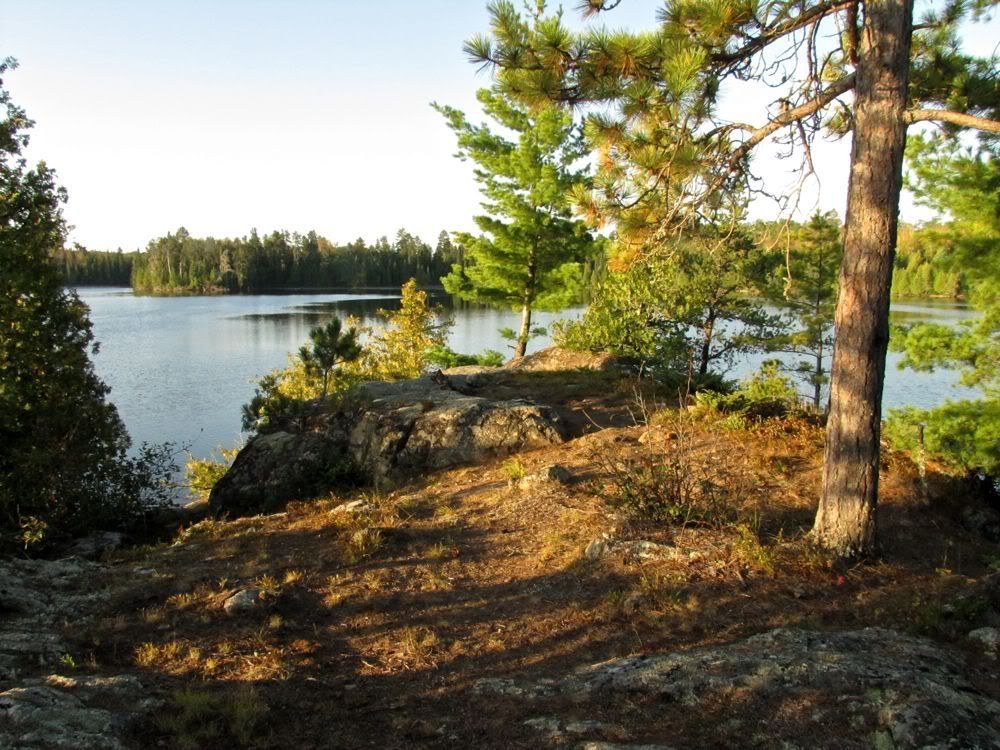 We were not in a hurry today. We wanted to break up the paddle and portages up the McEwen Chain by camping on one of the smaller lakes between Louisa and Glacier. There aren't many campsites in that stretch, though. The most promising lake for camping was Faquier, only three portages away. So we could take our time today enjoying Louisa Lake and the area just to the north of it.
Somehow we whiled away nearly four hours, with coffee and breakfast, a swim, admiring our visiting grebe, and who knows what. Finally we got underway about 11:00. Looking back at our little campsite point from the water -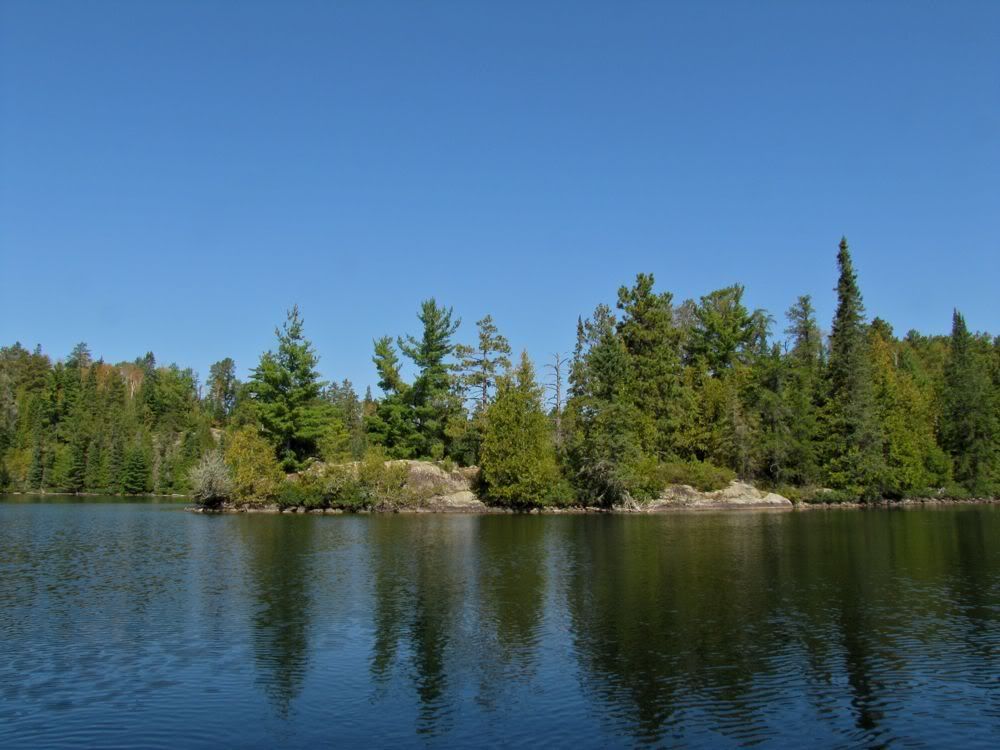 It was a beautiful day on a beautiful lake -
We had a nice south wind pushing us from behind as we traveled up Louisa. Before long we made a stop to check out another campsite for future reference. The clear-green waters of Louisa sparkled right off shore -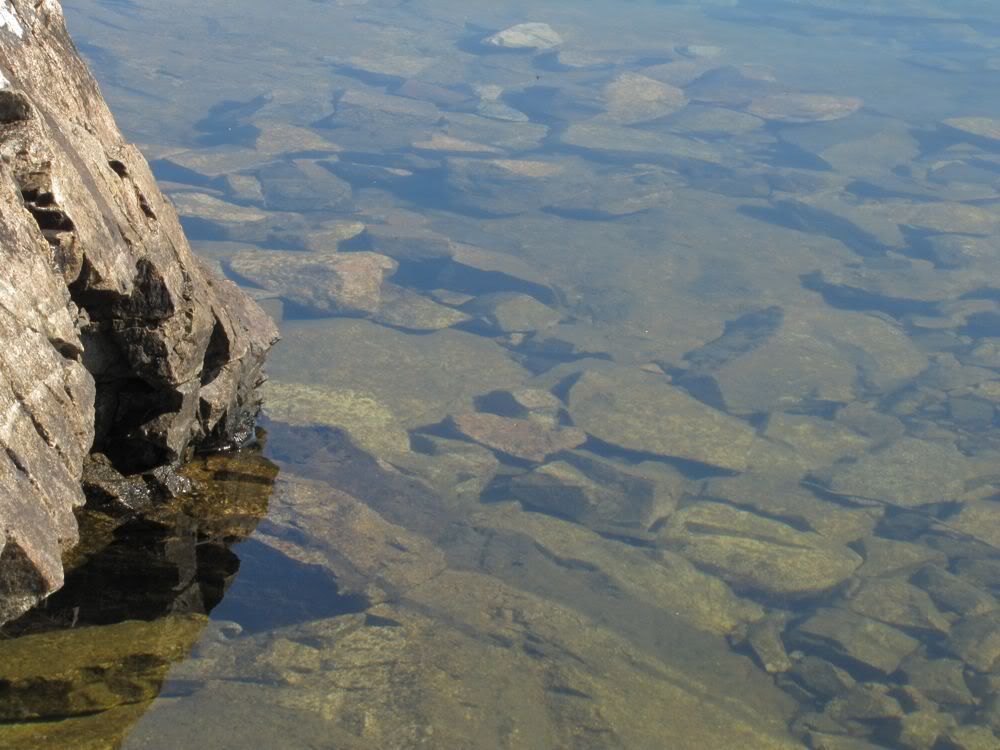 Classic Quetico rock -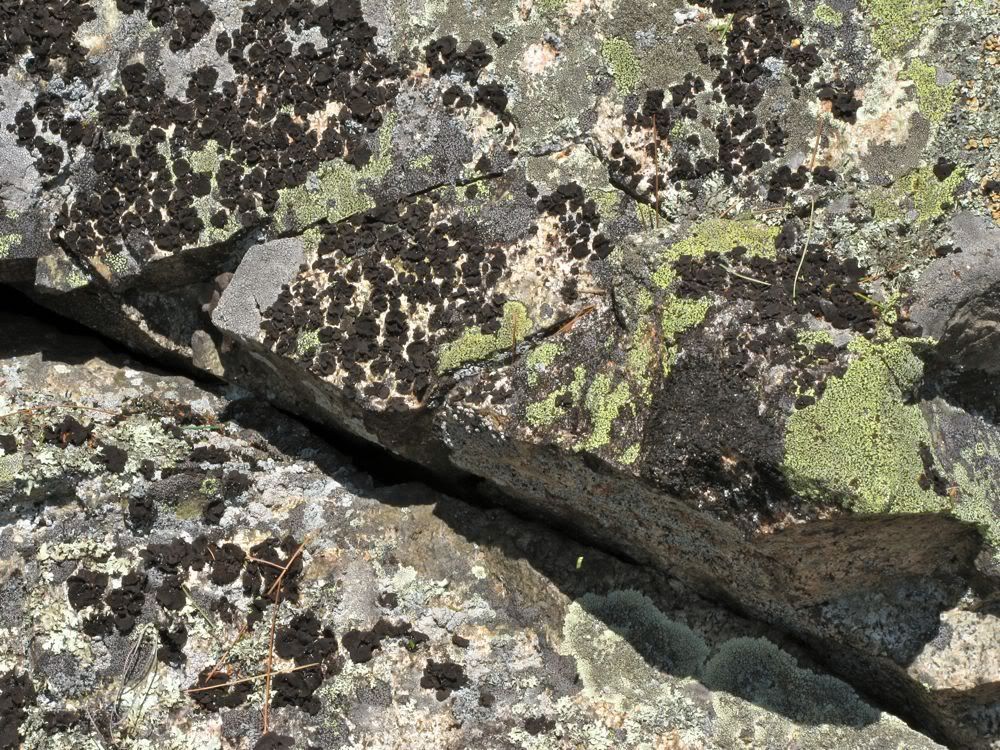 We continued paddling north along the west shore of the lake, keeping a lookout along the way for a little point where we had camped when going through here in the opposite direction in 2001. That was my first trip back to Quetico in 25 years, and David's first trip ever. We didn't have nearly as much information about potential campsites back then. And we didn't keep nearly as good track of where we stayed. So we were curious exactly where that little campsite was.
Just after passing the opening to a largish western bay, we came upon a small point that we recognized as our 2001 campsite. It was interesting to note that even with all the additional information about campsites we have today, this little site is not included in any campsite database for Quetico. We got out and explored for a few mintues. This is the view north from the site -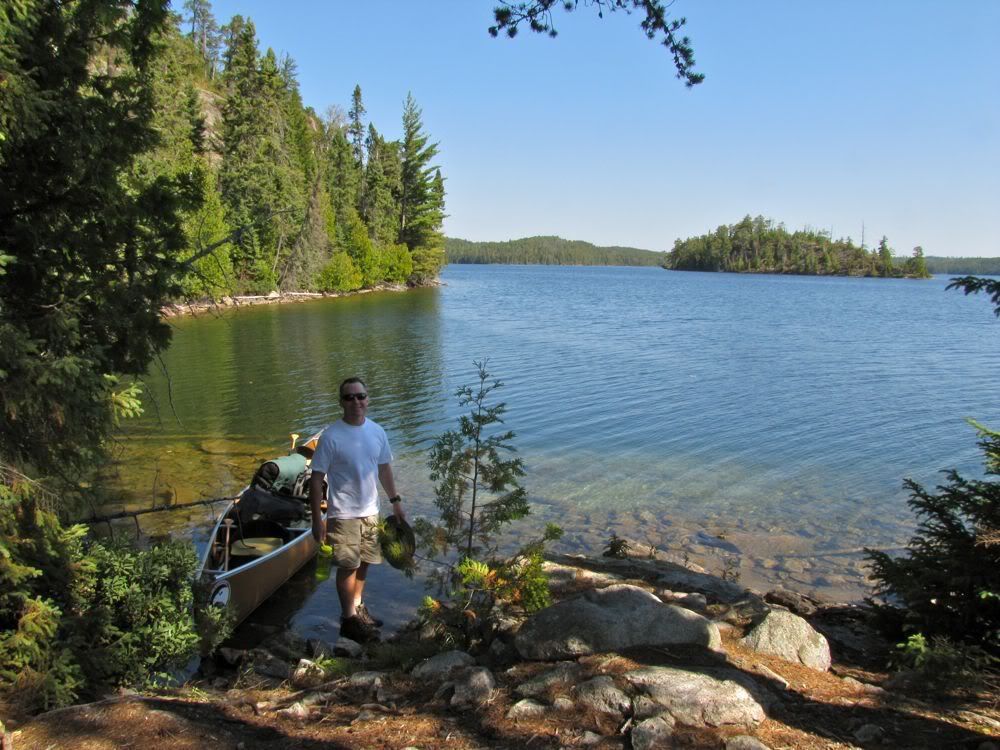 Resuming our northbound journey, we soon heard some crashing and splashing along the shore, which alerted us to a cow and calf moose wading in the water right in front of us. Unfortunately, I made too much noise and spooked them before David could pull out the camera. But it's always fantastic to encounter moose, even if only for a moment.
A little more paddling brought us to the north end of Lousia and the portage to Arp Lake. The landing for the portage is on a little sandy beach. Looking back down Louisa from the landing -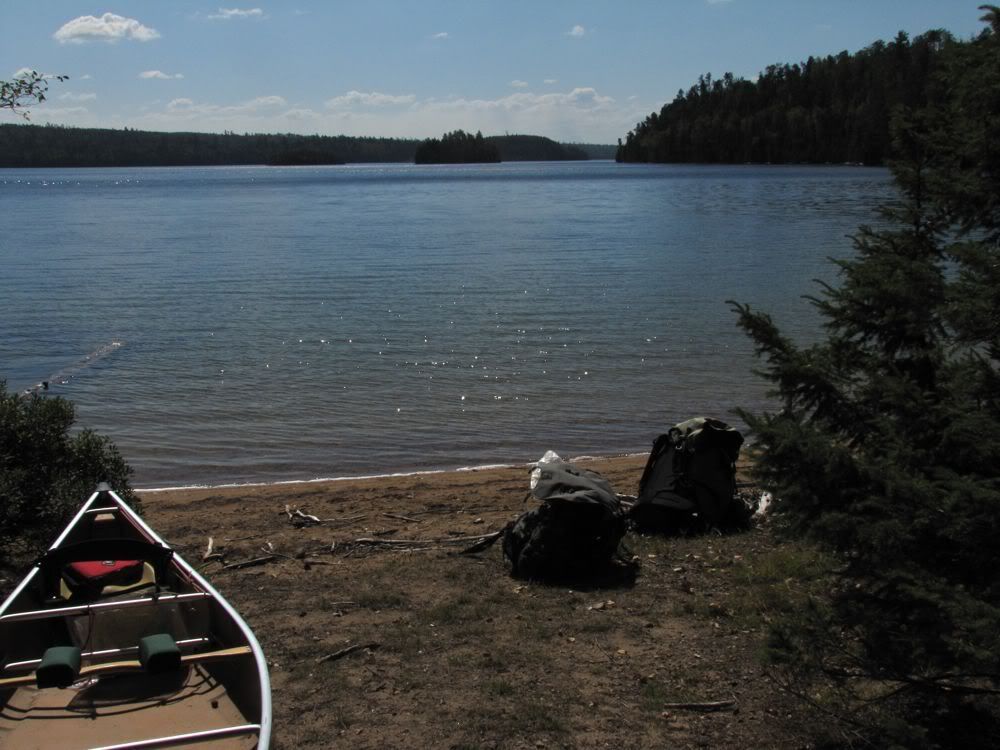 The rest of the little beach -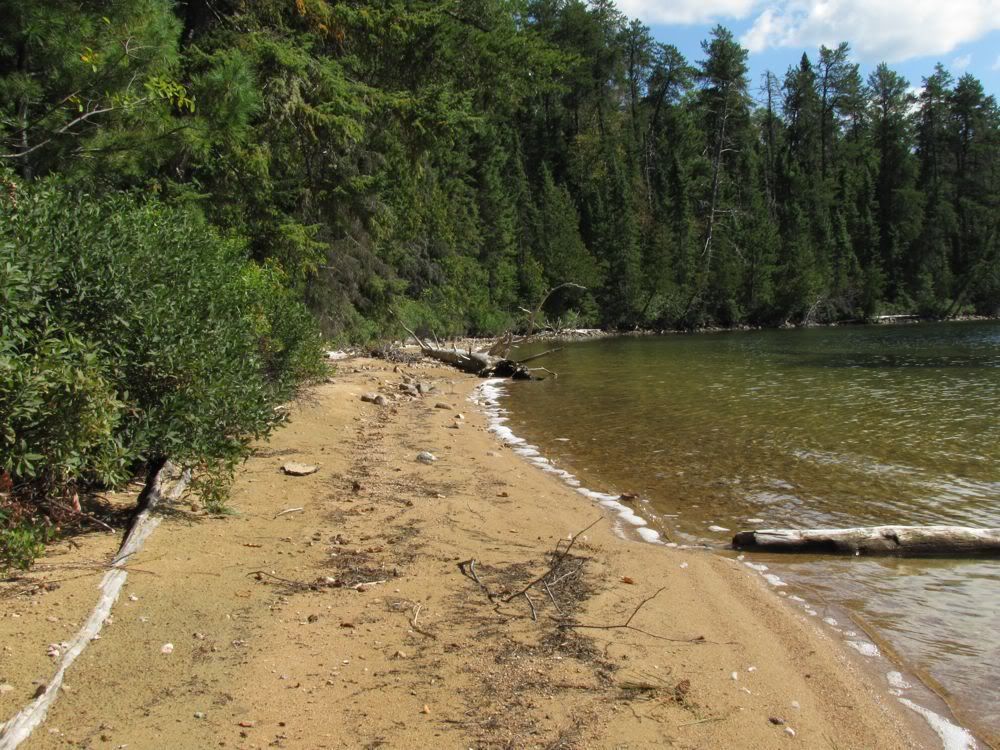 There's a grassy tent pad right by the portage there. The sun was really blazing by now, so we made use of a spot of shady grass for our lunch spot -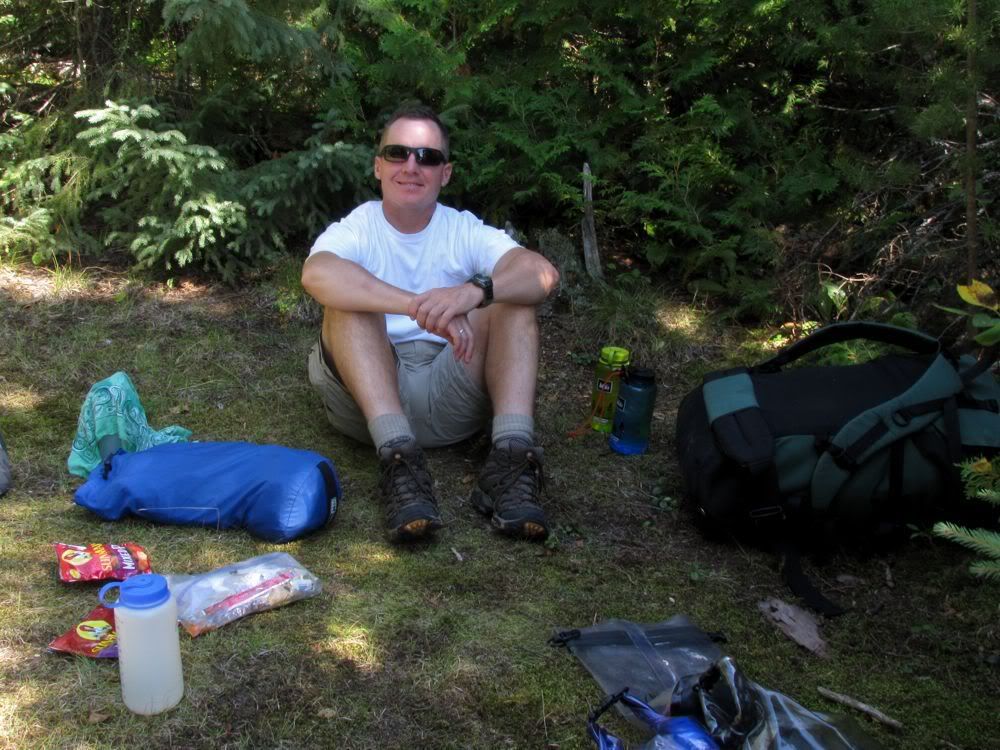 While we were there, a butterfly landed on David's hand and stayed to visit a little while. I believe this is a white admiral (?) -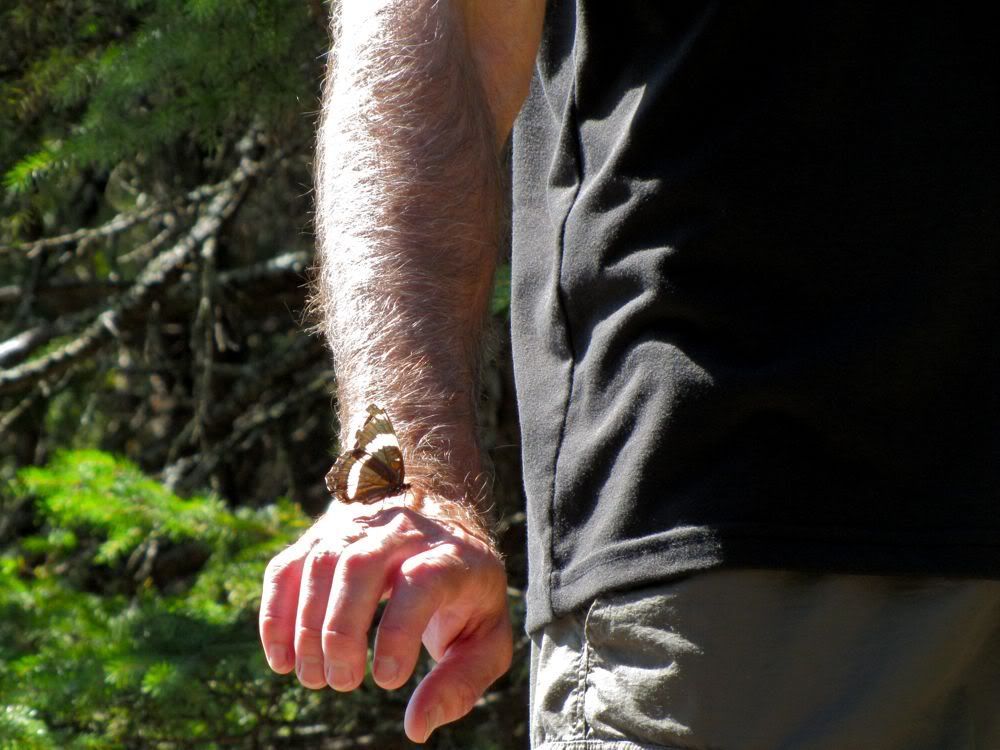 We turned to the 100-rod portage to Arp Lake after eating. It was pretty overgrown (more than others on this trip, as it turned out). It also goes up quite a bit, though it's otherwise a pretty easy portage. Along the way, some fallen trees have created a detour into a mostly-dried-out beaver pond or bog -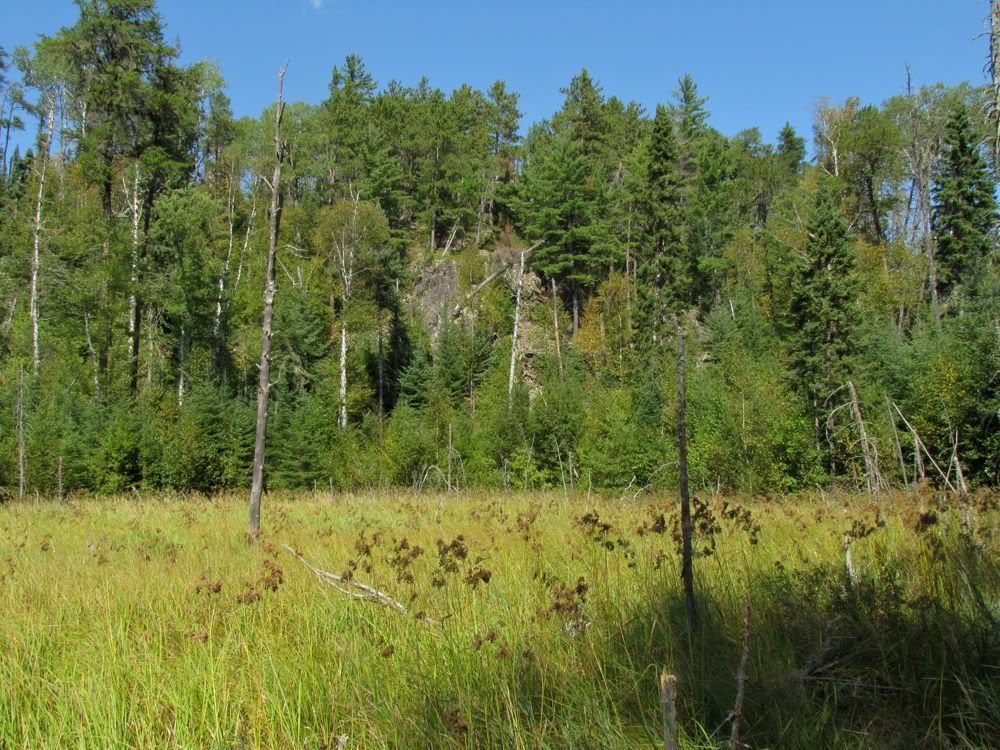 Asters brighten late summer trips -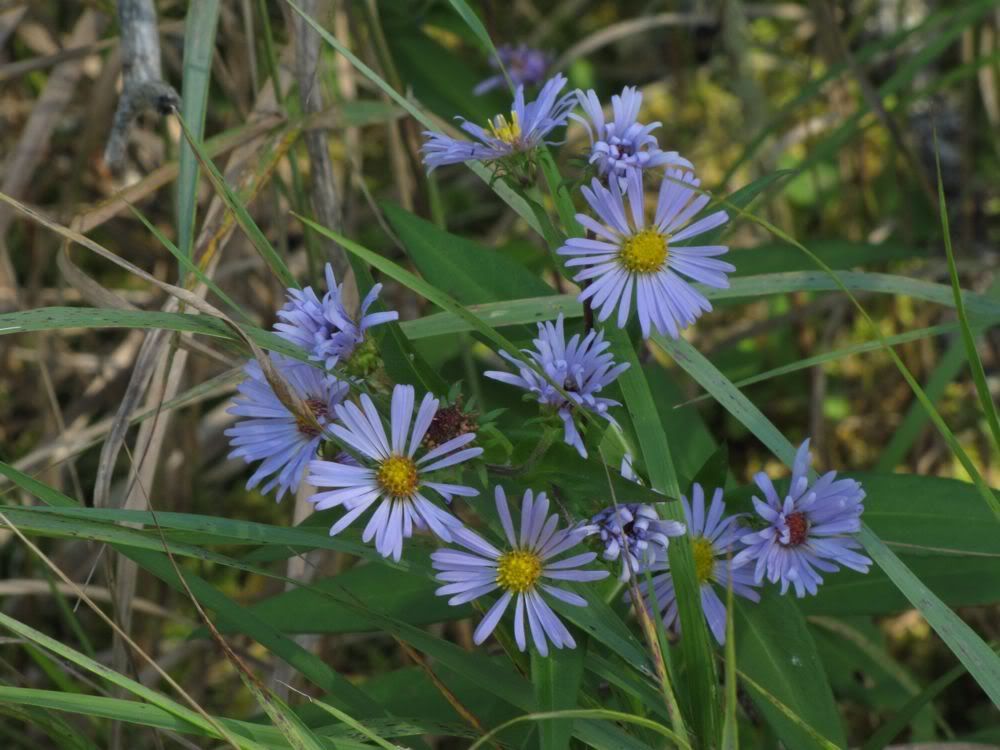 Eventually we exited the meadow and rejoined the old portage trail through the woods, which deposited us at Arp Lake -
Arp and Star Lakes are really just little ponds between Louisa and Fauquier. Somewhere on these lakes we passed into the north-flowing watershed of McEwen Creek, which we would follow for the next few days. But it was a little hard to tell exactly where we crossed the divide. I seemed like Arp flows into Louisa, while Star flows north and would therefore be the source of McEwen Creek. But there also seemed to be a flowage between Arp and Star, though which way it might be going was unclear. A typical mixed-up Quetico drainage pattern.
At least we knew which way we were going. A short paddle across Arp brought us to the short portage to Star. Looking back at little Arp from the portage -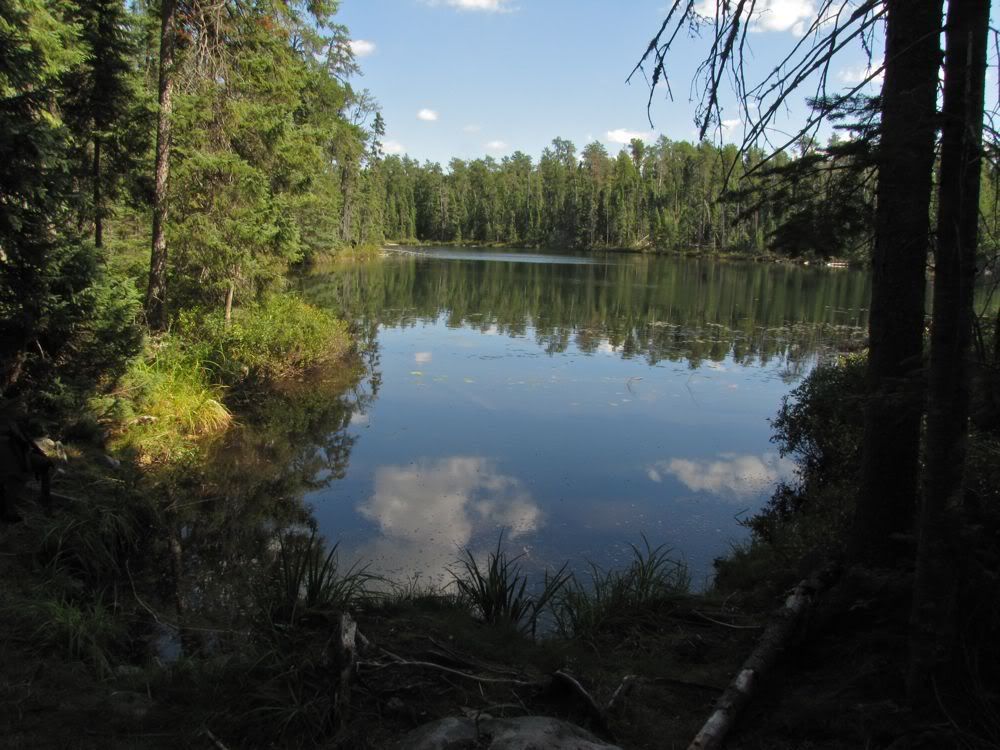 And forward to little Star at the other end of the portage -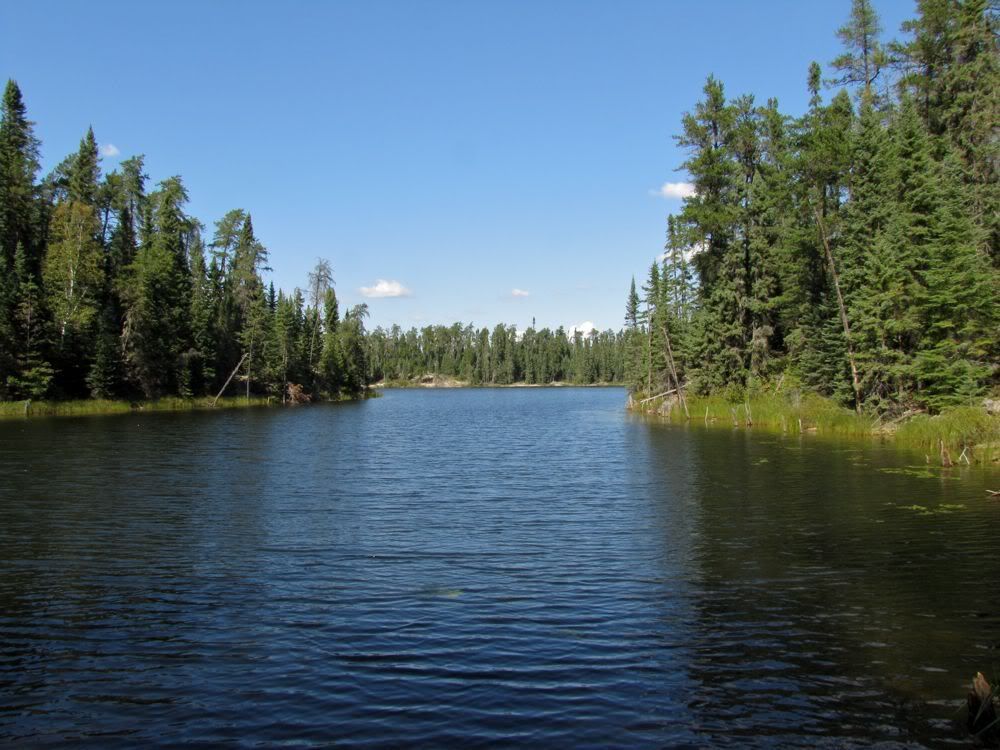 The next portage, from Star to Fauquier, is reached via a channel through the bog at the north end of Star. This isn't clear from the Fisher map (which shows the portage starting on the shore of Star, not down the channel), but it is shown correctly if you look closely at the official Quetico map (the Adventure/Chrismar map). In any event, we had been alerted to the actual location by our friend Tom aka Uncle Moose's trip report - he apparently had a tough time finding the portage because he was looking for it on the lake shore. When we had passed through here in 2001, this had not been an issue, as we were coming the other way.
Since we knew where the portage was, we could relax and enjoy the scenery as we paddled up the channel -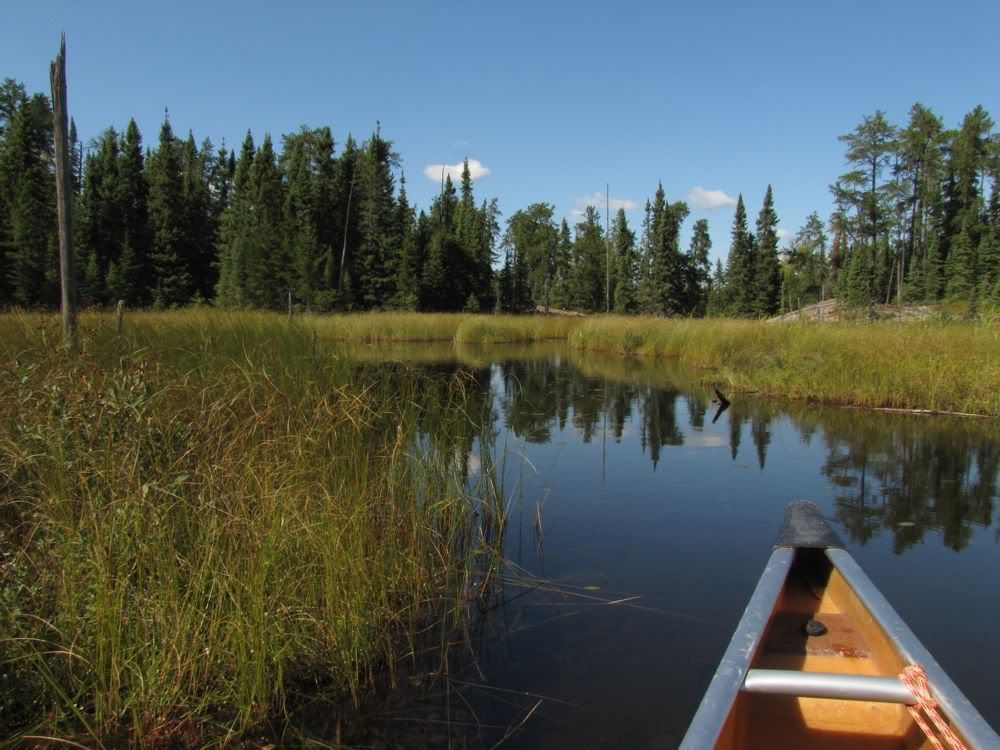 Pitcher plants -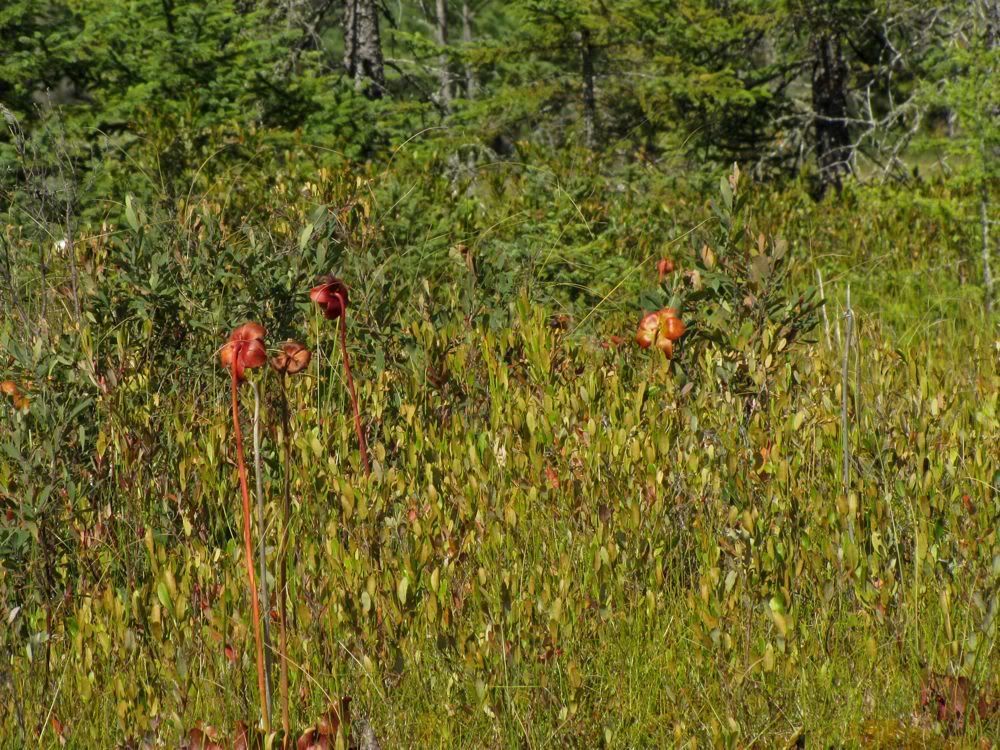 Cotton grass (I think) -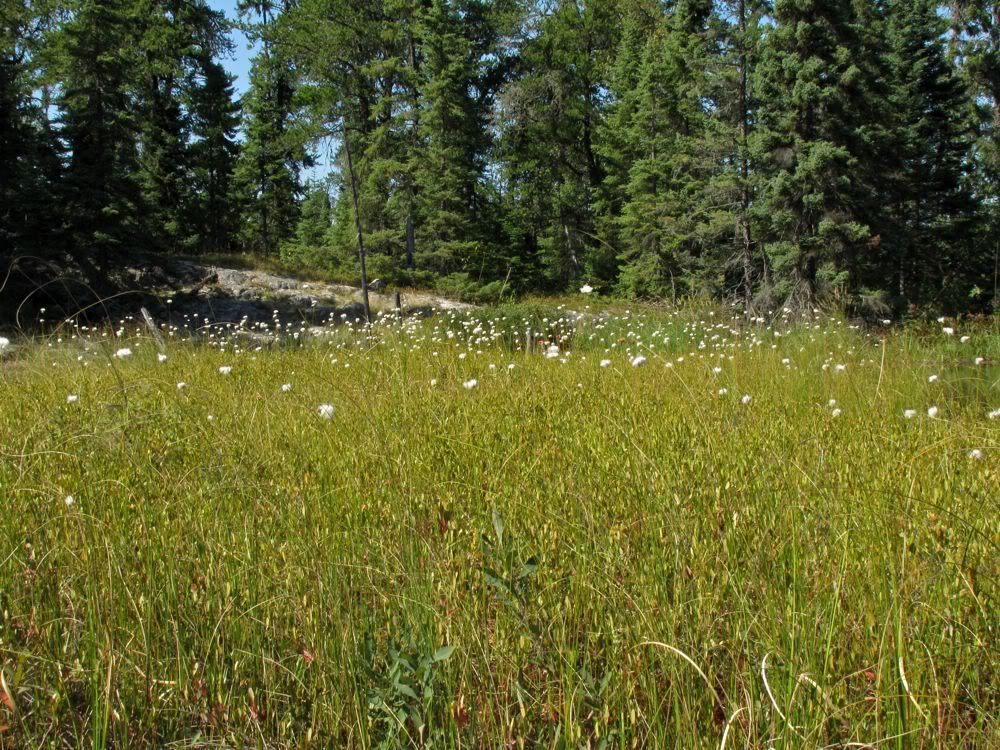 Looking back from the rocky landing at the north end of the channel, which ends at a big beaver dam -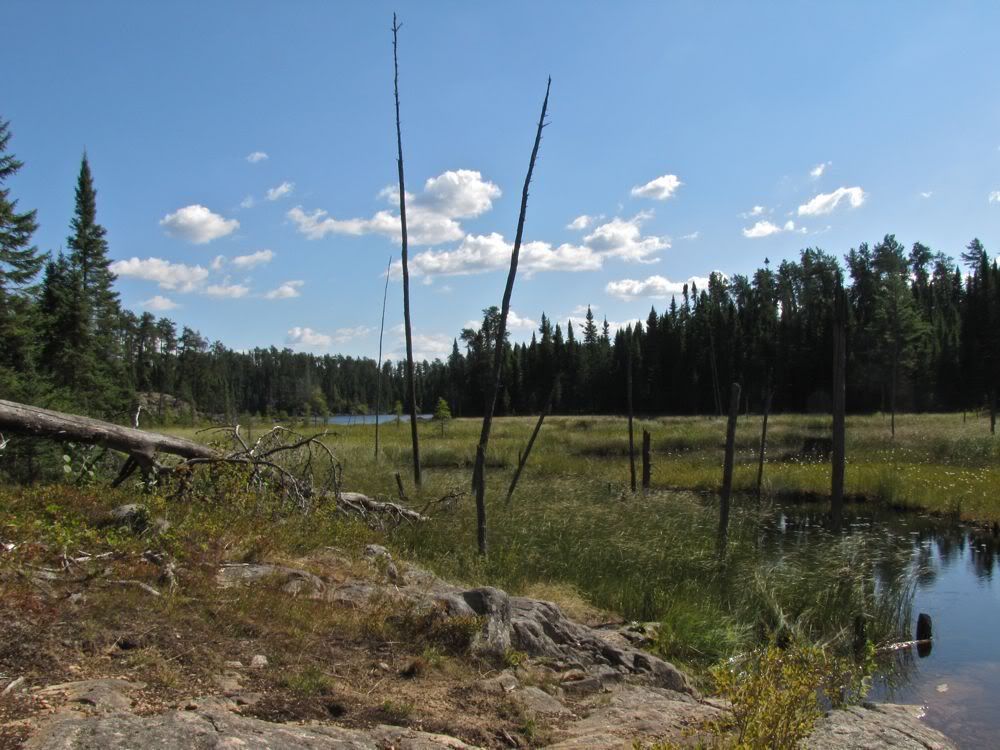 The portage itself is a pleasant 50-rod downhill carry to Fauquier Lake, which seems pretty big when you've just been on Arp and Star -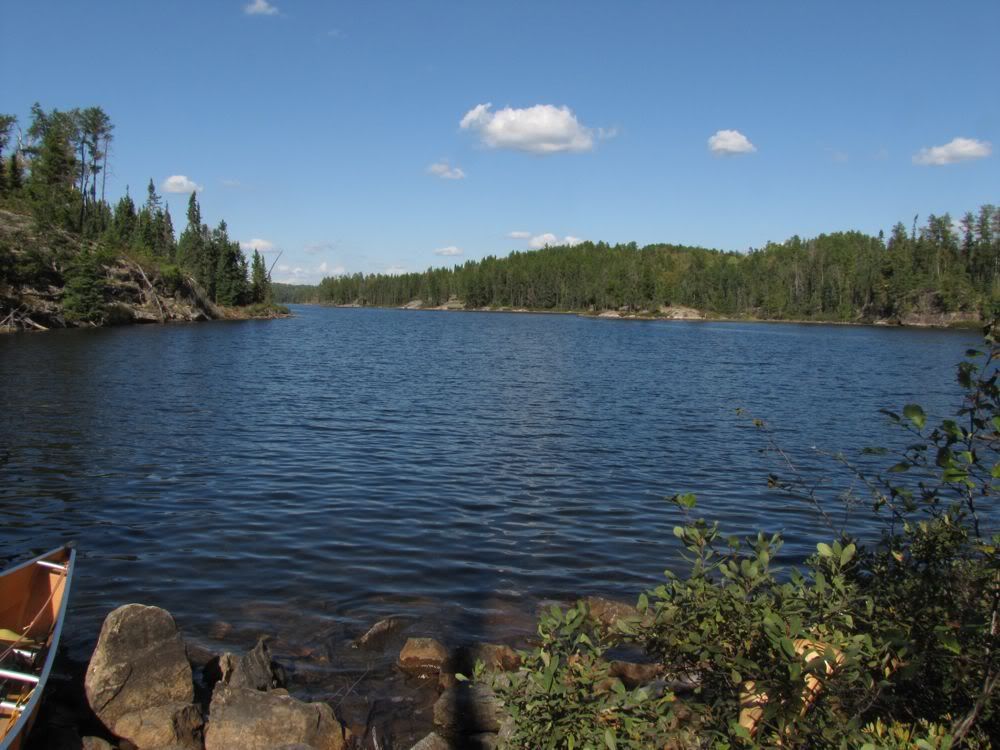 It was already time to find a campsite. We knew there was a site on the north shore of Faquier, and another one in the northerly arm of the lake near the portage to Dumas. The PCD also showed a possible site on the south shore of the lake, though its existence was unconfirmed. We paddled along the south shore first and found nothing, so we continued to the north shore site. It was a scenic elevated site, but way too exposed to the sun for us on this bright, warm, cloudless day.
Time to check out the site near the Dumas portage. Tom (Uncle Moose) had stayed here on his solo and had told me it was a good site, though it might not have good swimming. So we were expecting something pretty marshy. In fact, the site had some fine rocky outcrops and a good tent pad and was all around pretty darn nice. Best of all, it was well shaded this afternoon. We moved in about 4:00, set up camp, went for swim (Tom was wrong about that - the swimming was good here), and enjoyed our surroundings.
Looking south from the campsite back towards the main part of the lake, which is out of sight in this picture -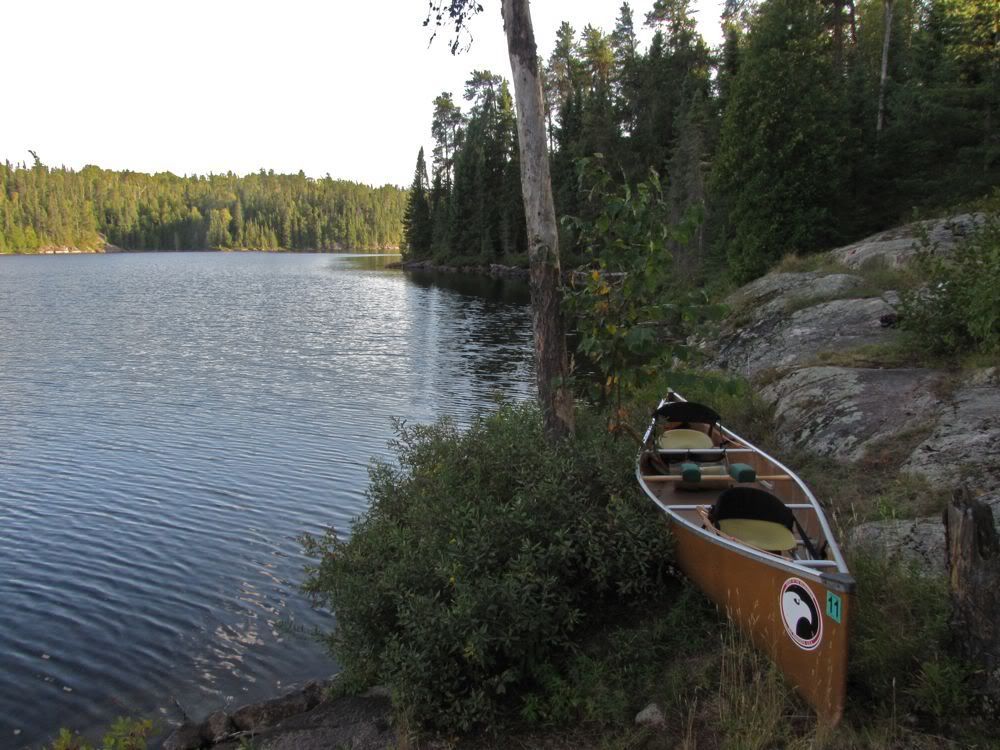 And looking north toward the tip of the little arm of Faquier where the campsite lies -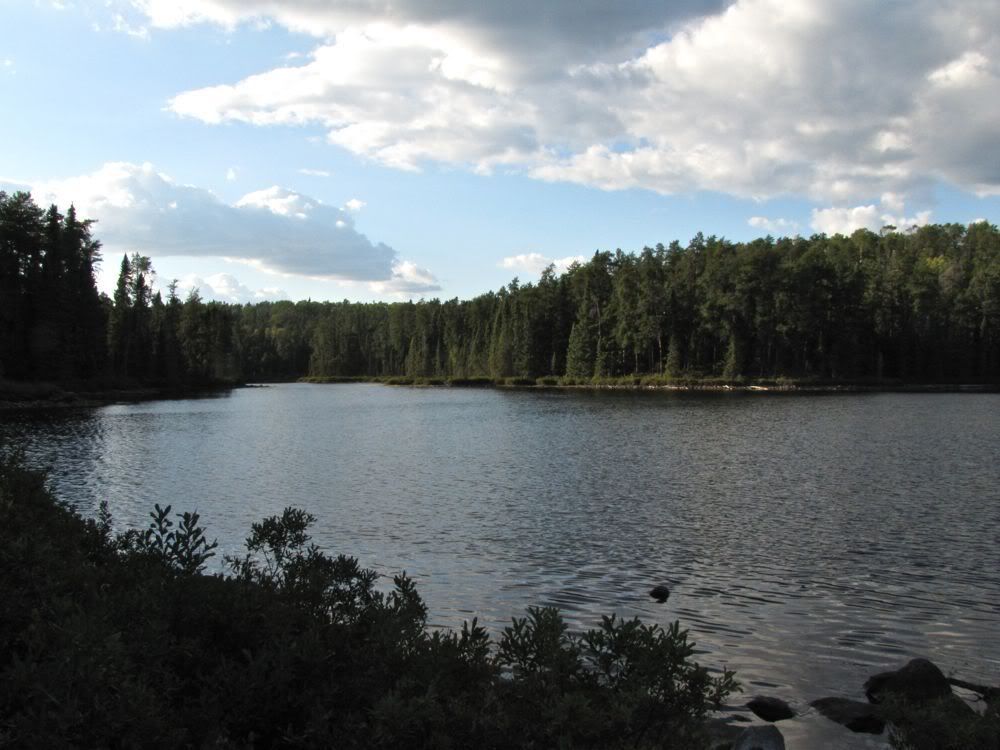 The wind had turned during the day and was coming from the north now, and fortunately our site was well ventilated. The temperatures stayed warm, and tonight was another campfire cooking night, with Zup's wild-rice brats as the main course. Getting the fire started -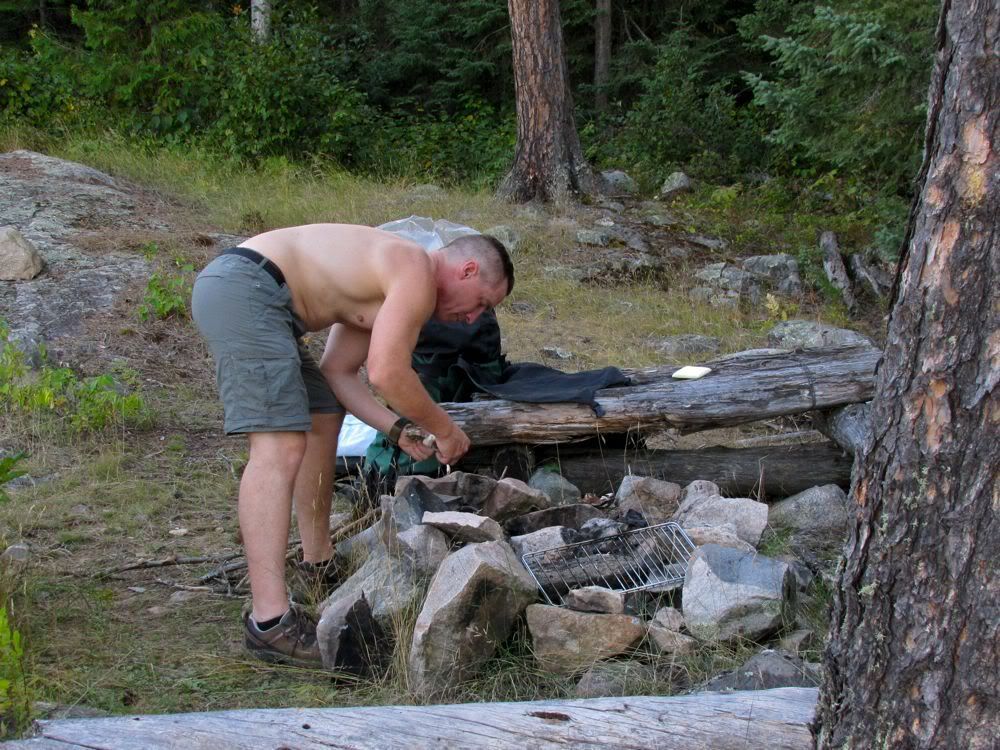 After a tasty dinner we settled in down on a rocky point. The sun lit up the opposite shore -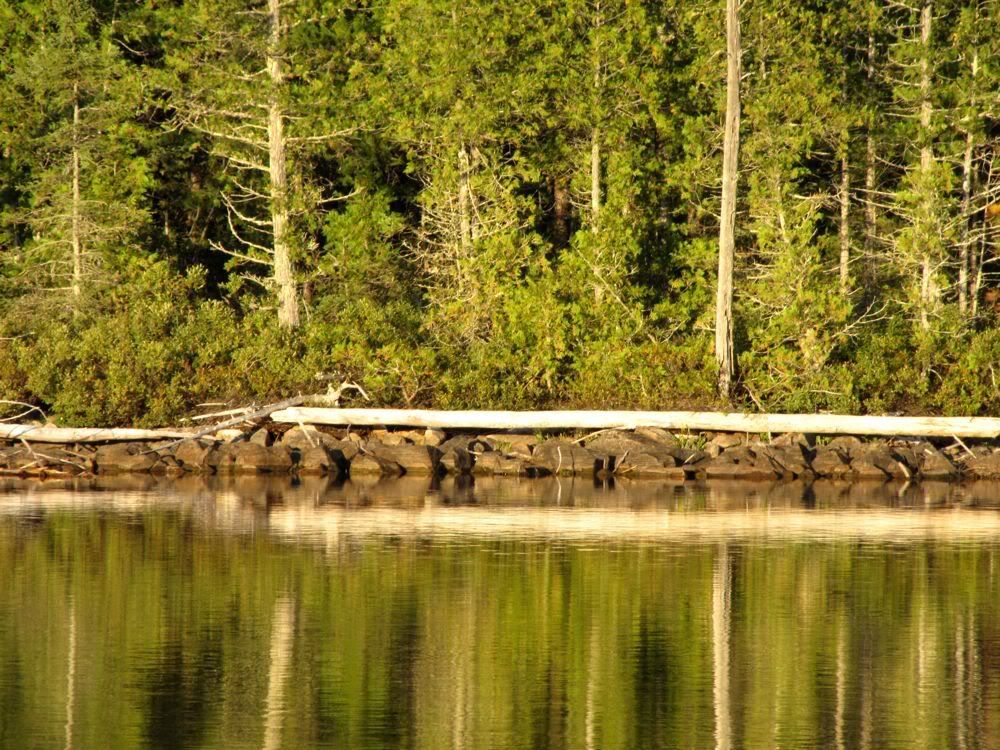 A little inukshuk kept us company on the point -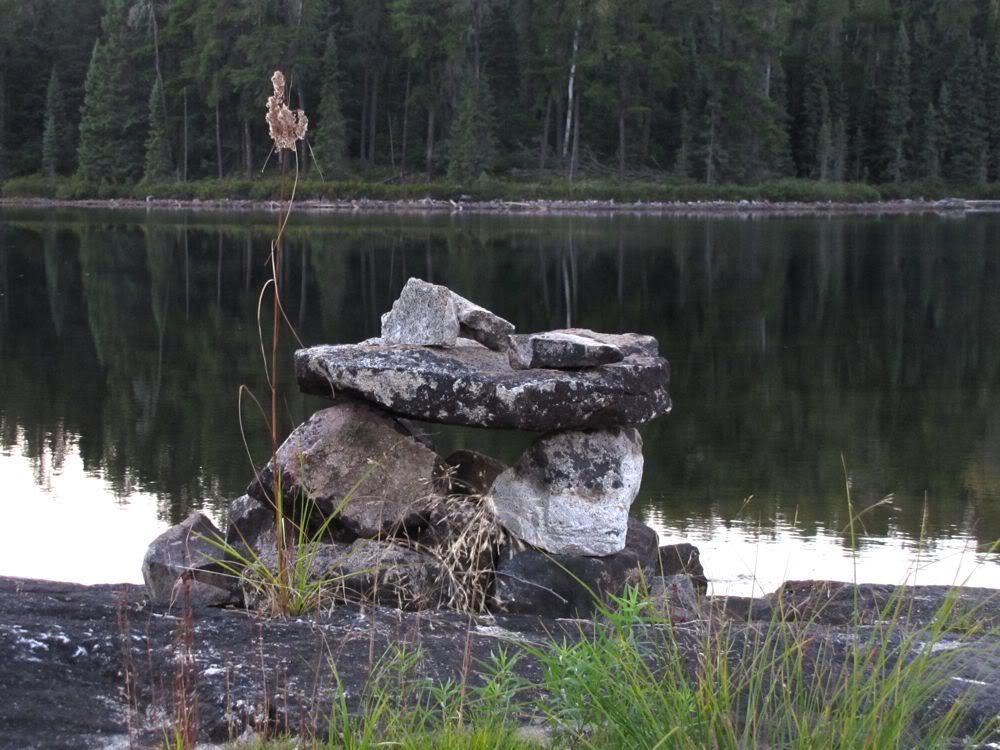 Happy campers during the Marker's Mark course -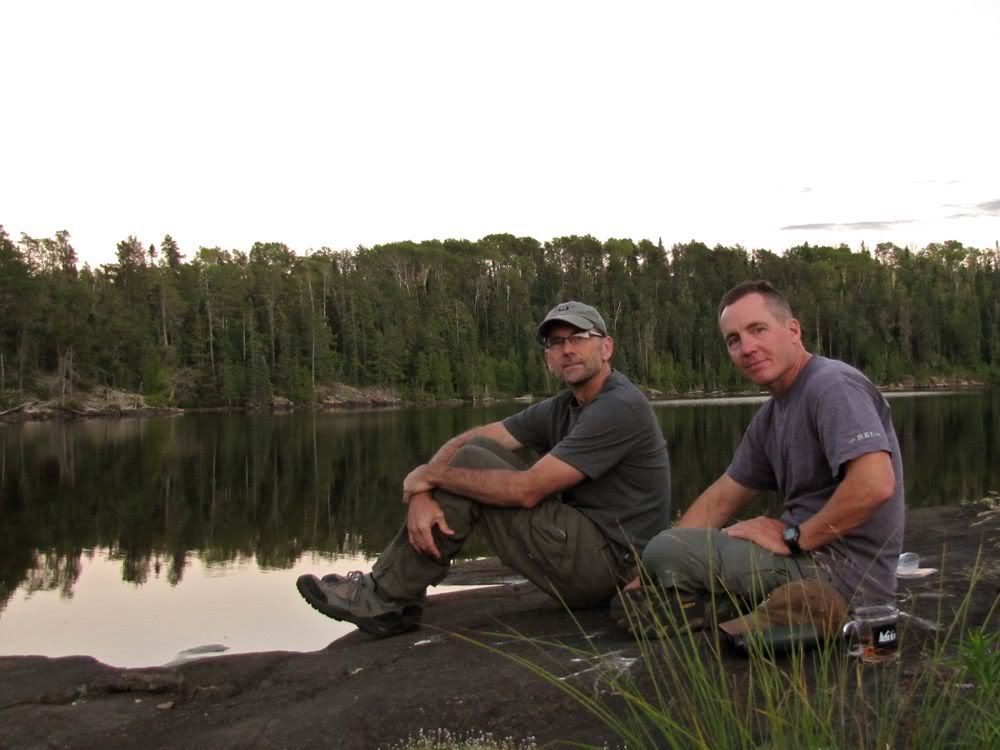 Dusk became nighttime and the moon rose from the opposite shore as we finished our bourbon -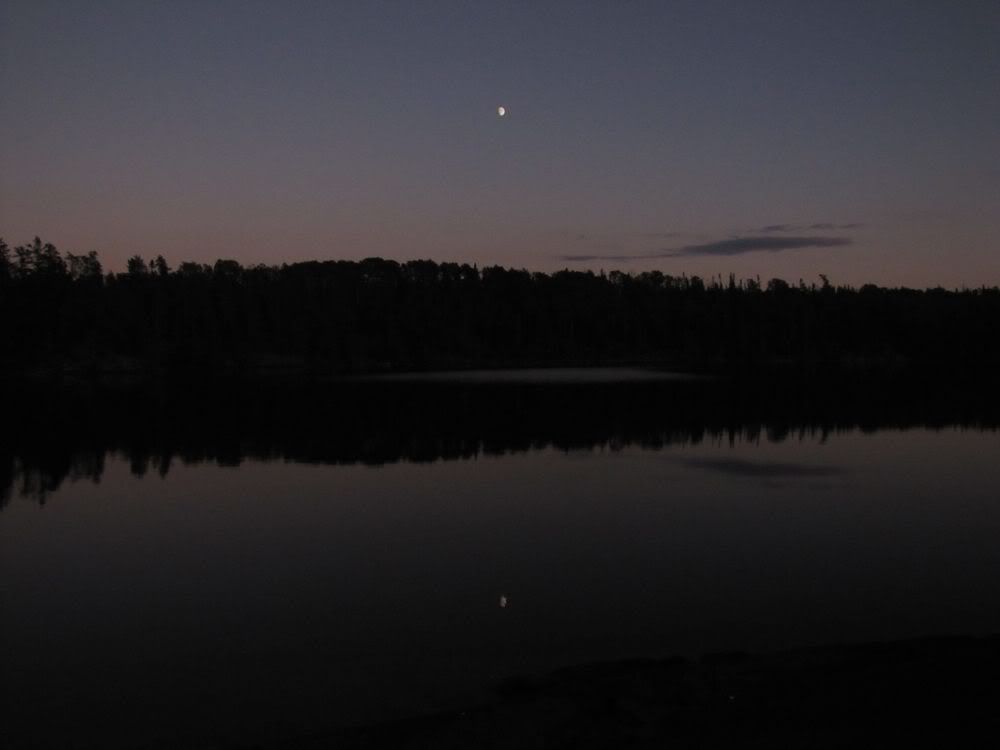 I think we crawled in the tent a little earlier tonight. A beaver slapped his tail goodnight, and we were fast asleep.