Piwi Goes Canoe Camping
by Ho Ho
Trip Type: Paddling Canoe
Entry & Exit Point: Other
David and I took our four-and-a-half-month old puppy Piwi (short for Kahshahpiwi) on her first overnight canoe trip last night. This trip was primarily a test drive to see how Piwi did at a campsite, and especially sleeping in a tent. So we left the cabin around 3:00 pm and paddled a little more than a mile to one of the USFS primitive campsites that is outside the BWCA.
Piwi had fun exploring the campsite while we set up the tent. Then we paddled over to a nearby portage for mile-and-a-half round trip hike. Piwi on the portage trail -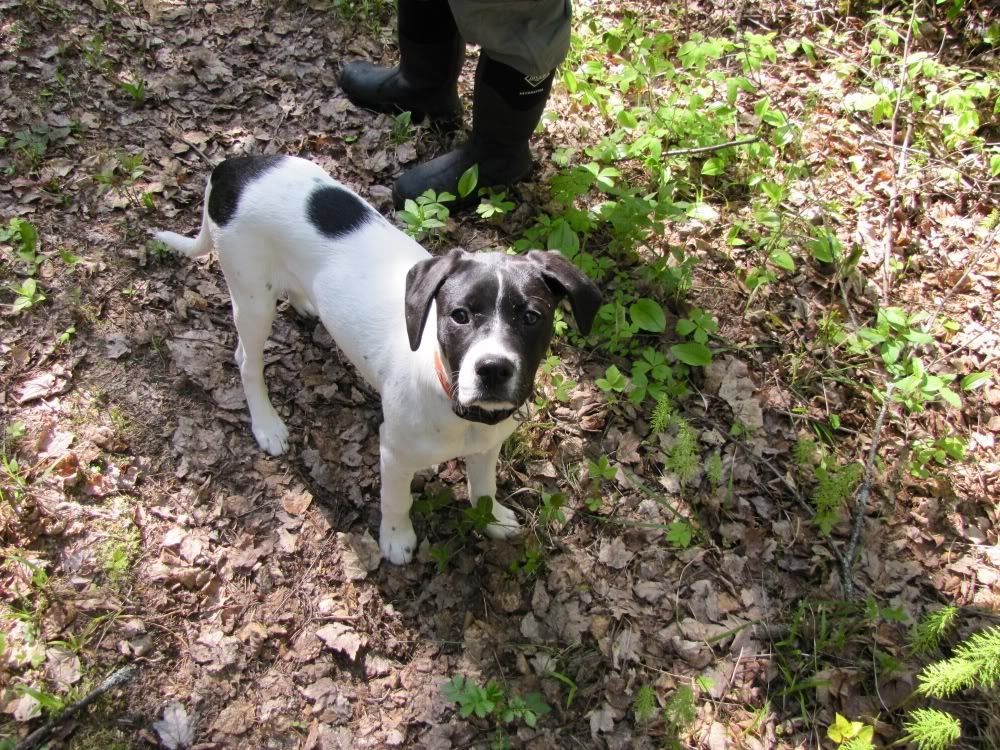 Exploring the water at the other end (she still is reluctant to go all the way in, even though she has webbed toes) -
Good dog -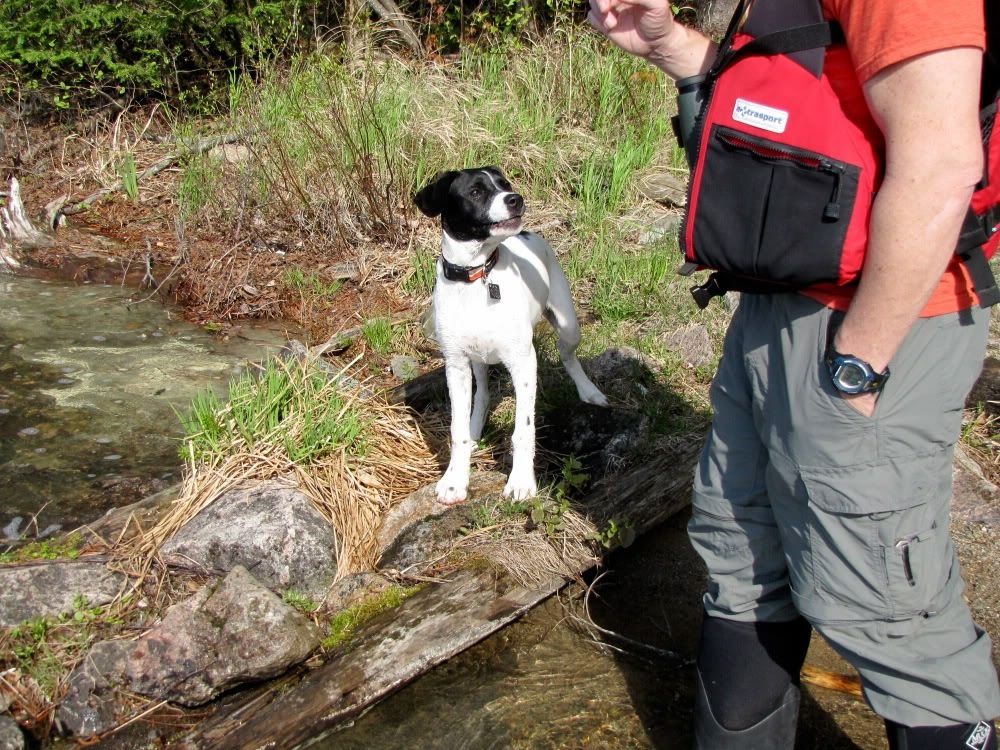 Pretty dog -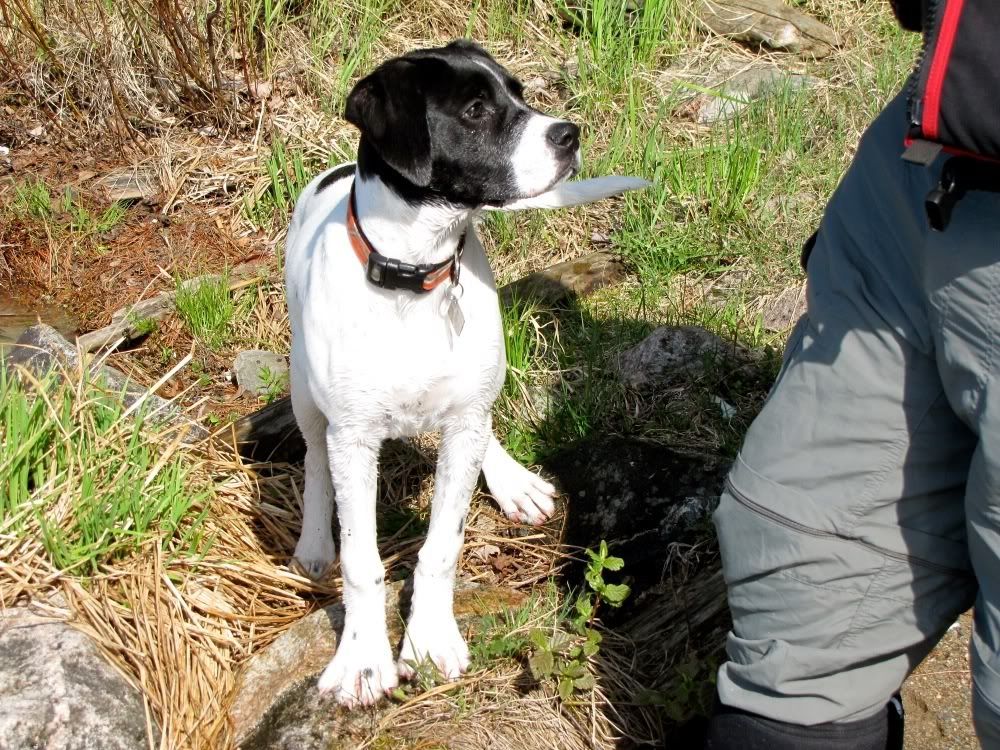 We returned to the campsite and explored around it, played chase with Piwi for a bit, and had our canine and human dinners. This is the view from the campsite -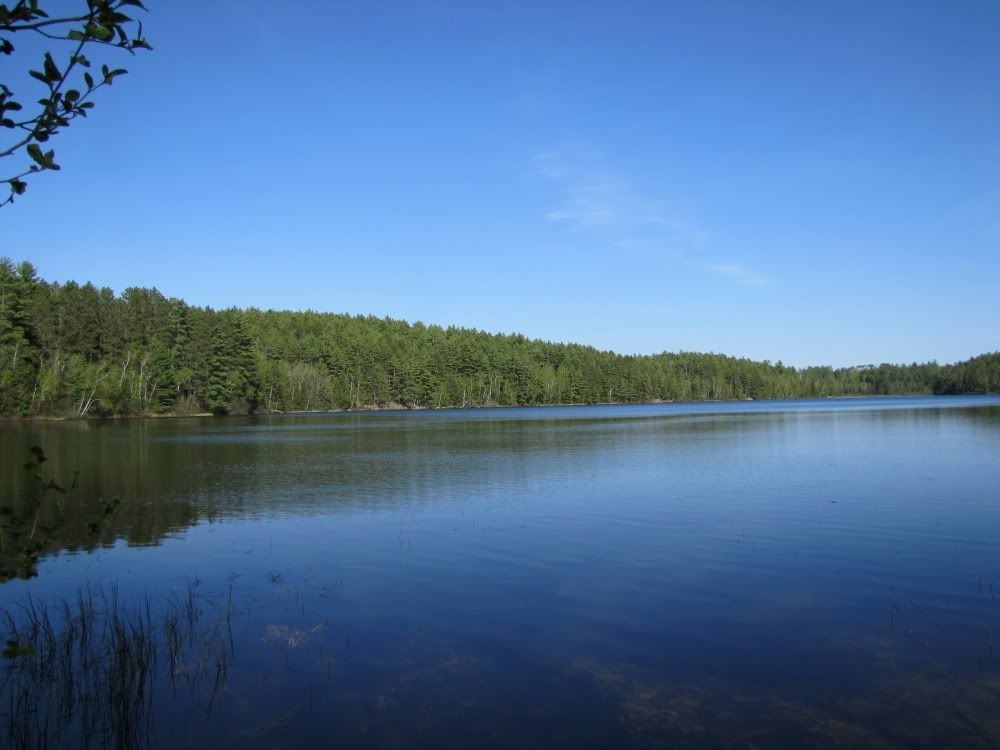 After dinner we went for a short paddle, maybe two miles round trip. Piwi especially liked going down the marshy river, where there were lots of smells for her very active nose. We floated for a while in an area where an American Bittern was making his thunder-pumping call from a hiding place in the marsh.
Ho Ho and Piwi on the evening paddle -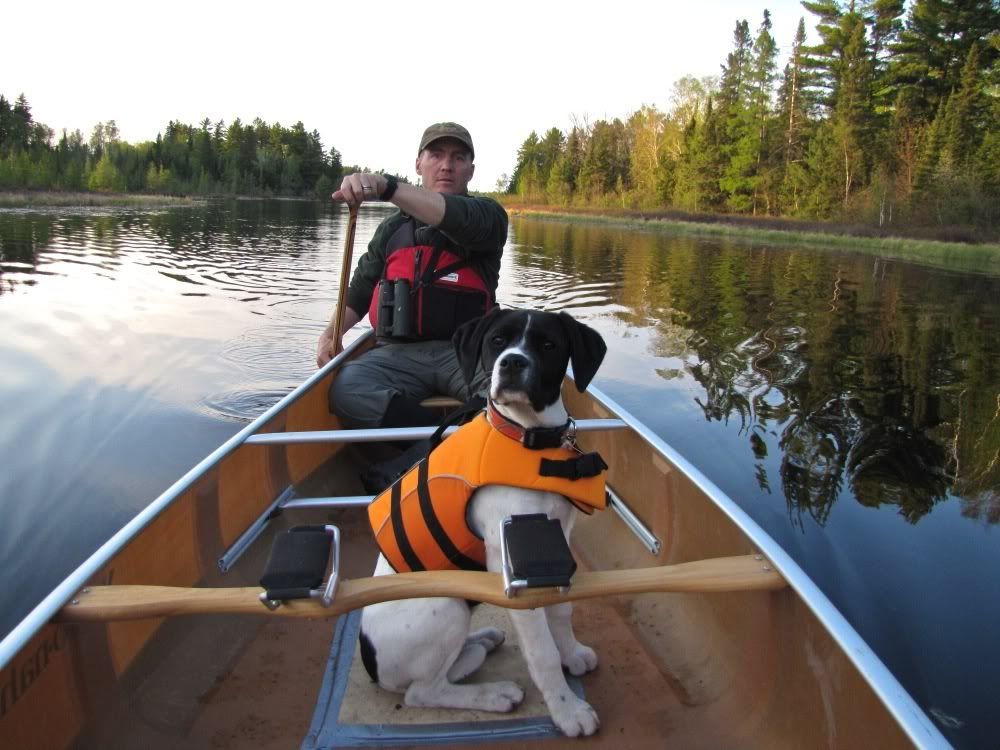 Back at camp, Piwi headed straight for the tent and bounced on its outside walls for a moment (a little more training needed there). She wanted something inside - her bed! We pulled it out by the picnic table (a nice outside-the-BWCA amenity) so Piwi could recline in style during the cocktail hour. Before we go on a real wilderness trip with Piwi, we need to get a real doggy camping bed.
Piwi, Ho Ho, and David -
Once we got in the tent, it took Piwi fiver or ten minutes to settle down. She was pretty excited because the humans were getting into bed down on her level, something that doesn't happen at home. But after exploring the tent, she curled up on her own bed, where she slept the entire night. Success!
This morning we got up about 7:00, enjoyed some time around our campsite, then paddle back to the cabin. We were home before 10:00 - and now Piwi is sacked out, totally exhausted from her big adventure.
Planning Links
Featured Sponsor