Return to Cherokee (with a bonus)
by Spartan2
Trip Type: Paddling Canoe
Entry & Exit Point: Sawbill Lake (EP 38)
Trip Introduction:
Spartan1, Spartan2, Ho Ho and David go on a trip into the Boundary Waters to take an old lady down memory lane. Photos were taken mainly by Spartan2, but some also by Spartan1. Ho Ho will write his own trip report.
FURTHER INTRODUCTION:
Cherokee Lake has been a special place for me ever since our 22-day canoe trip in 1992. There is a campsite there with a wonderful "sitting rock". I fell in love with that rock, with that campsite, and with Cherokee Lake back in 1992, and it has remained precious in my memory for the past twenty years. Spartan1 and I photographed each other from opposing points in the little bay at the campsite then, and again when we returned to the site in 2002. Since then, it has been my desire to return to Cherokee at least one more time.
Photos from 1992:
Photos from 2002: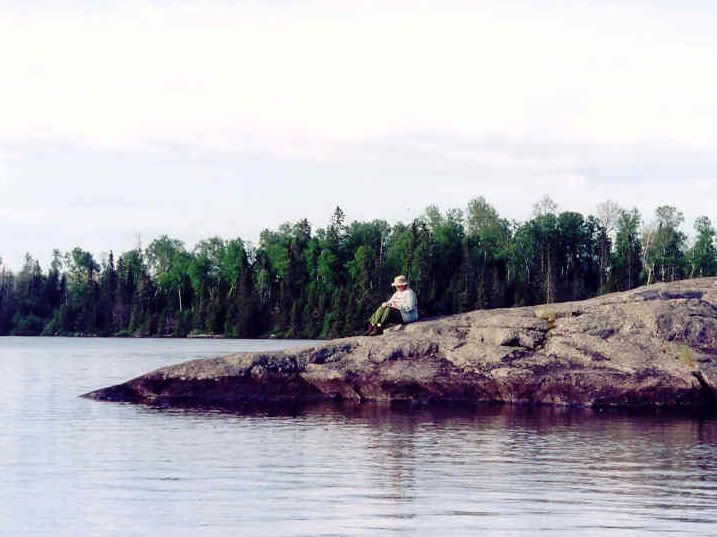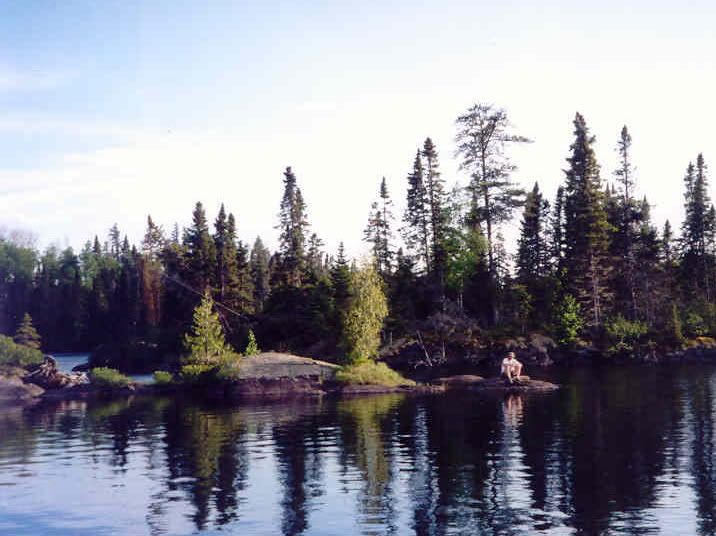 Unfortunately, I have been dealing with some pain issues that make carrying my big packs across the portages to Cherokee more than I can accomplish. Back pain primarily, complicated by a couple of knees that need replacing, overall arthritis pain in many joints, and some balance difficulties. More weight than I should carry on my frame adds to the problem. And the reality of my situation was that I needed help to get back to Cherokee. Spartan1 was willing to do extra, but four trips across those portages are more than he should do, also. The time had come for some "portage monkeys!"
We were richly blessed to have our friends Bill (Ho Ho) and David step into those roles for me. And we couldn't have asked for better! They offered to take a trip with us, they agreed to mesh with our schedule, they made good suggestions (the best of those, I think, was providing a set of trekking poles for me to use while walking the portages), they helped me in and out of the canoe, carried my packs, never complained about how slow we paddled or how much time it took for them to TRIPLE portage gear across the portages so that I could have my dream come true!
And I returned to Cherokee. As you will see when you read the trip report, it didn't turn out like I had hoped, but in the end it turned out better. It wasn't just a return; it was a real canoe trip, with a return to Gordon Lake and Frost Lake as well, and some wonderful new adventures along the way. It always amazes me that you can take a canoe trip into the BWCA after 41 years and still experience something totally new to you--still have a unique memory.
So here we go! Spartan1 and Spartan2, age 67, seasoned BWCA trippers with significant health challenges (Spartan1 is an insulin dependent diabetic; this was his first time tripping with an insulin pump and continuous blood glucose monitor). Bill and David, not quite young enough to be our sons, (I believe they are in their early 50's), physically fit Quetico regulars who had just returned from a 10-day adventure in the Q. And I shouldn't forget our fifth member of the team—Kahshahpiwi, "Piwi" for short—a canoeing puppy in training who gave us many moments of joy along the way.