Two for Crab Lake
by VoyageurNorth
Trip Type: Paddling Canoe
Entry & Exit Point: Crab Lake and Cummings from Burntside Lake (EP 4)
Sunday, September 18, 2005
The next morning we got up late and had a joint breakfast of eggs, bacon, and hashed browns and hot coffee. After breakfast Deb & I headed out, on our way to Cummings Lake.
It was a short paddle to Little Crab and then we did the short portage which took us to the small creek flowing into Korb Lake. Near the beginning of the creek we came upon a young Bull Moose swimming slowly towards us, making a definite rut grunting noise. I got several pictures and a bit of video of him. It wasn't sure what we were and it made me a bit nervous to see such a big animal coming our way. We began to paddle backwards to put a bit more space between us and him. He must have gotten the idea that we weren't anything interesting (like a female moose), and slowly made his way back and then walked into the woods.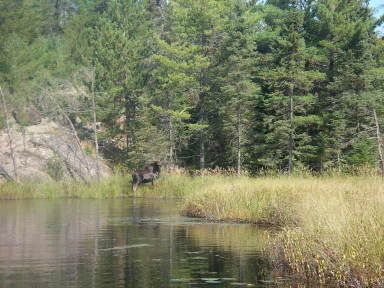 That day we also saw some otter and a couple beaver in the rest of creek. The travel from Little Crab to Cummings was quite pretty. The wind was fairly calm and we made it to the west side of Cummings easily. We set up camp on the western point just before the narrows towards Western Lake. It was a very nice site with a gorgeous view of the lake. Deb discovered a number of tomato plants back near the camp latrine, growing out of what looked like the "old" latrine.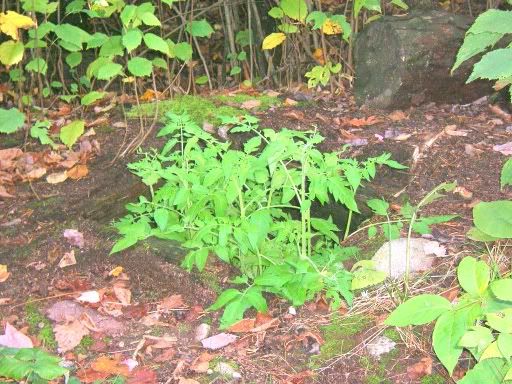 We did a bit of fishing just east and north of the campsite. This summer some customers had caught some nice walleyes there but we just found lots of smallies biting. Unfortunately the season was closed for smallmouth, Catch & Release only after September 15th.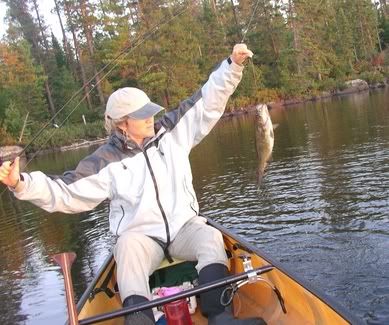 As we prepared dinner we spotted several large flocks of Canadian geese flying overhead in a vee formation, heading south.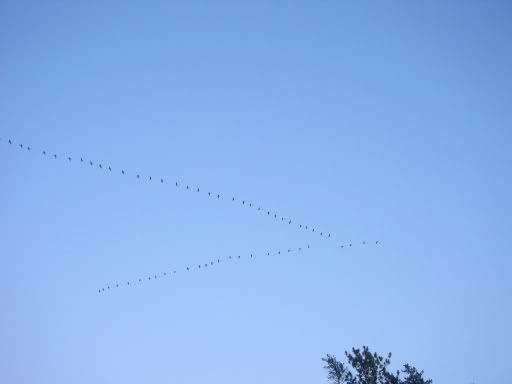 After dinner we sat around with tequila cocktails for a while and then Deb headed to bed. I sat around the fire gazing down the lake and took a few night photos of the gorgeous full moon suspended above the dark misty lake.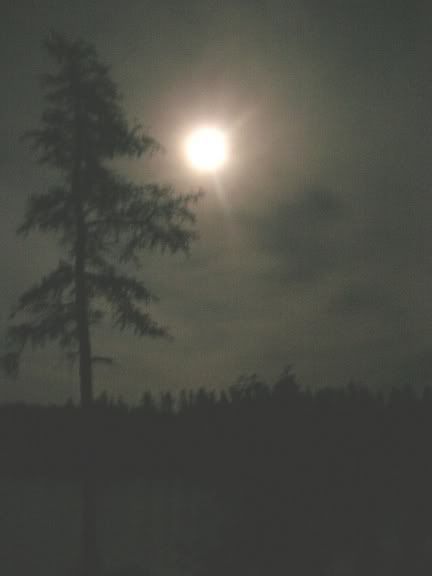 I spotted a bit of storm and lightning coming our way and then decided to go to bed too. Just as I was falling asleep I heard the light pattering of rain hitting the top of our tent.