Quetico 2016: Pickeral, Chatterton, McDougall, Camel, Veron, Fred
by Mad Birdman
Trip Type: Paddling Canoe
Entry & Exit Point: Quetico
Trip Introduction:
Lots of changes for my group this year, brought on by a new baby for one of our regulars and a late cancellation by another. This leaves us with just a party of three, and we decided to stay together in one three-man boat as opposed to having someone solo. The starting point was also new this time: we would try a northern entry out of Atikokan, which would allow us to see a lot of new water with the ultimate destination being Veron Lake. Based on recommendations of others, we worked with Doug Chapman of Canadian Quetico Outfitters. Doug and I have some mutual friends, and we hit it off during the trip planning phase. His three man canoe was already rented for the week, but he arranged for us to use another one through another outfitter. So, Brett and I leave from Madison, meet up with Greg in Duluth, and the three of us head across the border at International Falls/Fort Frances, making it to the White Otter Inn in Atikokan in time to grab some dinner, repack/combine our gear, and watch Game 4 of the NBA Finals, during which Golden State beat Cleveland to bring them to the verge of clinching the title.
Day 1: Pickeral (Stanton Bay)—Dore—Twin—Dieux Rivieres—Sturgeon – Russell—Chatterton We get up early to meet Doug at his shop, get some clarification on a couple of route items, and get the rental canoe up on my truck. It's a Souris River three-man, and I believe it was 18.5', which looks a little short for the three of us. We are driving ourselves down the Stanton Bay road, and Doug is picking up my truck and storing it at his shop, since he had shuttles planned all morning. Great of him to do that, as it lets us get on the water as early as we can.
We make the portage down to Stanton Bay, and it's a mostly downhill carry which has been well-established. So, we pack our gear in the boat, a little nervous about trying this with a week's worth of gear and three pretty good-sized guys. Worth mentioning is that this canoe looks like it's at least 15 years old, with some hull damage and even good dings in the gunnels. I jump in the bow, and we shove off. After the first three paddle strokes, it's clear that something's wrong. I feel like I am going to tip right out of the canoe if I shift my weight at all, and we were in a pretty calm little bay. What would it be like when the white horses come rolling in? So, it's back to shore to completely reorganize/rebalance our gear, and we finally get things tucked down into something that we can live with.
As we exit the narrows from Stanton Bay and enter the main body of Pickeral, a moderate west wind greets us. We are heading southwest, to eventually exit out into Dore, so we do the requisite island hopping to stay out of the teeth of the bigger waves. Some whitecaps are present, so we keep digging in and staying balanced. Brett is doing a great job of keeping us quartering properly, and I am still a bit skittish about the different feel of having the three of us in one boat.
Nonetheless, we make it into Pine Portage Bay, and make the portage to Dore. [URL=http://s75.photobucket.com/user/MadBirdman/media/Quetico%202016%20Veron/PinePortage_zpsiqkcc46f.jpg.html]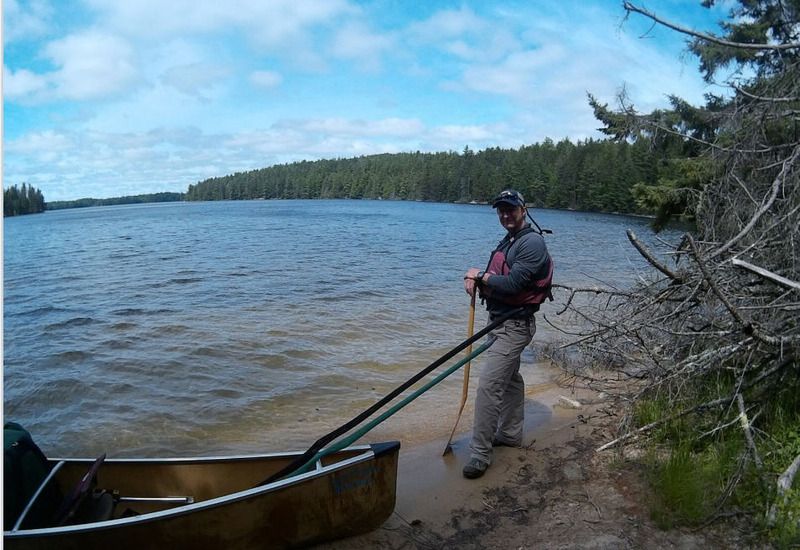 [/URL] Once launched,  we're paddling pretty much right into the wind. We grab a snack and some water, then Twin Lakes, and into the Dieux Rivieres. We're glad to be out of the wind now, and the river is glass calm. [URL=http://s75.photobucket.com/user/MadBirdman/media/Quetico%202016%20Veron/Dieux1_zpsmxxlbee5.jpg.html]


[/URL]
(Aside: A few of these pictures will be from my GoPro camera, which I brought along this year to try out.)
We were hoping for a chance to see a moose, since we have heard that the Dieux is prime area for that. We notice that the river is pretty high, and negotiate a couple of pull-throughs from beaver activity. We come around a corner, and sure enough, a bull moose is feeding off in the distance. I video him for a bit on the GoPro, before remembering that it won't be very zoomed in at all,  and by the time I've reached for my "real" camera, he's off into the woods. It was an awesome sighting on Day 1, but I'm kicking myself for not having more "evidence" to remind myself of it. I check the playback and sure enough, you can see a dark spot off a ways, but that's about it. It's the largest bull I have seen in person, with two very nice palmated paddles.
Buoyed by our good-luck sighting, we push into upper Sturgeon, before taking a lunch break on site ZT in the narrows. The wind is back and it's good to get some food, water, and a short nap before heading back out. We see a large group with matching canoes, and we conjecture that it's a school or scout group. Now, it's down past Blueberry Island and we decide we're feeling OK, so we make it to Russell Rapids by 5pm. We had already gotten further than I thought we would on Day 1, but realize that with three of us paddling and efficient portaging, we are moving along faster than anticipated. The wind mercifully lays down, and it's a bluebird calm afternoon. [URL=http://s75.photobucket.com/user/MadBirdman/media/Quetico%202016%20Veron/Russell_zpsks9pvkii.jpg.html]


[/URL]
The original plan was to either stay on Russell or upper Sturgeon, but as we paddle to the bottom of Chatterton Falls, we decide to take a fishing break and see how we feel. The falls are full and humming, and we catch a half dozen eater-size walleyes before I have two pike break-offs in a row. We're tired, but decide to make one more portage into Chatterton Lake. The portage is mostly uphill and by the time we get our stuff all repacked at the end of it, we're pretty whipped. I hadn't done a lot of investigating about Chatterton campsites, so I'm very relieved that the one I know about, at the top of the falls, is open. We pull in and get set up, enjoying the nice night and site. Brett tosses a few casts into the current.
[URL=http://s75.photobucket.com/user/MadBirdman/media/Quetico%202016%20Veron/BrettChattertonFishing_zpsku94m5ua.jpg.html]


[/URL]
Our steaks have thawed, so it's time for them and a box of Cabernet. Brett has a four-man tent, which has two doors/vestibules, so it's big enough for the three of us. The white noise of the falls makes sleep even easier, but honestly I think I could have slept on an airplane runaway that night!