Moose River North June 2006
by satchmoa
Trip Type: Paddling Canoe
Entry & Exit Point: Moose/Portage River (north) (EP 16)
Trip Introduction:
This is day 1 and 2 with more to come.
June17th 2006

EP 16

We left home early Friday morning the 16th hoping to miss the Chicago traffic or at least get by it before the backups shut everything down. There was me in my truck with 2 canoes on top and riding with me was Matt and Adam. Steve was leaving a tad bit latter and riding with him was Matt and Ben and Andrew. We had plans to meet up with PFP at the Gander Mountain in Duluth around 2ish but with a phone call to PFP on the way up he got on the road early so he was able to spend extra time and $ at Gander Mt. before we arrived. After doing some shopping and then filling my truck with gas we continued on to Ely arriving at VNO around 5 PM. After chatting with Lynn and John and setting up all the arrangements for the bunkhouse and permits and fishing licenses we headed out to the web cam and a phone call home so that my wife can really see that I was in Ely. LOL kinda gives new meaning when you see all the ball players when they wave into the camera and they all say hello Mom.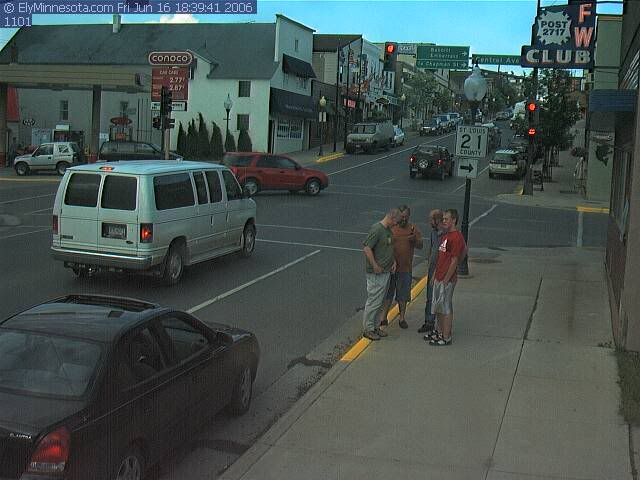 We then walked up the steakhouse for dinner and just as we were about to sit down Steve and his crew showed up and we were able to have a good dinner together. We then went back to VNO and unloaded everything into the bunkhouse and repacked all the food and stuff for the trip. PFP provided the extra packs and canoes for the guys. Thanks PFP.

After finally dropping of to sleep and a goodnites rest it was. Thanks Lynn and John your bunkhouse is tops and so is your knowledge and generosity. We were able to get a early start to the entry point with just a quick breakfast at the local gas station. One last call home to the wife knowing that there would be no cell phone service we were on the way and made good time to the EP. We unloaded the vehicles and started carrying our gear to the end of the portage thinking all along how are we going to get all this gear in these canoes.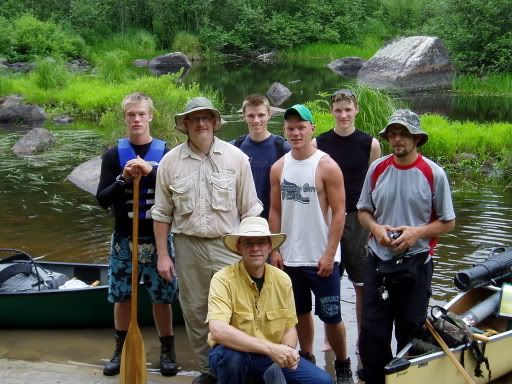 Well we did it and stopped long enough to take a group picture before paddling off in to the wild blue yonder. Paddling the Moose river was a real treat with a few rookie paddlers. What a beautiful river to paddle we stopped off at the top of the world and took a hike up to take some pics and to see the view from on top.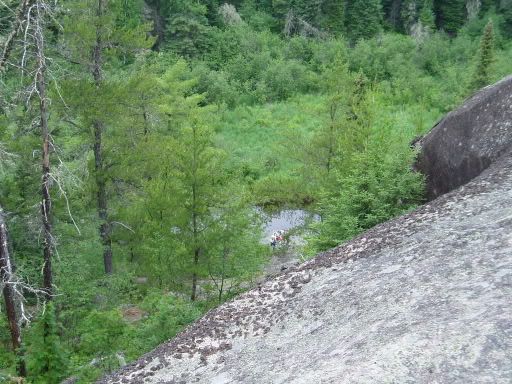 Getting back on the river we paddled on up to Nina moose and stopped at the first campsite on the west side and took a break and ate lunch. Then we continued on to Lake Agnas and made camp at the west campsite on the point towards the northend of the lake.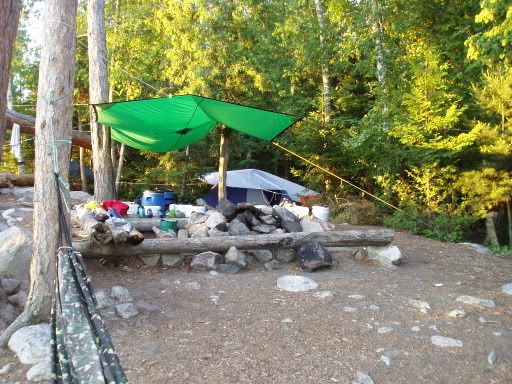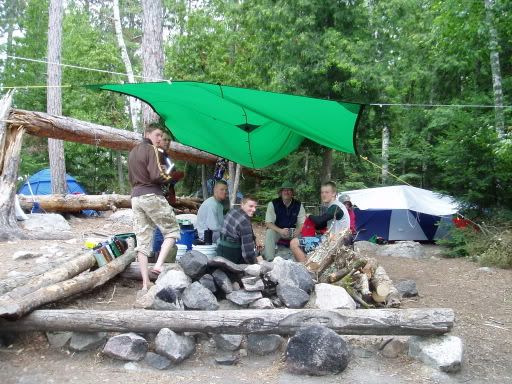 .