Kevin's first overnight BWCAW trip to Jordan Lake
by Bogwalker
Trip Type: Paddling Canoe
Entry & Exit Point: Snowbank Lake (EP 27)
Saturday, August 19, 2006
Destination Disappointment or Ahsub Lake
We get up at 5:00 and quietly get dressed and head down to the truck to make our way to Snowbank. Our goal for the day is one of the campsites on Ahsub. It's a short distance but being it's Kevin's first trip and we have to pick up Betsy in Superior, Wisconsin Sunday afternoon before heading home it seems like a good idea. Plus I worry about wind on Snowbank as the day progresses, especially on Sunday.
We arrive at the Snowbank parking lot as the sun is just starting to peak its way above the horizon. It's a cool beautiful, cloudless day with a mist floating above the lake. It sure feels good to be hitting the water again, and very exciting to watch Kevin experience it all.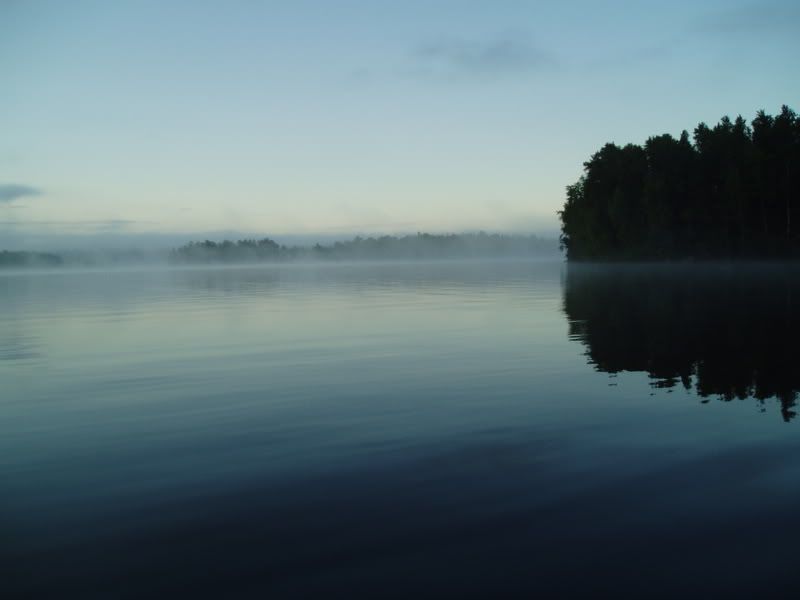 Kevin is very excited as we go over last minute instructions and where we are headed. We load the canoe, hop in and head off into the fog and mist of Snowbank. We are the only ones on the water and it feels great.
I give Kevin some more paddling instructions and before long he is paddling pretty well. We decide for today we will go across the portage directly to Disappointment and come back through Parent tomorrow to add that lake to his list. Ahsub is a short distance so we should easily be there by mid morning as people are exiting sites.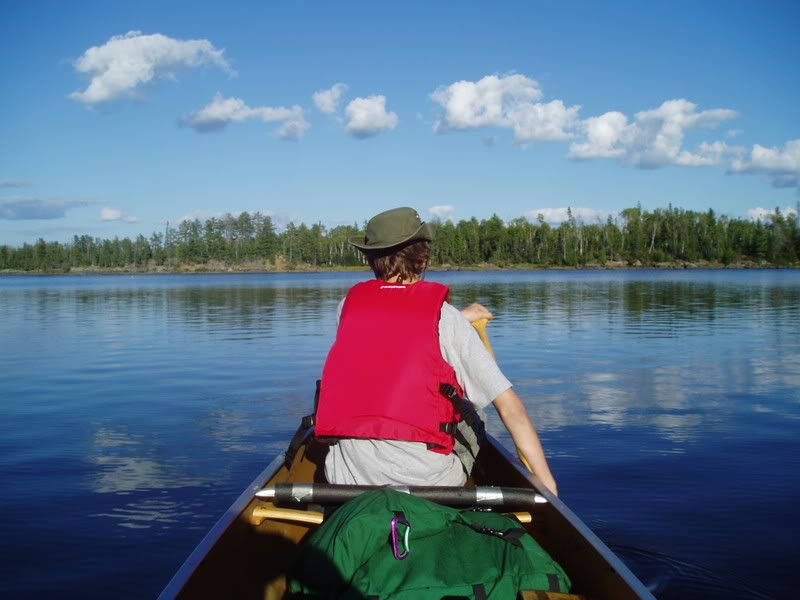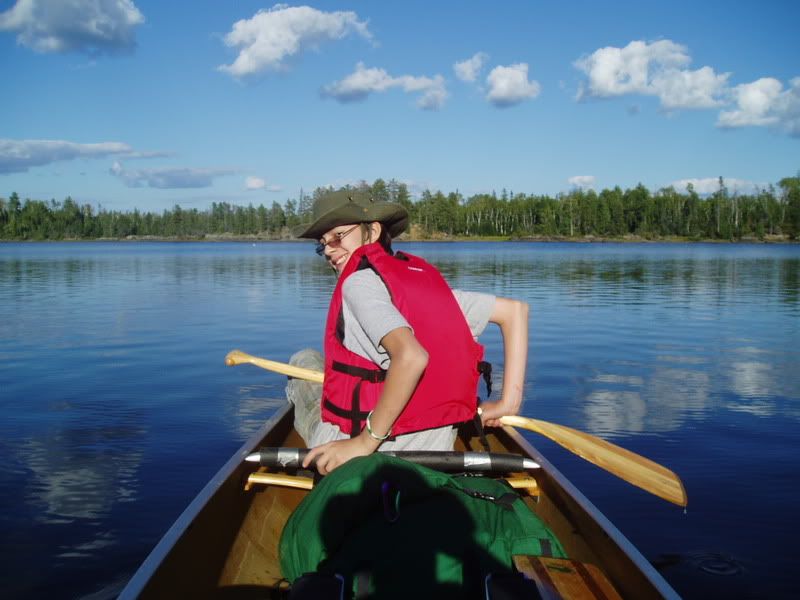 Bow paddler
Along the portage we meet the first people of the day. It's a big group who stayed on Disappointment last night at the island site. He says that Ahsub was full last night as was Disappointment. Maybe we should grab the island and not risk getting to Ahsub to find its full. Kevin and I discuss this and think it's a good idea. We finish the portage and head into Disappointment taking our time knowing this will be where we will camp and then take a day trip further on after lunch.
As we paddle along we notice all campsites we pass are full and no one seems likely to be moving. It is Saturday so we suppose many are queuing up for leaving on Sunday and will just relax today. We are OK with this as we know the island site was just vacated and should be open for us.
As we arrive at the island site we see someone there. Confused we watch as we can not tell if they are coming or going. It turns out it is a big group of 18 people who shared a site on the mainland the night before and now are splitting up. Clearly illegal, but who I am I to do anything. I discuss the issue with Kevin and go over why a big group like this should not camp or travel together. He sees how it can affect the experience of others. We stop at a small island north of the site to watch the activity of shuttling gear across plus the inevitable yelling from one campsite to another. It was a good teachable moment for Kevin.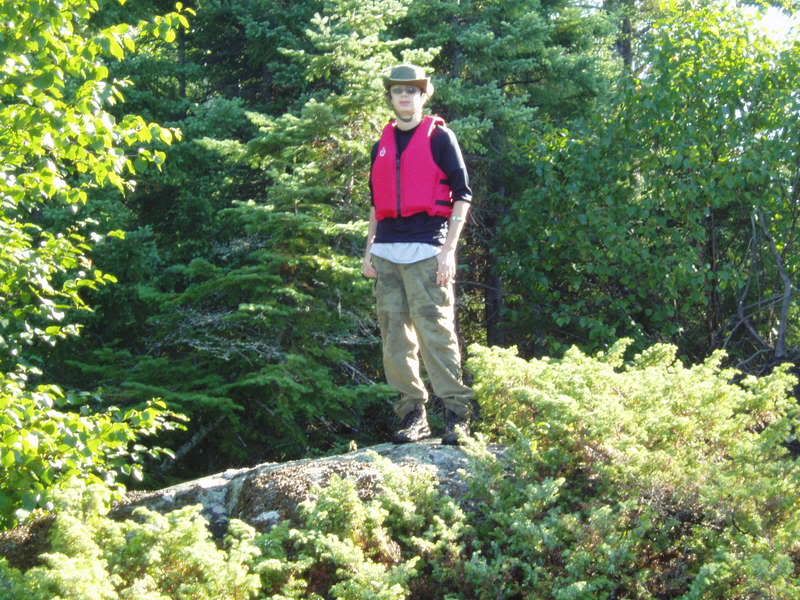 Kevin on the small island watching the chaos
We continue on our way looking for open sites as we go. All we get to are occupied with little indication that they will be vacant soon. Our slow travel and thoughts of staying on Disappointment now have the time approaching 10:30. Clearly if people were leaving they might be packing up by now. Kevin and I discuss this and decide to make a bee-line for Ahsub and grab a site there.
The portage to Ahsub is easy and quickly we are there. Around the corner to the west is site number one. Looks open so we start heading that way. Suddenly a couple scramble from the water from skinny-dipping. It's not real warm, but I guess they are just taking a bath. They are back packers and plan on staying there this day.
The site further east is hidden behind a small island. A couple in a canoe is just leaving so it looks like we are in luck. We start to head for the site but notice a tent up on the hill. As we approach the couple leaving we learn they are just going for a day trip and not vacating the site.
So-it is now about 11:00 and all of Ahsub and Disappointment are already full. Kevin and my only choice is to continue on. I had mentally prepared my mind and body for only these couple of lakes. We discuss the fact that we now have to make at least Jordan and maybe Ima in hopes of getting a site. This will mean a few portages and more travel and we need to move more quickly then we have up until now. Kevin gets in the right frame of mind and off we head.
We cross through the lily pad filled Jitterbug and hit the portage into Adventure. We share the portage with a group that has left Ima that morning. I ask what the campsites look like ahead and they tell us that Ima was empty when they left and only one site was filled on Jordan. Thank goodness!! With renewed spirit Kevin and I finish the portage, head across Adventure and cross Cattyman saving the falls for tomorrow. We want to grab a site before the afternoon traffic picks up.
By the time we get to Jordan both sites on the main part of the lake are available. We decide to grab the one at the south end of the lake-not back in the bay. It feels good to land and unload in our home for the night. We have traveled further than we had intended so we discuss the fact that we will need to get an early start in the morning. Before setting up camp we have lunch and relax and regain our strength. It's about 1:30 and we are tapped. Peanut butter sandwiches, gorp and chocolate pudding with kool-aid hits the spot.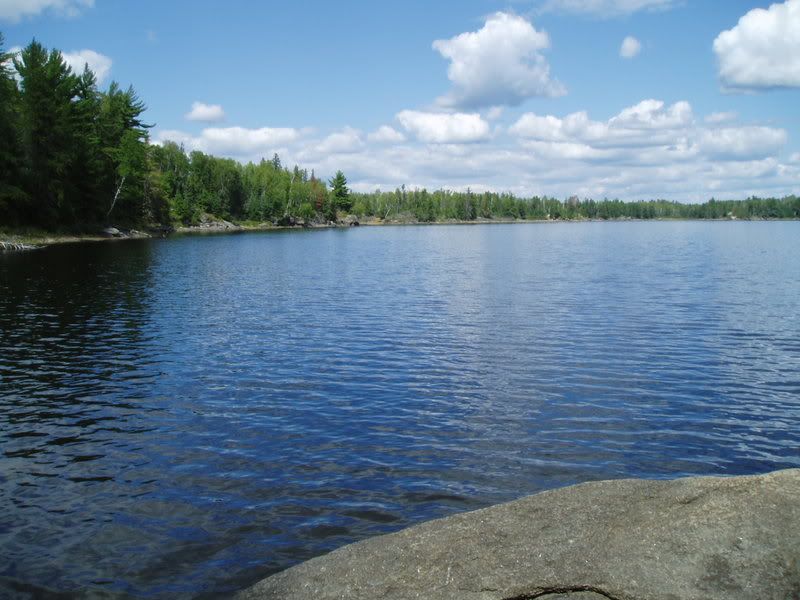 Jordan Lake campsite view
After lunch we set up camp. Kevin decides to go for a swim and play while I relax and read and keep an eye on him. It's fun watching Kevin enjoy himself without video games, TV or other distractions. Today's kids do have an imagination and can find ways to entertain themselves if they have the distractions removed.
It's a whopper dad!!!
Preparing wood for tonight's fire.
Soon it is dinnertime and we are having steaks and fried potatoes. Kevin gets the fire going and he will do the cooking. He has spent time gathering and preparing a nice supply of wood for dinner and for smores later. I am impressed with his enthusiasm as he goes about these tasks. I am getting to relax now as he tends to the camp chores and the cooking.
Dad-take a picture of me and my fire to show everyone!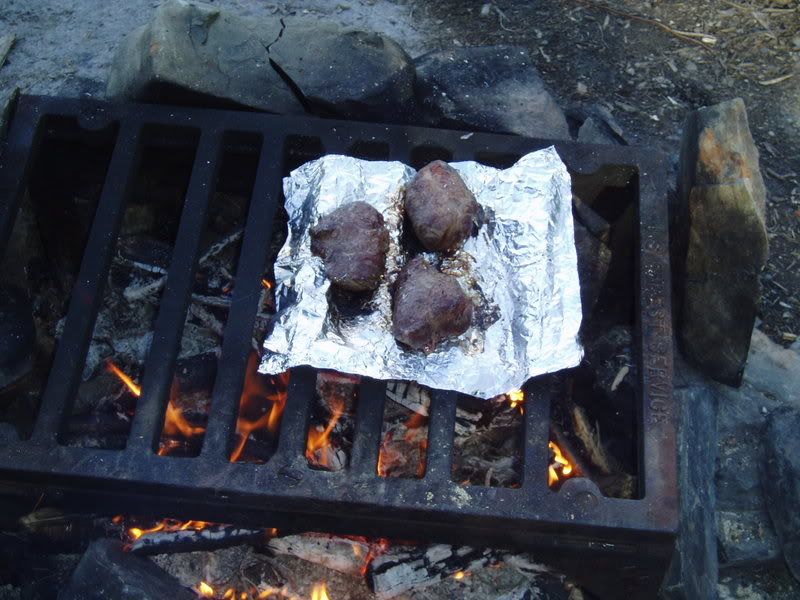 MM, MM those will be good.
After dinner we put the fire out and head for an evening paddle. I want to check out the site in the south bay that was occupied but the group left about 5:00 to head out. They passed us as we ate dinner. We also want to see if we can find the pictographs on the way to Ima.
The campsite in the bay looks great and is secluded from the main path. If I ever stay on Jordan again this would be my first choice for a site. There is a low lying grassy area that appears like good Moose habitat and a nice site up on a rock face. It was tempting to move, but it is late and the site we have is pretty nice as well.
As we paddle out of the bay and toward the entry to the portage to Ima a family of three loons follows us. They dive and play and talk to us as we paddle. It is quite enjoyable, as they seem intent on entertaining us. We paddle slowly with them until we get to the turn off toward Ima.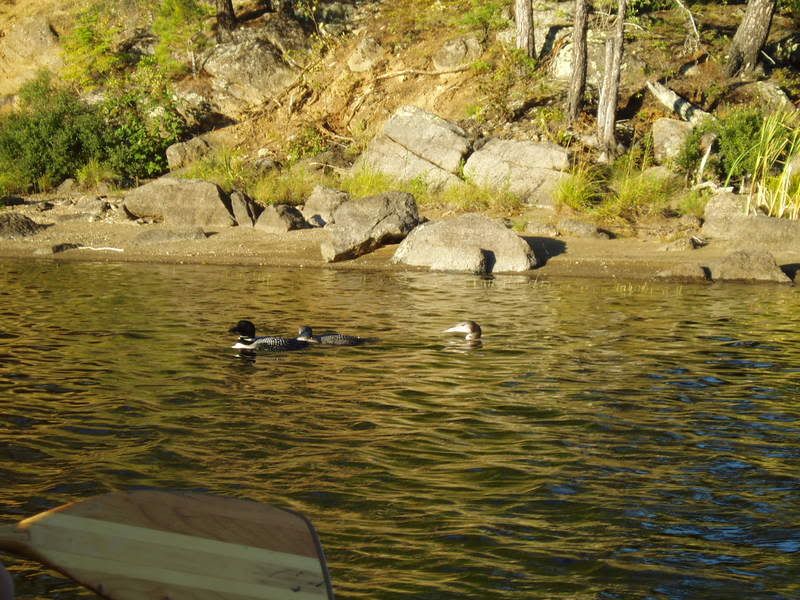 Those Looney Loons.
The sun is sinking lower as we get to the cliffs that must have the pictos. We search and search but can not locate them. I tell Kevin these are known to be hard to find so not to worry. We probably are right by them, but with the sun at the low angle and twilight approaching we just can't locate them. We decide to head back to camp for our evening of smores and cribbage.
Jordan begins its evening slumber
Kevin making smores.
We watch the stars for a little while until the skeeters drive us to the tent. It is ok as we want to get up early to start our trip back out in the morning.