BWCA Entry Point, Route, and Trip Report Blog
June 09 2023
Daniels Lake entry point allows overnight paddle only. This entry point is supported by Gunflint Ranger Station near the city of Grand Marais, MN. The distance from ranger station to entry point is 33 miles. Access is from W. Bearskin Lake with a 60-rod portage to Daniels Lake and 460-rod portage to Rose Lake. This area was affected by blowdown in 1999.

Number of Permits per Day: 1
Elevation: 1427 feet
Latitude: 48.0727
Longitude: -90.4358
Daniels Lake - 61
25th Annual Trip
by Lightfoot
Trip Report
Entry Date: September 17, 2011
Entry Point: Clearwater Lake
Number of Days: 8
Group Size: 4
Trip Introduction:
This is my first attempt at posting a trip report on this site, so please forgive any issues with the formatting and including photos.
Day 1 of 8
BWCA – 2011 (Sept 17 – Sept 23)
25th Anniversary Trip:
[paragraph break]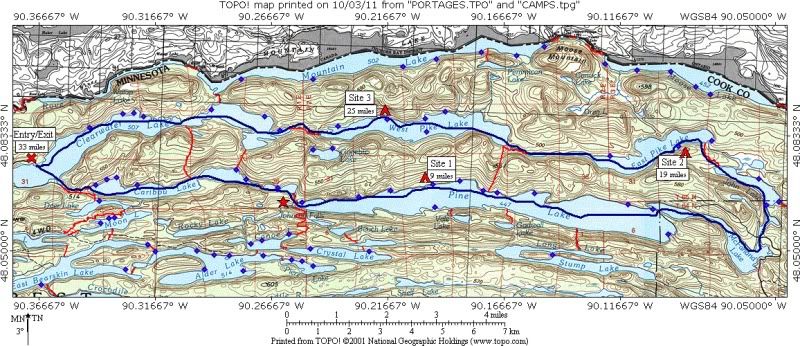 [paragraph break]Anticipation for this year's trip was higher than most years. This year would mark our 25th consecutive year of going on a BWCA trip. The route and dates had been set since our 2010 trip. The Brant Lake entry permit was reserved in February so all we had to do now was wait. Then as the date got closer, we began to think that this trip wasn't supposed to happen.
During our 2010 trip, Craig informed us that he wasn't sure if he'd be able to go in 2011. He works at the Ford plant and with the plant scheduled to close in 2011, his availability was unknown. He said he would know by early to mid summer. We met in early July and talked a few times, by the 3rd week of July he decided. In his words, "I just love it up there so I have to go". He is now committed and our usually crew was all set to go.
On August 3rd I'm all set to drive up to Duluth for my companies annual convention. That morning I receive an email from Craig. With the Ford plant closing date now set, they are transferring employees to other plants, when and where they are needed. One employee to be transferred is Craig's backup and he is scheduled to go at the end of August. As a result, Craig cannot get the time off, and will not be able to go on the trip. He's not happy, and neither are we.
Earlier in the year Chris had mentioned that Dennis told him that he would like to go on a trip with us if we are ever looking for a 4th. So after seeing Craig's email I forwarded it to Chris (and John so he would know what's going on) and then left for Duluth. I checked my email the next day and Chris had already sent a reply. He checked with Dennis and he will be happy to fill in for Craig. So at least we still have a crew of 4 and everything is still a go as planned. Dennis would be a very good fill-in since we all know him from several bike tours he's joined us on. Things are looking good again. It's just too bad Craig would not be able to join us on this trip, but he offered to let us borrow any gear he usually brings.
Our entry permit was for Brant Lake on Saturday, Sept 17th. On Thursday, Sept 8th, news reports start talking about a fire that's burning just south of Lake One. This wasn't a big concern since Lake One is quite a distance from our entry point. Then on Monday, Sept 12th the 30 – 40 mph winds cause the fire to explode. It goes from about 11,000 acres to 60,000 in one day and the Forest Service is evacuating canoeists from that entire portion of the BWCA. On Tuesday, Sept 13th I received a phone message from Tuscarora Outfitters, all entry points south/west of the Gunflint Trail were closed due to the Pagami Creek fire, this included Brant Lake entry. I called and talked to Tuscarora Outfitters since this is where we were picking up our permit. They said we could either reserve a permit for another entry or just hope they re-open Brant entry before Saturday. They were going to attend a Forest Service meeting on Wednesday morning in Grand Marais and would know more after that meeting and to call back after that.
Wednesday morning I went on line and checked for Clearwater Lake entry. There were still permits available for Saturday the 17th so I reserved one. At this point I also kept the Brant Lake permit, in case it opened, we could still go on that route. I had already mapped out a route from Clearwater Lake that I was going to suggest for our 2012 trip so it was an easy adjustment. I sent a message to the rest of the crew explaining the new plan and included a map of the Clearwater route. They all agreed it was good to have a backup plan and were glad I got an alternative permit reserved. Wednesday evening I checked permit availability again and now there are no permits available for Clearwater Lake. The next day I received an email from the Forest Service saying that our Brant Lake permit has been cancelled. This told me that there was no chance that entry point would be re-opened before Saturday.
So now, the trip was still a go. We just have a totally new route and a new crewmember. We had never been in this section of the BWCA so it would be completely new to all of us. The route would be to enter at Clearwater Lake and head over to Pine Lake for our first site. From there we would exit Pine Lake on the east end and swing through McFarland and John to East Pike Lake for our next site. Then we would stop on West Pike for our last site. This would be a more relaxed trip than was originally planned but at least we're still going on a trip and we get to see all new territory.
Friday we drive up to Tuscarora Outfitters to pickup our permit and settle into the bunkhouse for the night. We also check the forecast. Saturday and Monday were supposed to be sunny, Sunday, Tuesday, and the first part of Wednesday were supposed to be wet, the rest of the trip would be mostly cloudy but dry. Well, the first 3 days were correct. We usually travel every other day and spend 2 nights at each campsite. This would mean that we'd travel on the 2 nice days and spent the wet days in camp. All day under a tarp or in the tent is not fun so I suggested we spend 3 nights on Pine. This would allow us to make a day trip to Johnson Falls on Monday, the only other nice day forecasted for the week. None of us had seen Johnson Falls but it sounded like a nice day-trip so all agreed. It ended up being a very good decision.
[paragraph break]
Saturday, September 17, 2011
[paragraph break]Clearwater Lake entry to Pine Lake (9 miles, 3 portages, 305 rods; low=34 high=64)
[paragraph break]After a comfortable night in the Tuscarora bunkhouse, we're up, dressed, packed, and to the 'mess-hall' by 7:00. After a very good French toast breakfast, we're on our way to the Clearwater Lake entry. We unload, park the vehicle and began paddling by about 9:00. Yes, our 25th annual trip is going to happen (well, for 3 of us any how).
[paragraph break]There's just a light breeze out of the south as we head SSE across Clearwater Lake. With the temps now in the mid 40s and a bright sunny sky, this was a great start to the trip. We saw 3 kayaks paddling along the south shore just out to enjoy the nice morning. We enter the little bay that leads to our first portage. As we approach the portage we see the sign letting us know that we are now entering the BWCA.
[paragraph break]The portage to Caribou Lake is listed as 210rds but it seemed quite a bit shorter than that. Even though this area has been very dry for Aug & Sept, this portage was a bit muddy on both ends; other than that it was a nice trail. Caribou Lake is a very pretty lake surrounded by high hills. During the week we will discover that this is a common feature of all the lakes in this area. As we cross Caribou Lake we only see 2 open sites out of the 6. During our drive up we had discussed the possibility that this year would seem more crowded and we would have a tougher time finding open sites. With the closure of so many entry points and everyone having to rebook into a limited area, it appeared to be a very real possibility
[paragraph break]Along the portage from Caribou to Little Caribou we met a group on their way out from Pine. They had spent a couple nights at the 3rd site along the north shore and really liked it. We decided that we'd head for that site and grab it if it was open. As we paddled across Little Caribou the only site was occupied. It looked to be a very nice site but was in the narrowest spot on the lake so all traffic passed by close to that site. We crossed the short portage into Pine Lake and headed east following the north shore.
The 2nd site we came to was open so we stopped and checked it out. It had a very nice fire grate area but exposure to the lake and level tent pads were pretty much none existent. We pushed off and headed for the next site to the east. This site was also open and it had a nice landing and lakefront as we approached.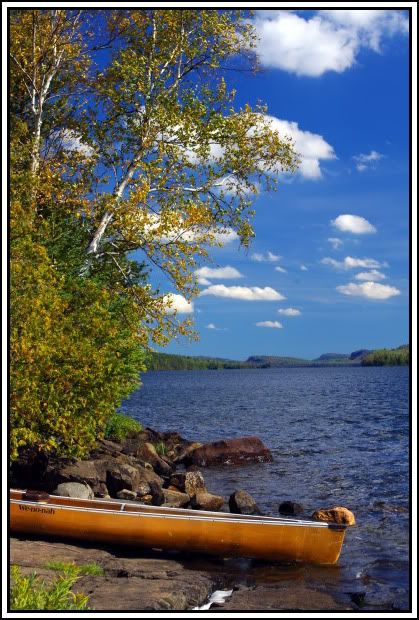 The fire grate area was good and there was a nice grassy/open area behind it and to the right where we could easily fit both tents so we claimed it as home for the next 3 nights.
[paragraph break]It was now about 1:00 so we decided to have lunch before setting up camp. About 1:45 we went down to unload the canoes and there was another group of 4 passing by, heading east looking for a site. Yup, less than an hour later and we probably wouldn't have gotten this site. Looking SSE, we could see the sight on the south shore of the lake and that site was also occupied. We were thinking that our discussion of the area being more crowded than usual was true. We setup camp and still had a couple hours to relax and we saw another group of 4 go past looking for a site.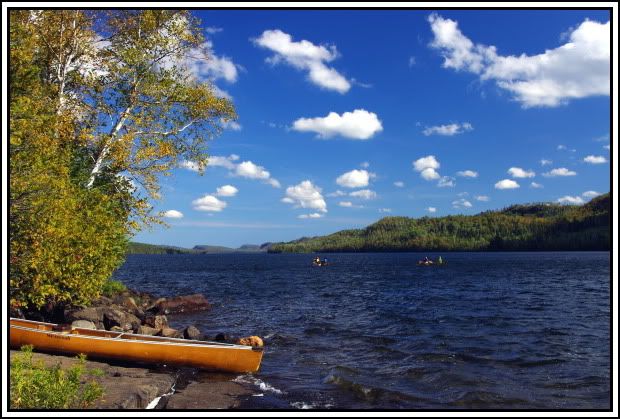 Since the forecast called for rain tomorrow, we made sure to setup the tarp in an area we could sit under and cook if necessary.
[paragraph break]About 5:00 we start to prepare supper. Boneless pork chops and stuffing was a slight variation from our normal steak and rice but was very tasty. As we were cleaning up clouds moved in and it was completely overcast by 6:30. With the cloud cover there would be no sunset or star gazing tonight and the forecast for rain tomorrow looked to be a good bet. It was still a nice evening to enjoy our Barons down by the lake. We had a toast to our missing crewman, Craig, and to Dennis who was able to fill in for him this year. We continued to talk and enjoy the evening until about 9:00 when we turned in.
Day 2 of 8
Sunday, September 18, 2011 Lay-over day on Pine Lake (low=54 high=58)
I was up once during the night at about 3:00. The sky was completely overcast but it was still quite warm. Expecting nothing but an overcast sky in the morning I was in no hurry to get up and slept in until about 6:45. When I crawled out of the tent I saw partly cloudy sky so I headed down to the lake to check it out. I was surprised to see a very nice sunrise. I grabbed my camera and started shooting just as the sun was about to peek over the cloud deck along the horizon.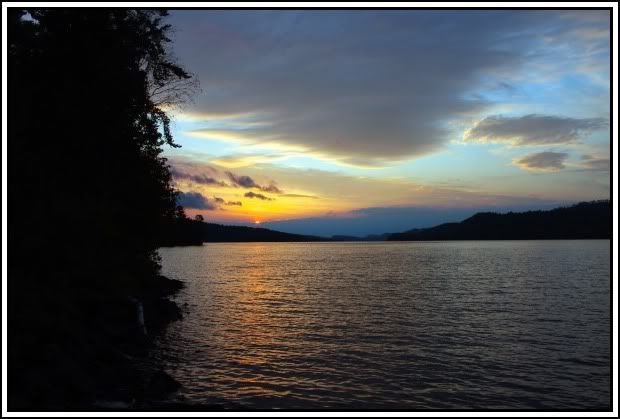 It started out with a yellow horizon with a turquoise colored sky. As the thick cloud deck overhead continued to move east the sky changed to more of a purple tint. [paragraph break]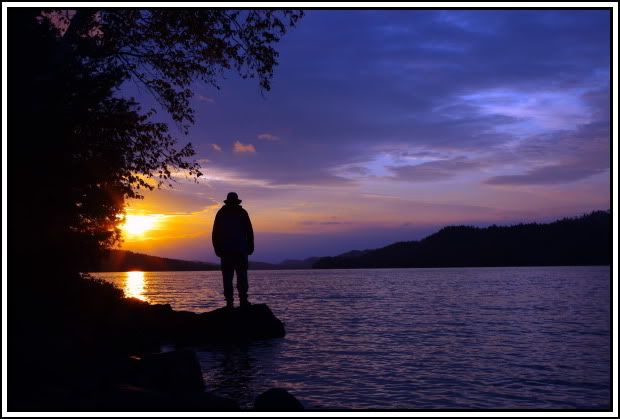 [paragraph break]Looking to the west also provided a nice view, with the trees lit-up by the low morning sun and the reflection in the lake.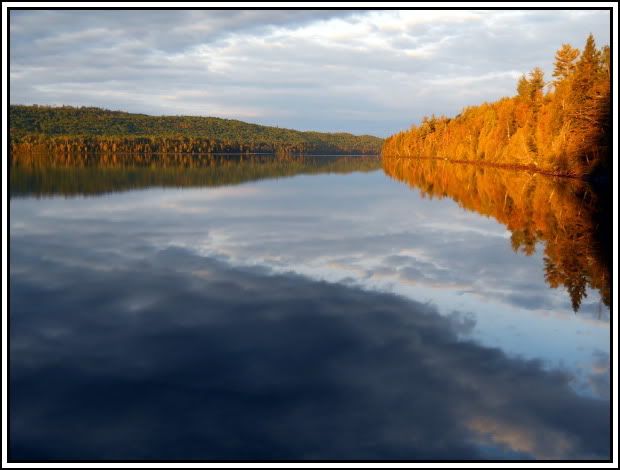 [paragraph break]Finally, just before the clouds blocked out the sun we were treated to a deep orange sky between the cloud decks.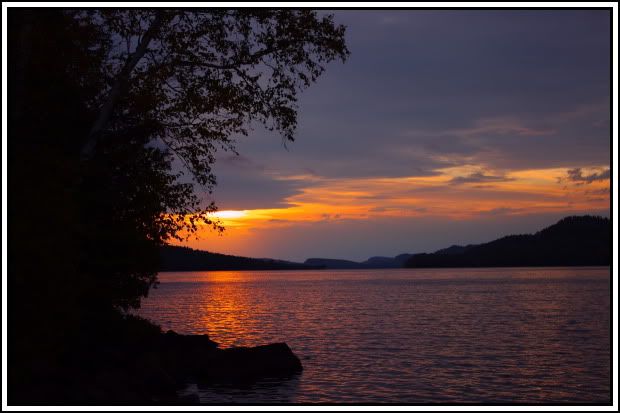 Not a bad start to the day but we knew things would change.
The clouds continued to move in during our breakfast of omelets in a bag. We felt a few drops as we cleaned up and prepared for a rainy day. The wind became very gusty and a mix of mist/drizzle/light rain began and continued the rest of the day. About 4:00 the real rain began. It would rain for about 30 minutes followed by a 5-minute break. We spent most of the day under the tarp reading and would get up to stretch whenever there was a break in the rain. This pattern continued the rest of the day and into the night. When went in to the tents by about 8:00 and read for about another hour. By about 11:00 the rain ended and the sky cleared out during the rest of the night.
Day 3 of 8
Monday, September 19, 2011 Lay-over day on Pine Lake (low=50 high=70)
This was supposed to be the nicest day of our trip weather wise, so we were a little surprised to find the sky overcast when we got up. We also decided to have this as an extra lay-over day so we could visit Johnson Falls. As we ate breakfast, the sky quickly cleared to a bright blue with no clouds in sight. Also very little breeze so it was shaping up to be a great day.
After cleaning up from breakfast, we took care of a few chores to dry out from yesterday. About mid-morning we head west to Johnson Falls. As we pulled up to the landing at the falls a look back showed just how nice the day had become.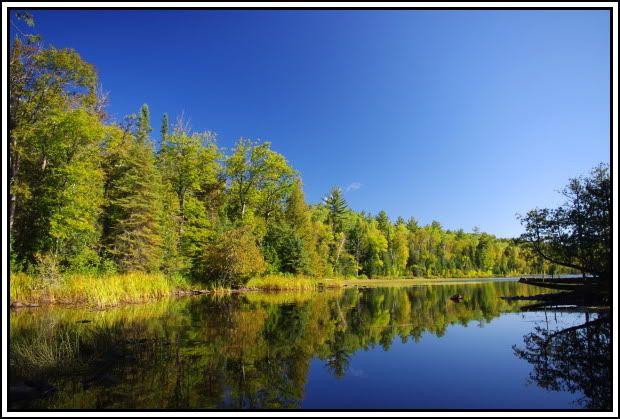 [paragraph break]We then started up the trail to the falls. It wasn't a long hike before we arrived at the lower level of the falls. This had been a very dry Aug & Sept so we had no idea how much water would be coming over the falls, and since we had never seen them before we have nothing to compare it to. I would guess that this was a very low flow for the falls but it was still a very pretty area. We spent several minutes walking around and taking photos at the lower level.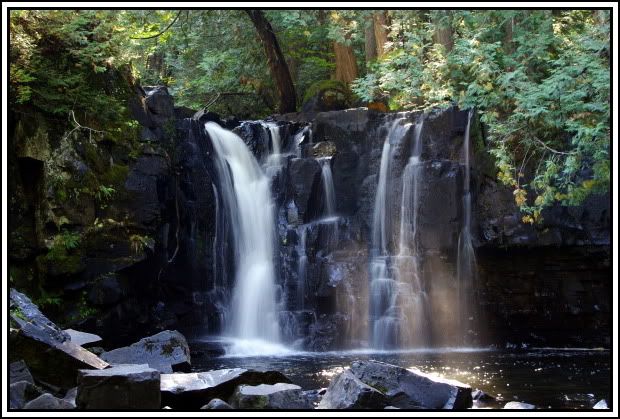 Not long after we arrived, a father and son who were camped on Canoe Lake joined us. They were from Iowa and had made several trips to the BWCA. They were also on a day-trip to visit the falls. They asked if we would take their picture and John was happy to help them out.
[paragraph break]After a few more shots at the lower level, we headed further up the trail to the next level of the falls.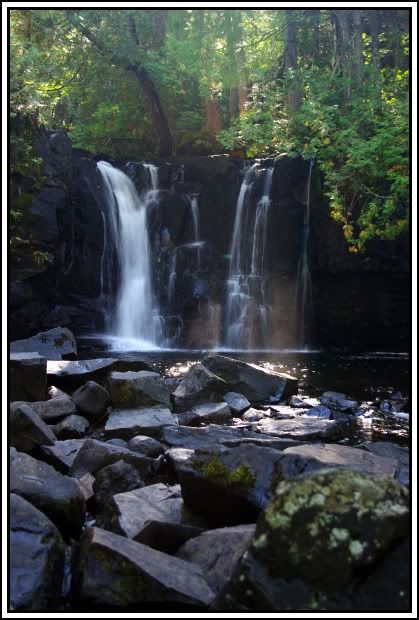 [paragraph break]After the previous day's rain, along with a few leaves on the rocks it was very slick and you really had to watch your footing. We spent some time getting different views and several photos.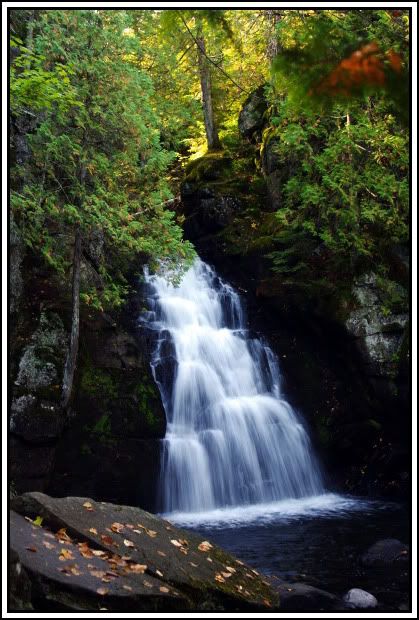 [paragraph break]We the other 2 joined us at this level we asked if they would take a photo of our group at the falls and they were happy to do so.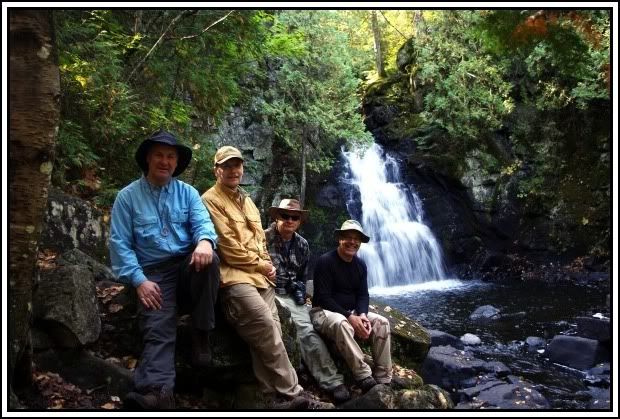 We spent a little more time watching the falls and then headed back.
[paragraph break]We paddled the 2 ½ miles back to camp and pulled in shortly after noon. We had our lunch and then cleaned up and put the items away that had dried while we were gone. We spent the rest of the afternoon relaxing and reading, this time in the sun rather than under the tarp. By afternoon the wind had pickup up and created some rough seas along with a few whitecaps. It was still a great day to be in the boundary waters and a nice view from our site.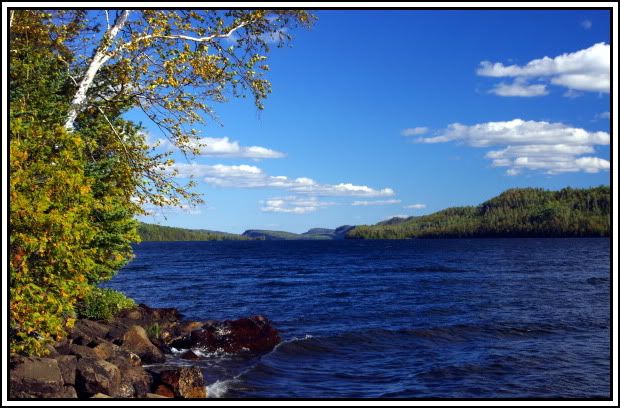 We also checked the weather radio to see what we should expect for the rest of the week. Tuesday – chance of showers in the morning, then showers & thunderstorms likely in the afternoon. Wednesday – chance of showers in the morning, then some possible clearing in the afternoon. Thursday & Friday – mostly to partly cloudy, no mention of rain. We hoped the rain would hold off in the morning at least long enough for us to break camp. It's always nicer packing up dry. If we would be really lucky, maybe even make it to East Pike Lake and get setup before rain (wishful thinking?).
[paragraph break]We had a very good Mexican supper, chicken & rice stuffed burritos, followed by Barons down by the lake. By now the wind had calmed down and it turned into a beautiful evening. We enjoyed watching the lowering sun create a golden hue on the hillsides and finally set below the western horizon. [paragraph break]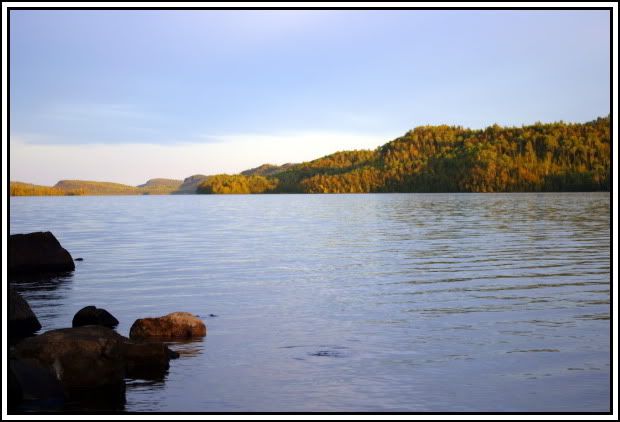 [paragraph break]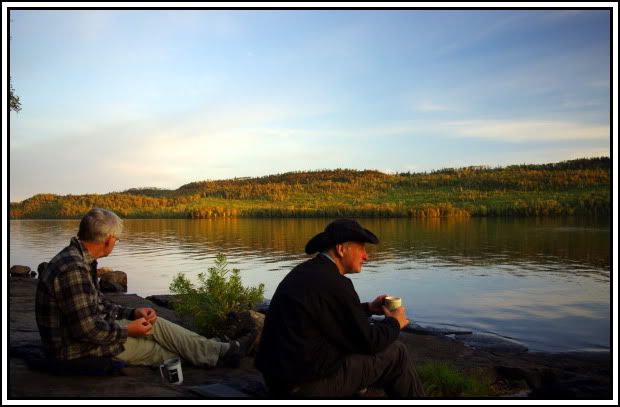 [paragraph break]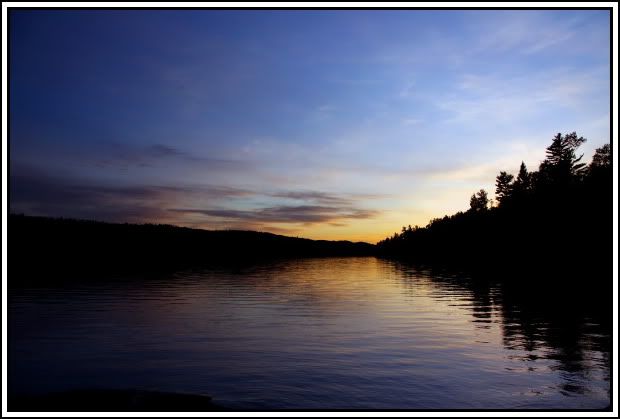 We continued to sit on the rocks near the lake and watched the stars come out as we reminisce about this glorious day in the boundary waters. We reluctantly head to the tents about 10:00. It's days like this that keep us coming back.
Day 4 of 8
Tuesday, September 20, 2011 Pine Lake to East Pike Lake (9 miles, 1 portage, 180 rods; low=48 high=68)
I wake up about 6:00 and don't hear any rain falling. I'm expecting complete overcast and just hoping the rain holds off long enough for us to break camp. When I crawl out I'm surprised to see a very nice sunrise. A deep pink color in the clouds and a faded orange between the clouds and the horizon. We take several shots as we also try to have breakfast and break camp. We still manage to get loaded up and on the water by 8:45.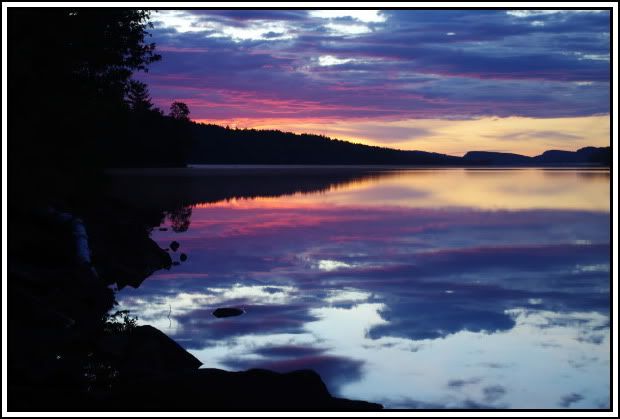 [paragraph break]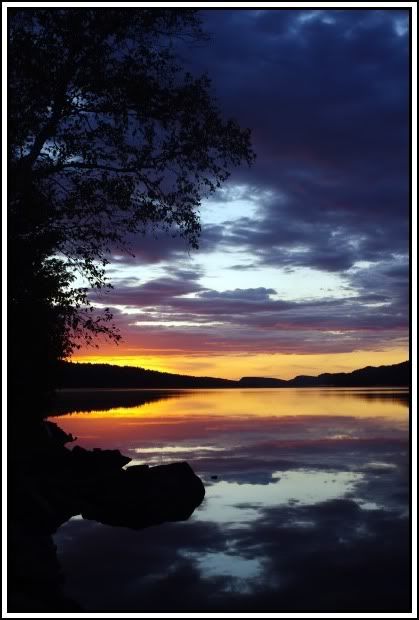 [paragraph break]As we paddle the length of Pine Lake we are impressed by the size of the lake and were thankful for only a light breeze this morning. None of us expected to see a lake of this size in this small section of the BWCA. As we continue east, the sky is becoming cloudy but still just a broken layer of clouds.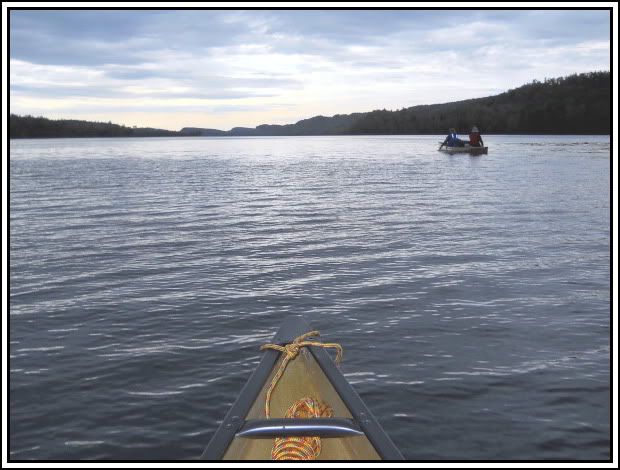 We paddle the length of Pine, McFarland, and Little John with no break. We were able to paddle through all 3 of the short portages that are marked on the map. When we entered John Lake and saw the first campsite open we headed for it. We all just needed to get out and stretch our legs a bit. It was about an 8 mile paddle with no stops.
[paragraph break]After the short break, we continued to the west end of John Lake and found the portage to East Pike.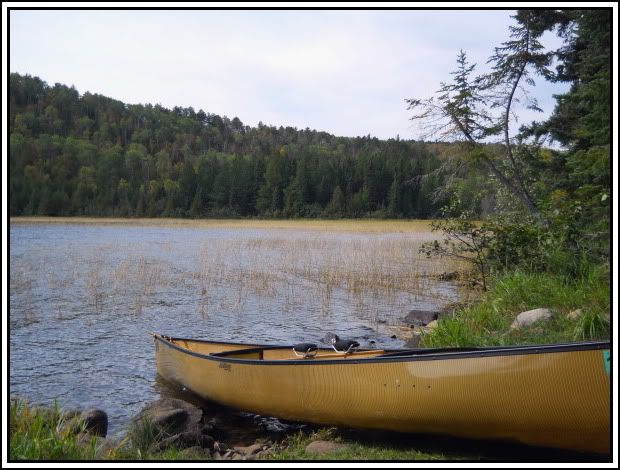 This portage is listed as 180rds but seemed quite a bit longer than that. It also had some good elevation change so it was a bit tougher than any of the portages on day 1. Along this portage we met a group of 2 fathers each with a son. The boys appeared to be in the 12 – 14 year old range. Both boys were very polite and were already familiar with proper portage etiquette (the biggest load has the right-of-way). As the second boy approached me, his load looked bigger than mine (relative to our sizes anyhow). I stepped off to the side of the trail to let him by; he gave me a smile and a cheerful "thank you" as he continued past. We briefly spoke with each of them and found out they had spent the night on East Pike and were headed to Pine Lake for tonight. They were doing the same route we were but in the opposite direction. Hope they had a great trip and remained as happy and cheerful throughout the rest of the week.
[paragraph break]The plan was to head west and take the site on the south shore. Luck was with us this morning; so far the rain had held off and was not threatening for the immediate future. The site was open and looked to be very nice. As Chris and I landed, an eagle flew right over us to welcome us to the site. It was about 12:45 and we were all ready for lunch. John is the meteorologist for our crew and he had studied the clouds as he paddled west to the campsite. He figured we had plenty of time for lunch but would want to get camp setup shortly after. He said 4:00 at the latest the rain would start.
Here's the disgusting part of the trip. We unloaded the canoes and brought the packs up to the fire grate area for lunch. All around this area was shredded pieces of paper towel. Then, in the fire pit, we found a partially burnt box of pancake mix, partially burnt bottle of syrup, the all too common chunks of tin foil and other assorted bits of trash. We assumed that the paper towel had pancake batter on it when it was put into the fire. After it didn't burn and the fire went out, the mice and chipmunks helped spread it around the area. Sooner or later I'm afraid there's going to have to be some type of system put in place to track who is at each campsite each night. It's only about the 4th or 5th "trashed" campsite we've come across during our trips but there shouldn't be any.
After lunch we setup the tents, tarp and lean-2 to put our packs under so we'd be prepared when the rain started. We then cleaned up the mess and added it to our trash bag. [paragraph break]It's a real shame that people would treat any area as a dump, especially one with a view like this.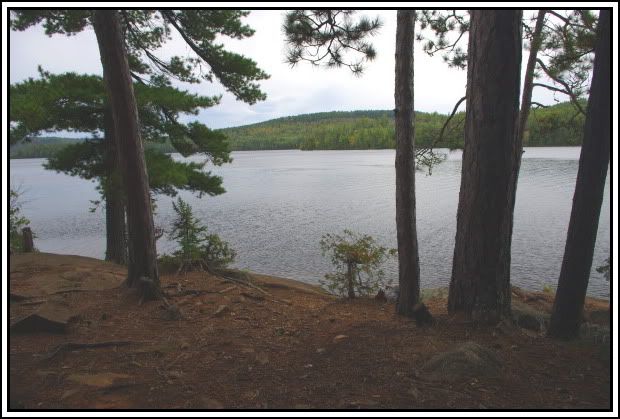 [paragraph break]We then unloaded all our personal gear and by 2:45 we were able to sit and relax. We also had one of the resident loons come by to check things out.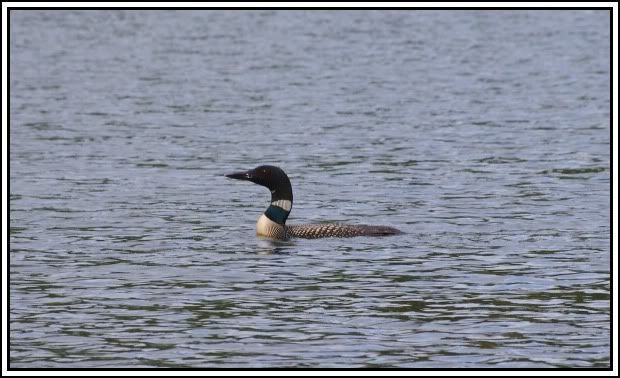 About 3:30 a light rain began. We were able to travel the entire morning and get camp setup before any rain fell, that's the best we could have hoped for. It rained off and on the rest of the day. We had supper and cleaned up by about 6:30. We had to enjoy our brandy under the tarp tonight and then an early bedtime. Aside from the trash at this site, it had been another very good day in the boundary waters.
Day 5 of 8
Wednesday, September 21, 2011 Lay-over day on East Pike Lake (low=52 high=52)
Woke up about 6:00. It was still overcast but there was no wind and no rain. It was 52 degrees when we went to bed last night and 52 when we woke up this morning. The cloud cover maintained a very steady temp all night.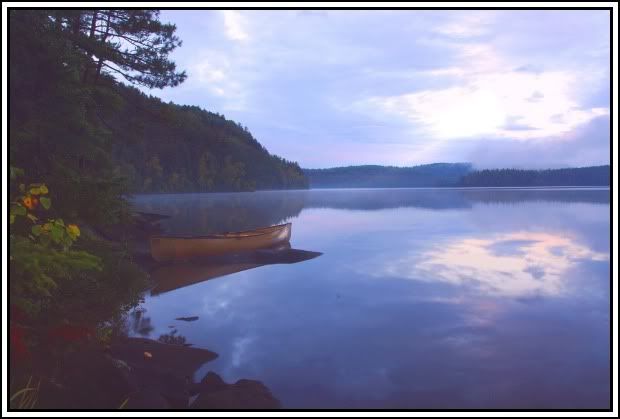 [paragraph break] With the warm morning and calm water, John went for an early paddle. It's a very peaceful time to be out on the lake.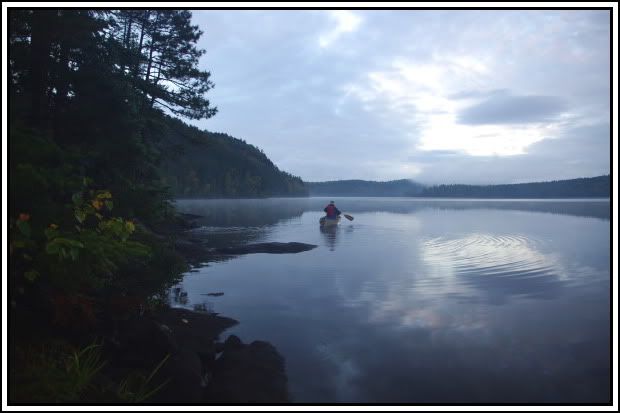 [paragraph break]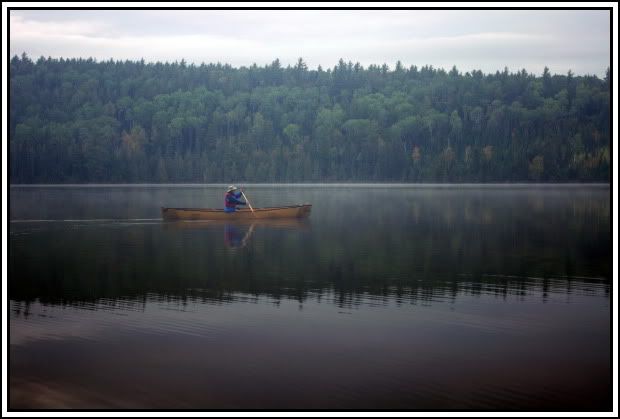 [paragraph break]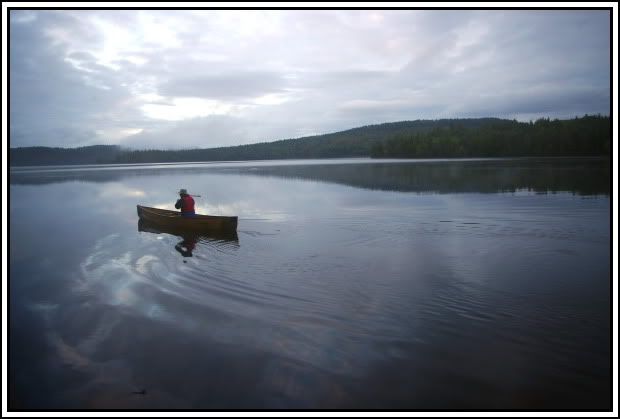 [paragraph break]We had breakfast and cleaned up, no rush since we had no set plans for today. The weather was supposed to gradually improve as the day went on but the opposite turned out to be true. By mid morning we could see several breaks in the clouds. John & Dennis decided to take a trip over and find the portage that goes directly to McFarland Lake. This portage intersects the Border Route Trail and they wanted to hike a short section of the trail to check it out. Chris & I were just going to hangout around camp to relax and read while there was no rain.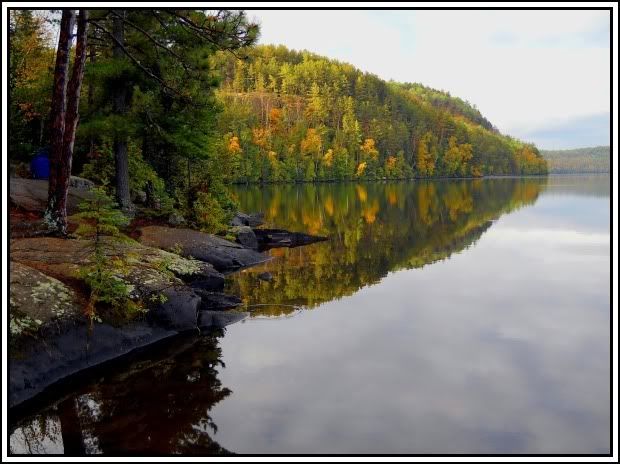 [paragraph break]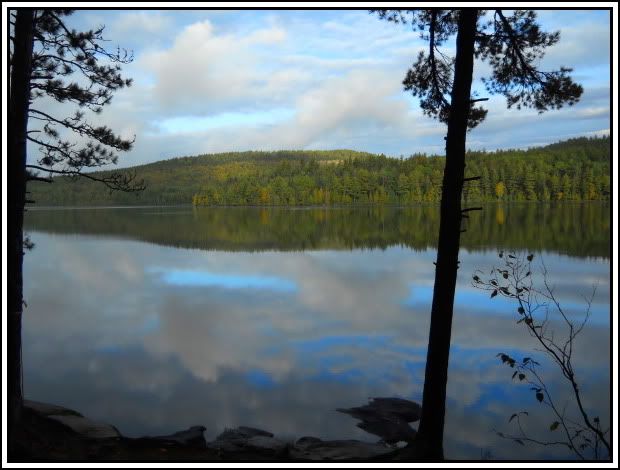 [paragraph break]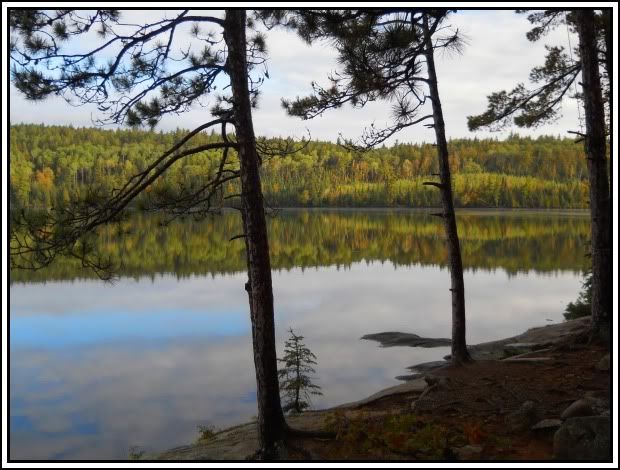 [paragraph break]By late morning the clouds had thickened up again and was starting to look like rain. About 12:30 Chris & I decided to have lunch just in case it rained. About 12:50 it started to rain and about 1:00 John & Dennis returned from their trip. They joined us for lunch and filled us in on their trip. They did find the portage and the Border Route Trail. They followed the trail for a distance in each direction. They didn't find any real nice vistas of the lake but were glad they had gone and checked it out.
As had been the pattern, the rain continued for the rest of the day. We had an early supper under the tarp and cleaned up. We stayed under the tarp to have our brandy and discuss all the important issues of the day. Each of the 3 days we've sat under the tarp we always said, at least the rain is helping the fire crews. The forecast hadn't called for this much rain but spending the second half of 3 days under the tarp would be a small price to pay to help get that fire under control. We turned in real early tonight, shortly after 7:00, and listened to the rain hitting the rain-fly as we fell asleep. I got up once just before midnight and the rain had stopped for the night.
Day 6 of 8
Thursday, September 22, 2011 East Pike Lake to West Pike Lake (6 miles, 1 portage, 130 rods; low=42 high=50)
Woke up about 6:30 to a gray, misty morning. We have a very short travel day today so we're in no hurry. We have an oatmeal breakfast and break camp. We're loaded up and on the water by 9:15. The mist/drizzle continued throughout the morning but there was just a light breeze so not a bad travel day. Just one portage today but with the damp conditions, it was slick and had to really watch your footing.
We headed for the third site over along the north shore of West Pike. We thought in case there was a little afternoon sun the west-facing site would be nice. We pulled into the site right at noon. We had a lunch of chicken quesadeas (very good) and then setup camp. The sun never did come out but the mist would stop long enough for the tents and tarp to dry out. Occasionally during the afternoon, a light mist would pass through but nothing more than that. It wasn't the nicest day but certainly not bad. Since there was a fire ban when we entered and we knew we wouldn't be having a fire, we setup the tarp right over the fire grate area. This worked well, with the logs around the fire grate providing a comfortable sitting area. This was a nice roomy camp with plenty of room to park the canoes for the night.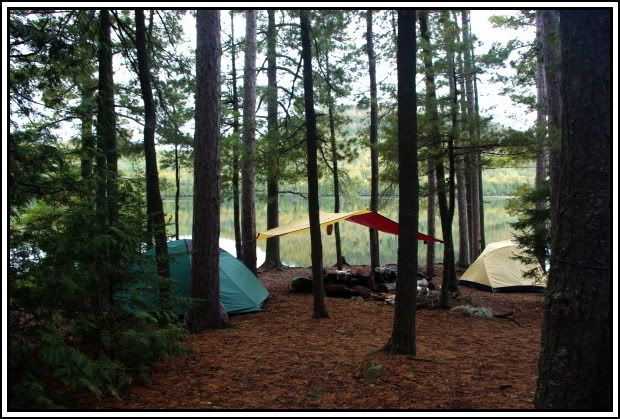 [paragraph break]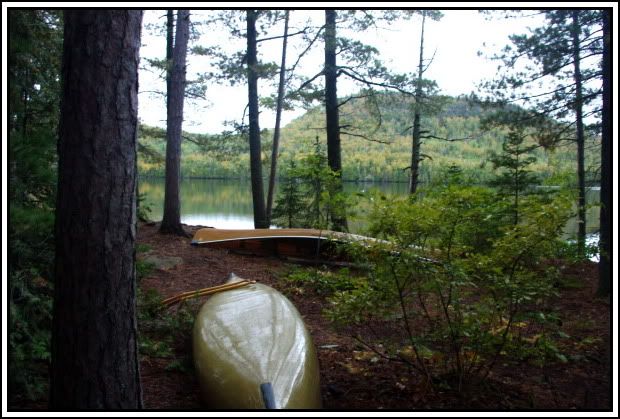 [paragraph break]After supper and cleanup, there were a few small breaks in the clouds and we almost got to see a sunset. We had a nice view to the west that was slightly elevated above the lake. A very good spot to sit and enjoy our Barons and hope for a little more color.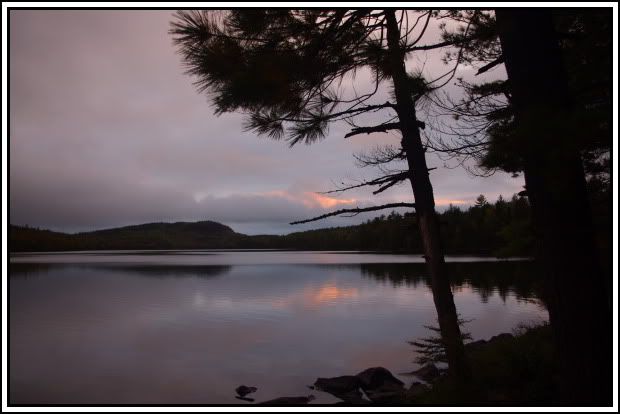 [paragraph break]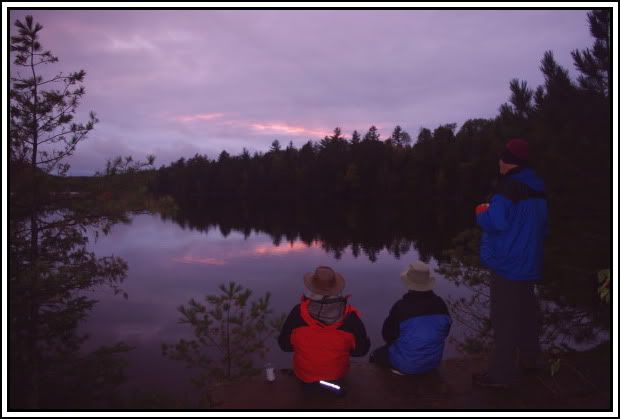 The color never came, but with a dry, calm evening, we were able to sit and enjoy it without being under the tarp. This allowed us to stay out a little later but still in the tents by about 9:00.
Day 7 of 8
Friday, September 23, 2011 West Pike Lake to Clearwater entry (8 miles, 1 portage, 214 rods; low=44 high=52)
Woke up to another gray day but at least it was dry. We again had a short travel day so we were in no hurry. With the cloud cover it was a fairly warm morning and only a very light breeze, we hoped that would last for our paddle across Clearwater Lake. We had breakfast, broke camp, and were on the water shortly before 9:00.
It was a very nice morning for paddling and we made good time. For a 200rd portage, the portage between West Pike and Clearwater isn't bad. As we reached the Clearwater end on our second trip, we met 2 guys who were heading into West Pike for some fishing. It was at that point that we realized we hadn't seen anyone the entire time we were on East and West Pike. We had met the 2 fathers with their sons on the portage from John to East Pike and now these guys; that was 3 full days without seeing anyone. Going in we were worried that this area would be crowded because of the fire closing many of the entry points.
Our luck held out as we crossed Clearwater. We had very calm waters for a lake this size.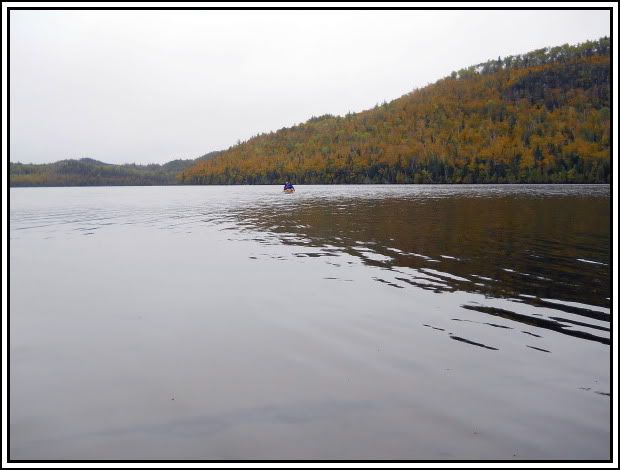 Even though Clearwater allows motors it was a very pleasant crossing. We only saw one motorboat and the lake has several high rock-faced cliffs. The lower portion of the hills was covered with yellow and the tops were mostly green. [paragraph break]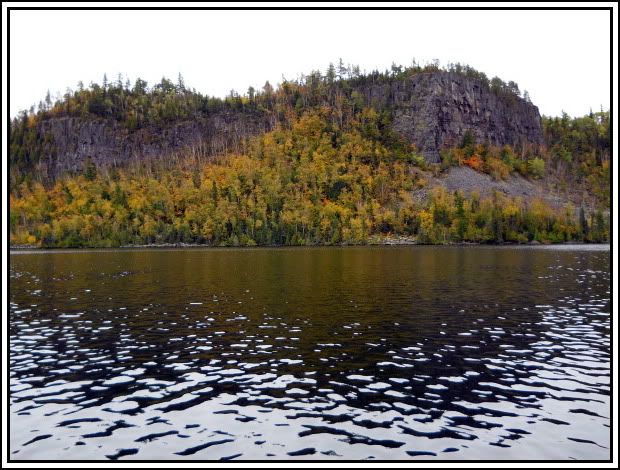 [paragraph break]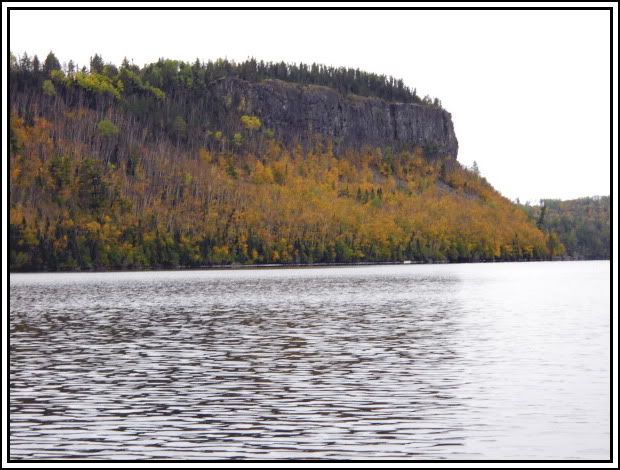 I kept wishing for some blue sky to really make the yellow stand out but the clouds wouldn't allow for that. Even with the cloud cover, the beauty stood-out and made for a very pleasant trip across the lake.
[paragraph break]We reached the entry point shortly before noon. We loaded up and headed out to find some showers. After getting cleaned up, we stopped at the Trail Center for lunch. All of us would highly recommend this place and will no doubt return whenever we're on a trip from the Gunflint Trail. The burgers, walleye sandwich (huge), and malts were excellent; and at a reasonable price.
Day 8 of 8
Saturday, September 24, 2011 Summary:
For having to change our entry point and route only 3 days before the trip this turned out to be a very nice route. The full loop was about 32 miles, only had 6 portages, and only one of the portages could be considered much of a challenge. All of the lakes were very scenic with the high hills surrounding them and of course Johnson Falls is a must-see in this area. The campsites on Pine and East Pike were above average for BWCA sites. The one on West Pike was very nice but lacked level tent pads. There was lots of room to setup tents but none that was real level.
Even with rain on 4 of the 7 days it was a great trip. The timing of the rain helped out and allowed our tents and tarp to dry out each day. Only 1 day (Sunday) that was spent pretty much under the tarp or in the tents all day. On the other 3 days with rain, it didn't start until the afternoon and then was off & on the rest of the day. It's an area I would like to get back to and hopefully see more blue sky and sunshine.
[paragraph break] Crew at our site on East Pike Lake
[paragraph break] Dennis, John, Chris, Brent
A few "twin" shots – the same view under different conditions:
[paragraph break]The view looking east from our site on Pine Lake.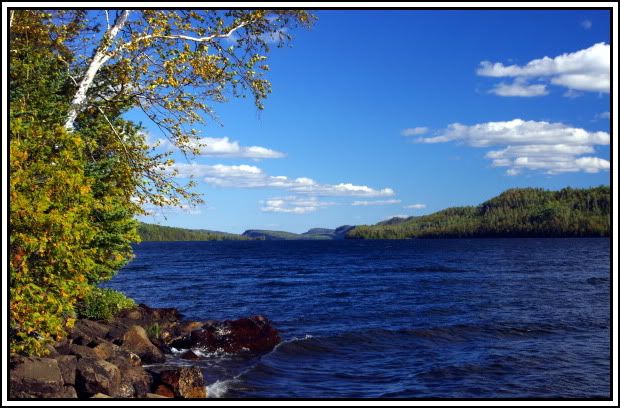 [paragraph break]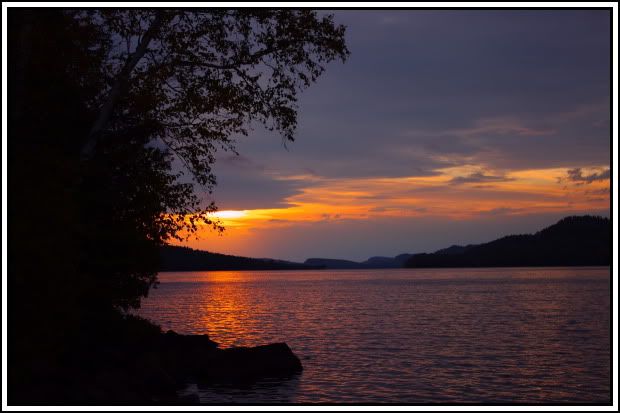 [paragraph break]The view looking west from our site on Pine Lake.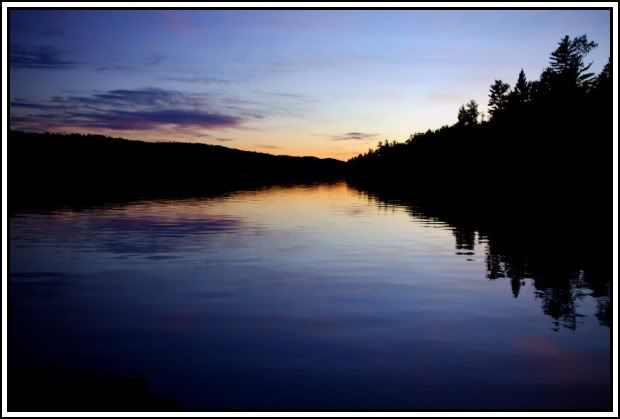 [paragraph break]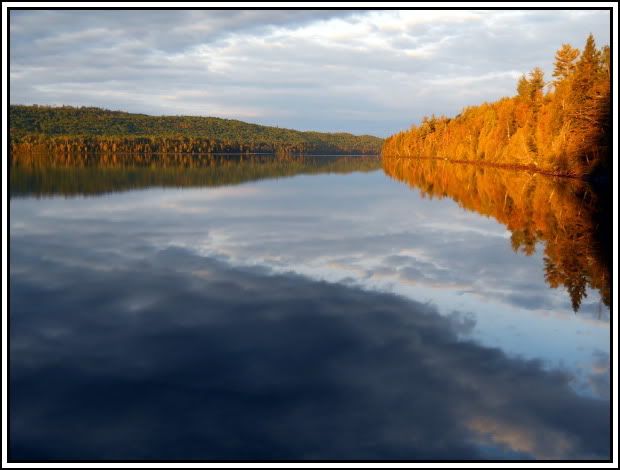 [paragraph break]The hillside to the west of our site on East Pike Lake.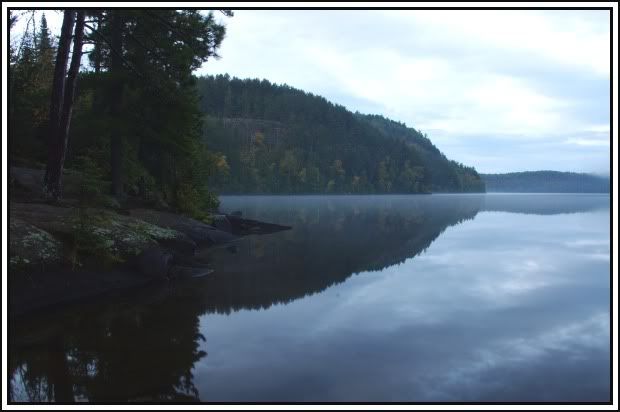 [paragraph break]