BWCA Entry Point, Route, and Trip Report Blog
October 02 2023
Sawbill Lake entry point allows overnight paddle only. This entry point is supported by Tofte Ranger Station near the city of Tofte, MN. The distance from ranger station to entry point is 25 miles. Access is a boat landing at Sawbill Lake. This area was affected by blowdown in 1999.

Number of Permits per Day: 11
Elevation: 1802 feet
Latitude: 47.8699
Longitude: -90.8858
Sawbill Lake - 38
Love at first site
by jonoester
Trip Report
Entry Date: May 16, 2010
Entry Point: Sawbill Lake
Number of Days: 6
Group Size: 8
Trip Introduction:
After a semester long class during my senior of high school, we were rewarded with a trip to practice our wilderness and preservation skills in the Boundary Waters Canoe Area Wilderness. This trip, for me at least, gave way to a love for this pristine wilderness and amazing place.
Day 1 of 6
Sunday, May 16, 2010
Our class arrived in the local Wal-Mart parking lot to group up and head up north to the BWCA. Most of the class (26 students 5 adults) had never visited the BWCA before, but all were elated to be going up on this trip.
We stopped off at Gooseberry Falls on the way up and it was beautiful as usual.
We arrived at Sawbill Outfitters at 4 in the afternoon. They were very accommodating to our needs. We set up in the campground for the night so we could get an early start the next morning. Dinner consisted of chicken and pork kabobs and baked potatoes wrapped in foil and thrown in the coals. It was delicious! Dusk crept in and the mosquitos came as well. We headed down to the main store to watch the traditional video and pick up our permits.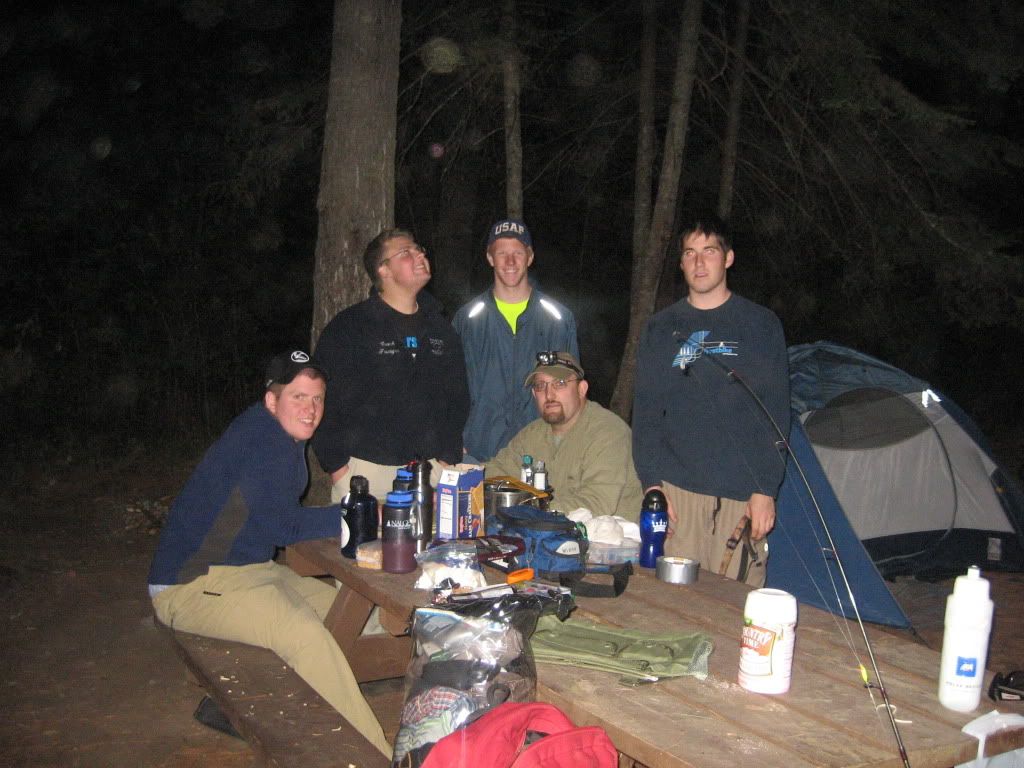 Everyone retired to their tent early. I could hardly sleep. I was to excited to start our trip.
Day 2 of 6
Monday, May 17, 2010
I awoke around 5 in the morning and the others woke up a couple of minutes later. Breakfast was scrambled eggs, bacon and english muffin with a pot of coffee. Our group was ready to push off first, when we see our other group heading down to the entry point as well. We dawdle for a while and make our way down to the water only to find out we are left with the leaky canoe.. (Why did we bring this one in the first place?) A quick and solid duct tape job does the trick well enough for the entire trip.
We paddle up Sawbill to Kelso. It is jaw-dropingly beautiful. We see a painted turtle and enjoy the serenity that the bwca offers.
As we pass by, we see a beaver home. It's amazing what such little creatures can make.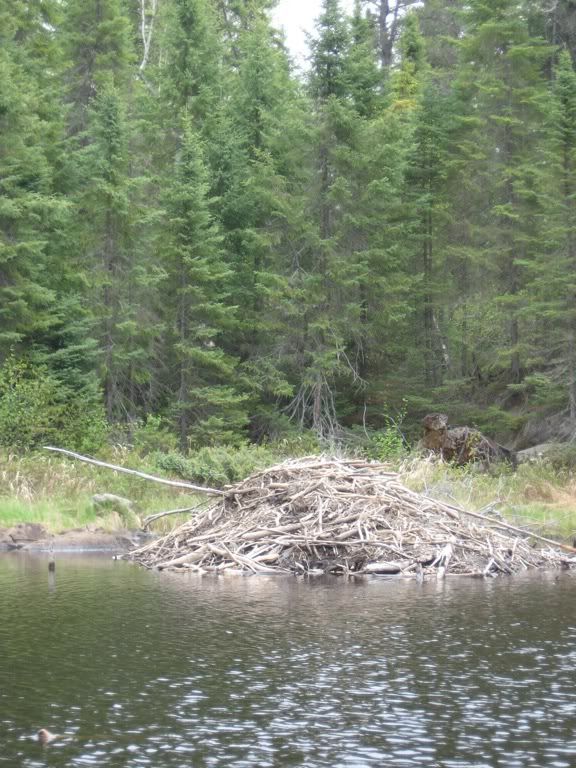 A short portage over to Alton and we are really getting a test of our navigation skills and paddling skills. The wind was whipping quite hard, creating white caps in the middle of Alton. We were early in the day still, so we decided to cast out for a few minutes. No luck. We continued on down towards the portage to Beth. This would be my first longer portage, though not too long. It couldn't have been more then 100 rods. I was trying to be the he-man in a group of a French exchange student, A Marine, A Pageant- Girl, Two sports girls and our two chaperones. I was quick to grab the food pack and the Royalex canoe. (65lb pack and 50ish pound canoe) Half way through the trail I ditch the canoe on the side of the portage. I was foolish to think we could single portage.
All was well through Beth. We wanted to make camp early, so we decided to to take the shorter portage from Beth to Ella. A semi-creek made for hard crossing through this portage full of mud. We got onto Ella and it was perfect time for a photo-op on the rocks and lunch of tortillas, peanut butter, trail mix and home-made venison jerky.
We checked out both campsites, both were heavily mosquito filled. We decided since it was still only early afternoon, that we would push on to Grace. This very well could have been the worst decision to make. On the Grace side of the portage is boulder scree that made it EXTREMELY difficult to put in or even walk on with no gear. To put a long story short, two canoes tipped, 1 pack became completely submerged and a lot of swimming and scrapes.
We took the camp site on the north side of Grace. Some kind soul was nice enough to leave a huge stash of wood so we could get to drying right away. Dinner was steaks and scalloped potatoes and a nice walleye.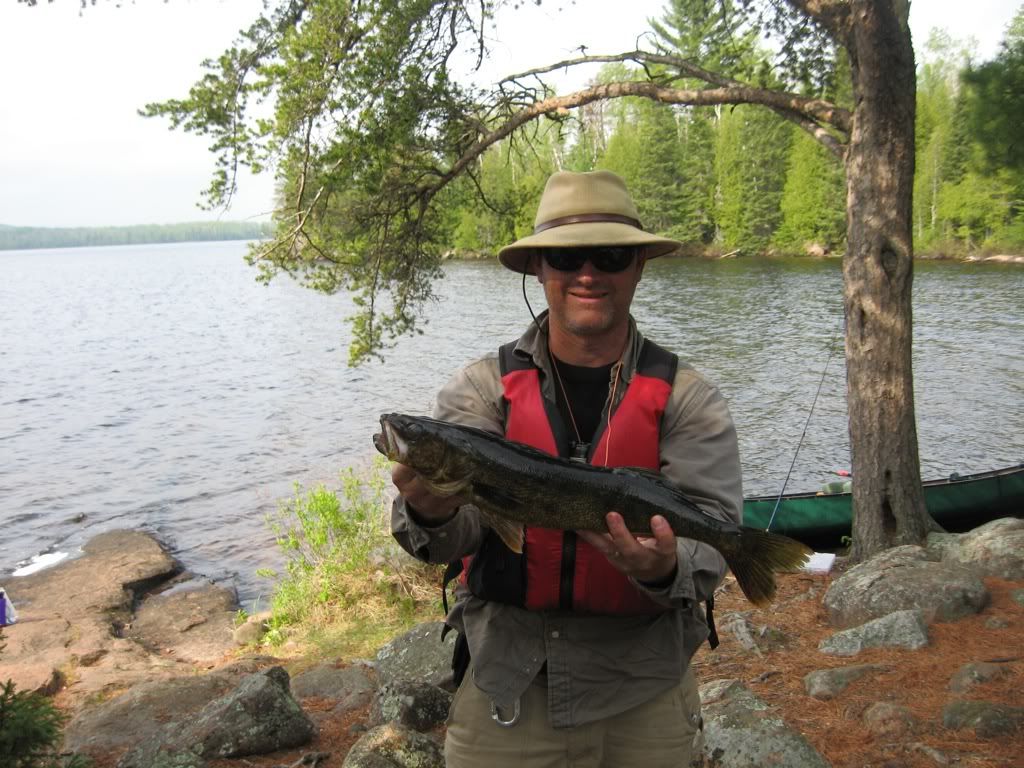 After dinner, it was time for a quick dip in the lake. A thunder storm rolled in, so it was an early night for all. I hunkered down in the tent with the marine and frenchmen for a good nights sleep. The rain continued on and off throughout the night.
Day 3 of 6
Tuesday, May 18, 2010
I woke up early again, just before after my teacher. We got a pot of coffee brewing and started our breakfast of pancakes and sausage. Yum! We broke camp in mid-morning and headed towards Phoebe. We made our way through a beaver dam on the river, for a otherwise short day. A couple of stops along the river for fishing and photo ops lead to a couple of smallies and great fun.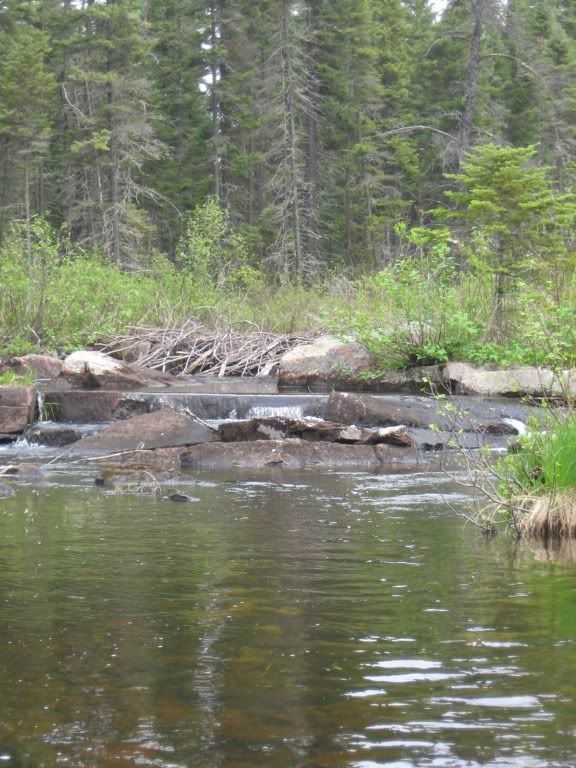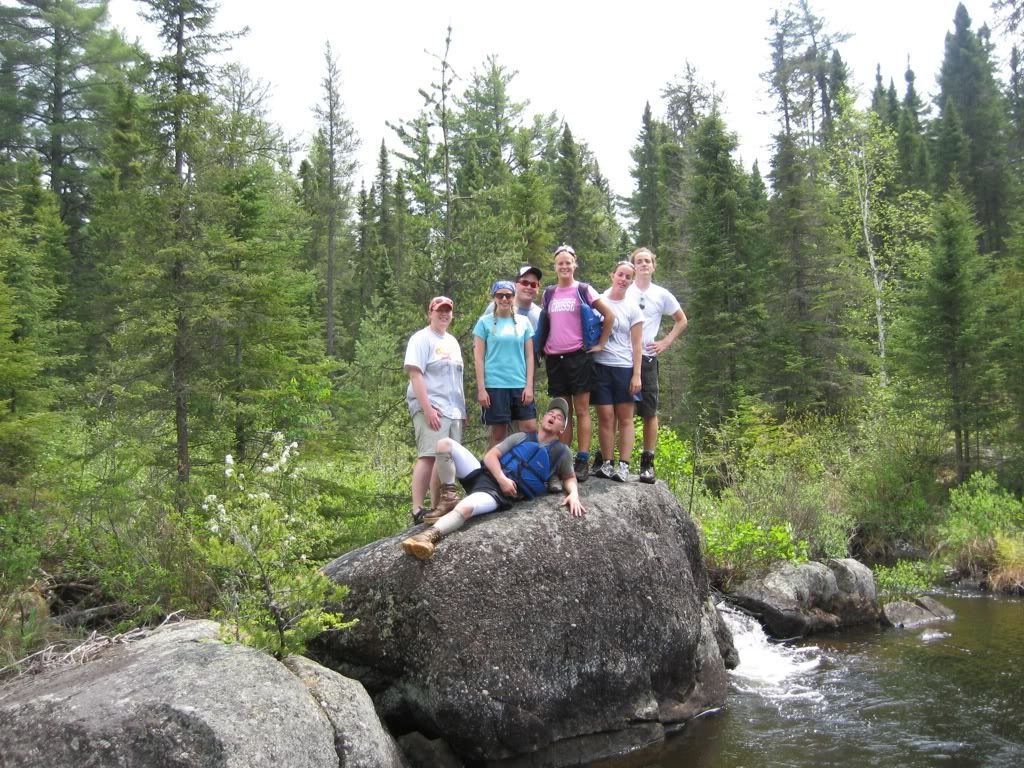 We took an island site on Phoebe. We were greeted at the site by an moose skull (A Bull I think)
There are no good spots to hang at this site, so we decided to stash our pack in between to large boulders near the shore. One great tent pad, but it is infested with ants so we decide to use other tent pads. There is the most beautiful view onto the lake and a great place to lay on a boulder and read or just watch the lake.
We started to cook up dinner, which was chicken fettucini Alfredo. While we started to cook, a huge storm started to blow in, and our campsite was in torrential rains and 40-50 mph gusts of wind. We grabbed everything and tied it down or threw it under the tarp. I counted 5 downed trees from the wind and saw 2 fall infront of me. A widow maker nearly missed smashing our tarp.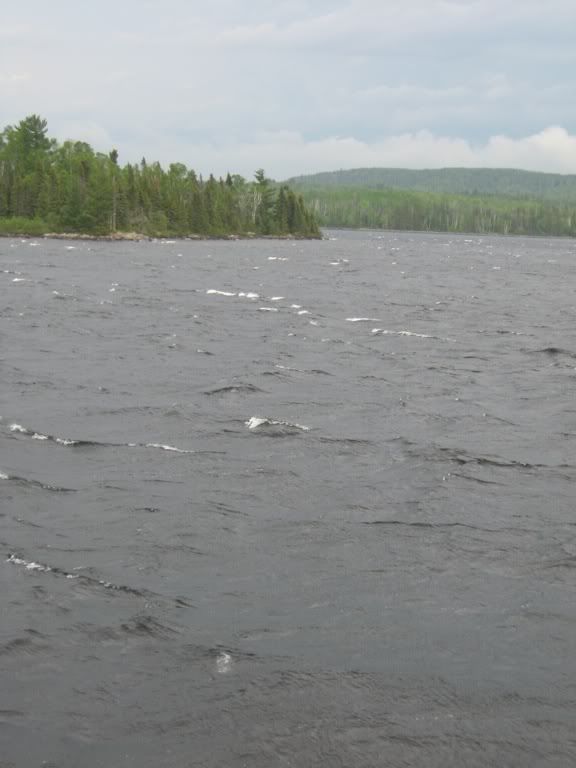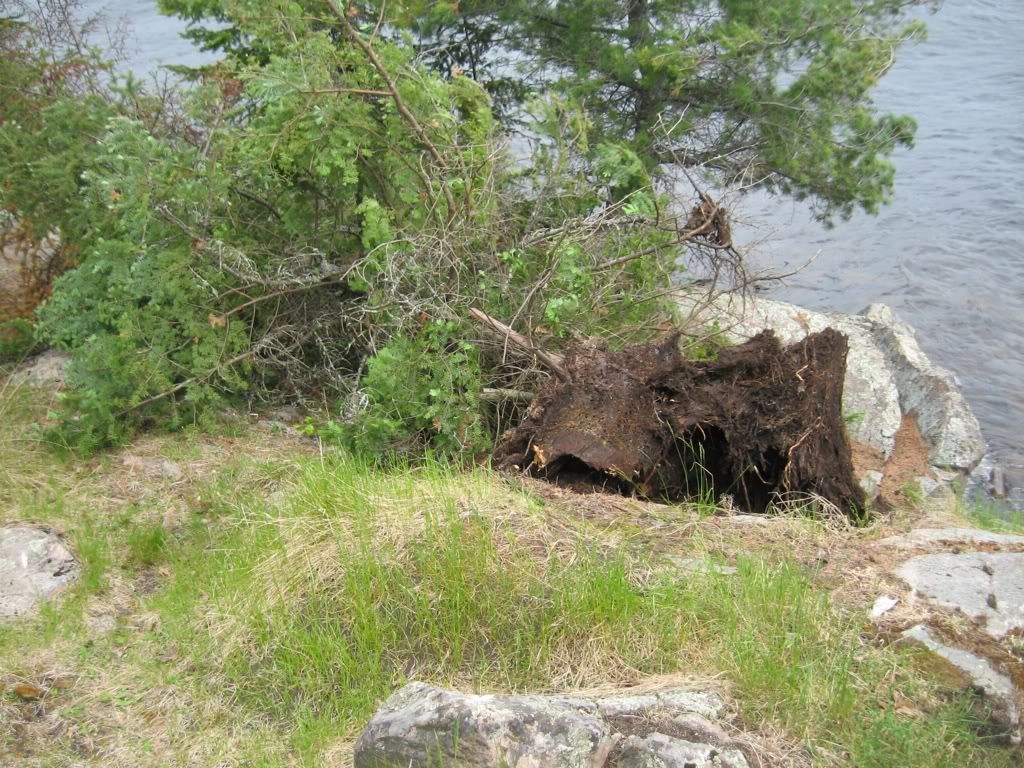 The storm gave way just around sunset, and it gave us the most beautiful sunset I have ever seen in my life. I just hope this picture does justice.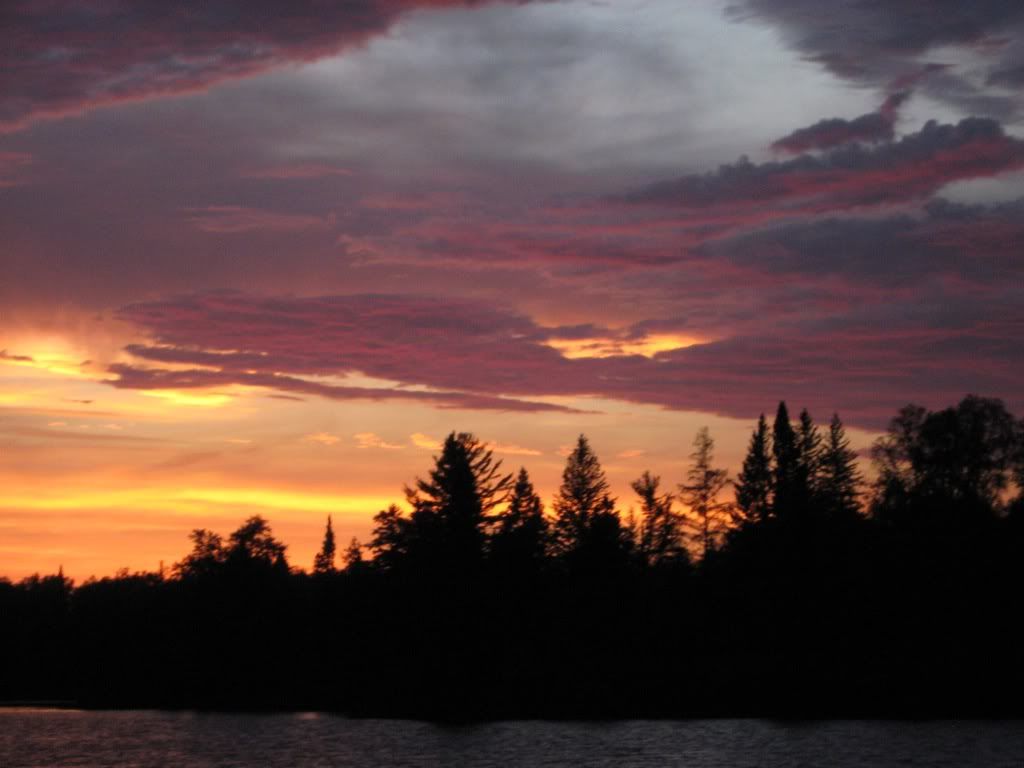 Day 4 of 6
Wednesday, May 19, 2010
Today was a layover day. The marine and I woke up early to go fishing. We got a couple of bites but had no luck reeling them in. We returned for a breakfast of bagels,oatmeal, nutela and peanut butter. I walked around most of the island which is fairly large and I happened across an entire moose skeleton. This one was still rotting. I wish I had a picture of it but, I did't bring the camera out with me and it's smell was awful. I returned to camp and everyone was getting ready to go swimming. We swam to another campsite and to other island across all of Phoebe. Everyone was exhausted from the mornings swimming and most took a nap on the wonderful slab facing the lake. Lunch was summer sausage, mixed nuts and assorted fruit bars. I napped most of the afternoon and then fished off shore awhile and pulled in a small northern. I released him to grow bigger. Dinner consisted of spaghetti and pizza sauce in the bottle. We went fishing for awhile and caught some more northern and this time cooked them up. They were delicious!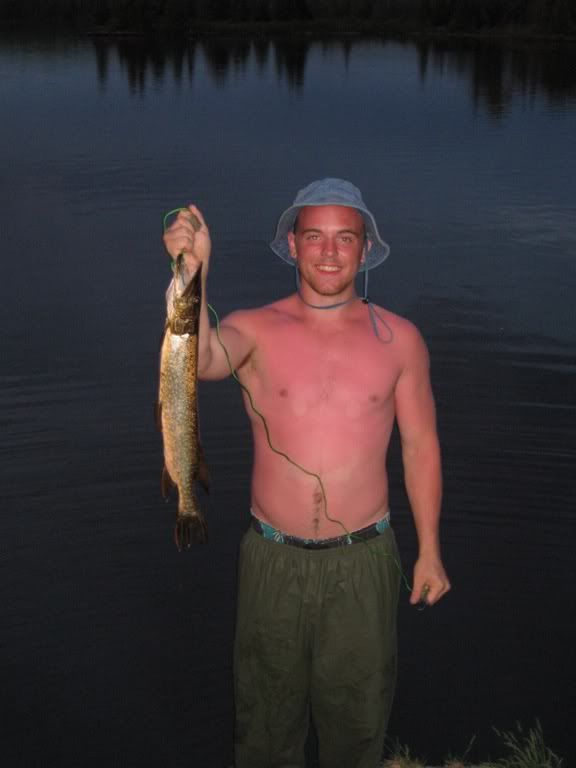 WARNING: This tidbit includes a little nasty details for some.
We sat around the fire and played cards for awhile. My stomach started to hurt immensely, so I excused myself to those wonderful forest service toilets. I felt better for now. I awoke during the middle of the night and barley made it out of the tent before the vomiting began. I have had food poisoning before and this sure felt like it. I continued my toilet runs throughout the night and into the morning.
Day 5 of 6
Thursday, May 20, 2010
I hardly slept at all and I felt bad for my tent mates, as I am sure they did't sleep well either. I was severely dehydrated by mid-morning as i could not even keep water down. Luckily we are on our way out and this didn't start at the beginning of the trip. We made our way out and I was lucky enough to have people that would pull my weight during this sickness. I grabbed a pack each time but could't muster the strength to carry the canoe on portages. I struggled to paddle at times as well, but I had the marine that never quit :)
A northern was caught along with a perch so small that I wondered why he even tried to bite at the bait. We also had a loon stay with us for much of Grace.
We soon got our site on Alton, straight across from the portage to Sawbill. As soon as camp was set, I returned to the tent to sleep. I slept from early afternoon to late into the evening. Some nice soul was even nice enough to snap a pic for everyone to see of me sleeping.
I didn't partake in dinner, but it was a buffet of left over food. I soon returned to my tent and slept throughout the night.
Day 6 of 6
Friday, May 21, 2010
We slowly got up this morning. We only had one short portage to Sawbill. I took this time to take the beauty of the Boundary Waters in. Despite my sickness, I fell in love with this place and will continue to return here throughout my life. Everyone took time to reflect on our journey.
We returned to Rochester, MN late in the evening and I was already planning my next trip back to the BWCA.