BWCA Entry Point, Route, and Trip Report Blog
September 30 2023
Mudro Lake entry point allows overnight paddle only. This entry point is supported by Kawishiwi Ranger Station near the city of Ely, MN. The distance from ranger station to entry point is 19 miles. Three accesses into Mudro Lake involve portages ranging from 20–185 rods.Easiest access is from private la nd with parking fee.

Number of Permits per Day: 5
Elevation: 1166 feet
Latitude: 48.0356
Longitude: -91.8301
On the Water- Monday July 20th-
On the water late considering how far we need to go today. Up the Horse river to the falls by 6pm. Started raining and NO campsites available. Mudrow-Alruss-Tin can Mike-Horse Lake-Horse River-Basswood. 13 miles by water. (not counting portages)

Tuesday July 21st-
Rain all night, all morning and all day. Went north by petroglyphs, table rock and the the Crocked Lake Narrows across Thursday bay to campsite. Basswood-Crooked Lake-Wednesday Bay-Thursday Bay. 11 miles in the rain.

Wednesday July 22nd-
Up early and calm winds to take advantage of, considering the big water we have to cross. Found beaver dam to lift over and did a portage from hell between Pandos lake and Chippewa Lake. VERY steep and slippery after rain. Many mud holes. Then the mile portage after Wagosh Lake to Gun Lake. Never saw another soul in a canoe or campsite the entire day! Thursday bay-Friday Bay-Pandos Lake-Chippewa Lake-Wagosh lake-Gun Lake. 11 miles by water.

Thursday July 23rd-
Finally had a dry night. got everything dry!!! A few portages today to Fourtown Lake campsite. Easy day by comparison. Gun Lake-Fairy Lake-Boot Lake-Fourtown Lake. 6 miles. Put the long miles at the first of the week for a buffer for contingencies!

Friday July 24th-
Last day. Stormed last night bad. A few portages today with one bad one between Fourtown Lake and Mudrow lake. To entry point by 1pm. Ready for a hot shower! 4 miles

Total-
45 miles by water
13 miles by portage (3 trips each)
58 miles total.
Mudro to Angleworm, April 2010
by UncleMoose
Trip Report
Entry Date: April 07, 2010
Entry Point: Mudro Lake
Exit Point: Angleworm Lake (20)
Number of Days: 3
Group Size: 1
Trip Introduction:
Taking advantage of the nice spring weather and early ice-out on the lakes, I packed up the canoe and headed out for a quick paddling trip.
---
Day 1 of 3
Day 1 - Mudro Lake to Gun Lake (Wednesday, April 7) [full index]
8.7 miles, 7 portages
Taking advantage of the nice spring weather and early ice-out on the lakes, I packed up the canoe and headed out for a quick paddling trip. Heidi and I were originally going to do a backpacking trip along the Pow Wow Trail, but concern about a sore heel caused Heidi to rethink that. Instead, Heidi decided to camp up the Echo Trail while I canoed into the BWCA at Mudro Lake. The plan was to meet up at Angleworm Lake in a few days.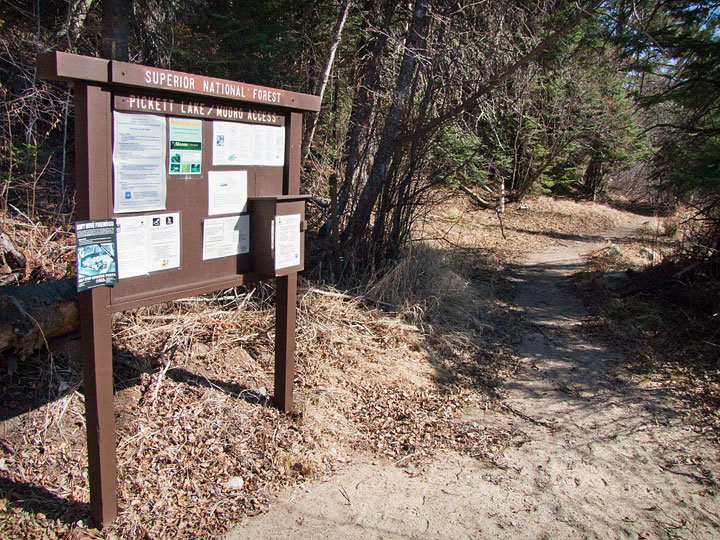 On Wednesday morning I set out from the Mudro Lake entry point. I chose Mudro Lake because I had not yet traveled this area, and when the canoe season is in full swing it can get a little crowded here (crowded for the boundary waters, anyway). This morning there was only one truck in the parking lot.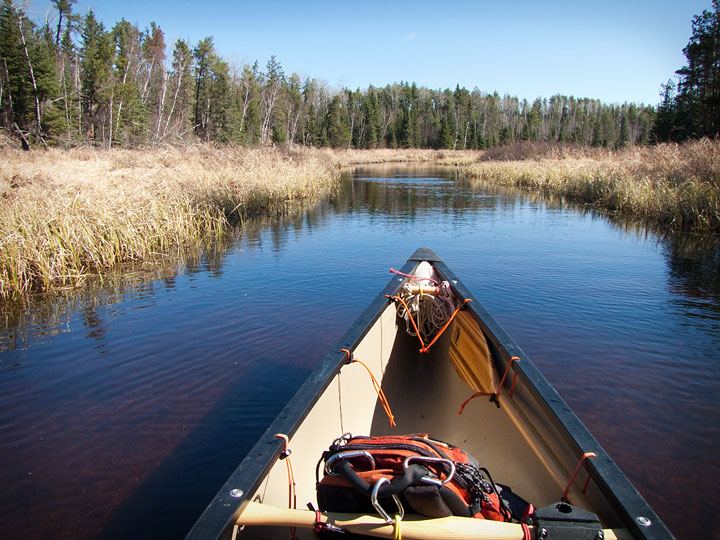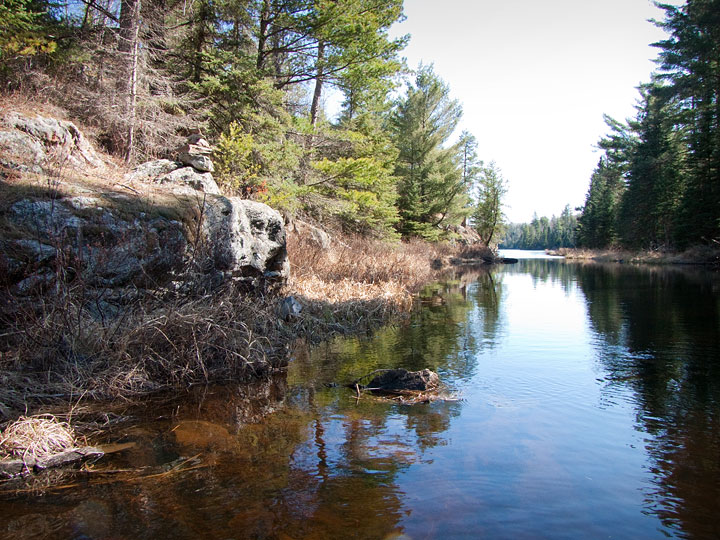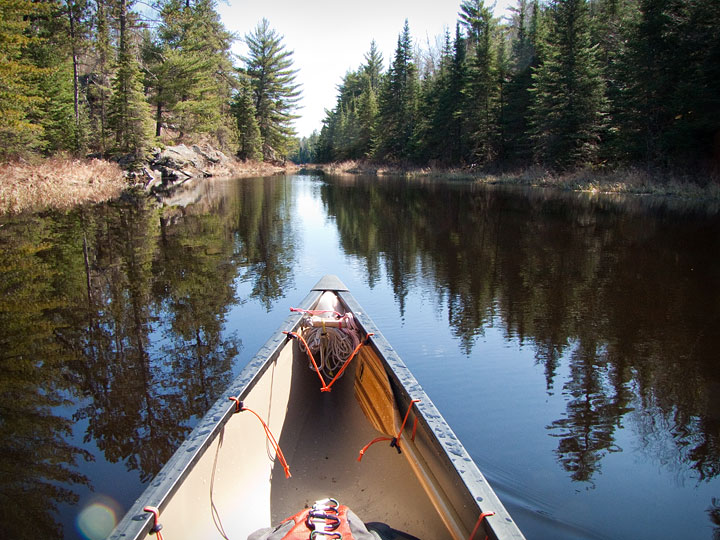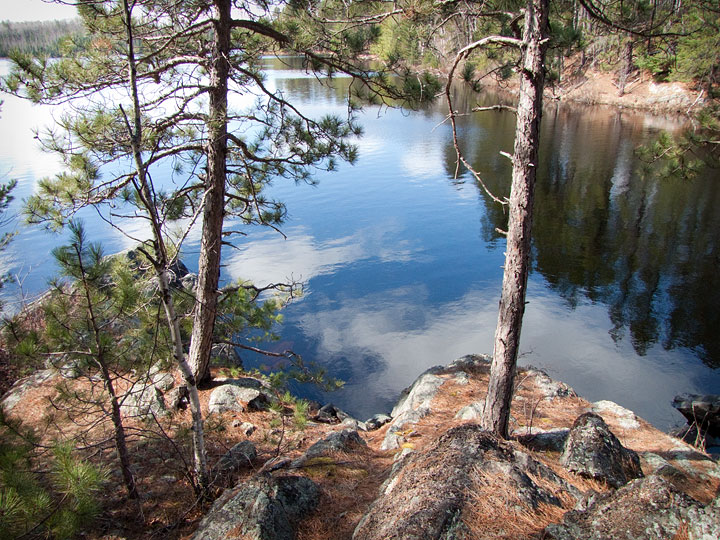 This first day took me from Mudro Lake, across three portages to Fourtown Lake, and then over successive portages to Boot, Fairy and Gun Lakes. I setup camp on Gun Lake in the evening. My pace was leisurely, and I stopped often to take pictures. It's easy to forget the feeling of paddling in this paradise of quiet and solitude when you're away for any length of time.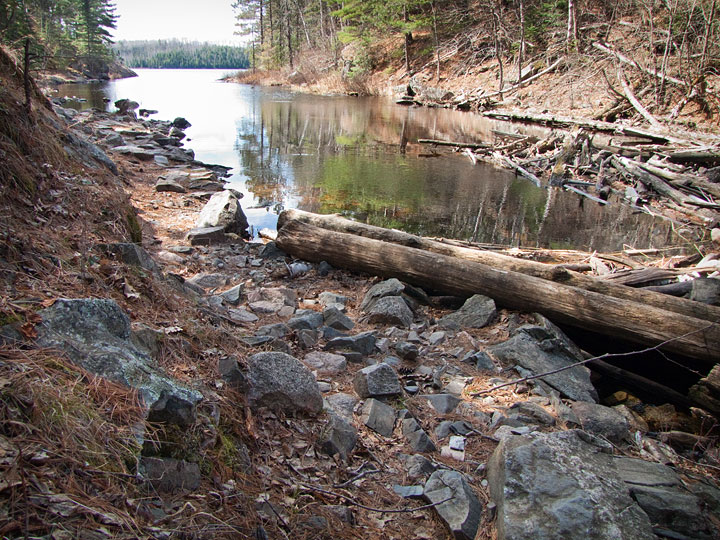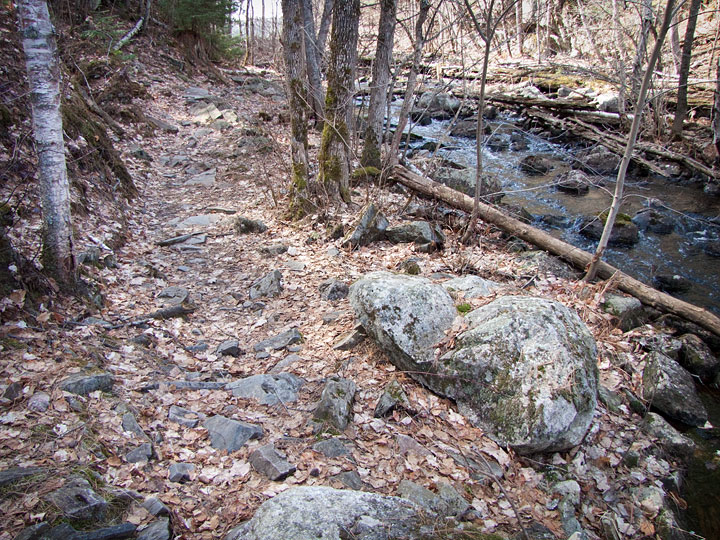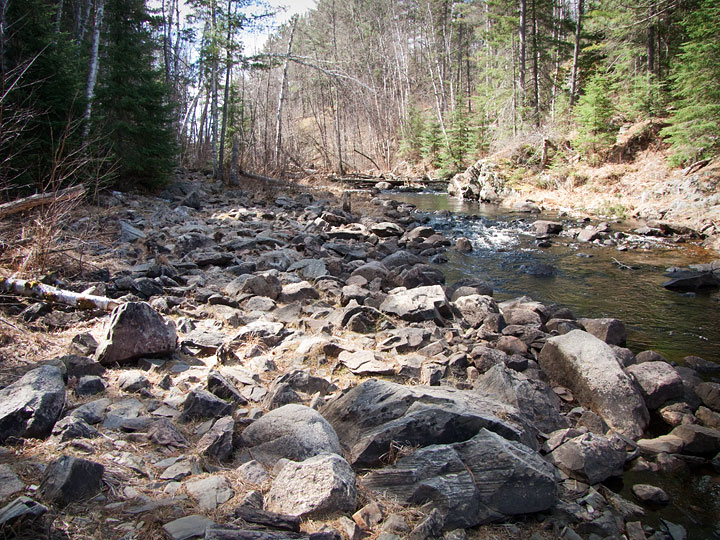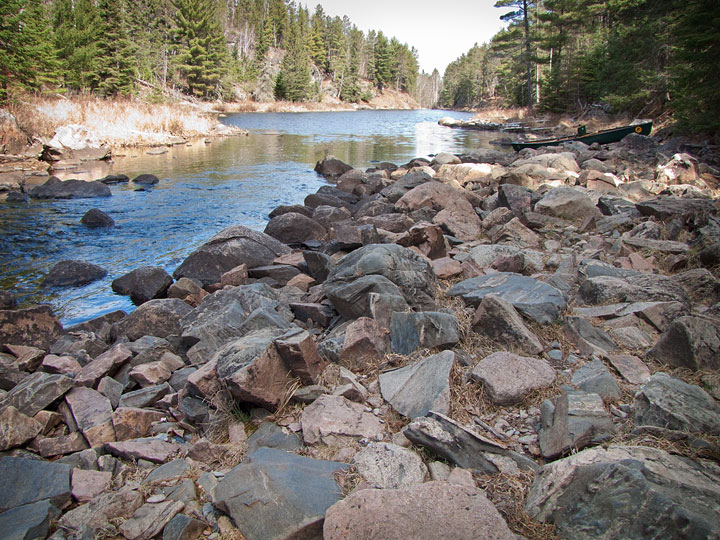 The day's weather began cool and sunny and turned cloudy in the afternoon. The temperature reached the high forties, which is perfectly comfortable when doing the work of paddling and portaging. The steady north wind was in my face most of the way, making paddling a little tougher and the air feel a little cooler.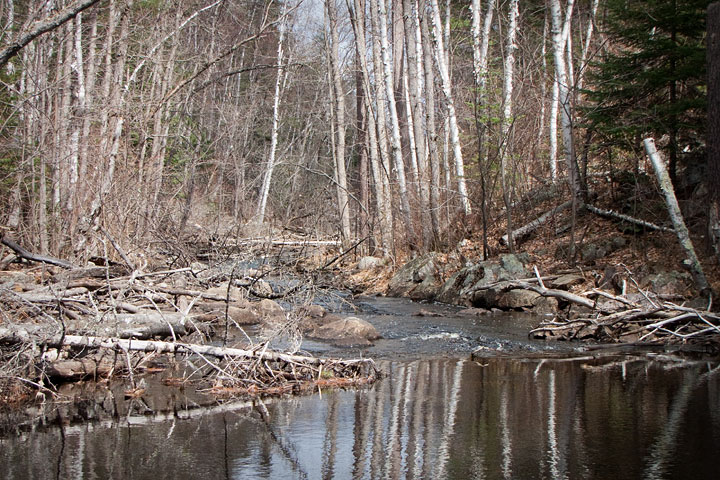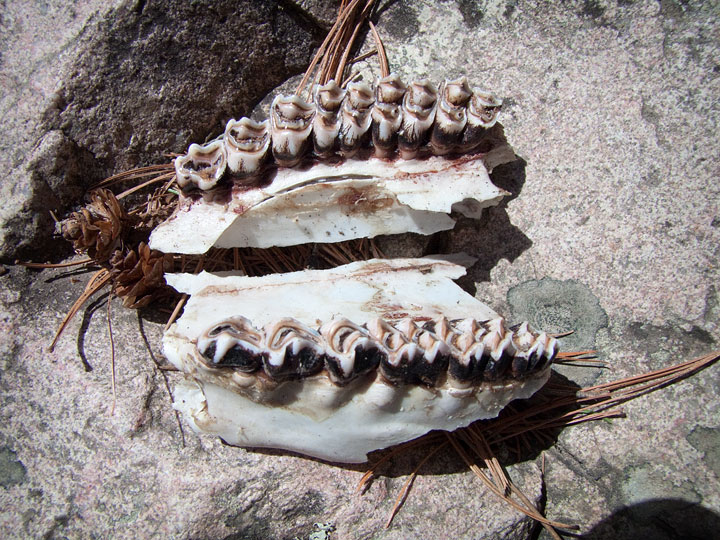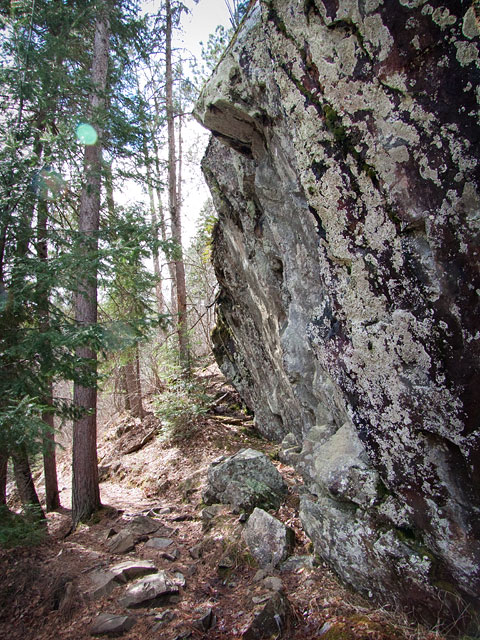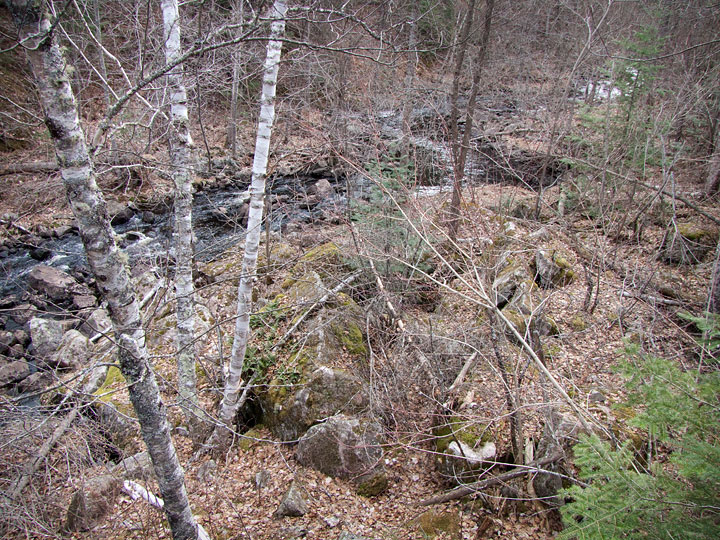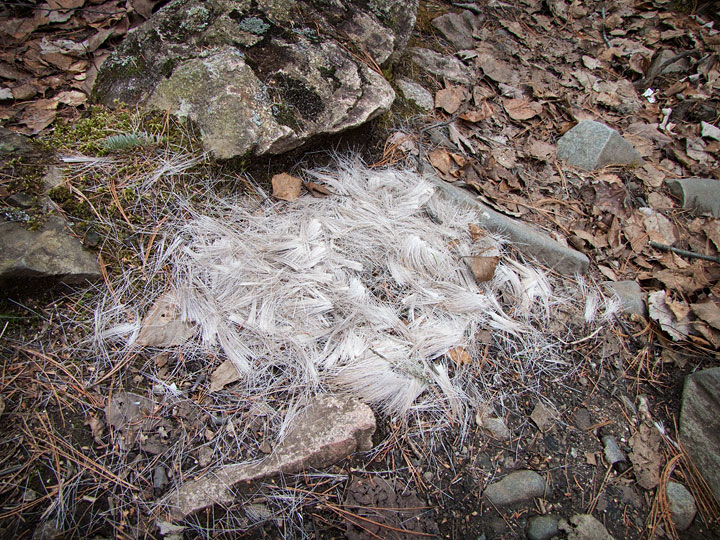 Despite more than a year since my last overnight canoe trip, I quickly settled back into the rhythm of paddling and portaging. I was traveling with one CCS Pioneer Pack and a basic Kelty backpack. I double-portaged the gear, taking the canoe on the first carry, followed by the two packs on the second. I used the return trip across the portage to take pictures. I'm getting close to the point where I could single-portage the gear, but if I do that I wouldn't be able to take pictures and enjoy the surroundings. I'm conflicted as to whether single-portaging is a desirable goal for me.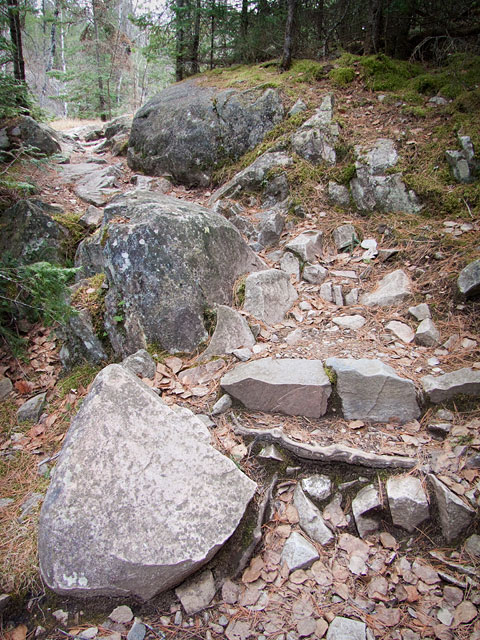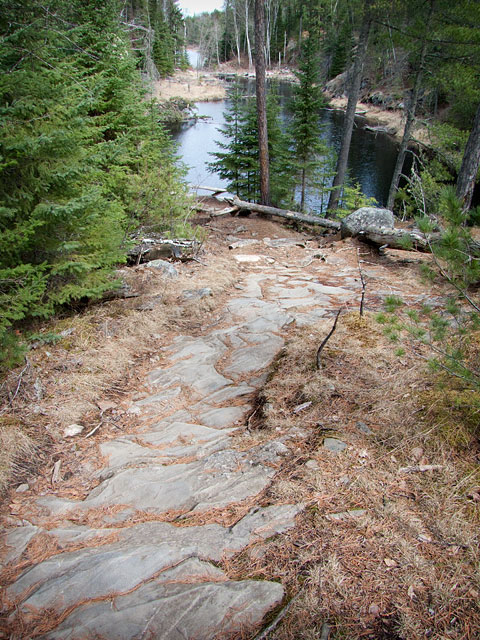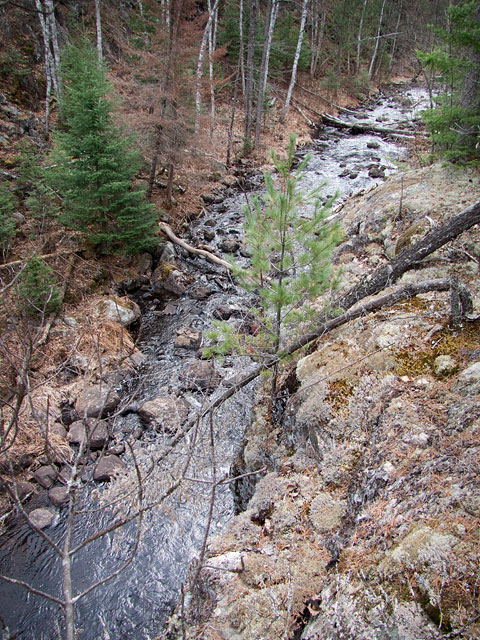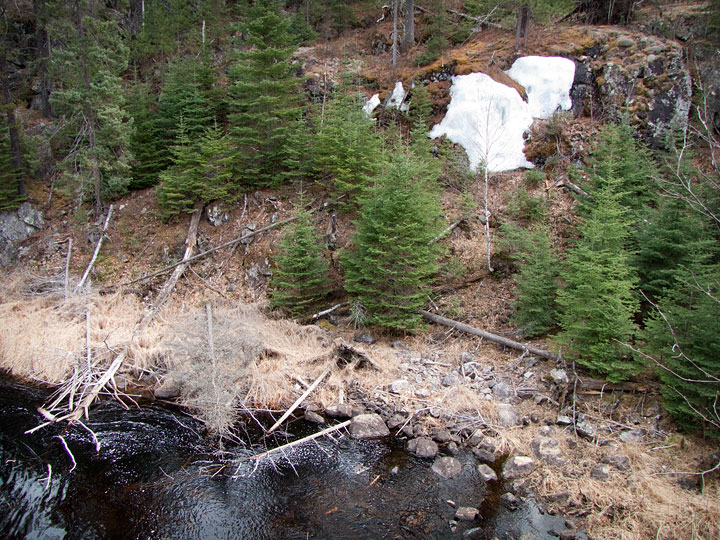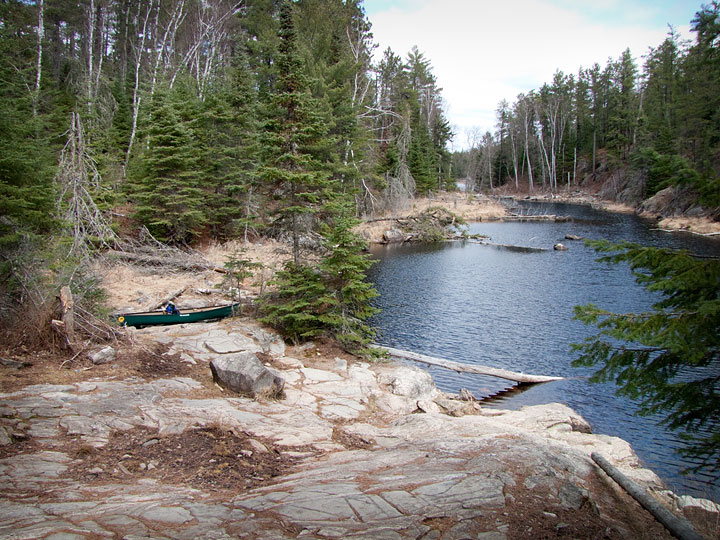 Most of the day's portages were fairly easy, their beaten condition a benefit of a well traveled route. The middle portage (140 rods) between Mudro and Fourtown required the most effort, due mostly to its longer length, rocky trail and changes in elevation. The portage landing at the Fourtown end of the short (10 rod) portage that followed also required a little care, as its granite face drops steeply to the water.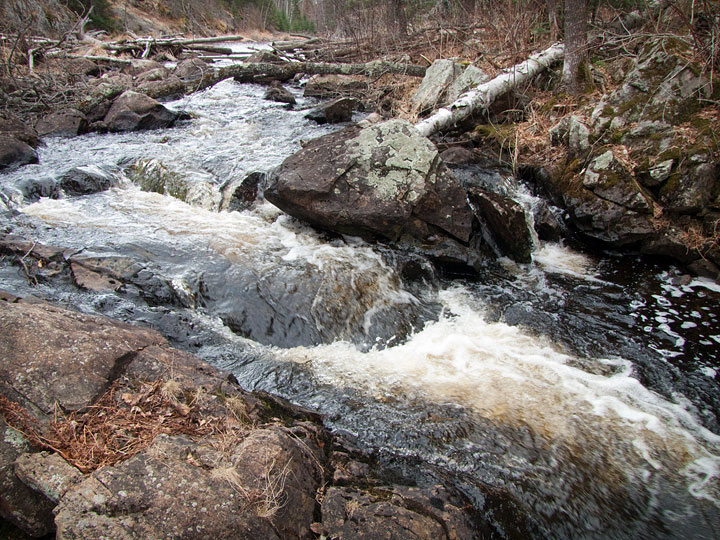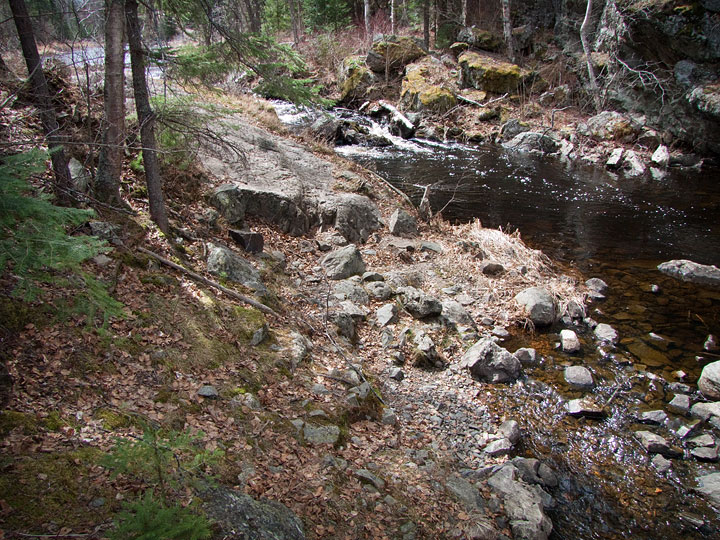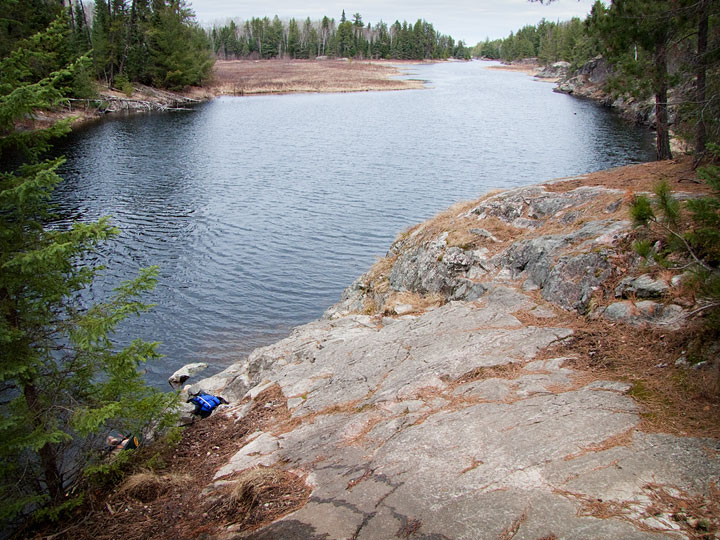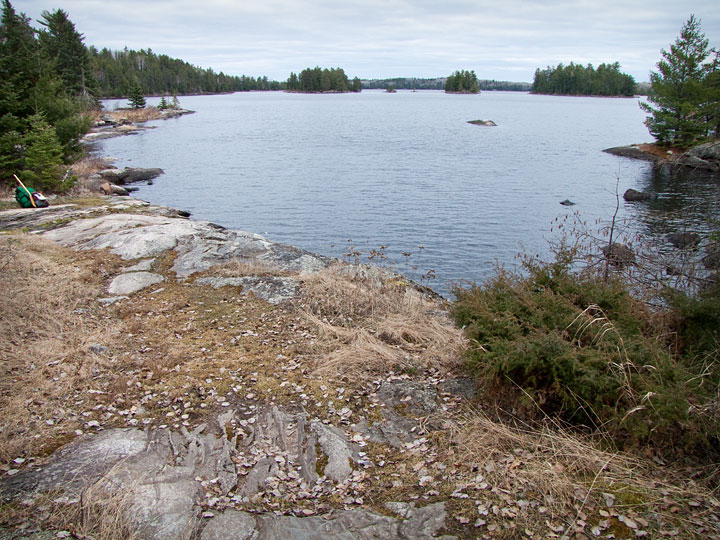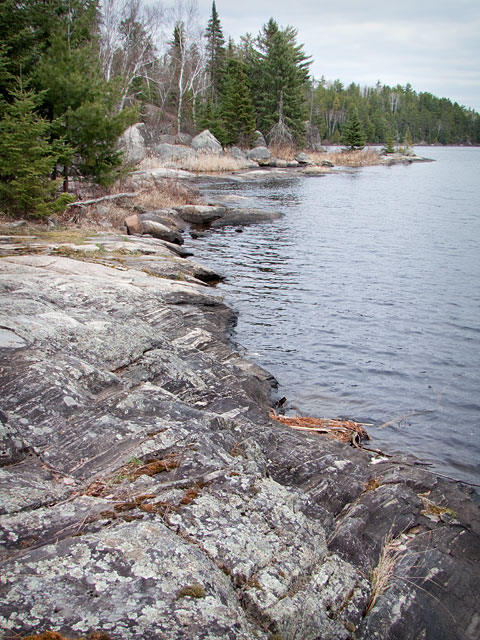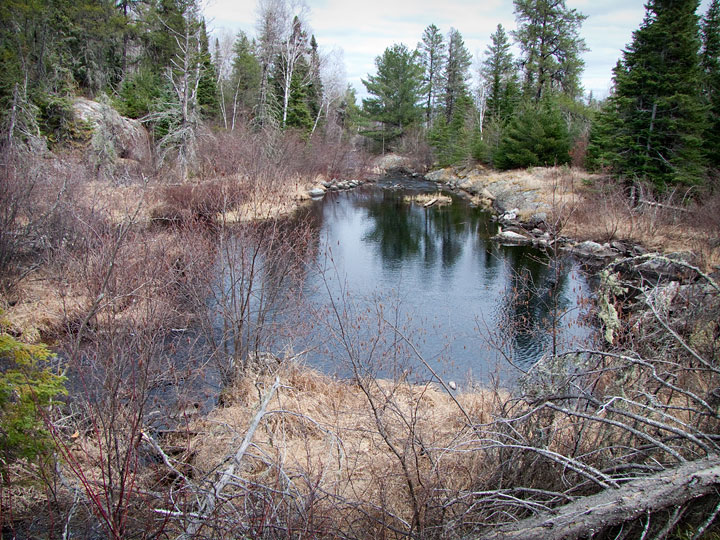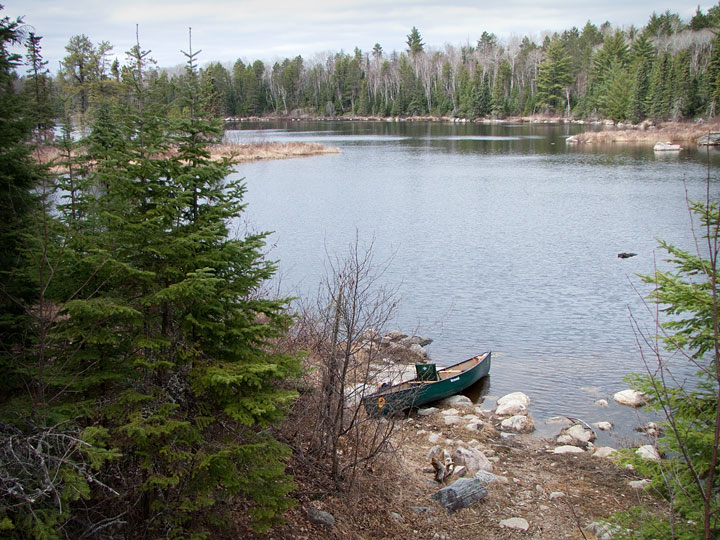 During the day's travel, I encountered a number of grouse, bald eagles, ducks, loons and beaver. There were many signs of wolves, but no large animals made themselves visible, not even a single human animal. On a number of occasions I heard the faint drumming of grouse. In the evening at camp, a loon, still decked out in its winter plumage, made an attempt at its signature call, but it sounded out of practice. Shortly after climbing into my sleeping bag for the night, a beaver thumped the water several times near the shore. Then the night went dark and silent.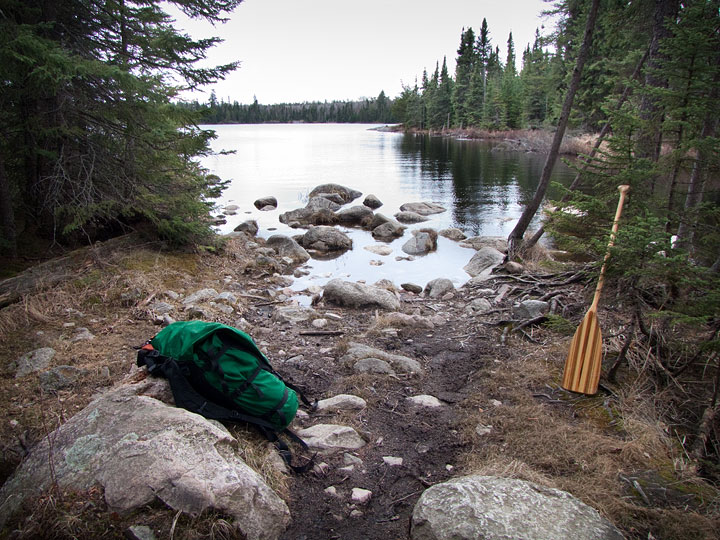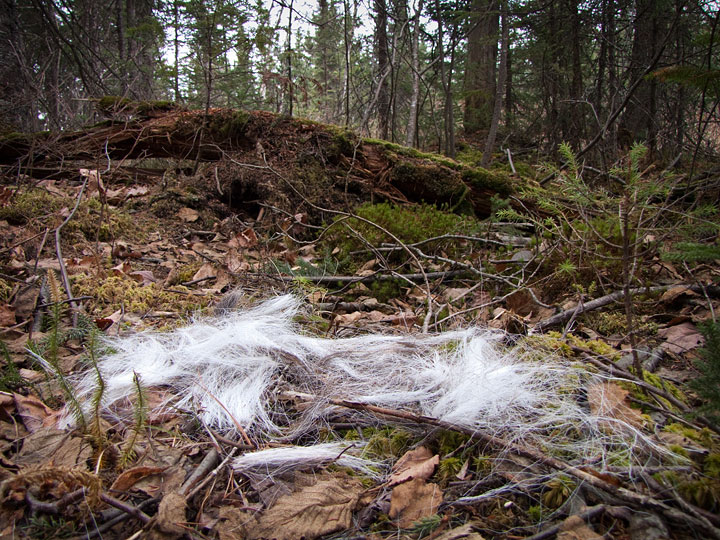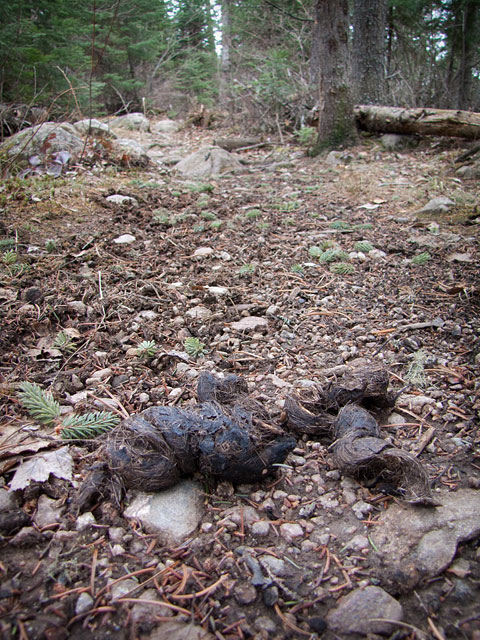 ---
Click here for the fully formatted report
Day 2 of 3
Day 2 - Gun Lake to Angleworm Lake (Thursday, April 8) [full index]
7 miles, 3 portages
I awoke to sun filtering through the pines and for a while resisted leaving my nice warm cocoon. When I finally did emerge from my hammock shelter, cold crisp air got me moving quickly. Despite overnight temperatures down in the low twenties, I did manage to stay comfortable in my hammock, insulated by an Exped mat and 15 degree down sleeping bag with fleece liner.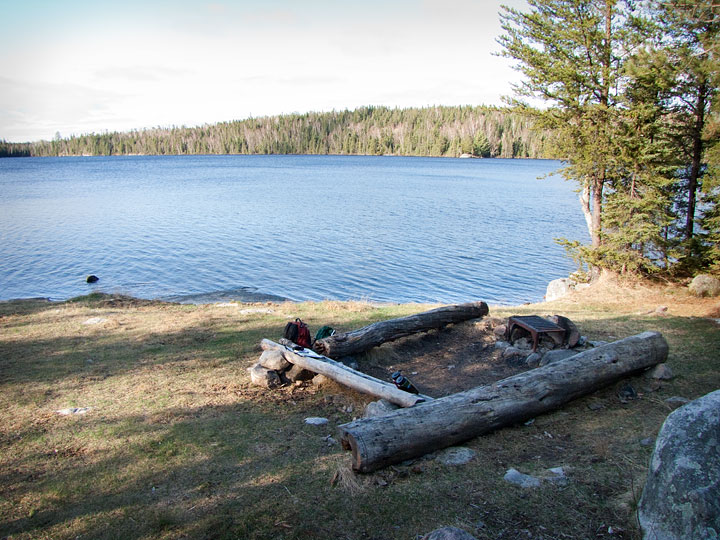 It was my first night spent in my new Hennessy hammock, and I'd already developed a love/hate relationship with it. On the love side, the hammock packs very small and light. It's also extremely comfortable and relatively easy to set up with a little practice. On the hate side, I found it very hard to maneuver into my sleeping bag, and changing cloths needs to be done outside in the cold breeze. In addition, it was harder than I thought it would be to find a good pair of trees to hang the hammock from. Still, I can see this being a valuable shelter option, especially in warmer weather when packing light is important.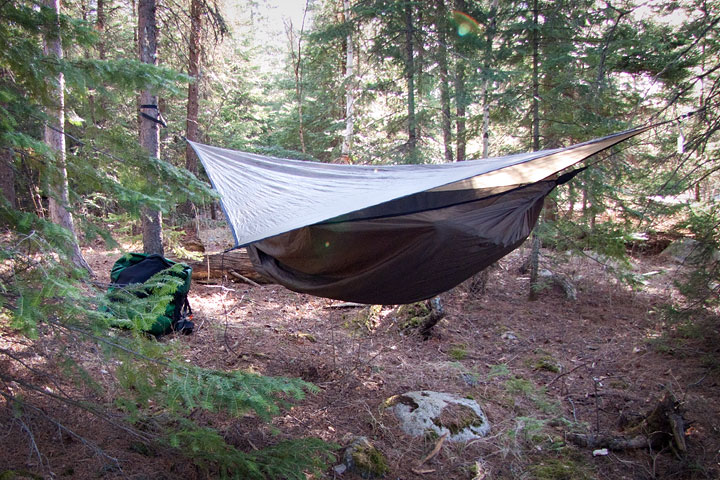 I took a little time to survey the campsite while I prepared and ate breakfast, essentially oatmeal and coffee. The campsite is located on the north shore of the southern basin of Gun Lake. The main seating area rests in a wide open space behind a long granite "front porch" that slopes gradually down to the water. To one side along the shore a trail cuts through some spruce and pines, connecting to a smaller "back porch" with a nice view for watching sunsets. I placed my hammock adjacent to the trail, away from the water.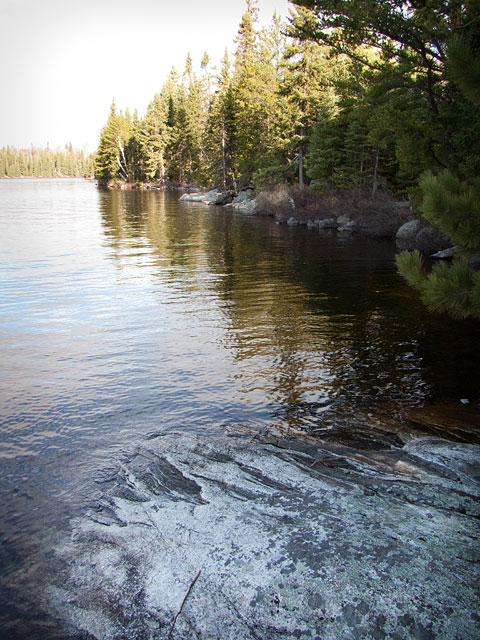 Todays weather and travel was much like yesterday, only more sun. The wind was still steady from the north, but my westerly, then southerly travel direction took advantage of it this time. From Gun Lake I portaged first to Gull Lake, then after a second lengthy portage to Home Lake, a final third portage brought me to Angleworm Lake which is where I had planned to meet up with Heidi on Friday. Though lengthy, the 270 rod portage from Gull Lake to Home Lake was not all that bad except for a few muddy places and some patches of standing water.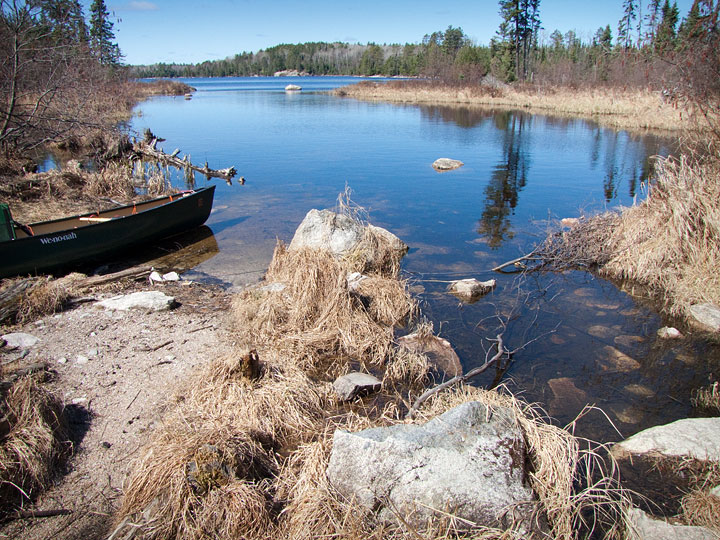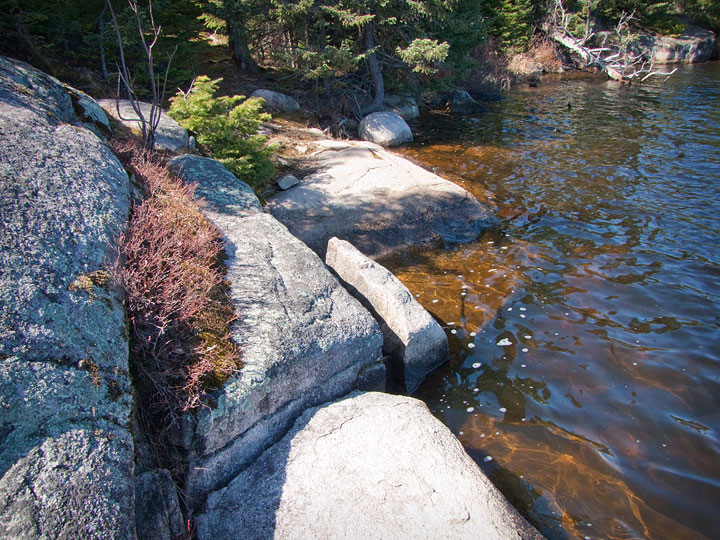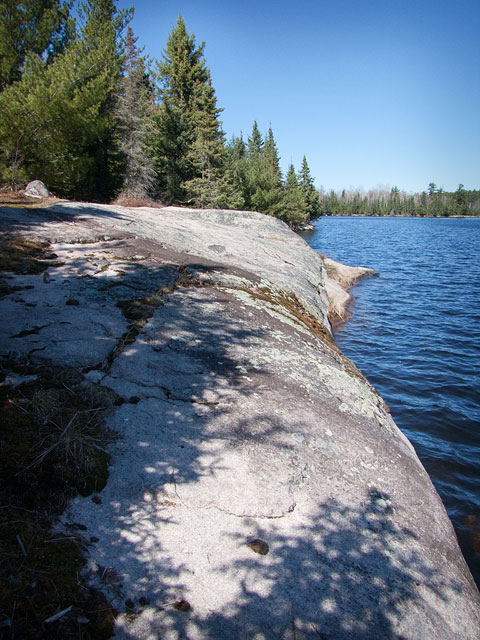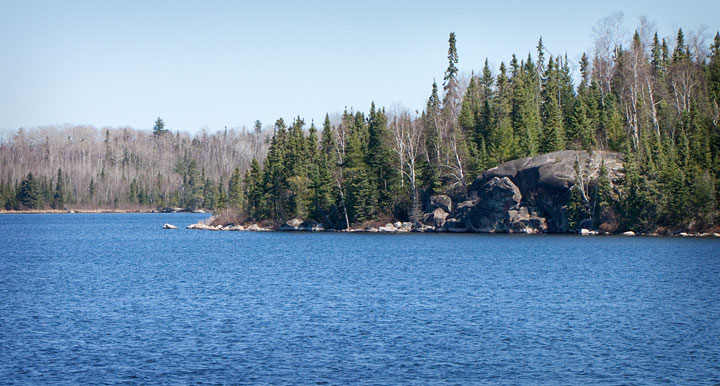 With the wind at my back I made good time paddling to the far southern end of Angleworm Lake and reached a campsite by 4:00 p.m. I made a quick hike up to the Angleworm Trail to scope out two other campsites nearby just to the north, but I decided to stay at the one where I first landed. While up on the trail I passed a woman hiking in with her dog. She was the first person I'd seen since leaving the Mudro Lake entry point.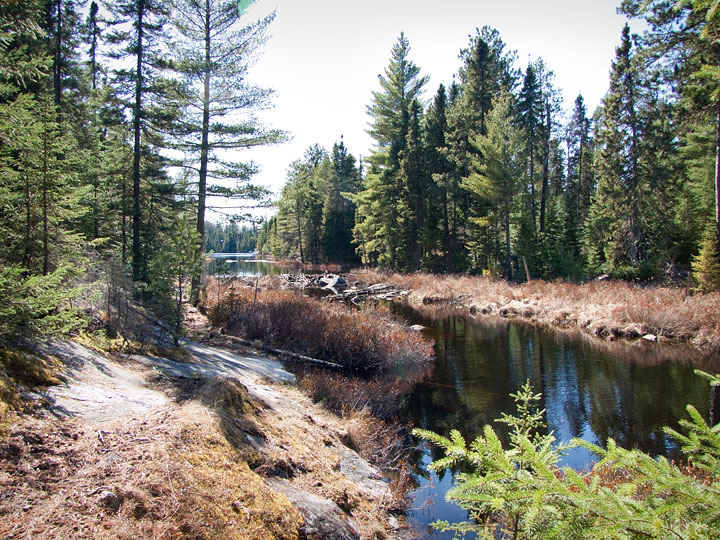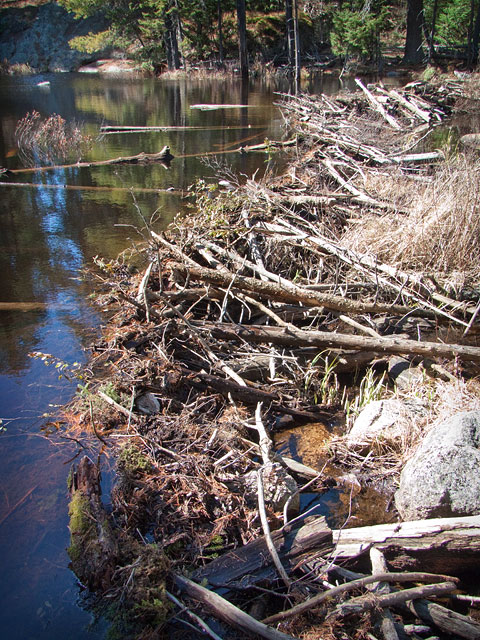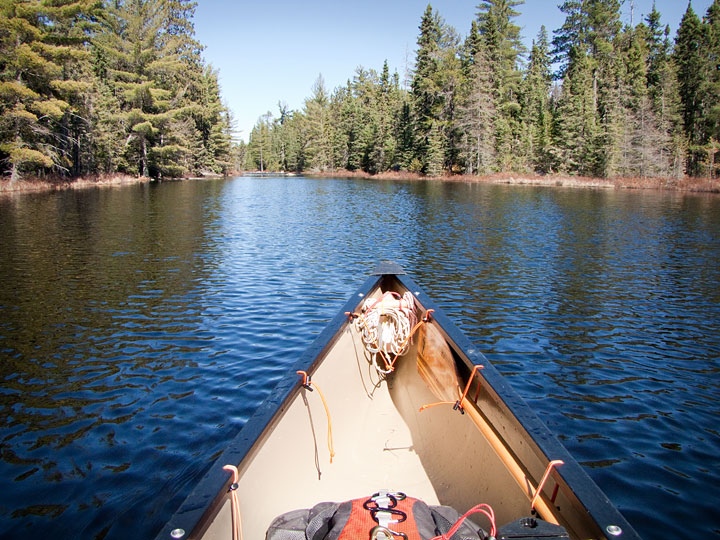 Before turning in for the night, the animals seemed to gather. A number of loons were grouping at this end of the lake, and another beaver swam by just a few yards away. At dusk I faintly heard what sounded at first like a woman screaming and then maybe calling for help. I immediately thought of the woman I had passed hours earlier up on the trail. The sound quickly grew louder until it was clear that it was not coming from a human after all but from some animal instead. The louder the cry, the more it sounded like a small child screaming. Soon the dog that had hiked in with the woman on the trail started barking from one of the campsites further to the north. Whatever was making the sound finally stopped after a few minutes.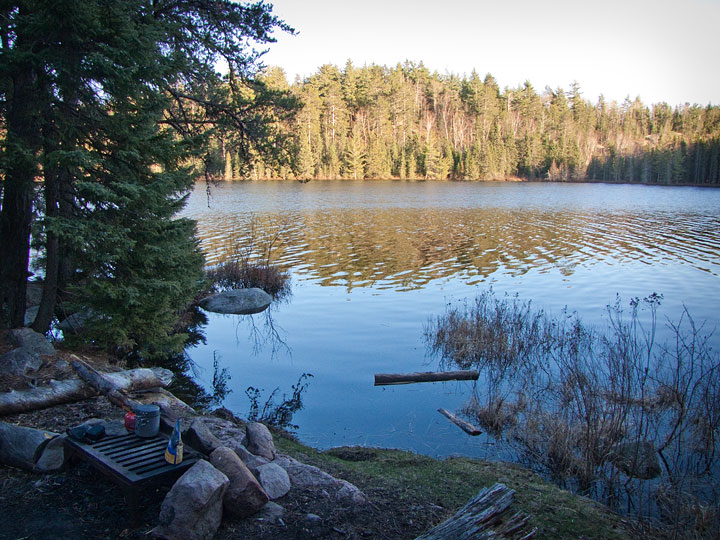 After sleeping comfortably the previous night, I decided to see if I could do without the Exped mat beneath me tonight. That would be yet another item I could potentially jettison in the future to make my pack even lighter. Unfortunately this also proved to be a bad idea as the overnight temperatures ended up dipping into the teens. The night started fine, but I was having difficulty falling asleep for any significant period of time. I gradually got colder and colder. Not to put blame elsewhere, but a nearby owl didn't help matters much either with its periodic hooting throughout the night. Finally by about four or five in the morning, I managed to put together a couple hours of uninterrupted sleep, but I was a popsicle by then.
---
Click here for the fully formatted report
Day 3 of 3
Day 3 - Angleworm Portage Out (Friday, April 9) [full index]
2.4 miles (x3), 1 portage
I awoke late, just an hour before I needed to start my hike back to the Angleworm trailhead to meet Heidi. I ate breakfast quickly and was only a few minutes late in getting started on the two and a half mile trek back to meet Heidi. It was a peaceful morning, and the sun was working hard to warm things up, including my frozen limbs. The Angleworm Trail is a beautiful hike, and soon I was fully thawed and enjoying my surroundings.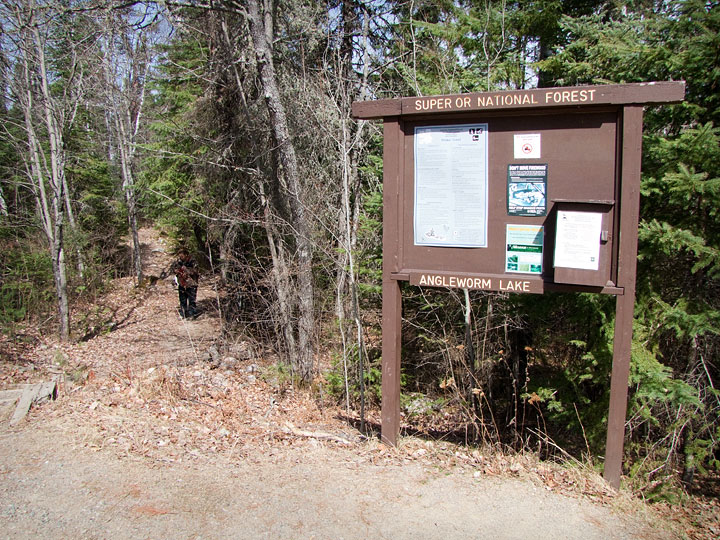 Heidi met up with me a little way in from the trailhead, and we caught up with each other's adventures as we walked back to the car to get Katy. Rather than pack in more camping supplies and stay a few more nights, we decided instead just to hike back to the lake and portage my gear out. We thought it would be wise to make a few gear adjustments to combat the cold nights before venturing right back out.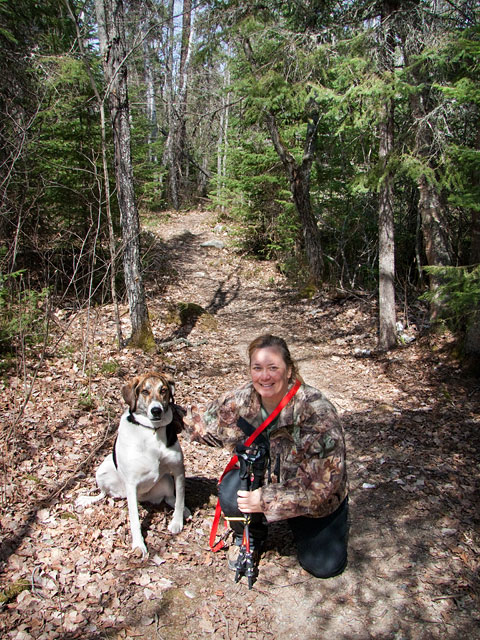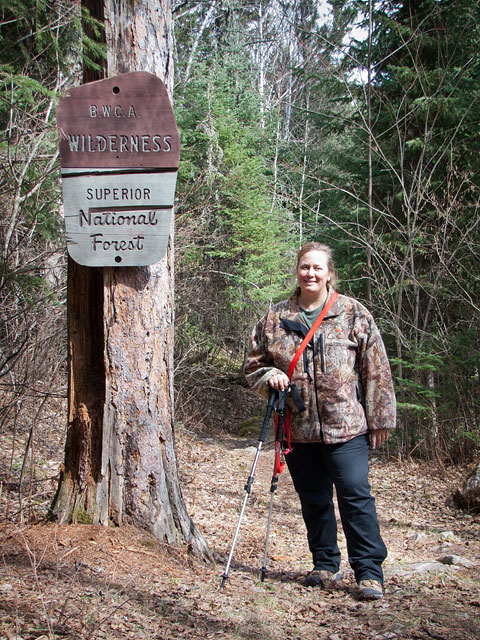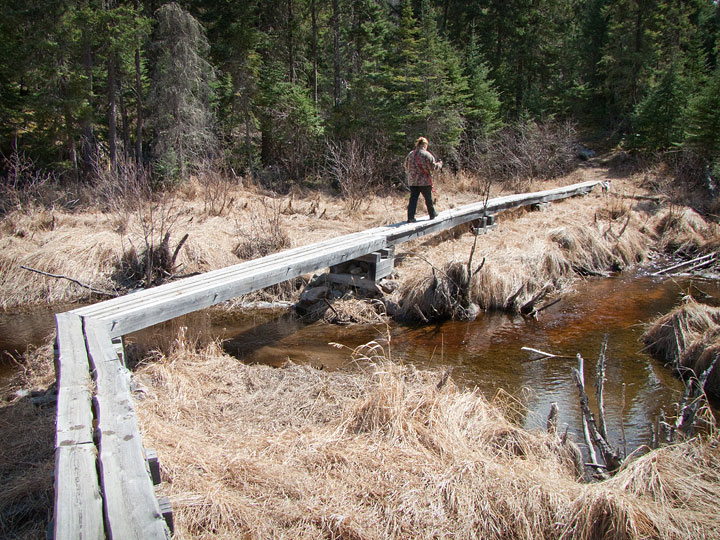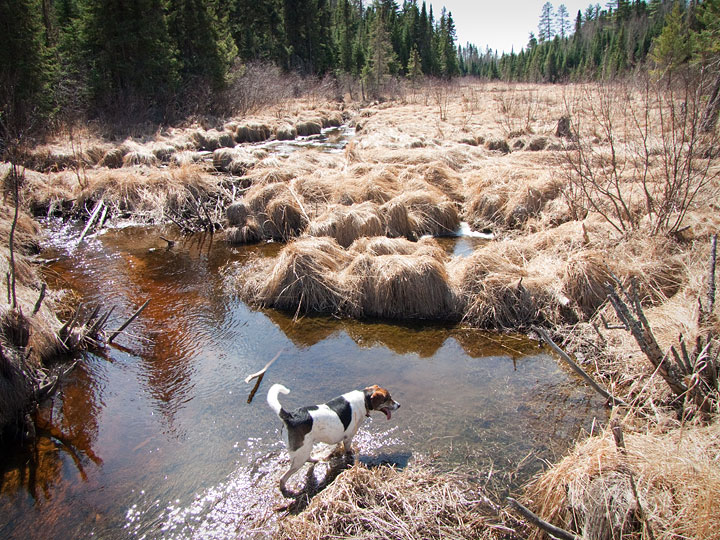 The nearly five mile roundtrip hike together with Heidi and Katy was a lot of fun, even with a canoe on my shoulders for the latter half of it. At least now I can say I've portaged the dreaded Angleworm Trail. At the very least it should serve as a good conditioning exercise for the upcoming canoe season, which is starting early this year.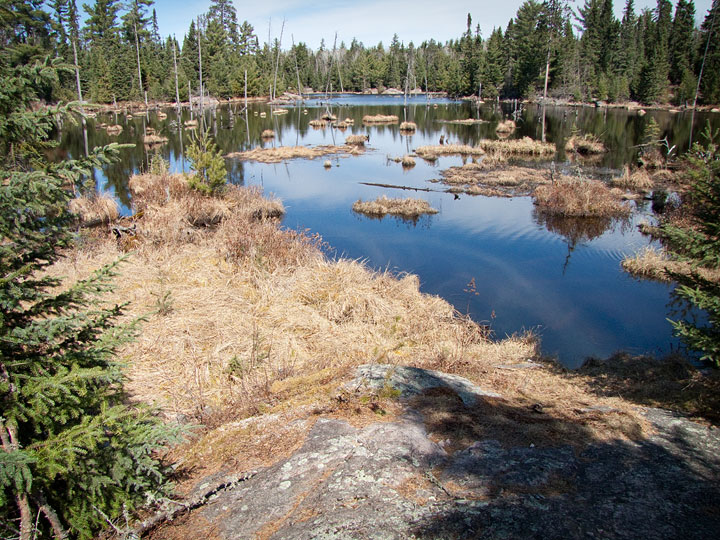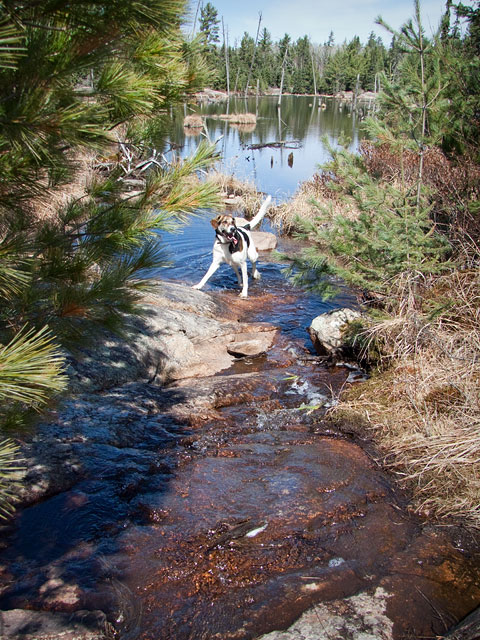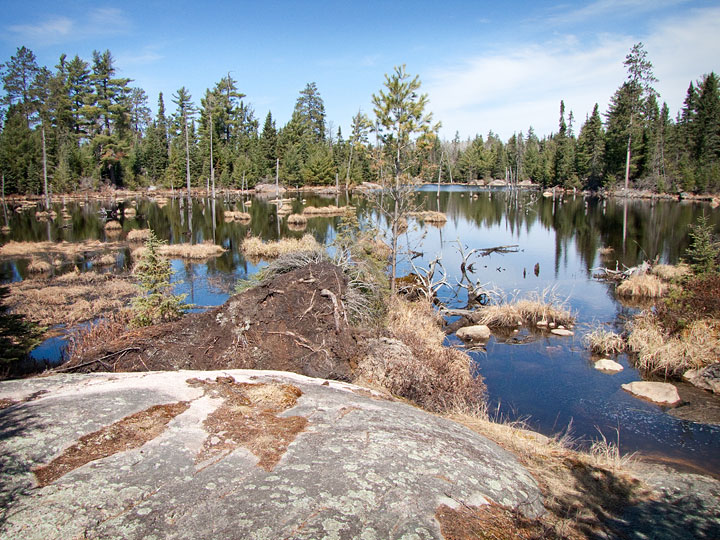 ---
Click here for the fully formatted report