BWCA Entry Point, Route, and Trip Report Blog
December 09 2023
Cross Bay Lake entry point allows overnight paddle only. This entry point is supported by Gunflint Ranger Station near the city of Grand Marais, MN. The distance from ranger station to entry point is 45 miles. Access is thru the Cross River with two portages to Ham Lake and a 24-rod portage to Cross Bay Lake. This area was affected by blowdown in 1999.

Number of Permits per Day: 3
Elevation: 1670 feet
Latitude: 48.0760
Longitude: -90.8222
Cross Bay Lake - 50
Missing Link EP to Ham Lake with Old Scout
by OneMatch
Trip Report
Entry Date: August 16, 2010
Entry Point: Missing Link Lake
Exit Point: Cross Bay Lake (50)
Number of Days: 5
Group Size: 2
Trip Introduction:
Old Scout and I had originally planned a paddle in Gunflint area a couple of years ago, but the Ham Lake fire made us cancel our plans, so when we both saw we had some time in August, we decided to take advantage of that. As I was finalizing my plans for Wabakimi, Old Scout graciously put everything together for our trip - permit, route idea, menu planning, the whole 9 yards! I will be forever thankful! Old Scout also has a secret dream: He wants to be a booking agent for rock stars. Since I was his only distant contact with the music industry, OS took it upon himself to negotiate a "gig" for me at the Tuscarora Lodge and Outfitters on Sunday night before our put in on Monday, 8/16/10. And what a negotiator he was! I'm sure it wasn't easy haggling, but for me doing a 1 hour acoustic singer/songwriter show for the staff and guests at the lodge, in turn we both got a night in the #2 bunkhouse, a French toast breakfast the morning of put-in AND a box lunch for our first day in the BW! OS, I think you are well on your way to a new and lucrative career. With all the plans and negotiations behind us, we met at the Java Moose in Grand Marais, combined our gear and canoes on his mini van and headed up the Gunflint to the lodge. Meanwhile, Missing Link EP is awaiting us, so let's go…
Part 1 of 6
Off to Tuscarora Lodge
It had been at least 3 years since I had been in Grand Marais and up the Gunflint and I was feeling like the prodigal son returning home. What a wonderful, friendly beautiful area it is there.
Arriving at the outfitters, we were shown our bunkhouse:
which was tastefully designed inside:
They even have a wilderness basketball court:
Now before I go on, I have to say here and now that Andy and Sue - the owners of Tuscarora Lodge and Outfitters - are two of the finest people you would want to get to know. They run a first class operation and are staffed by the friendliest and most professional folks you'd want to do business with. If you are planning to head up the Gunflint, definitely check them out.
After settling in, We then went off to The Gunflint Lodge for a great buffet dinner looking out over Gunflint Lake.
Back to Tuscarora just in time for the "show" at the lodge dining hall.
The staff and guests were an awesome and responsive audience. For a snippet of songs and a "review", check out Tuscarora's blog at:
http://www.tuscaroranews.blogspot.com/
We got in the "meet and greet" and a photo op of Andy, Sue, myself and their great family:
And to top it off, the staff presented me with an awesome jar of freshly made wild blueberry jam!
Finally it was off to the bunkhouse to rest up for the next day's paddle.
Part 2 of 6
Round Lake to Missing Link to Snipe Lake
The next morning after a great breakfast of French Toast, hard boiled eggs, fruit and hot chocolate, Round Lake (where the lodge is located and is the put in lake to the Missing Lake EP) greeted us with a hellacious head wind, white caps and all. As Old Scout was soloing and I was going to use my SR17 turned around for soloing, Andy easily talked me into leaving behind the 17 footer and taking a Wenonah Prism instead. I am so glad I did as the wind was steady into the next day.
We headed over with only a little difficulty. Here is Old Scout putting in on Missing Link:
The portage from Missing Link into Snipe was challenging with a 3 foot drop on the first leg that required putting down the canoe, jumping down and bringing the boat back over, but it was done without complaint and into Snipe we went.
Per Bogwalker's recommendation, we planned to camp at least one night on Snipe and maybe even base camp there. So we took the first site after the portage that unfortunately was not a respite from the incessant wind coming out of the west. It went on all night and into the morning with little let up.
However, it wasn't enough to prevent Old Scout from grilling his famous spiced steaks over the fire that night: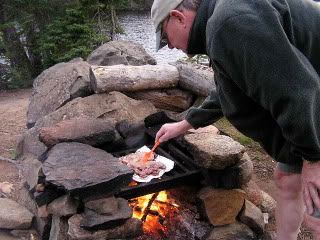 In setting up camp, I used an Alps Mountaineering Mystique 2 person tent:
While Old Scout used a 3 person REI dome tent. The only problem was he also has an REI dome that is a 2 person tent and packed the poles from the 2 person with the 3 person tent. The results came out quite interesting: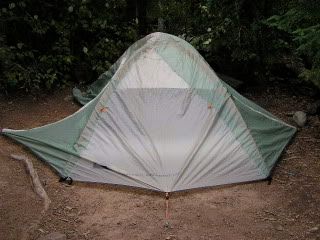 (Far be it for me to question the legendary Old Scout's tent packing abilities!)
While the campsite was a little worn, Snipe Lake is a real diamond. Some loons were entertaining us off the point:
Here's a view from the site: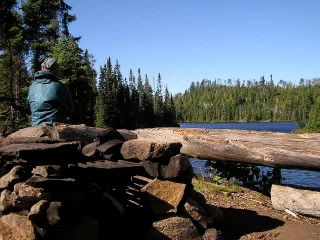 I LOVE my CCS pack! (Snipe sight):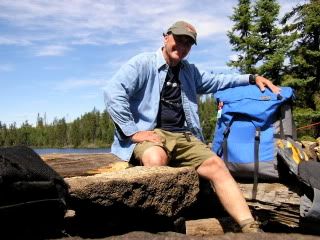 The next day we decided to check out Snipe's other sites to see if we could re-locate to another that would shield us from the wind.
Here is OS heading for the island site:
The island site was nice but didn't really have adequate tend pads (especially for an REI 3 with REI 2 poles!), and the middle site wasn't all that great. The last site was occupied so we decided to go for the west one in Cross Bay.
Part 3 of 6
Snipe Lake to Cross Bay:
The Cross Bay river going to the lake was a quiet creek with lily pad flowers that made it look like a bunch of snowballs were floating there:
A turn north and we soon found a nice site up on a ledge. It was a very steep landing, but the waters were quite, the view (with great moose possibilities) was great and it was home sweet home for us:
We never saw any moose, but a large beaver was securing his territory around us every evening:
Old Scout remembered he had packed a spare Granite Gear tarp (we used the better CCS tarp in camp) and redeemed himself by using it as a rainfly instead:
That night it was time for some spicy dogs OS picked up at Zup's on the way to Grand Marais:
The winds had died down, there was a slight August chill in the air and all was at peace with the world.
Part 4 of 6
Exploring the Cross Bay Lake area.
We had decided to base camp here for the remainder of the trip - not only because we liked our new home, we also were just too lazy to break and set up camp again.
There's nothing like pancakes in the BW:
after breakfast, we decided to see how far up we could travel on Dawkins Creek with the naïve possibility/goal of reaching Dawkins Lake.
As on Cross Bay river, Dawkins had a beaver dam pullover:
Continuing the paddle, we soon found the stopping point. It was a narrowed cliff area with jammed rock and blow down. I suppose a portage trail could have been made but there's nothing wrong with leaving these areas wild:
We did take the time to bushwhack over the other side to see that the creek was very navigable from there:
Turning back, we decided to checkout Cross Bay Lake's southern camp site and lunch there - nice site, lots of tent pads. It looks like the area was once designated as 2 sites.
Some eagles were looking us over on the paddle back to camp: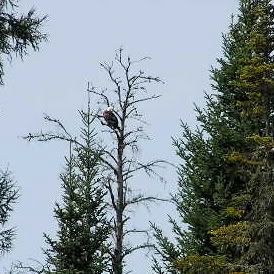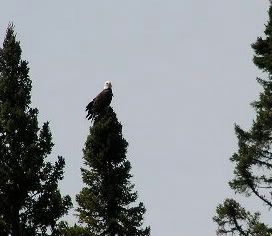 And then the big surprise. Approaching our camp, we saw a USFS canoe at the landing:
What did we do? Did we leave trash burning in the fire grate? Were our margaritas from the night before being consumed by a local bear? Did Old Scout's reputation from earlier days finally catch up with him? No! There were there to put in a new latrine!
Of course Betsy Ranger had to look over OS's permit. Remembering back to Canoecopia, will someone please tell me what it is that Old Scout has with the attractive women hanging all around him? Is a bungee dealee bob some kind of Babe Magnet?
We tried to talk Betsy into staying for dinner, but her and her compatriot, John, had more work to do. She missed a great one of Italian Sausage (seasoned and dehydrated by OS) in Zatarain's Jambalaya:
Along with cheesy biscuits cooked to perfection in OS's reflector oven:
YUMM!:
Part 5 of 6
A Little More Exploring and the Paddle Out.
The next day we checked out a part of Extortion Creek with its pitcher plants everywhere:
and checked out the pretty paddle to the Ham Lake portage. I found these paddlers had an interesting way of negotiating the rocks:
That night's last meal was a hefty and delicious plate of spaghetti and meat sauce (dehydrated once again by the master chef Old Scout). Ho hum, just another great meal in the Boundary Waters: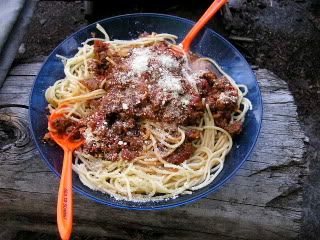 That morning about 5 am a big thunderstorm stated to sound its way in. We were able to get things packed during a lull, but once we set out it poured away all the way to take out. Undaunted, I thoroughly enjoyed the scenery and wearing my Frogg Togg jacket and REI rain pants, it was a comfortable paddle (sorry, the camera was safely packed away in a dry bag).
We paddled through the narrows where the Ham Lake fire started. It was kind of eerie for me thinking back to that time when over 36,000 acres of the area got scorched. However, nature was doing a nice job of healing and there was lots of greenery popping up.
It was a pretty paddle all the way to takeout. The hot shower waiting at the lodge was very welcome and it was time to say thanks to Andy and Sue and head back down the Gunflint to Grand Marais.
That night I had a great time doing an interview with Buck and Bob on Grand Marais' public radio station, WTIP as we were promoting my singer/songwriter performance at the Art Colony in Grand Marais the next night.
Saturday took us to setting up the staging area. Here is Old Scout helping out with Marcie (who volunteered in the staging).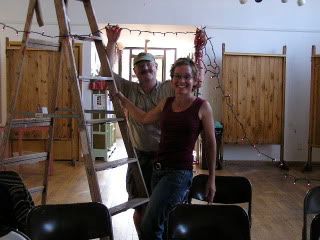 What IS IT with OS and the girls??????
I had a wonderful time at the Art Colony with yet another warm and friendly audience:
I shared the stage with a talented young singer/songwriter from Thunder Bay named Shy-Anne Hovorka from Thunder Bay. The audience loved her. Here we are for a pic outside the venue just before the show:
Maybe a little of Old Scout's charm was rubbing off on me?
Part 6 of 6
Final Thoughts
I shouldn't have been surprised to find that after my Wabakimi experience that the Boundary Waters still held a beautiful charm for me. There's plenty of great scenery, solitude and peace there for me and I never tire of it. It was a leisurely not-a-care-in-the-world paddling trip.
I don't care what anyone says, Old Scout, you are a great friend to paddle with, your culinary skills are top notch and your supply of bungee dealee bobs are second to none! Thanks for a great paddle.